7 Must-Read Tips That Make Moving in Together a Lot Smoother
Don't walk through that threshold without reading these tricks first.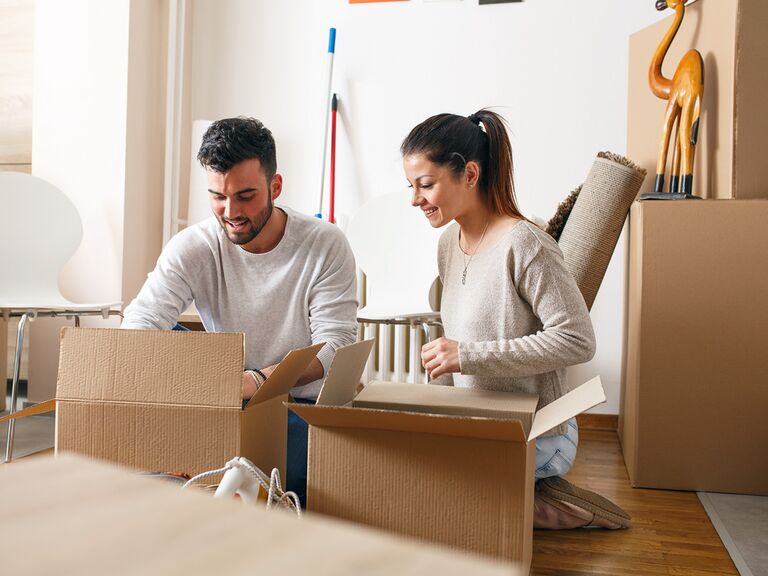 iStock
You're moving in together—congratulations! Whether or not you've said your "I dos," deciding to live with your partner is a major step in any relationship, not to mention an exciting one (we're talking late-night movies, homemade dinners for two and lazy Sundays in bed). But before you can get to any of the fun stuff, you have some moving logistics to deal with. Working out the details of a big move can be both daunting and overwhelming, but thanks to these seven tips from Lior Rachmany, CEO of Dumbo Moving + Storage, you'll be packed up, moved and settled in no time.
1. Make Two Stops
You're about to start sharing just about everything with each other so why not share the moving company? "You'll save more money doing one big moving job at two locations instead of paying for two separate ones," Rachmany says. Basically, if you're both moving to the new place from two separate places, it's often cheaper to hire one moving company and have them make two stops, rather than hire two different companies (or book the same company for two separate jobs).
2. Compromise
This is where compromise becomes key: If you can't part with your mother's end tables, you may have to make do with your partner's coffee-stained recliner. "It's not just your home anymore, and your partner should feel a part of the new place," Rachmany says. Be especially considerate when it comes to keeping and tossing items, since it's likely you'll both have sentimental keepsakes that are nonnegotiable (but you should also prepare to declutter if need be).
3. Toss What You Don't Need
Double the occupants means double the stuff. It's hard to decide what stays and what goes, so sit down with your partner and make a "keep, sell, donate" list—but Rachmany encourages you not to sell your stuff last minute. And definitely check with your new roomie before selling or donating any of their belongings (trust us on this one). And one more tip: If you want to get rid of extra furniture, ask your moving company if they can deliver the furniture to a charity for you.
4. Don't Unpack Just to Repack
We know you can't wait to start using that high-powered blender from your registry, but hold off until you're moved into your new digs. Rachmany insists that keeping wedding gifts in their original boxes will make packing much easier. You don't want to risk breaking anything, and those gifts are way safer in their original packaging (just think of all the bubble wrap!).
5. Keep an Eye on Your Valuables
Give yourself peace of mind and know where your most valuable possessions are at all times. "After your wedding, put all your jewelry in a small sealed container and make sure you move that box yourself," Rachmany says. Some items (especially the smaller ones) tend to go missing during a big move. The last thing you want is to lose track of your grandmother's priceless diamond earrings.
6. Ask for Wardrobe Boxes
Many moving companies provide wardrobe boxes specifically for transporting clothes. Get your favorite dresses (like that pretty white one) from your old address to your new one without worrying about snags or wrinkles, especially if you're in for a long drive. "It makes emptying out a closet [of nice garments, like] your wedding dress, very fast," Rachmany says.
7. Toss, Eat or Donate Food
Moving companies don't typically transport food, so clear out your fridge and pantry before moving day. "If you have any leftover wedding cake, you're going to have to move it yourself," Rachmany says. Whether you bring any canned foods to your local food drive or invite friends over for a moving out feast, it's up to you.