When and How to Fill Out a Wedding RSVP Card Thoughtfully
Those RSVP cards in wedding invitations? Yes, you need to fill them out. Here's how.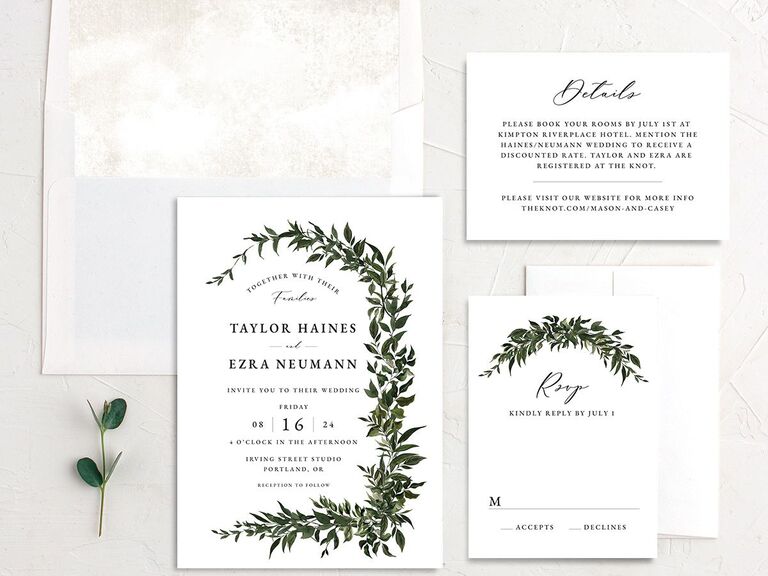 When you receive a formal wedding invitation in the mail, your first move is likely to rip open the envelope, take in the gorgeous wedding stationery, and try to figure out which piece directs you to the wedding website, which provides details about the wedding reception, and which fills you in on the weekend's other events.
But, sometimes, one critical—and small—piece gets lost in the shuffle: the RSVP, or répondez, s'il vous plaît if you speak French, card.
That one little card is probably the most important piece of paper in the invitation suite. The mini stamped envelope with a pre-filled return address is the key to couples in the midst of the wedding planning process nailing down their number of attendees, confirming an accurate headcount to pass along to their caterer, and making sure that their guest count aligns with their original plans (and, yes, that could mean expanding the list if more guests kindly reply no than expected!).
So, before your next wedding invitation arrives in the mail, here's the RSVP etiquette you need to keep in mind to stay on the good side of the couple and avoid that awkward, "Hey, did you get our invitation?" phone call.
Send Back the Wedding RSVP Card ASAP
As soon as you have the wedding invitation in hand, check your calendar and finalize your plans. Then, send back the reply card the minute you can get to a mailbox. Too often, RSVP cards are tossed to the wayside and forgotten, and the couple ends up tracking down a number of guests last minute with texts and calls asking if they plan on joining them on the big day.
Don't wait until the very last day on the RSVP card to send it back. Make your decisions, pick your entrée, select your plus one if you've been given one, and put that card back in the mail. The sooner the couple gets it, the sooner they can begin finalizing plans (and, trust us, every couple wants to get to finalizing plans with more than enough time to spare!).
How to Fill Out a Wedding RSVP With Everything the Couple Needs
For a standard 3x5 piece of paper, RSVP cards pack a lot of punch and must-have information for the wedding planning process. But, not all of it is necessarily spelled out. Here's how to fill out a wedding RSVP card so that you hit all of the high notes a couple will need as they finalize the plans for their big day.
Include Your Name
Kara Ghassabeh, a wedding coach and etiquette expert, says "When filling out the RSVP card, don't forget to include your name. You would be surprised how many people forget that part!" It can be easy to mark yes or no, slip the card back in the envelope, seal, and go, so do a double check to make sure you've written your name.
And, speaking of names...
Write Out Your Full Name
Weddings are often formal events and, with that formality, comes properly addressing people by their full name on place cards and escort cards. If the name that is on your wedding invitation isn't accurate, the reply card is your time to provide your preferred full name.
Mary Guido, founder and owner of Mary Guido Atelier, a luxury wedding planning studio based in Washington, DC, advises "Carefully fill out the response card with your most beautiful handwriting." If there is only a first letter "M" next to a blank line, fill out the card with the correct honorific, followed by your full name and your guest's. If the line is blank, write out your full, preferred name, including honorific, as well as your guest's name.
Check Yes or No
A close second in importance to including your name, an RSVP card, above all else, indicates whether the happy couple will see you on their wedding day. This is where you check that yes, you will attend, or, no, you kindly decline with regrets.
Specify the Number of Guests...If You Were given a Plus-One
If you were given a plus one, then now's the moment to make a decision. Indicate the number of people in your party—presumably one or two—and write in the full name of your guest. Couples need this information to correctly fill out seating charts and place cards, so they do need the name of your plus one by the RSVP date.
And, in case you were wondering, no, the reply card isn't your time to decide you should be given a plus one just because you had a great date last week!
Choose Your Entrée
Depending on how the meal is structured, you may get your choice of entrée. Often, you'll have two or three choices ranging from chicken to beef to fish, and you'll choose one. Simply check the one that you would prefer.
Indicate Dietary Restrictions
In addition to providing you food choices, reply cards can serve another dining-related function. If you have dietary restrictions that limit what you can eat and require you to be aware of the ingredients within dishes, use the RSVP card as an opportunity to share that with the couple so they can share it with the caterer. Guido says, "Whether you're a gluten-free vegan or don't do dairy, be sure to include any special dietary restrictions."
No couple wants to find out that one of their friends or family went hungry at their wedding, so they're likely open to accommodating you! They just need to know—and let their caterer know—well ahead of time.
Add Your Well Wishes
Ghassabeh says, "An RSVP card is a great opportunity to write a little note of excitement, it's a nice way to remind the couple that all of their hard work in planning is appreciated and well received." So, jot down a few words about how you can't wait to celebrate with the newlyweds, how you're so delighted to be included, and maybe even include a throwback song request that reminds you of some of your favorite times with the couple. Reply cards can be a delight to open when each one comes with a few kind words and not just a, "Yes, I'll have the fish."
Whoops, You Missed the RSVP Date
While the goal is always to send the RSVP card in ASAP, mistakes do happen and sending back the wedding RSVP card can slip your mind. If this happens and you do plan on attending, don't just send the card back in and hope for the best. Send it back in, yes, but also pick up the phone to call the couple personally. Couples are often working with tight guest lists and, if they assumed you couldn't be there, they may have moved on to inviting other wedding guests. They will likely understand and will be thrilled you're joining them on their wedding day, but the proper etiquette is to connect with them and confirm.
In the same vein, one last tip. If you're close with a couple and must send your regrets for their wedding, reach out personally to let them know, in addition to sending in the card. Even if it's technically correct RSVP card etiquette to simply send regrets through snail mail, it may not be the most considerate move. Remember, if you've been invited as a wedding guest, it's because the couple wants to celebrate with you!