Be a Star Attendee With This Wedding Guest Etiquette Guide
Your guide to being an A+ wedding guest.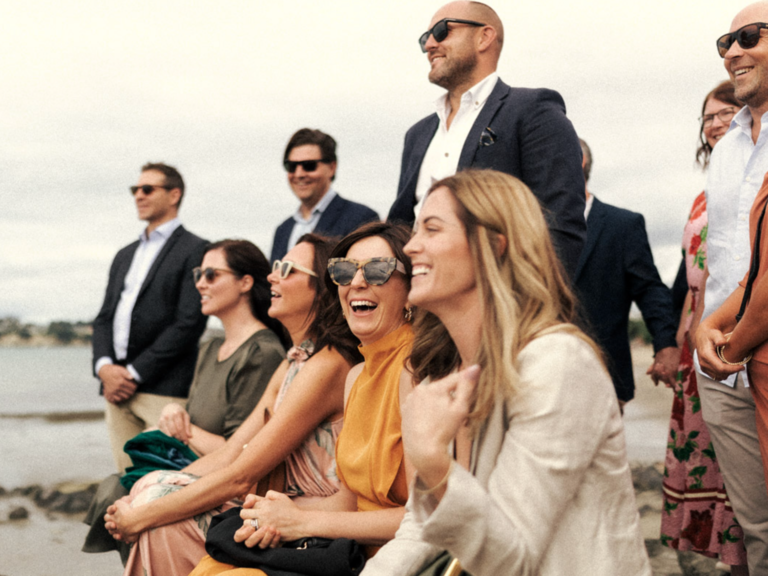 Photo: Eilish Burt Photography
Wondering "How to prepare for a wedding as a guest?" Step One: Read this wedding guest etiquette guide. Believe it or not, there's so much more to attending a wedding than dressing up and partying the night away. Traditional wedding guest etiquette involves a scope of responsibilities and wedding guest rules, like submitting a response card by the deadline, preparing your own card and gift to congratulate the newlyweds, and gracefully navigating your way through the reception.
According to The Knot 2022 Guest Study, roughly 70% of all guests strongly enjoy attending weddings. (After all, what's not to appreciate in matters of love, libations and confections?) But, what is the etiquette for attending a wedding? What should you do at a wedding as a guest? Read our pro suggestions for the very best wedding guest etiquette tips and wedding rules for guests to be a standout, invited name on the seating chart.
RSVP on Time
When it comes to wedding dos and don'ts for guests, the rules around being a guest at a wedding start before the big day. If you're invited to a wedding you need to RSVP on time.
Typically, wedding invitations are distributed about six to eight weeks prior to the date of the event. If it's a destination wedding, the timeline includes an additional buffer. Most guests will already have a sense of the date and location after the save-the-dates are distributed, but the invitation is the formal next step. Regardless of whether you can make it, the RSVP date isn't arbitrary. In order to work through the seating chart, headcounts for the caterer, and more, the couple has set the response deadline intentionally, making it one of the first wedding guest rules for practicing gracious wedding guest etiquette.
Be Thoughtful in Your Decision About Attending
If the first thing that comes to mind when you receive the wedding invitation is research how to get out of going to a wedding, then take a moment to pause and evaluate where the sentiment originated. If you're unable to attend, that's ok, it isn't rude to not go to a wedding. But whatever your decision, you need to let the couple know by RSVPing on time. Are you worried you don't have the financial means to attend the wedding? Or maybe you simply have a packed calendar and can't take the time off of work. That is ok. Ultimately, make a mindful decision about whether you can attend and then communicate that to the couple.
Fill Out the RSVP Card Accurately
On this note, another element of wedding RSVP etiquette for guests is to follow instructions when responding to an invitation. Some couples will include a paper RSVP card in their wedding invitation suite, while others will request guests respond digitally. According to The Knot 2022 Guest Study, the majority of younger guests prefer to RSVP online, including 57% of millennials.
If the couple has included a physical response card, guests should reply promptly. Often, this will involve filling in the blanks like [name here] "will" or "will not" attend. Occasionally, a formal invitation may exclude a printed response card. In such instances, the guest is to record their response on nice stationery. "[Your name] accepts, with pleasure, the invitation of [couple's names here] on [date here]." If you're unable to make the wedding, take the extra step to send the couple a warm and informal note.
If the couple has asked for digital RSVPs, pay attention to how they want that handled. They may have created a special email address for you to reply to. If they've made a wedding website with The Knot, you can use The Knot Find a Couple tool to RSVP directly on the couple's website.
Abide By Plus-One Invitation Etiquette
Wedding guest rules don't only apply to you, there is also wedding guest plus-one etiquette to know and follow. Reading the invitation is important, especially if there's confusion around whether your partner is invited to the wedding. Before you decide to extend a plus-one to your partner or friend, check the invitation wording to ensure it's the proper thing to do. On the invitation outer envelope, see if the couple has noted your name "and Guest" to reflect their wishes and abide by plus-one etiquette. Though seemingly obvious, some wedding guests believe they're able to add a significant other to the list without informing the couple, which is a faux pas. Only those addressed on the invitation have received a formal invitation, and keep in mind: it is one of the most important wedding guest etiquette rules to date.
Explore Their Wedding Website
Listen up: This is a major wedding guest rule—check the couple's wedding website for an answer before reaching out directly to the couple or other wedding VIPs. The almighty wedding website is here to stay, which is why all guests should refer to this digital destination when sourcing information and planning their travel for a couple's wedding. Most wedding websites will detail the happy couple's love story and key information about the wedding. Details could include the suggested dress code, the wedding weekend timeline, accommodations (including hotel room blocks), directions to the venue and general wedding destination details. It's a resource, especially if you have unanswered questions—chances are, you'll find what you need on the wedding website.
Arrive Early to the Wedding Ceremony
Wondering "How early should you arrive to a wedding?" or "How early is too early to get to a wedding?" Listen up: It is a big wedding guest faux pas to be "fashionably late" for a wedding and most events, for that matter. One standout tip for wedding guest etiquette is to arrive early to the ceremony. That way, you can scope out the beautiful setting the couple has planned for months on end, and take a seat without huffing and puffing.
So, how early should you arrive to a wedding? Ideally, guests should schedule time to arrive 30 minutes before the invitation start time of the ceremony (expect to carve in extra time for larger wedding guest lists). Additionally, if the couple is providing transportation or has given special notes about parking, pay attention to the details and schedule they've laid out.
If you've arrived after the ceremony commences, slip into the back row or wait for the coordinator or usher to guide you to the seat. If the processional has started, wait until the everyone in the processional reaches the altar. Then, you can discreetly make your way to a seat.
Prepare a Wedding Gift
Curious about if there is proper wedding etiquette for guests with regards to gifts and registries? Another golden rule when considering standard wedding guest etiquette is to send a gift. Though traditional wedding etiquette suggests guests have up to one year from the wedding date to send a gift to the happy couple, loved ones are encouraged to peruse and purchase off a couple's wedding registry before the nuptials. There are several reasons to consider shopping in advance. If the to-be-weds have gone through the trouble of requesting specific products, gift cards or experiences, there's a chance they'll be appreciative of any fulfilled gifts throughout the wedding planning process. Many wedding registries are often fulfilled in the days leading up to a wedding, so getting started sooner will allow you to select an option you especially adore.
The wedding gift should be sent to the address correlated to the couple's registry. You most certainly don't want to lug any stand mixers with you to the reception, plus it creates additional security and event storage concerns. Speaking of which: a monetary gift should always be neatly tucked into a congratulatory wedding card. If items are out of stock or the registry is completely fulfilled, prepare a handwritten and personalized message with the monetary amount.
Follow the Dress Code
In the world of wedding guest attire and fashion faux pas, there is a lot of wedding outfit etiquette guests need to know and abide by. For female guests, it's best to avoid wearing head-to-toe white unless instructed otherwise. Guests should also avoid wearing anything flashy or provocative, and they must be aware of specific dress codes for multicultural weddings.
Most wedding invitations or wedding websites will include a wedding dress code, leaving it up to the recipient to interpret it with their own flair. The nature of the event is the first point to consider. Brunch weddings, for example, will often feature softer color palettes and floral patterns, while men will turn to lighter suits with crisp shirts and ties. Black-tie weddings or more formal affairs are accompanied by the most stringent guidelines for guests (tuxedos or darker suits for me; gowns or high-end cocktail attire for women).
When attending a wedding, guests should follow the suggested dress code and avoid wearing anything controversial. Seasonality also impacts dress codes (for example, avoid showing up to a winter wedding in a linen suit). Finally, guests should keep in mind the rules of, say, a religious sanctuary where shoulders might need to be covered. If you're ever in doubt about the wedding day dress code, simply ask the couple what they would like to see their guests wearing.
Attend Both the Ceremony and Reception
This wedding rule for guests might be obvious, but some wedding guests feel that it's optional. Unless it's noted otherwise in the invitation, guests to a wedding should attend both the ceremony and the reception. Never consider ditching one for the other unless you're truly in a bind, and have disclosed this far in advance to the couple. After all, you're an honored guest who was hand-selected to witness the wedding day.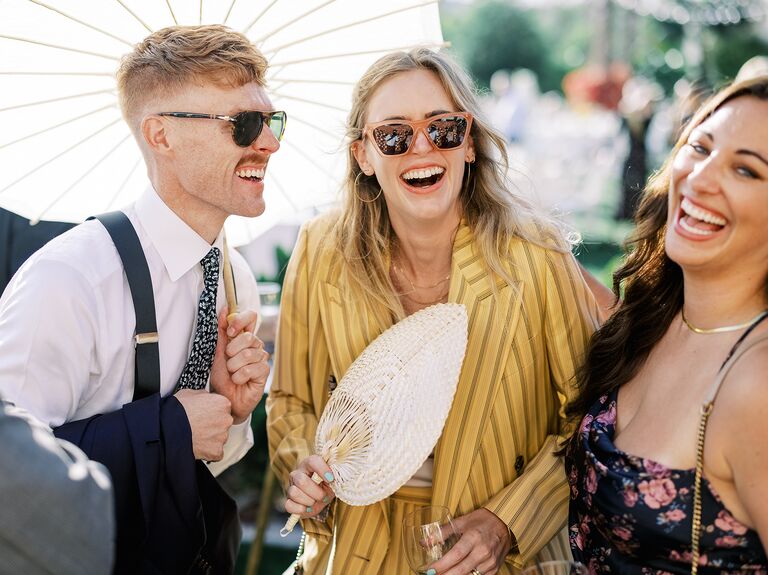 Be Thoughtful With Last-Minute Cancellations
Unexpectedly can't attend a wedding last-minte? In the event of an emergency, call the wedding hosts immediately and inform them that you must cancel at the last minute; simply not showing up is another wedding guest faux pas. This wedding rule for guests key as the hosts are financially responsible for catering and reception costs per wedding guest. Also—don't forget to send a gift and personalized message to the newlyweds.
Observe Other Guests
Wondering "What do guests do at a wedding reception?" If you're attending a wedding that's outside of your standard tradition or customs, observe other guests by following the flow of a ceremony and reception. Typically, family members will lead the charge and react accordingly. (As in, if the front row rises and stands, so too will the rest of the guests). In multicultural weddings and religious ceremonies, the officiant will often explain the order of events or each step's significance will be noted within the program. As a guest, you're in no way required to participate in particular rituals.
Once the ceremony is completed and the couple shares their first kiss, remain in your seat. During the processional, the newlyweds and wedding party, followed by the family members, will typically file out of the wedding first.
Limit Tech Use
Wedding etiquette for guests extends to your digital devices as well. Staying connected in the Age of Technology is a gift, but there are key times to stow the phone away. Turn your cell phone to silent (better yet—check that it's fully turned off) upon taking a seat at the ceremony. If you plan to take photos during the ceremony, ensure the flash is off as the couple's photographer only has a consolidated period to capture images. While there, guests should also hold off from responding to messages (as blue light from the phone can emit disruptions) and should limit cell phone use, especially if the couple requested an unplugged wedding ceremony.
If the couple encourages the use of a hashtag on social media, lean into sharing content and show joyful moments from the day. As the newlyweds look back on the occasion, they'll especially appreciate seeing their nuptials through the lens of their beloved guests.
Be Gracious and Socialize Responsibly
Following the ceremony and a possible receiving line, cocktail hour is an opportunity to enjoy custom cocktails, savory hors d'oeuvres and the company of your fellow guests. In keeping with wedding guest etiquette protocol, introduce yourself to those you don't know, especially as some folks may even be seated at your table. Sign the guest book during this time and share your card (often, hand it to the wedding planner if there isn't a designated dropoff spot). With any wedding open bar situation, it's encouraged to pace yourself and hydrate throughout the evening. The last thing you'd want to worry about is having to make amends the next morning for ruffling feathers.
Respect the Seating Chart
The couple has done their due diligence with the seating arrangement and has taken into consideration, life stages, personalities and dynamics. Never, should a guest move place cards or rearrange the seating chart at their own whim. It is an extreme wedding etiquette faux pas. Instead, follow our wedding guest tips and check the seating chart and take a seat where you've been placed. Once other guests have made their way, introduce yourself with a brief overview of how you know the newlyweds. Be attentive to anyone who may feel out of place too. If, for any reason, you feel severe discomfort at your seat, turn to a planner or coordinator to discuss what they can do for you.
Be Present
One of the biggest wedding guest etiquette rules to follow is to be actively engaged while you're attending the event. Distractions may occur, but the happy couple has requested your presence; and quite literally, when translated, that means being present throughout the wedding ceremony and reception. Being an active participant at a wedding includes hitting the dance floor, admiring the first dance and cake cutting, greeting the couple and immediate family members, and, altogether, enjoying yourself as any wedding guest should.
At the end of the day, wedding guest etiquette involves respectfulness and gracious manners. The newlyweds have spent months (for some, years) preparing for their wedding day and you're simply there to celebrate their love and enjoy the fruits of their labor.
Don't Leave Too Early
Yes, it is rude to leave a wedding too early. As a rule of thumb, guests are encouraged to stay until the cake cutting. However, many modern couples are skipping this tradition in lieu of a more casual reception atmosphere and timeline. Modern wedding etiquette for guests is to stay at least through dinner and long enough to briefly congratulate the couple. They invested a lot and showed gracious hospitality in welcoming you to the wedding—leaving too early is not a gracious gesture.
Follow the Couple's Instructions for Kids
If the couple has requested that no kids attend the wedding, listen to them and respect their wishes for an adults-only wedding. The wedding invitation will clearly outline who is invited to attend. Family members should not attend unless the invite is addressed to "[person] and Family." Additionally, check the couple's wedding website to see if they've addressed having kids at the wedding on their site. They may have a note saying no kids are allowed, or possibly that the ceremony is adults-only, or even that kids under a certain age are not invited. Whatever the policy, wedding guest rules dictate that you follow the couple's wishes.
Be Kind and Thoughtful
Ultimately, this is your friend's day and you're attending to honor and celebrate them. So avoid making assumptions and/or complaining about the way the couple has chosen to handle things. Grounding your attitude as a guest in kindness and thoughtfulness will go a long way.
Hannah Nowack contributed to the reporting of this story.