How to Be a Great Wedding Guest
Hoping to bring your wedding guest A-game? You've come to the right place!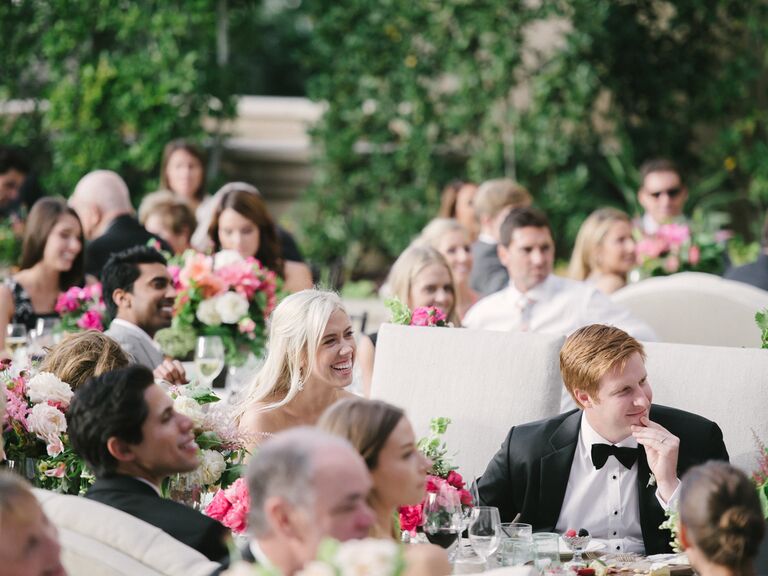 Amy and Stuart Photography

There's more to attending a wedding than getting dressed up, shedding a few tears and partying all night long—you have some important responsibilities too. Here's the low-down on how to be a stellar wedding guest.
Top Wedding Guest Etiquette Tips 
RSVP ASAP
When you receive an invite (usually six to eight weeks before the wedding), don't let it get lost on the coffee table. Check the event date and consult your calendar, then decide if you'll attend. Whether or not you can make it, respond as soon as you can—the RSVP date on the invitation isn't arbitrary. The couple needs to know who's coming promptly in order to give their vendors, like the caterer, a final head count no later than two weeks before the wedding. Your procrastination may seem trivial, but it could actually add to the couple's planning stress.
Your response will depend on the invitation. If there's a preprinted response card, fill in the blanks: "Ms. Kim Williams and Mr. Brian Jones will" or "will not" attend (and editorialize a bit, if you like: "will happily" attend). If you haven't spoken to the to-be-weds recently, feel free to slip an additional note of congrats into the prestamped envelope.
The most formal invitations may arrive without a printed response card. In this case, you should write your response on nice stationery, mirroring the language of the invitation: "Ms. Kim Williams and Mr. Brian Jones/accept with pleasure/the invitation of/Mr. and Mrs. Michael Livingston/for Saturday, the second of August/at five o' clock in the evening." If you can't make it, write, "Ms. Kim Williams/regrets that she is unable to accept/the kind invitation of/etc." (You don't need to include the time on a regret, just the date). If the invitation is more casual but doesn't include a response card, just write a warm, informal note accepting or declining. Also, when it comes to attending the wedding, do let the hosts know if you must cancel at the last minute; don't just not show up.
Read the Invitation Carefully
Sure, if you're going to a wedding, chances are, you want to invite your partner or friend to tag along. However, don't assume you can invite a plus-one unless it says "and Guest" on the outer envelope along with your name. Only the people to whom the invite is specifically addressed are invited. This may be obvious, but you'd be surprised how many wedding guests think they can invite a friend (or two) to the wedding. The bottom line: The couple decides who's invited, and you should not ask if you can bring someone else along—even if it's your significant other. This is perhaps one of the most important wedding guest etiquette rules to follow when attending a wedding. 
Appreciate the Wedding Announcement
Even if you're not invited to the event, receiving a wedding announcement means the couple still wants you to know about it. Don't get mortally offended off the bat—if they're close friends, they may have chosen to have an intimate family wedding and couldn't invite all their friends. If it's not such a close friend, or it's a business associate, don't feel obligated to send a gift. It's a nice gesture to send a personal note of congratulations, but even that isn't automatically expected.
Give a Wedding Gift (Or at Least a Card)
Always plan on sending a gift when you accept a wedding invitation. If you can't make the wedding, it's still nice to send a gift, but you won't be committing a major faux pas if you don't. At the least, send a congratulatory card before the wedding.
Technically, you have up to a year after the wedding date to send a gift, but it makes sense to shop for a gift soon after you decide to go. If the couple has a wedding website, registry information will most likely be there. If not, find out where the couple is registered by asking the bride's mother or siblings, or the couple themselves.
The wedding gift should be sent to the address the couple has given their registry—don't bring it with you to the reception. While this is still the custom in some regions, gifts at the wedding mean the couple has to worry about security, making sure cards stay with boxes and getting them home somehow after the reception. (Also, you'd have to lug it along with you that day.)
You don't have to get the couple a gift from their registry, of course, but the upside is they've chosen these items themselves, so you know they want and like them. If you have another, special gift idea, by all means, go for it. But still send or bring it to the couple's home instead of handing it to them on the wedding day. (If you're not having a package mailed through a store, make sure to insure the box against damage.) If you want to give the couple a money gift, make your check payable to the bride or groom if you're sending it before the wedding (use the bride's maiden name), or to both of them if you give it to them on the wedding day or after.
Dress Appropriately
Dress as you would for any other social event held at the hour and during the season of the wedding. For example, if it's a spring brunch or luncheon, a pretty suit or floral dress would be appropriate for women; a light-colored suit and/or shirt and tie for men. For evening, depending on how formal the wedding is (you can usually tell this from the formality of the invitation and/or where the wedding is being held), the dress code is cocktail dresses for women and darker suits (or tuxedos, if it's a black-tie affair) for men. When going to a wedding, avoid wearing anything too flashy—and remember that if the ceremony is at a religious site, you don't want to show too much skin (for example, shoulders might need to be covered).
Black used to be taboo for weddings, but these days, a black dress is perfect for an evening wedding. Female wedding guests should not wear white—it's considered extremely impolite to take away from the bride on her day by wearing her color. Avoid off-white and ivory too, unless there's a dress code mentioned on the invitation or wedding website that instructs guests to wear a certain color.
If you are ever in doubt about the dress code, follow proper wedding guest etiquette and ask the couple what they would like to see their guests wearing. For example, if it's a casual, backyard affair are khakis for men and sundresses for women suitable? After all, it's best to know ahead of time versus showing up and sticking out from the rest of the crowd. 
Arrive Early to the Ceremony
You should get to the ceremony on time—this is not a party to be "fashionably late" for. Also, never consider ditching the ceremony and just showing up for the reception. You've been invited as an honored wedding guest to watch this couple get married.
Ideally, you should arrive at the ceremony site 30 minutes before the time printed on the invitation, and even earlier for a large event (200 wedding guests or more). If you get there after it's begun, seat yourself quietly in the back. If the procession is going on, wait until the bride reaches the altar to enter and find a seat.
Follow the Lead of Others
When attending a wedding ceremony, you may be exposed to different traditions or customs than you're used to. You're not expected to participate in religious rituals (if you're Jewish and attending a Catholic wedding, for example, you don't receive Communion). But it's polite to follow the lead of family members sitting in front as far as standing and sitting goes (you don't have to kneel if you don't want to, though). After the recession, wedding guests remain in their seats until the families of the newlyweds have been escorted out. If the receiving line is scheduled post ceremony, simply join in the line.
Be Mindful of Your Cell Phone
If there's one major wedding guest etiquette tip to follow, it's to be mindful of your cell phone use. First and foremost, put your phone on silent, especially during the ceremony. Next, avoid making calls, sending texts or playing on your phone. Not only is this extremely rude, but keep in mind that you might get caught doing so on camera. Finally, avoid using a flash when taking photos as this could disrupt the lighting for the hired photographers.
Join the Receiving Line
Usually the first thing you'll see at the reception (if the couple has arrived before the guests, which is ideal) is the receiving line. Don't blow it off—this is your opportunity to talk one-on-one with the couple, meet the bride or groom if you haven't yet, and thank their parents for inviting you. Especially if it's a large wedding, you might not get a chance to chat with the couple later. Don't spend too much time in line, though—just say a heartfelt congrats, shake a few hands then proceed to the reception.
Socialize
After the receiving line, it's time for the cocktail hour, when guests mix and mingle over drinks and hors d'oeuvres. This is prime socializing time, so enjoy! In fact, the couple encourages everyone to get to know each other. You may even have a chance to meet the guests who are sitting at your table prior to dinner. 
Drink Responsibly
We know that an open bar can be awfully tempting. The last thing you'll want to do is make a scene and steal the spotlight if you've had too much to drink. Pace yourself and be sure to hydrate in between cocktails. If you suspect getting dragged into taking shots and countless celebratory toasts, choose a drink with a lower alcohol content or swap a cocktail out for club soda--no one will know the difference.
Follow the Seating Charts
You'll know when it's officially time to be seated for the meal, but it's fine to sit before you're asked to (although it's more fun to walk around a talk to people). Don't just park it anywhere, though. Check the seating chart and sit where you're supposed to. When you find your table, introduce yourself to anyone you don't know and explain your connection to the couple. Be nice and a little adventurous—don't just talk to people you're already acquainted with. If there's a specific seating arrangement, the couple probably put you with people they thought you'd enjoy talking to, so you probably will.
Hit the Dance Floor
One of the best parts of going to a wedding is celebrating the newlyweds on the dance floor. When it comes to dancing, guests generally follow the lead of the couple, wedding party and families. Usually the newlyweds dance together first (although the first dance sometimes happens later on in the reception). Once the party gets going, though, feel free to dance as much as you want to.
Respect Traditions
As for the bouquet throw and garter toss, if you're not crazy about these traditions, don't just avoid them by hiding out in the bathroom. If you're not someone inclined to dive for the bouquet or garter, just go out there and stand in the back with a smile or remain seated at your table. Even if you think these traditions are silly, or that something else about the wedding is tacky or inappropriate, always keep your feelings to yourself. This might not be exactly how you'd do it, but the couple chose to do it, and it's not your place to complain or criticize.
Say Your Goodbyes
When is it appropriate to leave? Receptions usually last about four hours, and you'll know when things start winding down. You should stay at least until after the cake has been cut. Many brides and grooms stay until the bitter end these days, so it's hard to leave after them. When you decide to head out, find a member of the bride's immediate family (like her mom) and thank them. Also attempt to give the couple a last hug before you leave.
Be sure to follow everyone else's cue. After all, you do not want to be the last person lingering at the wedding ceremony. Usually, the DJ or band will treat the crowd to one last song. Vacate the dance floor afterward--this is not the time or place to ask for encores. At this point, gather your belongings and begin making moves toward the door. 
At the end of the day, wedding guest etiquette just means trying your best to be respectful and polite. The newlyweds put a lot of time and energy into perfecting their special day and you don't want to offend them in any way, even if it's only unintentionally.