Here's How Much It Costs to Attend a Wedding (And How to Budget for It)
Keep your balance in check this wedding season.
We have included third party products to help you navigate and enjoy life's biggest moments. Purchases made through links on this page may earn us a commission.
If you've attended a wedding, you know the price of being a guest adds up over time. From outfits and gifts to travel and lodgings, there's a lot to consider. As you may need to set aside some cash, it's helpful to know what the average cost to attend a wedding actually is. Having a ballpark figure in mind will help you determine how much you're required to spend, set a realistic budget and prioritize accordingly.
Of course, creating and sticking to a budget is easier said than done. That's why we've tapped finance and wedding planning experts for their professional advice for guests attending celebrations this wedding season. Consider this your official financial survival guide to the 2022 wedding boom. We're sharing how much it costs to attend a wedding on average, as well as tips for protecting your financial well-being, money-saving tricks, and what to do if you're not sure you can afford to attend.
In this article:
The Average Cost of Attending a Wedding
Based on an internal study of 1,000 guests who attended at least one wedding in 2021, the average cost of being a wedding guest was $460—an increase of $30 compared to 2019. After a tumultuous 2020, 68% of guests were willing to spend more on weddings, most commonly on a gift for the couple.
The average wedding guest cost fluctuates depending on factors like location and proximity, the type of wedding and the relation of the guest to the couple. The average guest spend for a wedding based in their hometown (that didn't require travel or lodging) was $270. Those who drove out of town spent approximately $660, and guests who flew to a wedding reported an average spend of $1,270. This grand total also includes the average spend on a wedding gift, which was $160.
Travel Costs
The location has the greatest impact on the cost of attending a wedding and is the biggest deciding factor for guests determining whether or not to attend. Guests who went to an out-of-town wedding spent up to four times more than those who did not travel. Ultimately, the cost of attending a wedding is important to guests. Over half of those required to fly researched travel options and costs before RSVPing, while guests within driving distance looked into the venue location first.
Accommodation Costs
When it came to finding accommodations, price and location were what guests prioritized, followed by where friends were staying, proximity to local attractions and availability of amenities like a pool or gym. Of the 70% of respondents who paid for accommodations, just over half stayed in a hotel, while 29% booked a vacation rental (like Airbnb or Vrbo). A further 18% chose to stay in a traditional bed-and-breakfast or inn.
Of those who did not stay at the couple's recommended accommodations, 34% wanted a lower cost option and 36% opted to stay with friends or family. Additionally, 23% booked accommodations where they could use or earn hotel points, indicating a desire for more financially savvy travels.
Attire Costs
Roughly 7 in 10 guests spent more attending a wedding in 2021 than they normally would. While 37% of respondents spent more on a gift, splurging on attire and accessories was a close second at 32%. The Knot's 2021 Guest Optimism Study, which surveyed over 500 people attending a wedding in 2021, revealed that 51% were most looking forward to getting dressed up—hence the willingness to splurge on a new outfit.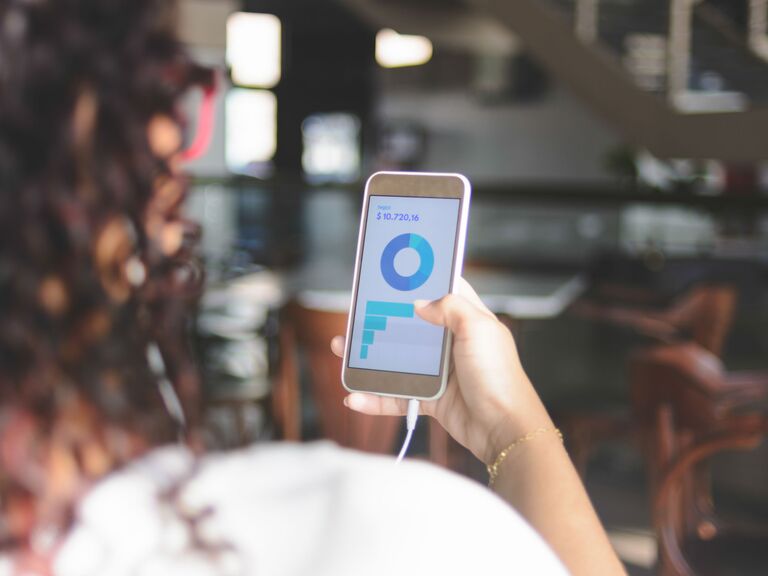 How to Prioritize Your Financial Well-Being During Wedding Season
While you should embrace the opportunity to celebrate the lovebirds in your life, it's also important to protect your own well-being as a wedding guest, including your financial goals and responsibilities. It's okay to splurge a little, as long as you can comfortably afford to. If you're able to divert the cost of usual discretionary expenses (think: dining out or testing the latest #TikTokMadeMyBuyIt trends) to cover the cost of a wedding gift or your cab fare to and from the venue, even better.
Making a few swaps here and there can help you set a healthy budget that'll allow you to enjoy the wedding celebrations without putting other financial goals—such as saving for a home or paying off debt—on hold. Follow these tips for a wedding season free from any unexpected surprises or financial worries.
Take stock of your finances. Checking in with your savings goals, loan repayments and other financial commitments is essential before setting a budget to attend a wedding (or multiple weddings). Calculate how much money you have leftover to put toward wedding guest expenses after regular bills, savings and loan contributions. From there, you can determine if any adjustments need to be made in order to afford everything.

Start saving early. It's a good idea to prepare for your wedding guest expenses well in advance of the big day. "Use the first save the date as your cue to start saving that money," advises Lauren Bringle, accredited financial counselor at Self Financial, a service designed to help build good credit. Since save-the-dates go out six to eight months before the nuptials (and even earlier for destination weddings), you'll have plenty of time to start putting money aside. Just $10 a week for six months will give you roughly $260.

Take advantage of credit card points. Credit card points are an often-underutilized resource. Bringle suggests either saving up credit card points to cover your wedding guest expenses or using them strategically so that they serve you after the celebrations. They can go toward cashback for necessities or rewards points that help you take a lower-cost vacation later on, says Bringle.

Keep on top of your budget. Deciding on a budget is just step one. Next, you have to make sure it's actually working for you. "Track your spending and make adjustments as needed," advises Allison Davis, founder and creative director at wedding-planning company, Davis Row. There are lots of great online services and apps that can help you organize and track your finances, like Mint, Monarch and YNAB. Don't despair if the budget you first set just isn't working out—sit down, relax and reevaluate.

Make the most of your trip. If you're spending a lot of money on flights and taking time off work to attend the couple's wedding, why not turn it into a vacation? Stay a few days after the nuptials to explore the area and unwind. You get to watch your loved ones tie the knot and you'll score an awesome vacay—it's a win-win.
How to Attend a Wedding on a Budget
For many, budgeting to attend a wedding isn't as straightforward as putting some extra cash aside for a few months. Sometimes, it's necessary to make compromises or be a little more choosey about how you spend your hard-earned dollars. Read up on these clever tips so you can save money on your wedding guest costs (without too many sacrifices).
Choose your attire wisely. It's not necessary to buy a whole new outfit just because you got a wedding invitation in the mail. The easiest way to save money on your attire is by wearing something you already own—but that's not the only way. Davis suggests renting a wedding guest outfit instead of buying a new one. Or, as Bringle advises, you could do a clothing swap with friends to mix things up.

Don't leave things to the last minute. "Waiting until right before the wedding for anything (flights, gifts, etc.) limits your options, and could result in you paying more out of necessity," says Bringle. Instead, search for early deals on travel and accommodations. Look out for upcoming sales too—by keeping an eye out, you could score a great bargain.

Use the couple's registry to your advantage. The lovebirds should have options on their wish list for a variety of budgets. By using their registry to find a gift, you can give the couple something they really want while spending within your means. Nowadays, many soonlyweds include cash and experience funds on their registries too, where you have the power to decide how much you want to give. "Even if it's just enough to cover a couple rounds of drinks or an excursion during the honeymoon, you know your gift will contribute to an experience they'll never forget," says Bringle.

Join forces with your fellow wedding guests. "When it comes to travel and accommodations, try to see what costs you can split with friends who are other guests," says Davis. "Maybe you synchronize your flights to split a ride from the airport, or road trip to the destination together." Contributing to a group gift is also a great way to spoil the newlyweds with one of their big-ticket registry items (without taking on the hefty price tag by yourself).

Plan for pre- and postwedding events. If you're very close with one or both of the nearlyweds, you'll likely receive wedding shower and bach party invitations too. Ideally, you should factor these potential extra costs in when you receive your wedding invite. "Before responding to the invitation to attend or especially to participate as a member of the wedding party, consider if you can afford to make the investment of energy, time and money that is required," says Nadia S. Anderson, certified public accountant and founder of luxury wedding-planning company Virginia Grace.
What to Do If You Can't Afford to Attend a Wedding
If your day-to-day financial responsibilities don't leave a lot of wiggle room, you might be wondering whether you can afford to attend at all. Before you RSVP no, keep in mind that the couple didn't send you a wedding invitation with the expectation of a gift or a trendy new outfit. They invited you to their wedding because they want to share their special day with you.
If the wedding is local, see if you're able to shift some things around in order to attend. Prioritize the essentials, such as your travel to and from the venue. "I suggest that wedding guests focus on thoughtful ways to show and share love with the couple," says Anderson. If that means just showing up to the nuptials, that's okay. Additionally, wedding gift etiquette permits you to send a present for up to two months after the wedding, so you can always pick up a token of your congratulations at a later stage.
For out-of-town nuptials that require pricey plane tickets or accommodations, declining the invite might be what's best for you and your financial situation. Sending your regrets should be handled lightly. "If you decide that you can't afford to attend a wedding, send well wishes and warm thoughts for a lovely celebration as soon as you know that you can't attend," advises Anderson. It's not necessary to detail exactly why; knowing that you can't afford to be there may actually add to the couple's stress, she says. "I suggest sending a gift and encouraging note before the wedding date and make plans to connect in person and celebrate the couple as soon as you're able to after the wedding."