See Isabelle Armstrong Wedding Dresses From Bridal Fashion Week
Here's the designer's latest collection to hit the bridal runways.
by Lauren Levy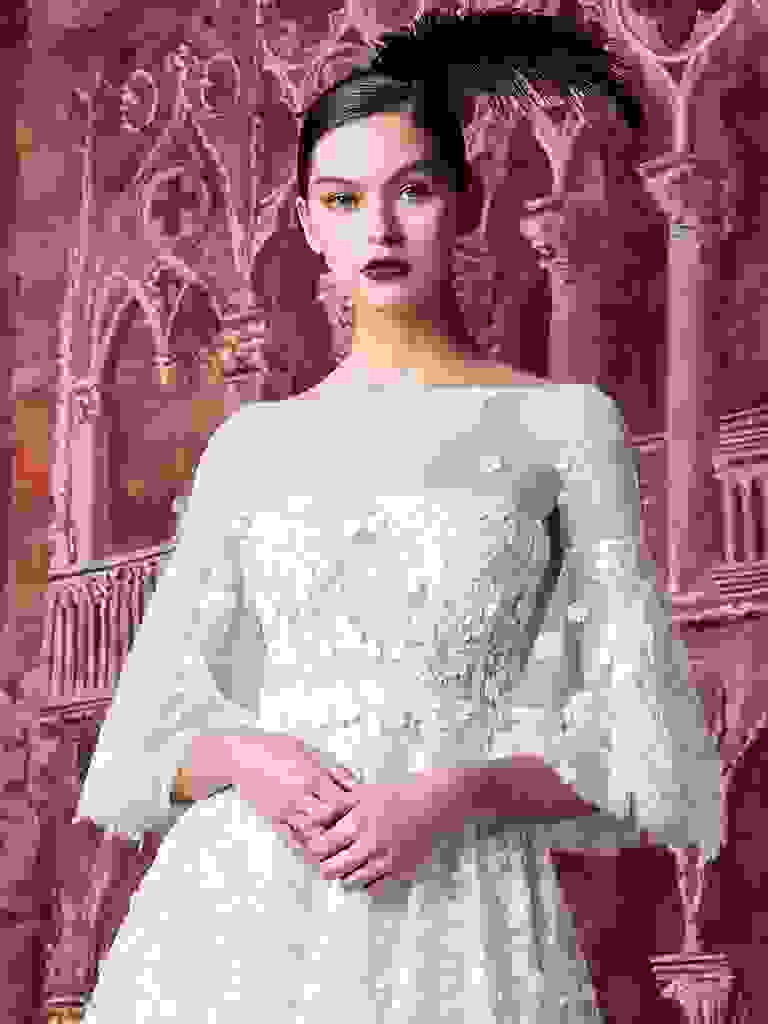 Isabelle Armstrong bridal is built upon the belief that every wedding gown should speak to romance, sophistication and modernity. This luxury wedding brand blends an air of romance and magic with impeccable tailoring. Combining both classic and fashion-forward silhouettes, Isabelle Armstrong wedding dresses make a powerful statement. From textured 3-D florals to dramatic tulle frills and feminine lace, Isabelle Armstrong bridal gowns masterfully mix architectural and soft elements for a fresh feel. With a modern sensibility and flirty accents, Isabelle Armstrong wedding dresses offer an elevated take on traditional bridal. "Is it cool to admit that you're a shameless romantic? Maybe, maybe not," said Isabelle Armstrong's founder, Remy Quinones. "But romance with a modern edge is at the very heart of our collection.  Lace, ball gowns, butterflies, flowers, tulle, bows, bring it all on." 
Isabelle Armstrong's Fall 2020 Wedding Dresses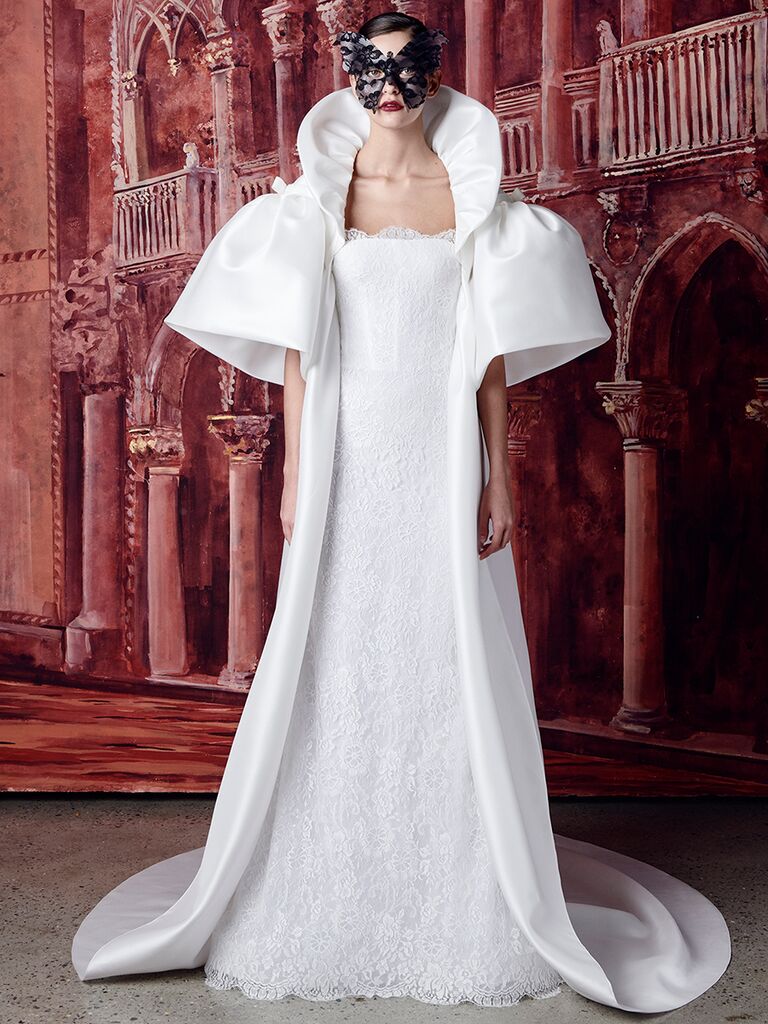 Adeline & Monsie; Lace wedding dress with overcoat with puffed sleeves and oversized collar.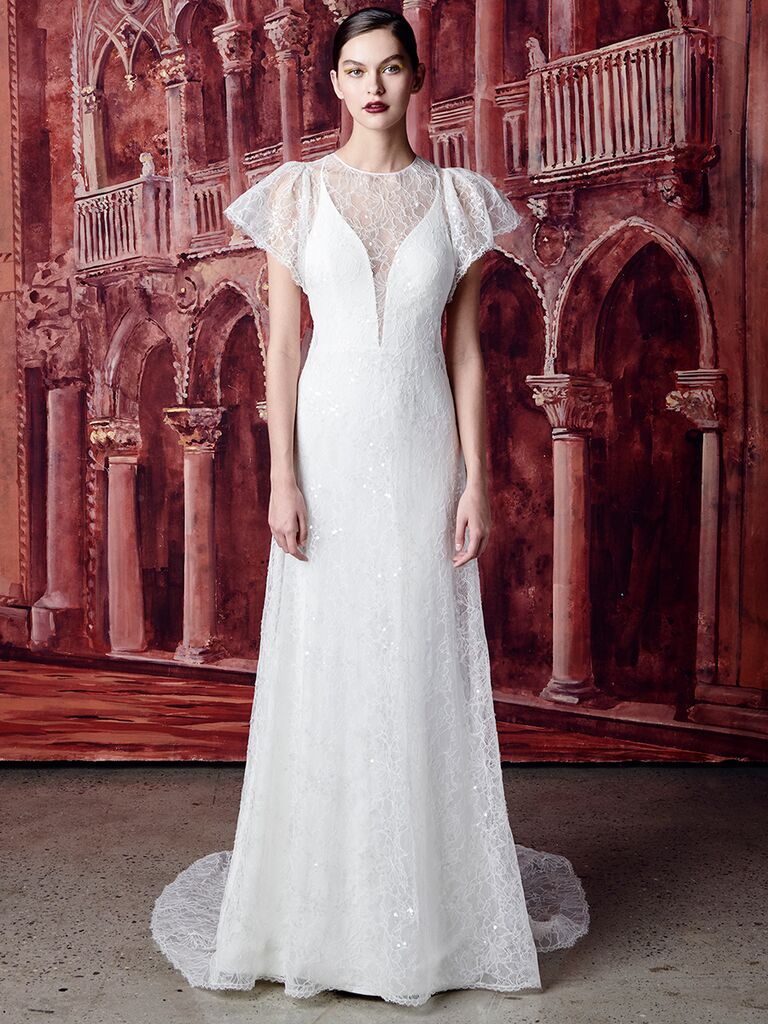 Alessandra & Ravenna; Fitted dress with V-neckline and lace overlay with butterfly sleeves.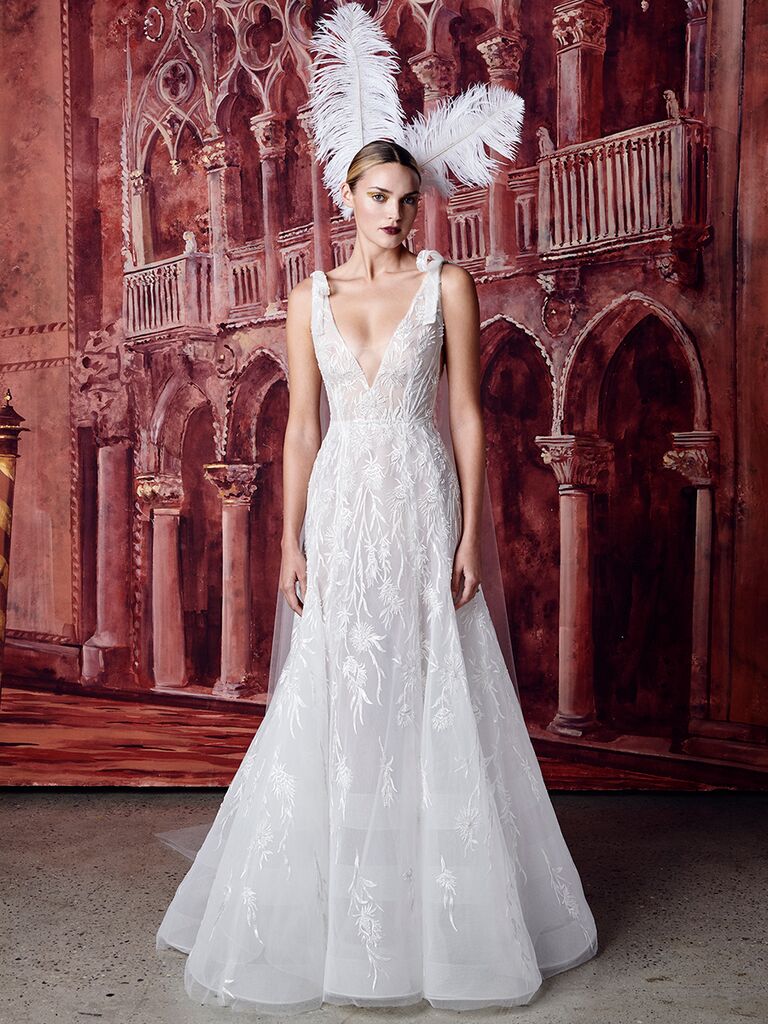 Amalfi; Fit-and-flare dress with V-neckline and embroidered lace.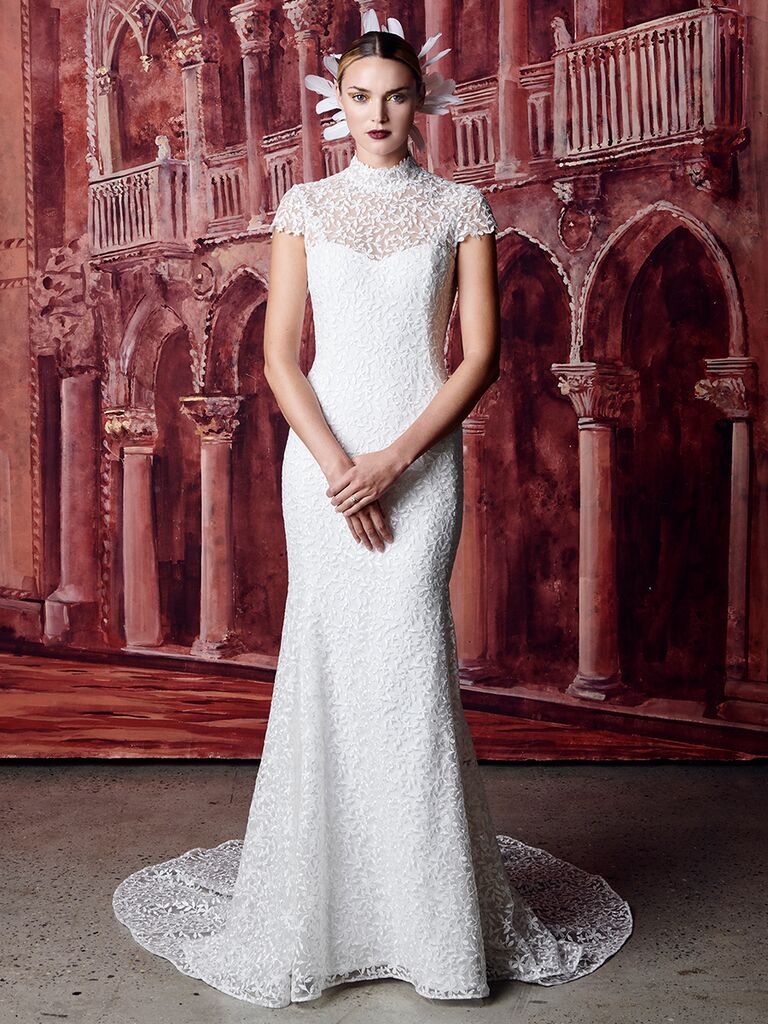 Capri; Fitted dress with high neck and sheer embroidered lace overlay.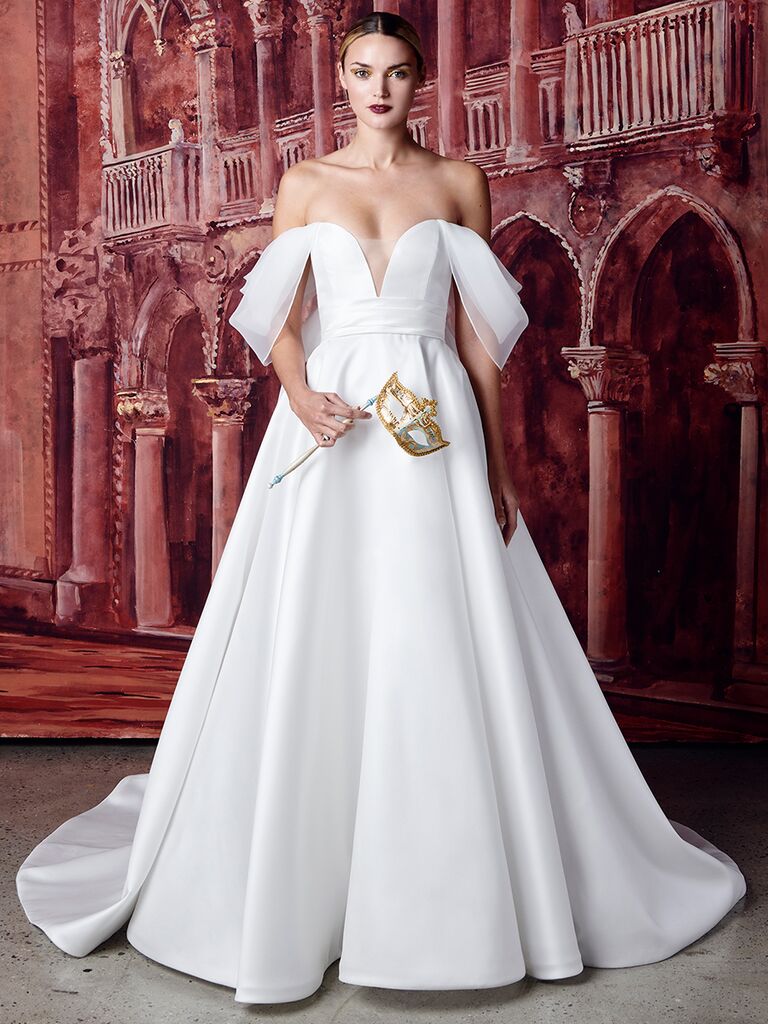 Como; Off-the-shoulder ballgown with V-neckline and fitted waist.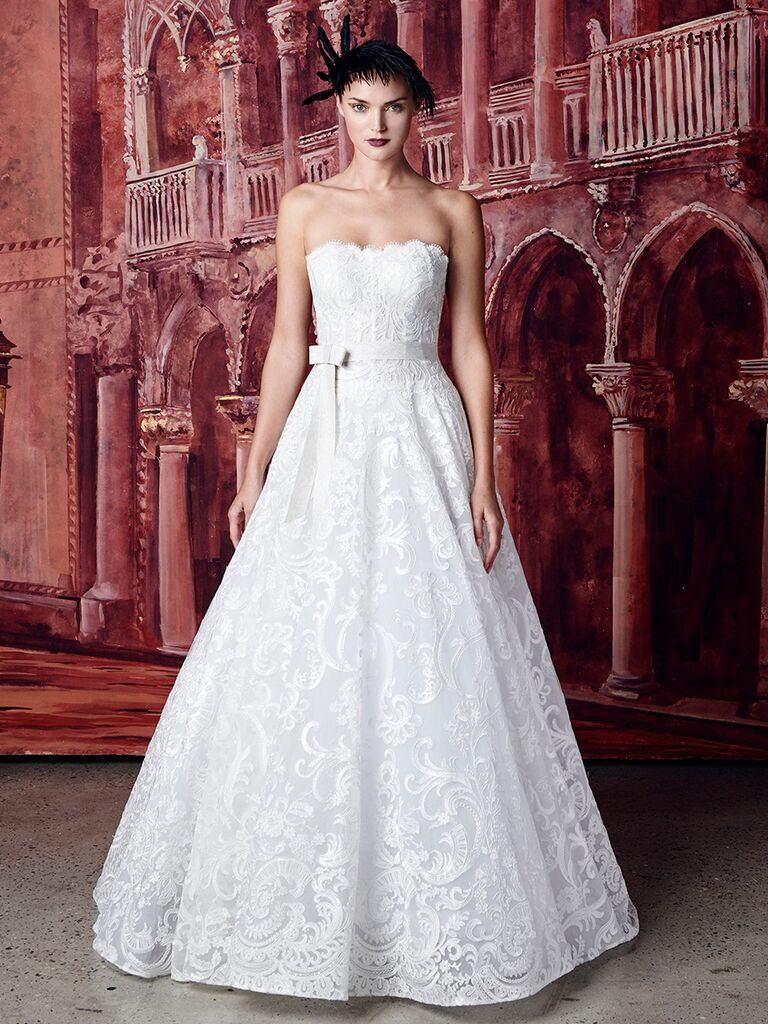 Ferrara; Strapless lace ballgown with fitted waist and bow detail. 
Florence; Strapless ballgown with floral appliques and V-neckline.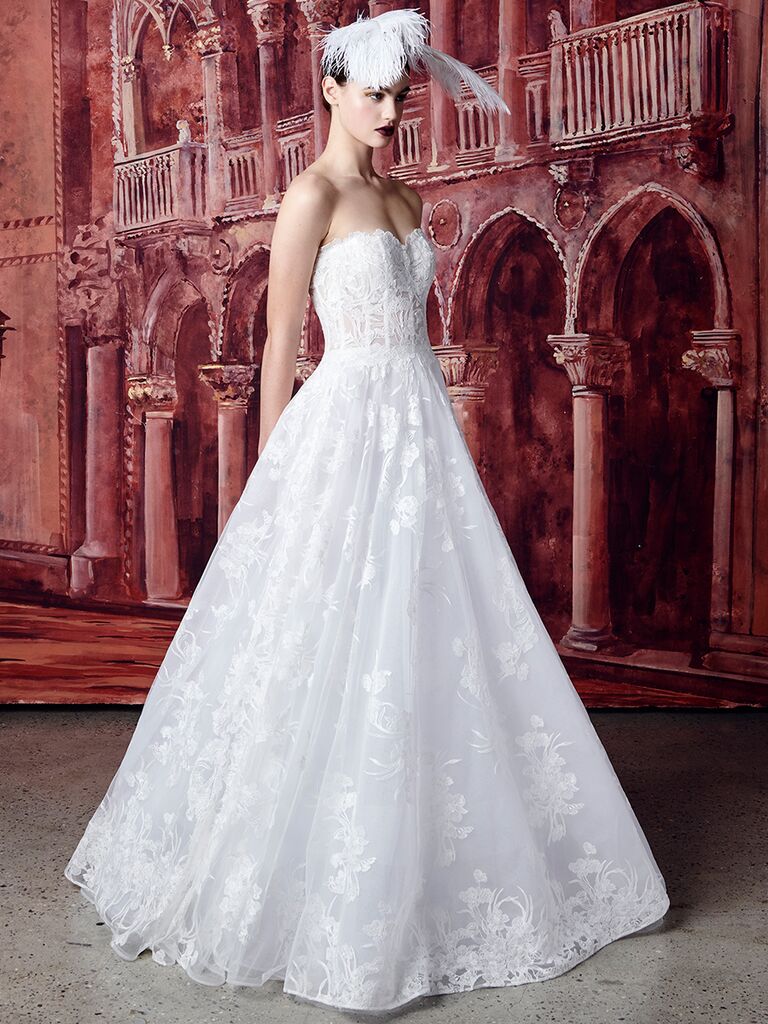 Milan; Strapless ballgown with bustier bodice and embroidered floral lace.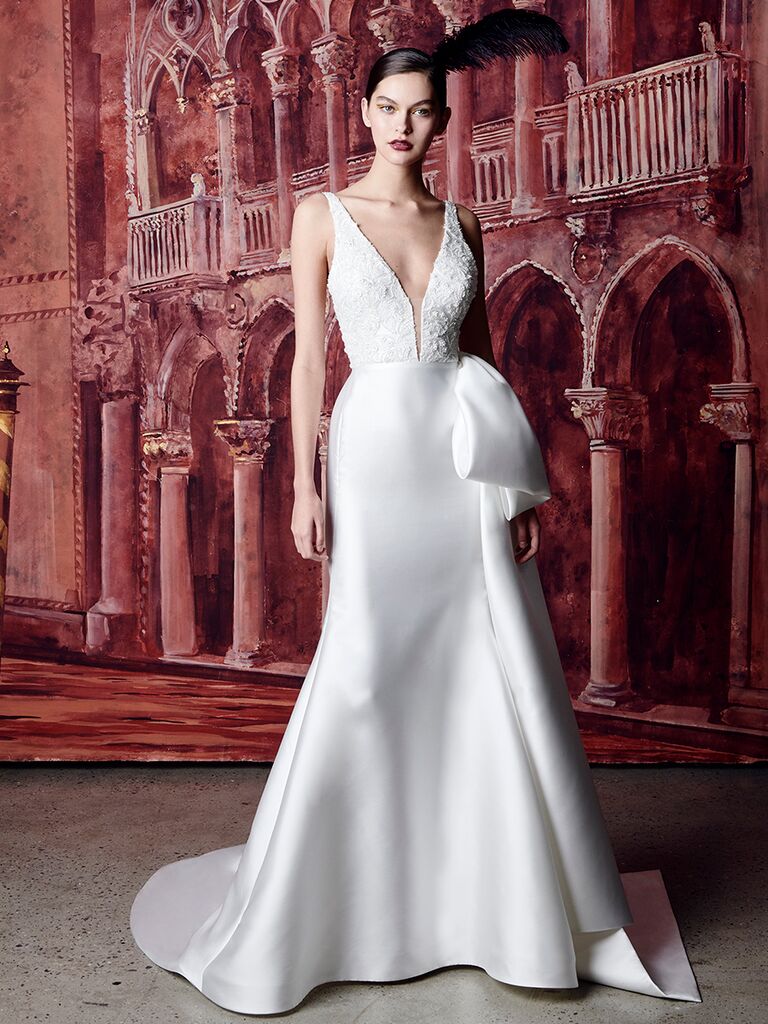 Naples; Fit-and-flare dress with deep V-neckline, beaded bodice and bow detail. 
Palermo; Fit-and-flare strapless lace dress with bow detail on back.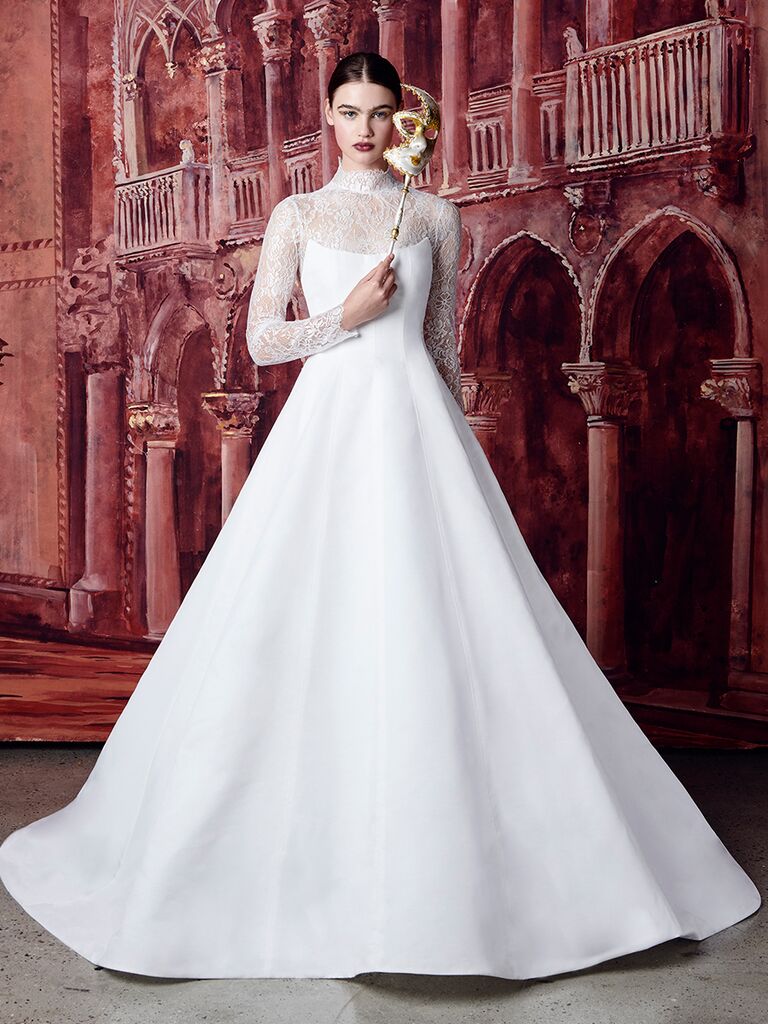 Perugia; A-line gown with lace high neck and long sleeves.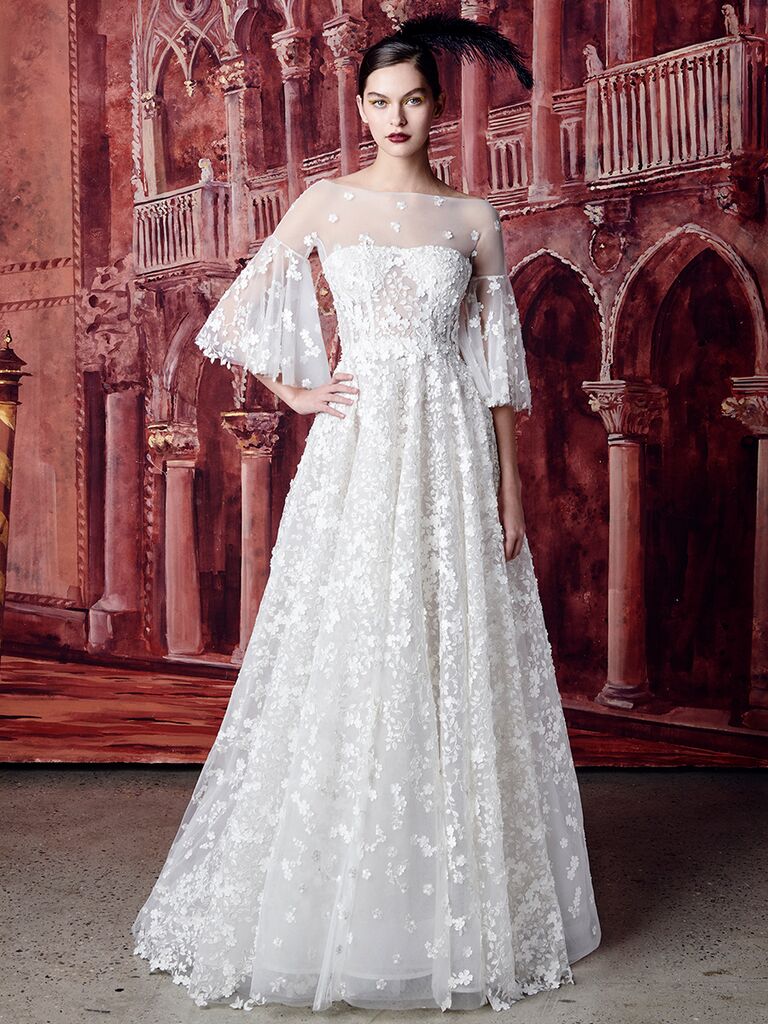 Positano; A-line gown with illusion neckline, loose 3/4 length sleeves and floral appliques.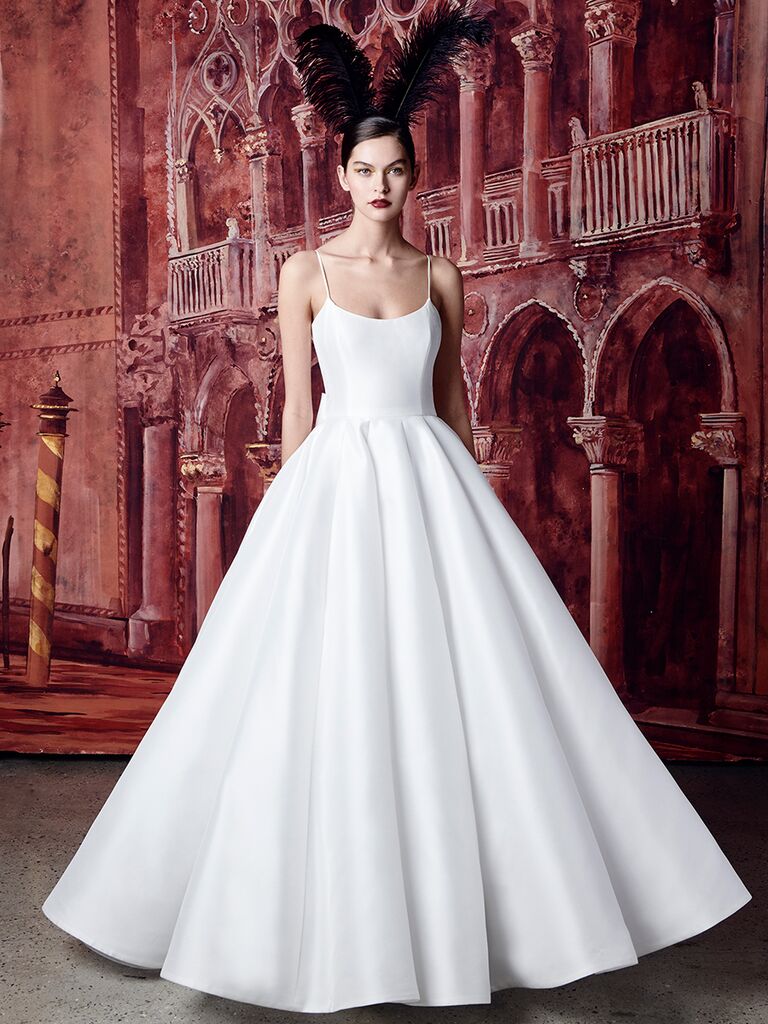 Rome; Ballgown with scoop neckline and spaghetti straps.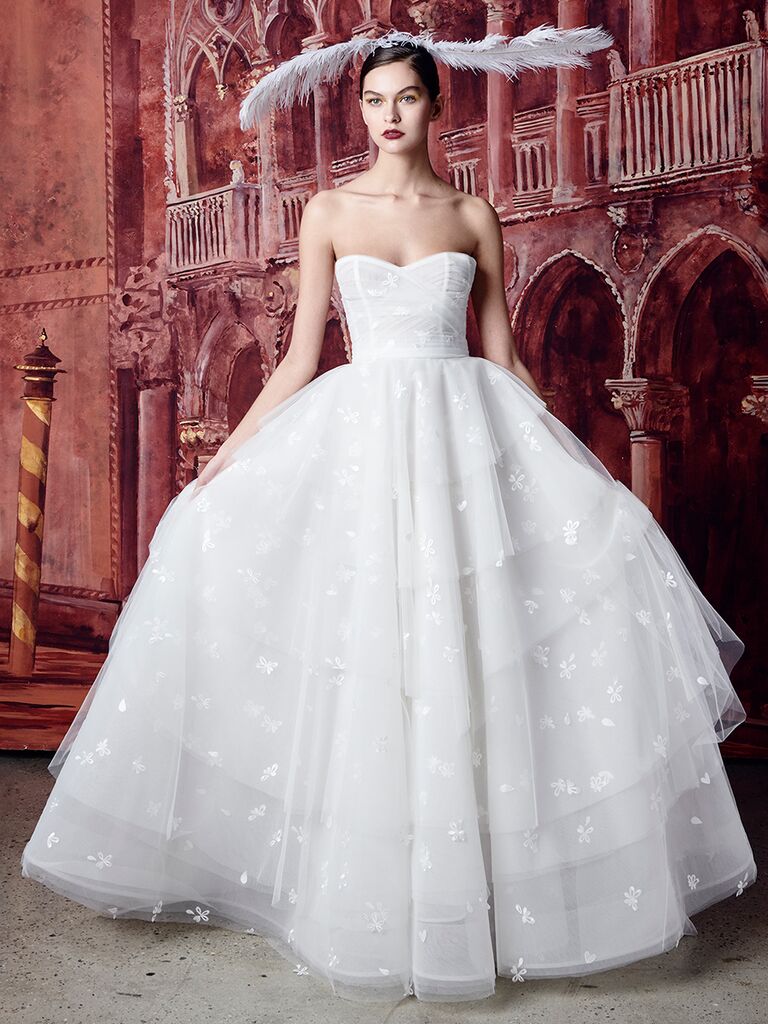 Salerno; Strapless ballgown with tiered skirt and floral appliques.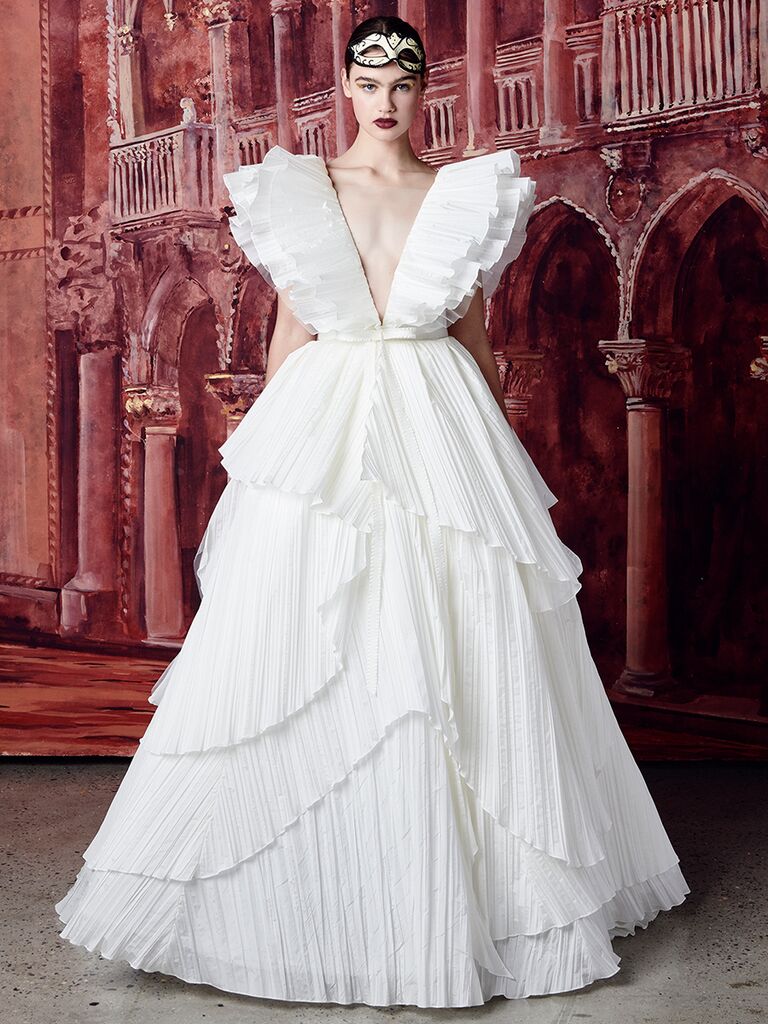 Shay; Ballgown with tiered skirt, deep V-neckline and ruffled sleeves.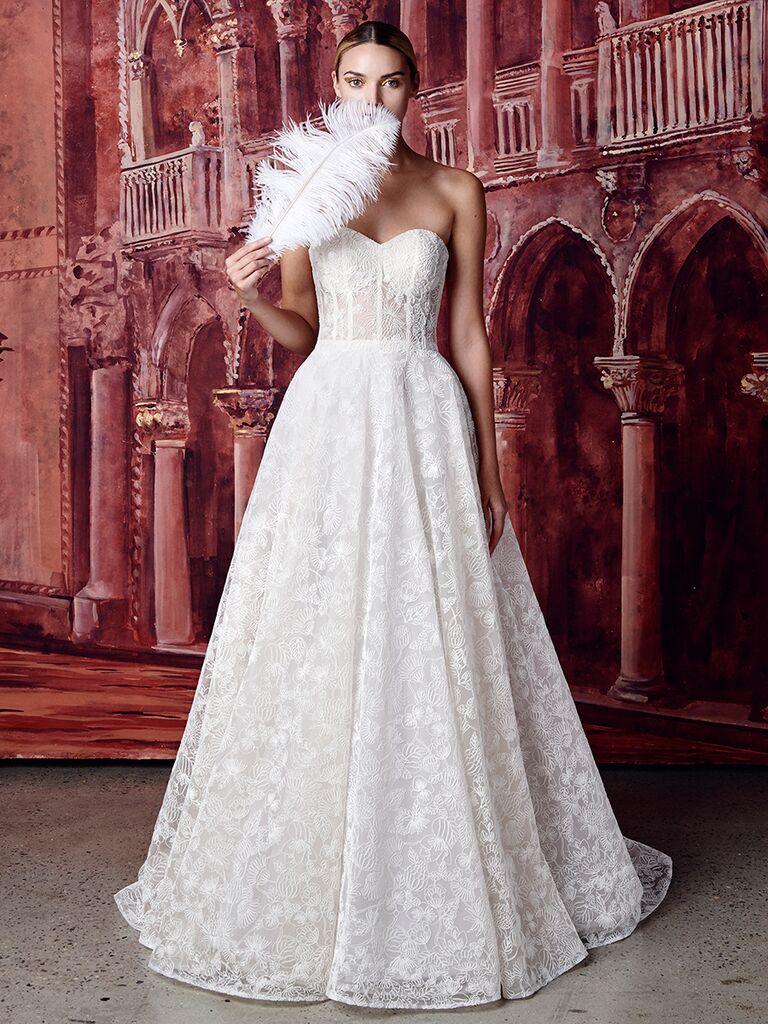 Siena; Strapless ballgown with sweetheart neckline and floral embroidery.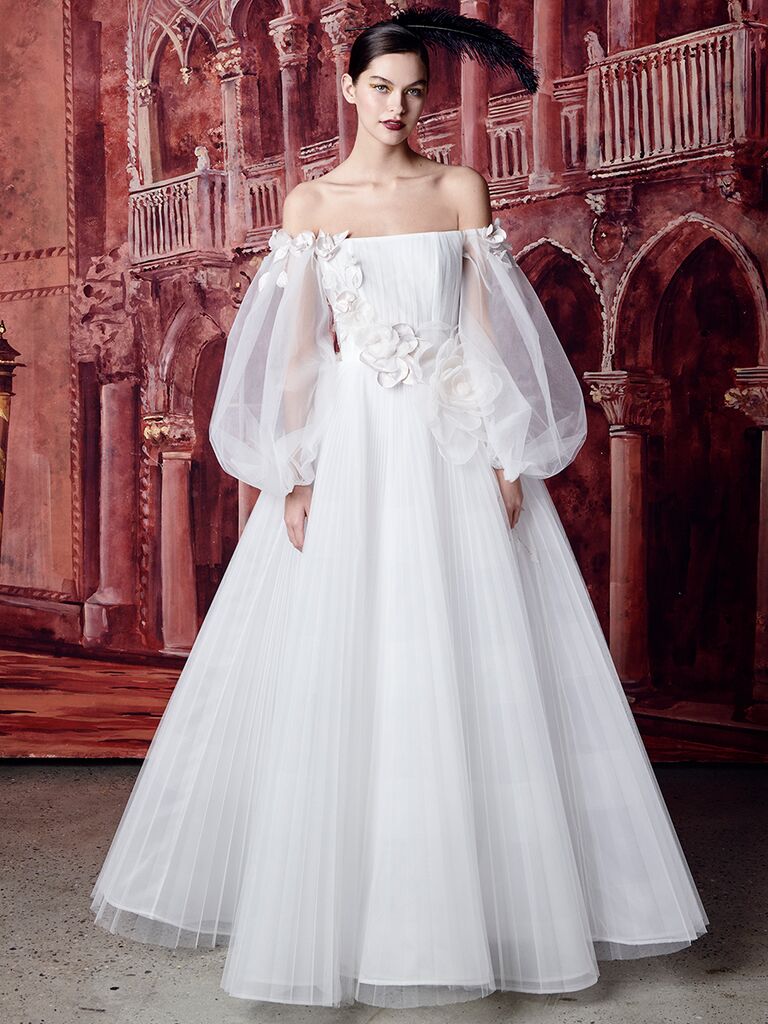 Venice; Off-the-shoulder ballgown with large floral appliques and puffed tulle sleeves.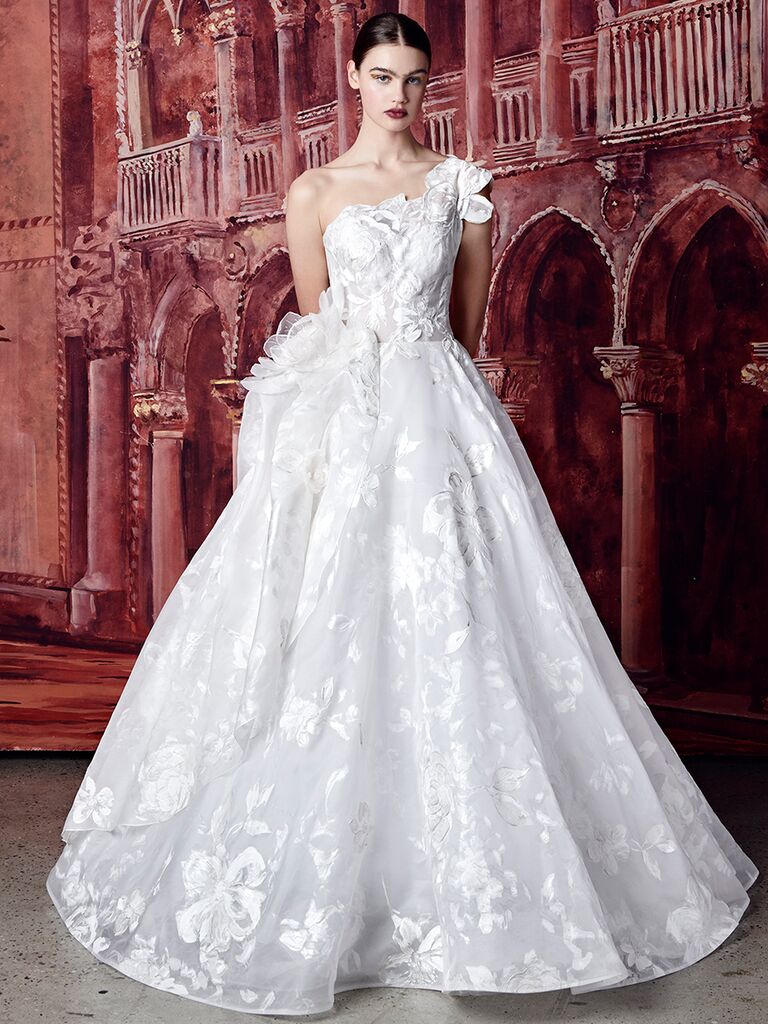 Vittoria; One-shoulder ballgown with large floral appliques and floral embroidery. 
Isabelle Armstrong General Style
Blending old world femininity with the modern bride's edge, Isabelle Armstrong wedding dresses are both romantic and fresh. These handcrafted gowns each offer a moment of surprise with an unexpected combination of fabrics, bold silhouettes, delicate lace and custom embroidery. Isabelle Armstrong wedding dresses are effortless yet innovative, bringing an element of fantasy without compromising on function. That's because Isabelle Armstrong's founder and creative director, Remy Quinones, knows the most important thing is that real brides feel comfortable wearing her gowns throughout their day. Just as all eyes are on every aspect of a wedding dress's exterior, Quinones pays just as much attention to what guests don't see: the interior construction. "No matter how gorgeous a dress is, if it doesn't fit right, it's not going to be the one," said Quinones. 
Isabelle Armstrong History
As the owner of a high-end bridal salon in New Jersey, Remy Quinones spent years helping countless brides-to-be to find their dream wedding gowns. This invaluable time with real brides gave her a unique perspective on exactly what many women were gravitating towards and inspired her to launch her own brand, Isabelle Armstrong in 2013. As the CEO, Founder, and Creative Director of Isabelle Armstrong, Quinones has worked to blend comfort and couture into each gown that hits the runway. Quinones's determination to bring fashion, fantasy, and function to every Isabelle Armstrong wedding dress is reflected in each gown she shows. 
Isabelle Armstrong Collection History
Isabelle Armstrong's first collection debuted in 2013 featuring luxe fabrics, custom embroidery, and an inner construction to help the gowns seem weightless. Over the years, the spirit of the brand has continued to focus on forward-thinking silhouettes that still feel timeless.
"Each and every dress in our collection is imbued with a modern sense of glamour, timeless romance and individuality. Can you feel the love?" said Quinones. 
Isabelle Armstrong's previous collection focused on strength and softness, channeling these contrasting elements of modern femininity. "As a woman today, we're required to be both soft and strong, often at the same time. This underlying feeling really informed the spring 2019 collection," says Quinones. "My feminine side went for full-on frilly, yet my reserved side went for a quiet, tailored vibe. I think this juxtaposition speaks to a lot of us who feel the push and pull of what it means to be a woman in the world today."
Isabelle Armstrong's Spring 2020 collection brought the drama and showcased bold elements from fanciful frills to unexpected necklines. The inspiration behind this show-stopping collection is Quinones's personal heritage. The structural yet romantic gowns pay tribute to Lugo, Spain with historical elements from this medieval city, and especially the Lugo Cathedral, influencing each design.