The Ultimate Guide to In-Season Spring Wedding Flowers
Fill your springtime nuptials with these seasonal flowers.
Couples tying the knot during spring have their pick of the litter when it comes to selecting seasonal wedding flowers since so many beautiful varieties naturally bloom during the early months of the year. To help you get a jump start on dreaming up wedding ideas that include seasonal blooms, we're taking a deep dive into which flower varieties will be readily available on your spring wedding date. Make sure to keep this in-depth guide handy while wedding planning.
In this story:
What To Consider When Sourcing Spring Wedding Flowers
Begin With a Moodboard
Before you get too into the weeds with floral design plans, make sure you've gathered inspiration to help you nail down your dream aesthetic. Alyssa Abshier and Victoria Nadler, cofounders of Amber Sol Collective encourage to-be-weds to "begin by moodboarding and doing research on specific flower styles, flower types, and what color palette you're envisioning. The more specific you are, the better your florist can emulate your vision! And having an inspiration board will help you and your planner really narrow down your unique design for your big day."
Consult With Your Floral Designer
Once you have a sense of what you like and a general idea of looks you gravitate toward, connect with your floral designer to formulate a plan for your wedding flower needs. The floral designer you hire for your wedding will "have the most knowledge on the species you're looking for. They can tell you whether it's in-season, which color varieties are available, or close alternatives if the flower won't be in-season for your wedding day," explains Eddie Zaratsian, owner of Eddie Zaratsian Lifestyle & Design.
Communicate Potential Fragrance Concerns
Many spring wedding flowers are especially fragrant. If you and your partner have sensitive noses, it's wise to avoid overly scented blooms in your wedding floral designs. Bron Hansboro, owner of The Flower Guy Bron advises that "if you know that you or your partner (or anyone in your wedding party!) is sensitive to fragrance, please communicate this with your florist. Of course, some blooms will be more fragrant than others, and you certainly don't want to give yourself a headache during your wedding. You'll also want to be mindful of any allergies–pollen and other grasses can be quite a nuisance if you're prone to watery eyes and sneezing."
Wedding Flowers That Are in Season During the Spring
Fill your spring floral designs with these seasonal, readily available blooms.
Anemone
Known for their iconic black center, anemone flowers bring a fun and whimsical element to all floral designs. Anemone season runs from October through May so winter couples and spring couples alike can make use of this dramatic flower.
Daffodil
Daffodils are the quintessential spring flower. The trumpet-like blooms, which are available from February through May, would look beautiful in assorted bud vases on your reception tablescapes.
Forsythia
Forsythia is a yellow flowering branch that can add drama and texture to spring flower arrangements. The vibrant botanical has a relatively short growing season and is blooms from late March through mid-April.
Hyacinth
Hyacinth, which is generally available in early- to mid-spring, is a great addition to spring wedding bouquets. The plant, which comes in a variety of colorways from pink and purple to white, grows in USDA Hardiness Zones 4-8, which means it's readily available across the US.
Hydrangea
The volume hydrangea brings makes it a great flower for wedding arrangements. If you've always dreamed of an all-white bouquet but don't want it to be a strictly rose bouquet, ask your floral designer to layer in other white flowers, like hydrangea, into the design. Another reason to-be-weds love hydrangeas? They're available starting in the spring, but continue to bloom through the summer and into early fall.
Lilac
What's not to love about the soft pastel purple hued lilacs? Lilacs are most readily available in northern states from mid- to late-spring. For couples on the hunt for more purple wedding flowers, clematis is an option that's mainly available during the summer months, but may be able to be procured for a late-spring wedding.
Lily of the Valley
A favorite of the British royal family, lily of the valley is a great option for formal, luxury weddings. While orchids and calla lily blooms are great go-tos for luxe weddings during the colder months, lily of the valley is the best bet for spring couples who want a formal, classic flower.
Muscari
Muscari is a great option for to-be-weds who to use seasonal flowers in the wedding boutonnieres. Muscari blooms in mid-spring, around the same time tulips flower.
Peony
Peonies, which flower from April through June, come in a variety of colors so there's sure to be one that fits your aesthetic. White peonies would look at-home in a bridesmaid or bridal bouquet at a romantic estate wedding while vibrant coral charm peonies would complement a whimsical barn wedding beautifully.
Poppy
Poppies are a stunning bloom, but the flower is fragile so it works best when used sparingly alongside more hardy flowers. Poppies bloom in USDA Hardiness Zones 3-8 and are generally available from late spring to early summer.
Ranunculus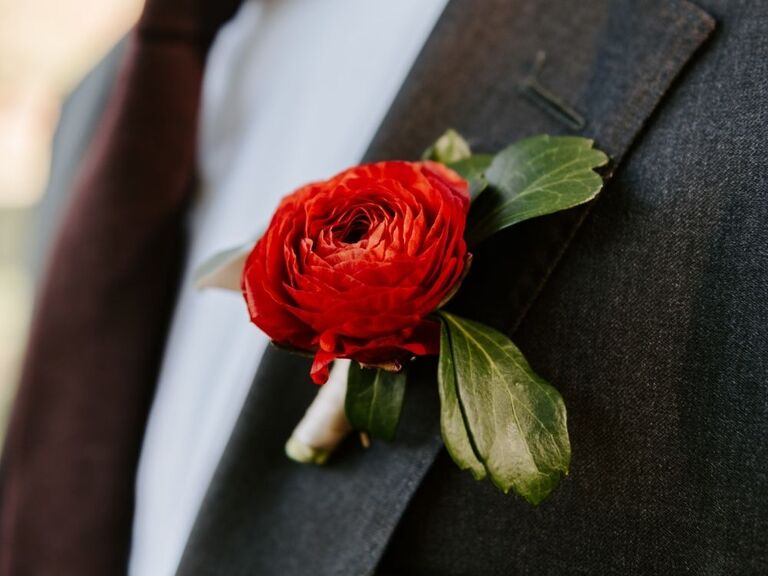 One of the most popular wedding flowers, ranunculus, with its tight petal structure, works well in wedding bouquets alongside roses.
Snapdragon
Similar in appearance to stock or foxgloves, snapdragons bloom on a long stem and work well in dramatic aisle decorations and centerpieces. The botanical, which blooms in early spring, comes in a variety of colors from red and orange to white and pink
Stock
If you prefer arrangements that minimize the use of greenery like eucalyptus, but still abound with texture and shape, a strong-stemmed flower, like stock, is a great option. Stock starts blooming in spring, but is also a readily available flower for summer weddings as well.
Sweet Pea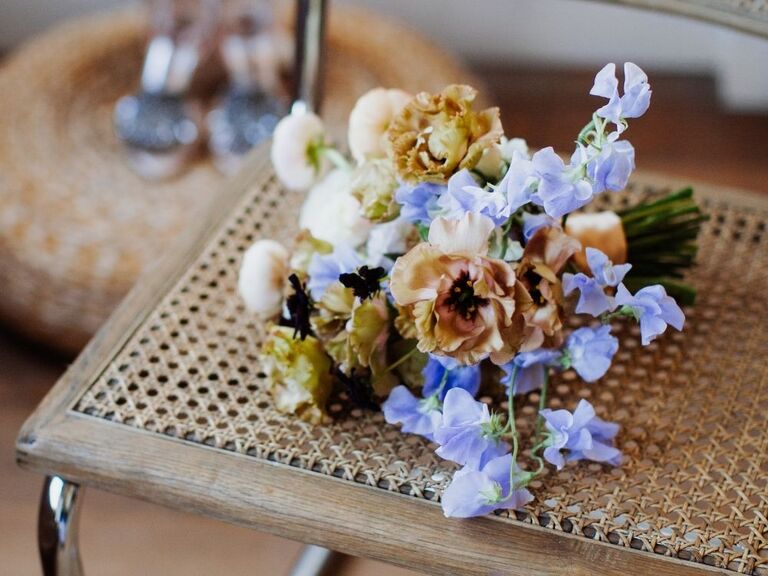 Sweet pea is a dainty bloom that needs to be used strategically, but the fragrant flower is a stunning addition to any wedding flower design. The iconic flower is also available in both spring and summer, making it a reliable option for many to-be-weds.
Tulip
Much like daffodils, tulips are an iconic spring bloom known for their distinct shape and vibrant colors. Fringe tulips are a trendy variety that continues to gain popularity among florists and nearly-newlyweds alike.
Viburnum
Similar in appearance to hydrangea, viburnum is a rounded green bloom that adds brightness to springtime floral arrangements. It is generally available in late spring and early summer.
Wisteria
This purple flower is best used in cascading bouquets or as part of wedding arches where the flower can fall freely downward. The soft purple flower blooms in early May.
Year-Round Flowers to Consider for a Spring Wedding
These plants are available any time of the year, but look especially exceptional in spring floral arrangements.
Baby's Breath
Baby's breath is a great filler bloom no matter when you're tying the knot. The bloom works just as well in floral arrangements for winter weddings as it does for springtime celebrations.
Carnation
Carnations are a budget-friendly wedding flower which makes them a strong option for large-scale installations, like wedding ceremony arches.
Chrysanthemum
If you've always dreamed of having dahlias, which are generally only available for summer weddings, in your wedding bouquet, consider chrysanthemums as an alternative. Like dahlias, the flower is comprised of lots of eye-catching petals.
Delphinium (Larkspur)
Delphinium, like stock, is a springtime bloom that adds beautiful texture to arrangements. The botanical is also an incredibly versatile option as it comes in a variety of colorways, from blue to white and pink.
Rose
Both spray roses and garden roses are mainstays in wedding bouquets, boutonnieres and centerpieces. These readily available blooms are definitely worth including in your springtime floral arrangements.
Gorgeous Spring Wedding Flower Arrangement Ideas
Let these seasonal arrangements inspire your own big day floral plans.
Bright Pink Peony and Rose Bouquet
Orange Peony and Ranunculus Bouquet With Eucalyptus
Peach Sweet Pea and Ranunculus Bouquet
Rose and Hydrangea Bridesmaid Bouquets With Silver Dollar Eucalyptus
Bouquet With White Roses and Fringe Tulips
Beige Bouquet of Hyacinth, Rose and Sweet Pea
Lilac and Ranunculus Wedding Bouquet
Sweet Pea, Rose and Peony Centerpiece in Gold Vase
Coral Charm Peony and Delphinium Bouquet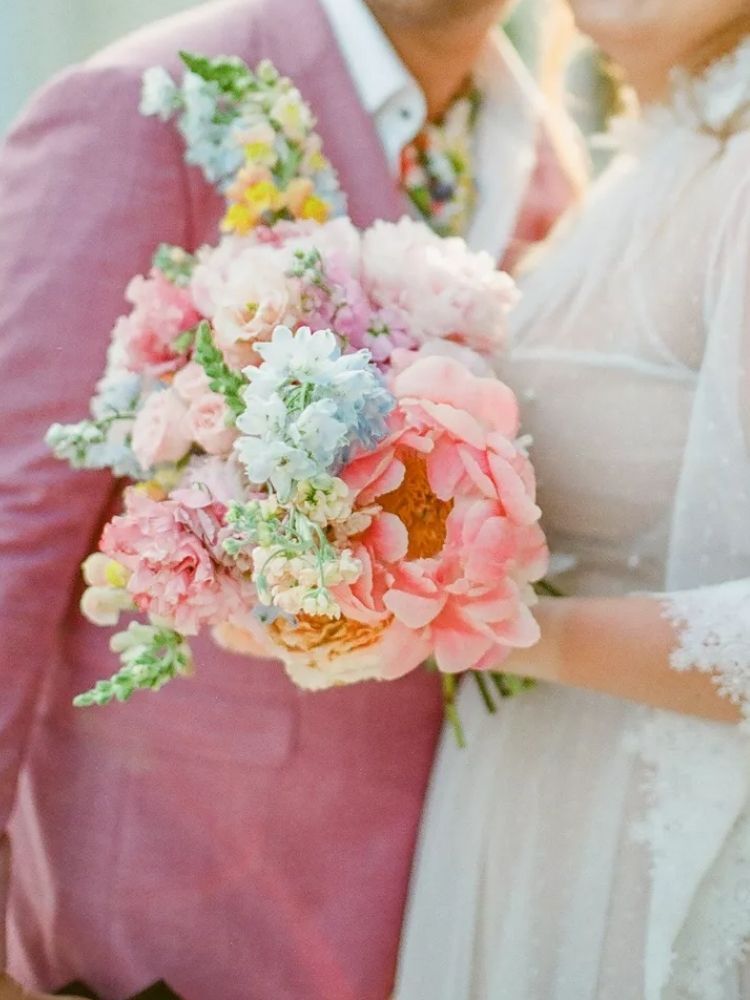 White-and-Purple Rose, Ranunculus, Astilbe and Sweet Pea Bouquet
Centerpiece With Foxglove, Ranunculus and Garden Roses
Bright Pink Rose, Ranunculus and Sweet Pea Centerpiece in White Vase
Purple-and-White Centerpiece of Iris, Rose and Sweet Pea
Bronze-Hued Sweet Pea, Nerine and Rose Centerpiece
Ranunculus Flower Arrangement Under Glass Cloche