How to Plan a Peaceful Honeymoon Getaway to Mackinac Island
See why travelers love this historic, peaceful island retreat in the US.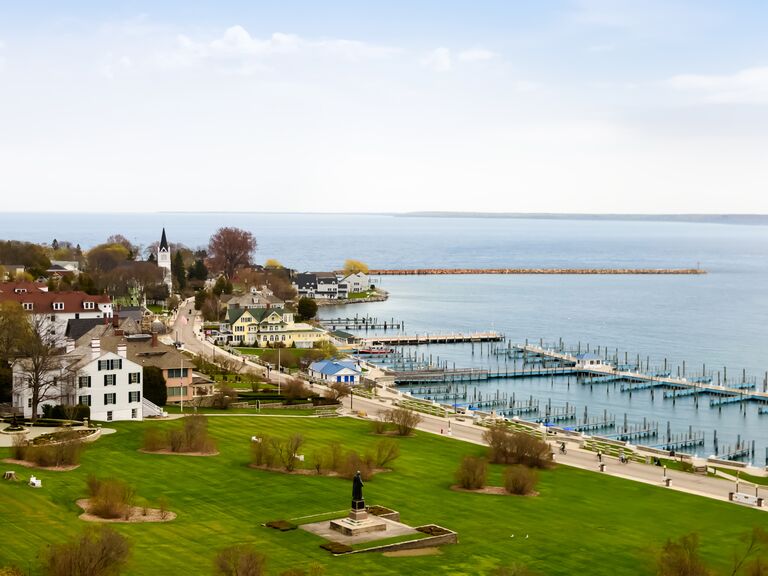 If the idea of an island honeymoon getaway doesn't quite do it for you, you might want to broaden your horizons (within the US, that is). In the Northern Hemisphere, a Mackinac Island honeymoon awaits with romance, culture and history. The Michigan destination was a pandemic haven for couples nationwide, especially when international travel was on hold.
Mackinac Island (pronounced Mack-i-naw, for the uninitiated) is a somewhat-isolated Michigan Island situated in Lake Huron. With its all-natural beauty, Victorian vibes and a no-motor-vehicles policy, you'll wonder why this spot wasn't on your radar sooner—especially since it could be the perfect anniversary destination for years to come. Here's everything you need to know about planning a Mackinac Island honeymoon.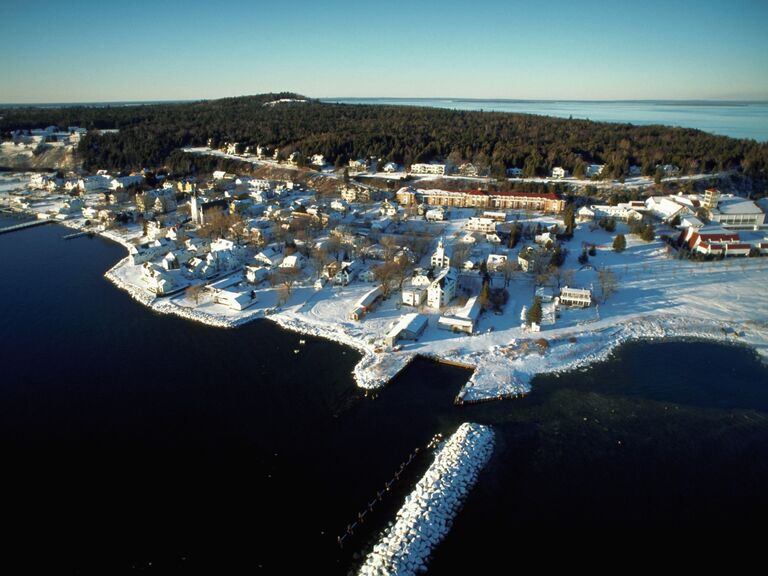 Is Mackinac Island Good for a Honeymoon?
Pros of a Mackinac Island Honeymoon
Mackinac Island is incredibly laid-back, while still remaining upscale. It serves as a lovely destination for those seeking a remote, romantic getaway that still retains its material comforts. The stateside locale is just a bonus, for those wanting a quicker travel time or for those who'd like to save a little cash.
Cons of a Mackinac Island Honeymoon
Of course, those pros of a Mackinac Island honeymoon could very well prove to be cons for certain couples. If you're seeking a honeymoon destination with lots of action, adrenaline-pumping activities, excitement and nightlife diversions, you may want to look elsewhere. Mackinac Island truly does exist on island time, so expect a slow and steady pace of life.
The Best Times of Year to Go on a Mackinac Island Honeymoon
Given Mackinac Island's location in Michigan, a winter honeymoon isn't recommended to couples. Temperatures are frigid, plus most hotels are closed for the season. To enjoy the full range of the island's amenities, as well as spectacularly sunny weather, plan a honeymoon between June and September. This island shines during the summer months (with mildly warm temperatures and crisp mornings).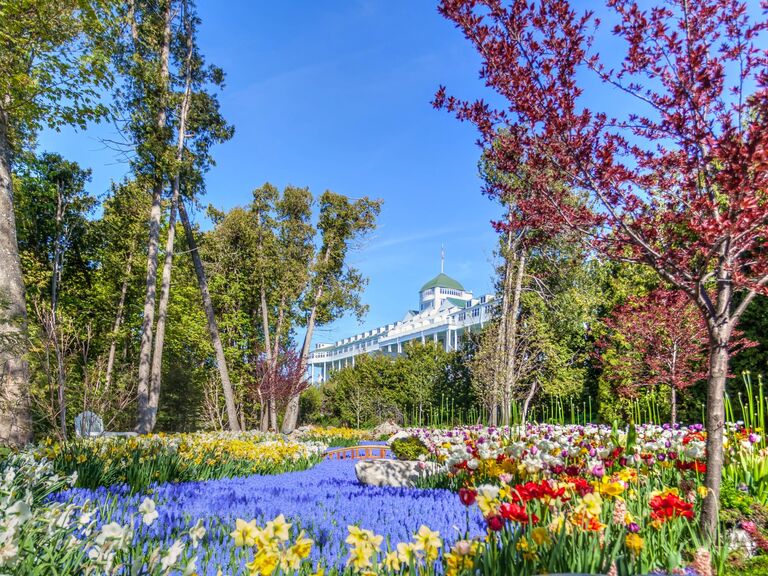 Things to Do During a Mackinac Island Honeymoon
Admire the island's natural wonders.
We've already mentioned it a few times: Mackinac Island is a destination for nature lovers. Couples will want to plan a visit to Mackinac Island State Park (among the top-rated spots in the world) for thick forestry and jagged cliffs overlooking the water. At Arch Rock, hike to the lookout point for a beautiful perspective of the water. If you'd rather enjoy the flora and fauna, without the need for bug spray, visit the Mackinac Island Butterly House. It's a magical experience that features hundreds of these whimsical insects.
Discover Mackinac Island's historic side.
One look at Mackinac Island's architecture and you'll easily identify the island's Victorian heritage. Take a Mackinac Island carriage tour to see some of the island's best architecture, at a slow trot (because what's more romantic than a carriage ride?). For a tour that's a little more on the spooky side, try a Haunts of Mackinac tour, which blends history with haunts for a fun little nighttime diversion. For historic touring at your own pace, pay a visit to Fort Mackinac, founded in 1780, for not only history, but also lovely water views and a charming dining experience in the Fort Mackinac Tea Room.
Enjoy a tasty treat.
Fudge is serious business on Mackinac Island. Prepare your sweet tooth (and your sweetie) ahead of time, because you'll be chowing down on a lot of this sugary treat during your trip. The world-famous fudge is wildly popular with summertime visitors on annual Mackinac Island vacations, who flock to the downtown shops to enjoy their portion of the more than 10,000 pounds of fudge made daily during the summer. Beyond just buying your favorite flavors, stick around to watch the shops making their fudge. Favorite fudge hot spots include Ryba's and May's.
Best Hotels and Resorts on Mackinac Island for a Honeymoon
With its 1904 mansion setting, this inn delivers true charm, and it's upping the ante even more with recent revisions in preparation for a 2023 reopening. Book a stay in one of the mansion rooms for the best views, and check out the grounds if you're considering a destination wedding. The property is a popular pick for couples seeking a lush setting with lake views for their reception. It's a perfect honeymoon spot for a relaxed getaway too.
For a more resort-style experience, book a stay at the Grand Hotel Mackinac Island. Likely the island's most recognizable property, the Grand Hotel includes a scenic and vast veranda that welcomes its guests. Around since 1887, this property is a National Historic Landmark and proudly boasts the nickname of "America's Summer Palace." With an elegant parlor, croquet on the lawn, fine dining options, a tea garden and its own orchestra, the Grand Hotel definitely delivers a grand honeymoon experience.
This award-winning property right on the waterfront offers plenty to keep couples preoccupied, including yoga, cycling and spa treatments. Set within a historic resort-style setting, Mission Point boasts five restaurants on property, as well as two separate lodging options. With loads of greenery on its sprawling grounds, couples will feel like they're truly on their own little island. Plus, it's close enough to Mackinaw City.
What to Pack for a Mackinac Island Honeymoon
Along with honeymoon basics, comfortable daytime wear for walking around the island and sightseeing is a must for couples. Most will want to include hiking boots and athleisure clothing to the luggage, especially if exploring nature or visiting the state park is on the itinerary. Plan to bring something a little dressier for evening meals. Additionally, pack layers to greet the moody temperatures that filter through the Straits of Mackinac.