Self-Care Ideas for Couples: 27 Clever Products That'll Help You Both Unwind
It's time to treat yourselves.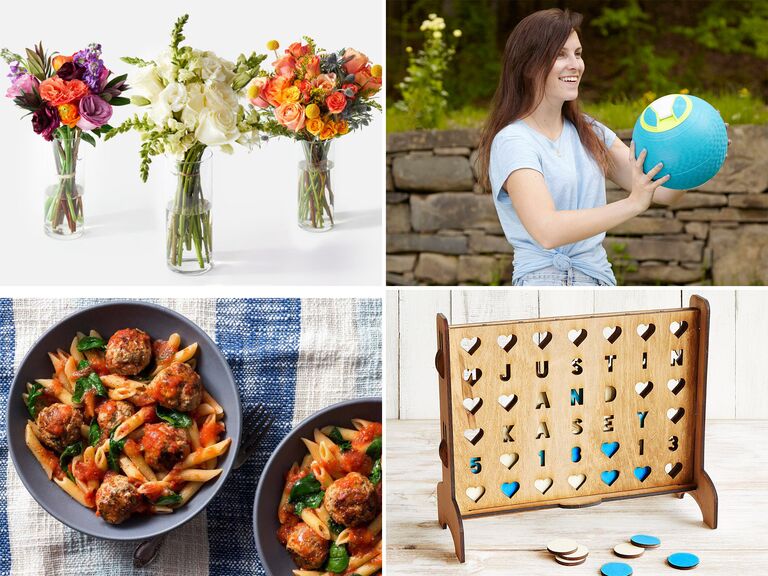 We have included third party products to help you navigate and enjoy life's biggest moments. Purchases made through links on this page may earn us a commission.
Just because it's called self-care doesn't mean you have to go it alone. Self-care for couples is totally a thing, and a great way to bond and grow with the person you love. There's something uniquely special about taking care of yourselves as a team. It lets you share what brings you peace and joy with one another and helps you overcome stressors together. Whether you're feeling the pressure of wedding planning or just want to strengthen your relationship at any stage, these fun, calming and smile-inducing items can help you both get your R&R on.
1. Aromatherapy Bath Oils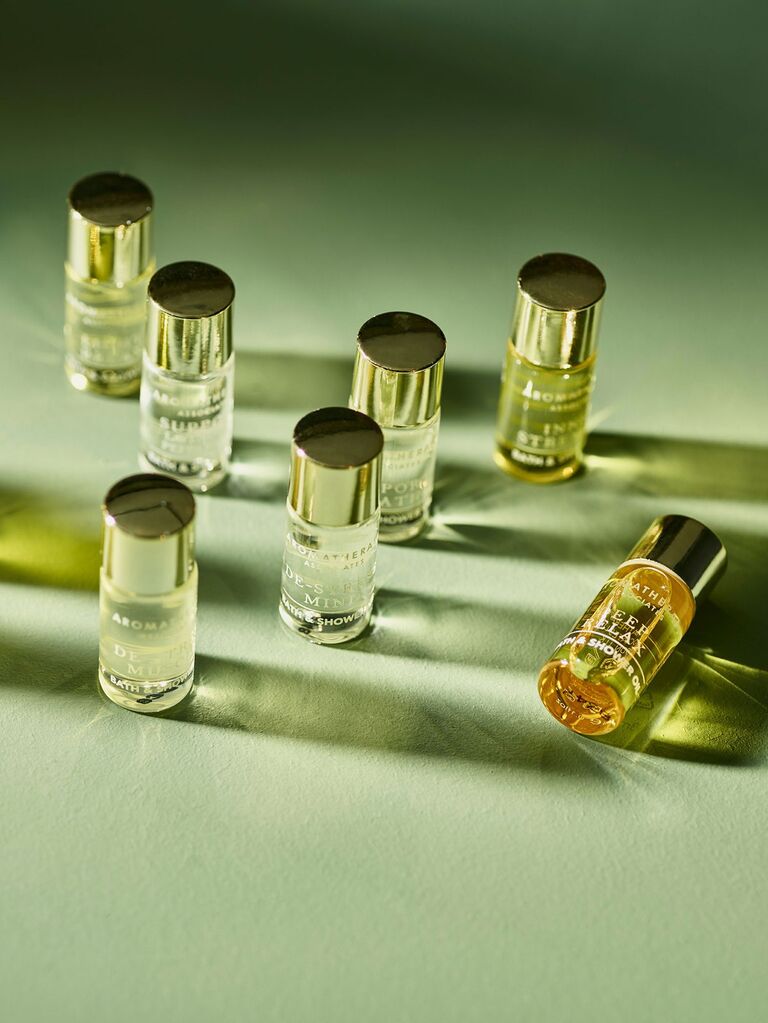 There's nothing like a soothing, scented soak to reset your mood. This sampler set includes 10 different oils with aromatherapeutic ingredients. Use them for solo baths or romantic showers with your other half. They're great on their own or to mix and match for a customized experience. And once you find your favorites, you can treat yourselves to full-sized bottles.
Aromatherapy Associates miniature bath oil collection, $60 for a set of 10, Verishop.com
2. A Weighted Blanket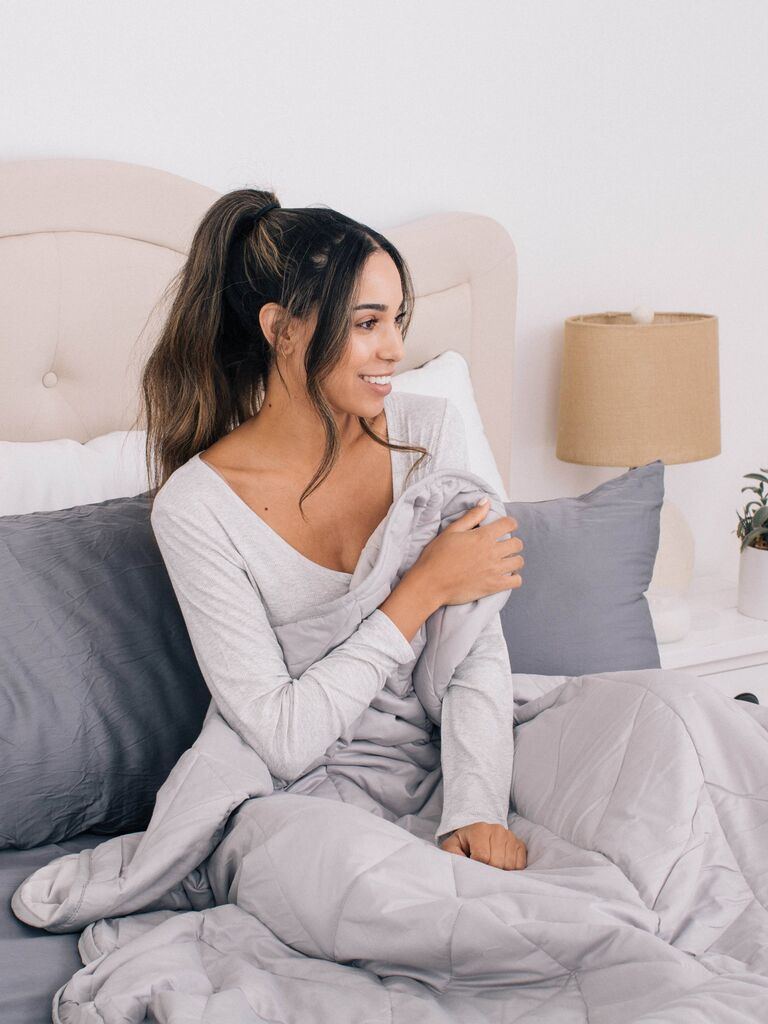 The idea of using a weighted blanket may sound silly—especially if you're already feeling pretty weighed down. But this special kind of comforter is actually said to alleviate stress. Wrap yourselves up in this editor-approved option (which has one extra-soft, minky side for bonus coziness) and you may just feel your worries disappear. The warmth and light pressure can mimic the feeling of receiving a big hug. Plus, some people swear by sleeping under a weighted blanket to catch more ZZZs. Long story short, your joint snuggle seshes just got even more snuggly.
Nest Bedding luxury weighted blanket, from $129 (prices vary by size), NestBedding.com
3. A Meal Subscription Service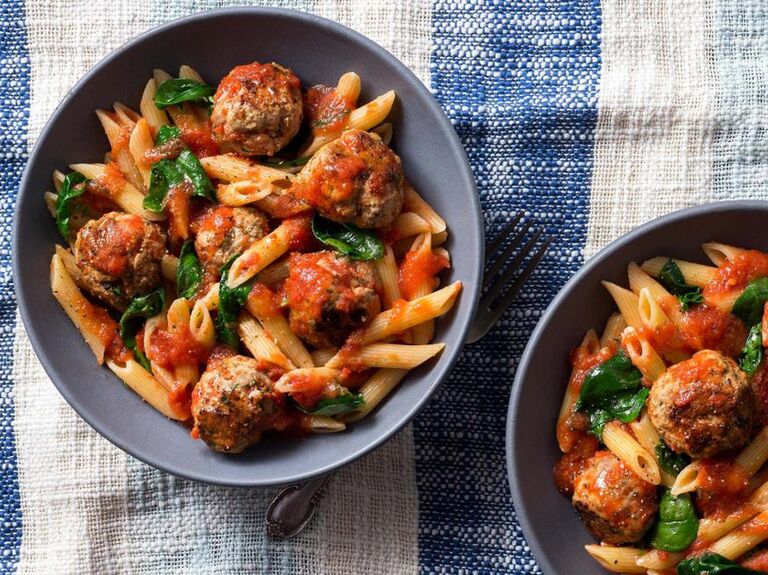 If you're struggling to decide what's on your wedding menu, nevermind what's on tonight's dinner menu, a meal subscription service could be the perfect solution. Brands like Sun Basket let you choose a plan that's right for you—you pick the type of food, the amount of meals sent to you per week, plus how much prep is required to plate them. (There's even an oven- or microwave-ready option that offers delicious meals that are ready in as little as five minutes.) Now, you can spend less time grocery shopping and cooking and more time kicking back with your S.O., all while nourishing your bodies with tasty, healthy fare.
Sun Basket subscription, from $11 per serving, SunBasket.com
4. Customized Vitamins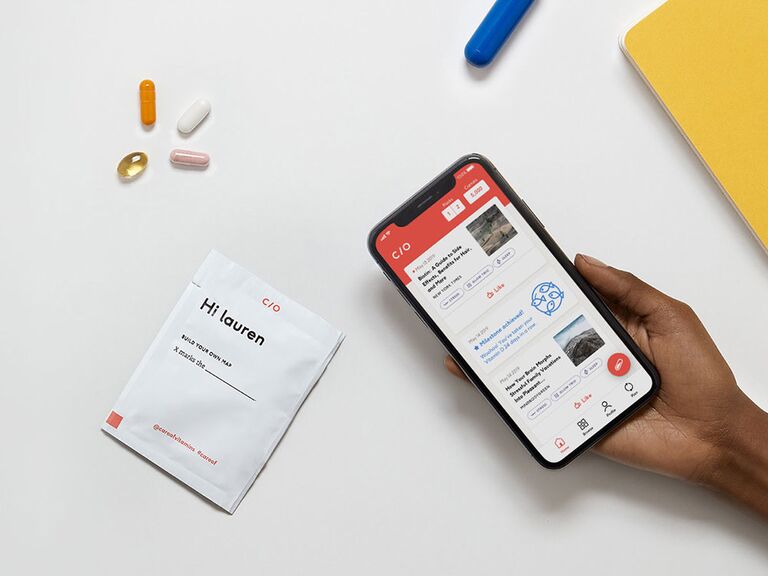 Sometimes, just doing something that feels like self-care makes you feel more on top of things. If that's the case for you, why not start up a new vitamin routine and hold each other accountable? Every time you take your supplements, you'll feel accomplished knowing you're doing something for your bodies. And with Care/of, both of you can get packets personalized to your individual needs. (A cool quiz helps you customize your program.)
Care/of vitamins, from $5 a month per person (prices vary based on the type and amount of vitamins), TakeCareOf.com
5. Heated Slippers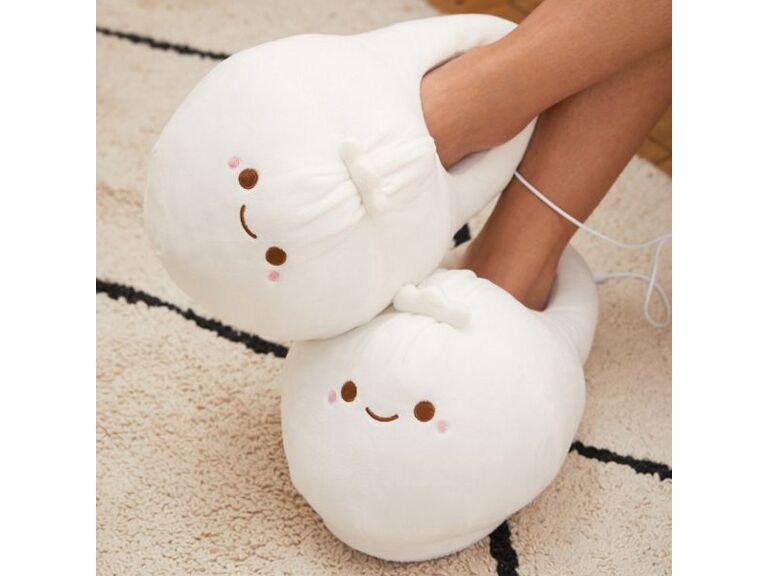 It never hurts to remind yourselves that you don't have to take things so seriously. These silly heated slippers come in such cute designs, they've actually gone viral. (Corgis and dumplings, anyone?) Grab a pair each and wear them together after a long day of wedding planning. No cold feet here!
Smoko heated slippers, $35 per pair, UrbanOutfitters.com
6. Matching Robes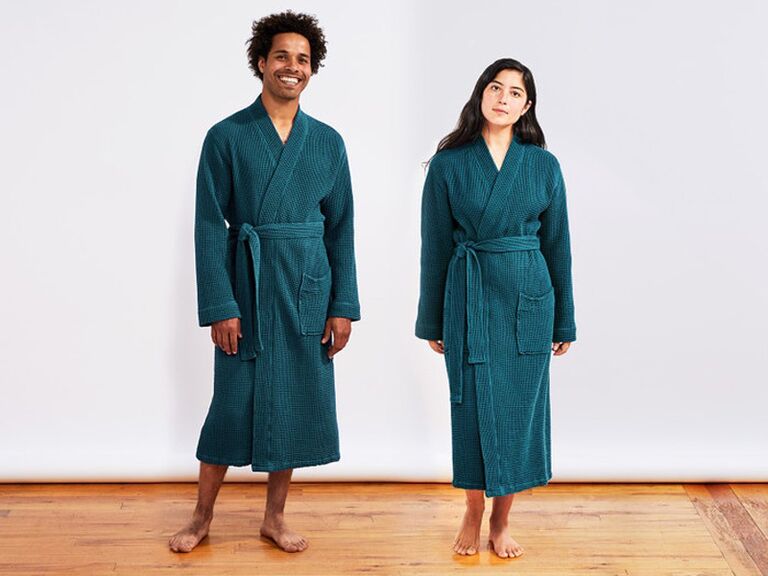 Turn your home into a makeshift spa with the help of some comfy accessories. Coyuchi's luxurious waffle robes come in unisex sizes and a mix of soothing colors. Better yet, they're GOTS- and Made Safe-certified, which means they're designed in a way that's good for the environment, good for the workers and good for you. Now that's something we can stand behind. And while they may be pricey, they're definitely made to last, so you two may never need to buy new ones.
Coyuchi unisex organic waffle robes, $98 each, Coyuchi.com
7. Roll-On Essential Oils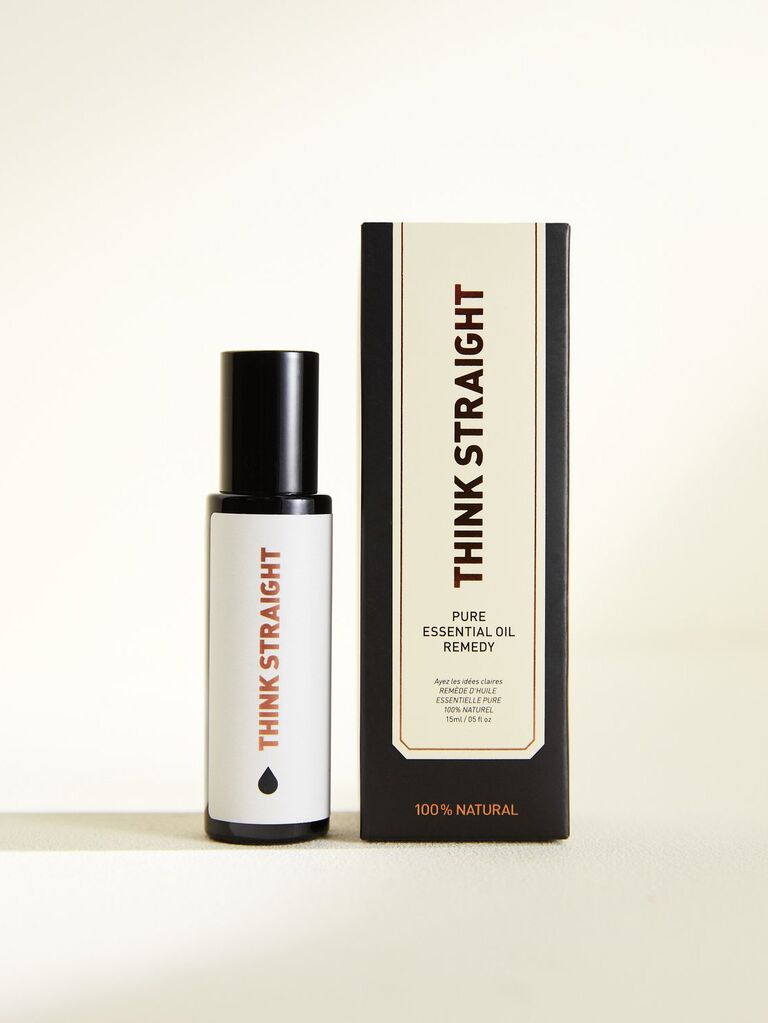 UpWest, purveyor of coziness-inducing loungewear, also sells a variety of wellness products and home goods, all while striving for sustainability. So basically, it's an excellent brand to check out if you're looking for some self-care and also care about the earth. We like the roll-on essential oils they carry, including this "Think Straight" option. The mix of scents work together to promote focus, calmness and centeredness, all while helping with headaches. And who couldn't use a little more of those three things? (Looking at you, wedding planning couples.) Get two—one for each of you to carry around.
Way of Will Think Straight roll-ons, $24 each, UpWest.com
8. A New Plant (or Three)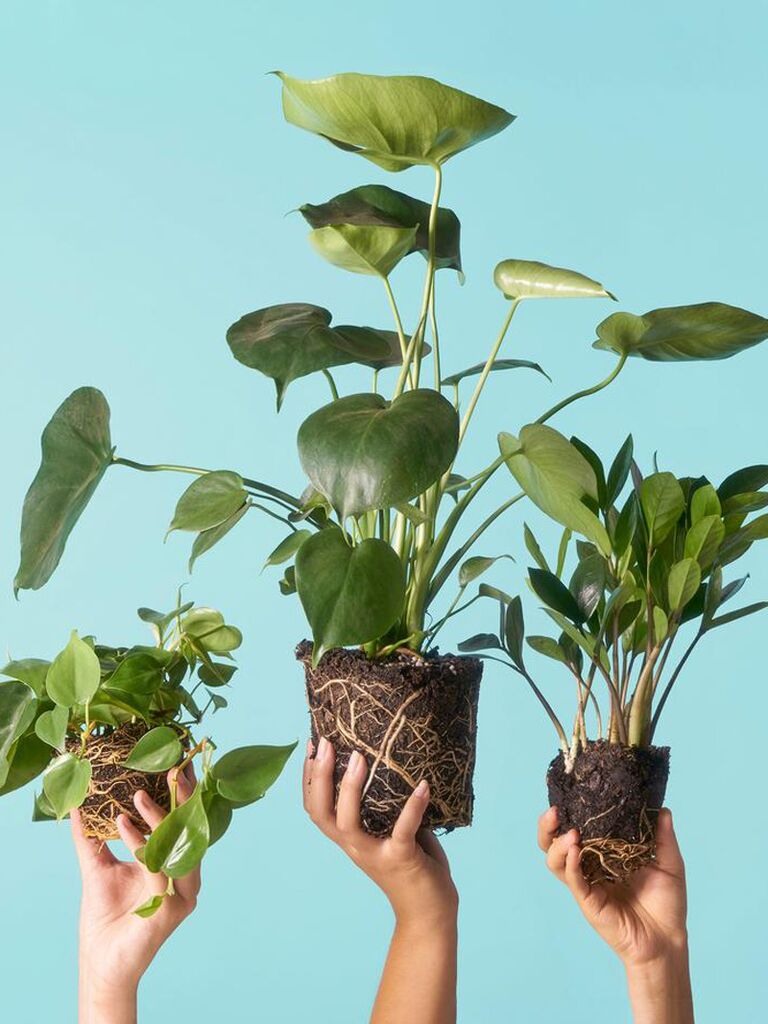 Plants can purify the air, beautify the home and give you a rewarding project (taking great care of them) to tackle together. What's not to like? If you're new to plant parenthood, check out The Sill—the brand sells plenty of beginner-friendly plants and even has a beginner's plant subscription. Plus, there's a plant parent club so you can join a supportive community of fellow greenery lovers.
The Sill plant parent club, $39 a year per membership, TheSill.com
9. Meditation Pillows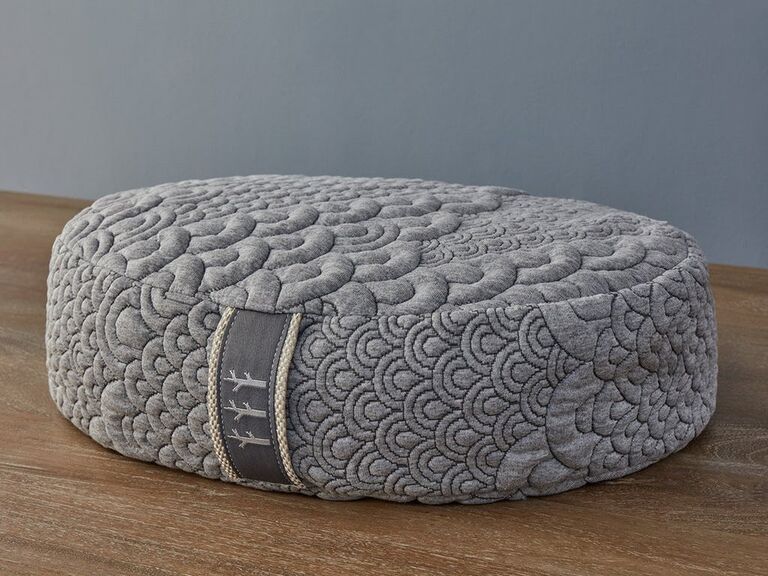 Find a way to practice mediation together (apps like Headspace offer guided programs) and turn a space in your home into a mini, meditative sanctuary. These super-soft and plush cushions will make you guys feel like you're floating on clouds. They were designed by a yoga instructor, so you know they're good.
Brentwood Home Crystal Cove meditation yoga pillows, $59 each, BrentwoodHome.com
10. A Shower Speaker
Sing your hearts out with a waterproof speaker you can use in the shower. Whether you use yours to set a romantic mood or just to get goofy with (hello, shampoo bottle microphone), it's a gadget that'll get you both smiling. This one has rave reviews on Amazon and can withstand bathroom moisture.
VicTsing SoundHot C6 portable Bluetooth waterproof speaker, $21, Amazon.com
11. A Streaming Service
If you love cuddling on the couch to watch a movie or TV, how about subscribing to the streaming service you've been itching to get? Hulu offers add-ons and bundles, which means you can get access to things like HBO and Disney+ too. And if watching your favorite childhood movies together isn't a form a self-care for couples, we don't know what is.
Hulu streaming service, from $6 a month (prices vary by plan), Hulu.com
12. An Outdoor Game
The best part about self-care for couples? You get to engage in activities together. And one interactive idea we absolutely love? Channeling your inner children and playing outside. This genius ball doubles as an ice cream maker—yep, you read that right. Fill it with ingredients (it comes with instructions), then toss and roll it for 20 minutes. Once you open it up, you'll be greeted by a sweet treat as a reward for all that exercise. Because it's all about balance, right?
UncommonGoods Play Your Way ice cream maker, $50, UncommonGoods.com
13. Sensual Massage Oil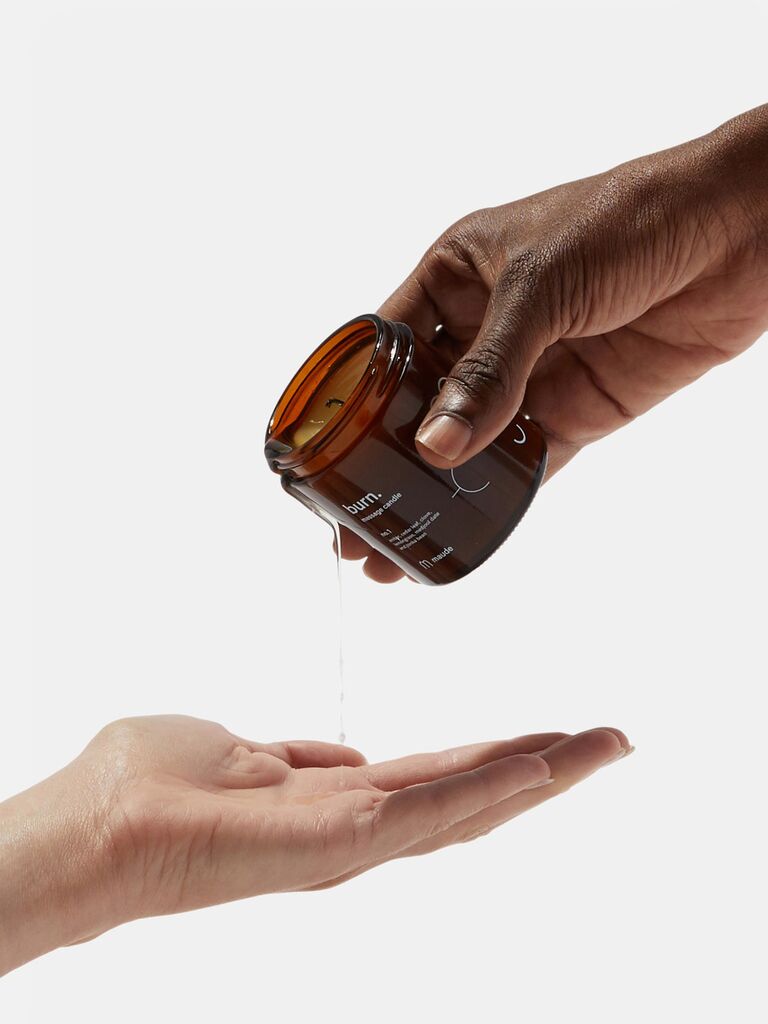 This unique candle is actually a tub of massage oil—burn it according to the package's instructions and then use the liquid to relieve each other's tension. It's hydrating and smells great—how cool is that?
maude Burn massage candle, $25, Verishop.com
14. Mindfulness Cards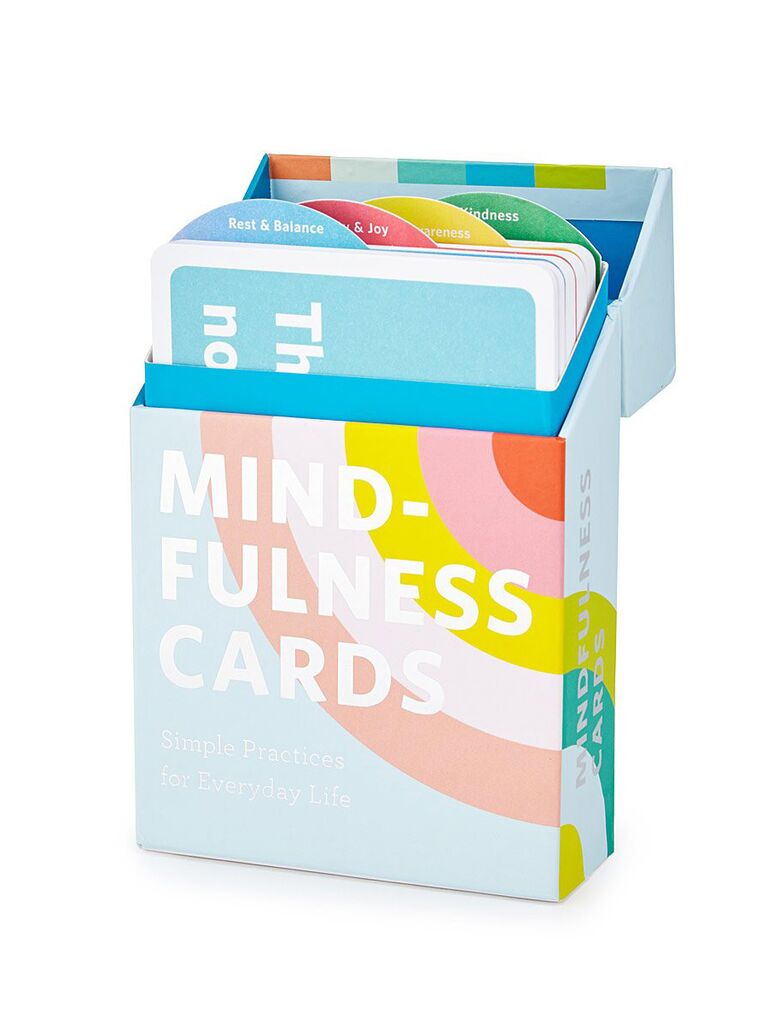 Engage in a little mindfulness—which helps you practice being present, accepting and appreciative—together. These cards contain prompts and exercises that make it accessible and fun.
UncommonGoods mindfulness card set, $17, UncommonGoods.com
15. A Relationship Health App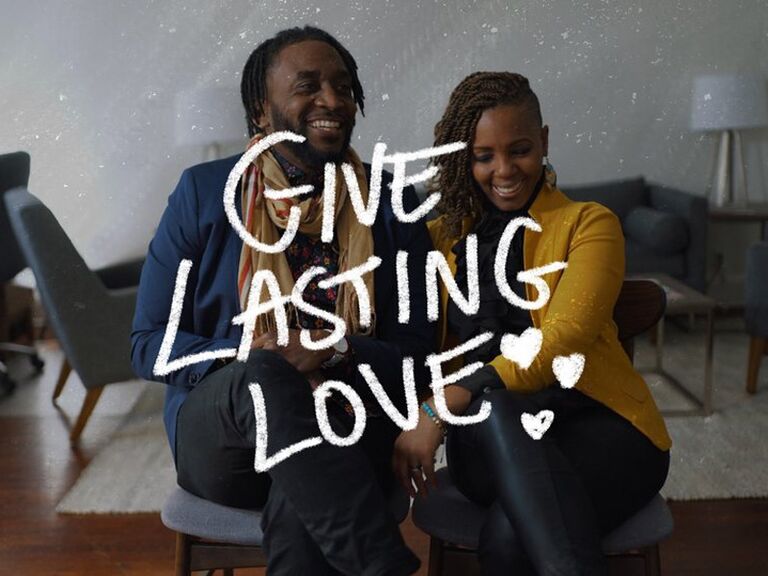 If stress is weighing on your relationship, it's okay to ask for help. This app is built on decades of research and offers effective and informed counseling for couples. Sign up and you'll get a program tailored to you and your spouse.
Lasting guided counseling program, from $7 a month for couples, GetLasting.com
16. Gemstone Straws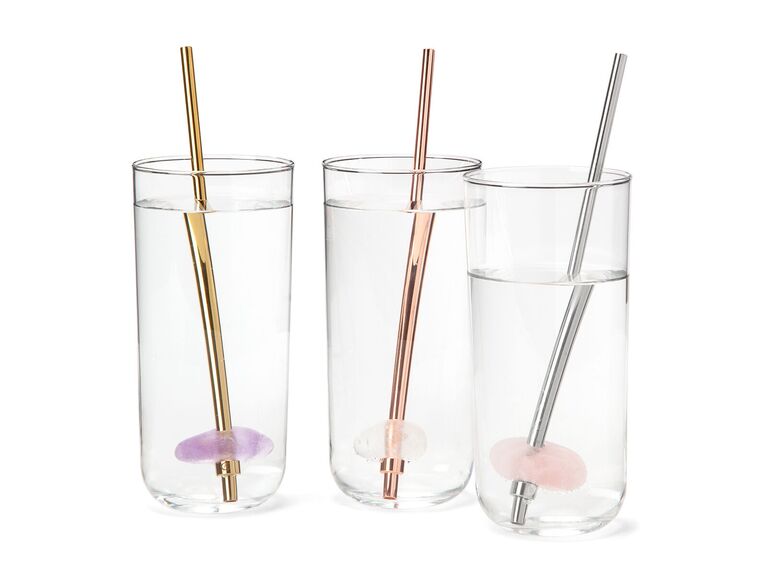 Drinking more water is an easy way to engage in more self-care as a couple. And these reusable straws make the task feel downright luxe. Each one is adorned with a crystal that's said to summon good vibes. While the verdict may still be out on that, they sure are pretty to look at.
UncommonGoods gem water reusable straws, $40 each, UncommonGoods.com
17. Couples Face Masks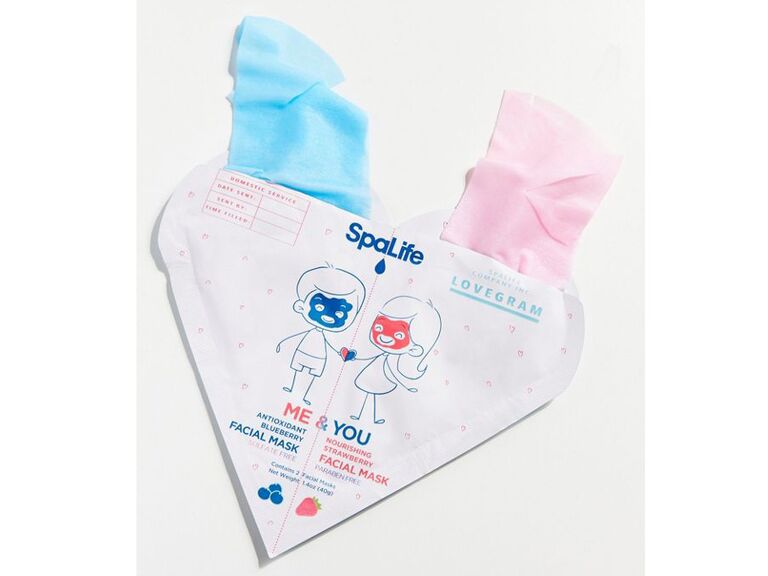 This adorable heart-shaped packet includes two vitamin-rich face masks—one for you and one for your partner. Rip 'em out for a little R&R (and glowing skin).
SpaLife Me + You Lovegram couples face masks, $12 for both, UrbanOutfitters.com
18. Super-Soft Sweatpants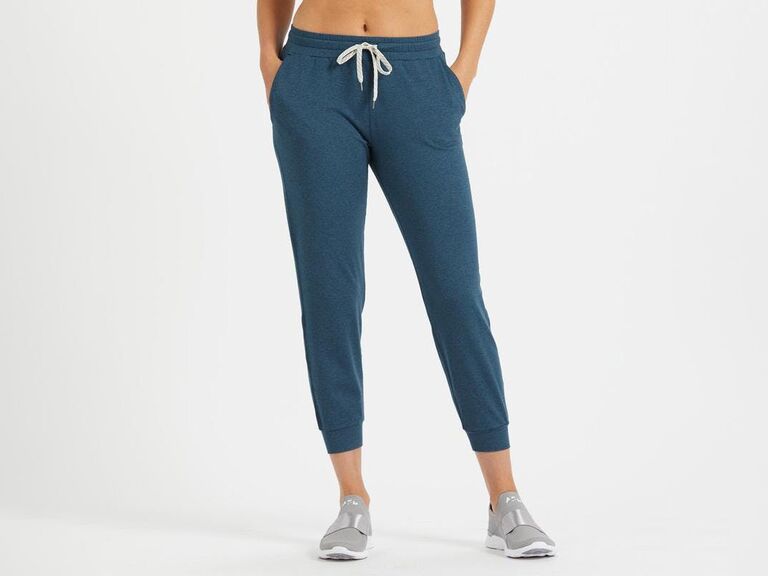 Vuori sells men's and women's lounge pants that are truly some of the softest things we've ever felt. If lazy Sundays feel like the ultimate form of self-care for you as a couple, buy yourselves a pair each, stat. (Trust us, if only one of you gets them, the other will get super-jealous fast.)
Vuori performance jogger, $84, VuoriClothing.com, or Vuori Ponto performance pant, $84, VuoriClothing.com
19. Stroll-Ready Shoes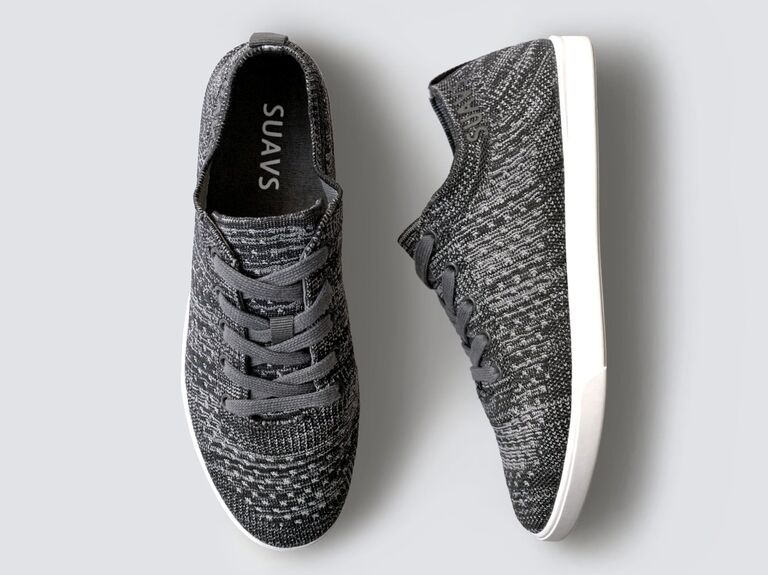 Talk a contemplative stroll together every evening to wind down. These shoes feel more like stretchy socks than sneakers, so they're excellent for casual and comfortable walks around the neighborhood. Did we mention they're machine-washable? Because making laundry more difficult definitely isn't self-care. And now you don't have to argue about getting your house slippers dirty outdoors.
Suavs The Zilker for men and women, $95 each, SuavShoes.com
20. A Fancy Coffee Maker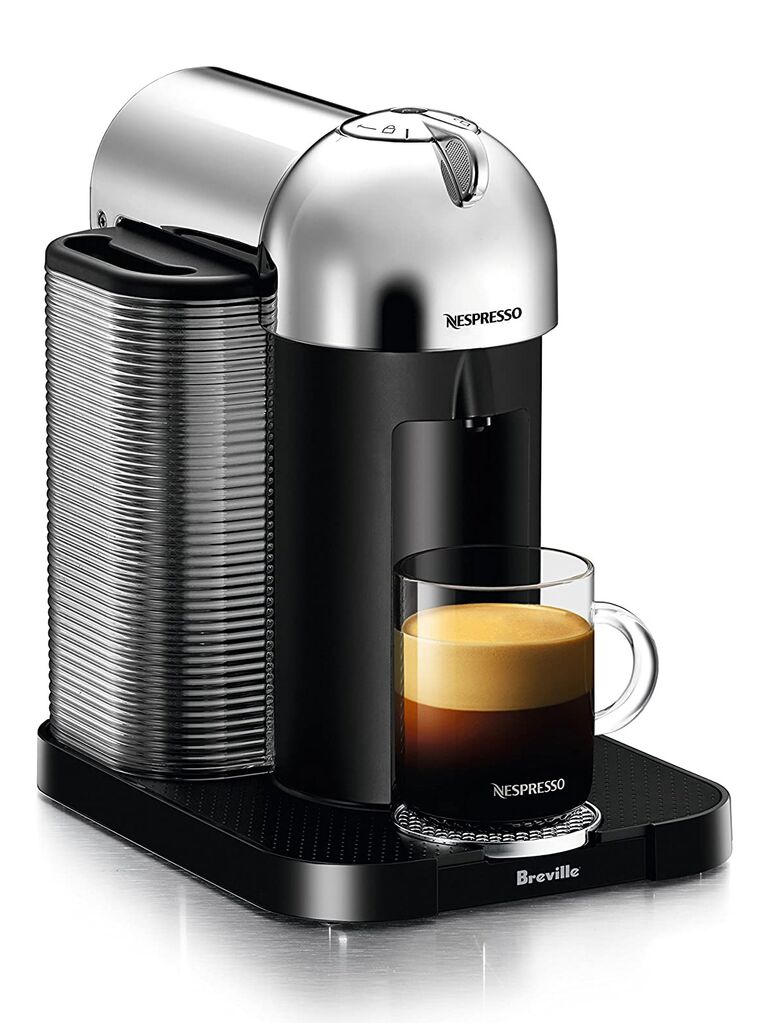 Make your mornings a little brighter with a machine that can make you both what you want. This Nespresso will turn your kitchen into a cozy coffee shop, so you can enjoy an intimate breakfast together to start your days off on the right foot.
Breville Nespresso Vertuo coffee and espresso machine, $150, Amazon.com
21. A Flower Delivery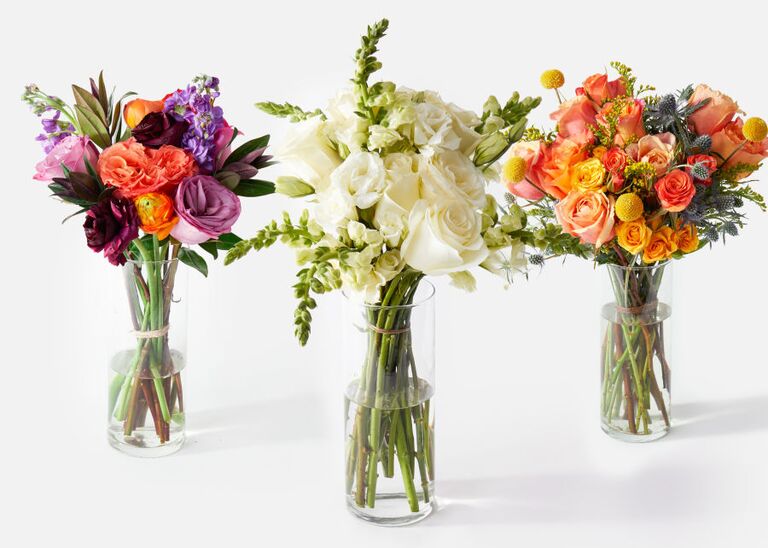 It's time to literally stop and smell the roses. There's nothing like fresh blooms to cheer you up, and UrbanStems can deliver them to your home on a regular basis. Customize a subscription plan and enjoy the look and scent of cheery blossoms.
UrbanStems subscription plan, from $50 per delivery, UrbanStems.com
22. A "Happy" Light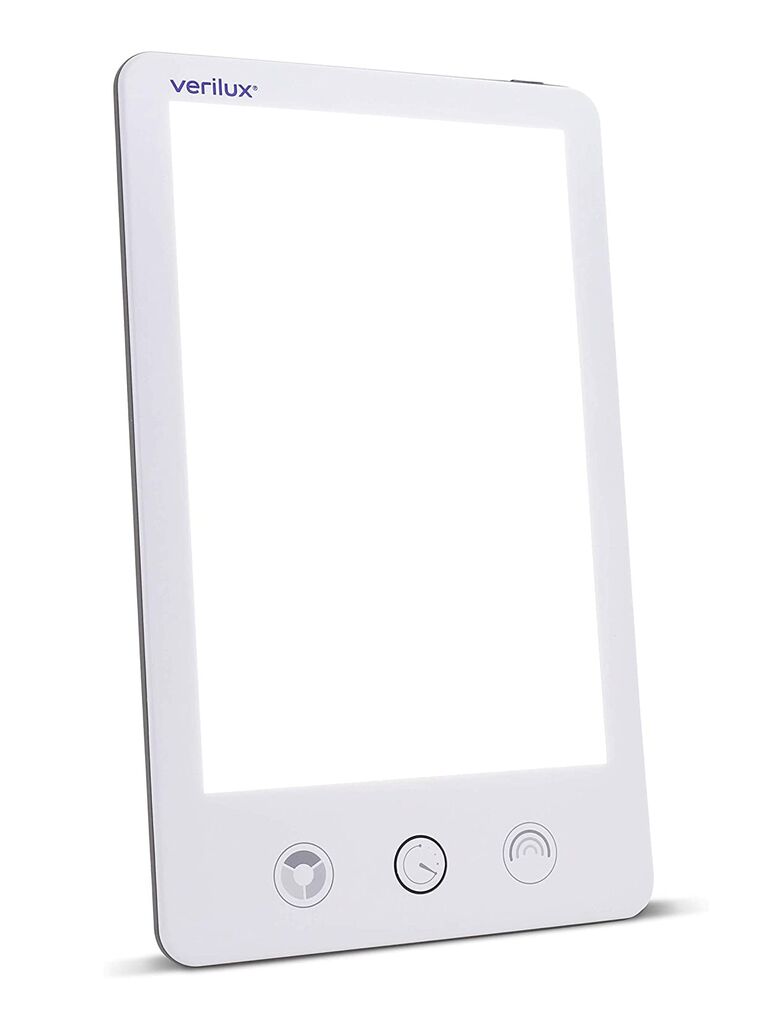 Yes, a "happy" light. Also known as a therapy lamp, this product from Verilux shines in a way that mimics sunlight. That means it can brighten your room and your mood all at once. Pull it out when you're stuck together at home (rainy days, anyone?) and enjoy the soothing, customizable glow.
Verilux HappyLight Luxe, $80, Amazon.com
23. An Air Purifier (That Doubles as a Fan)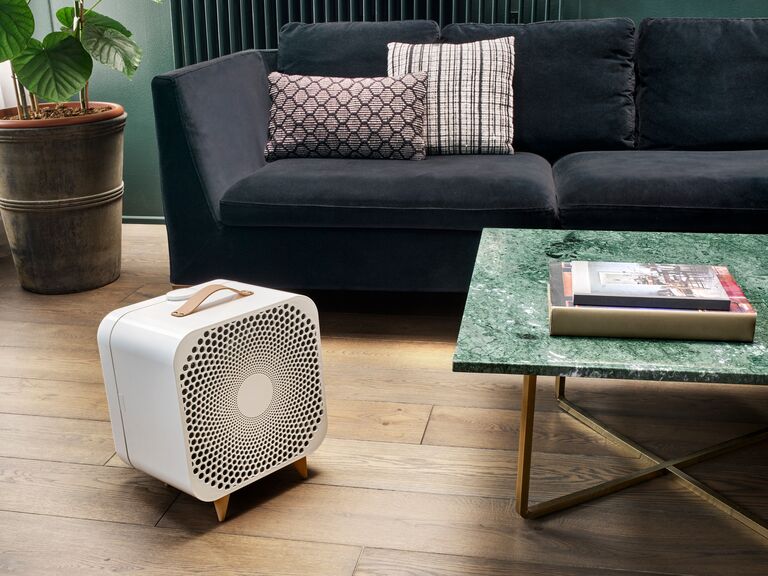 Don't let the heat make you crabby at each other. This hard-working fan will cool down your space, but that's just part of the appeal. It's also an air purifier designed to keep your abode clean and safe. Suffer from allergies? It'll pull things like dust and pollen straight out of the air. And that's a huge plus, considering fans with blades often collect then spread dust. We also think the little peg legs and colorful filter cover options are surprisingly chic.
Blueair Blue Pure purifying fan, $300, Amazon.com
24. A Special Game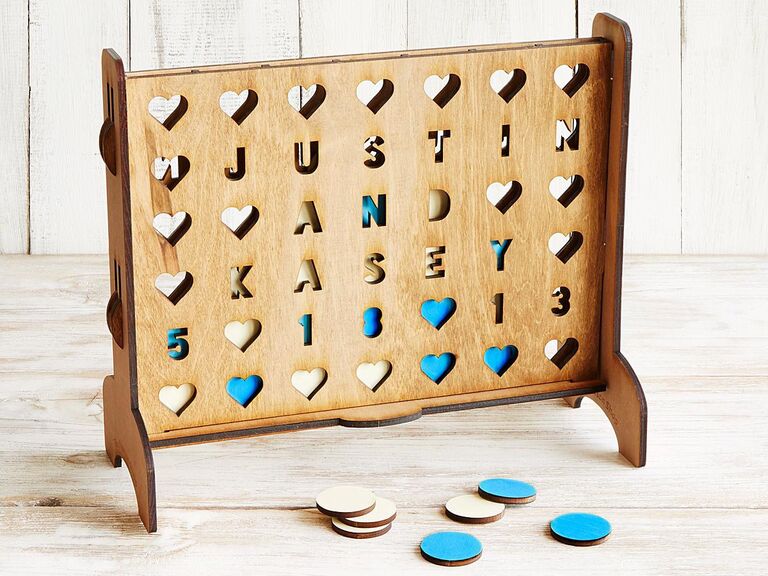 How about relaxing with a timeless game? This personalized four-across set will help you take your minds off the rest of the world and focus on what matters: each other and the love you share. How nice does that sound? Plus, it's a great talking piece for your coffee table or shelf.
UncommonGoods personalized hearts four-across game, $85, UncommonGoods.com
25. Spa-Like Towels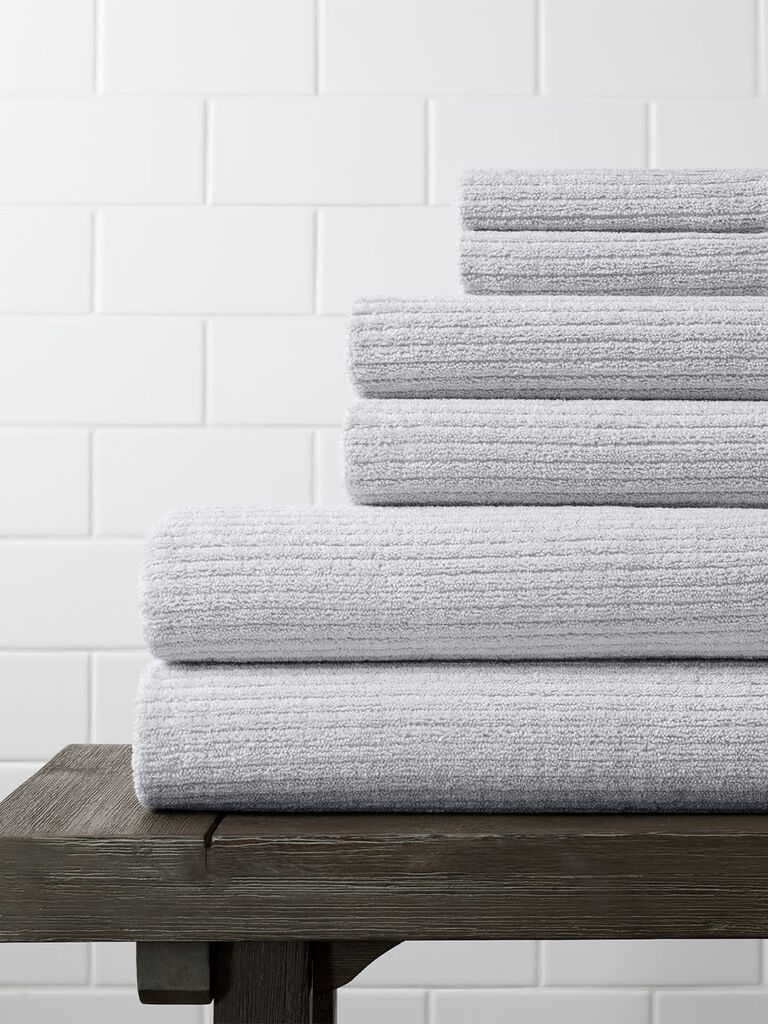 Maybe, a home goods refresh is all you need to spark joy. These ethically made towels feel undeniably luxurious to the touch, and the weave will help you both dry off faster—no more slipping over each other's post-shower puddles! Plus, the towels themselves dry faster too, which is always appreciated. Now you have yet another excuse to draw a romantic bath.
Boll & Branch Spa bath sheet set, $115, BollandBranch.com
26. Personal Stress Balls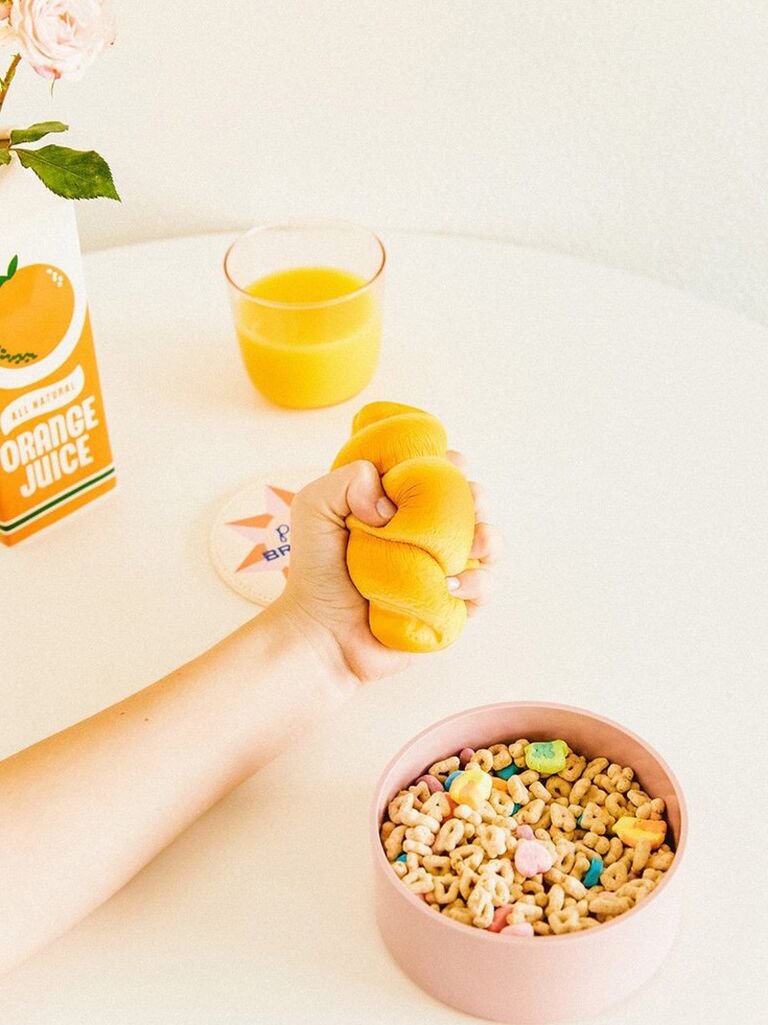 For an inexpensive form of self-care, buy yourselves some stress balls to share. Ban.do sells them in fun shapes, like a rainbow, balloon or this quirky croissant. They're great for an at-home office space and are cute enough to leave out.
Ban.do Feel Better De-Stress ball in Croissant, $9 per ball, Bando.com
27. A DIY Cocktail Kit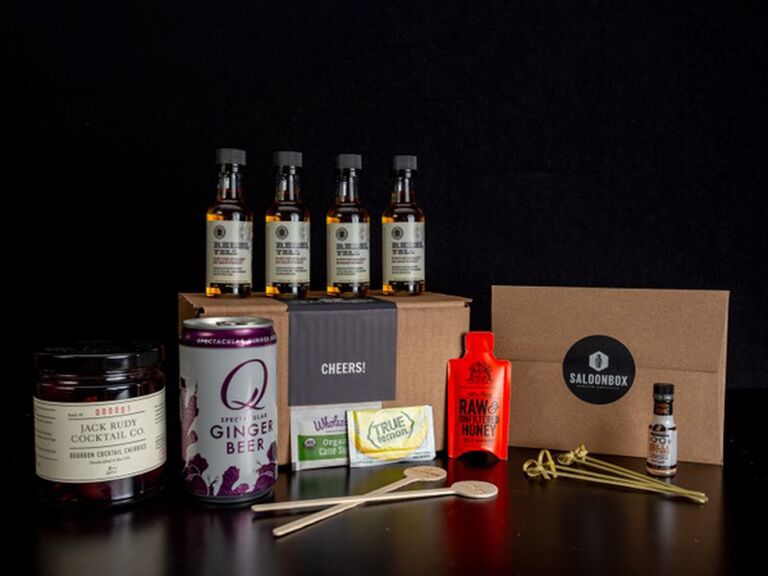 Learning together is a sweet form of self-care for couples. So choose a new skill and master it as a team. We love cocktail subscription services, which let you practice the art of mixology and sip on something delicious too. This company will send you the ingredients you need to make a couple different drinks each month for two. And the recipes are crafted by professional bartenders, so they're pretty darn impressive (but still easy to follow, don't worry).
SaloonBox subscription, from $49 a month for two, Cratejoy.com