The Complete Guide to a Montreal Honeymoon for Old-World Charm
Enjoy a European-inspired getaway… without the jet lag.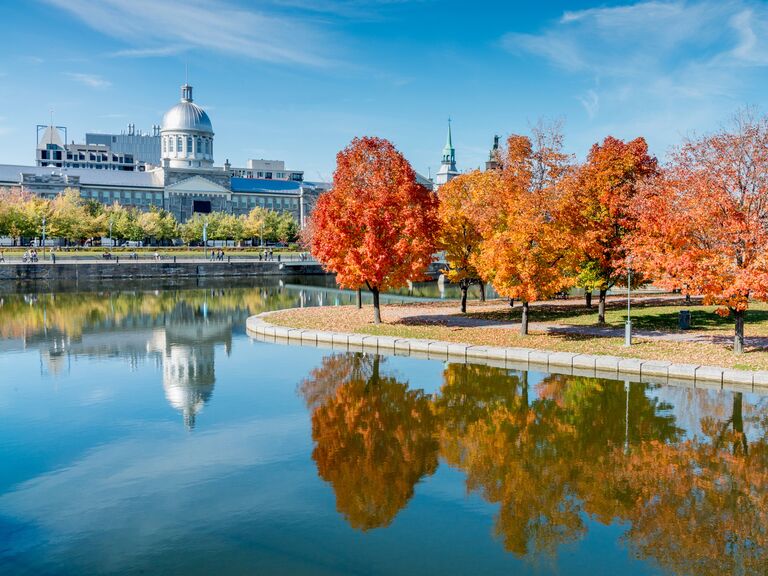 Getty Images
We have included third party products to help you navigate and enjoy life's biggest moments. Purchases made through links on this page may earn us a commission.
Picture this: walking hand-in-hand on cobblestone streets, sitting at the steps of a historic cathedral with coffee and sweet bagels, and hearing "bonsoir" upon return to your boudoir. It's hard to believe that such a place exists in North America, but Montreal is a mere 90-minute flight from New York City, two hours away from Chicago and five-and-a-half hour flight from Los Angeles. It's a slice of Europe without the long-haul jaunt.
Here you'll discover a city full of old-world charm, bistros that'll make your eyes roll back, and a warm bilingual community. (Montreal is the second-largest primarily French-speaking city in the developed world, after Paris.) The city comes alive between May and October–following a long brutal winter–where festivals, live shows, walking tours and picnic parties are aplenty. Here's how to make the most of your darling Montreal honeymoon.
Is Montreal Good for a Honeymoon?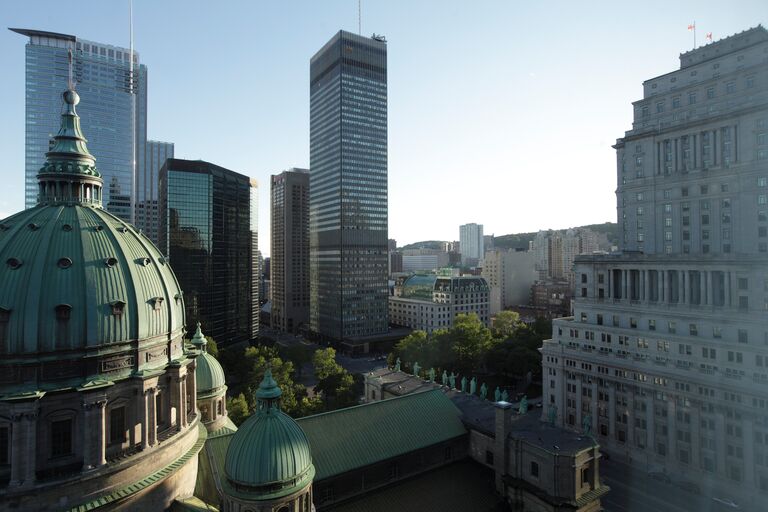 Pros of a Montreal Honeymoon
Montreal is an easy and affordable way to experience Europe, without going to Europe. When you're there, getting around is a pinch: there's decent public transport and most districts are walkable. The exchange rate has always favored the US dollar, meaning your budget will stretch further during every leg of the trip.
The city is also accessible from most major city airports in the US, alleviating concerns around long-haul flights. Upon arrival, it still looks and feels as if you flew to Europe.
Cons of a Montreal Honeymoon
The biggest con is the climate; tourism months span just a few months of the year. This correlates to cost, but overall, couples will be pleased with their budgets. Most will still spend less than what they would've put down in both America and Western Europe. In addition, Montreal is notorious for undergoing constant repair and reconstruction. For the foreseeable future, picturesque views are obscured with unsightly orange traffic cones, cranes and scaffolding.
The Best Times of Year to Go on a Montreal Honeymoon for Good Weather
Optimum conditions are between May to June and September to October. July and August err on the humid side, but the festivities soldier on regardless. We've said it once and we'll say it again: November through April is downright cold. Montreal is best enjoyed with some warmth (unless you plan on skiing in Mont Tremblant).
Things to Do During a Montreal Honeymoon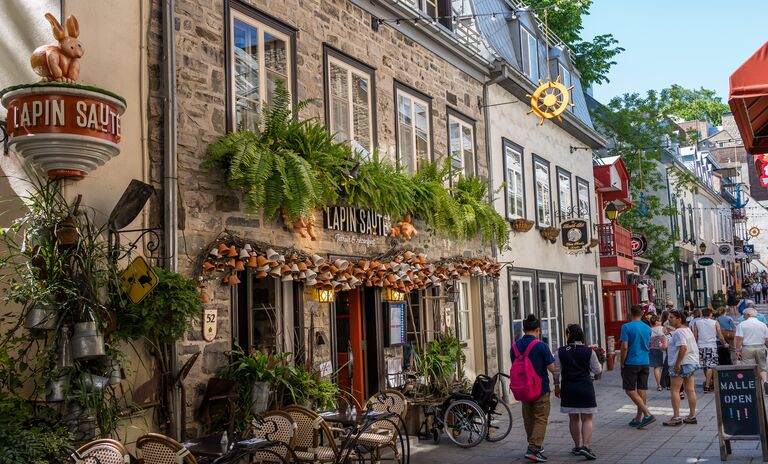 Get Tickets for Cirque du Soleil
While Cirque du Soleil travels the globe, the best place to watch it is in its birthplace: Montreal. Since 1984, the Quebecois troupe has been wowing audiences with astounding acrobatics and evocative sets (and contrary to a traditional circus, without the use of animals). Show themes vary, but every year you'll usually find the crew trapezing bar-to-bar under the big top tent at the Old Port of Montreal.
People-Watch From the Sidewalk Cafés
Much like Paris, Montreal's streets are lined with cafés and bistros that allow for leisurely people-watching. After all, Canada refers to Montreal as its fashion capital. See how the locals layer outerwear and accessorize scarves with a frothy latte for company. The best spots surround the Place d'Armes square, the Place des Arts center, and the hipster neighborhood of
Le Plateau.
Have a Photoshoot in Old Montreal
Dating back to the 17th century (fact: Montreal is older than Canada), Old Montreal's historic architecture deserves more than a camera roll selfie. Both Airbnb Experiences and Flytographer provide local photographer services at an affordable price, so why not capture your honeymoon in style? Statuesque landmarks include the Pointe-à-Callière museum, the two-story domed Bonsecours Market, and of course, the iconic Notre-Dame Basilica, where singer Celine Dion married in 1994.
Picnic in Mount Royal Park
Mount Royal Park stands tall on the city's edge, a hillside park designed by Frederick Law Olmsted, most famous for his work on Manhattan's Central Park. You can rent romantic row boats on Beaver Lake, or climb to the top of Chalet du Mont-Royal for the best views over downtown. Planning a picnic? Stop en route and pick up supplies from Montreal's popular St-Viateur Bagel; their delicious bagels are hand-rolled and boiled in honey water for a sweeter bake.
Spa on the St Lawrence River
Bota Bota is a major Old Port attraction for tourists seeking wellness on water. On board, it offers mineral-rich hot tubs, eucalyptus steam baths, whirlpools and massage treatments, all along to the natural movements of the St Lawrence River. There's even an on-site restaurant meaning no need to venture back on land. Kick back and enjoy a truly unique aquatic spa experience.
The Best Hotels and Resorts in Montreal for a Honeymoon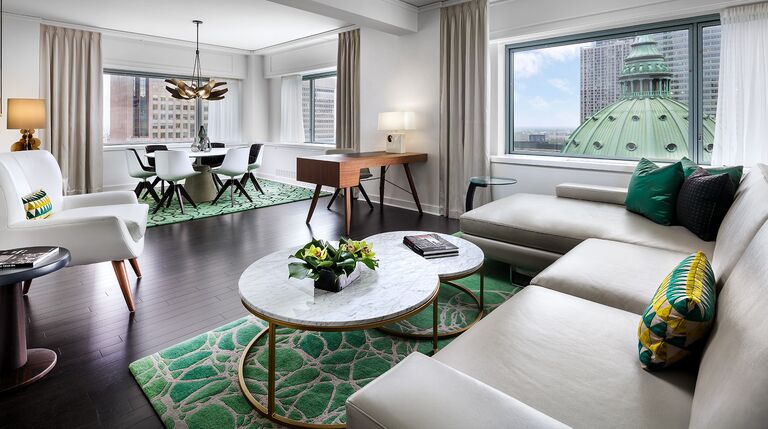 This 100-year-old establishment is hailed as setting the standard for luxury hotels in Canada, and today retains its prestige with impeccable service, modern rooms, and exquisite French cuisine from Michelin-starred chef, Daniel Boulud.
Vogue Hotel is a contemporary stay with elegant white-walled suites and marble spa-like bathrooms. It's situated in the high-end shopping corner of the Golden Square Mile, close to major designer boutiques, as well as Musée des Beaux-Arts de Montréal.
A historic property located in downtown Montreal, this hotel's central location and recently-renovated rooms are among its biggest pros for honeymooners. The property also offers a wellness center, full-service spa and a seafood happy hour.
Couples preferring the whimsical Old Montreal as their base should consider Hotel William Gray, a boutique stay housed within two historic buildings. Rooms embody artful design, with on-site amenities such as a library, bar, vinyl collection and spa featuring a thermal circuit.
What to Pack for a Montreal Honeymoon
For regular tourist season visits that don't include winter sports, the standard honeymoon checklist applies. The only specific requirement for Montreal is a pair of comfortable, yet sturdy shoes with ankle support. These will protect you from injury when navigating along uneven cobblestone streets or roadworks.