10 Honeymoon Mistakes to Avoid, According to Real Couples
Here's the tea on what newlyweds *wish* they did differently on their postwedding getaways.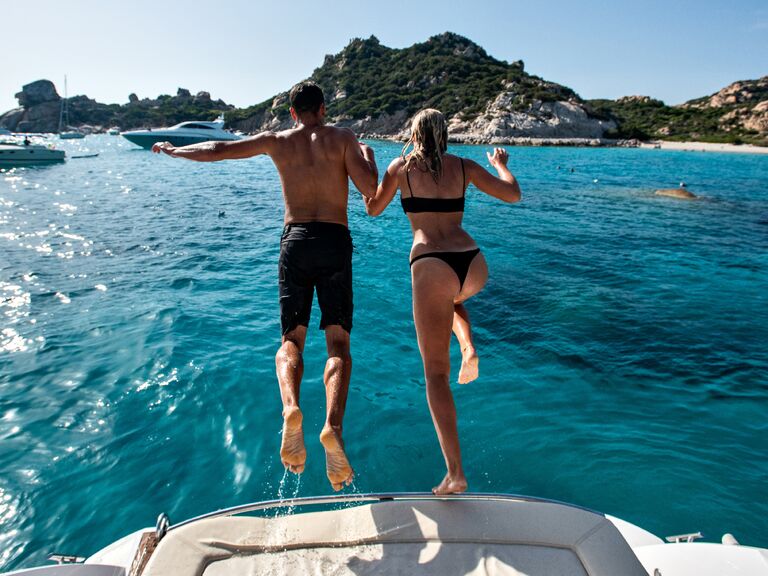 Stefano Oppo/Getty Images
While your wedding day is likely one of the most anticipated experiences of your life, your honeymoon probably isn't far behind. After swapping vows, cutting the cake, and partying with loved ones, many couples opt to jet off on a postwedding vacation to relax, unwind and postpone the mountain of "thank-you" cards waiting to be written. Although taking a honeymoon isn't necessary, it is highly encouraged. (You and your spouse certainly deserve a few days of R&R following months of wedding planning, after all.) But, as with most wedding-related celebrations, there are a few honeymoon mistakes you'll definitely want to avoid.
Your newlywed vacation should be a fun, stress-free experience. To help you have the best honeymoon ever, we asked The Knot's Instagram followers to share their top honeymoon regrets—that way, you can avoid the same for your own far-flung adventure. Get the scoop on what they told us here, and read up on our expert tips to ensure you prevent these common honeymoon mistakes.
Leaving right after the wedding day.
Perhaps the most common honeymoon regret our followers shared was leaving right after the wedding day. It's understandable that you're excited to leave town and start your vacation, but consider giving yourself a few days to recover from all that wedding excitement. Many couples say that their wedding day feels like a whirlwind—so if you head to the airport right after your reception exit, you might feel overwhelmed without some time to take it all in. Plus, you're only a newlywed once. We recommend giving yourself a few days, weeks, or even months to soak up that *just said yes* bliss before embarking on your honeymoon. (Taking more time in between both events will also prolong the celebration… a total win in our eyes.)
Not splurging on upgrades.
Fact: Weddings are expensive. Honeymoons are also expensive. It can feel challenging to plan the nuptials of your dreams while simultaneously trying to afford a swoon-worthy vacation on the Amalfi Coast or the white beaches of Turks and Caicos. One of the biggest honeymoon mistakes our followers said they made, though, was not splurging on upgrades. Your honeymoon is a once-in-a-lifetime trip, so consider treating yourself to nice extras, like the all-inclusive drink package or that extra-fancy suite. You'll certainly be glad you allowed yourself to indulge.
If cost is a concern, there are tools to help you afford upgrades on your honeymoon. Start by creating your registry with The Knot. Our all-in-one registry tool allows couples to register for just about anything, from cash and honeymoon funds to experiences and gift cards in addition to traditional gifts. These unique offerings allow your guests to help pay for things you really want, like a Michelin-star honeymoon dinner, a luxury couples massage at your resort, or Uber gift cards to use on your cross-country road trip.
Staying on the resort the entire time.
If you're planning to splurge on an all-inclusive honeymoon package, you might expect to spend your days on the resort property—but that's one unlikely honeymoon mistake our followers shared. Some couples said they regret not researching alternative activities in nearby cities and towns. While you might assume you'll want to lounge by the pool with a Piña colada in hand every single day, we recommend doing a quick search to see what other activities are available near your destination. You might regret not taking full advantage of your travels.
Procrastinating planning and packing.
Here's one major honeymoon mistake to avoid at all costs. A lot of our users said they regret procrastinating planning and packing. In the months leading up to your vacation, make sure your passport is up to date, along with any other entry requirements for your destination (like shots, vaccination cards, test results, etc.). If flying, you might even consider investing in a service like CLEAR, which allows you to move through airport security with a quick touchless verification at designated pods.
Once all of your travel requirements are ready, give yourself plenty of time to pack. Many followers told us that they wish they didn't save honeymoon packing until the last minute…or worse, the day of. Your wedding week will be full of appointments, errands and fun activities, so designate time to pack before the excitement begins. Trust us: The last thing you want to do after your wedding night is scramble to throw your vacay essentials in a suitcase.
Not looking into weather patterns.
The timing of your honeymoon may depend on when you're getting married. But before you book the trip, look into seasonal weather patterns for the destination you're eyeing. It might be incredibly disappointing, for example, to have your getaway coincide with the region's hurricane season (or worse: seaweed season, which is common in areas like Cancun, Tulum, Punta Cana, and the eastern coast of the Caribean). Save yourself frustration—and unwanted time spent indoors—by making sure your projected dates will make for a good honeymoon stay.
Planning a short trip.
Unless you're explicitly planning a minimoon, an intentionally condensed version of a honeymoon, you may want to avoid making your vacation too short. A lot of our followers say they regret not going on a longer trip. If this is one honeymoon mistake you're concerned about, be thoughtful about the length of your 'moon. Though a longer honeymoon correlates to a higher cost, use your registry to ask for cash funds to help pay for an extended trip. After all, who would regret taking a longer trip?
Not taking enough time to relax.
Adventurers at heart may want to pack their honeymoons with fun excursions, tours, activities, and reservations. And while you should absolutely take in the sights and make the most of your trip, be sure to schedule time for relaxation as well. Whether your honeymoon is happening a week after your wedding or months later, this trip is perfect for unwinding and enjoying quality time with your S.O. In fact, quite a few of our followers said their biggest honeymoon mistake was not being intentional about making time to relax. Take this as your official sign to carve out time to do nothing on your vacay—our direct orders.
Forgetting to ask for extra perks.
Being a honeymooner may come with extra perks. When making your reservation, ask the resort staff if they offer any upgrades for newlyweds. (Similarly, travel agents may also be able to hook you up with insider connections for special surprises.) While it's not guaranteed, you never know if you'll be able to score a room upgrade, a complimentary couples massage, or a bottle of bubbly in your room upon arrival. Take it from our followers who regret not inquiring about updates: You never know what you might receive unless you ask.
Not having professional photos done.
If you're the sentimental type, consider arranging a professional photoshoot to take place during your honeymoon. Although it's certainly not a requirement, getting pictures taken will help you preserve priceless memories and look back on your trip for years to come. A few of our followers said they still regret not booking a honeymoon photographer when they had the chance.
Not having a honeymoon at all.
Perhaps you aren't convinced that you even need to go on a honeymoon—but this was one of the biggest honeymoon mistakes our followers shared. Whether you're worried about securing enough PTO or having the funds, there could be a number of reasons that you might think you need to skip the trip, but we'll let you in on a secret: it's not about where you go or what you do. (Read: Your honeymoon doesn't need to be a luxury beach getaway or a month-long European sightseeing tour.) What matters most is enjoying quality time with your brand-new spouse. So, plan an excursion that feels right for you, whether that's a trip to a new place or a quick staycation near your hometown, and use your registry to help cover the costs. Trust us: When you look back, you'll be incredibly grateful you had that special time together.