The Two Most Common Newlywed Fights and How to Resolve Them
Because nothing says newlywed bliss like a few solid lover's quarrels.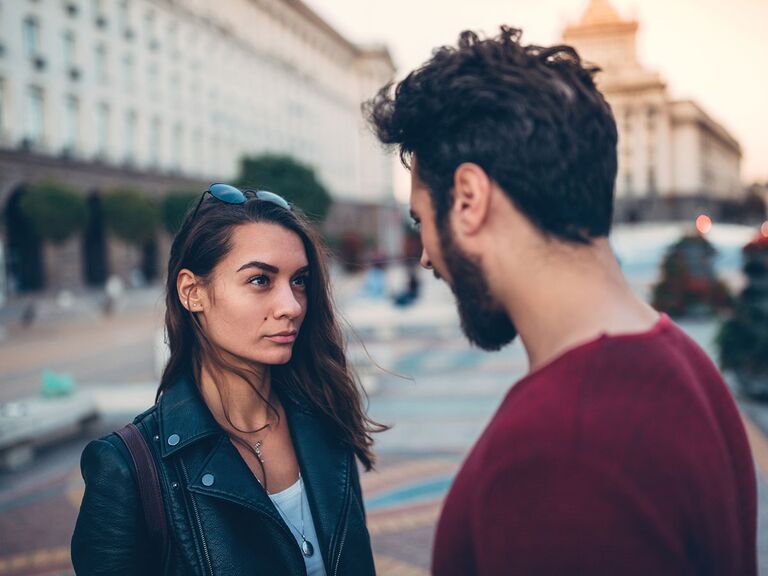 iStock
The best part of saying "I do" is finally becoming a team and gaining a new roomie you adore. But as fun as the idea of actually being married and living together seems, don't be surprised (or discouraged) when it turns out to be a bit more effort than you'd imagined. Are you newly married and finding yourself bickering more than ever? Don't worry, this doesn't mean you're doomed to have an unhappy marriage—we promise. Most of these (totally resolvable) disagreements stem from tension caused by the fact that you're going from "me" to "we." Here to weigh in on common newlywed fights, where they come from and how to work through them are Susan Bartell, Psy.D, psychologist, consultant and award-winning author, and Jane Greer, PhD, a New York–based relationship expert and author of What About Me? Stop Selfishness From Ruining Your Relationship.
Different Ways of Dealing With Clutter
The fight:
According to Bartell, one of the biggest sources of tension between newlyweds is the "contentious topic" of household clutter. "Marriage often involves combining households, and with that comes the stress of throwing items out and making room for double the stuff and many new wedding gifts," she says. A study conducted by SpareFoot.com reveals an overwhelming 90 percent of Americans would get rid of some of their partner's possessions if they knew there'd be no consequences—pretty crazy, right? That means you're not alone in your desire to toss your spouse's unwieldy T-shirt collection. (Intrigued? Read more from this study here.)

Where it comes from:
Bartell firmly believes disagreements over household clutter stem from how differently each member of the duo deals with stuff. Are you the "saver" or the "purger" in your relationship? "For the saver, clutter represents one of two things: potential—items that will be useful in the future—or sentiment—a reminder of a special time. For the purger, less stuff equals less stress," Bartell explains. "This leads to arguments over what to keep and what to toss—and sometimes, even secretly throwing out items while the saver's back is turned." This never ends well, and there's a stat to prove it: SpareFoot's study reveals one in three Americans would consider breaking up with someone if that person got rid of something that had sentimental value to them. Yikes!
How to resolve it:
Bartell has three clear steps to help peacefully settle any disputes over excess and messiness. First, discuss with each other how you both define clutter. "When you understand how clutter affects your spouse, it helps you become sensitive to how you treat household items," Bartell says. Second, be determined to compromise. "Find a middle ground to resolve how you deal with household clutter," she says. And if that means renting a storage unit to house items your significant can't part with, so be it. And third, always, always communicate: Create a plan that lets you both feel comfortable with how you deal with these issues.
Letting the Little Things Get to You
The fight:
"Ironically, the biggest issues during the first year of marriage tend to be the small, petty things you wouldn't think would matter," Greer says. This could be domestic decisions like how to share closet space (ahem, household clutter, anyone?), what to watch on TV, what to eat for dinner or which shade to paint the new kitchen. But it could also expand to dealing with visiting family members or how often you spend time with each other's friends.
Where it comes from:
Greer's observations seem to lead to the idea that there isn't one most common fight—instead, there's a most common cause behind all of these potential fights about totally different, little things, depending on what irks you. "Being a newlywed is challenging because it requires each person to compromise in areas they may [not be used to] or expected to. Everything that was once a personal choice now suddenly has to be a mutual decision with involvement and accountability," Greer says. "The excitement of getting married moves into the reality of living together, being married and having to deal with each other's needs day in, day out. [Sometimes] tension develops over whose needs will be met first. Early marriage arguments stem from wanting to continue your own creature comforts, but having to learn how to balance them with your partner's."
How to resolve it:
Similar to Bartell, Greer is all about encouraging both people to develop strong problem-solving and compromising skills. (By the way, these are all key relationship skills you can strengthen in marriage counseling—an amazing resource for even the happiest couples.) "Each person needs to look at how important a particular issue is…. The trick is accepting it's a give and take, and building that trust you need to be able to talk through differences and come to a mutual solution."
If you're looking for more ways to improve your communication and build a healthier relationship, check out Lasting. The science-based app backed by The Knot gets to know your relationship and then creates a customized program just for you and your significant to help you to shape a better marriage or relationship.