'No-Makeup, Makeup' Looks to Inspire Your Wedding Day Beauty
Plus how to nail the look.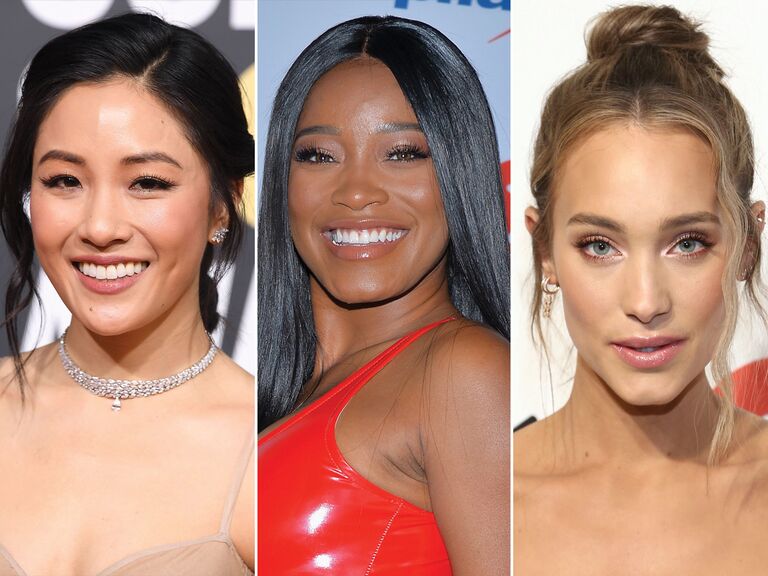 PHOTO BY STEVE GRANITZ / CONTRIBUTOR / GETTY.COM,Sam Wasson / Getty.com,PHOTO BY TOMMASO BODDI / STRINGER / GETTY.COM;MAKEUP BY ROBERT SESNECK
We have included third party products to help you navigate and enjoy life's biggest moments. Purchases made through links on this page may earn us a commission.
There's a common misconception that you have to wear a lot of makeup on your wedding day. If that's not your style, good news: you don't have to. In fact, you can wear whatever you want. If you love a natural style, we've rounded up five no-makeup wedding looks and talked to beauty pros about how to pull them off.
This beauty look is having a major moment, as celebrities have been rocking natural makeup all over the red carpets. Psst: pulling off a totally natural wedding makeup look takes time and expertise, so we recommend working with a professional makeup artist for your nuptials. Bring these images to your wedding makeup trial to give them an idea of what you're looking for, and use the tips from our experts to communicate what you're envisioning.
See five no-makeup makeup wedding looks (and learn how to master them), below.
Flawless Foundation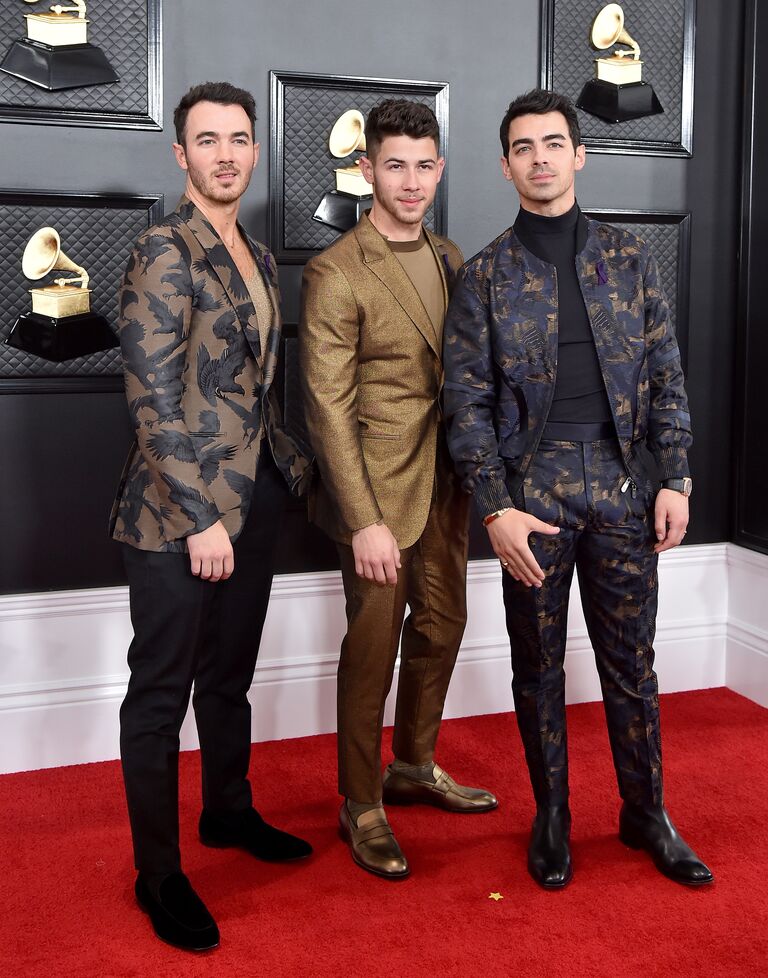 Makeup is for everyone—not just brides. Let your beautiful face shine on your wedding day by enhancing it subtly. The key to getting a flawless finish on your face is by prepping the skin correctly, according to Marissa Machado, a celebrity men's groomer. "Getting the perfect skin starts with the right skin prep," she tells The Knot. To prime the Jonas Brothers in this look, Machado used cooling eye gels. "These patches reduce any puffiness or fatigue while leaving the eye area tight and smooth," she says.
Prime your face for your no-makeup wedding look by focusing on smoothing and hydrating, says Taylor Dempsey, makeup artist for SIIA cosmetics. In the morning, wash your skin with a balancing facial cleanser. Follow it up with moisturizer or facial oil and an eye cream. Dempsey says to be careful with certain SPF products, as they can cause flashback with flash photography.
Once your skin has absorbed your moisturizers, Machado recommends using a primer before putting on foundation—it will help your foundation stay put throughout the long day. She used a mattifying primer since it prevents excessive shininess (ideal if you're going to have your picture taken). The Jonas Brothers' look required a tinted facial oil, setting powder, bronzer and a moisturizing lip balm. To-be-weds aiming for a natural wedding makeup look can use any lightweight foundation (tinted oil, tinted moisturizer, CC cream, BB cream or light-coverage foundation). Machado used a damp beauty sponge to apply the tinted oil, as it gives the most natural finish.
Want to take it one step further? Consider adding concealer, says celebrity makeup artist Robert Sesnek. Use a concealer one or two shades lighter than the face and apply around the tear ducts in a triangle under the eyes (this will brighten the eye area). Make sure it stays in place by sweeping setting powder under the eyes and in the T-zone if necessary, and then lock it all in with a hydrating setting spray.
Get the look:
Skyn Iceland hydro cooling firming eye gels, $24,Amazon.com
Wander Beauty Baggage Claim gold eye masks, $25, Sephora.com
Erborian extra matter ultra mattifying primer, $42, Sephora.com
Kosas tinted face oil, $42, Sephora.com
Kosas revealer concealer, $28, Sephora.com
Catrice HD baking & setting loose powder, $12, Ulta.com
Kosas LipFuel hyaluronic lip balm, $18, Sephora.com
Catrice Prime And Fine dewy glow finish spray, $8, Amazon.com
Blushing To-Be-Wed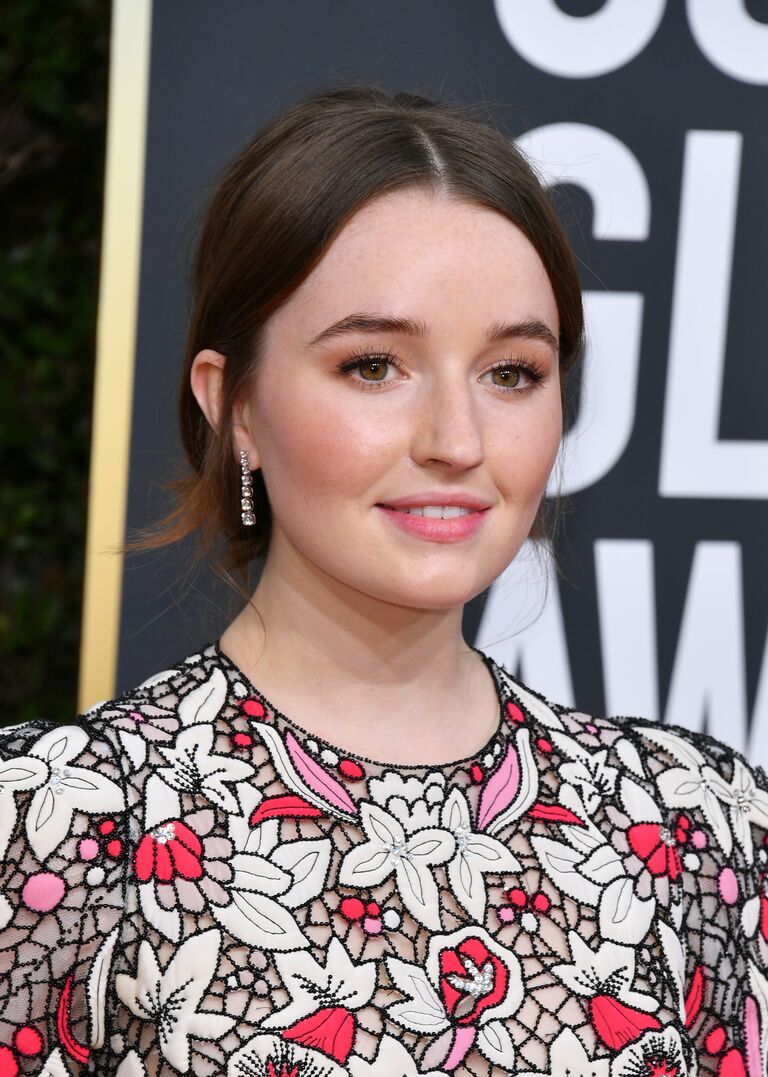 Elevate a flawless foundation look by amping up the blush. Not only will it bring color into your beauty look, it also makes your complexion look fresh and glowy. Gita Bass, celebrity makeup artist, created this effect on Booksmart actress Kaitlyn Dever by relying on cream products first. "I wanted to give a healthy, natural flush to the cheek," Bass said in a statement. "I pressed the cream blush in with my fingers; the heat of my fingers allowed for it to blend beautifully into the skin." Bass amped up the intensity of this look by layering a pressed powder blush to the cheeks. Not only will it add drama to the look, it will also help your makeup stay put late into the night.
Let your complexion shine by keeping the rest of your look simple. Bass used a simple champagne liquid eyeshadow, false eyelashes (yes, you can wear them and still pull off a natural wedding makeup look) and mascara. Finish it off with a sheer lipstick that's similar to your own lip color and a hydrating setting spray.
Get the look:
Kosas Color & Light cream blush in Velvet Melon, $34, Sephora.com
Kosas Color & Light pressed blush in Longitude Zero, $34, Sephora.com
Kosas 10-Second liquid eyeshadow in Globe, $28, Sephora.com
Kosas weightless lip color in Rosewater, $28, Sephora.com
True Botanicals Renew nutrient mist, $28, TrueBotanicals.com
Glowing Complexion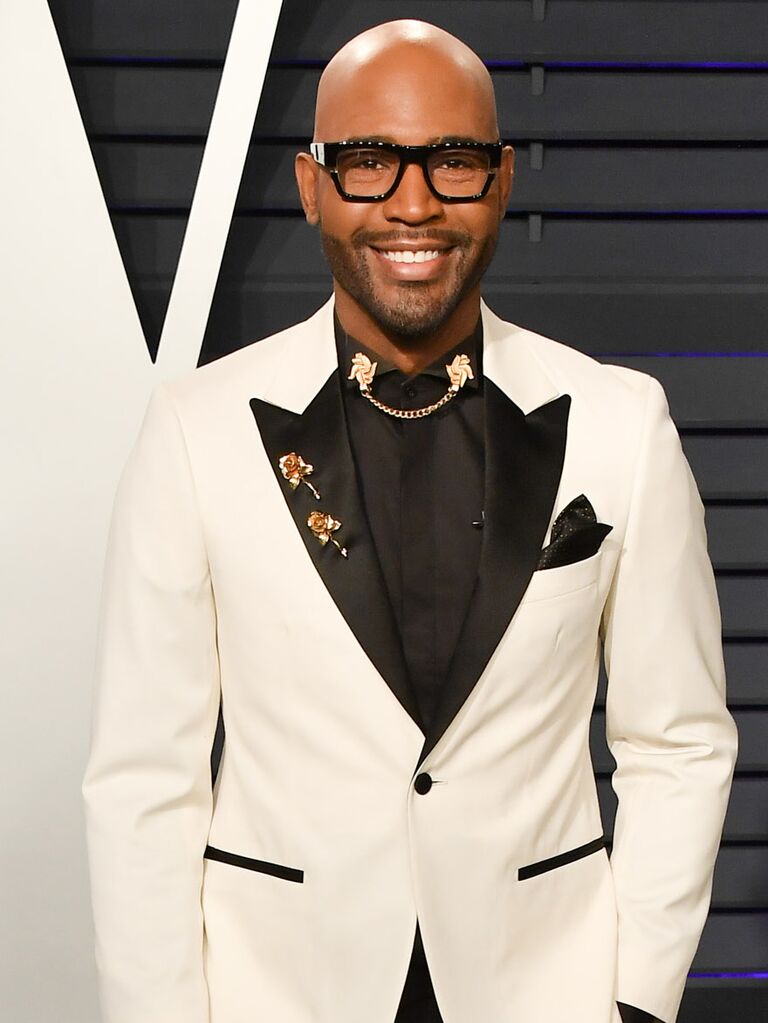 Searching for that "lit-from-within" look? Check out Queer Eye star Karamo Brown and his glowing complexion for inspiration. Jennifer Brent, a makeup artist based in NYC and groomer for the Fab Five said that they key for a glowing complexion is to look hydrated but not glossy. She previously revealed that one of Brown's hero products is transluscent powder, as it takes down any extra shine without totally mattifying the skin. She added that Brown uses a mattifying primer, cream bronzer, radiant concealer and natural lip balm.
However, Brown has previously spoken about his relationship to makeup, saying that he likes minimal makeup and full-coverage moments alike. Use a dewy full-coverage foundation to get an air-brushed effect or conceal areas of your face for an ultra-natural look. Top it off with powder so it stays set throughout your wedding day.
Get the look:
PerriconeMD No Makeup Instant Blur, $55, Sephora.com
RMS Beauty Un Cover-Up, $36, Sephora.com
Makeup For Ever Ultra HD micorfinishing loose power, $36, Sephora.com
Tom Ford Shade and Illuminate, $88, Sephora.com
Intelligent Nutrients lip delivery nutrition, $14, IntelligentNutrients.com
Fenty Beauty Pro Filt'r soft matte longwear foundation, $35, Sephora.com
Bright Eyes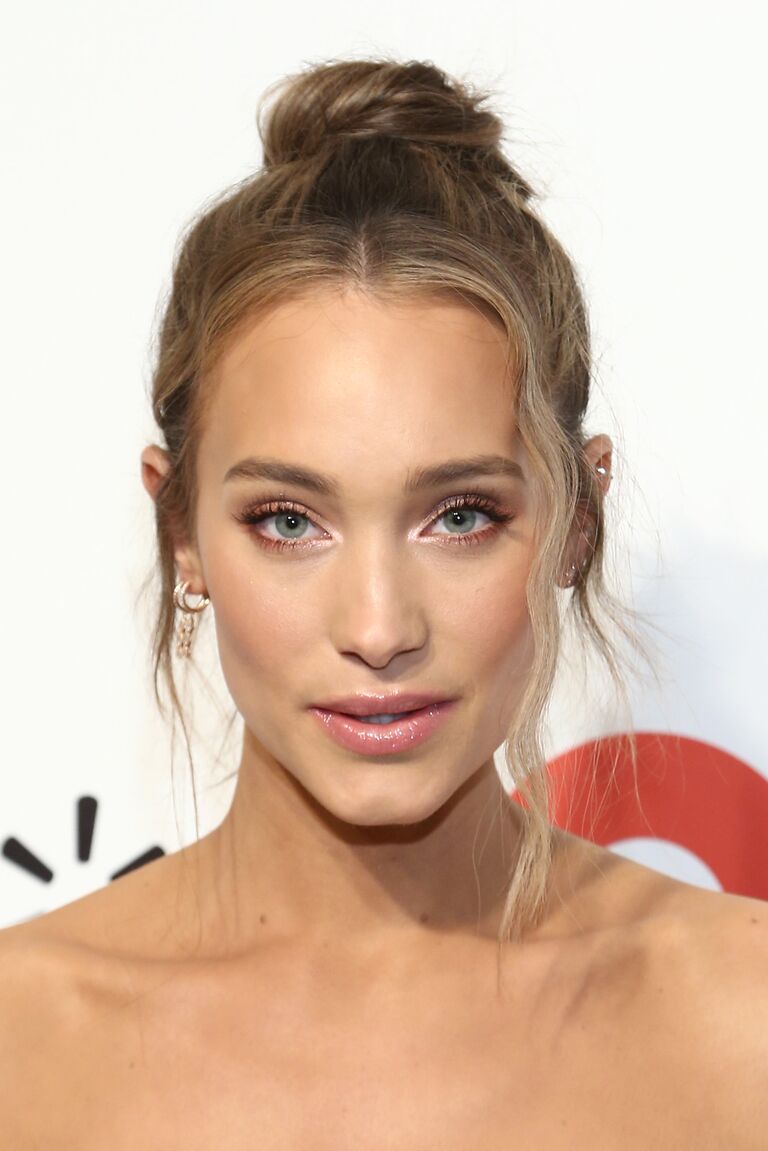 Even if you're aiming for a no-makeup wedding look, you can still use eye makeup. When applied correctly, it can make your eyes look bigger and brighter—perfect for to-be-weds who want to show off their gorgeous eyes. Sesnek, who created this look for model Hannah Jeter, recommends applying a lighter, brighter eyeshadow shade (think: a neutral shimmery color) across your lid and on you inner corners, as this will give you an instant eye-opening effect. "Apply the shadow with a slightly damp brush," he recommends. "This allows the shade to be more long-lasting and it will make the color more intense."
If you want to incorporate color into your wedding day beauty look, Dempsey recommends going for a hue that will complement your skin tone. "I like to use peachy-pinks for light to medium skin tones or warm browns for medium to dark skin tones," she says. "You want to avoid using colors that are too cool-toned and opt for neutral or slightly warner tones instead."
Emphasize the shape of your eyes by adding a few coats of mascara. Sesneck suggests applying it to the roots of your eyelashes, as it will give you an eyeliner-like effect. (Pro tip: you may want to opt for waterproof mascara if you're likely to shed a few tears on your wedding day!) To-be-weds who want a little more drama can smudge a brown or black eye pencil or brown eyeshadow along your lash line. This technique will define your eyes softly and naturally.
Get the look:
Catrice Basic Bae eyeshadow palette, $15, Amazon.com
Milk Makeup eye pigment in After Party, $24, Sephora.com
Charlotte Tilbury Eyes To Mesmerize cream eyeshadow, $32, Sephora.com
SIIA Fly High mascara, $15, SIIA.com
Make Up Forever Aqua XL eye pencil in M-30, $21, Sephora.com
Essence extreme lasting eye pencil in But First, Espresso, $3, Ulta.com
Naturally Full Lashes and Brows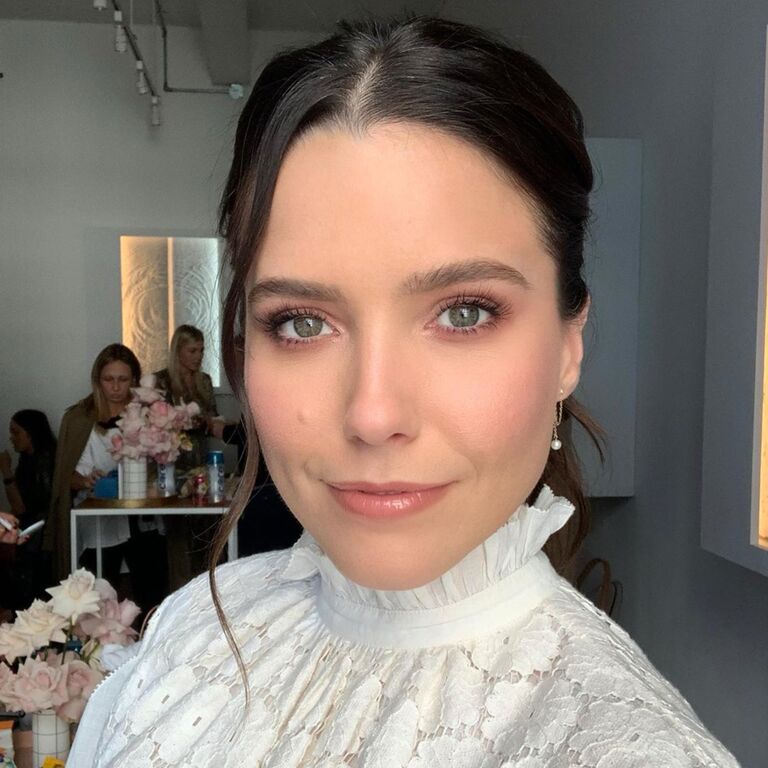 "For a no-makeup look, brows are the superstar," says Hannah Hatcher, global educator and makeup artist for Jane Iredale. "The more natural, full and bushy, the better." Use a colored gel to brush your brows up and into place. Sesnek, who did this makeup look for One Tree Hill actress Sophia Bush, adds that he likes to start gradually and build focusing most of the gel ast the middle and ends of brows where the shape is most important.
For liner, skip anything liquid and stick to a kohl pencil, says Dempsey. Tightline your upper lash line by using the pencil on the inside of your eyelid beneath your lash roots. Intensify the look by lining the top and bottom of your eyes and smudging into your lash line with an angled brush.
Dempsey recommends keeping your lashes light and natural for this look by using a mascara that lengthens and adds volume. Carefully add a layer of mascara to your bottom lashes as well for an ultra-full look. Defining your eyebrows and lashes will help frame your face and draw your guests' attention to the center of your face—perfect for showing off your radiant smile.
Get the look:
Jane Iredale PureBrow brow gel, $24, Amazon.com
Milk Makeup Kush fiber brow gel, $20, Sephora.com
Glossier lash slick, $16, Glossier.com
Wander Beauty Mile High volume and length mascara, $26, WanderBeauty.com
Catrice Pret a Volume smoky mascara in Velvet Black, $7, Ulta.com
Popsicle-Stained Lips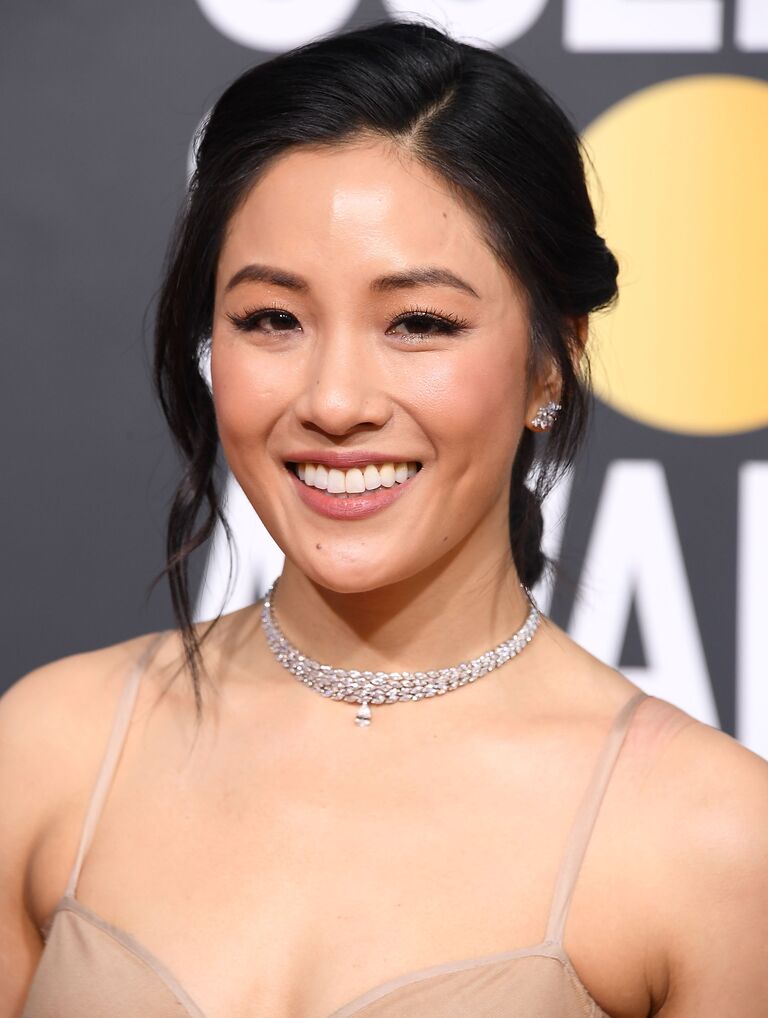 Accentuate your gorgeous smile with this simple no-makeup wedding look. "Think popsicle on a hot summer day for your lips," Hatcher says. "Nothing too glossy or pigmented—just the right amount of color in the center of your lip, so grab a pigmented lip balm." This consistency will give you a natural-looking, light wash of color.
Color-wise, Dempsey adds that it's best to stick to nudes and neutral tones for the lips. Choose a shade that's within a few shades of your natural lip color. If you want to use a lipstick, apply it to the center of the lips and blend it outward with a brush for a bitten and plumping effect. "Avoid any lipsticks that are overly matte, like a liquid lip, and opt for something with a more satin finish instead." You can also later lip balm under a traditional matte lipstick—or mix the two together (Bass used this trick for Kaitlyn Dever's blushing look).
Get the look:
Jane Iredale LipDrink lip balm, $17, Amazon.com
SIIA Cosmetics Change Agent matte lipstick in Sensual Rose, $25, SIIA.com
Colourpop lippie stix in After Shock, $7, Colourpop.com
Charlotte Tilbury matte revolution lipstick in Pillow Talk, $34, Sephora.com
Dr. Pawpaw multi-purpose balm, $10, Amazon.com
Fluttery Lashes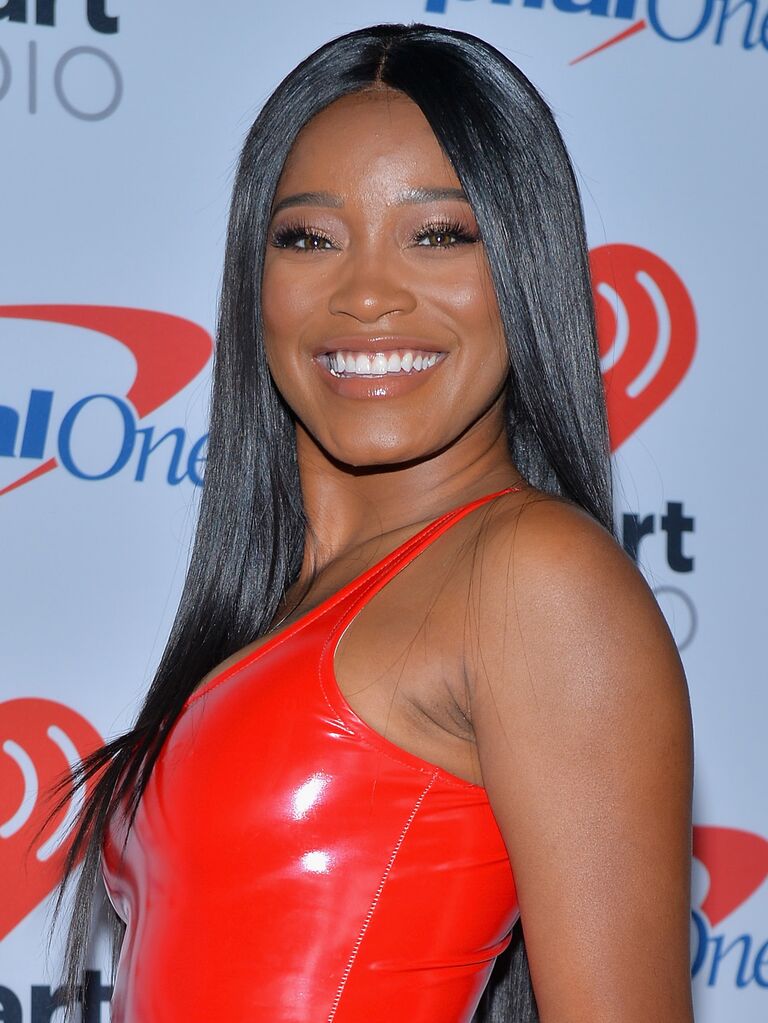 We know—false lashes for a no-makeup wedding look? But here us out. If you use individual lashes and place them along the outer half of your eyelid, you'll get natural, fluttery lashes. (Psst: long lashes open your eyes up, making them look bigger in pictures and IRL.) Curl your lashes, apply the falsies, and then blend it all in by layering a few coats of mascara. top the look off with a medium-coverage foundation and lipgloss for a naturally radiant look.
Get the look:
Mented Skin by Mented, $30,MentedCosmetics.com
Sweed Lashes Nikki No Lash Lash, $25, SweedLashes.com
Fenty Beauty Full Frontal volume, life & curl mascara, $24, Sephora.com
Mented gloss, $15, MentedCosmetics.com