Everything You Need to Know When Working With a Makeup Artist
If the idea of putting on eyeliner makes your hand shake, you may want to hire a pro to do your makeup on your wedding day.
by The Knot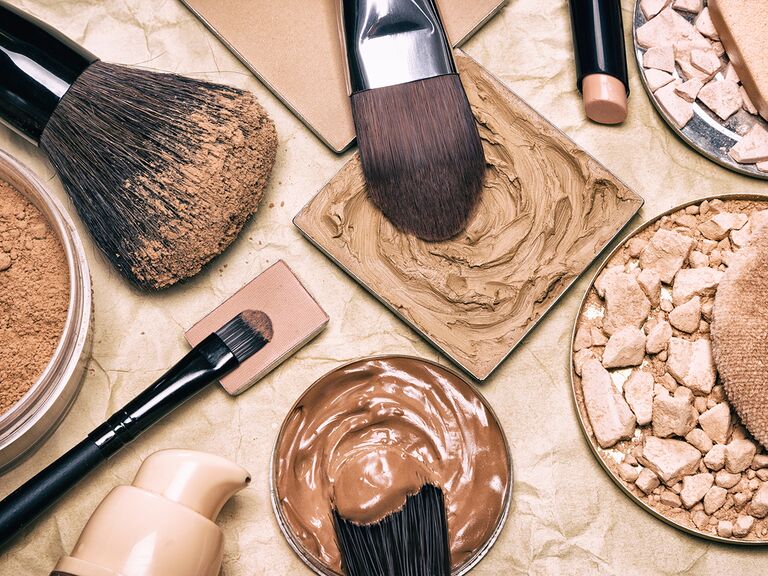 From strobing and contouring to glossy lids and smoky eyes, when it comes to your wedding day makeup, the possibilities are endless. And unless you're a makeup aficionado, all those choices might make your head spin. Hiring a professional makeup artist for your wedding day will take the stress out of making sure you're photo ready. Here are the steps you should take when working with a makeup artist.
Get Inspired
You've spent months tearing pages out of wedding magazines and pinning everything you could find for your wedding décor and dress, but your inspiration hunt shouldn't stop there. The easiest way to ensure your makeup turns out exactly the way you envision it is by using a reference photo. Did a celebrity have a major beauty moment on the red carpet you've been dying to re-create? Was there a makeup look on the runway that caught your eye? Take those images and file them away for your makeup artist to reference. And if you don't have a specific image in mind, that's okay too. Even just knowing the shades you'd like to incorporate or the feeling you'd like to invoke can help your makeup artist lock down a look you'll love.
Find the Right Pro
The easiest way to find any pro for your wedding is by asking your friends—nothing beats word of mouth, especially in the world of weddings. Your photographer or hairstylist might also have great suggestions for a makeup artist, since most have worked with some in the past. The Knot Marketplace is also a great resource to connect you with makeup artists right in your area. You can search by city and state, read reviews from real brides, take a look at artists' portfolios and save their pictures to your favorites. You can even contact the vendor directly through our site to get an estimate or check if they're available on your wedding day.
Schedule Your Makeup Trial
Your makeup trial should be booked as soon as you send your makeup artist your reference photos. You'll want to know as early as possible if the makeup artist you chose is the right fit, and if the makeup look you've been envisioning for your day will work for you. But remember, your inspiration photo should be just that—inspiration. Be open to suggestions from your makeup artist, especially if you don't have specific images you're referencing. They can guide you to a beauty look that complements everything from your features to your wedding color scheme.
Time It Well
The ideal time to schedule your trial is around the time of day your actual wedding will be. If your ceremony is in the morning, have your trial early—that way you can see how the makeup looks in different lighting throughout the day. Take photos from different angles as well and pay close attention to how your skin reacts to the products they use. Is your mascara flaking off? Does your skin feel irritated from the foundation? Has your concealer completely disappeared? You want your makeup look to be picture perfect, so don't be afraid to voice all of your concerns to your makeup artist—now is the time to do so. Also, it's a good idea to time your makeup trial. This way, you'll have an estimate of how long it will take on the actual wedding day so you can plan accordingly. While you're at your hair trial, figure out if you'll be traveling to your makeup artist or if they'll be coming to you. If you're going to your makeup artist, budget extra time for travel for the day of your wedding. If they're coming to you, make sure they have a clean space to lay out their products and tools in a well-lit area.
Get Made Up
On the day of your wedding, you should be as relaxed as possible—so leave plenty of time to get ready before the ceremony. It usually takes two to three hours to complete a bride's hair and makeup look. Something to keep in mind: If the makeup artist is also working with your bridal party, depending on the size of the party, you'll need to set aside an additional hour or more. If it's possible, it's best to hire a separate person for your attendants, or let them do their own makeup. But if the pro is working on both you and your bridesmaids, you should go last so your look is nice and fresh for pictures. Allot for this in your day-of timeline.
Ready to get gorgeous? Find your wedding glam squad here!