Working With a Makeup Artist
If the idea of putting on eyeliner makes your hand shake, you may want to hire a pro to do your makeup. Here's how.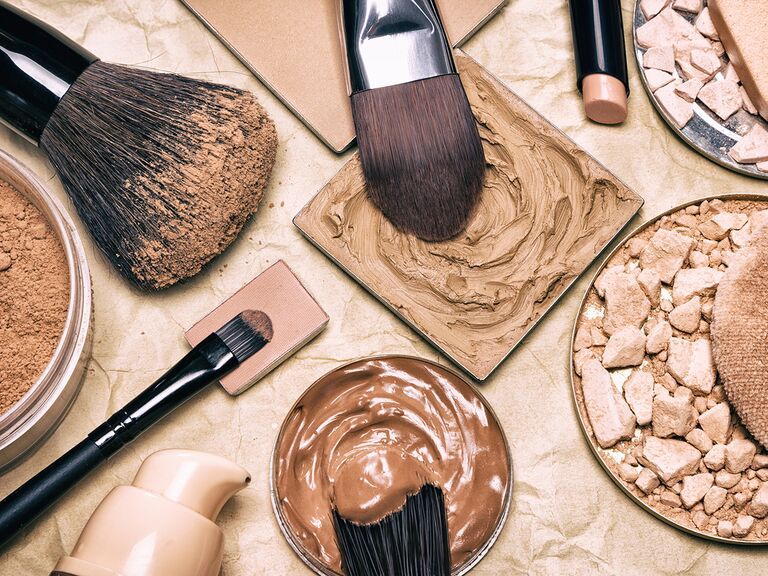 If you're not much of a makeup person—and even if you are—you should think about hiring a makeup artist for your wedding day. A pro can give you picture-appropriate makeup that stays put. Here are some tips for seeking out someone to help you look like the best version of your gorgeous self.
Finding the Right Makeup Artist
Ask your friends. Nothing beats word of mouth when it comes to finding true talent, especially in the world of weddings.
Check out department stores. Talk to beauty consultants at cosmetics counters. Let the ones you feel comfortable with give you a makeover (double-check there's no charge—sometimes they require that you buy products). Explain you're shopping for your wedding day makeup, and if you're happy with the results, ask if they provide on-location service or if they'll schedule time for you to come to the store the day of your wedding.
Ask your photographer. Most photographers have worked with makeup artists and can recommend some good ones.
Phone an agency. If you live near a large city (especially New York or Los Angeles), try contacting an agent for makeup artists and ask if they can suggest a few who specialize in weddings. These professionals may charge more since a percentage of the fee goes to their agent, but they may be more talented too, since they often work on photo shoots.
Ask your hairstylist. Many are also trained cosmetologists and may just offer their services, or be able to recommend someone.
Use The Knot vendor search. You can look by city and state to find the best makeup artists in your region. Read reviews from real brides, take a look at artists' portfolios and save their pictures to your favorites. You can even contact the vendor directly through our site to get an estimate or check if they're available on your wedding day.
Working With a Makeup Artist
Collect pictures from magazines and Pinterest to show the makeup artist so he or she can get an idea of the look you're going for. Keep in mind that your wedding is not the time to start experimenting—stick to an enhanced version of your everyday self.
Schedule trial runs before your prewedding parties or other special events (like friends' weddings, class reunions). Some makeup artists do charge you for these practice sessions, so find a crowd to wow!
Take a close look at yourself a few hours after a trial makeover to check how the makeup wears on your skin. Does it last or fade away? Note any color changes or allergic reactions.
Find out if the makeup artists charge a higher fee to come to your home. See if they also expect you to pay their travel expenses. While it may be more convenient, having them make a house call isn't always worth the additional cost.
Finally, ask what will happen if the makeup artist can't be there on the day of the wedding. Will he or she arrange for someone else to do the job or are you on your own?
Get more expert bridal beauty tips plus hair and makeup inspo here!