Yes, It's Normal to Have These Concerns Before Getting Married
And no, you shouldn't feel bad for having them.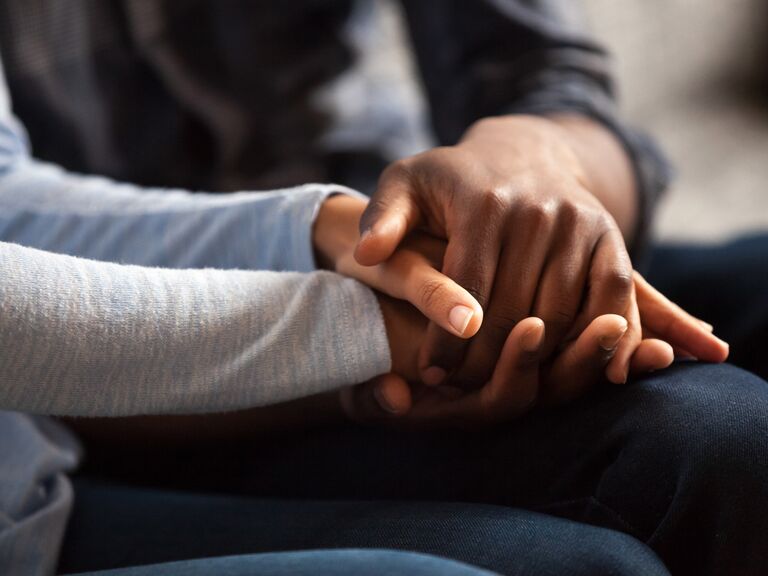 Shutterstock.com
Being engaged is one of the most exciting seasons of your relationship—but it can also be one of the most stressful. While you've got your hands full with planning a wedding, you're also preparing your relationship for life after the ceremony. Marriage concerns are common as it's one of the most important decisions you'll make in life. From merging finances to blending your families and planning for your future together, the entire process can be overwhelming to say the least.
But here's the good news: having marriage concerns before the wedding is frequent, which is why we've outlined the most common stresses engaged couples face, along with ways you can work through them together with your future spouse.
Managing Money
Money matters in a relationship. Maybe your partner is still paying off student loans, or you're concerned about covering your wedding budget along with your honeymoon fund. No matter the scenario, it's important for you and your partner to be on the same page when it comes to money long before you say "I do." According to data collected by marriage counseling app Lasting, only 30 percent of couples say they agree on how to spend money. But if you want to set your relationship up for long-term success, it's vital that you make a plan for spending now and in the future.
Ultimately, conversations about money aren't mathematical—they're emotional. You and your partner have your own beliefs on how you should spend and save, so it's important to take the time before your wedding to map out a plan for success. Talk realistically about your goals for the future. Discuss the investments that are important to you (like a house mortgage, a new car, extended education or children) and listen to your partner's goals too. Once you know what you want as an endgame, work backwards to make a plan for how to manage your money together in the present.
Navigating In-Law Politics
If fostering a good relationship with your in-laws is one of your marriage concerns, you're not alone. Lasting finds that 42 percent of men and 46 percent of women are unhappy with their relationship with their spouse's family. Merging two families isn't necessarily an easy task. By building a new family culture, you might encounter some roadblocks along the way (like figuring out where to spend the holidays or learning about an entirely new culture).
Your marriage is a team, so you should work together when you find yourself in tough situations. While navigating in-law politics isn't easy, make sure your spouse is a priority. Together, you can come to a resolution that's fair to each other and your respective families when you're facing a problem.
Deciding Where to Live
Perhaps you're already living together and you plan to stay in the same spot after the wedding. In that case, making a move isn't a pressing marriage concern. But if moving is iminent, either shortly after the wedding or down the road, it can be daunting to pack up and relocate (especially if kids are involved).
Moving is a big deal, and there's a chance that making the change will require compromise on both ends. If the prospect of moving turns into a problem, it's important to listen to your partner first. Lasting finds that only 6 percent of couples are satisfied with how they deal with conflict. Their data indicates that "the only goal of healthy listening is understanding—not giving advice, correcting, or guiding. Good listeners realize that they can't control the way their partners feel. The most important thing is to understand why they feel that way and what they need." So, in order to come to a resolution that benefits everyone, listening and understanding are key traits that will lead you to a fair ending.
Fielding the Kids Question
Shortly after you get married, there's a chance that well-meaning family members and friends will ask when you'll start having kids. If you have an answer you're willing to share, do so. But if you don't want to divulge those details—or if you don't even know the answer—have a response ready to go in case you find yourself in an awkward situation.
While you can't control what others say, your response is within your scope. It's important for you and your partner to be united especially in uncomfortable moments. However, you can only do this if you're on the same page behind the scenes. Before the wedding, speak openly about what you envision in your future. You don't have to come to a clear resolution regarding kids, especially because what you both want may change over the years. What's more important is that you're able to listen to each other and come to a compromise that works for both of you.
According to Lasting, only 18 percent of couples say they can talk comfortably about any issue. Make it a point to get comfortable with having uncomfortable conversations. In the end, your relationship will be so much stronger because of it. And when someone does ask when the babies are coming, you'll be able to answer gracefully.
Keeping the Spark Alive
Your intimacy might change after the wedding—perhaps not immediately (you'll be in the honeymoon phase, after all), but potentially down the line. Lasting finds that only 14 percent of couples make intimacy a priority in the relationship. If keeping the spark alive is one of your marriage concerns, make it a point to continue to date each other. Plan unique date nights, whether they're adventurous activities or relaxing evenings from the comfort of your own living room. Pay attention to the little things that make your partner happy, like having a clean kitchen or arranging fresh flowers on the bedside table, and make it a point to do those things for them.
Don't forget to talk about what you want, either. According to research conducted by Lasting, a strong emotional connection is responsible for intimate satisfaction. Watch out for your partner's emotional calls—their attempts to connect with you—and actually acknowledge them. Making your emotional connection a priority will act as the foundation for a strong intimate connection for years to come.
Establishing a New Normal
Even though not much physically changes after you marry, you'll still be adapting to a new normal. You'll have a spouse, you might have a new last name, or you might be moving to a new zip code. Whatever the case may be for you, married life is an adjustment—and that can be scary.
Ultimately, remember that you and your spouse have entered a partnership. They're there to support you, just as you're there to support them. While you'll encounter tough situations throughout your marriage, it's important to work through them together. When you do so, you'll set yourself up for success for years to come.