Premarital Counseling: Everything Couples Should Know
There are four ways to do premarital counseling, and one of them is super simple.
by The Knot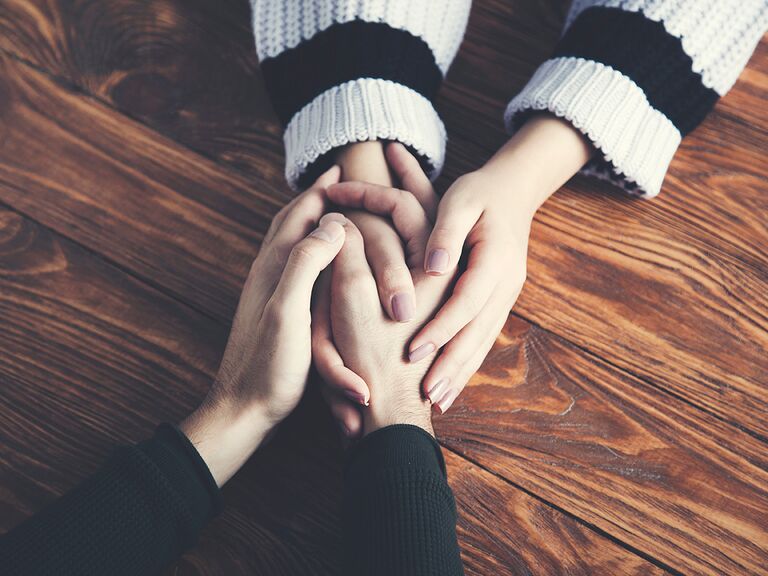 Just because you get married doesn't mean your relationship suddenly gets better. That's why, scientifically, couples who do premarital counseling are far more likely to have a healthier, happier marriage together. But who has the time to commit to hours of therapy sessions? Luckily, there's a much more efficient way. The Lasting couples counseling app takes care of your needs in five minutes a day, and 95 percent of couples report stronger relationships.

There are old school ways, too. Check out everything you need to know about premarital counseling, below.
What is premarital counseling?
Premarital counseling is the process of getting prepared for marriage. All couples have unique strengths and weaknesses, and premarital counseling identifies your weaknesses as a couple, unearths the things about which you agree and disagree, and gives you the right tools to work through disagreements together.
You'll most likely discuss the following topics:
Communication
Finances
Beliefs and values
Roles and responsibilities
Sex
Desire to have children
Family relationships
Decision-making
Dealing with conflicts
Leisure time
Lots of couples who do premarital counseling report clearer expectations for marriage, better communication and conflict skills, a closer emotional connection and a deeper understanding of one another.
The icing on the cake is establishing a positive attitude about seeking help down the road.
Never forget that relationships consist of two unique sets of histories, thoughts, feelings and values. This sits at the heart of why premarital counseling works: It gets both partners on the same page on a wide variety of topics and prepares them for the future.
Ways to do premarital counseling
  1. The Lasting couples counseling app
Simply download Lasting for iPhone or Android and subscribe to unlock your entire research-backed couples counseling program, which consists of assessments, exercises and audios. Subscribing costs just $12 per month (for two people) or $80 per year.
  2. In-person couples therapy
After finding a qualified, licensed marriage and family therapist (LMFT), reach out to them to schedule a couples counseling appointment. When you connect, ask a few questions like, "What's your experience?" "How long is each session?" and "How much is each session?" Depending on where you're located, costs could range from $50 to $250 per hour of in-person couples therapy. The bottom line? You want to feel comfortable with the service you're receiving.
  3. Online therapy via Talkspace or another provider
Go to the Talkspace website, get matched with a therapist, and you and your partner can text back and forth with a live professional. Feel free to ask those same questions related to their experience and their process. Couples therapy via Talkspace is available for $316 per month or $852 for three months.
  4. In-person with your religious organization 
Lots of churches, temples and other religious organizations offer premarital counseling, and the cost varies per institution. 
Are any of these premarital counseling options covered by insurance? Insurance benefits cover some costs in the premarital counseling process, but please note that each company is different. For instance, you may have a copay or a deductible, or you insurance may only cover a certain number of sessions, such as two or three (most couples counseling is four to six sessions). You'll need to check with your employer's HR department.
Feeling overwhelmed? Ignore two, three and four above and let us help.
Trust us, there's a much easier, low-risk way to try premarital counseling. Download Lasting for iPhone or Android, create your account and take your free relationship assessment. This service is so worth it, since it cuts down on the time, cost, research and scheduling barriers of getting into couples counseling. It doesn't get simpler than that!