What to Know About Premarital Counseling
Newly engaged? Here's why premarital counseling might be for you.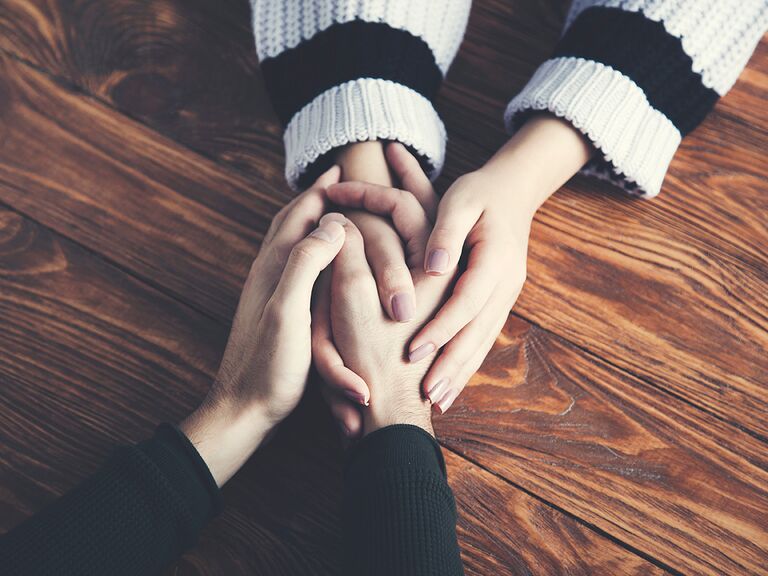 Shutterstock
It's a common question faced by newly engaged couples—to do or not to do. Premarital counseling, as indicated by the term, takes place between a couple before marriage to help ensure a strong foundation for the relationship ahead. Oftentimes, it's highly recommended by professional family counselors, along with religious leaders and couples who've undergone the process. Here, The Knot dives into the basics of PMC so that you can have a healthy road to marriage.
What Is Premarital Counseling?
Premarital counseling oftentimes will help couples snuff out potential areas of growth in their relationship, as well as where they most need to align and communicate. Most of the time, it's conducted by a licensed therapist (an LMFT), or a religious leader like a pastor in a church. Some pastors and churches will require premarital counseling in order for a wedding ceremony to be conducted. However, premarital counseling is a platform for couples to have open and honest conversations prior to marriage about real life topics with the help of mediation.
The cost can range. Check in with your various providers to see what happens.
The Types of Premarital Counseling
A variety of premarital counseling types exist, ranging from Christian PMC options to actual premarital counseling sessions provided by a licensed therapist. Of course, there are also legal options for this route as well, along with premarital counseling books and online premarital counseling courses. Here's how we break down each below.
Religious Premarital Counseling
Christian premarital counseling options are oftentimes available through churches. If you are marrying in a ceremony conducted by a pastor, it's a common practice for the church to require the couple takes premarital counseling courses.
Online Premarital Counseling
Online premarital counseling is an option too with apps like Lasting. The service is led by couples therapists and relationship experts, making it the top resource for premarital counseling in the U.S. alone. It costs $12 a month for two or $80 a year.
Books and Resources
Premarital counseling books exist and it's up to the couple to use them oftentimes to supplement the process. It's not recommended to use the books alone as a guide since a licensed mediator or therapist can help facilitate healthy discussions where necessary.
A Certified Therapist
Premarital counseling is often provided by a licensed therapist, which means you'll want to find an LMFT (licensed marriage and family therapist) to lead the appointments. You'll be asked a range of questions, which will impact how long each session will take, plus the payment structure.
Legal and Financial Premarital Counseling
A family law attorney and certified financial planners are also touching this very important space. While not the same as psychological counseling, financial and legal planning is rather important for couples prior to marriage. In over to get on the same financial page, couples will discuss everything from retirement plans to prenuptial agreements; Plus, healthy financial spending habits.
The Topics
Communication
Finances
Beliefs
Values
Roles
Responsibilities
Sex and Intimacy
Family relationships
Possible children
Decision-making processes
Conflicts and results
Hobbies and leisure time
Common Premarital Counseling Questions
The following are foundational questions you will likely face in premarital counseling. While some might find these conversations to be daunting, couples will increasingly find breakthrough in communication habits and styles if they are open to sharing healthy discourse about important topics.
The Basics
Why are we getting married?
Who are we as a couple and what are our goals?
How do you describe your relationship?
How about yourself?
How do you think I see you?
The Inside
What are your household habits like?
What types of role and responsibilities will you take in the household?
Do you have any kind of criminal record?
Have you ever resorted to physical violence?
What are your drinking habits like?
What is your mental health history?
Faith
Does religion have a role in your life?
Do you believe in a God?
Do you see us raising a family under an umbrella of faith or a religion?
Finances
Do you save or do you spend?
What is your perception of money? How do you view it?
How much debt do you have?
How about assets?
What are your future financial goals?
Let's talk about accounts—what types will we go for in marriage?
What is your weekly budget?
How do you ensure your bills are paid accordingly? What is your system like?
Have you ever met with a financial adviser?
Family
How were you raised?
What is your family like?
Let's talk about values—what does your family prioritize?
What do you see our future family prioritizing?
Do you have kids or want kids in the future?
How many, if so, and what does your timeline look like?
What and how do you view yourself parenting?
Intimacy
What are your expectations when it comes to sex?
Do you feel affirmed by it?
What makes you secure or insecure?
Do you believe in monogamy?
Trust and Forgiveness
What are pillars in a relationship to you?
How do you face conflict?
What is the right way to resolve issues to you?
Are you able to forgive and if so, what is your philosophy?