Premarital Counseling Isn't as Intimidating as You Think—Promise
It's a way to pave for a full, shared future.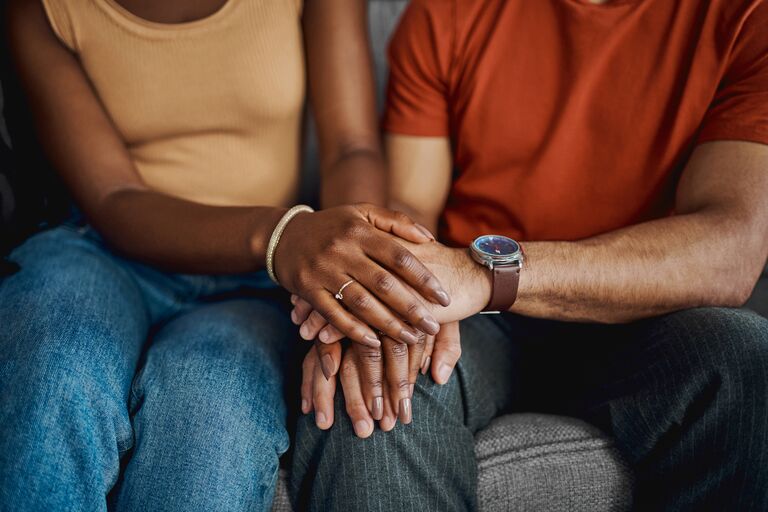 Photo: Delmaine Donson | Getty Images
Going to individual therapy is considered a major green flag by many in the modern dating world. But therapy and counseling can be further utilized by both partners together as the relationship progresses. Premarital counseling is an example of such a practice that can help couples begin to build a healthy, resilient marriage.
Just like a house needs a strong foundation, so does a marriage. Premarital counseling assists you in laying that groundwork by giving you the space to address important topics such as sex and intimacy, finances and future goals with the assistance of (in most cases) a licensed mental health counselor, who can ensure you're both feeling safe and heard. After all, premarital counseling places communication skills front and center. And, here's the TL;DR of it all: By learning effective communication strategies and navigating these critical conversations early on, you can build a sturdy foundation upon which your marriage and love can flourish.
Below, see everything to know about premarital counseling—including the topics covered, questions asked, the cost and how to find premarital counseling services near you.
What Is Premarital Counseling?
Premarital counseling (and couples therapy in general) oftentimes will help couples snuff out potential areas for growth in their relationship, as well as where they most need to align and communicate. In most cases, it's conducted by a licensed therapist or, in particular, an LMFT (licensed marriage and family therapist) who will ask a range of questions and encourage conversation between the partners.
If you are marrying in a religious ceremony, it's also common practice for some institutions to require the couple to take their own pre-marriage counseling courses led by religious leaders or married members of the community.
The ultimate goal of it all? Premarital counseling provides a safe space to explore and share your expectations for married life. By aligning your visions and discussing potential areas of conflict, you'll pave the way for a full, shared future.
What Are the Benefits of Premarital Counseling?
The benefits of premarital counseling are tried-and-true, with research studies showing the effectiveness of this type of couples therapy. As one such study, published in a 2012 edition of the International Association of Marriage and Family Therapists' Family Journal, states, "The authors found statistically significant improvements in relationship satisfaction for men and women who completed premarital counseling," after an average of eight sessions.
Furthermore, another study published in The Journal of Family Psychology found that couples who attended premarital counseling were more likely to seek professional help down the line to continue nurturing their relationship: "These results suggest that participation in premarital education is linked with later help-seeking by empowering couples to take steps throughout their marriage to maintain their relationship."
How to Find Premarital Counseling Services and the Cost
Finding premarital counseling (and therapy services in general) may seem daunting—but we're here to help. If you have insurance, you can start by looking through your insurance company's directory of covered mental health providers in your area. From there, see which specialize in couples therapy and premarital counseling. Alternatively (and if you're out-of-network), you can utilize online directories, such as Psychology Today or Good Therapy that allow you to filter by expertise, pricing and more.
Online premarital counseling is also an option in which you're provided with therapeutic services and access to mental health professionals all from the comfort of your home. Oftentimes, online premarital counseling can be less expensive than seeing an in-person therapist or traditional couples therapy (although insurance may not always cover online services). Online premarital counseling can be a more convenient choice, too, for busy or long-distance couples.
Interested? Here are some top online premarital counseling options to consider, along with their pricing estimates:
Talkspace
Talkspace is a popular online treatment provider that offers relationship-centered couples therapy. While price quotes vary, expect to pay around $110 a week for a 30-minute video session, plus text and audio messaging with a licensed marriage and family therapist.
Ours
Starting at just $10, Ours is a virtual premarital counseling program that provides couples with guided conversations thoughtfully created by relationship experts and personalized to you and your partner. Covered topics include stress and co-regulation, intimacy and finances.
Growing Self
Growing Self's premarital program kicks off with an in-depth relationship assessment you'll take with your partner. Next, you'll be matched with a relationship counseling specialist who will help you proactively address issues and prepare for the future. Costs vary depending on factors such as the number of recommended sessions and the level of experience of your clinician, but pricing typically starts at $105 per 45-minute session (or less if you qualify for a sliding scale rate).
What Topics are Covered in Premarital Counseling
Premarital counseling delves into an array of topics—some of which may be uncomfortable. But all are important to discuss in order to ensure you're entering marriage with maximum confidence and clarity. These topics can include but aren't limited to:
Communication
Finances
Beliefs
Values
Roles
Responsibilities
Sex and Intimacy
Family relationships
Possible children
Decision-making processes
Conflicts and results
Hobbies and leisure time
Common Premarital Counseling Questions
The basic premarital counseling questions below will likely be ones you'll be asked to discuss in premarital counseling. By honing your ability to express your thoughts, needs, desires and concerns, you and your partner can navigate conflicts with grace and empathy.
The Basics
Why are we getting married?
Who are we as a couple and what are our goals?
How do you describe your relationship?
How about yourself?
How do you think I see you?
The Inside
What are your household habits like?
What types of role and responsibilities will you take in the household?
Do you have any kind of criminal record?
Have you ever resorted to physical violence?
What are your drinking habits like?
What is your mental health history?
Faith
Does religion have a role in your life?
Do you believe in a God?
Do you see us raising a family under an umbrella of faith or a religion?
Finances
Do you save or do you spend?
What is your perception of money? How do you view it?
How much debt do you have?
How about assets?
What are your future financial goals?
Let's talk about accounts—what types will we go for in marriage?
What is your weekly budget?
How do you ensure your bills are paid accordingly? What is your system like?
Have you ever met with a financial adviser?
Family
How were you raised?
What is your family like?
Let's talk about values—what does your family prioritize?
What do you see our future family prioritizing?
Do you have kids or want kids in the future?
How many, if so, and what does your timeline look like?
What and how do you view yourself parenting?
Intimacy
What are your expectations when it comes to sex?
Do you feel affirmed by it?
What makes you secure or insecure?
Do you believe in monogamy?
Trust and Forgiveness
What are pillars in a relationship to you?
How do you face conflict?
What is the right way to resolve issues to you?
Are you able to forgive and if so, what is your philosophy?