Here's Exactly What to Expect From Going to Couples Therapy
See? We told you it wasn't scary.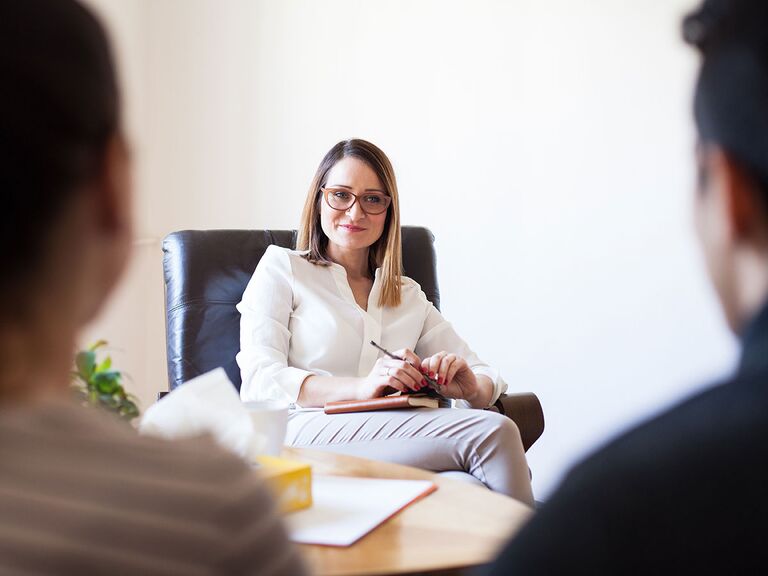 Sneksy/ Getty Images
Love is a tough business—we'll be the first to admit it. It requires hard work, compromise and regular maintenance, which couples counseling can provide. For many people, both married and unmarried, the idea of attending couples therapy or marriage counseling can seem daunting or unnecessary, especially if they're in a healthy relationship. But according to board-certified psychiatrists and relationship experts Dion Metzger, MD, and Ayo Gathing, MD, couples counseling isn't just about healing wounds—it's also about nurturing your functioning relationship as it grows in order to prevent miscommunication and issues in the future.
Think of marriage counseling like going to the dentist. You brush your teeth every day at home, then visit a dentist for routine checkups a couple times a year to preventing larger issues, like a cavity. Of course, if anything bad does happen, the dentist will be there to help fix it; but if you know how to take care of your teeth, and regularly attend normal checkups, you're less likely to experience those emergencies. Couples therapy is meant to work in much the same way.
"A lot of people are scared of couples therapy because they believe it means their marriage is in trouble. That's not necessarily true," Metzger tells The Knot. According to both Metzger and Gathing, there are major benefits to trying couples therapy as a preventative practice rather than only for addressing major issues.
"It's never too early in a relationship to work on the development of healthy communication and improvement of conflict resolution techniques," Gathing says. "Strengthening these tools will help build a stronger foundation and make your relationship more resilient in the future." That's why therapy is an awesome opportunity to get to know your partner in a new light and a great way to practice how you handle what comes your way, whether you're newly engaged or 20 years into marriage.
What Is Couples Therapy?
During couples therapy or marital counseling, you and your partner will meet with a psychologist (often called a counselor or a therapist, interchangeably)—preferably one who specializes in relationship and marriage counseling—to talk about your relationship. Your therapist will help highlight and foster your relationship's strengths, as well as identify and resolve any pain points. It's important to remember that this is a gradual process that requires effort and focus from all three parties. In other words, not everything will be accomplished or resolved by the end of your first couples therapy session. Practice, patience, commitment and open-mindedness are key ingredients.
What to Expect From a Couples Therapy Session
Here are some typical couples therapy exercises and techniques you might experience during a couples counseling session:
You'll Start With the Basics
The initial couples therapy sessions you'll experience will likely be dedicated to getting to know you two and your relationship—everything from your individual backgrounds to the story of how you met—so it will seem like more of an interview format. However, as your couples counseling progresses, a typical session can tend to feel more conversational. According to Metzger and Gathing, it's important to keep an open mind, be respectful and—especially if you're a couple that tends to be highly emotional—listen to one another.
You'll Review Last Week's Tasks
Couples are often given tasks or assignments to work on at home between sessions. "For example, a first assignment I use is communicating using 'I' words, instead of accusatory 'you' words," Metzger says. You might discuss what you learned from these at-home assignments and whether or not they were difficult, successful or helpful.
You'll Discuss Open-Ended Questions
Metzger uses this time to let the couple discuss anything that happens to be on their mind that week. Open-ended questions about the upcoming week and topics discussed in the past are great jumping-off points to thoughtful conversation. You can even use the time to praise or congratulate your partner on something they've achieved. "It helps to know more about the other person," Metzger says. "Sometimes couples are more likely to share things with each other when there's a therapist in the room." So it makes sense that your therapist would want to block off time during a couples counseling session to open the conversation to anyone who might have grievances or positive thoughts to share.
You'll Receive a Task for the Next Session
"As couples therapy progresses, the therapist will impart tools for healthy communication and improve problem-solving they'll need to master in real-world scenarios," Gathing says. Being tasked with a couples therapy exercise or two for the coming week will feel a bit like homework (no fun, we know), but if you think of your relationship as a muscle, it will only grow stronger if you work at it—and it's all in the name of love, right?
Common Couples Therapy Exercises
While the format and exercises experienced in couples counseling may vary by therapist, there are a few commonly employed couples therapy exercises assigned to promote honest conversation, deep empathy and positive intentions and actions between couples. These tend to be a range of exercises, including trust falls (remember those from summer camp?), honesty hours, intimacy activities (think: 10 minutes of direct eye contact or hand holding) and utilizing new rhetorical techniques in everyday conversation (for example, addressing a singular, troublesome issue or behavior with your partner, instead of attacking their personality in general). Couples are often asked to create a list of fun, new activities to try together in order to reintroduce a sense of excitement and novelty into their relationship, as well as simply enjoy quality time together that's free of familiar external stressors. Another simple exercise could be making an appreciation list, which is as straightforward as it sounds: Write down everything you appreciate about your partner to kindle positive feelings for your other half, as well as boost confidence in yourself from hearing what they have to say about you.
How Much Does Couples Therapy Cost?
This varies based on your location and your therapist, but couples therapy sessions can typically cost anywhere from $50 to $250 per hour. The cost of couples therapy will depend on factors such as how in demand a specific therapist is or the level of their training and skills.
Is Couples Therapy Covered by Insurance?
The majority of insurance companies don't cover marital counseling, since relationship problems do not qualify with a billable diagnostic code for insurance (as an anxiety or other disorder that recommends therapy does). That said, you should always do your homework and double-check your insurance policy. Sometimes, if one or both of you have been diagnosed with a mental health disorder, like chronic stress or anxiety, all or a portion of the costs for couples therapy may be reimbursed.
How to Get Couples Therapy at Your Fingertips
While in-person couples counseling sessions with a psychiatrist or therapist are most common, if you're uncomfortable about professional therapy, unable to afford it or simply a tech-savvy couple looking for something a bit more convenient (while just as impactful) there's also Lasting. Lasting is a science-based app backed by The Knot and dedicated to improving the health of your relationship or (future) marriage. The app smartly gets to know your relationship and then builds a customized program just for you and your significant other. It's for all couples, just like counseling is, whether you've never been happier or you're going through a rough patch.