25 Couple Card Games for Your Next Date Night (Game On.)
A fun at-home activity—that's surprisingly beneficial to your relationship.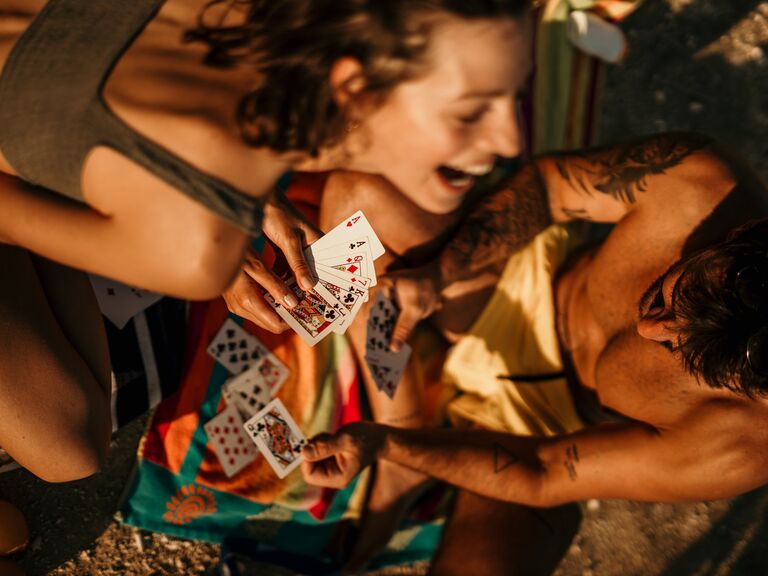 Photo: Studio4 | Getty Images
We have included third party products to help you navigate and enjoy life's biggest moments. Purchases made through links on this page may earn us a commission.
Real talk: You should never stop looking for ways to connect with your partner. But putting in the effort can be as fun as your favorite game—literally, in this case. Playing card games for couples and other relationship games can help build emotional (and physical) intimacy while keeping things lighthearted and fun.
"Anytime you slow down to play any kind of game, but particularly a relationship-focused game, you're strengthening your bond," explains Dr. Corey Jamison, relationship expert and co-founder of The Marriage Retreat in a Box. "Spending concentrated, intentional time enjoying the loving presence of your partner in the context of your relationship builds a relationship—and builds it rapidly," she says.
While such relationship games aren't a substitute for couples therapy, they can be a great way to connect with your S.O. in between working through the big stuff with a licensed professional. These bonding games for couples include conversation-starting cards, kits full of exercises and deep-diving questions and even sexy card games to spark conversation around intimacy. Did we just say a card game can be sexy? Yes, we did.
Interested in trying a new way to spend quality time with your favorite person? Below, find the 25 best relationship games and card games for couples that create the space for a deeper connection.
"Where Should We Begin" by Esther Perel
The goal of this relationship-focused game is to connect with your partner through the art of storytelling. "Stories are the bridges that connect us as humans," explains Esther Perel, a psychotherapist and the creator behind the game named after her popular podcast. "So whether you've been together for two months or 20 years, playing with storytelling games is a powerful way to create connection and intimacy." Playful yet intimate, it's a great game for couples who want to refresh their usual date-night talk—but the prompts are also suitable for connecting with other loved ones, too. The game can be played by up to six people at once, making it perfect for a dinner party.
We're Not Really Strangers
This relationship game for couples will bring a playful element to at-home date nights. The game has three different levels, starting with perception. This first level gives you both an opportunity to explore the first impressions you give off and how well you know each other. Level two is focused on connection and includes some deep-diving questions to spark emotion. Finally, the third level is all about reflection. The beauty of this game is that it can actually be played by anyone (hence the name)—so it's a great first date ice-breaker.
Intimacy Card Deck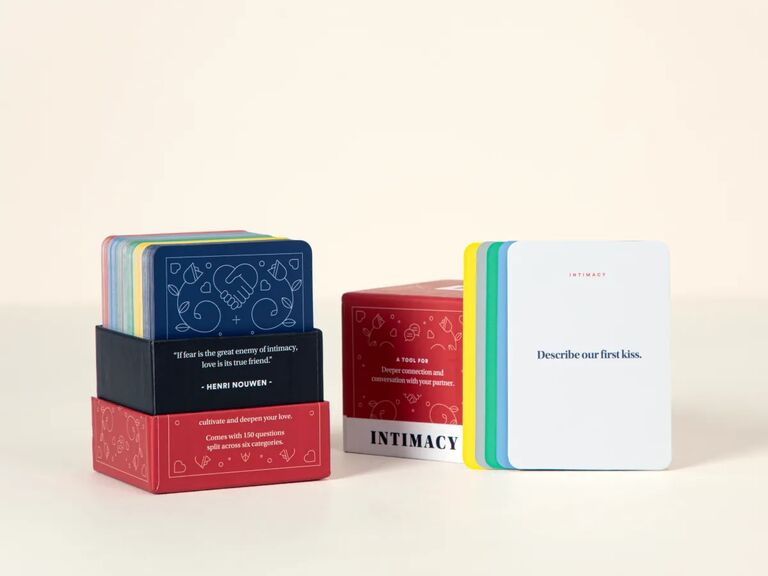 Looking for a couples card game that's simple but effective? Meet the Intimacy Deck. It contains 150 prompts designed to foster deeper connection and conversation. Think: "Describe our first kiss," or "What's one thing I can do to make you feel more supported?" It's perfect for partners in an established relationship who want to learn more about each other and build a more intimate connection.
Sex Talk Conversation Deck
Meet the couples card game that gives it away in the title. Each of these cards' thought-provoking questions builds upon the last, and the game is meant to be played in numerical order with each person having a chance to share their response. It's designed to make conversations about sex easier and more productive, helping you and your S.O. create a safer, more pleasurable shared sex life. And with neutral language, the game is inclusive of all gender identities and sexual orientations.
Let's Get Closer
Let's Get Closer is a card game that helps couples get to know one another better—no matter how long they've been together. It's easy to play and super impactful when it comes to cultivating relationships and sparking interesting conversations. Similar to some of the other couples card games on our list, the deck is separated into three different levels: Close, Closer and Closest. As you move from one level to the next, the questions become more personal and you're encouraged to share more of yourself, your thoughts and your experiences. Every so often, wild cards help to keep a light atmosphere with playful prompts like, "Draw each other's portraits."
Better Together
This romantic card game for couples includes questions like, "Where is your favorite place to be kissed?" and "If we were to go away for 48 hours, where would you want to go?" The deck features 100 prompts spanning various topics, such as family, past memories, romantic relationships, future goals and more. By taking turns asking each other meaningful questions, you'll both feel closer to one another and have a better understanding of your shared experiences, values and dreams.
Chakra Couples Game
As far as two-player card games for couples go, this one ranks high for originality. Each player takes turns moving around the board and asking the other questions in relation to the chakras they land on. The questions on the cards range from light and playful to insightful and intimate. Whoever manages to ask a question for each of the seven chakras first is the winner. Subsequently, they get to choose a reward from their partner: It's up to each couple to decide on the prize, but some fun ideas include a massage, dinner at a favorite restaurant or getting to choose which Bravo franchise to binge next.
The Couples Game That's Actually Fun
Want to keep things light? We've found a fun question game that's perfect for couples who just want to have a good time. The "Couples Game That's Actually Fun" is still centered around your relationship—but it's more about having a laugh than sparking intense heart-to-hearts. There are three question categories offering three different ways to play, and you'll use the included dry-erase boards, pens and cloths to jot down your answers. Bonus: You can play one-on-one with your partner or go up against other couples.
Let's Get Deep: Questions for Couples
As the name suggests, this game is centered on deep questions that'll lead to even deeper conversations and connection. The questions are categorized across three intimacy levels: Choose which is appropriate for your relationship or company, or mix a custom deck from all three. It can be played with two or more players, and it wins major points for its impressive size—it comes with 400 cards!
Let's Get Deep: After Dark Game Expansion
Want to turn things up a notch? Spring for the After Dark Game Expansion of Let's Get Deep. It includes an additional 200 cards, spicier than those in the original deck above and intended to heat up your at-home date night. "I purchased this to play with this guy I've been dating and it was so fun," reads one five-star review. "These were questions we were to shy to ask each other, but were very curious to know… This game gets very spicy, so be prepared!"
Falling for You Personalized Couple's Game
We know, we know—this isn't technically a card game. But this towering stack of blocks is worthy of shout-out: Here, the classic wooden block game (take turns choosing blocks and moving them to the top without disturbing the tower) gets a cutesy makeover, as each piece is laser-engraved with a flirty dare or conversation prompt that the player must complete or answer before moving on. Think: "What was your first impression of me?" and "Give your partner five kisses."
Belf Self Intimacy After Dark Deck
A game that gets you comfortable talking about sex? Right this way. This sensual set of cards will foster healthy and beneficial discussion around sexual intimacy and help couples grow in vulnerability and connection. Plus, it'll heighten sexual exploration, as the game also includes fresh ideas for intimacy and sexy dares. Created in partnership with relationship and sex therapist Rachel Wright, MA, the game's non-gendered prompts are inclusive to the LGBTQIA+ community.
Love Lingual Card Game
Inside this eclectically designed box you'll find 150 cards designed to drive conversation between yourself and your significant other. Aesthetically pleasing, it makes a great little gift or stocking stuffer, and Amazon reviews are overwhelmingly positive: "I really enjoyed this card set. My partner and I like to pick questions at random times—like after dinner or before bed—and it allows us some quality time together (important love language to both of us). We have enjoyed getting into topics we wouldn't have thought to ask or haven't talked about it a while."
Drunk In Love: The Drinking Game For Couples
As far as drinking card games for couples go, Drunk in Love is a popular option that promises a boozy good time. Created by a couple who struggled to find games to play together during quarantine, this drinking game consists of both dares that one player must complete (or take a plenty drink!), as well as revealing prompts that direct either partner to toss one back.
Of course, remember to drink responsibly, legally and not to excess or to the point where either partner can no longer consent to intimacy.
Lulu & You Affection: A Couples Game
Promising hours of replayability, this set of cards aims to grow and deepen affection and connection between partners. Consisting of questions like, "If you won the lottery what would not change?" and, "Is there something your partner used to do that you miss?" the game aims to provide the opportunity for one-on-one quality time. One five-star Amzon review reads: "We are both elderly, but newly married due to the death of our previous spouses. We LOVE this game as it has guided us to talk about a wide range of subjects with the result that we have gained a much better and deeper understanding of each other. Highly recommend."
I Know Couples Edition
This card game for couples is thoughtfully designed to facilitate insightful discoveries about your personalities, expectations and future dreams and goals. By responding to the prompts printed on each card (which are divided into catogorgies that vary from fun and flirty to serious and deep), you'll gain knowledge on whether your values align and how you can deepen your connection and create a more fulfilling life together.
Date Night Scratch-Off Card Game
In lieu of conversation starters or thoughtful prompts, these cards are printed with unique date night suggestions. They're hidden beneath a scratch-off layer, so you and your partner can be surprised with a new adventure. Want a hint? Each card features a few clues to what the date entails to help you decide if you're up for the unknown activity (such as whether it takes place inside or outdoors; or demands physical activity).
The Adventure Challenge Connection Cards
Perfectly sized for roadtrips or tossing in your weekend getaway bag, this card game was created by The Adventure Challenge—the company behind the popular scratch-off activity journals made to help couples take on bucket-list adventures together. "Use these connection cards to break out of boring conversation habits and get more connected with the person you love," says the brand. Expect to find questions like, "What will others remember about us about a couple?" and "If you could pick any memory to re-live once, what would it be?" within the portably packed deck.
The Adventure Challenge Connection Cards: In Bed Edition
The spicier companion deck to the The Adventure Challenge's Connection Cards above, this iteration focuses on prompts aimed at improving the sex life of you and your S.O. The 50 cards vary from confidence-boosting queries ("What's something I do that isn't inherently sexual, but turns you on?") to thought-starters that'll have you learning more about what turns each other on ("Which do you enjoy more in bed: being in charge or surrounding? Why?). So take some inspo from the name, hop in bed with your partner and start diving into the Qs while getting cozy.
What Fulfills You? Card Game
Inspired by the podcast of the same name, this deck of 100 thoughtful prompts is intended to guide you through meaningful conversations with your partner, friends or even yourself (they make for great journal prompts!). With reflective questions that include, "What does a meaningful and fulfilling life look like to you?" and "If you woke up tomorrow ith no fear, what would you do first?" this collection of cards will help deepen both your relationship with your S.O. and with yourself.
Printable Couples Activity Cards: Tease Edition
Want a game you can play tonight? Snag these inexpensive activity cards from Etsy: They're printable, so you'll be able to play minutes after purchase. Each is printed with instructions for—as the name suggests—teasing your partner. 10 blank cards are also included, so you can write in your own sensual suggestions. See how many rounds the two of you can go before that deck gets inevitably pushed to the wayside.
Why Don't We Spice It Up?
Looking for something you can adapt to suit the mood? This intimate game has three tiers of fun and meaningful conversation starters. The "mild" deck eases you in with questions like, "Who is the first person I'd call if I was in trouble and why?" Then, the "medium" and "spicy" decks crank up the heat with increasingly more intimate and flirtatious prompts. You're free to choose whichever level you feel most comfortable with, making this a fun addition to date nights whether you just started seeing each other or have been happily married for decades.
Connect Card Game
You and your significant other take turns rolling the die, which tells you what category to choose a card from. The card you pick up might be addressed to you or your partner, or it might be an action for you both to do together. If the die lands with the question mark facing up, you get to choose the category of card to pull from yourself: Appreciation, Aspiration, Desire, Forgiveness and Growth. There's no time limit or set number of cards you have to get through—feel free to spend an entire date on one card if that sparks a meaningful conversation. Ultimately, this card game for couples is what you make it.
Vertellis Relationship Edition Card Game
This reflective game consists of three rounds, each focusing on a different category: Together and Alone; Dreaming and Doing; and Characteristics, Habits and Achievements. Each round includes 10 open questions, three questions where you earn points by guessing your other half's answer and two fun assignments. The thoughtfully worded cards in this couples question game are gender-neutral and suited to married, engaged and dating duos alike.
DIY Retreats The Marriage Retreat in a Box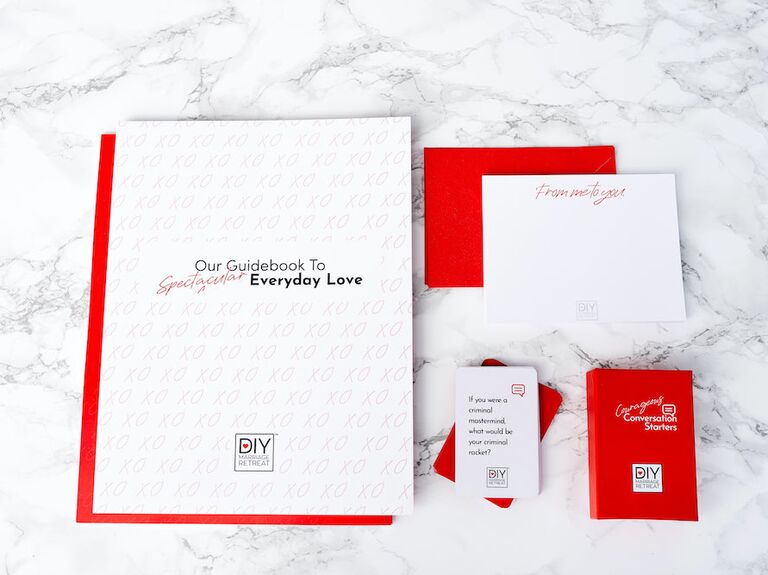 "The Marriage Retreat in a Box is a new way to come together," says co-founder Jamison. In addition to conversation-sparking card game, the box also contains interactive exercises, thought-provoking prompts and learning opportunities that'll help you and your partner make space for the important discussions that shape your lives together. Jamison says that The Marriage Retreat in a Box offers "rapid bond development," reporting that it allows you to do a year's worth of relationship building in a single weekend.
Contributions by Naoimh O'Hare