Online Save-the-Date Etiquette (Plus Shop Our Favorites)
Learn the ins and outs of e-save-the-dates before clicking "send."
by Andrea Fowler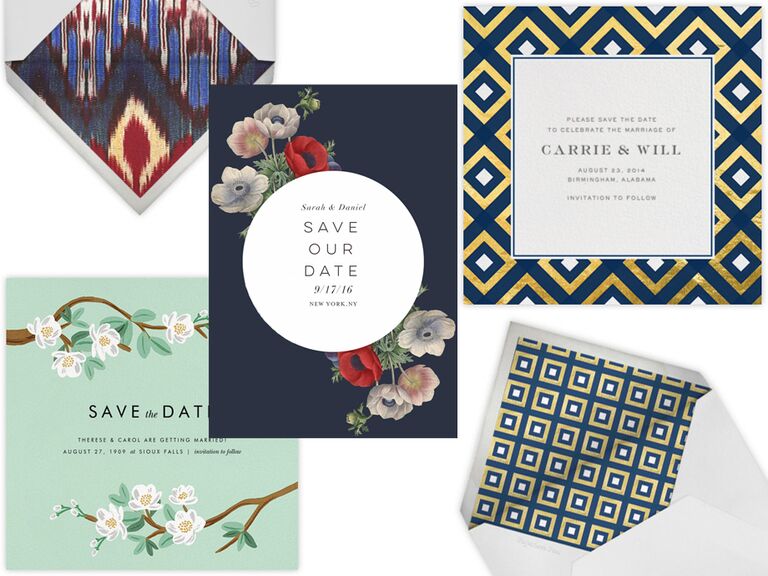 Electronic invitations are gaining in popularity, and as a result, finding their way into more and more wedding events. There are plenty of guidelines for a traditional wedding save-the-date card, but the etiquette lines get blurry when it comes to virtual save-the-dates. 
Whether the digital option has caught your eye because of the cost or convenience benefits, there are still a few things to consider before going paperless.

1. Your Formality
The save-the-date is your first opportunity to clue guests into your wedding style. By no means does it have to match the invitation or your overall theme (you may not even know what that is yet), but it should at the very least match the formality you're trying to achieve. If you're planning on a black tie wedding, an email save-the-date won't likely reflect the same amount of grandeur.
2. Your Time Frame
One of the most enticing benefits of sending out virtual save-the-dates is instant delivery. If you had to bump up your wedding date and you're worried snail mail won't give guests enough time to request off work or arrange travel, email save-the-dates will cut about a week off of post office time (and not to mention the order time of paper save-the-dates, which could be a couple weeks depending on the amount of orders your printer has at the time). In addition, you probably have the majority of your guests' email addresses, while gathering home addresses could take more time. Keep in mind, paper or paperless, a save-the-date should be sent out about six months in advance (or eight for a destination location).
3. Your Budget
In some cases, bundling your entire set of wedding stationery (save-the-dates, invitations, thank-you cards and so on) together can be a money saver. But if you've got your eye on different vendors for different items and bundling may not be an option, digital save-the-dates can cost a fraction compared with paper ones.
4. Your Recipient Preferences
Older family members will—more than likely—be partial to a hard-copy save-the-date. It's also a possibility that virtual save-the-dates will go right to spam, be looked over entirely or accidently deleted. Some electronic card companies provide you with a status report of who has and has not opened your email, which is helpful, but if the email is opened and then deleted (out of sight, out of mind), that could spell out bad news on the RSVP. If you're choosing the email route, ask your family and wedding party to spread the word so guests can keep an eye on their inbox.
Now, after weighing the pros and cons, allow us to introduce some of our favorite virtual save-the-dates to inspire your shopping. We love sites like Paperless Post or Greenvelope because they "package" the invitation so well. Even though there's no mailbox involved, the recipient will still get the feeling they're opening correspondence (complete with envelope liners!), with the added benefit of an online event page.
Floral Online Save-the-Date

Watercolor Online Save-the-Date

Wildflower Online Save-the-Date

Patterned Online Save-the-Date

Modern Online Save-the-Date

Contemporary Black-and-White Online Save-the-Date