Online Save-the-Date Etiquette (Plus Shop Our Favorites)
Learn the ins and outs of e-save-the-dates before clicking "send."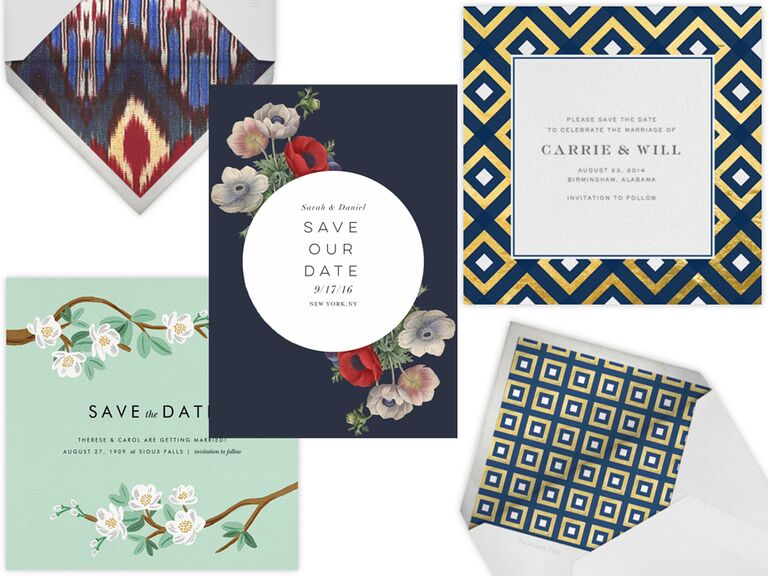 Electronic invitations are gaining in popularity, and as a result, finding their way into more and more wedding events. There are plenty of guidelines for a traditional wedding save-the-date card, but the etiquette lines get blurry when it comes to virtual save-the-dates.
Whether the digital option has caught your eye because of the cost or convenience benefits, there are still a few things to consider before going paperless.
1. Your Formality
The save-the-date is your first opportunity to clue guests into your wedding style. By no means does it have to match the invitation or your overall theme (you may not even know what that is yet), but it should at the very least match the formality you're trying to achieve. If you're planning on a black tie wedding, an email save-the-date won't likely reflect the same amount of grandeur.
2. Your Time Frame
One of the most enticing benefits of sending out virtual save-the-dates is instant delivery. If you had to bump up your wedding date and you're worried snail mail won't give guests enough time to request off work or arrange travel, email save-the-dates will cut about a week off of post office time (and not to mention the order time of paper save-the-dates, which could be a couple weeks depending on the amount of orders your printer has at the time). In addition, you probably have the majority of your guests' email addresses, while gathering home addresses could take more time. Keep in mind, paper or paperless, a save-the-date should be sent out about six months in advance (or eight for a destination location).
3. Your Budget
In some cases, bundling your entire set of wedding stationery (save-the-dates, invitations, thank-you cards and so on) together can be a money saver. But if you've got your eye on different vendors for different items and bundling may not be an option, digital save-the-dates can cost a fraction compared with paper ones.
4. Your Recipient Preferences
Older family members will—more than likely—be partial to a hard-copy save-the-date. It's also a possibility that virtual save-the-dates will go right to spam, be looked over entirely or accidently deleted. Some electronic card companies provide you with a status report of who has and has not opened your email, which is helpful, but if the email is opened and then deleted (out of sight, out of mind), that could spell out bad news on the RSVP. If you're choosing the email route, ask your family and wedding party to spread the word so guests can keep an eye on their inbox.
Now, after weighing the pros and cons, allow us to introduce some of our favorite virtual save-the-dates to inspire your shopping. We love sites like Paperless Post or Greenvelope because they "package" the invitation so well. Even though there's no mailbox involved, the recipient will still get the feeling they're opening correspondence (complete with envelope liners!), with the added benefit of an online event page.
Floral Online Save-the-Date
Coordinated envelope liners and card designs? Count us in. Rifle Paper Co. always does it right, and with Paperless Post you can choose between digital correspondence and print, which means you can order a few paper save-the-dates to send out to the grandparents in one smooth transaction.
Rifle Paper Co. Tea Tree save-the-date, from 2 coins ($6 for 20 coins), PaperlessPost.com
Watercolor Online Save-the-Date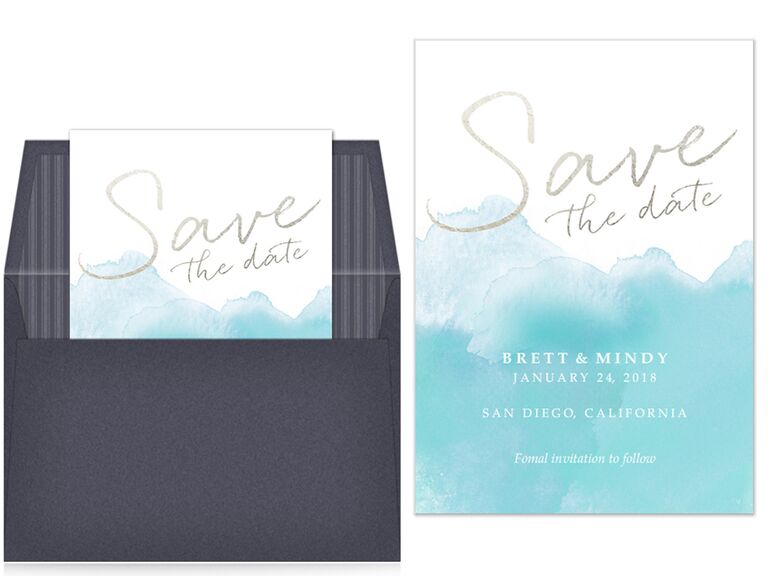 ​Pingg charges by single use or you can purchase a premium plan that covers unlimited designs for $30 a year. So you can send out this tranquil watercolor design (which has us dreaming of a destination wedding), then follow it with invites for the bachelorette party, bridal shower or postwedding brunch.
Pingg La Mer save-the-date, $10 for single use, Pingg.com
Wildflower Online Save-the-Date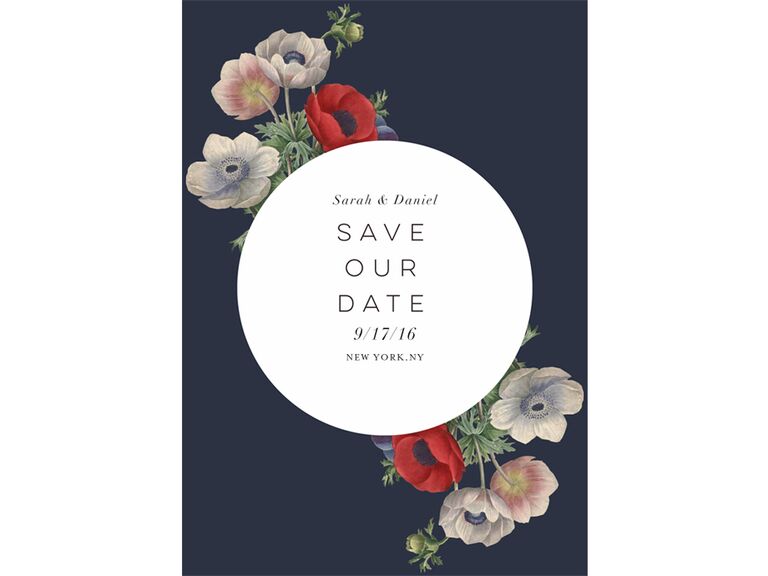 ​Are we the only ones digging the Victorian-esque vibes going on here? There's something to be said for an understated, but totally elegant design. This save-the-date is also perfect for the environmentally friendly couple, since Greenvelope is on a recycling mission to save "trees, time and money" with part of its profits donated to an organization that helps maintain forests.
PrettyMeJoy Wildflower Blooms save-the-date, from $195 for unlimited year membership, Greenvelope.com
Patterned Online Save-the-Date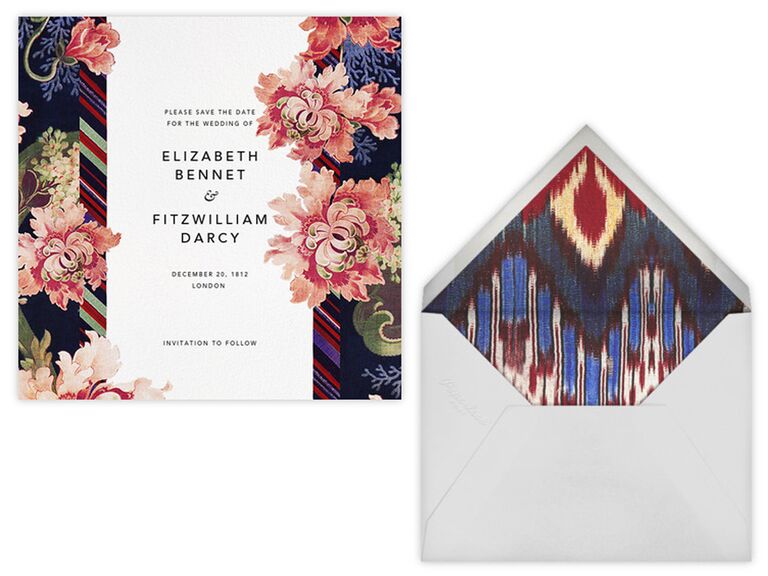 Multiple patterns can be overwhelming, but when there's a consistent color scheme to bring them all together, the design looks cohesive and expertly crafted. Enter: a dramatic color combination worthy of a wedding color palette.
Oscar de la Renta Rose Floral Ikat save-the-date, from 2 coins ($6 for 20 coins), PaperlessPost.com
Cityscape Save-the-Date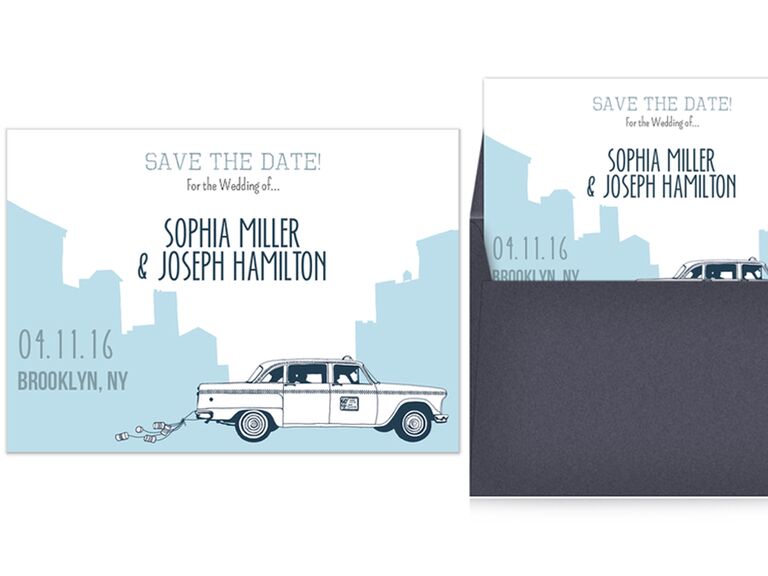 ​Play up a signature icon that represents the location of your wedding, even if it's not a far away vacation destination. Something like a classic taxi for a metropolitan city or a landmark motif can get guests excited to travel.
Pingg New York Cab save-the-date, $10 for single use, Pingg.com
Modern Online Save-the-Date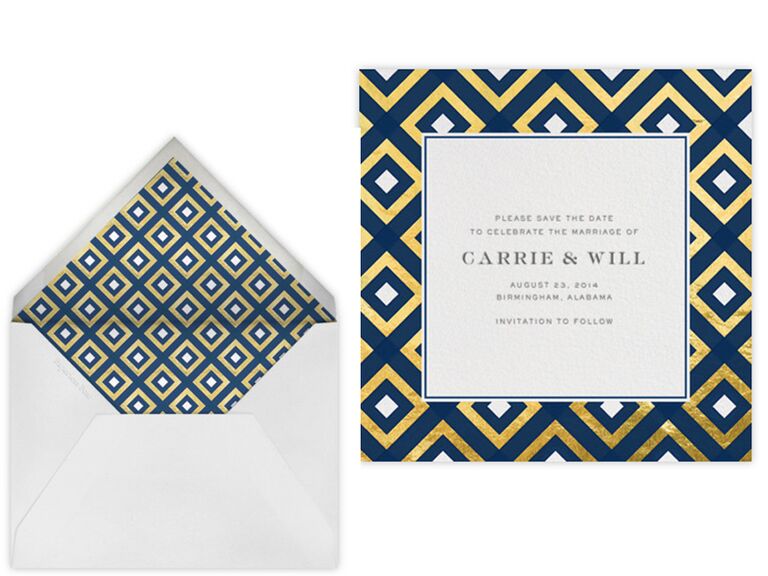 ​If you're a fan of the brand's home furnishings and decor, you'll definitely be a fan of Jonathan Adler's wedding stationery—it maintains the colorful modernism that we all know and love.
Jonathan Adler Geo gold foil save-the-date, from 2 coins ($6 for 20 coins), PaperlessPost.com
Contemporary Black-and-White Online Save-the-Date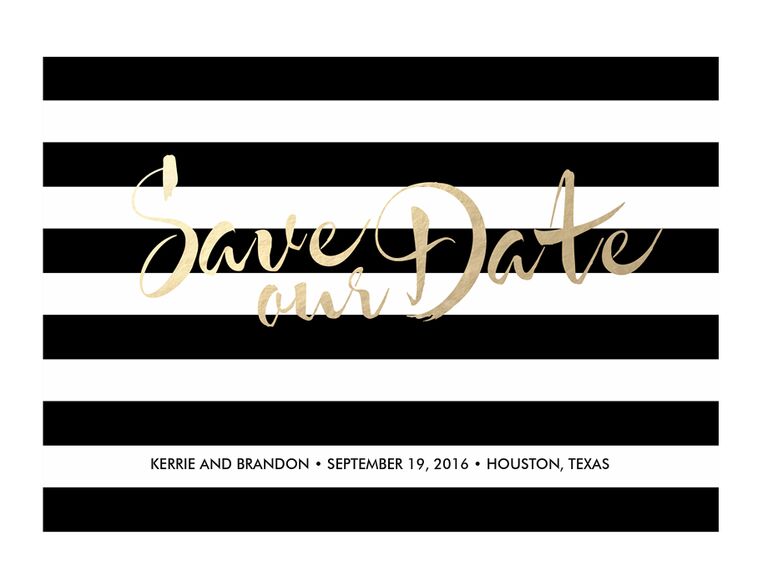 Considering a bold black-and-white wedding color palette, but aren't ready to commit to it just yet? Your save-the-date is the perfect element to test it out: It doesn't necessarily reflect the rest of the wedding style, so you can change your mind later and no one would be the wiser.
J. Amber Creative Gilded Brush save-the-date, from $195 for unlimited year membership, Greenvelope.com​