How to Word Your Save-the-Dates
Not sure what to put on your save-the-dates? Here's what you need to know, along with some useful save-the-date examples.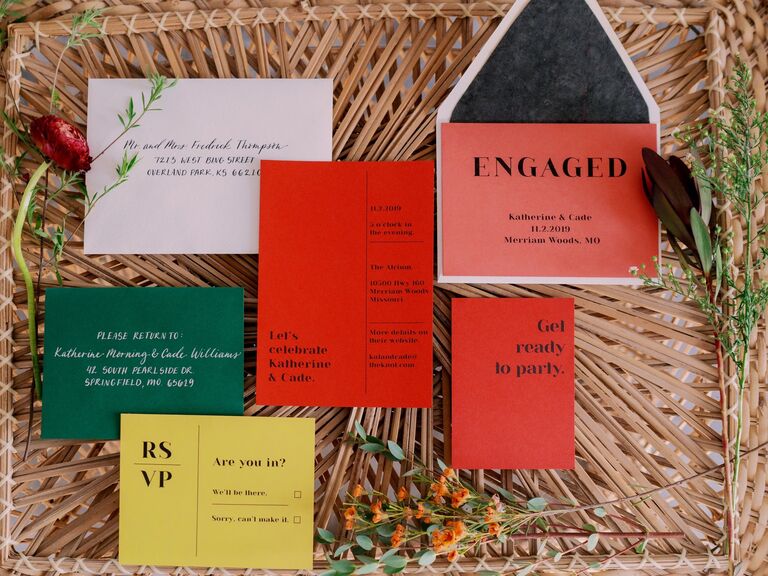 We have included third party products to help you navigate and enjoy life's biggest moments. Purchases made through links on this page may earn us a commission.
You've popped the question, chosen a venue and picked your wedding date. Now what? One of your earliest wedding to-dos is to send out your save-the-dates. These handy little messages will give your guests a helpful head's up so that they can make sure to be at your wedding. What is the best save-the-date wording and save-the-date etiquette? Don't worry yourself into knots. Save-the-dates can be simple to create and send. Here are a few answers to your biggest save-the-date questions, along with save-the-date examples.
What Are Save-the-Dates?
The wedding save-the-date serves to notify your guests a) that they are invited to your wedding and b) when the wedding will take place. This will allow your guests to make the necessary preparations, like taking time off work or making travel arrangements as early as possible to ensure they can make it to your wedding. A save-the-date also lets guests know that a more formal invitation will be coming later that will provide all the details of your event.
What Should I Include on MySave-the-Date?
Save-the-dates are just a short notice. They don't need to be super fancy or include a lot of information. The right save-the-date wording could be something like "Save the Date: [your names] are tying the knot on [your wedding date] in [the city where you'll marry]." Some couples include a short poem, favorite quote or a photo from the engagement shoot if there's room. This is the time to be less formal, so feel free to get creative.
When Should I Send My Save-the-Date?
The whole purpose of the save-the-date is to give your guests an appropriate amount of time to make the necessary preparations so that they can attend your wedding. That means the earlier you can send out your save-the-dates, the better. Another thing to keep in mind is that the earlier you send out your save-the-dates, the more likely you'll beat out other couples who might plan their wedding on the same date and try to accidentally poach your guests.
Ideally, you'll want to send out your invites six to eight months before your wedding. Just make sure you've nailed down your wedding date.
If you are planning a destination wedding or a holiday wedding, be sensitive to the fact that this will require more planning for many of your guests. If you can, send your save-the-dates a year out.
Who Should Receive a Save-the-Date?
Everyone who gets your save-the-date should definitely be on your final wedding guest list. Once you tell someone to save your wedding date, there's no turning back. Take care in determining your save-the-date list, especially if you haven't settled on a final wedding budget and/or venue yet. If you don't have all the details ironed out and aren't sure how many people you can invite, then send your save-the-dates only to your top-tier guests. You can always create a B guest list for those you'll send a formal invite to if you have enough space.
How to Create Save-the-Dates?
Since save-the-dates are less formal than your official wedding invite, you have a lot of different options on how you can create your save-the-date. There really is no formal save-the-date etiquette when it comes to designs or format.
If you are planning a more formal wedding, then a classic invite in an envelope could be the way to go. Other couples enjoy getting creative, sending a postcard or even a magnet that guests can stick on the fridge. (No excuses for forgetting your wedding date now.)
Some couples may wonder if an email invite will suffice. Email invites are certainly easy, convenient and cost-effective, but they also have some downsides. Invites, especially those sent through invitation websites, often get caught in spam filters. It's also possible that some of the email addresses you have for your friends and family are old and no longer valid. Finally, not everyone checks their email regularly, and your invite could quickly become lost in a pile of other email.
If you want to ensure the most visibility for your save-the-date, then a physical mailing is probably your best bet. Also, a snail mailing gives you the chance to show off your gorgeous engagement photos.
Save the Date Examples
Not sure what to include on your save-the-date? Focus on:
Your name, your fiance's/fiancee's name
The date of your wedding
The city and state of your wedding (no need to list the venue at this time)
Notice that an invitation will be coming
Optional: Your wedding website if it's available
Here are a few save-the-date examples in different styles to give you some inspiration:
Formal Notice
Jack and James
are getting married on
July 5, 2021
San Francisco, California
Formal invitation to follow
Fun & Flirty
He proposed ... she said, "yes!"
Jack + Jill
will tie the knot
July 5, 2021
Chicago, Illinois
Formal invitation to follow
Totally Carefree
We're taking the plunge!
Hope you'll be there to celebrate.
Jennifer & Julie
say "I do"
July 5, 2021
Nantucket Island
Formal invitation to follow
Looking for the perfect stationery? Start here.