29 Save-the-Date Wording Ideas and Examples
From formal announcements to pop culture quotes.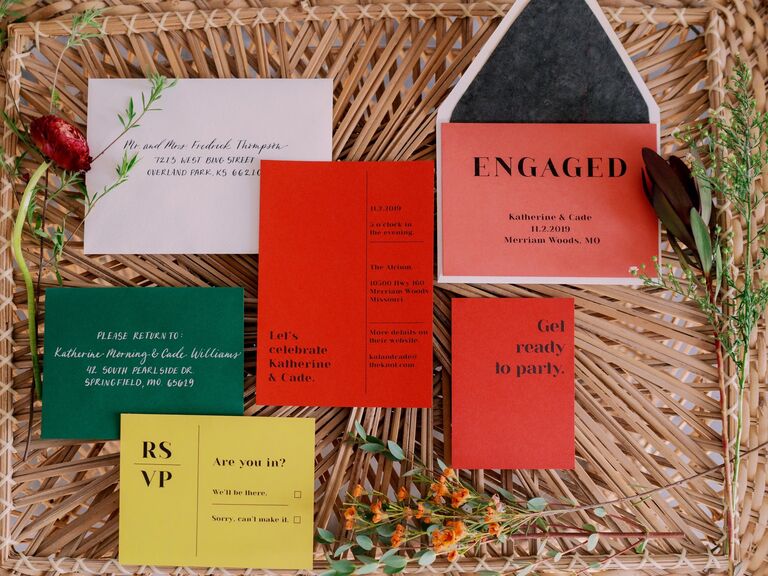 You've found your wedding venue and picked a date (*happy dance*), now it's time to alert your guests with save-the-date cards so they can mark their calendars for your special day. This means you'll need to start thinking about your save-the-date wording—because wedding invites shouldn't get all the love when it comes to creative expressions that represent the vibe of your nuptials. When it comes to what to include on save-the-dates, save-the-date etiquette suggests guests just need the who, what, when and where without too many additional bells and whistles. You can still add personality, though. Below, browse creative save-the-date examples with ideas for formal, casual and destination affairs. Plus, check out other ways to say "save the date"—like with a movie quote—for a stand-out announcement that'll earn a spot on family and friends' fridges.
In this article:
Wedding Save-the-Date Wording Examples
Don't worry about plagiarism, you can totally copy these save-the-date message examples to cross another item off your wedding planning checklist lickity-split.
Formal Save-the-Date Wording
If you already know you're hosting a black-tie affair, set the tone with formal wedding save-the-date wording. Keep the save-the-date language polite and concise, like the examples below.
Sample 1
Save the date
For the wedding of
James Smith & Andrew Parker
Saturday, the twenty-seventh of May
Two thousand twenty-four

Brooklyn, New York
Sample 2
Kindly save the date for the wedding ceremony and celebration of Beatrice Nelson and Alexander Miller
Join us on October 15th in New Orleans, Louisiana
Casual Save-the-Date Wording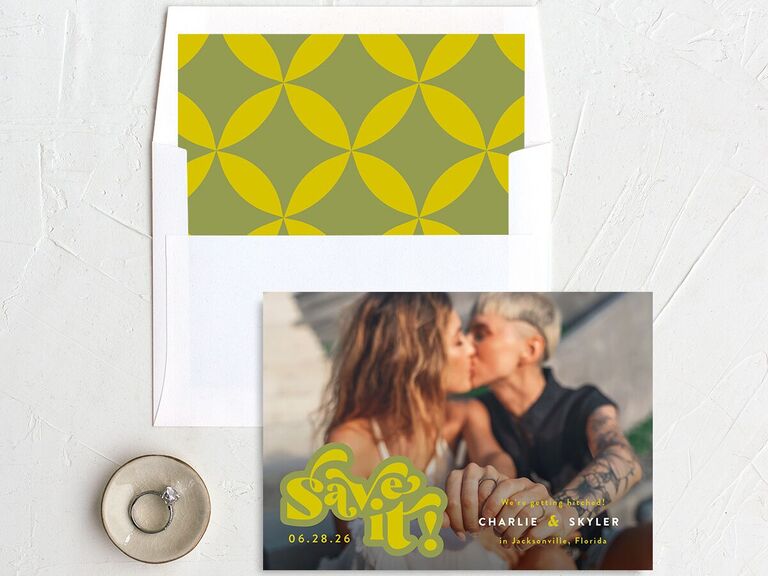 Save-the-dates are just a heads-up before formal wedding invitations are sent, so feel free to have fun with them—or even make a joke. Here are some save-the-date message examples with a casual tone. Note: It's not necessary to include last names and the date can be written solely in numbers.
Sample 1
It's about time!
Vijay + Maria · 07.20.2024 · Atlanta, GA
Sample 2
03/27/2024
Save it—we're getting hitched!
Chris & Nick
in Boston, MA
Destination Save-the-Date Wording
Destination save-the-dates should be sent out at least eight months in advance so guests can plan for extra time off and travel costs. As such, your save-the-date message for a destination wedding should make it clear it's a multiple-day celebration. Check out our destination save-the-date wording examples below for more guidance.
Sample 1
Save the weekend
Lily & Kara
Plan to join us from May 27th to May 29th
in Bermuda to celebrate our union
Sample 2
Save the date and
Join us in Positano, Italy
Audrey & Dae | September 14th - 17th
Unique Save-the-Date Wording
If you're looking for unique save-the-date wording samples, we've got just the inspiration below. Save-the-date alternative wording isn't the only way to set your stationery apart, though. It can have a clever theme, too, like showing off your pets in the design.
Sample 1
All you need is love!
Save the date for the wedding of
Bruno & Cass
June 8th | Napa, California
Invitation to follow
Sample 2
We are so excited!
Our humans are engaged
Save the date for their wedding
We hope to see you in Nantucket on August 7th
to celebrate the union of Ryan & Phillip
Wedding Save-the-Date Quote Ideas
From movies to TV shows to song lyrics, borrow quotes for some "aww"-worthy save-the-date wording ideas.
"At last." ("At Last," by Etta James)

"This is true love. You think this happens every day?" (Westley in "The Princess Bride")

"It's a love story." ("Love Story," by Taylor Swift)

"There are two big days in any love story. The day you meet the [person] of your dreams and the day you marry [them]." (Ted Mosby in "How I Met Your Mother")

"When you realize you want to spend the rest of your life with somebody, you want the rest of your life to start as soon as possible." (Harry Burns in "When Harry Met Sally")

"And we'll build this love from the ground up." ("From the Ground Up," by Dan + Shay)

"It's a beautiful night. We're looking for something dumb to do." ("Marry You," by Bruno Mars)

"No measure of time with you will be long enough, but let's start with forever." (Edward Cullen in Breaking Dawn, by Stephenie Meyer)

"Forever and for always." ("Forever and for Always" by Shania Twain)

"It's Friday. I'm in love." ("Friday I'm in Love," by The Cure)
Alternative Ways to Say Save the Date
Your save-the-dates don't actually have to say "save the date." Here are some ideas for clever save-the-date wording that gets the same point across.
We set a date!

You do not want to miss this wedding.

It's about time.

You've got plans.

[Name] & [name] are tying the knot.

Mark your calendars!

We said "Yes!"

[Date] is our day.

Let the adventure begin!

[Date] is going to be a great day!

We can't wait to celebrate with you.