21 Save-the-Date Ideas to Get Your Guests in the Mood to Celebrate
These stunning save-the-dates are so worthy of that fridge space, just sayin'…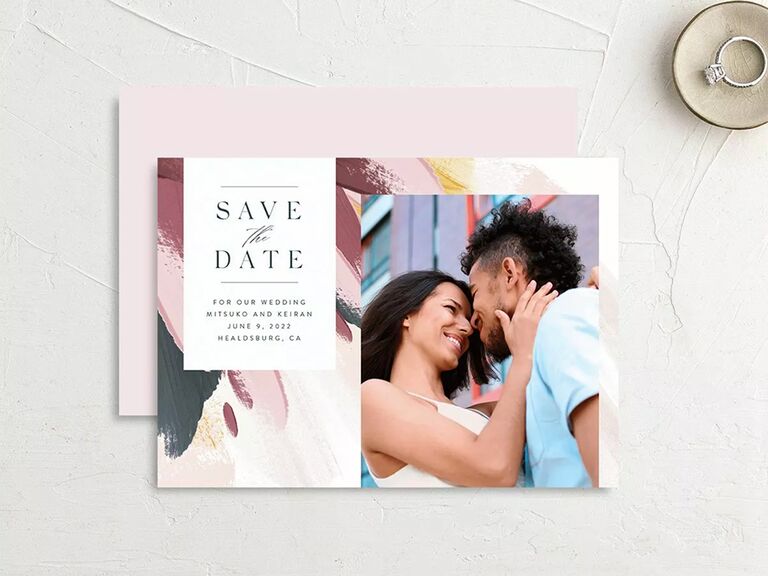 We have included third party products to help you navigate and enjoy life's biggest moments. Purchases made through links on this page may earn us a commission.
When you're engaged, you'll hear a lot of people say that your wedding invitations make the ultimate first impression on your guests. It's definitely true, but even before invitations, you can start teasing out details of your day with a unique save-the-date that covers the logistical basics: who, what, when and where. As long as your friends and family have advanced notice (no later than six to eight months ahead of your wedding day), they can mark their calendars and begin making preliminary arrangements to attend. But to clinch those eventual RSVPs, a creative save-the-date from the get-go might prove even more persuasive.
Have your venue and wedding guest list ready to go? If so, you're clear to shop for save-the-dates. We've rounded up some of our favorite templates—from save-the-date magnets to on-point postcards—and all of them are available to buy online, including ones from our very own The Knot Invitations. Not only are these particular save-the-date ideas beautiful, bold and keepsake-worthy, they're also designed to make vibe curation a total piece of cake. Save-the-dates today, all the invitation-suite enclosures, day-of wedding stationery and signage to come.
P.S. If your wedding has been postponed on account of COVID considerations, you can find the perfect way to say "Pencil us in, again!" with our personalizable change-the-date cards.
The Knot Natural Palette Save-the-Date Cards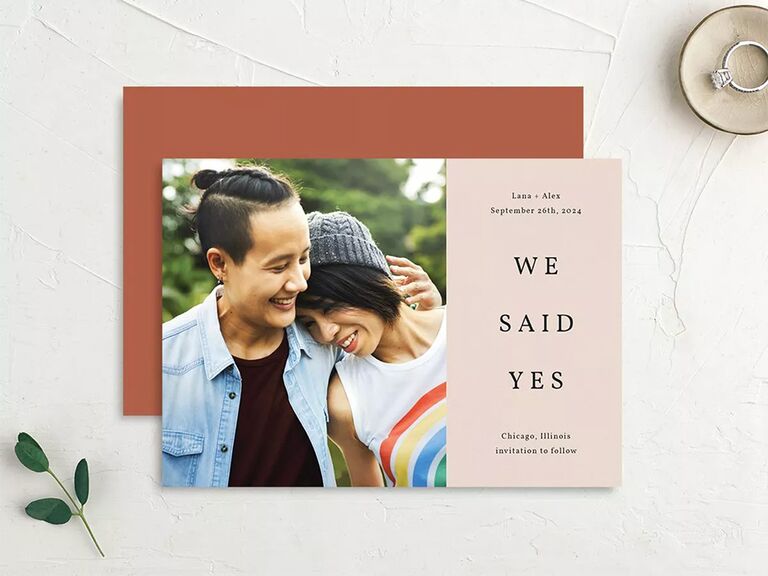 One of you may have popped the question, but both of you said "Yes!" to a future together, and that's the point here. The photo design of this save-the-date can be customized to match your palette with nine different color combinations. Reference your wedding website details in a frame on the back while allowing the rest of your FYIs to shine on the front.
The Knot Floral Abstract Save-the-Date Cards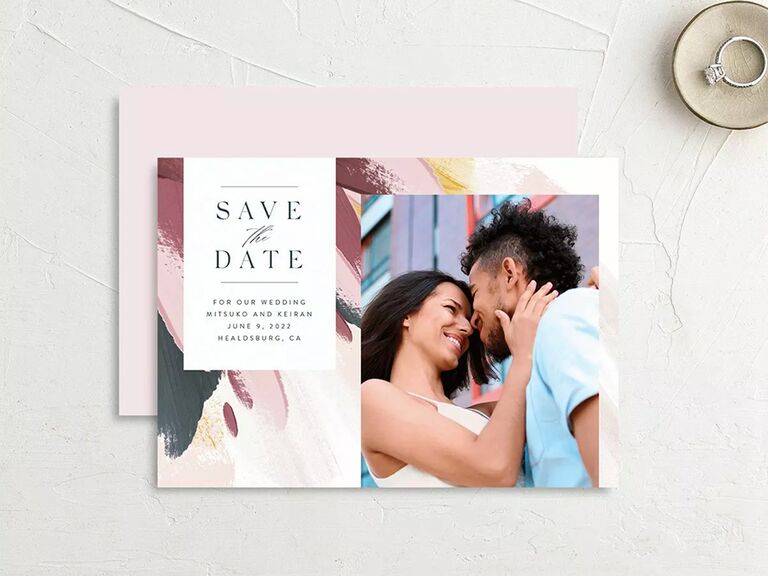 Bold brushstrokes, elegant typography and your favorite photo team together on the front of this modern design, while the back serves up a subtle pop of color. If your engagement photos happened in front of a beautiful mural, this design could be the perfect counterpoint.
The Knot Palm and Protea Save-the-Date Postcards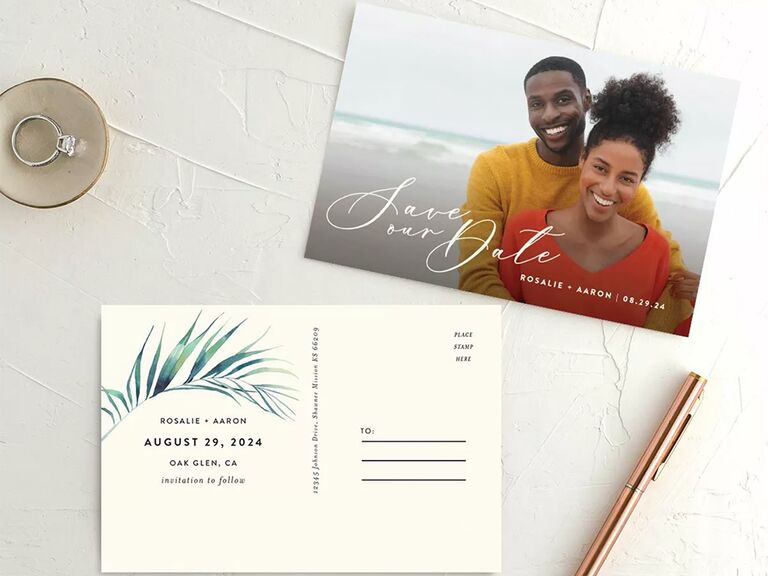 This modern postcard is destination-wedding approved; just peep that tropical palm leaf if you need more proof. Choose a favorite full-bleed photo (a shoreline shot complements the beach wedding to come) to adorn the front and let the white ink calligraphy do its thing to woo your guests.
The Knot Ornamental Elegance Save-the-Date Cards
With faux gold foil flourishes, this elegant save-the-date is the perfect way to inform your friends and family of your wedding day. We adore the side-by-side positioning of your wedding details and engagement photo, and the jewel-toned color themes (magenta and gold or teal and gold) are especially festive. Don't forget the matching ornamental elegance wedding stickers for extra DIY flair.
The Knot Painted Winery Save-the-Date Cards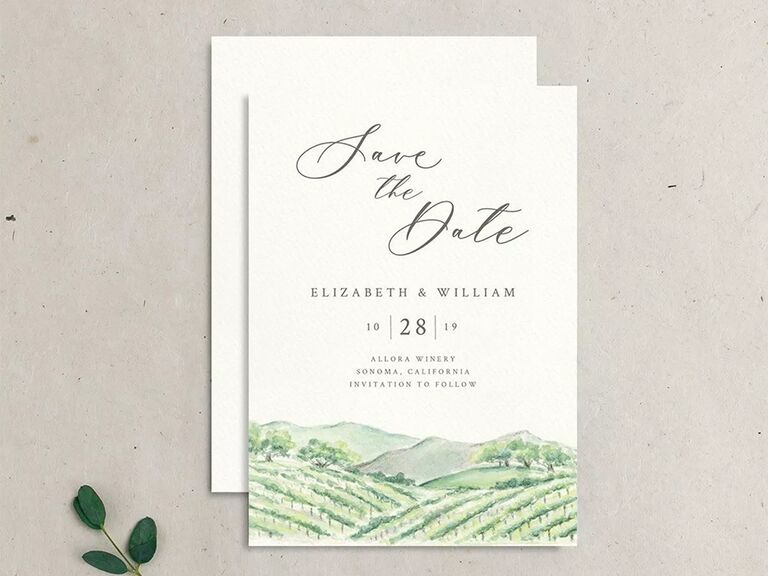 That feeling when: Your venue is the setting of your dreams. This design bottles that excitement, with your celebration details floating above a hand-painted winery motif. On the back, your initials accented by a painted olive branch give the rustic save-the-date some elevated, epicurean edge.
The Knot Modern Balance Save-the-Date Cards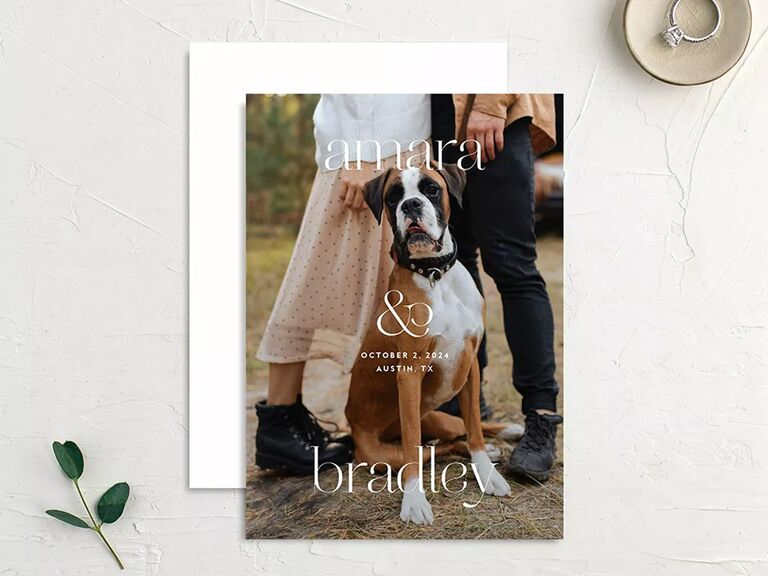 With your names, the date and your wedding whereabouts overlaying your most-cherished engagement capture, your guests have everything they need to block off their calendars. You can always provide additional information (like ceremony and reception specifics, if you have them already) on the back, along with your wedding website.
The Knot Illuminated Trees Save-the-Date Cards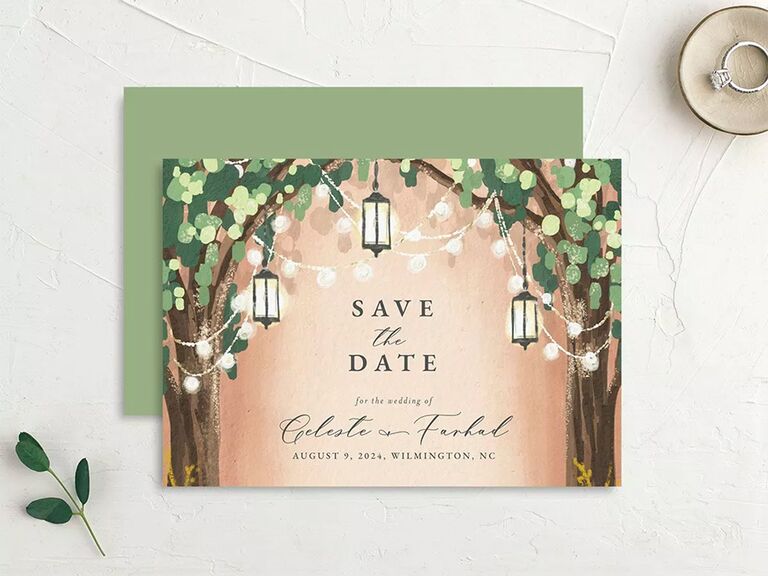 You can certainly consider the formality of your wedding when deciding between tangible and online save-the-dates, but for an intimate, yet relaxed al fresco celebration, this romantic interpretation is still ideal. Whimsical string lights and lanterns traverse arching trees to frame all of your important wedding details, while pink or blue colorways fit a variety of celebrations equally well.
The Knot Botanical Initials Save-the-Date Cards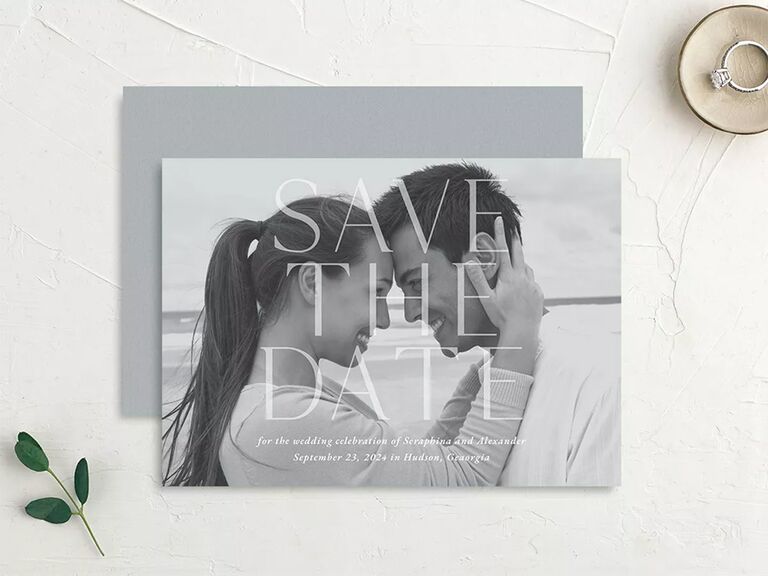 Guests will happily make room on their refrigerators for this timeless bulletin. We're obsessed with the crisp white lettering for all your soiree specifics and the all-caps grayscale save-the-date watermark leaves nothing to chance.
The Knot Vintage Library Change-the-Date Cards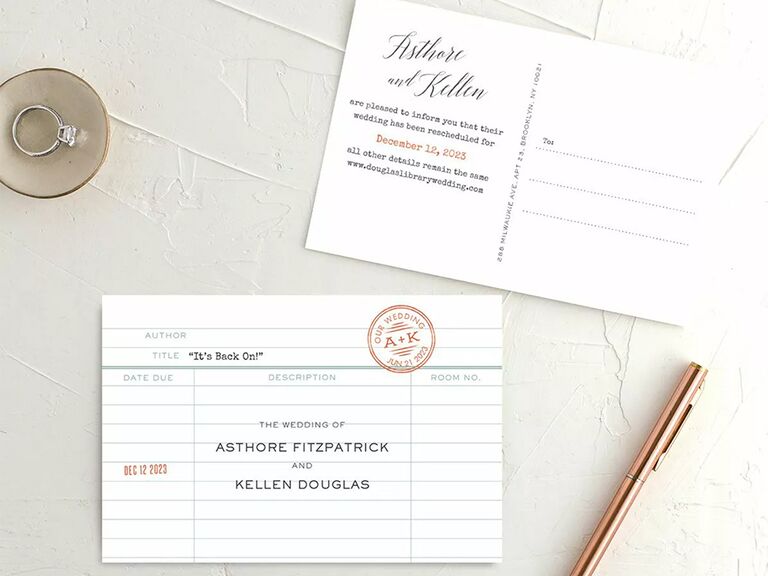 Pro trick to ensure your guests commit your date change to memory? Hit them with some nostalgia. These vintage library card-style save-the-dates highlight all of your new details in a familiar college-ruled format vis-à-vis the 'due date' (your wedding date) and the book title ("It's Back On!").
Amy Payne There Will Be a Party Save-the-Date Cards
If your guest list is comprised of a crowd that loves a good joke, opt for a funny save-the-date. This one features modern typography and the promise of a party with people to come; what could be better to hype up your squad?
Jackie Crawford Epic Save-the-Date Cards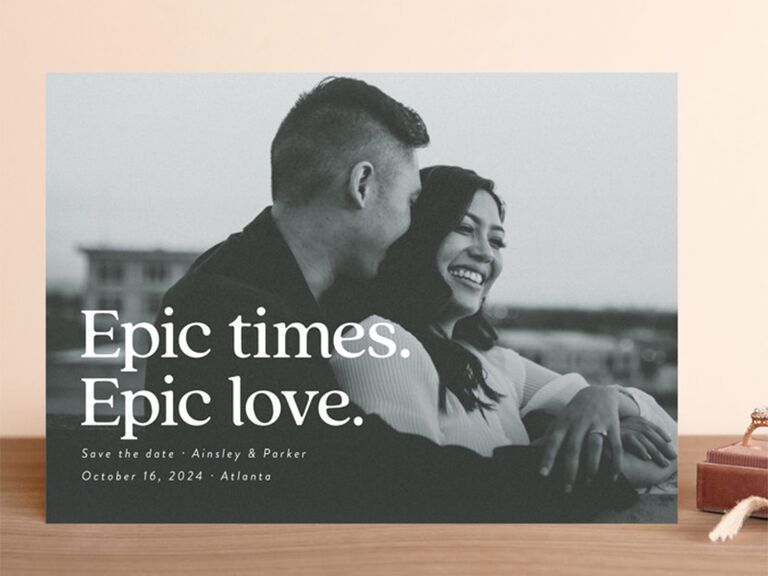 We're getting straight It Takes Two, "Can't-eat, can't-sleep, reach-for-the-stars, over-the-fence, World Series kind of" epic love vibes from this photo/design. Available in five different formats, from a postcard or magnet to petite and grand-sized versions of Minted's standard save-the-date, whichever you choose is bound to signal an epic good time ahead.
Sarah Curry Palm Springs Save-the-Date Cards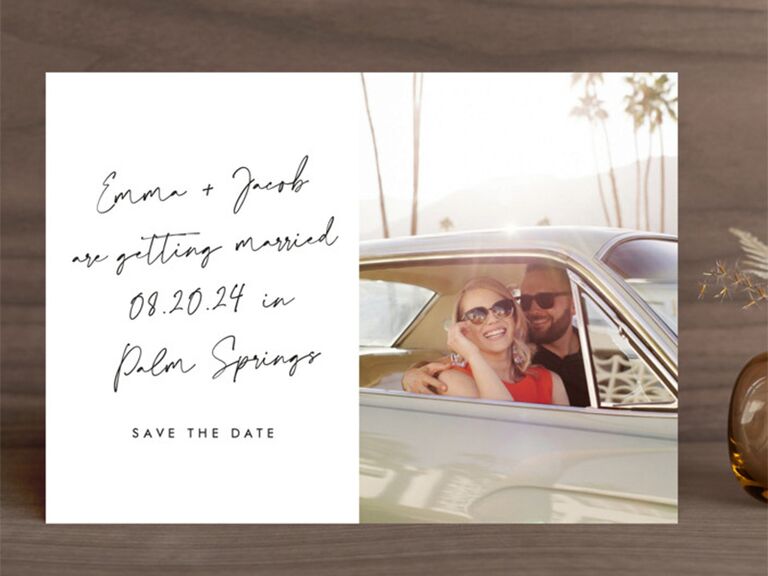 A hand-written card will always bring the charm and this quirky pick does it perfectly. Just add your own sepia-toned portrait—classic coupe encouraged— and customize your names, the big day and the venue for a look that's all kinds of iconic.
Kimberly FitzSimons Love Series Save-the-Date Cards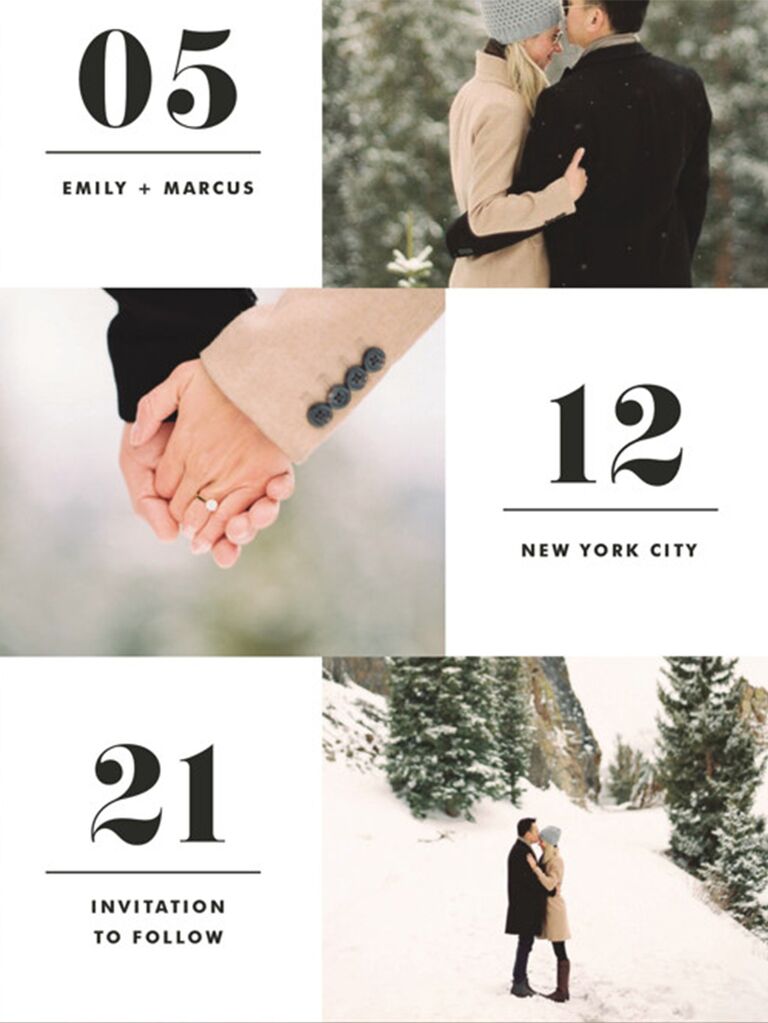 If you already have your engagement photos in the books, go with a save-the-date card that can show off your romantic session. The time and place tidbits on the front are all you need to get guests up-to-speed on your wedding right now, but you can also add a custom backer or interior to include even more photos or an in-depth message.
Ivy and Betty Designs Vellum Save-the-Date Cards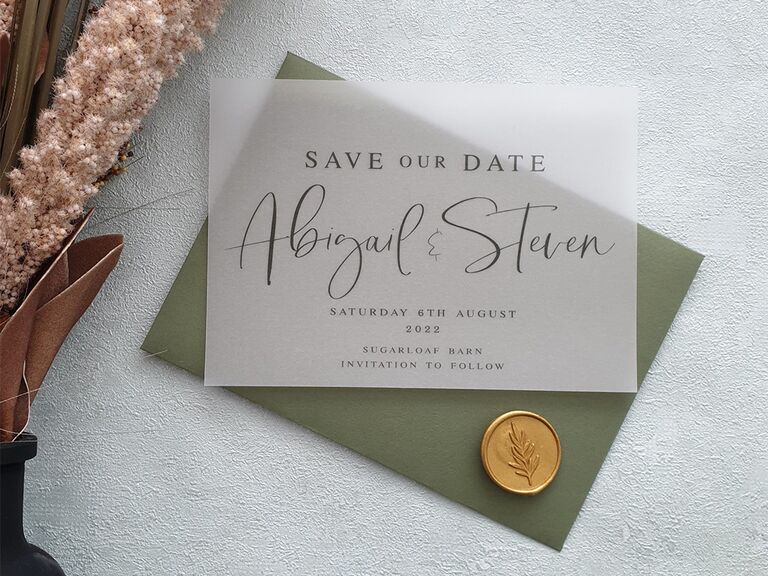 We're big fans of vellum whenever it's used in a wedding invitation suite, but as a standalone look for your impending nuptials, it's seriously stunning. These translucent iterations from Etsy can be paired with your choice of rose pink, dove gray, sage green or kraft brown envelope and a matching wax seal (for an additional cost).
Cartalia Romantic Roses Hexagon Mirror Plexi Save-the-Date Magnets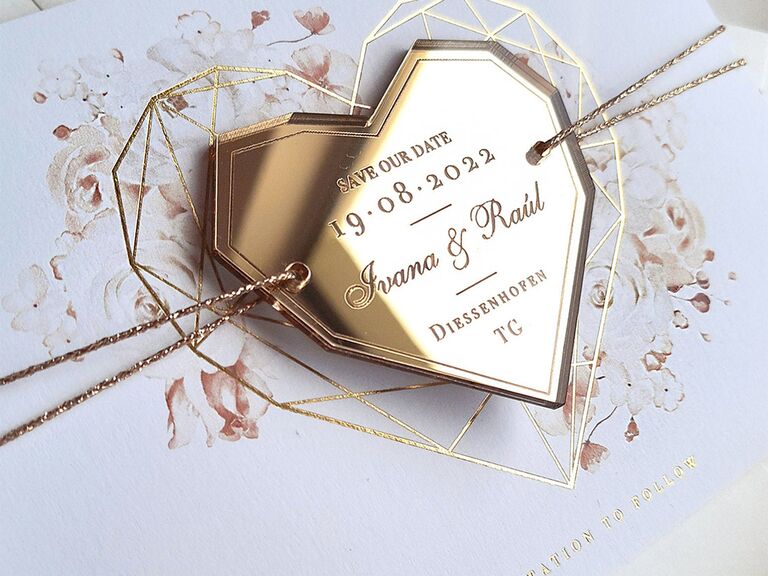 If you haven't settled on your brand of wedding style yet, then you can't go wrong with a modern keepsake that has it all, rose gold foil and laser-cut acrylic included. Just be sure you have at least 30 wedding guests on your list because the minimum order on these custom save-the-dates is set at 30.
Wonderland Stationery Botanical Scratch Save-the-Date Cards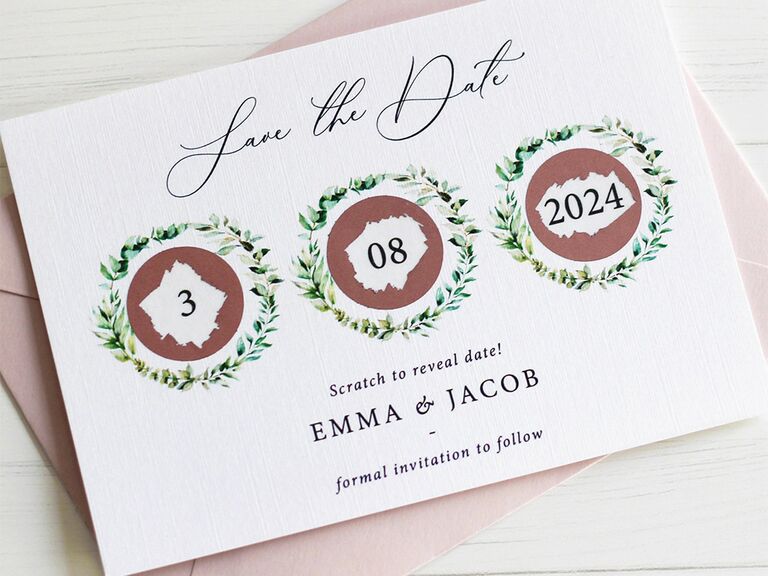 Not your typical lottery ticket, but what a way to win their hearts, right? All you need to do is personalize with your names, your wedding date and your location, and the designer will handle the rest. Guests will be so excited to scratch off the bubbles and reveal the month, day and year you're getting married.
Do Tell a Belle Tropical Save-the-Date with Watercolor Sea Turtle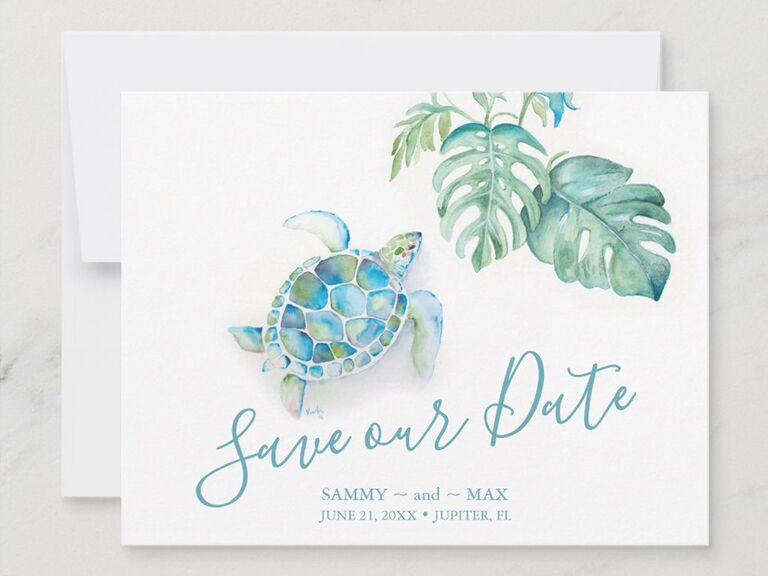 This simple card features original watercolor greenery and a tropical sea turtle in shades of blue, turquoise and green. Space is provided for your names, wedding date and wedding location, with a complementary solid turquoise color on the back. The artistic vibe and mellow color palette are destined to get your guests humming the Beach Boys as they pencil in your date.
Papier Savanna Save-the-Date Cards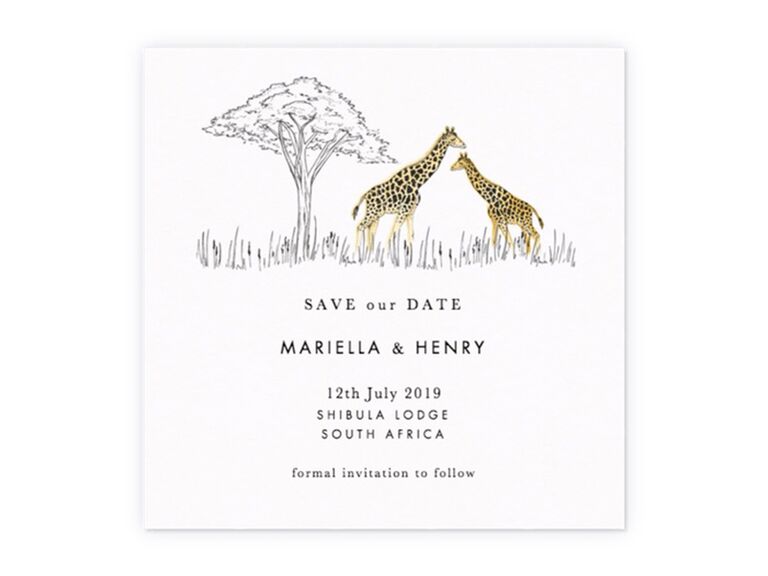 Luggage tags are popular for destination weddings, but skylines, illustrated maps and recognizable landscapes are another fun way to tell your guests where you're going. If a South African safari is on the horizon for you and your crew, you can build excitement with a square template like this. The black and white acacia and tall grass is telling, but the giraffes are what make this wedding theme pop.
Papier We're Engaged Save-the-Date Cards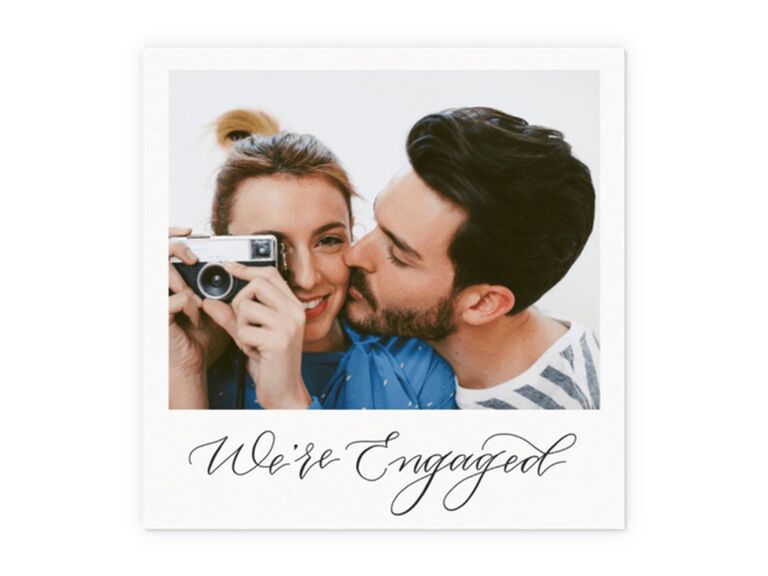 There's something about a polaroid that just makes people want to save it, no questions asked. But when it has your smiling faces in the frame, it's even more unforgettable. Send yours with "We're Engaged" writing across the white film strip and all of your party particulars on the back.
Creative Union Design Newspaper Wedding Save-the-Date Magnets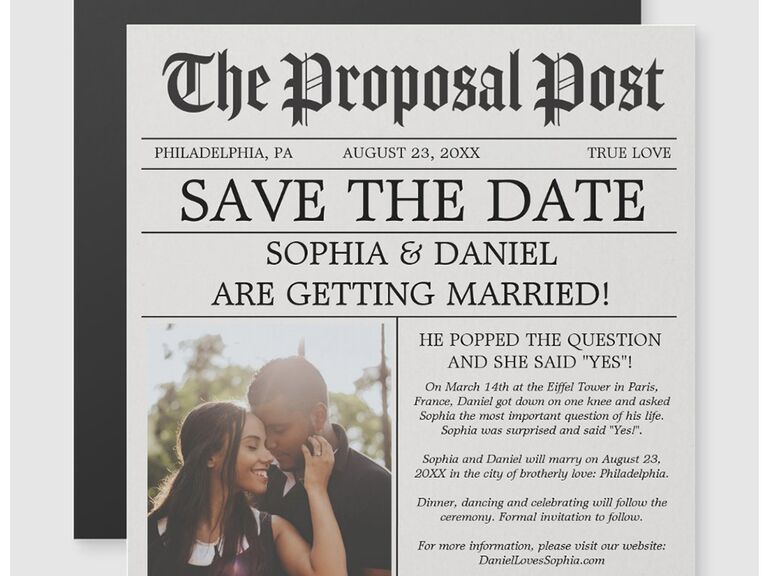 Consider this your own kind of elusive New York Times wedding announcement. Along with an obvious save-the-date headline, your guests can read all about your proposal story—how and when it happened—and what might be in store for the main event.
Artifact Uprising Foil-Stamped Simple Serif Save-the-Date Cards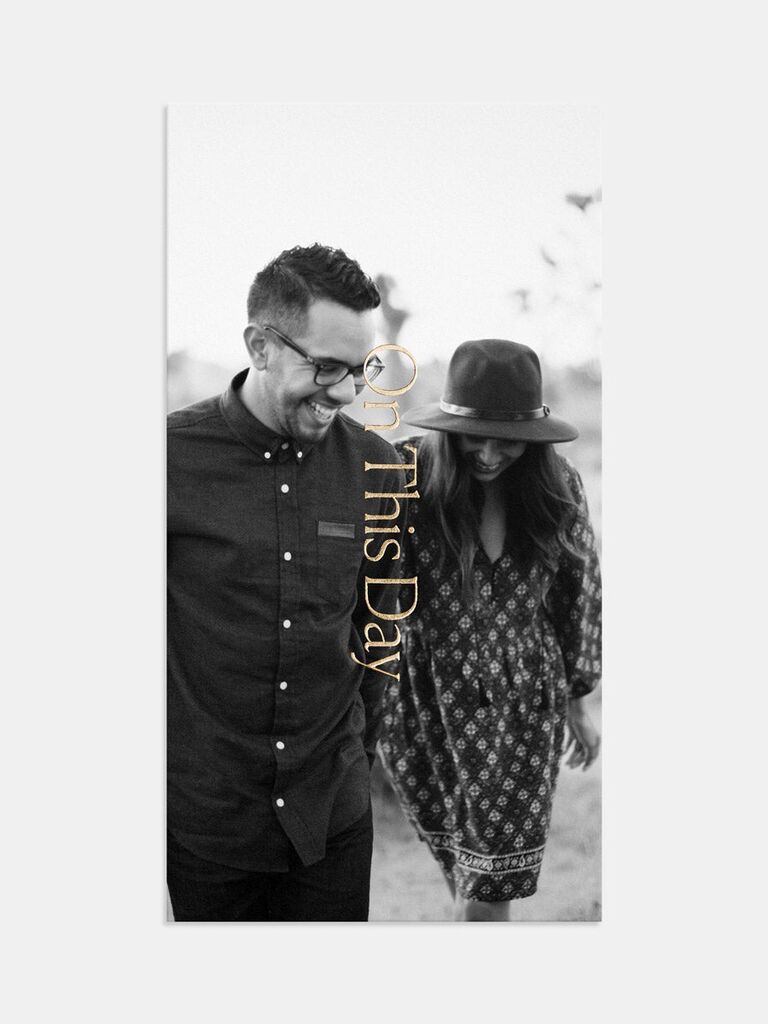 On this day, vows will be exchanged and a future will be minted: It's minimalist, yet it says so much. The vertical orientation is slightly less formal, but still unique and memorable thanks to the metallic foil (offered in copper, gold, silver and burgundy). Add to that a curved flap envelope and your save-the-date invitations will truly stand out from the rest of the (mail) stack.