How to Support Your Partner's Pronouns While Wedding Planning
Have conversations ahead of time.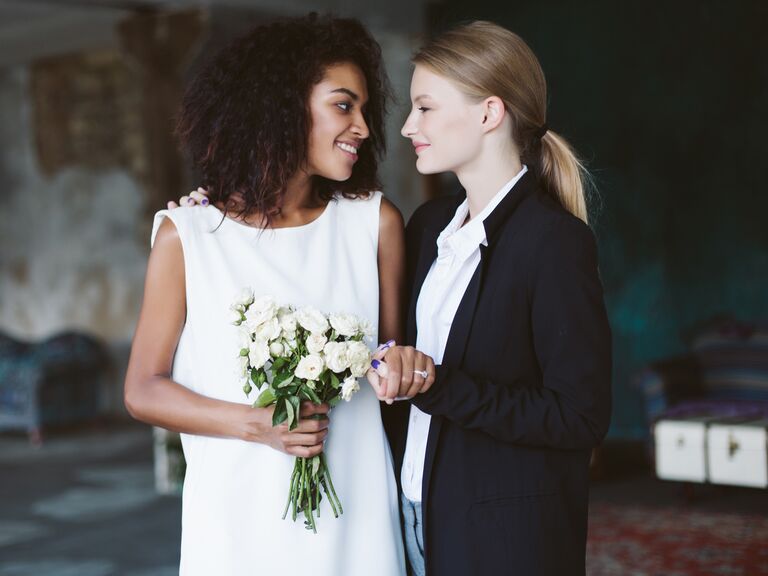 garetsworkshop/Shutterstock.com
There are many to-be-weds whose identities are either outside of or on the spectrum of the gender binary (the idea that gender includes two options: male or female). For those individuals, the wedding planning process can feel overwhelming, discouraging and isolating, as people along the way might address them incorrectly. (Think: family members who aren't up-to-date on pronouns or vendors who may not ask for them upfront.) Having an ally, such as a significant other, can be helpful, as they can support their partner's pronouns throughout the planning journey.
"There's always going to be stress around planning anything big, but anything that's going to make you and your partner feel less-than-happy is something to avoid," says Mackenzie Harte, coordinator for education and training at the GLAAD Media Institute. "Having conversations [about pronouns] ahead of time is a great way to mitigate negative feelings."
What Are Pronouns?
Pronouns are words that refer to an individual in place of their name. While "he/him" and "she/her" are pronouns some use to identify themselves, they aren't the only options. Other pronouns such as "they/them," "ze/hir" and "ze/zir" describe different gender identities other than just male or female. "Pronouns are a great way to express yourself and also help people respect who you are," Harte says.
How to Ask Someone for Their Pronouns
Asking someone for their "preferred" pronouns can be insensitive since the word "preferred" implies that the use of someone's pronouns are optional. "It's a part of your identity, and 'preferred' weakens that sentiment," Harte says.
Instead, ask someone for their pronouns either upon introduction ("My name is ____, and I use she/her pronouns. What about you?") or later on ("By the way, I use she/her pronouns. What about you?"). Ask sooner rather than later so that you address the person correctly, and include your pronouns as well so that the individual doesn't feel singled out. Inquiring about someone's pronouns (and sharing your own) is a great way to make someone feel comfortable and accepted.
How to Introduce Your Partner's Pronouns to Your Friends and Family
If you're engaged, you've likely introduced your partner to your immediate family or friends. Still, your guest list might include people they haven't met before. To help initiate that conversation, Harte recommends using your partner's pronouns right off the bat. "Start by using your partner's pronouns naturally and talking about your partner the way you would to anyone," they explain.
There's a chance the people around you might not even ask because they're used to you saying it. Or, they might ask you to clarify, in which case you can simply respond that your partner uses these pronouns. "That creates an opportunity to share," Harte elaborates. "You're just responding to a question without having to be the one to derail the conversation or make it into a bigger deal than it might need to be."
A key component of this conversation is delivery, Harte says. "With anything language-based, it's all about your comfort level and how you speak," they tell the Knot. If you're comfortable in the conversation, the people around you will feel more comfortable speaking with you. "You just want to talk about your partner naturally."
If a friend or family member uses the incorrect pronouns when referring to your partner, Harte recommends addressing it respectfully. "You just want to say, 'Oh, my partner actually uses these pronouns," Harte adds. "Don't make it an antagonistic situation, but do actively correct them." If you're sensing a friend or family member isn't being respectful of your partner's pronouns, you may want to reevaluate the guest list with your partner.
You can also use wedding planning tools as a way to introduce your guests to your partner's pronouns. Your wedding website is a great place to start, as you can introduce yourselves and share your pronouns there. Your stationery is another effective way to relay the information. The Knot Invitations offers free customization so you can add in your pronouns (and ask guests for theirs on the RSVPs).
How to Introduce Your Partner's Pronouns to Your Wedding Vendors
Planning your wedding should be a joyous occasion, which is why you should surround yourselves with a team of pros who welcome and respect you no matter who you are, what you look like, or who you love. An effective indicator of allyship is to see if they ask you what your pronouns are right off the bat. This will typically happen in an online form that you submit before setting up a call. You can also look for a pledge that they've taken to respect all couples who contact them on their website.
Harte also recommends doing thorough research (reading reviews and searching the vendors' names) before meeting with a pro. "Doing as much research on specific vendors ahead of time is a great and important first step."
Another great way to vet your pros is by looking at their social media to see what kinds of couples they've worked with. Once you finally meet, Harte recommends using you and your partner's pronouns naturally to see if your vendor is respectful of them. After all, you're going to be working with them closely to plan a personal and meaningful event. Just like your wedding itself, your team of pros should celebrate and support every aspect of your love story.