What's a Bachelorx Party? The Binary-Breaking Way to Celebrate
Because not everyone identifies as a bachelor or bachelorette.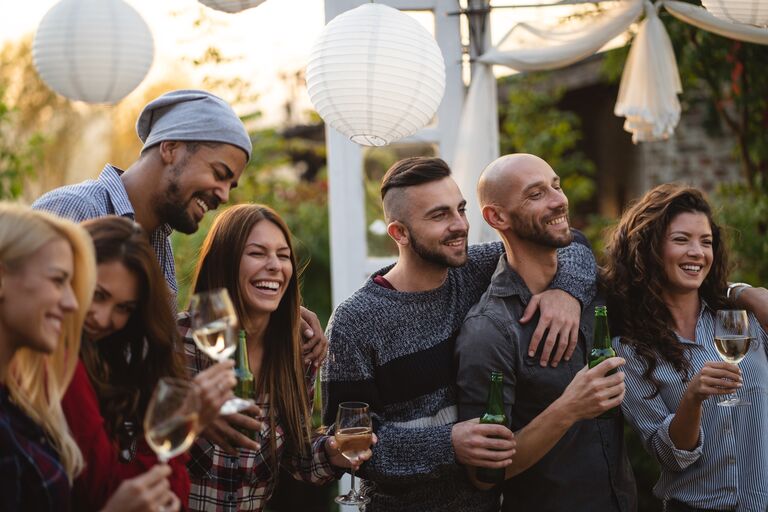 Johnce / Getty Images
When you think bachelor or bachelorette parties, your mind could wander to naughty gifts, games and plenty of sparkles all the way to brews with bros in the-world's-most-manly man cave. (And what happens there stays there.) But what if a party didn't have to feel so normative? After all, glitter, games and beer aren't inherently gendered objects, and spoiler alert: not everyone identifies themselves as (or their wedding parties) as male or female.
Enter bachelorx: the pre-wedding party that allows you to decide what you want for your celebration without ascribing gendered practices that may otherwise constrain you and your guests to penis-shaped balloons. Read up on this topic here, including its meaning and how you can celebrate your very own bachelorx party.
What does Bachelorx mean?
Ainsley Blattel first coined the term "bachelorx" while working at Modern Rebel Co., an inclusive, socially-aware event planning agency operating in several states, though the phrase's true origins are even deeper.
"The word bachelorx refers to an all gender pre-wedding party," Blattel says. "It's the non-binary sibling to bachelor and bachelorette parties, you might say. And while I did come up with it as I brainstormed phrases for gender inclusive pre-marital parties, I can't claim full credit for coining the word."
Blattel was inspired by the usage of words like "Latinx" and "womxn," which prompted a Google search of the term "bachelorx." They discovered that several others followed the same logic with these events. "Just as you can replace the 'o' or the 'a' in words with an x [like how Latino/a becomes Latinx], you can remove the letters in bachelor/ette that gender it by slapping an x on there… and creating something entirely new and free of gender constraints."
Bachelorx removes the male vs. female connotation from the original phrase, instead hoping that gender non-conforming, queer or non-binary people feel a sense of freedom in planning their own pre-wedding celebrations, removing the expectations of certain gendered practices.
Essentially, it's a binary-breaking, agender alternative to the two compulsory options of bachelor vs. bachelorette.
Why would someone celebrate with a Bachelorx party?
Just as diverse as the identities of those getting married, there are many different reasons someone would choose to throw a bachelorx bash.
1. Because of how they express their gender
Again, not everyone identifies as a bachelor or bachelorette, or on a more macro level, as a man or woman.
"Bachelorx makes room for queer folks of all genders and sexualities to see themselves in the wedding industry," Blattel says. "We make space for queer folks to see that they too deserve happy and healthy partnerships. They deserve a lifetime of love."
2. Because of the way their guests express their own gender
Similarly, though a to-be-wed might identify as a man or woman, maybe their friends or the members of their wedding party don't. More and more, couples are ditching the gendered practice of women to the left, men to the right at their ceremonies, and their parties are following suit.
Instead, guests are attending know that they aren't being separated by gender and forced or obliged to partake in practices they don't feel comfortable with or that don't align with their gender.
3. Because they're combining their celebrations
More often than not, we hear about a very specific format for traditional bachelor and bachelorette parties: separate. Usually, this is accompanied by a narrative of these parties as being secret. This can be fun and lighthearted to a point, but according to Amy Shack Egan, founder and CEO of Modern Rebel Co., this can also be counterproductive.
"Why not also throw things together?" Shack Egan says. "For some people, these singular experiences with their close friends are important, and that's great. But some people might throw a party together to also allow everyone, regardless of gender, comfort in the space. It can be a chance to celebrate bringing two groups of close friends together or serve as another way to communicate and nurture a relationship together."
Relatedly, queer couples often share a chosen family, which means separating them for two different parties can be unrealistic.
"For queer folks, many of us don't have separate groups of friends between the people in the partnership. We build a community around ourselves, a family," Blattel says. "So when it comes time to celebrate, it makes sense that you'd want your beloved by your side. And what better way to celebrate your upcoming union than with the person you're going to marry and the people who uplift, love, and support you?"
4. Because they just don't like the concept
Often, the narrative around traditionally celebrated bachelor/bachelorette parties can be particularly problematic. For that reason, bachelorx takes away any sort of cultural connotations that might accompany these parties.
"There's this defined experience, particularly for men: you partnering with someone means you're about to be shackled to this person and you need to get something wild out of our system," Shack Egan says. "And for women in straight relationships, sometimes these parties seem to celebrate marriage as a woman's greatest success or achievement."
To combat that, Shack Egan says bachelorx provides an alternative, because it comes without those traditional ties or connotations.
Blattel agrees. "Replacing 'bachelor/ette' with 'bachelorx' welcomes the growing number of straight folks who aren't into the outdated idea surrounding these get togethers as their 'last night of freedom,'" Blattel says. "With that attitude, it's no shock that gendered bachelorx parties are seen as the last chance for fun. The goal of bachelorx parties is to counter that narrative."
How you can celebrate your own Bachelorx
Turns out it's surprisingly simple. It's all up to you.
"There's more opportunity and more options with bachelorx than with the bachelor-bachelorette model," Shack Egan says. "I've seen people add meaning to their bachelorx parties, doing things like throwing a school supply drive and following it with a mimosa brunch. Giving back is how the couple connected, so they wanted to do that with their party."
Freedom is the point, so ditch the rules. Blattel echoes the sentiment.
"You can celebrate a bachelorx any way you want," Blattel says. "Society historically hasn't made space for queer folks, and neither has the wedding industry. So when queers get married, we have to face a supposed fairytale that we all know—except for us, we aren't the characters getting a happily ever after. Those people often don't look, or love, like us. So in weddings, just as in life, we make up the rules for ourselves."
Three words: you do you