10 Questions to Ask Transportation Companies
Go over these important points with them before making any final decisions.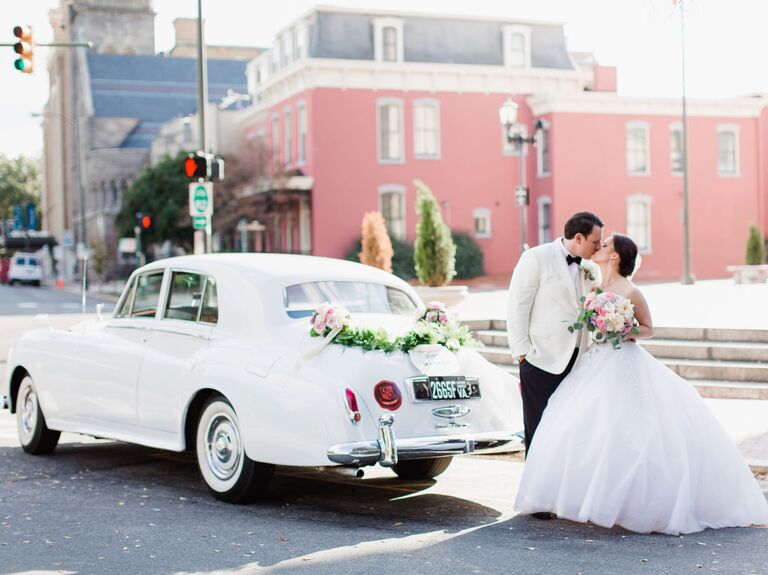 You should plan on booking your day-of transportation about three to five months before the wedding, once you have your date, ceremony and reception locations and wedding party all set. Get to it even earlier if you know your event is taking place between April, May and June—aka peak wedding, graduation and prom season. But before you sign anything, ask your potential pros these key questions so you get what you pay for.
1. What car types, sizes and colors do you have available?
Why you want to know: Although less of priority than fit, safety and comfort, you should inquire about the car colors and styles. Want to make your ceremony exit in a vintage convertible? Now's the time to ask. And remember, if you're providing rides for your guests or wedding party between the ceremony and reception sites, for example, not everyone needs to roll up in stretch limos, even if you two are. Vans, buses or shuttles will get everyone from A to B for less.
2. How many people can comfortably fit into one vehicle?
Why you want to know: Besides the obvious the fact that everyone riding in each car needs to be safe and comfortable, the capacity of the available cars will determine what type of vehicle you choose and how many you'll need. Keep in mind that voluminous skirts, freshly curled hair and preceremony jitters might require more wiggle room than usual, so allow an extra person's worth of breathing room.
3. What amenities do your vehicles have (TV, bar, sunroof)?
Why you want to know: If you've always imagined sharing a glass of champagne with your wedding party while watching Father of the Bride en route to the ceremony, make sure the company has limos or shuttles with all the amenities.
4. Are you a member of the National Limousine Association (or another professional association if you're renting a bus)?
Why you want to know: Companies that are members of associations like this are more guaranteed to provide top quality service. Going with a service legitimized by the National Limousine Association (or other) will give you peace of mind.
5. Do you offer special wedding packages?
Why you want to know: If the company specializes in weddings (or even if they don't), you may get some fun perks like balloons or champagne flutes.
6. If I contract for multiple cars, can I get a group discount?
Why you want to know: Don't pass up the opportunity to save a little money. Companies are likely to offer a discount if you hire multiple vehicles on your day (this might be a wedding package perk too).
7. Who is responsible for the cost of gas or mileage? Do the cars come with a set amount of free miles and gas?
Why you want to know: Gas and mileage fees may vary by company, and they're important to clarify up front. If your hotel is far from the ceremony or the ceremony is far from the reception venue, one company's prices might not work as well for you as another's.
8. What does the driver wear?
Why you want to know: It may or may not matter to you whether the drivers wear formal clothing, but you should still ask so they don't show up in cargo shorts and a T-shirt.
9. Can we see a copy of the operating license and insurance certificate?
Why you want to know: Don't take any shortcuts when it comes to verifying the driver's license and insurance certification. You don't want to be on the hook for an accident that damages another car or the rental's interior (stains from some spilled bubbly, perhaps).
10. What are you cancellation and refund policies?
Why you want to know: Just in case, find out the repercussions if you change your date or change your mind.
Study up on our top wedding transportation tips.
Search car and limo companies in your area here.
For more great tips, read up on transportation mistakes not to make here.