How to Plan an Engagement Party That Feels Right for You
Make sure your first party as an engaged couple goes off without a hitch, no matter who's doing the hosting.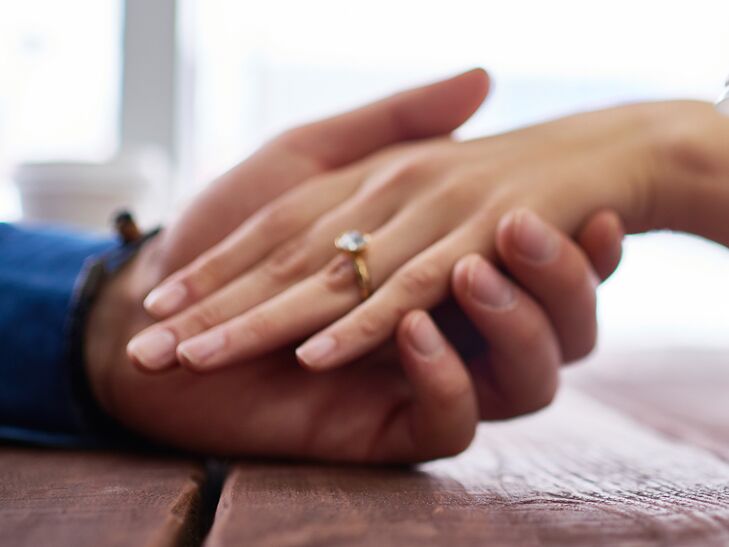 iStock
Traditionally, the bride's parents have the first crack at throwing the engagement party, but these days (almost) anything goes. And while you might have strong opinions about what type of celebration you want, it's important to consider who's hosting before you start sharing your "dream engagement party" Pinterest board. But that doesn't mean you and your fiancé can't have some say in the planning process. For tips on how to navigate each potential hosting scenario so you can all come together at a party that feels right for you, your partner and your families, read on below.
Scenario 1: Your Parents or Family Are Hosting
When family members generously offer to throw the celebration, there are some definite pros (they're paying!). And if both sets of parents want to join in hosting the party, even better. Since this may be the first time your families are really coming together, it can be a good opportunity for them to get to know each other before the wedding planning really gets crazy.
What You Should Do
Weigh in on the timing, especially if you literally just got engaged and your so-excited parents are itching to throw the party ASAP. (Two to four months after the proposal is usually the sweet spot, though if you plan to get hitched pretty quickly, feel free to move up the timeline.) And if you have to travel to one of your hometowns, you'll definitely need time to clear your schedules.
Let them know about must-invite guests from your group of friends, like anyone who's likely to be in your bridal party (if you haven't decided on that yet). Just don't send a list of your 30 nearest and dearest unless you know for a fact that your parents plan to throw a huge bash.
What You Shouldn't Do
Dictate the location. Again, since the parents are picking up the tab, it's up to them to decide what fits their budget, whether that's a dinner hosted at a fancy restaurant or a barbecue in the backyard. Of course, if they ask your opinion, you can definitely let them know your preference.
Forget to register. While gifts are definitely not required or expected at an engagement party, chances are that Grandma and Great-Uncle Tom are going to want to bring you a little something. It's helpful if you can set up a registry beforehand with at least a few affordable gifts so they'll have options to choose from—and don't have to ask your parents for ideas. (But if you're firmly in the no-gifts camp, it's okay to have your parents to put a polite note to that effect on the invitation.)
Scenario 2: Your Friends Are Hosting
If you don't live near any of your parents, some of your friends may decide to celebrate your news locally (or even offer to throw you an additional friends-only shindig if your parents are hosting a just-the-family party). The good news is you can usually be a little more forward about what you want with your friends—and they're also more likely to just "get" what kind of party is your style.
What You Should Do
Try to find out what they have in mind. That's key to figuring out how much you can weigh in without overstepping your bounds. Before any planning has gone into swing, it's okay to drop hints about the type of party you'd like. If they ask for your thoughts, feel free to mention whether you were thinking of evening cocktails or a more casual daytime gathering, but avoid mentioning specific places that may not be in their budget.
Offer to help. Whether that means setting up the buffet the morning of the party or contributing to the costs, it's nice to offer to help your friends out. They'll probably say no, but be prepared to follow through in case they do take you up on it.
What You Shouldn't Do
Try to control all the details. You let them know your overall preference, so now it's time to take a step back and let them plan the celebration. After all, you'll have plenty of decisions to make soon enough for your wedding, where you can plan every last element to your heart's desire.
Invite anyone without checking with the hosts. Even though it's a party in your honor, you don't have free reign to invite anyone you like. Give your friends a list of family or important family friends you'd like to include, if possible. They'll likely ask for this anyway, since they may not have contact info for those people. But always make it clear that it's up to them how many guests they can comfortably host.
Scenario 3: You're Hosting It Yourselves
More and more couples are throwing their own engagement parties, either due to logistics or just plain wanting to do it themselves. The upside? You'll have complete control over the event—where it's held, who attends, what's served—no compromises needed. The downside? You're paying.
What You Should Do
Set a budget. Once you and your fiancé decide what you can realistically afford to spend, it'll make finalizing the size of your guest list and figuring out your overall vision for the event that much easier. Trust us: You don't want to go into debt over a fancy engagement party.
Imagine your ideal. Remember, since you're totally in charge, the sky's the limit. Spend some time brainstorming your dream party and what will feel the most meaningful to you. Returning to the bar where you had your first date? Or hosting your nearest and dearest for a picnic in your favorite park?
What You Shouldn't Do
Invite anyone unlikely to make the wedding guest list. This is an etiquette rule you should try your best to stick to. Someone who makes the cut for your engagement party but then doesn't receive an invite to the wedding is likely to feel slighted. To avoid any potential hurt feelings, it's a safer bet to keep the engagement party more intimate in size, with only the people you absolutely know will be on your wedding guest list.
Feel boxed in by tradition. With just you and your fiancé at the helm, feel free to make the engagement party as out-there as you want, whether that's a caftans-and-cocktails themed pool party, an at-home karaoke night, or dinner at your fave local hole-in-the-wall. As long as you make sure it's a reflection of your interests and relationship, your guests are bound to feel the love.