31 DIY Wedding Decorations for Any Skill Level
From aisle decor to table numbers, we have the perfect DIY projects for you.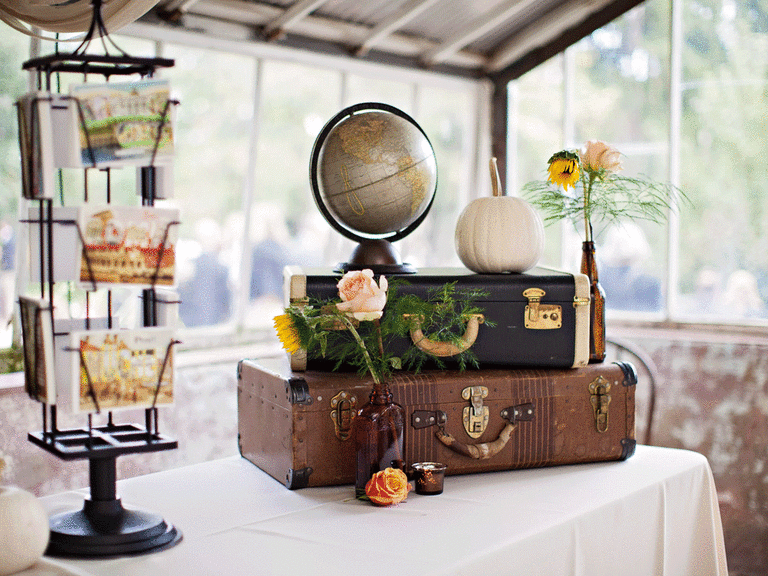 Aesthetic Life Studio
It doesn't matter if you're an expert with crafts, a beginner or trying to be budget-friendly, going the DIY wedding decoration route can be an enjoyable and satisfying activity. Doing your decorations yourself allows you to have more oversight, spend more time with loved ones you've enlisted to help and learn new skills. Another bonus is that you can walk around your wedding cherishing all the personal touches you added to make your day special. You might be coming into this with an abundance of decor ideas in mind or zero, either way, we have helpful DIY wedding decor tips and ideas for you to learn from and tackle.
In this article:
Things To Consider for DIY Wedding Decor
DIY-ing your wedding decor can be a fun and self-gratifying experience as long as you go about it the right way. So, before you start on your DIY wedding project, check out these helpful tips.
Be resourceful.
Before you spend money on brand new decor pieces, that you might not use after the wedding day, save yourself some money by buying from thrift stores, yard sales or digital resale markets like Facebook Marketplace and Craigslist. You can even source items from your own home. All of these options will not only help you stay within your wedding budget, but they will also lead to a more sustainable wedding. (And who doesn't love that?)
Don't procrastinate.
No matter if you're being ambitious with your crafts or keeping it simple, it's best to give yourself enough time to plan, source and complete your DIY wedding decorations. We suggest that as soon as you and your partner have settled on your wedding date, venues, color and theme you start working on your decorations. You don't want your decorations to look rushed, so it's never too early to start.
Decorations, like table numbers and family photo displays, should be completed early since they rely on your guest list and loved ones sending you photos, which can take time to organize. But if you're thinking of adding flowers or plants to some of your decorations, it's best to wait a couple of days before the wedding to add them so they look fresh.
Think twice before asking family and friends.
Asking your loved ones to help you create wedding decor can be a big ask since they are most likely already contributing in other ways by being your wedding party, planning a prewedding event or buying a wedding gift. So make sure you politely ask people who've expressed they have the time and motivation to help you––you don't want anyone making wedding decorations begrudgingly.
Once you've chosen your DIY wedding decor crew, delegate tasks according to people's talents and interests. You want every person to be helping with something they'll enjoy doing, so ask your loved ones which decorations on your to-do list they are the most interested in. And don't forget, it's your wedding, so it's okay to say yes (or no) to your family and friends' ideas during the process.
If you're considering asking a friend who's in the wedding or event planning industry to assist, don't expect them to do it for free. You should offer to pay them for their expertise.
After all the hard work is done show appreciation to all your handy helpers by acknowledging them on the wedding day either in your thank you speech, in the wedding programs or by giving them a special gift bag.
Partial DIY is okay.
There are a lot of cool and innovative DIY wedding decoration ideas out there, but that doesn't mean you have to do all of them. Do as much as your budget, skill level and schedule allow you to. If you notice that DIY-ing is costing you more time and money than anticipated, it's always okay to enlist wedding pros to help you. You'll still get to see your personal touches throughout your wedding, but not feel like it was an unpleasant uphill battle to get everything you wanted done.
Have fun.
Remember, creating your own wedding decorations should be fun, especially if you're doing it with your partner, family and friends. So if you have a long list of wedding decorations to complete and it's making you overwhelmed, there's no shame in hiring professionals to get the job done. At the end of the day, you're trying to make your dream wedding come to life, so consider if the time and effort are worth it.
Find your kind of venue
From barns to ballrooms, discover reception venues that feel like you.
How to DIY Wedding Decorations
Do you have plenty of DIY wedding decor ideas but don't know how to bring them to fruition? Well, you're in luck because there are an abundance of how-tos on Youtube, Pinterest and Tik Tok to guide you. (Check out The Knot's channels to start getting inspired.) Those platforms come with a major bonus because all you have to do is bookmark or pin your favorite ideas so you can easily come back to them later––no handwritten instructions necessary.
Where to Buy Supplies for Your DIY Wedding Decor Ideas
Once you've figured out your ideas and how to execute them, it's time to go to the store. You can go to various craft stores, like Michaels, or buy your items secondhand if you want to save money and be eco-friendly. But another place you can get the supplies you need is The Knot Shop. The Knot Shop has numerous decorations of varying price points and wedding styles for your prewedding events, wedding ceremony and reception.
DIY Wedding Decor for the Ceremony
Get ready to say "I do" to these picture-perfect crafts. Here are our favorite DIY wedding decor ideas for your ceremony.
Driftwood Ceremony Sign
Need a DIY beach wedding decoration idea for your oceanfront ceremony? Then check out this charming ceremony sign made of driftwood collected from the beach. This idea is best if you're not expecting it to be too windy out––you don't want your sign toppling over during the processional.
Rustic Wood Heart Guest Book
If you like the idea of having wooden accents throughout your wedding, then copy this couple's simple DIY wedding decoration. You can get these wooden hearts from just about any crafts store then all you have to do is add the writing utensils. It's a unique guest book idea that'll last a lifetime.
Alternative Postcard Guest Book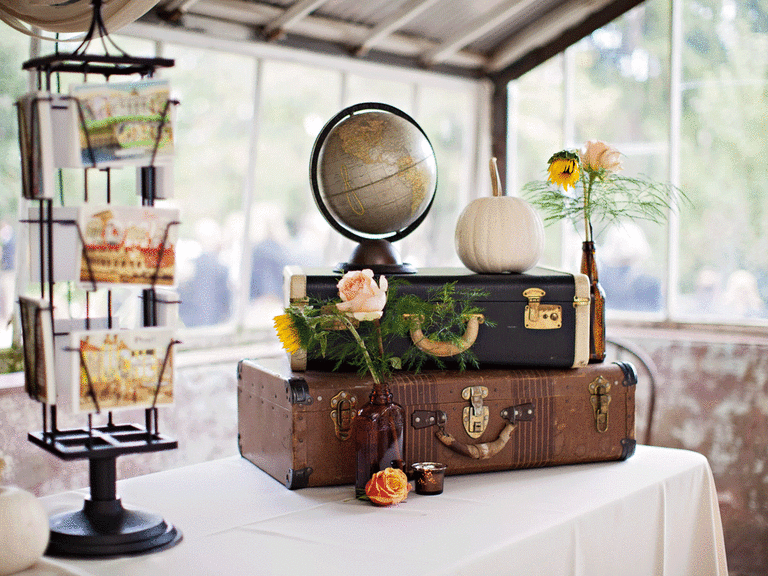 For this travel-inspired wedding DIY decor, the couple designed postcards of all the places they visited together and asked guests to write notes for them on the back. If you and your partner are hodophiles (people who love to travel) too, personalize postcards for your ceremony or buy ones from your local post office.
Cozy Blanket Display for Winter Wedding
This couple wanted their guests to stay warm during the ceremony, so they provided blankets with a cute hand-painted sign that read: "To have and to hold, in case you get cold." This is a perfect DIY outdoor wedding decoration because it's simple to make and something your guests will appreciate.
Hanging Flower Arrangement for Ceremony Chair
We love this bohemian and rustic DIY wedding decor for ceremony chairs. Since this decoration involves fresh flowers, we suggest you wait to assemble these until a few days before the wedding. Personalize this idea with your favorite flowers, waterproof fairy lights or monogrammed mason jars.
Photo of Bride as a Child on Ceremony Chair
Who doesn't love a nostalgic aisle decoration? For this wedding, the bride and groom lined the aisle ceremony chairs with framed photos of them as children. We love to see adorable and affordable DIY wedding decor.
Bohemian Rug Aisle Runners
Your aisle runners don't have to be the conventional white color you've seen at other weddings. Think outside the box as this couple did with their bohemian rug aisle runners. The rugs and the cool wooden frames in the back give this outdoor wedding an intimate homey vibe.
DIY Cocktail Hour Wedding Decor
Now you need to make some conversation pieces for your cocktail area. Check out these beginner to expert-level DIY wedding decor ideas.
Chalkboard Wedding Sign
Ready to put your calligraphy skills to the test? Buy a chalkboard and write down a schedule of all of your fun wedding activities. Your sign can be as simple or as over the top as you want.
Rustic Bar Sign
Rustic yet elegant, this wooden bar sign with beautiful calligraphy was created by the bride's parents. This example proves that enlisting your loved ones to help can lead to great finished products.
Rustic Wood Bar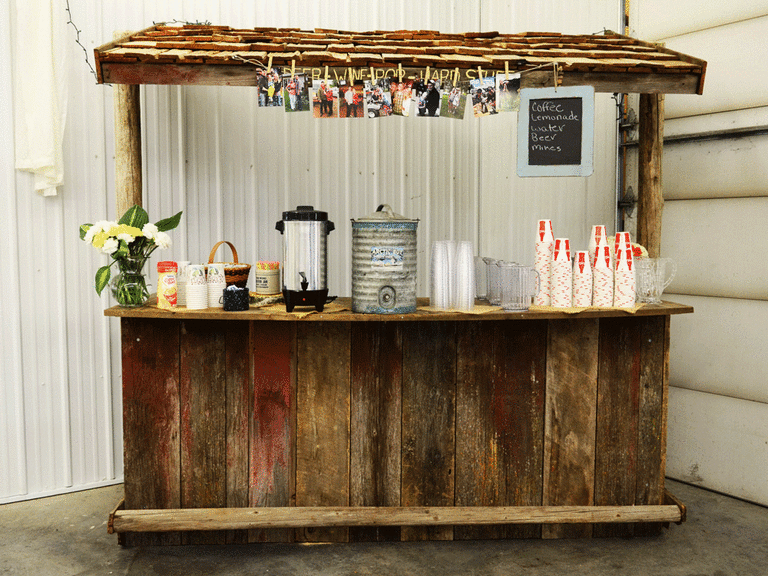 If you have the know-how and the time, make your own bar stand for your wedding. You'll have to start this rustic DIY wedding decoration at least a few months ahead of the wedding and double-check it's sturdy enough to hold all of your beverages.
Country Coffee Bar
Can't live without coffee? Make a java bar for you and your guests to enjoy. This couple added different flavored syrups so guests can get creative with their brews and added custom coffee sleeves with their names on them to each cup.
DIY Wedding Reception Decorations
From nautical to whimsical, we've listed all the wedding theme DIY decorations you need for your reception. Look at the best decoration ideas from real weddings below.
Copper Mug Escort Card Display
To match the couple's navy blue and copper-colored wedding, they got a navy blue pegboard and hung copper mugs from it with guests' escort cards attached. We think this is a simple but innovative way to give your guests functional keepsakes from your wedding.
Escort Cards With Gold Toy Cars
There are no rules against you being punny at your wedding. Take a page out of this couple's book. They had gold spray-painted toy cars with guests' escort cards tied to them and a sign that read, "Find Your Parking Spot Here." Not only is it a cute escort card display, but it doubles as a distraction for the little ones to play with during the reception.
Simple Paper Airplane Escort Cards
Tie in your and your partner's love for travel into your escort cards. These escort paper airplanes are a clever way of showing your guests where you and your partner have visited together, where you both plan on going in the future and your paper airplane folding skills.
Rustic Succulent Wedding Centerpieces
Don't want floral centerpieces? Incorporate your favorite plant instead like this couple did for their wedding. For this easy DIY wedding decor idea, the bride's stepfather put the succulents in old hexagon planters and tin cans.
Greenery Planter Centerpieces
Your reception centerpieces don't always have to be in a vase. Use wooden planters to hold your flower, plant or greenery of choice. This DIY decor wedding idea is perfect for couples planning a natural wedding.
Alternative Suspended Paper Lantern Centerpieces
If you want to add some height to your centerpieces, these suspended paper lanterns are just what you need. You can get this at almost any party supply store, where they come in a whole bunch of vibrant colors and different patterns.
Romantic Gold Wine Bottle Candlesticks
The bride and her wedding party spray-painted more than 150 wine bottles for this DIY wedding decoration. Of course, the size of your wedding determines how many wine bottles you'll have to do if you want to steal this idea.
Nautical Sailboat Place Setting
Be playful with your reception place settings while giving a nod to your venue. The couple replicated a preppy sailboat to connect to their yacht club venue.
Vintage Gold Edison Lightbulbs
The bride was inspired by Pinterest for this vintage DIY wedding decor project. With the help of the couple's co-workers, they made working cables from each Edison lightbulb so they could line the family-style tables.
Fall Fruit and Vegetable Decor
Even though this DIY wedding decor idea features fall fruits and vegetables, you can personalize your display to whatever season you're holding your wedding. Are you having a summer wedding? Have a bowl of cherries, peaches and okra in your decor setup.
Eclectic Embroidered Table Numbers
For the true decor-savvy to-be-weds (with a lot of time on their hands), consider sewing your table numbers by hand. After the wedding, you can keep your artwork or gift it to one of the guests at the table.
Whimsical Moss and Rock Table Numbers
If you really want your guests to feel like they are in the great outdoors, copy this eye-catching wedding decoration DIY. The moss accents the wedding's earth-tone color scheme, and the rock looks natural propped up on the bed of moss.
Yarn Backdrop at Rustic Barn Wedding
Make your wedding stand out with a large colorful yarn backdrop. Guests' eyes will naturally gravitate to the bohemian-inspired decor that'll, without a doubt, brighten up any room.
Boho Lace Dreamcatchers
For this romantic and casual backyard wedding, the bride and groom, with the help of their loved ones, made lace dreamcatchers. The DIY bohemian wedding decoration can be a calming way for you and your loved ones to connect before the big day.
Wood Memory Wall at Outdoor Wedding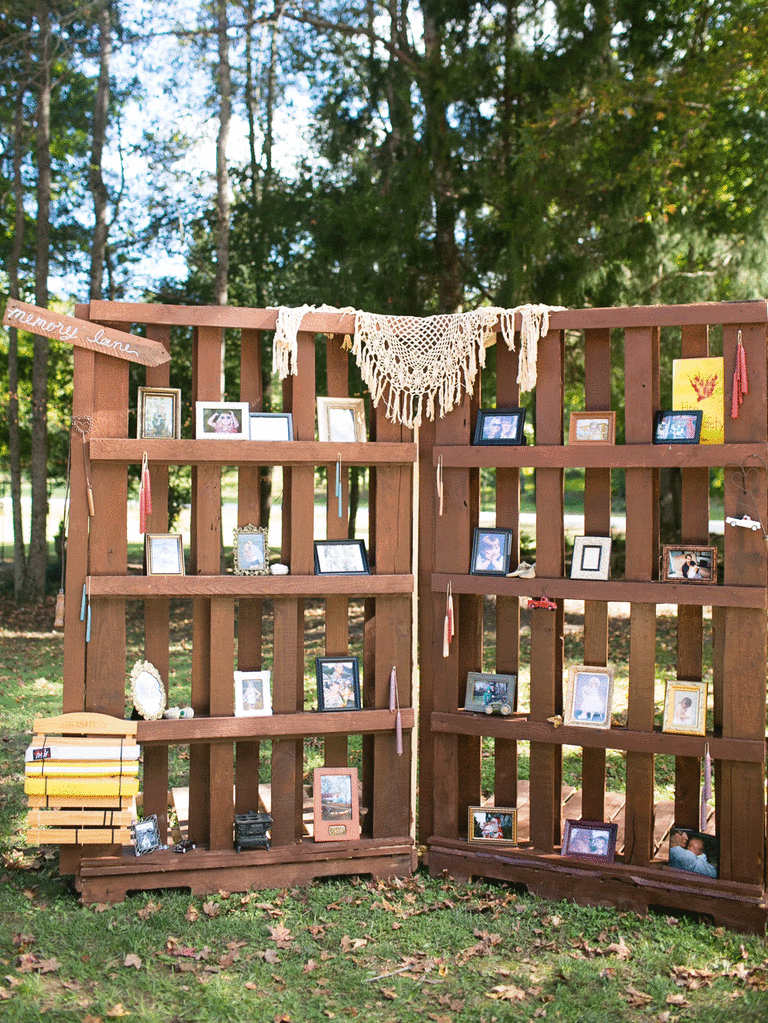 Show your appreciation for your loved ones by building a memory wall full of family photos and heirlooms. A memory wall adds nostalgia and sentimental value to your wedding. For this simple DIY wedding decor project, you'll need to prepare far in advance to collect all of the photos you want and need for the display.
Photo Booth Props
The couple made a photo booth area complete with props and polaroid cameras. The white wooden door has wires attached to it, so guests can hang their photos on the door with clothing pins, which makes this wedding DIY decor almost effortless.
String Light Canopy at Outdoor Wedding Reception
The couple designed and assembled their own tent made of string lights for their backyard wedding. Not only does the decor act as a light source at night, but it also is a beautiful and romantic focal point for the reception.
Whimsical Birdcage Card Holder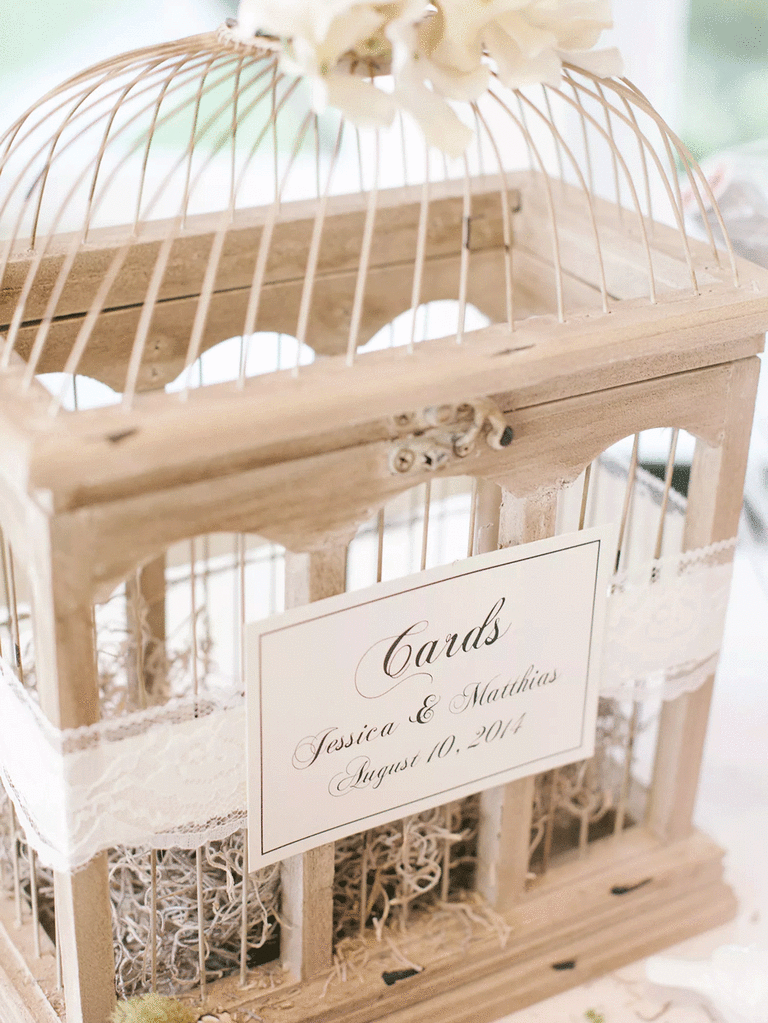 Go the unconventional route with your wedding card box and opt for a birdcage wedding card holder. This idea fits well with vintage or whimsical celebrations. There are numerous styles of birdcages online or in-store with plenty of opportunities for personalization.
Pie Display in Antique Cabinet
Bring a homey feel to your wedding by showing off your homemade pie spread in a cabinet setup. If you try this idea, make sure the cable is stable before placing your dessert assortment on it––you don't want your precious pastries going to waste.
S'mores Kits Wedding Favors
Want your guests to join in on the DIY fun? Create s'mores kits that wedding guests of all ages will enjoy. This idea is best for outdoor weddings where a fire pit can be the gathering place for laughs and chocolate-covered fingers.