Throw a Disney Bachelorette Party With These Magical Ideas
Just don't forget your pixie dust.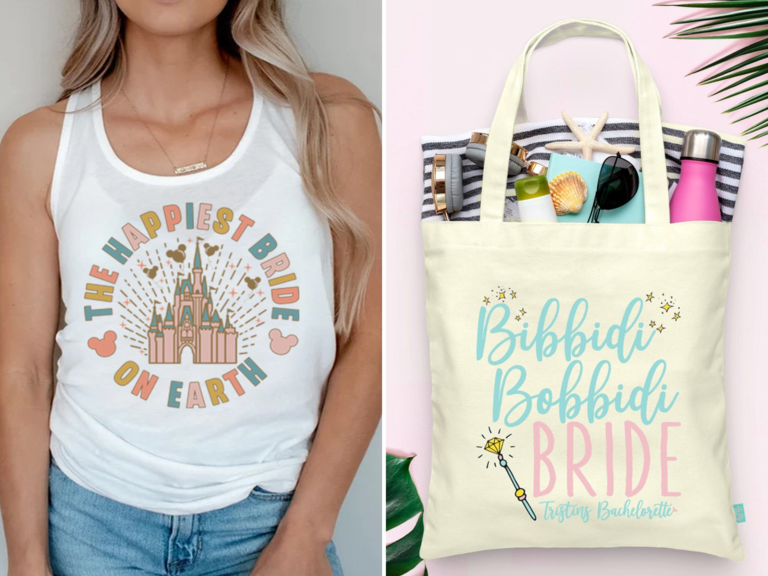 Photo, From Left to Right: Summer In December, ilulily
We have included third party products to help you navigate and enjoy life's biggest moments. Purchases made through links on this page may earn us a commission.
If you're throwing a Disney bachelorette party, you've come to the right place. Whether you're headed to a Disney park with your best friends before your Disney wedding or are planning a Disney-themed bachelorette party at home, there are so many ways you can add magic to your special day.
Whether you're looking to decorate your home with some Disney bachelorette decorations or are looking for t-shirts to wear on your upcoming trip, we have bachelorette party ideas for you.
After you read through our list of the best Disney bachelorette party supplies, don't forget to come up with some Disney bachelorette hashtags (such as #Name'sMagicalBachelorette or #DisneyBride) and Disney bachelorette captions (such as "Ready for happily ever after" and "To infinity and bride-ond") to use when sharing with your friends and family.
Disney Bachelorette Party Products in This Story to Shop Right Now: Decorations | Shirts | Games | Cake Decorations | Welcome Bag Accessories | Additional Supplies
Disney Bachelorette Party Decorations
It wouldn't be a Disney bachelorette party without Disney bachelorette party decorations. From Mickey Mouse glitter confetti to romantic banners, these will add to the aesthetic of your party regardless of where you decide to celebrate.
Magical "Bibbidi Bobbidi Bachelorette" Disney Bachelorette Party Banner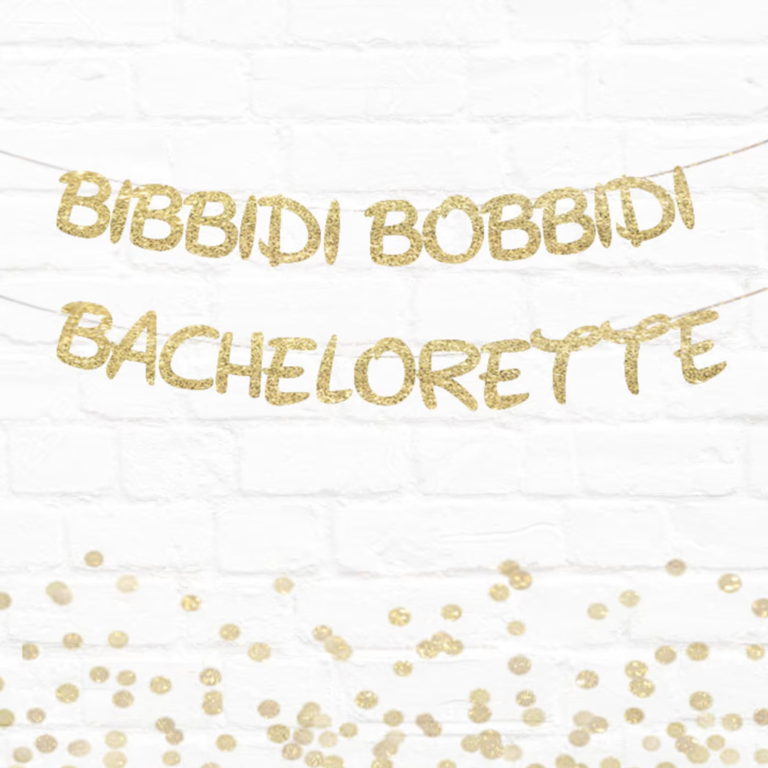 If Cinderella is your favorite film, incorporate this glittery "Bibbidi Bobbidi Bachelorette" sign into your Disney bachelorette party. All you have to do is assemble the letters onto the string once the package arrives at your door and you'll be all set to start taking photos with your girls.
Shimmering Mickey Mouse & Rings Glitter Confetti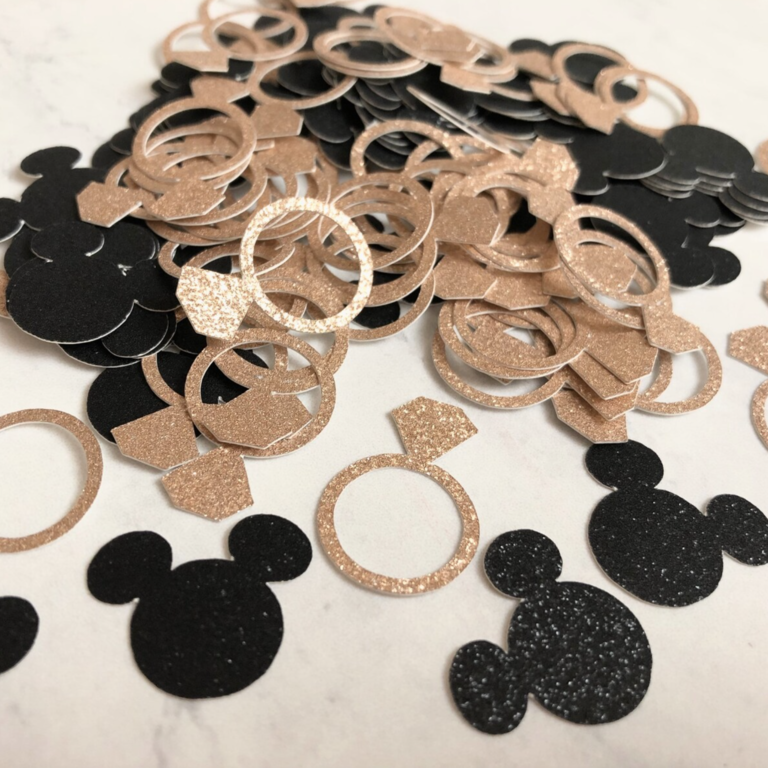 Your bachelorette party venue will glisten with the addition of these black and rose gold Mickey Mouse and rings glitter confetti pieces. You can sprinkle them on the dessert table or place them in your welcome bags to make your day even more shining, shimmering, splendid.
Funny "She Found Her Mickey" Disney Bachelorette Party Banner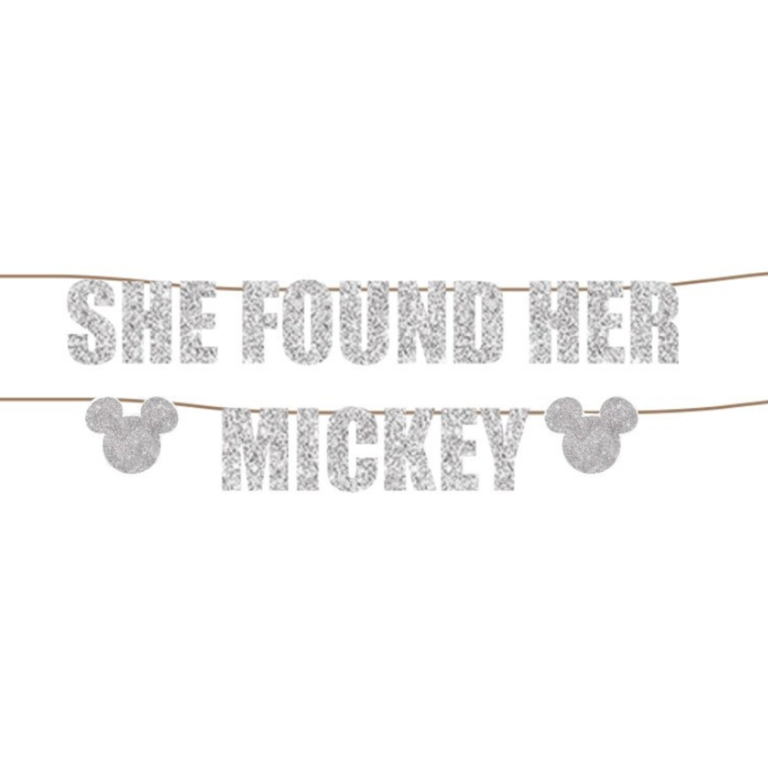 This funny cardstock twine banner with "She Found Her Mickey" will be sure to have everyone laughing. Unlike some other banners, this one is already pre-assembled (and made with your desired color as there are 10 to choose from before checking out) so you can focus your attention on the other items on your bachelorette party planning checklist.
Mickey & Minnie Silhouette Table Number
If you're looking for a creative way to seat people at your Disney-themed bachelorette party, these Mickey and Minnie Mouse silhouette numbers can help. You can personalize the number written on each card as well as their orientation and type of paper before purchasing.
Romantic "Happily Ever After" Banner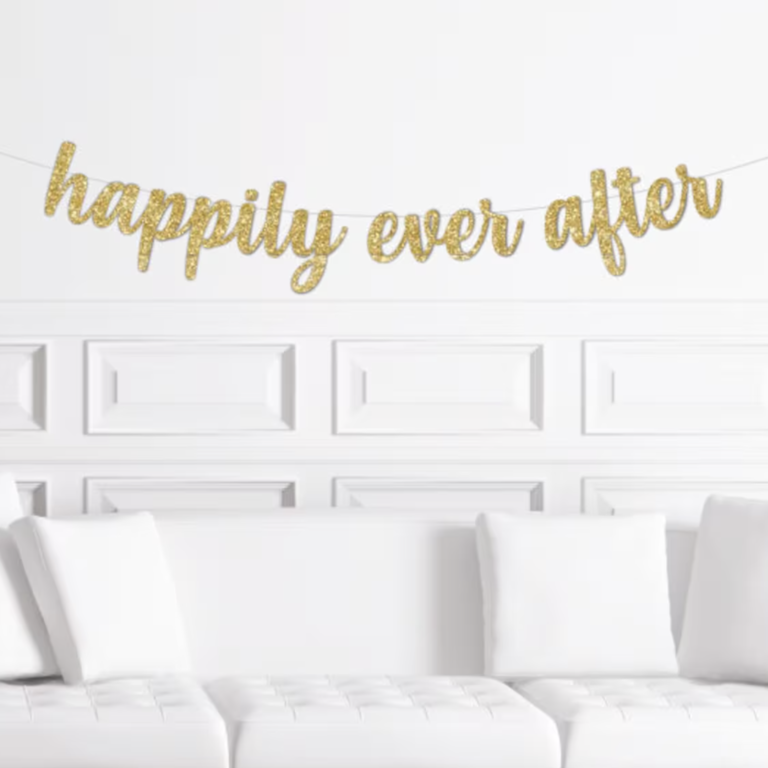 We can't think of a more fitting banner for a Disney bachelorette party than this "Happily Ever After" one. You can select whether you want the banner pre-strung or unstrung when purchasing and select one of the 14 available colors–either way, it'll look great in the background of your photos.
Disney Bachelorette Party Shirts
There are so many cute Disney bachelorette party shirts out there and even more bachelorette sayings that can be created from the multitude of iconic quotes stemming from the characters Disney adds to its collection each year. With that said, here are some of our favorite Disney-inspired bachelorette party shirts for you and your crew.
Cute "The Happiest Bride on Earth" Tank Top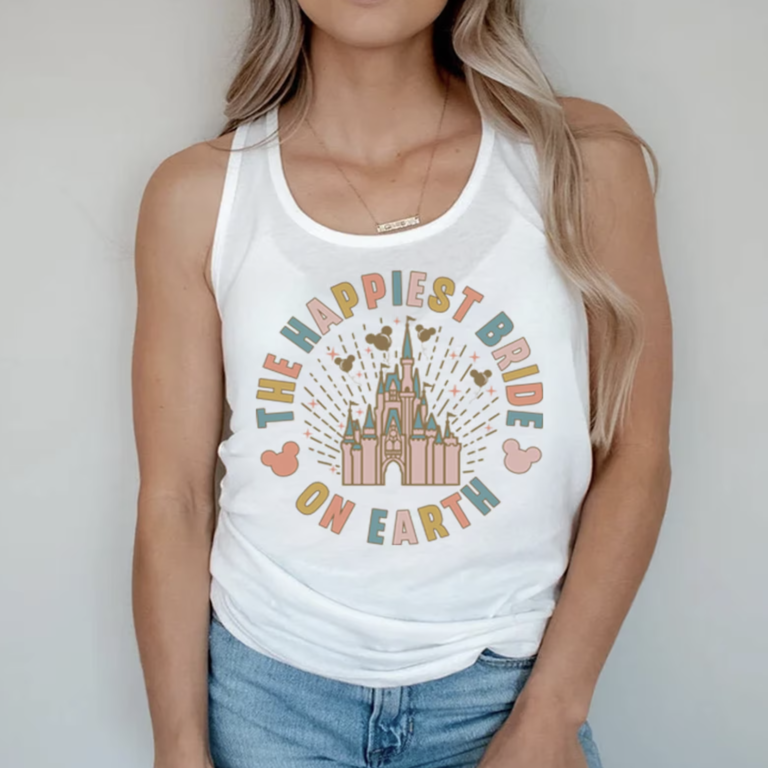 If you're looking for a cute tank top for you to wear at your Disney bachelorette party, consider this one. Whether you're celebrating at one of the Disney theme parks, at home or at a restaurant, this colorful shirt with "The Happiest Bride on Earth" written on it is a surefire piece that'll show everyone you pass by just how happy you're feeling as you prepare to say "I do."
Disneyland-Sign "Bride" and "Bride Squad" T-Shirts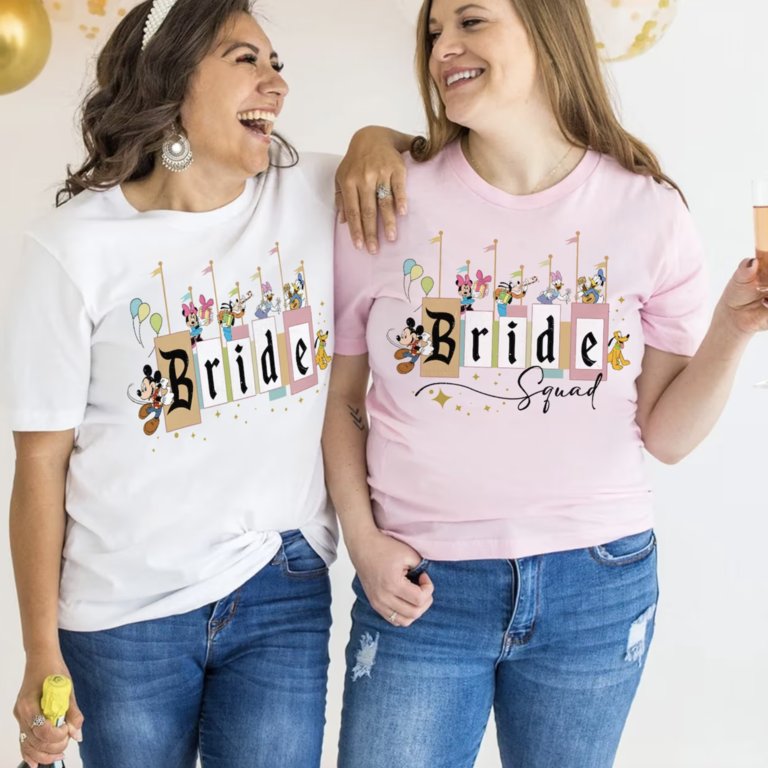 For a classic shirt for you and your squad to wear at your Disney-themed bachelorette party, consider these "Bride" and "Bride Squad" t-shirts with lettering in the style of the classic Disneyland sign. Not only is the text super magical, but this shirt contains images of the "Sensational Six" characters including Mickey Mouse, Minnie Mouse and Pluto to name a few.
Comical Seven Dwarfs T-Shirts
If your goal is to make fellow park-goers laugh while you enjoy your day celebrating, these shirts themed after Snow White's Seven Dwarfs will do just that. With phrases including "The Grumpy One" and "The Sleepy One," you can hand one to each of your guests with the phrase you think best fits their personality–some of them may be surprised by what you select.
Disney Bachelorette Party Games
From printable scavenger hunts to trivia games about the history of Disney and its characters, read on for some of our top bachelorette party games that'll keep you and your girls on your toes.
Rewrite the Fairytale With "Cards Against Your Childhood"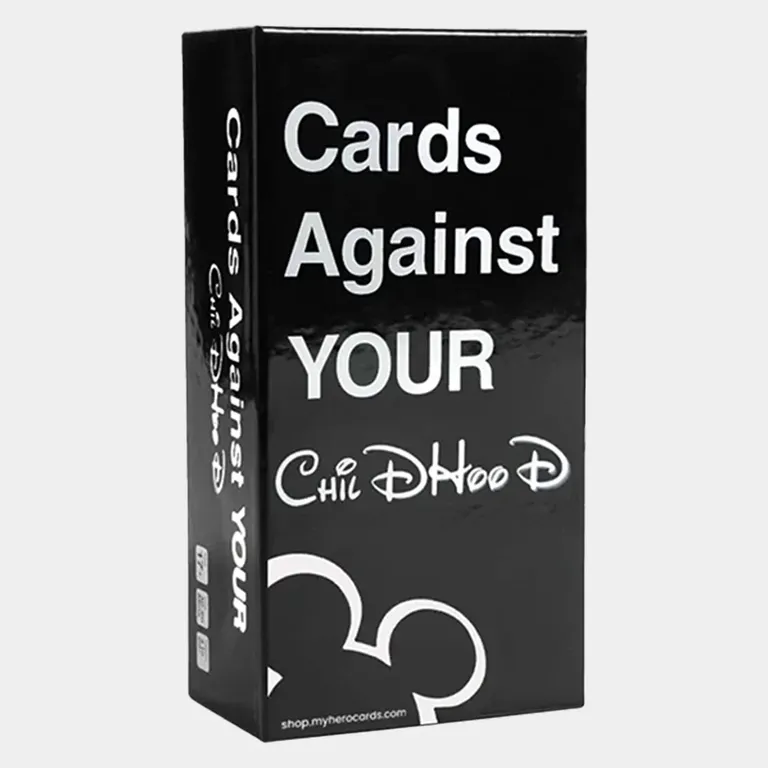 If you love Cards Against Humanity then this Disney-themed version is for you. Did you ever think you could have so much fun changing the narrative around your beloved childhood stories? Well, with this rowdy game, memories will surely be made and reinvented.
Face Off With a Lighthearted Disney-Themed Feud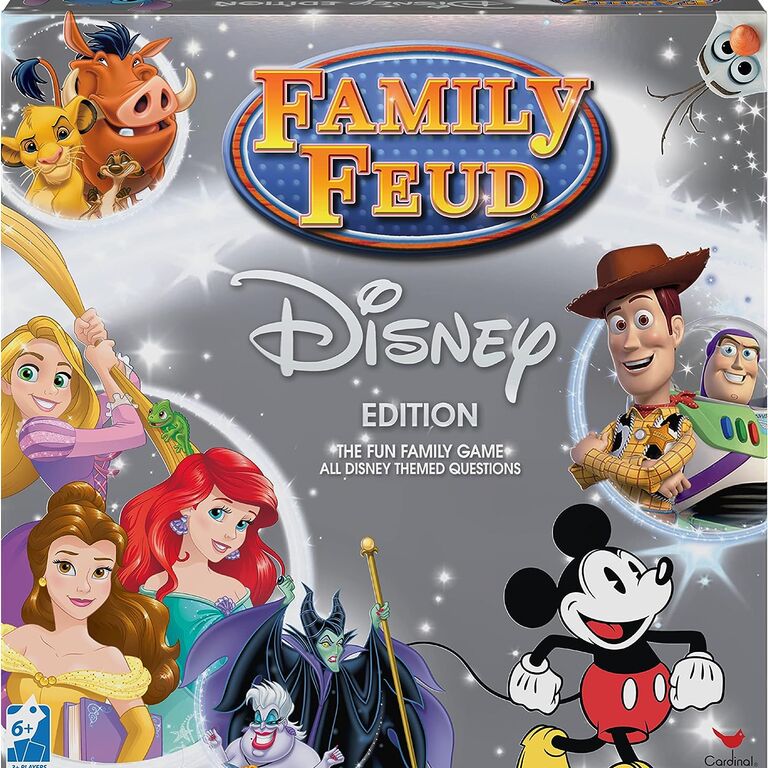 There's nothing wrong with a little bit of competition between wedding party attendants. In fact, with this game, it's encouraged. To up the ante, make a rule where the losing team has to clean up from dinner.
Intriguing "How Well Do You Know the Bride?" Printable Game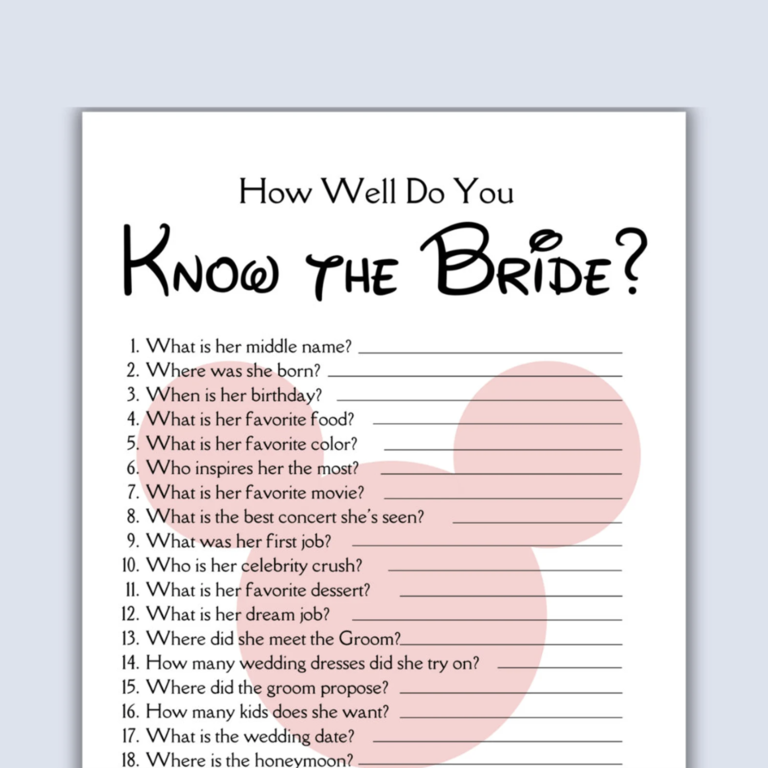 Challenge your guests to a game of "How Well Do You Know the Bride?" to see who knows the bride-to-be best. With questions including "What is her favorite food?" and "What is the best concert she's seen?", your guests will have the opportunity to stir up some friendly competition and do so on a game sheet featuring a printed Mickey Mouse silhouette (which you can instantly download and print at home).
Thought-Provoking The Magical World of Disney Trivia Game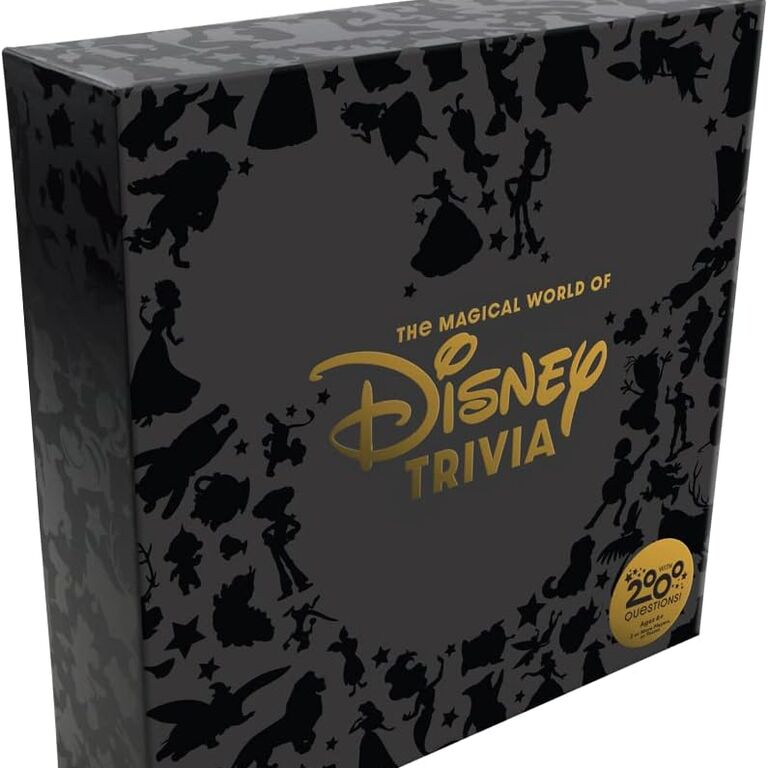 Test your guests' knowledge of Disney with this trivia board game. With questions including "What full-length animated film stars Goofy?" and "In what featurette does Goofy play a ghost?, memory banks will be challenged but all in good fun.
Engaging Epcot Photo Scavenger Hunt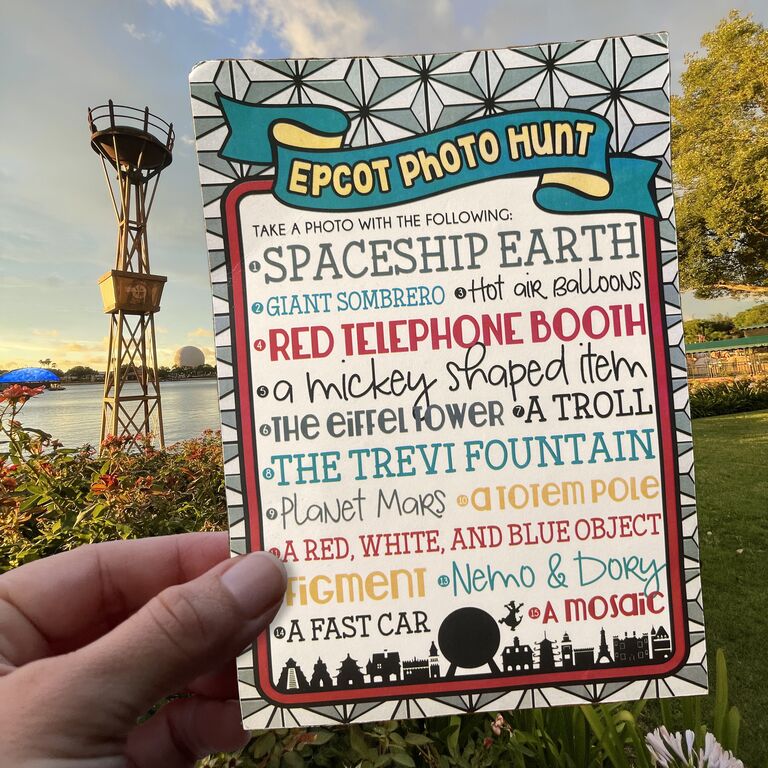 If you're taking your girls to Epcot to celebrate, don't forget to print out these Epcot photo scavenger hunt game sheets. Although this is more of an activity than a game, you can generate some friendly competition by offering a prize at the end to the person who finds every item or finds the most out of the group.
"Happily Ever After" Theme Park Scavenger Hunt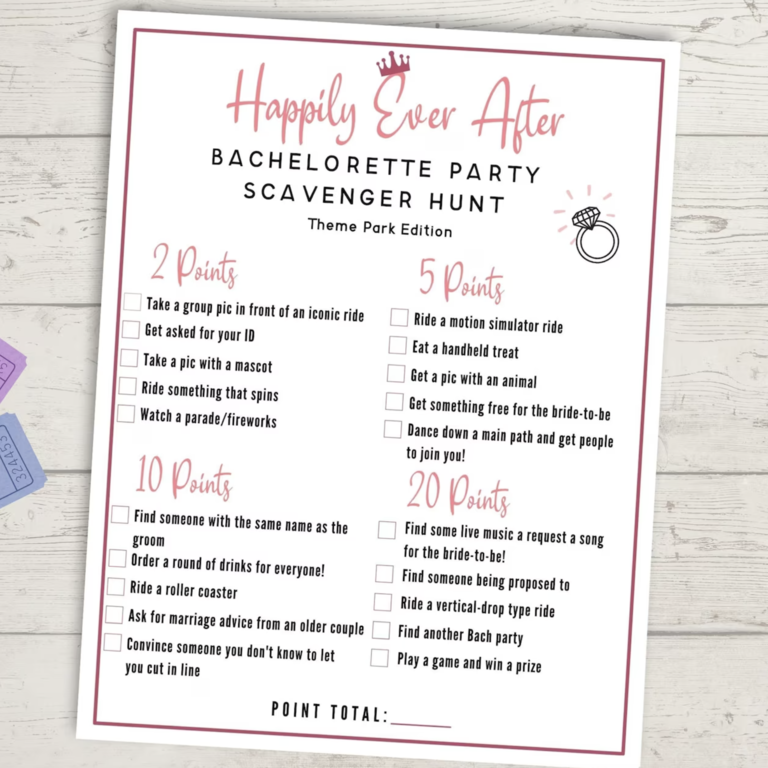 If you and your girls are headed to one of the Disney theme parks for your bachelorette party, don't forget to pack this scavenger hunt sheet. With prompts including "Ride something that spins" and "Eat a handheld treat," it'll be difficult to not have a fun day.
Disney-Themed Bachelorette Party Cake Decorations
Once you have your Disney bachelorette party cake selected, it's time to start thinking about how you'll decorate it. Luckily for you, there are many Disney cake toppers that can add some extra pixie dust to your cake.
Customizable "Miss to Mrs." Disney Bachelorette Party Cake Topper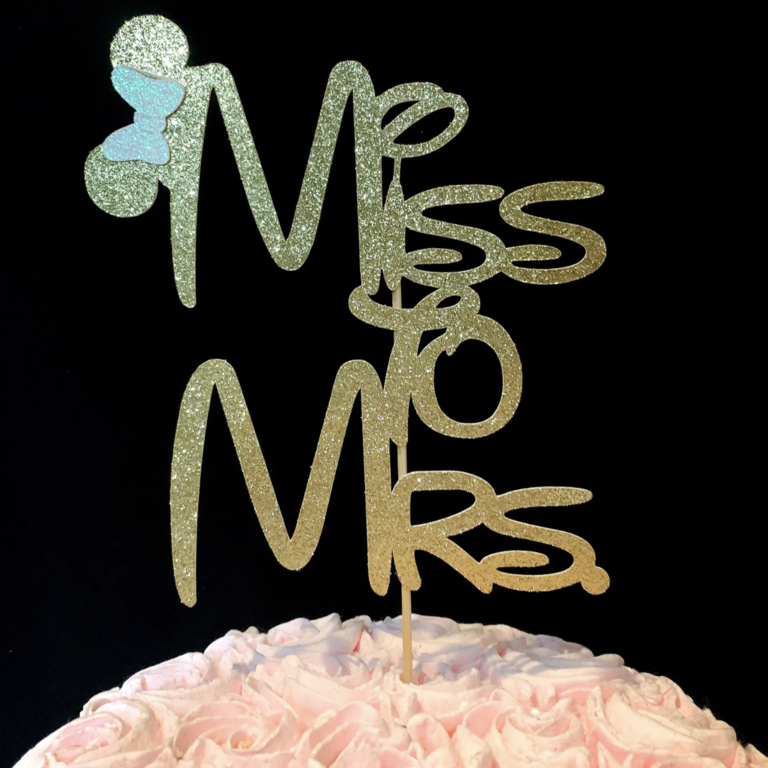 If your guests couldn't tell how excited you are for your next chapter, they will once they catch a glimpse of this "Miss to Mrs.'' cake topper. Not only are those three words written using the iconic and easily recognizable Disney-style font almost everyone loves, but this cardstock cake topper features a Minnie Mouse-style bow (which along with the text can be printed in more than 15 colors).
Sparkly "Soon to Say I Do" Disney Bachelorette Party Cake Topper
For a simple yet sweet Disney-themed bachelorette party cake topper, this one containing a small Mickey Mouse icon piece is a solid choice. Plus, there are more than 10 colors you can choose from (for both the text and Mickey Mouse icon) to match your bachelorette party color palette.
Disney-Themed Bachelorette Party Welcome Bag Accessories
Although not required, welcome bags are a thoughtful gesture to show your guests how much you appreciate them being there with you to celebrate your next chapter. From sleep masks to nail polish, here are some Disney bachelorette party favors that'll fit perfectly inside your welcome bags.
Disney Water Bottle to Stay Hydrated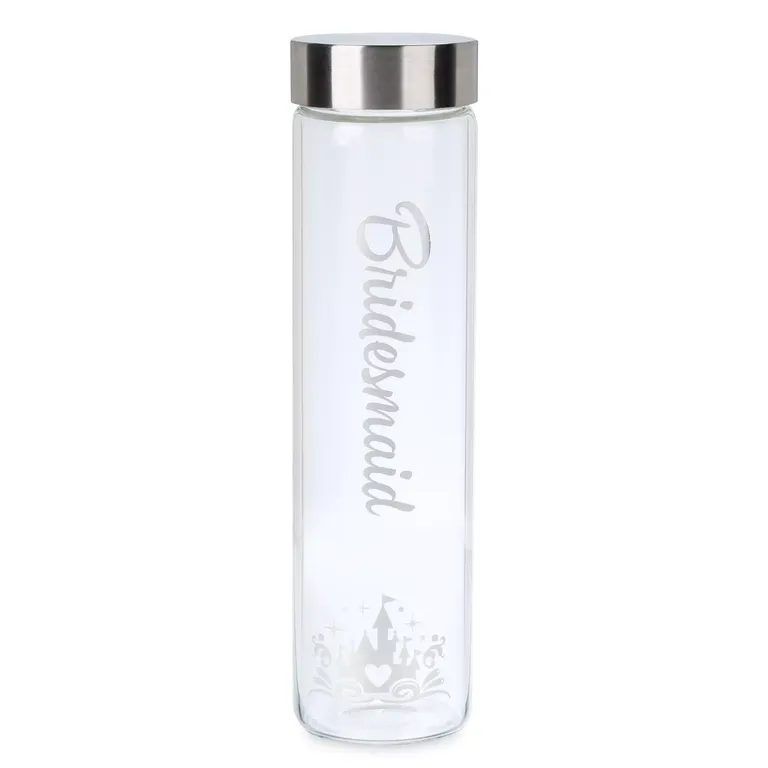 Staying hydrated is key to a memorable bachelorette party, especially if you'll be running around a theme park or doing some drinking. Gift each bridesmaid a custom Disney-themed water bottle that they can use during the weekend and keep as a useful favor.
Get Cozy With Disney-Themed Pajamas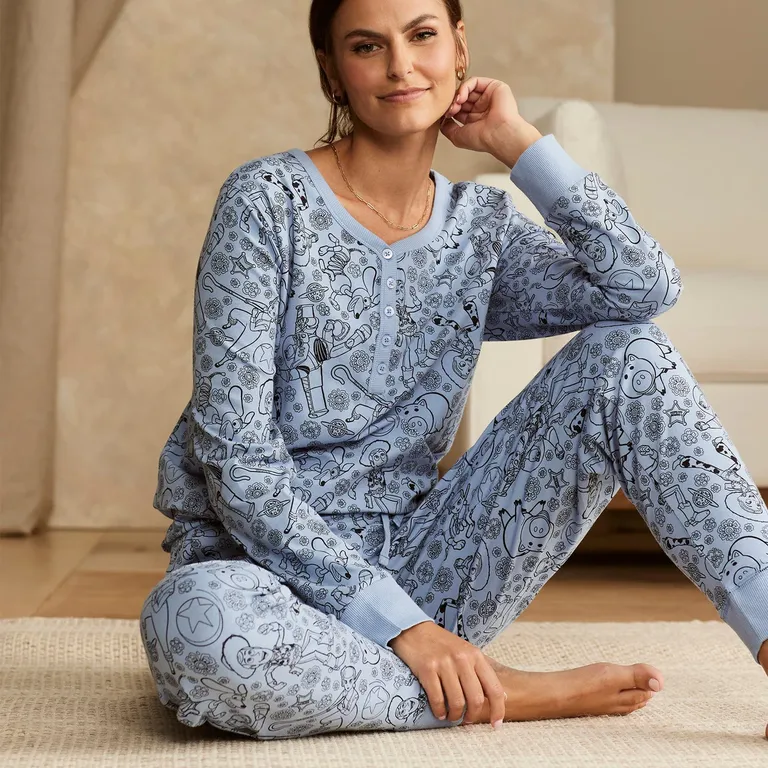 If your vision of the perfect bachelorette party includes staying in, watching Disney classics and chatting with your pals, then these adorable PJ sets are a must. Made from a cotton-jersey blend, sweet dreams of a knight in shining armor are sure to be had.
"Bibbidi Bobbidi Bride" Canvas Tote Bags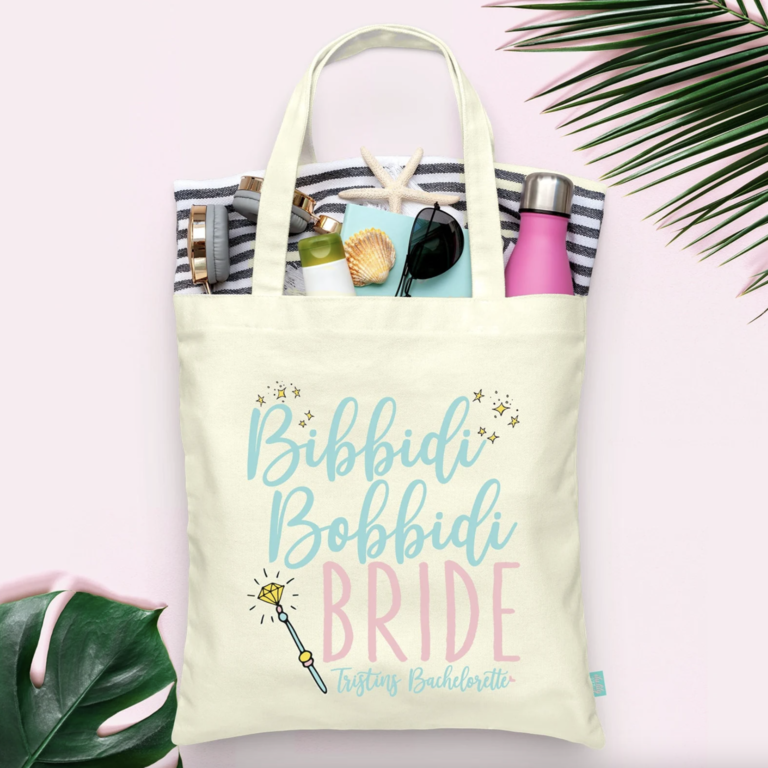 If you're looking for some magical canvas tote bags to serve as the welcome bags for your bachelorette party, consider these natural cotton ones with "Bibbidi Bobbidi Bride" written across the front. What's great about these bags is that you can customize their wording, details and colors to include the to-be-wed's name or favorite color by simply leaving a note for the shop. Adding a tassel is up to you, but the option is available for an extra magical touch.
Disney Princess Satin Sleep Mask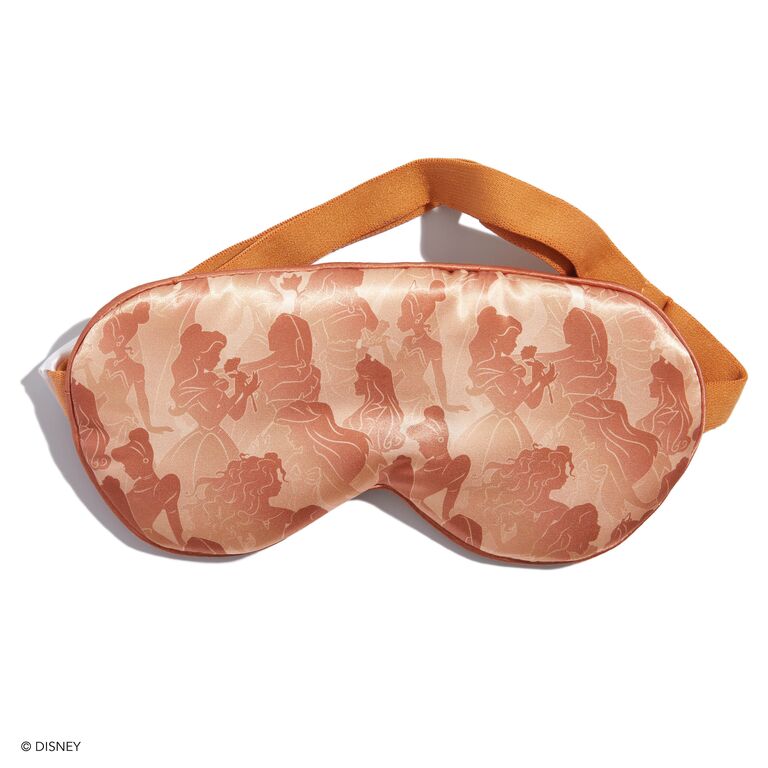 Since your girls are going to need to catch the highest quality zzzs after you're done celebrating, it is hard to go wrong gifting them this satin Disney Princess eye mask from Kitsch. Since it features many Disney princesses from Cinderella to Princess Tiana, it's unlikely they won't find their favorite when taking their first look at the design.
Adorable Mickey and Minnie Mouse Cosmetics Pouch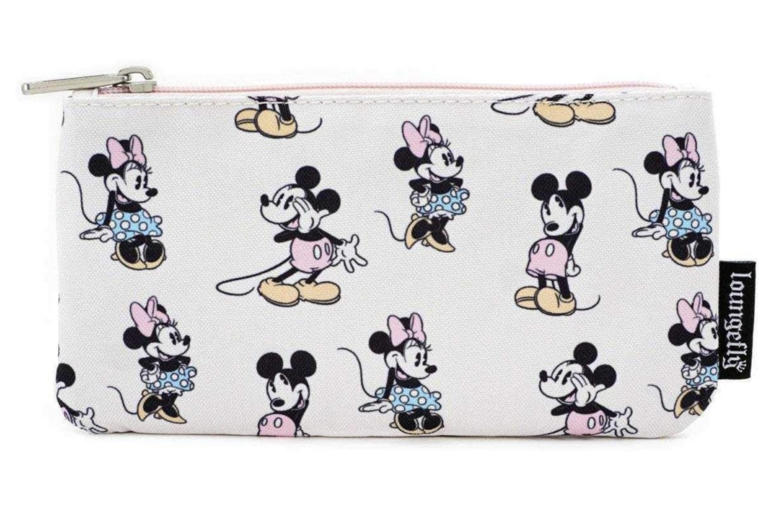 When it comes to Disney bachelorette party favors, your girls will appreciate this Mickey and Minnie cosmetic bag from Loungefly. Its all-over print is simple yet stylish and it is equipped with enough room to hold a couple of lipsticks and other favorite makeup items.
Disney Character-Themed Mini Nail Polish Bottles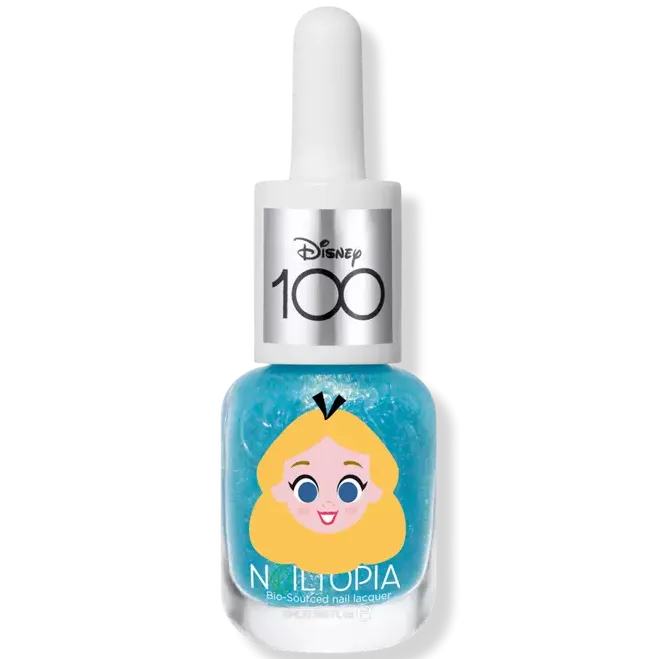 Treat your guests to a bachelorette party favor of miniature nail polish in a bottle decorated with their favorite Disney character. Although all of the colors are beautiful, we especially like the blue-green color which is housed in a bottle with Olaf on the front.
Beautiful Stainless Steel Beauty and the Beast Canteen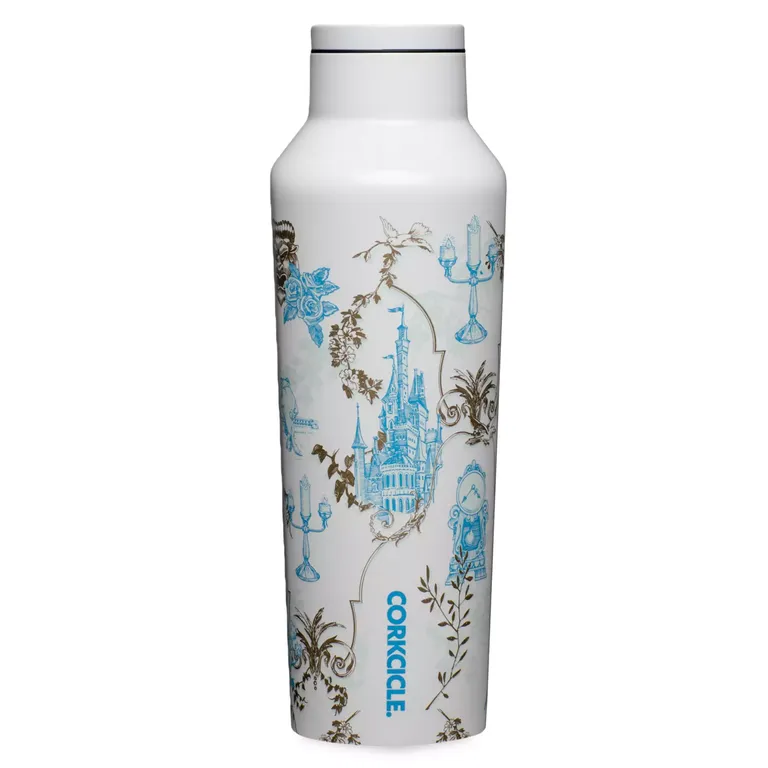 This Beauty and the Beast-inspired canteen from Corkcicle will make a great addition to the welcome bags of a Disney Princess bachelorette party. This water bottle features several beloved characters from the film including Belle, Lumiere and Cogsworth that will have your guests smiling while they hydrate during your party and beyond.
Minnie Mouse Outline Earrings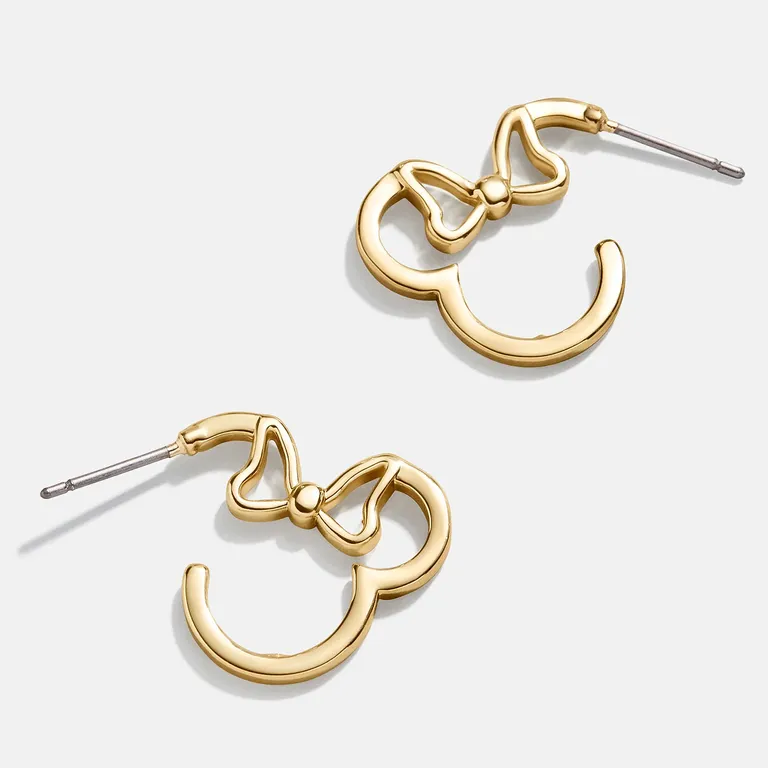 Stuff a pair of these Minnie Mouse outline earrings into each of your guest's welcome bags. Not only will these gold-plated brass earrings look adorable during your celebration, but they're minimalist enough that they can be worn with nearly any outfit for a special hint of magic.
Additional Disney-Themed Bachelorette Party Supplies
Making sure you have the supplies necessary to successfully execute a Disney-themed bachelorette party is important. Here are some more to ensure your celebration is a smooth one.
Mouse-Inspired Bride and Bridesmaid Sashes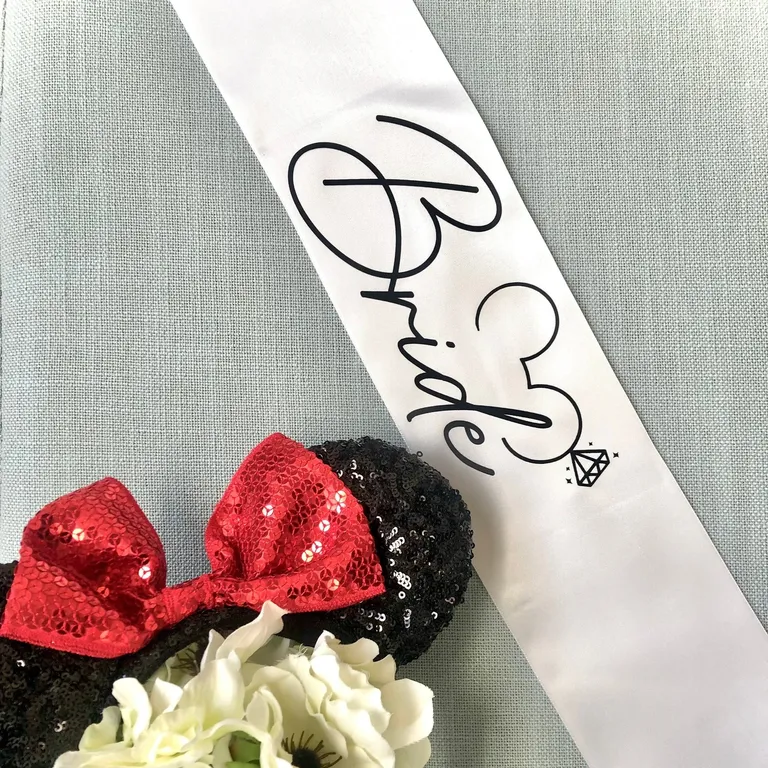 If you're looking for some sashes for your bachelorette party with a subtle hint of magic, these mouse-inspired bride and bridesmaid sashes may be what you're looking for. The best part is that they can be purchased individually or in a bundle and can be customized depending on if they are for the bride, the bridesmaids, the maid of honor or the mother of the bride.
Festive "She Found Her Happily Ever After" Disney Bachelorette Party Invitation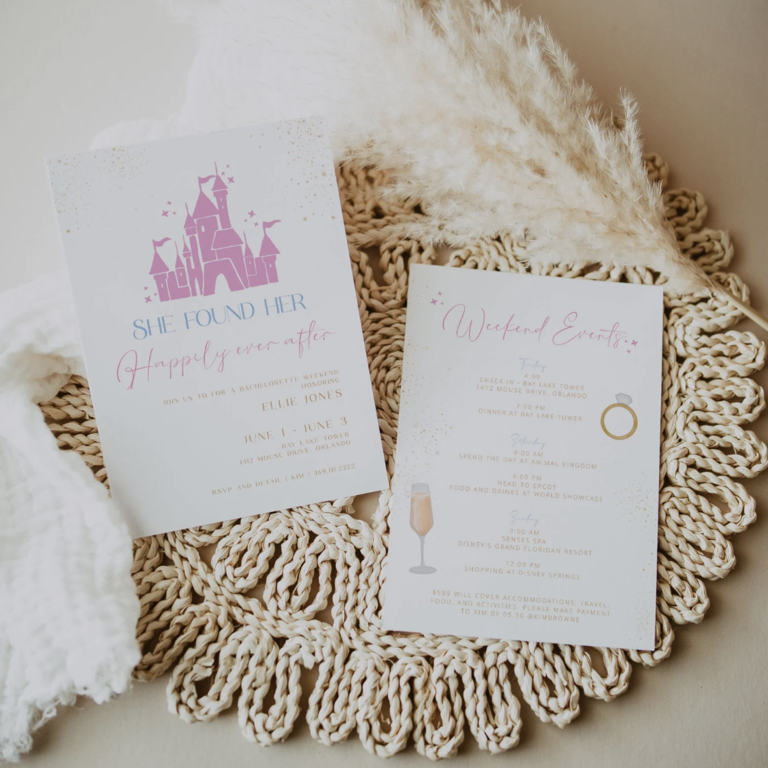 Invite your guests to celebrate your next chapter with this instantly downloadable "She Found Her Happily Ever After" invitation. This is an especially fitting invitation if you plan on having a destination bachelorette party at Walt Disney World, Disneyland or another Disney park across the globe as it is equipped with an itinerary section that can be easily edited before printing.
Personalized Navy and Gold Koozie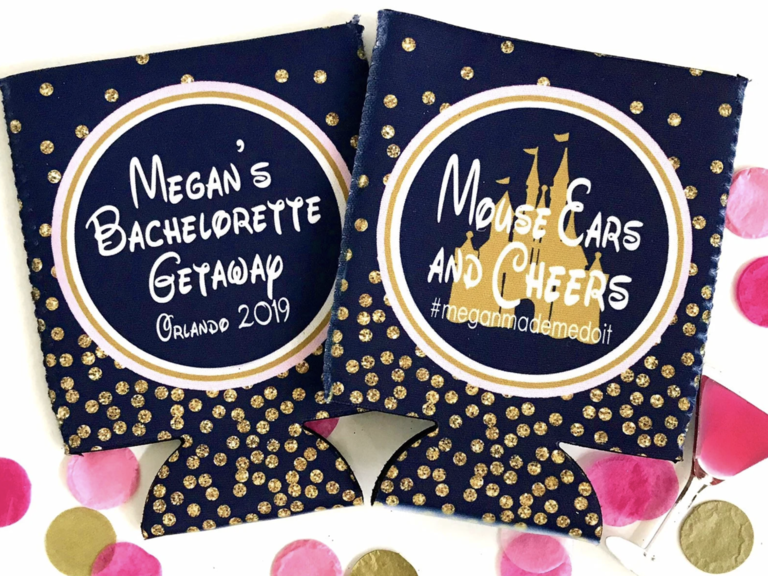 If you're headed to Orlando for a Disney bachelorette party at Walt Disney World, these navy and gold polka dot neoprene Disney koozies will keep your drinks protected from the harsh rays of the Florida sun. Whether you want your koozies to have some special Disney bachelorette hashtags unique to your party or your name and the year engraved on them, you can make a request before checking out–just don't forget to select your desired font.
Disposable Minnie Mouse Bachelorette Party Weekend Napkins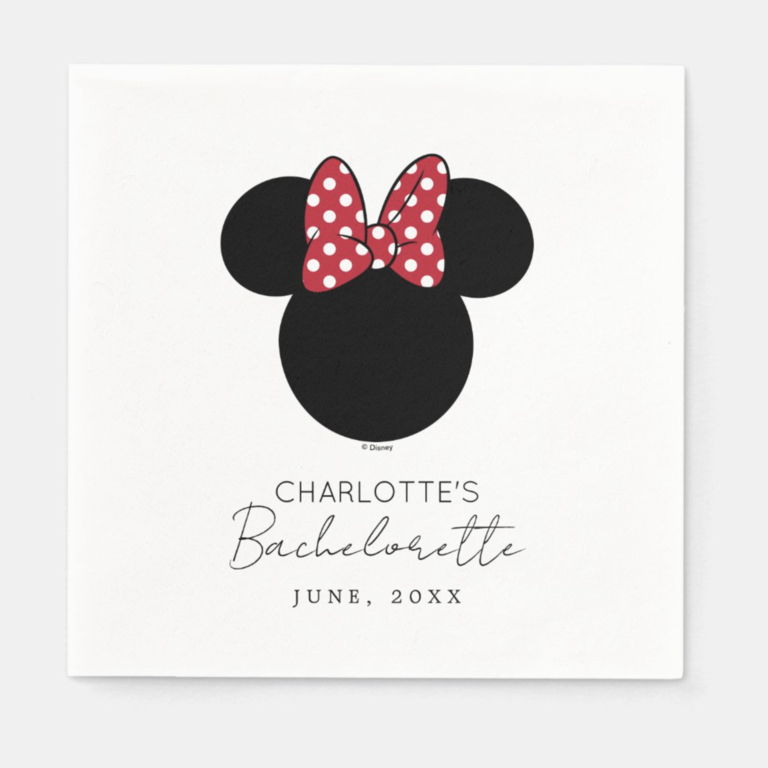 If you're looking for themed napkins for your Disney bachelorette party, this pack of 50 is a great choice. In addition to customizing the event name, guest of honor name and date written on each napkin, you can select which size and type of napkin you'd prefer with options including standard cocktail, coined cocktail, standard luncheon, coined luncheon, standard dinner and guest towel.
Fun Yet Functional Mickey Mouse Ice Cube Tray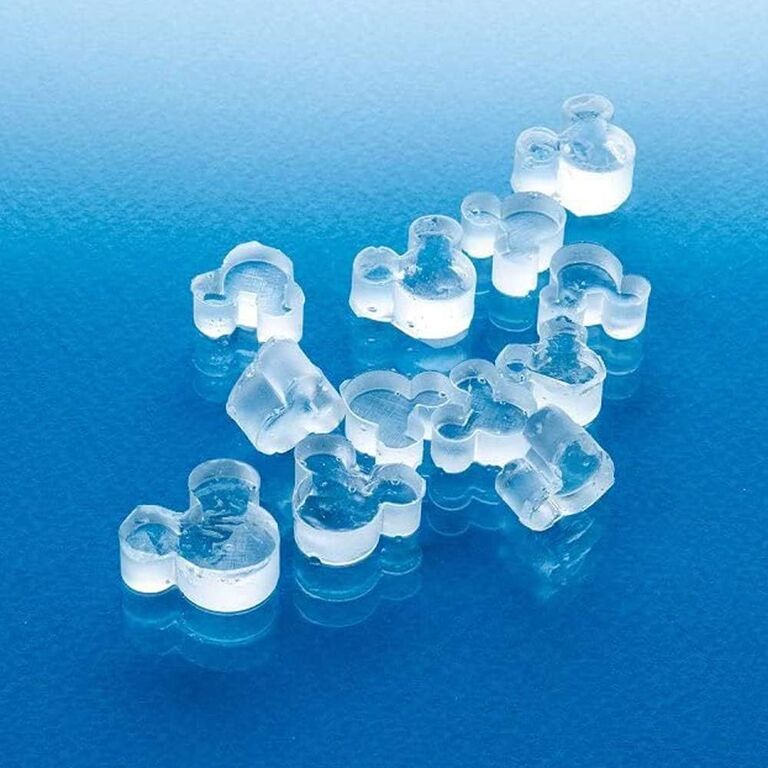 Something as seemingly small as Mickey Mouse ice cubes can go a long way in adding to the theming of your Disney bachelorette party and this ice cube tray can help. All you'll need to do is fill it with some water before your party, place it in the freezer and you'll have adorable ice cubes ready in no time.
Adorable Minnie Mouse Bride Ear Hat
No ordinary Minnie Mouse ears will do for the bride-to-be. Deck out the guest of honor with this adorable hat with a veil attached. Minnie Mouse would surely approve of the look.
Hannah Nowack contributed to the reporting of this story.