Everything You Need for an Elegant Harry Potter-Themed Wedding Shower
Here's how to pull off a classy wedding shower to charm any Harry Potter fan.
We have included third party products to help you navigate and enjoy life's biggest moments. Purchases made through links on this page may earn us a commission.
When celebrating a bookish bride or a couple who share a love for all things Hogwarts, you can really have fun with a Harry Potter-themed bridal shower. It's the perfect opportunity to honor the couple's interest while still having an elegant daytime event. Whether you want an enchanted high tea, a brunch worthy of the Great Hall or a more casual get-together reminiscent of the Hog's Head, we've compiled the best Harry Potter party ideas fit for an afternoon spent with friends and family. From keepsake-worthy decor to party games and themed wedding shower favors, these finds are sure to charm and delight. With this guide, you're well on your way to curating a memorable and magical Harry Potter-inspired event for the soon-to-be newlyweds and their guests.
LLD Gifts By Lauren Lash Satin Harry Potter Bridal Shower Sash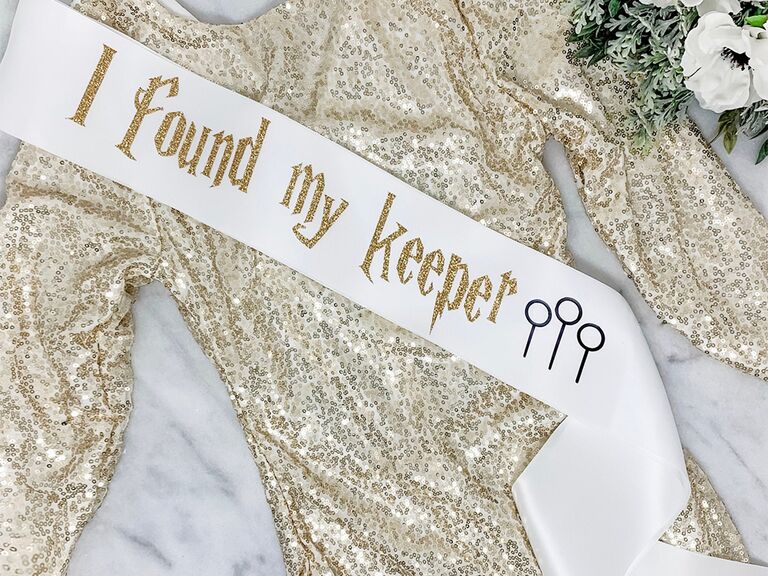 Give the guest of honor this punny, Quidditch-themed sash to wear during the shower (and at the bachelor or bachelorette party too, if they like). With a number of sash color options, you can opt for classic white or ivory or pick the color of their Hogwarts house. There are four different phrases to choose from, so you can also mix and match for a couples' shower. Options include coordinating "I found my keeper" and "I'm a keeper" sashes, as well as "I'm a catch." Phrases can also be customized.
Nerd Tea Creations Wizard House Candy Heart Enamel Pin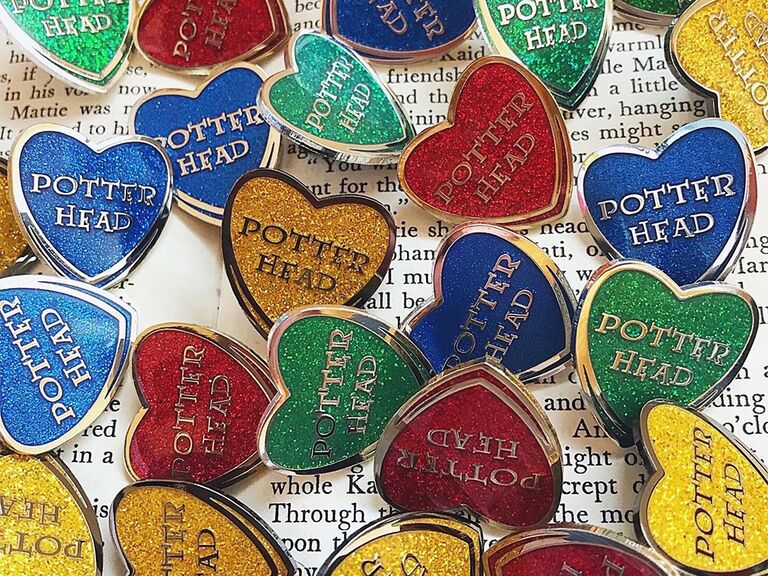 As each guest arrives, have them show their Hogwarts house pride with one of these adorable pins. (There's red for Gryffindor, yellow for Hufflepuff, blue for Ravenclaw and green for Slytherin.) You can even put the pins in a wizard's hat and have guests pick without looking for a Muggle version of the Sorting Hat.
Mila Sprinkles Love Harry Potter Inspired Table Confetti Sprinkles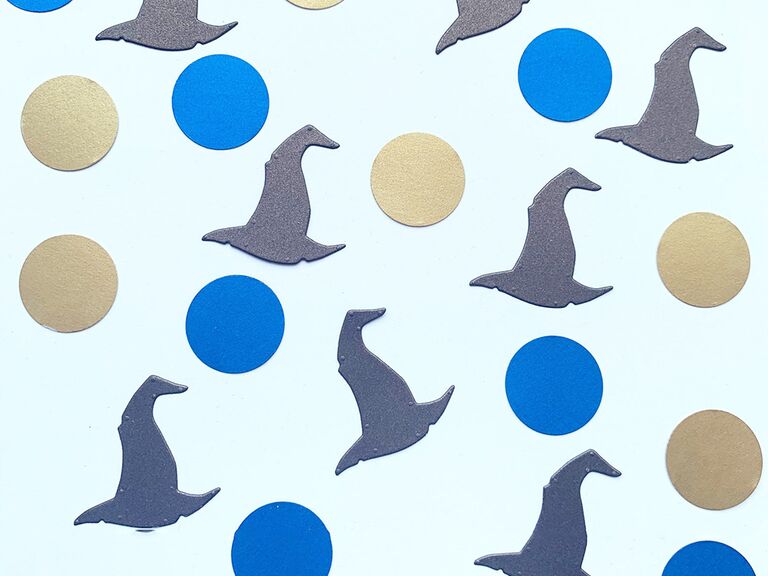 This confetti consists of Sorting Hat shapes and round cutouts in your choice of house colors. Sprinkle it all over your tables for easy, on-theme decorations throughout the shower venue.
Wedding Feather Gold Guest Book Feather Pen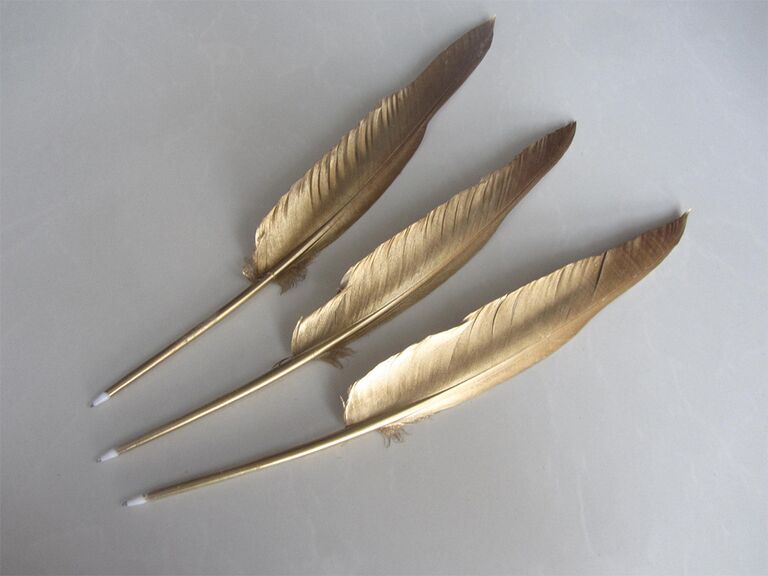 Extra details, like this bewitching, quill-inspired pen, will delight attendees. Leave it by the guest book signing station for an added special touch.
Khaye's Kreations Wizarding World Theme Dessert Bar Banner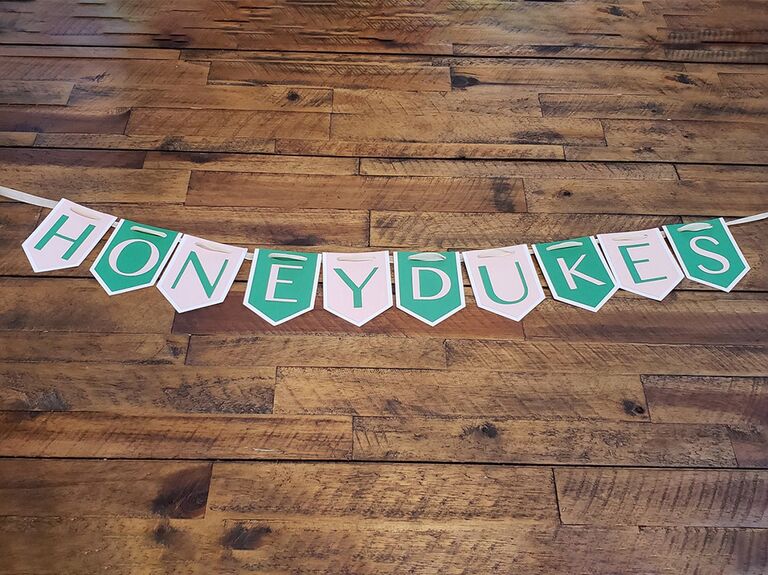 Set up a dessert or candy bar inspired by the Wizarding World's sweet shop, Honeydukes, and hang this banner above the sweet spread.
Sarins Expelliarmus Chocolate Frog and Bertie Bott's Every Flavor Beans Boxes Digital Download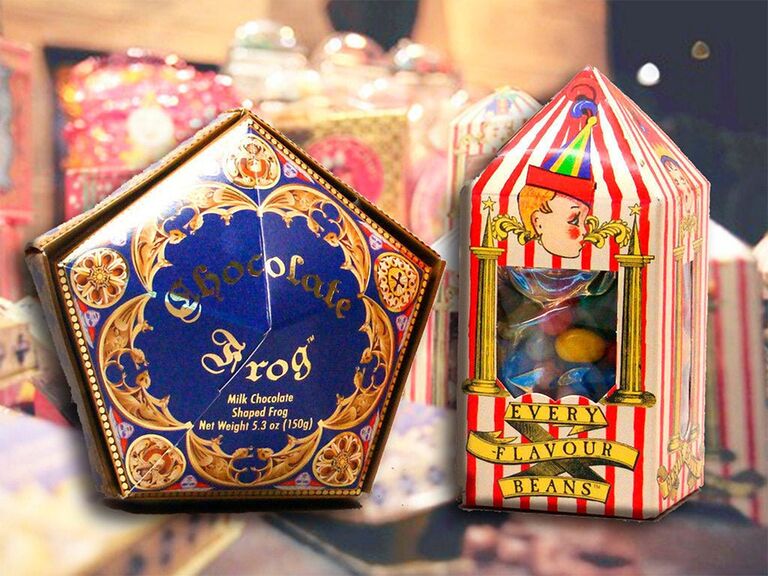 Make muggle candy magical by putting it in boxes based on the iconic Chocolate Frogs and Bertie Bott's Every Flavor Beans from the Harry Potter books and movies.
Ashland Basic Elements White Floating Candles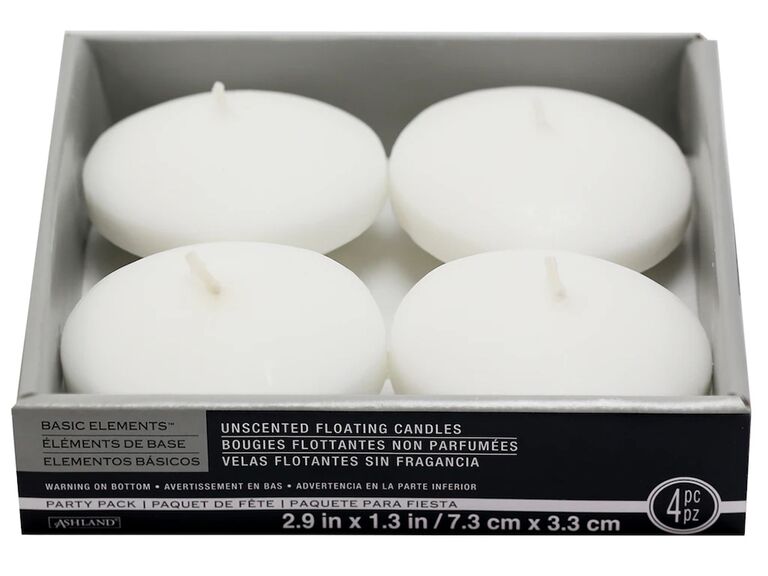 Not all decor has to be Harry Potter-themed to add enchanting elements to the party. Simple white floating candles add a lovely, ethereal glow to your gathering almost as good as the floating lights in the Great Hall. The more candles you light, the more dramatic the effect. (Pro tip: Keep these in mind for wedding ideas, too.)
JCPenney Cauldron Candy Decorative Bowl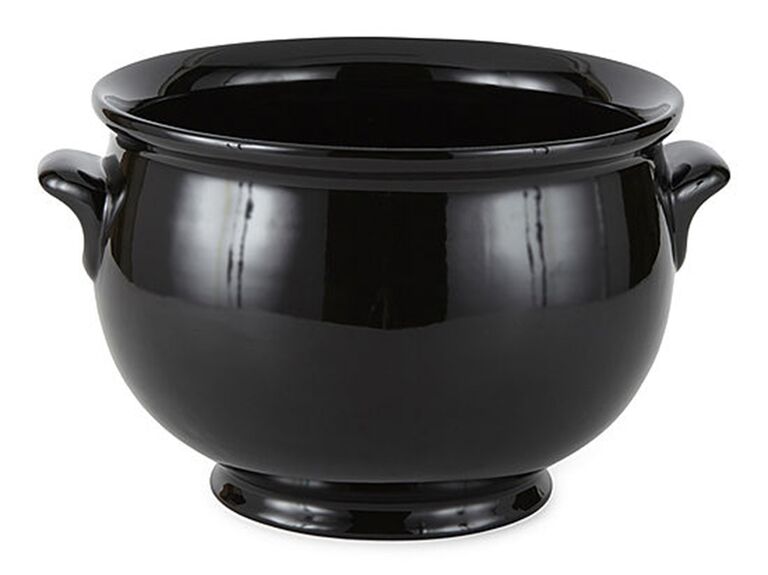 There are so many ways to use these food-safe decorative cauldrons at the shower. A few ideas? Stock with individually wrapped candies and provide goodie bags for guests, fill with punch and let guests ladle their own libations, or use floating candles and water for spooky table centerpieces.
Mila Sprinkles Love Harry Potter Inspired Snitch Wings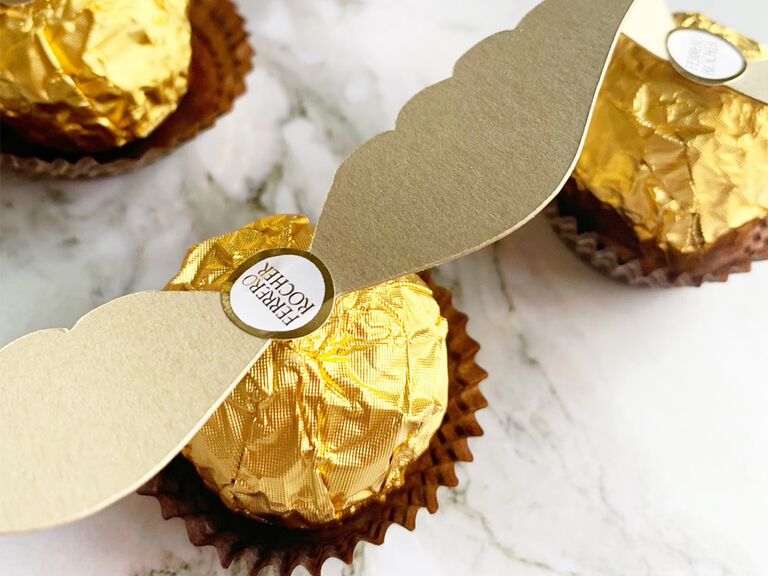 Make edible Golden Snitch favors (or set them out as party bites during the festivities) with these Harry Potter-inspired wings. The set of 10 wings includes foam adhesives so you can easily attach them to Ferrero Rocher chocolates. For an even sweeter treat, use the Ferrero Rocher chocolate Golden Snitches as cupcake toppers.
Blissfully Chic Co. The Unbreakable Vow Banner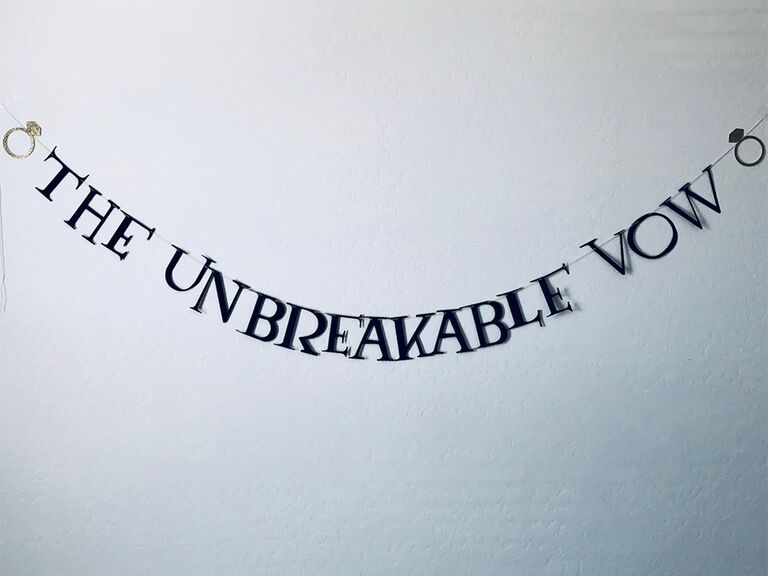 With a sparkly engagement ring cutout on either side of this banner, the Unbreakable Vow from the Harry Potter series becomes a fitting reference to the upcoming wedding day. Use it to decorate a table, wall or as a backdrop for a photo booth.
Harry Potter Mischief Managed Map Footprints Dry Erase Board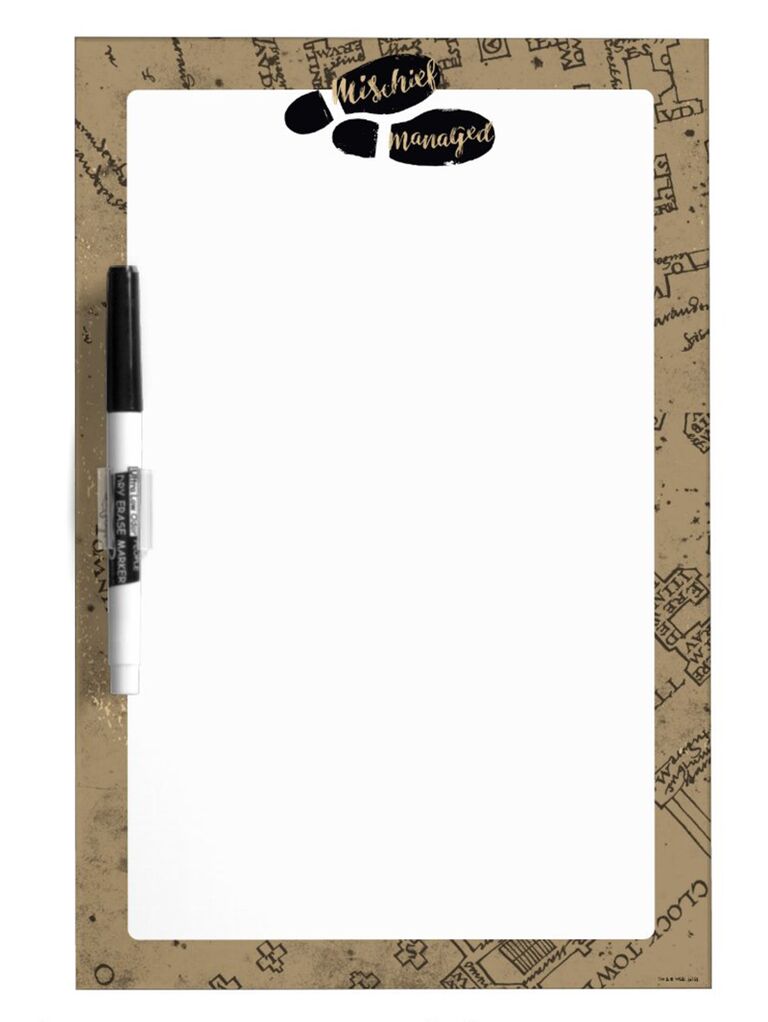 Throughout the day, keep track of bridal shower game winners according to their Hogwarts house using this Marauder's Map-inspired dry erase board. At the end, whichever house has the most points wins the House Cup. Set aside a special prize for the winning house—maybe first pick of the Bertie Bott's party favors?
Lucky Duck Gifts Three Broomsticks Harry Potter Foil Print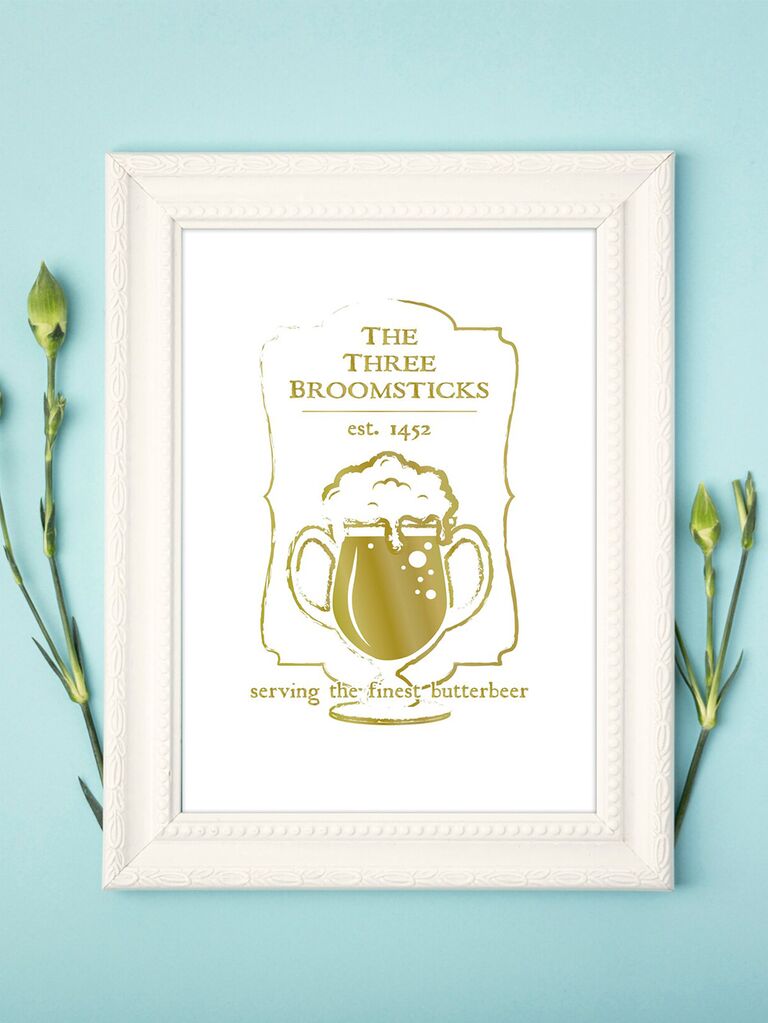 Mark the drink station with a minimalist foil print that evokes the beloved pub from the book and movies. Afterward, gift it to the couple as a keepsake for their newlywed kitchen.
Storyland Candle Company Butterbeer Harry Potter Inspired Candle Gifts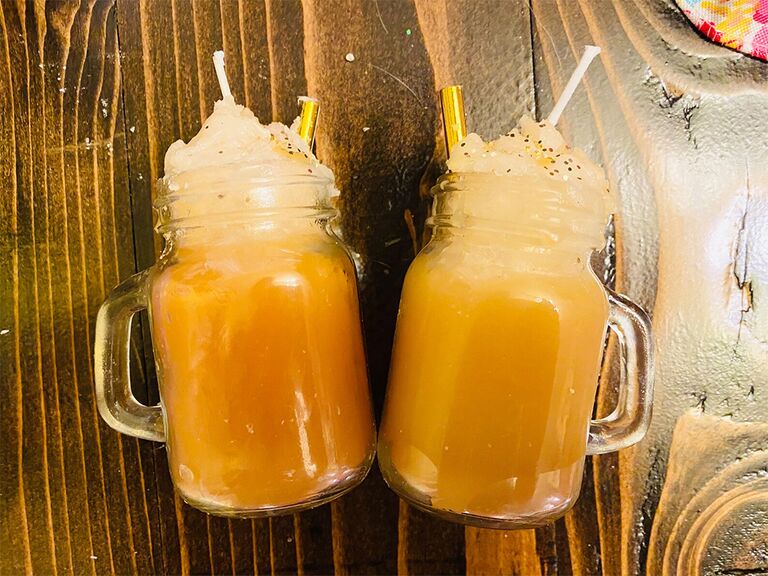 These sweet-smelling candles are made to look like a foamy pint of Butterbeer from Hogsmeade's Three Broomsticks pub. We love them for bridal shower party favors or prizes.
HM Creation City Harry Potter Bridal Shower Photo Props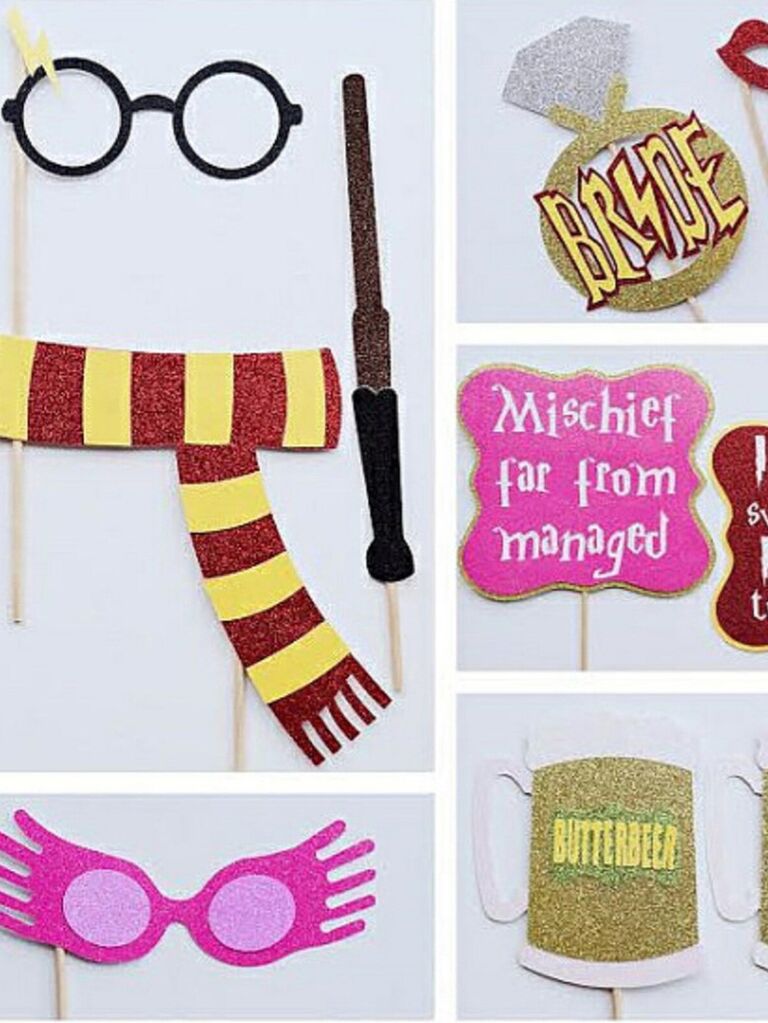 Your bridal shower photos will be so much more memorable with the help of these gorgeous Harry Potter photo booth props. Made from sturdy glitter cardstock, the props come attached to thick wooden dowels for easy holding and posing.
Dizzy Pixie Crafts Custom Wand Party Favors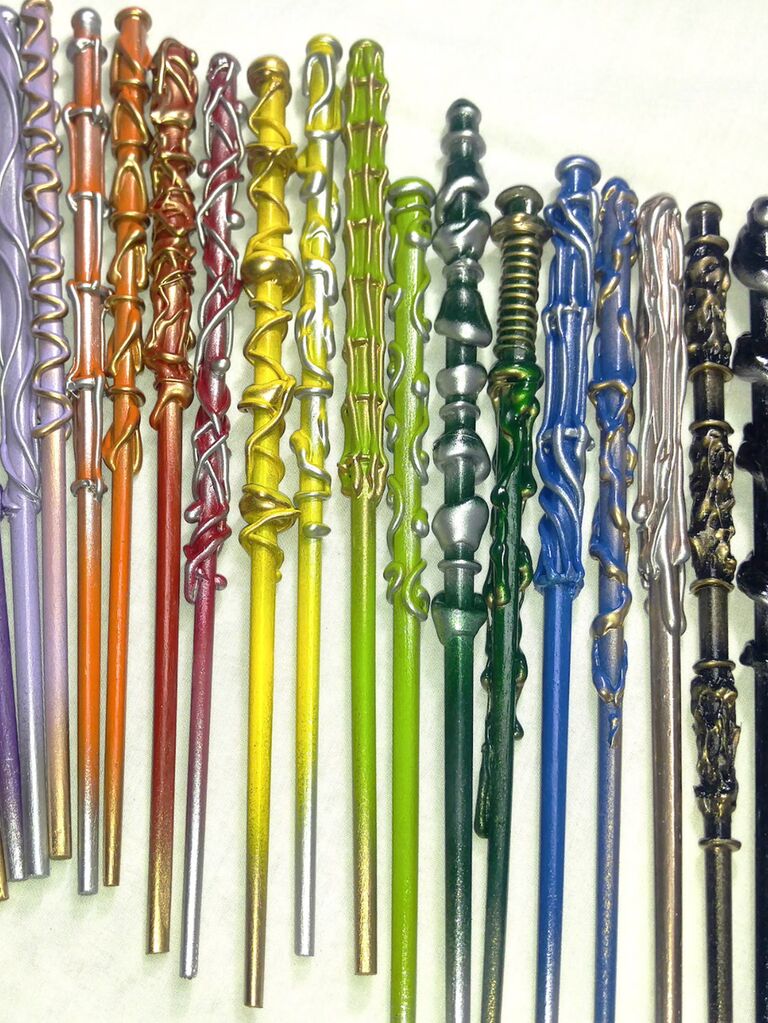 Every witch or wizard needs a magic wand, right? These colorful wands make for unique party favors and centerpieces—but we recommend giving them out at the beginning of the shower to maximize the fun (and, let's be honest, the photo ops).
Letters To You Mischief Managed Cake Topper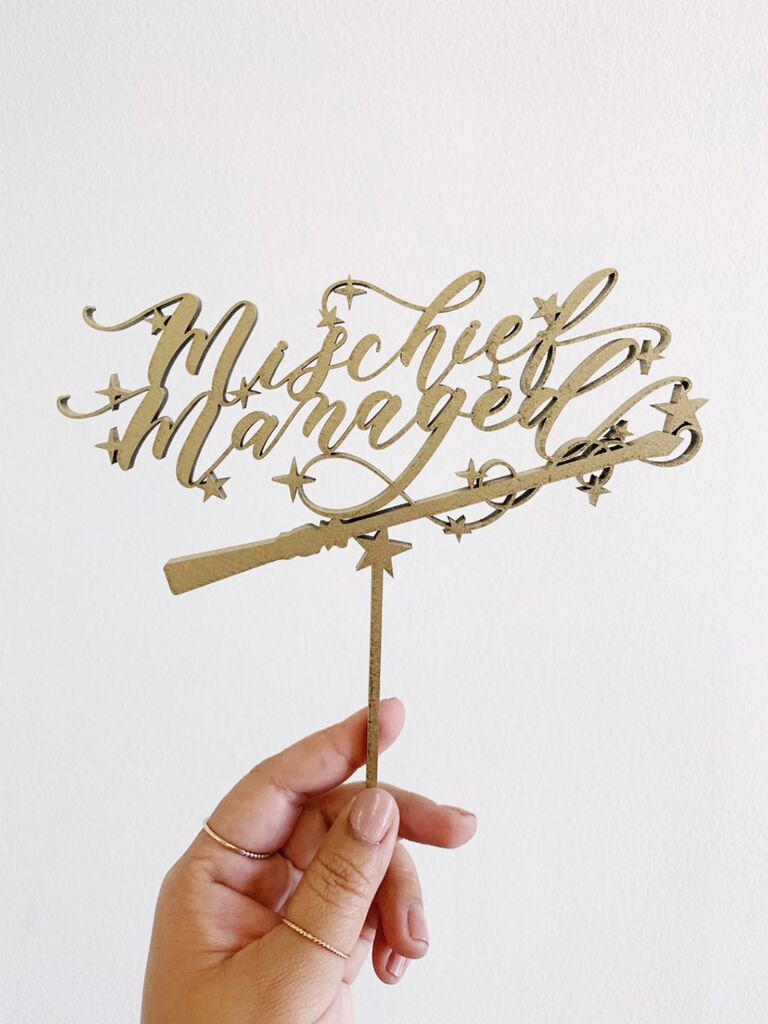 This handmade wooden cake topper is a fitting nod to two Harry Potter fans agreeing to seal the deal. Another beloved reference to the Marauder's Map, it can be a winking reference to two people giving up the mischief of single life and settling down together.
Duff Goldman Pumpkin Spice Dream Cake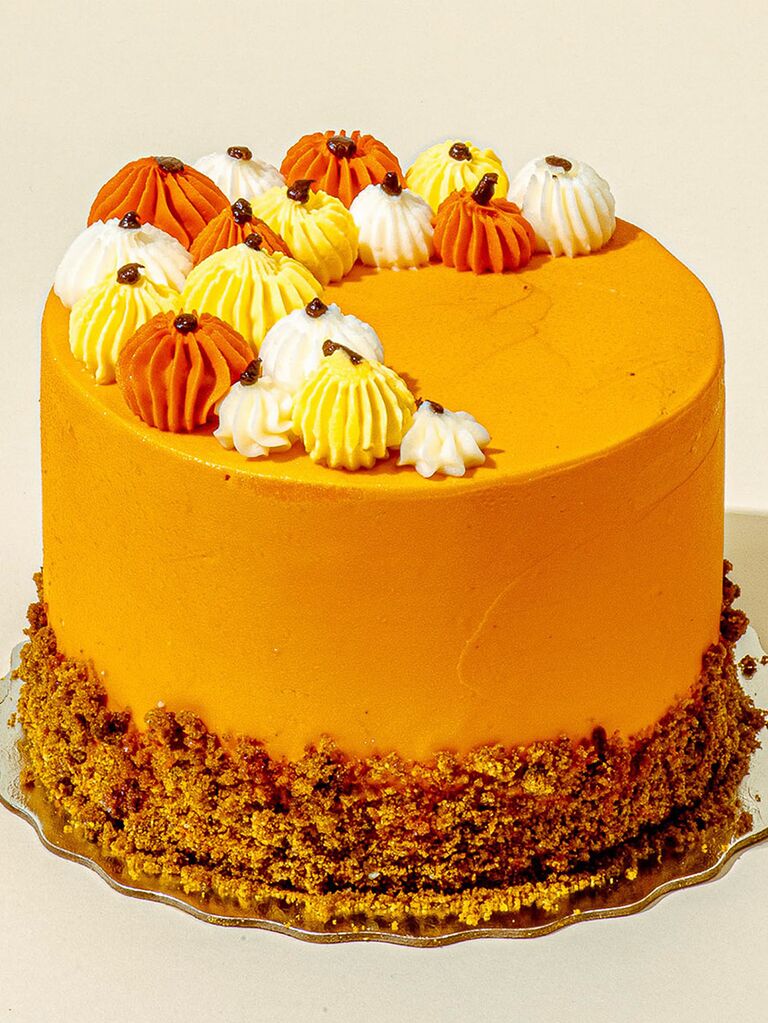 Pop a Harry Potter-themed cake topper on this Pumpkin Spice Dream Cake from "Ace of Cakes" Duff Goldman for a bridal shower cake that looks just as good as it tastes. Decorated with buttercream frosting pumpkins on top, a cream cheese filling inside and a layer of pumpkin cake crumbs at the base, a slice of this cake might be the second-best thing to a Hogwarts Halloween feast.
Free to Be Studio Potter-Inspired Wine Charms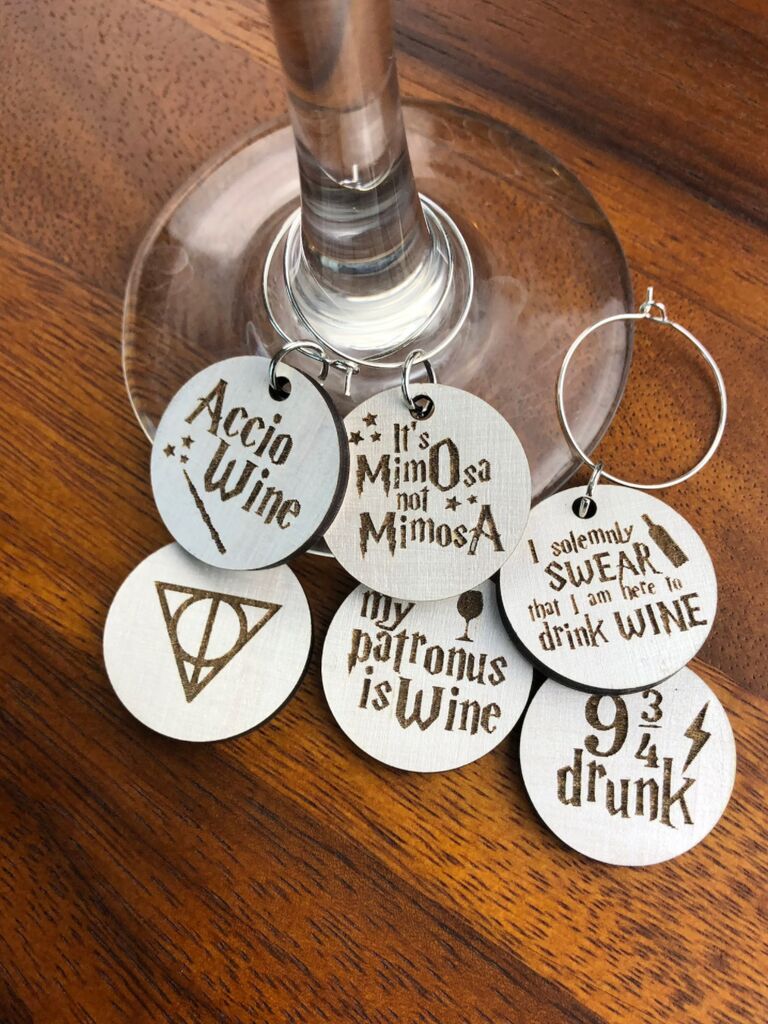 Let guests keep track of their mimosas or other drinks with these wine charms. It's another thoughtful detail that will really help the theme shine, and it'll also help you cut down on dishes. Attendees can even take them home as a memento of the event.
Tiny Tokens Company Lightning Bolt Necklace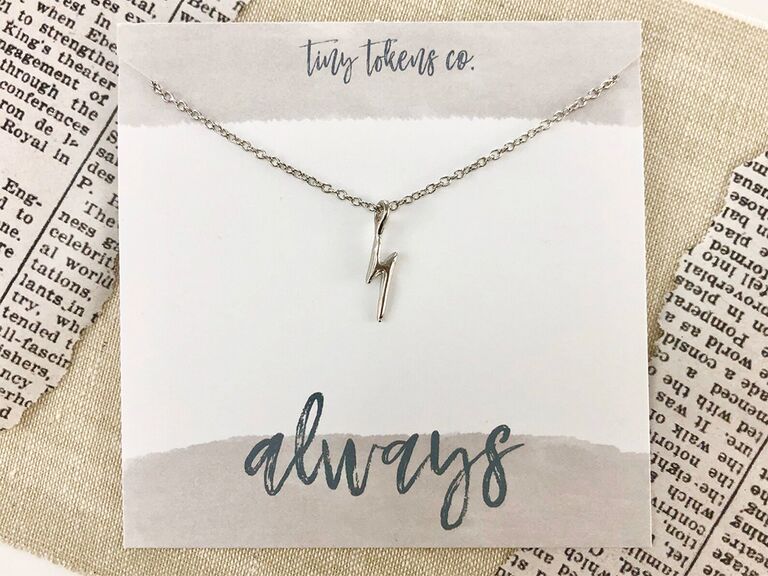 This delicate lightning bolt necklace can be a thoughtful gift for the wedding party from the guest of honor. She can thank her bridesmaids for always being by her side on the big day and beyond. The cursive "always" printed on the packaging helps drive the theme home, but there's also the option to add a gift box.
GME Paper Personalized Wizard Thank You Note Cards and Embossed Envelopes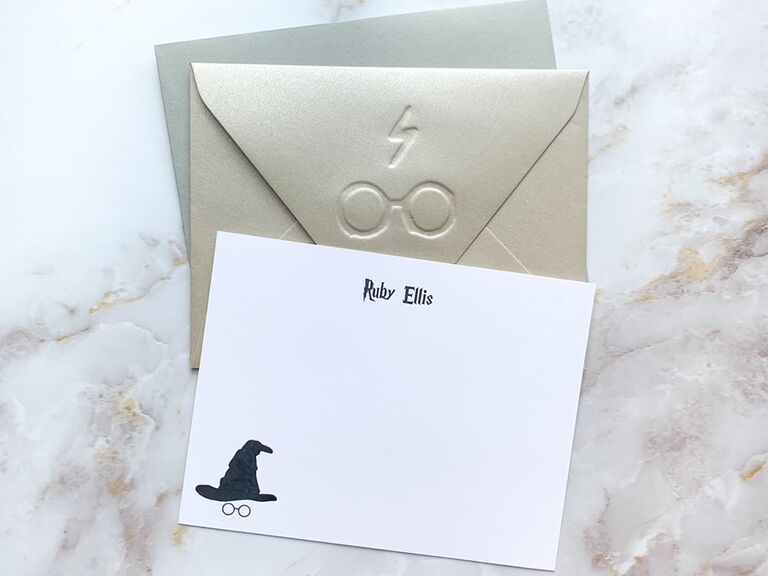 Extend the theme by sending thank-you notes to shower guests on personalized wizard stationery. How cool are the envelopes embossed with Harry's glasses and lightning bolt scar?