52 Classic and Contemporary Bridal Shower Gift Ideas
Whether you want to stick to the tried and true or hot and hip, here's a quick list of gift ideas to get you started.
by Elena Mauer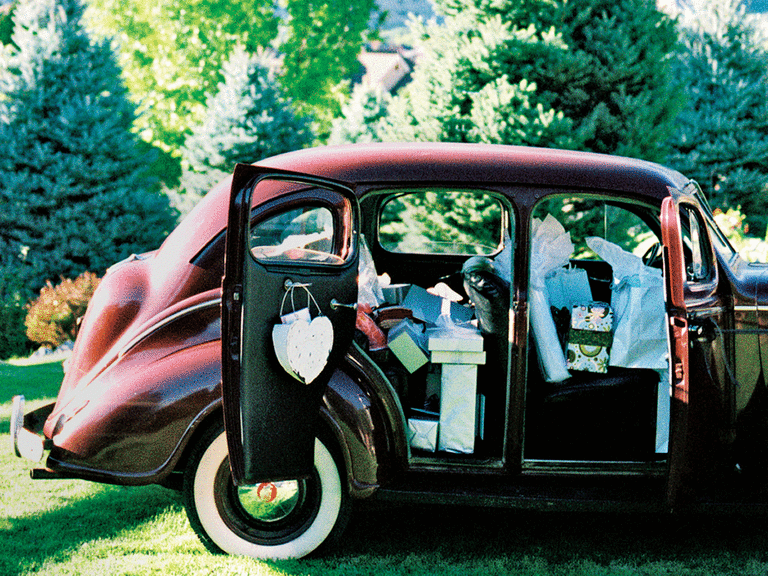 Jonathan Canlas Photography
If you have a bridal shower in your future, you might be struggling with gift ideas. More specifically, whether or not it should come from the registry. We know, we know—gifting a set of spatulas doesn't exactly say, "We're BBFs and I'm so happy for you!" But at the same time, the newlyweds-to-be put a lot of time into their registry and it's important to respect that.
In case you find yourself in this tiff, here's how we like to think about gifting off-registry: If there's a set of tumbler glasses on their wish list, it's a safe bet the couple would prefer that set over one you came across during Sunday afternoon errands. But what about extras like cocktail napkins to go with those tumblers? Or a cocktail book? Totally up for grabs. With that in mind, we rounded up 52 of the best bridal shower gift ideas—half of them for a classic couple and the other half for the more contemporary to-be-weds.
26 Classic Bridal Shower Gift Ideas
Place Mats
The couple might have registered for place settings aplenty, but what will they set those dishes on? Okay sure, they'd be just fine on the table, but these European-inspired place mats will really round out their dinner presentation.
Juliska Jardins du Monde place mat, $25, NeimanMarcus.com
Picture Frame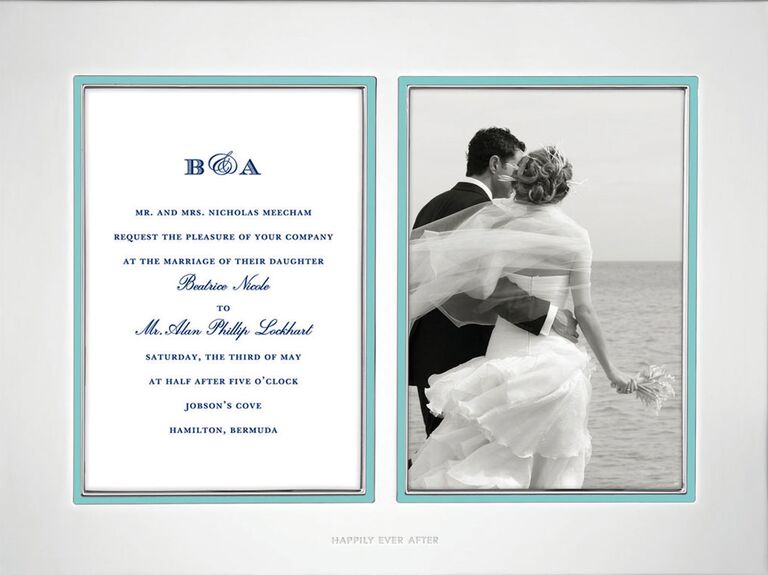 A sweet side-by-side frame is the perfect desk accessory or coffee table décor. After the wedding, the couple can slip an extra wedding invitation into one side and their favorite snapshot from the wedding day into the other.
Kate Spade New York darling point double picture frame, $100, KateSpade.com
Linen Napkins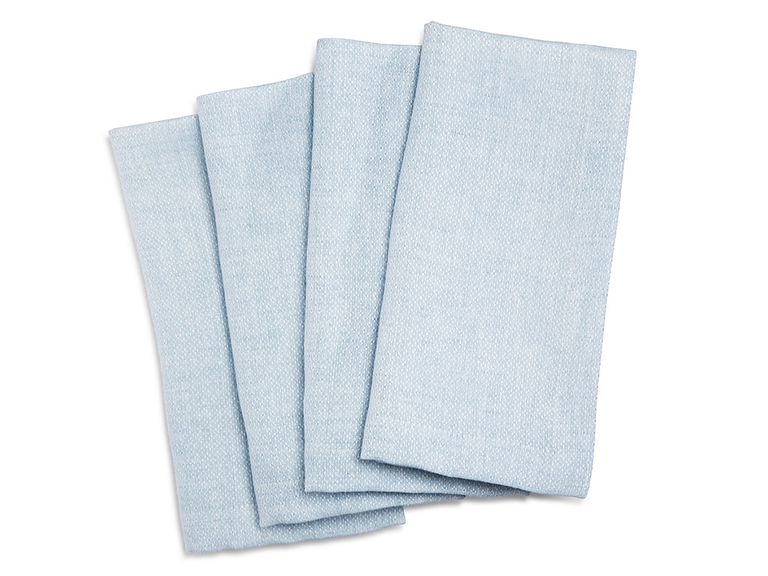 You can never have too many sets of napkins, especially if the to-be-weds are avid dinner party hosts. 

Sferra hamilton napkins, $90 for a set of 4, Bloomingdales.com
Dessert Stand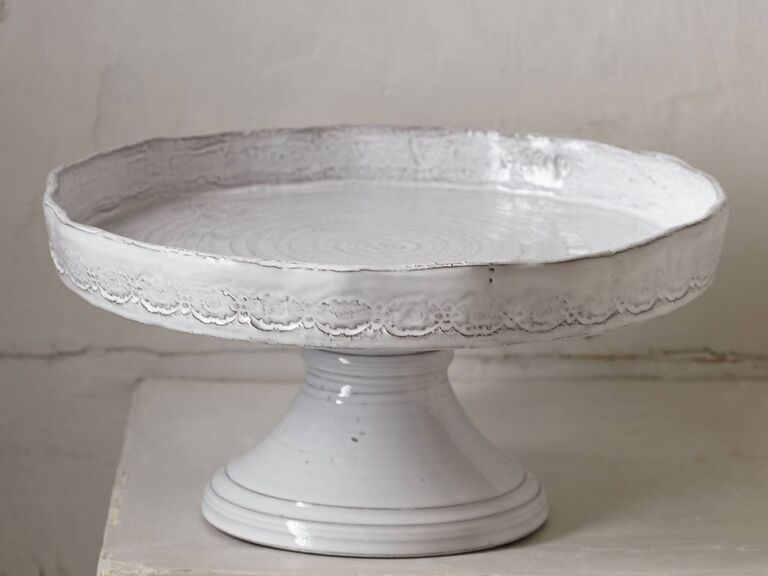 Every hostess needs a few dessert stands in her repertoire. Our pick? A pedestaled stand that can double for sweets or appetizers.
Anthropologie glenna cake stand, from $58, Anthropologie.com

Crystal Vase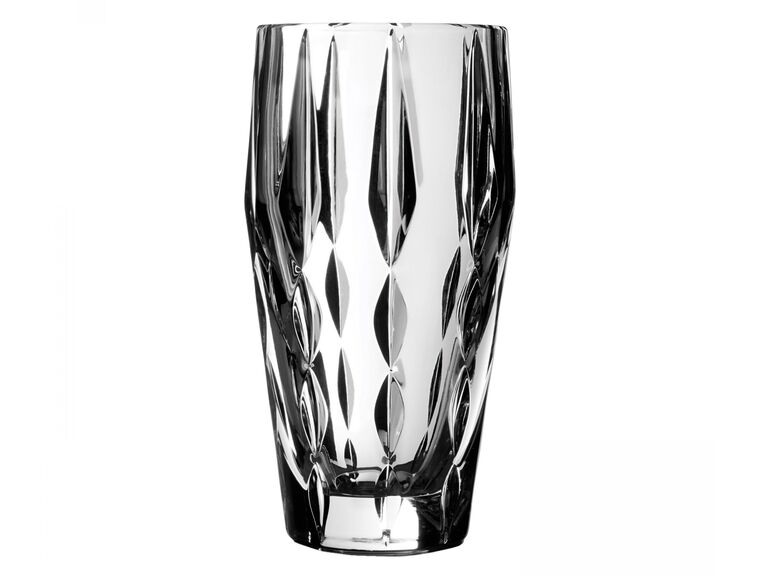 A quality vase adds instant class to an entryway or dining table. The diamond cuts in the design create a bit of illusion on the clear crystal—a design subtle enough to catch your eye but won't distract from the beautiful flowers.

Wedgwood vera peplum 10.75-in. vase, $150, Wedgwood.com

Appetizer Plates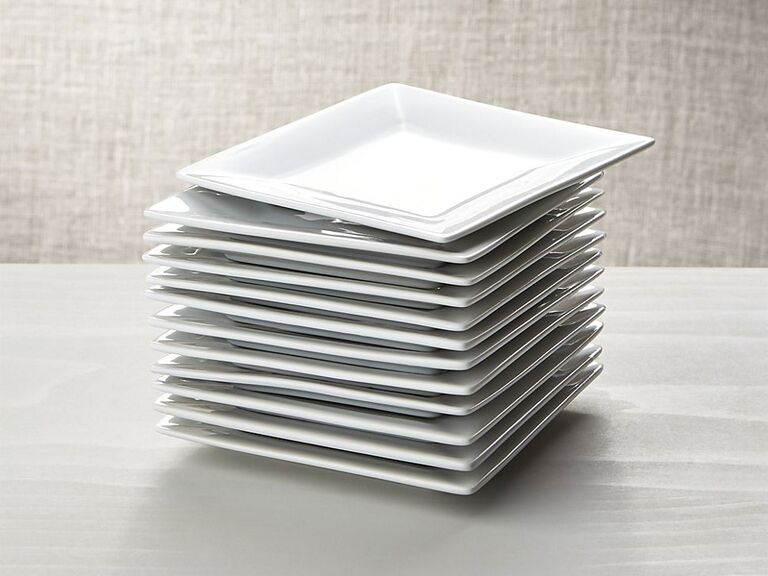 Appetizer plates are a great gift. They're a nice little extra the couple might not have thought of, but are really great to have on hand for casual cocktail nights or formal holiday parties.
Crate & Barrel appetizer plates, $25 for a set of 12, CrateandBarrel.com
Champagne Glasses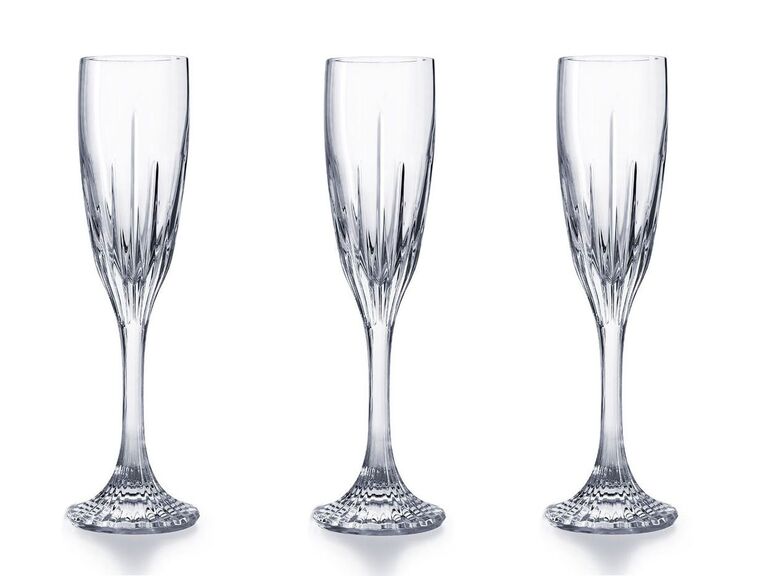 Ah, champagne glasses—the quintessential wedding gift. Shower the couple in luxury with a set of crystal flutes that are sure to be a meaningful keepsake.
Baccarat jupiter champagne flutes, $165 each, Baccarat.com

Cashmere Throw Blanket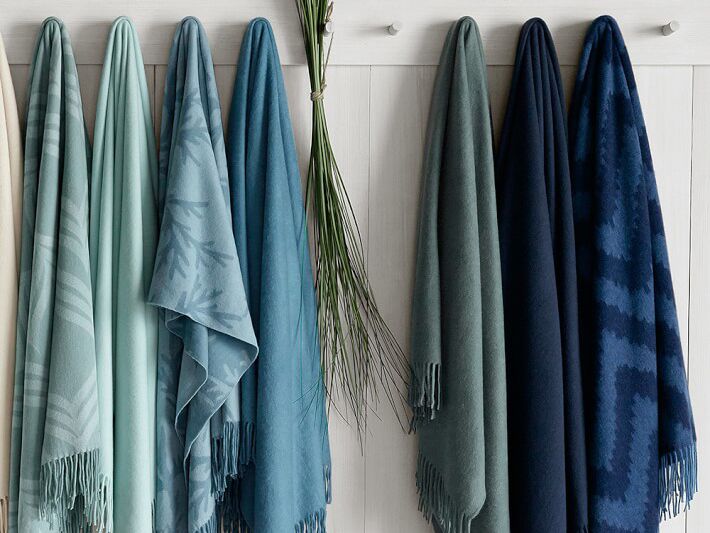 A good, and we mean good, blanket never goes unappreciated. Just looking at this cozy cashmere makes us feel all warm and fuzzy inside. (Also, the product page uses the phrase "whisper-soft," so you know it's good.)
Williams-Sonoma cashmere throw, $249, Williams-Sonoma.com
Stand Mixer
Perfect for the couple who cooks together, a KitchenAid mixer is the holy grail of kitchen appliances. If they're tight on counter space, opt for the mini mixer (it has the same motor speed, but in a smaller package).
KitchenAid artisan mini series tilt-head stand mixer, $238, Amazon.com
Jewelry Box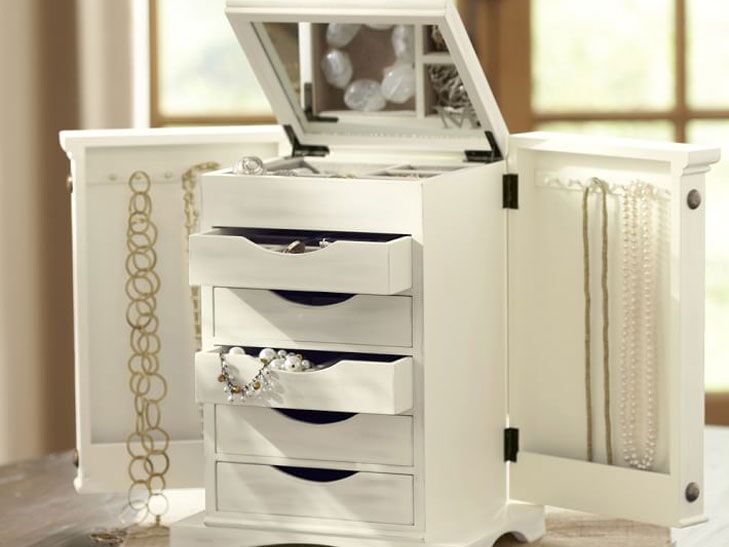 The name says it all: the ultimate jewelry box. Linen-lined drawers safely protect all her baubles from being bumped around and scratched, with both winged sides opening to reveal hanging necklaces. It's as beautiful as its contents.
Pottery Barn ultimate jewelry box, $169, PotteryBarn.com
Robe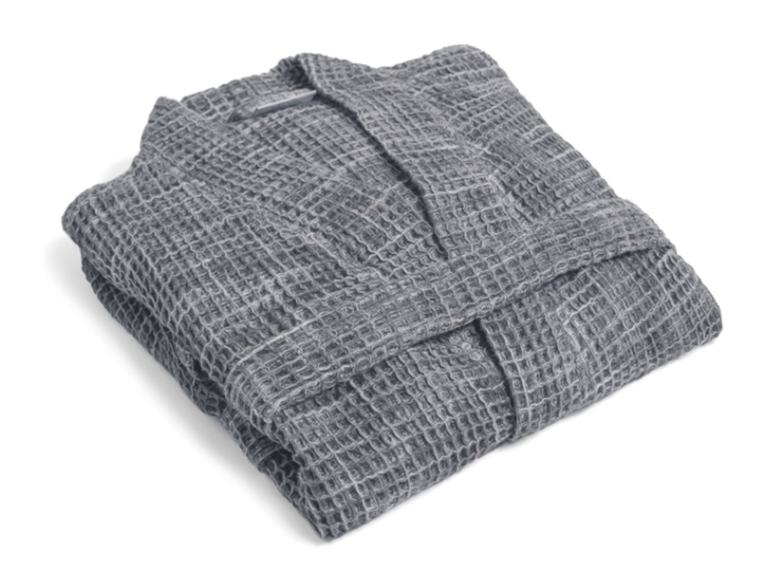 There are few joys in life as comforting as wrapping yourself up in a brand-new robe, and with all the running around the bride-to-be will be doing, slipping into a comfy robe at the end of the day will be a stress-relieving necessity.

Parachute waffle robe, $119, Parachute.com
Bed Sheets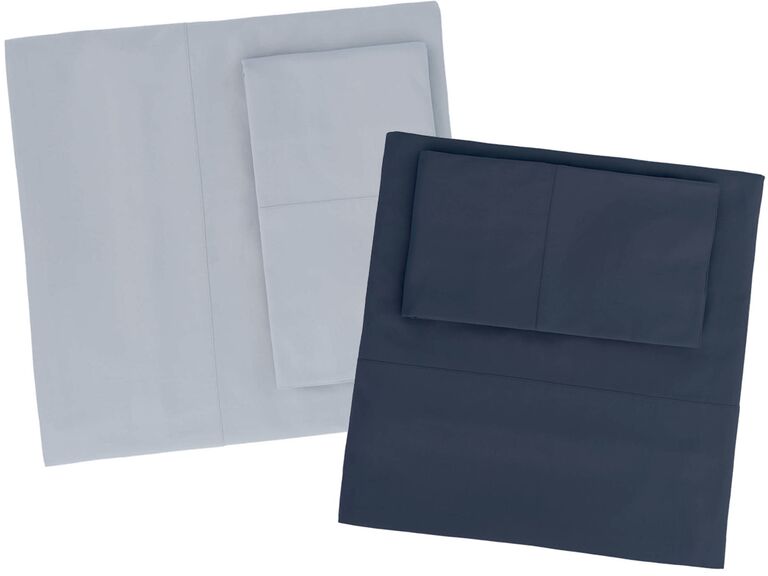 A newlywed nest can't have enough high-quality sheets—that's just a fact. This certified-organic sheet set checks all the right boxes, including fair trade certified and eco-friendly gift box packaging.

Boll & Branch hemmed sheet set, from $200, BollandBranch.com
Slow Cooker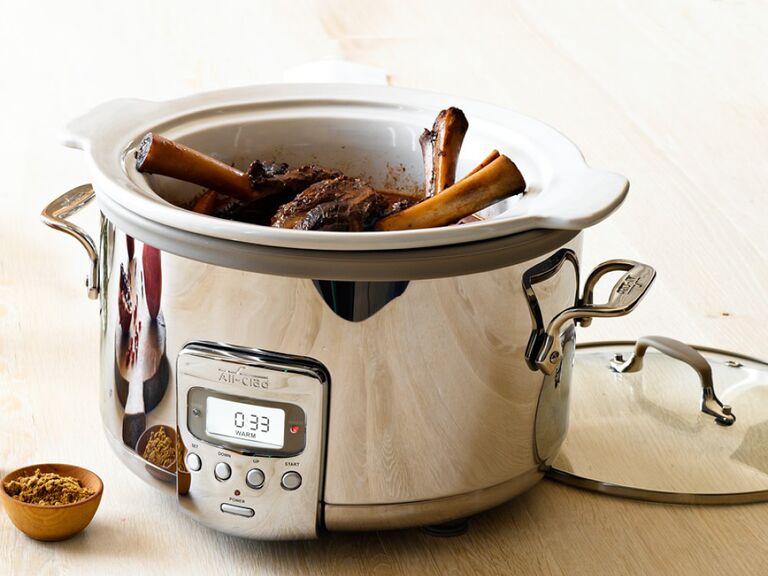 A slow cooker isn't the sexiest present, but who wouldn't be psyched about this? It's the perfect party food prep assistant for appetizers, main dishes, soups, dips—pretty much everything.
All-Clad deluxe slow cooker, $200, Williams-Sonoma.com
Make the couple's mornings just a little bit cuter with a retro-style toaster in their favorite hue.
Smeg 50s retro-style two-slice toaster, $150, Shop.Nordstrom.com
Bread Box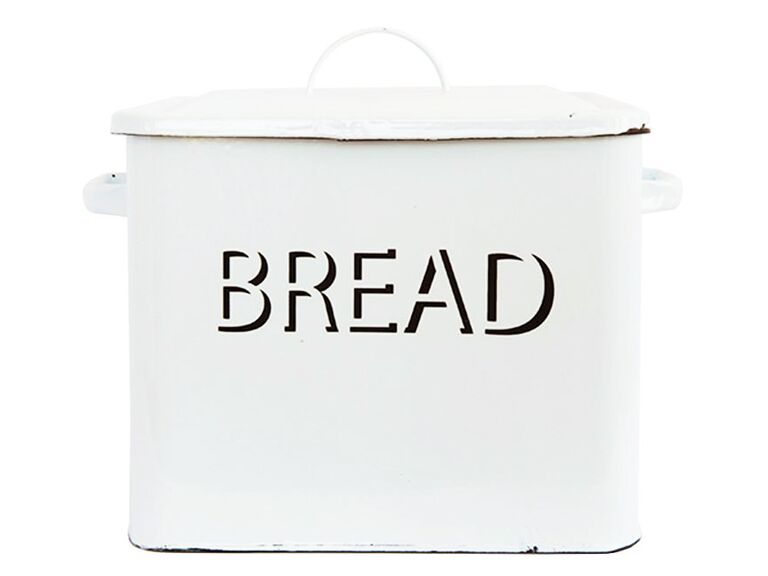 Everything old is new again, as evidenced by the popularity of farmhouse-style housewares. If the bride goes nuts for anything shabby chic, she'll be into this quaint and super-useful bread box. It's a truly unique bridal shower gift.
McGee & Co. metal bread box, $68, McGeeandCo.com
Cutting Board

Who couldn't use a cutting board for chopping veggies or presenting cheese and charcuterie at a party? Bonus points if it's personalized with the couple's names.
The Knot Shop personalized round wooden cutting and serving board, $23, WeddingShop.TheKnot.com
Domed Server

They can keep cakes, pies, hors d'oeuvres and more protected with this attractive server. The olive branch motif makes it a conversation starter.

Michael Aram olive branch glass dome server, $150, SaksFifthAvenue.com
Blender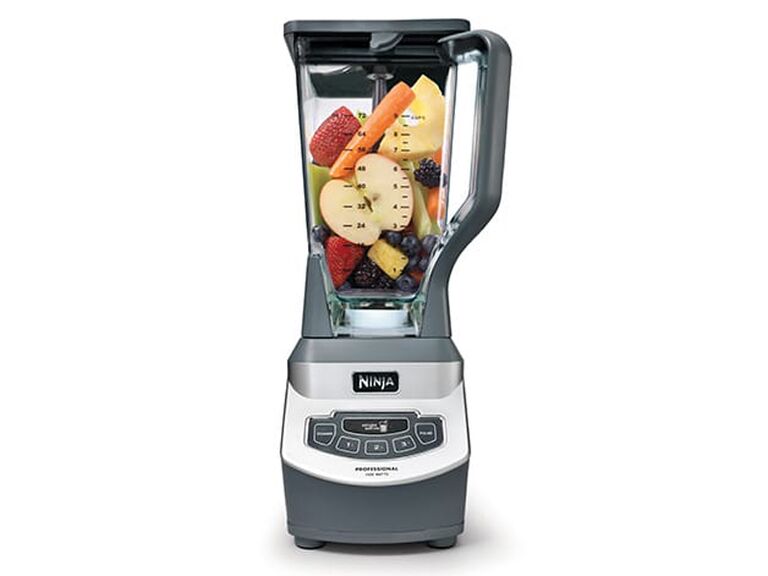 The couple can use this blender to whip up soups and sauces, or blend smoothies, protein shakes, and frappes.
Ninja XL total crushing blender with single serve cups, $140, NinjaKitchen.com
Crystal Dish

This gorgeous dish's design is reminiscent of a diamond, so it seems extra appropriate for a wedding shower gift.
Orrefors precious dish, $195, Amazon.com
Serving Platter

Choose a pretty platter that complements the couple's dishware, and you might just get invited for Thanksgiving dinner.
Arte Italica burano oval serving platter, $176, Shop.Nordstrom.com
Towels

Monogrammed bath towels are just the thing to make the future newlyweds feel super posh right in the comfort of their own home.
Mark & Graham turkish hydro cotton bath towels, $39 each, MarkandGraham.com
Knife Set
The perfect knife set comes in a block that'll look stylish on their kitchen counter. If the couple loves to cook, this bridal shower gift will get used every day.
Calphalon cutlery set, $300 for 14 pieces, LordandTaylor.com
Cake Cutter and Server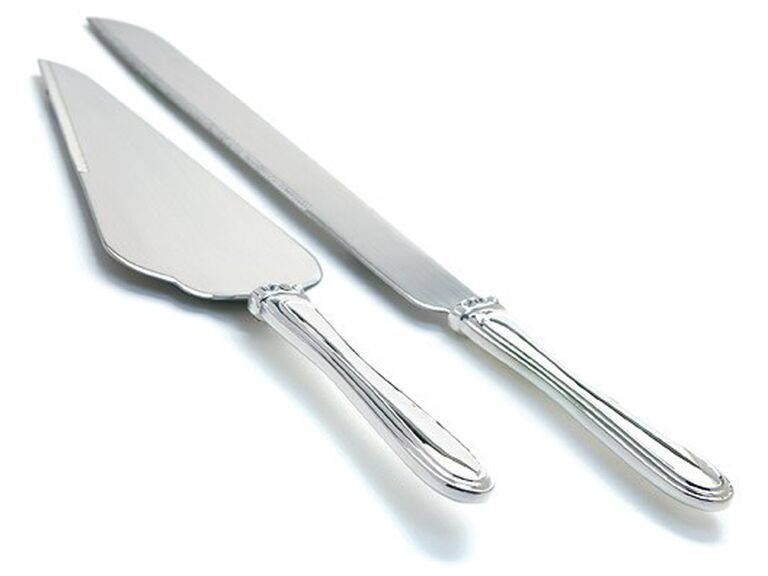 The cake cutter and server should be gifted by a very close family member or friend. That's because it's an ultra-special and unique bridal shower gift that will probably be used on the wedding day, and become a memento for the couple.
The Knot Shop silver-plated cake serving set, $40, WeddingShop.TheKnot.com
Dutch Oven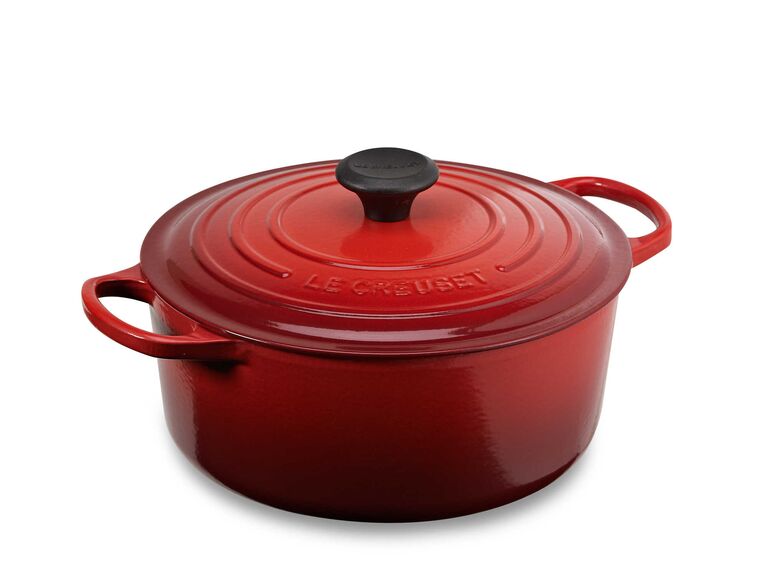 While a Dutch oven is can be a little pricey, it's really an amazing kitchen must-have. This multipurpose cast iron pan goes from stove to oven to tabletop to tackle a variety of cooking methods. And it's got a perfectly classic look, so it can be used for serving too.
Le Creuset signature round dutch oven, from $140, BedBathandBeyond.com
Espresso Machine

For the couple obsessed with having a perfect cup of java, an upscale espresso machine is sure to impress.
Nespresso pixie coffee maker, $229, Nespresso.com
Pitcher

A glass pitcher is a useful gifts for the couple who loves to host dinner parties—especially because they might not have thought to register for one. We're digging the French vibe of this bee-motif beauty.
La Rochère bee pitcher, $38, SurLaTable.com
26 Contemporary Bridal Shower Gift Ideas
Subscription Box Service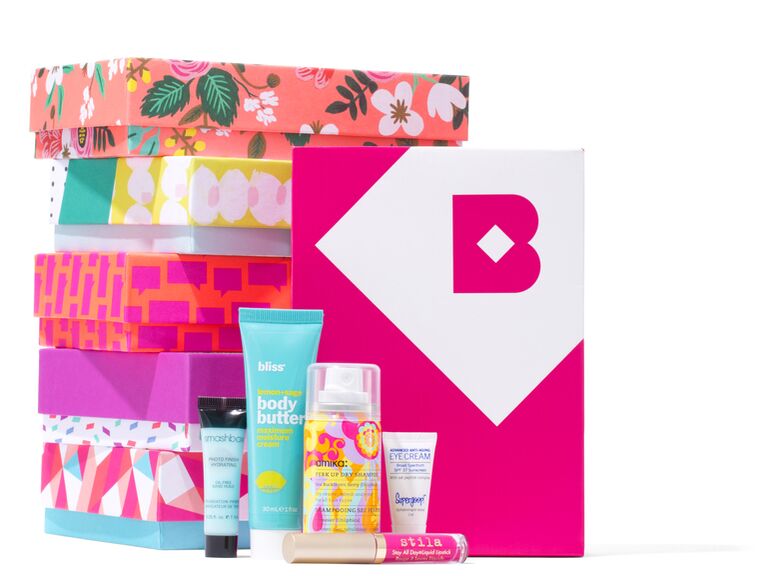 Subscription boxes are the gift that keep on giving. Pick something the bride loves, from reading to beauty, and treat her to surprise snail-mail deliveries.
Birchbox women's gift subscription, from $30, Birchbox.com
Cocktail Napkins

A cocktail with a laugh? Make ours a double. These cheeky napkins are the perfect addition to a set of glasses or bar cart accessories.

August Morgan cocktail napkins, $38 for a set of 4, AugustMorgan.com
Script Vase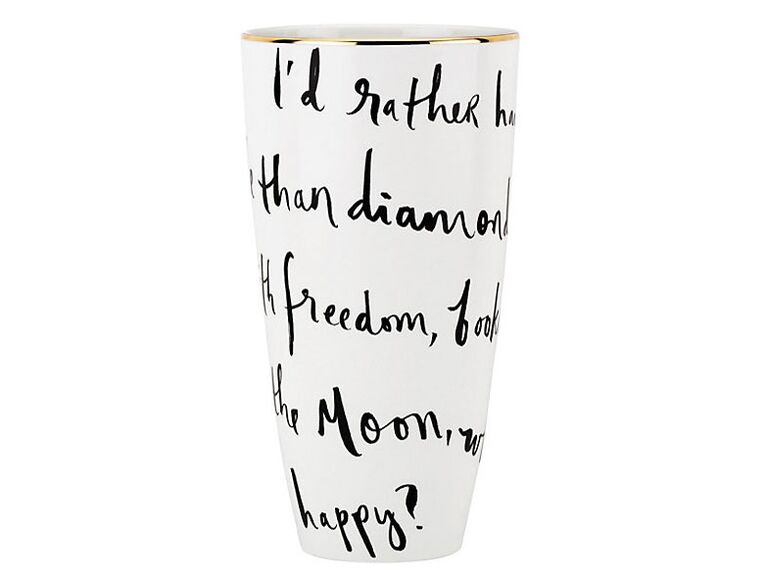 A simple porcelain flower vase gets a bit of a modern makeover with black script writing and a little bit of contemplative theory. It reads, "I'd rather have roses on my table than diamonds on my neck, with freedom, books, flowers, and the moon, who could not be happy?"
Kate Spade New York daisy place vase, $75, KateSpade.com
Decanter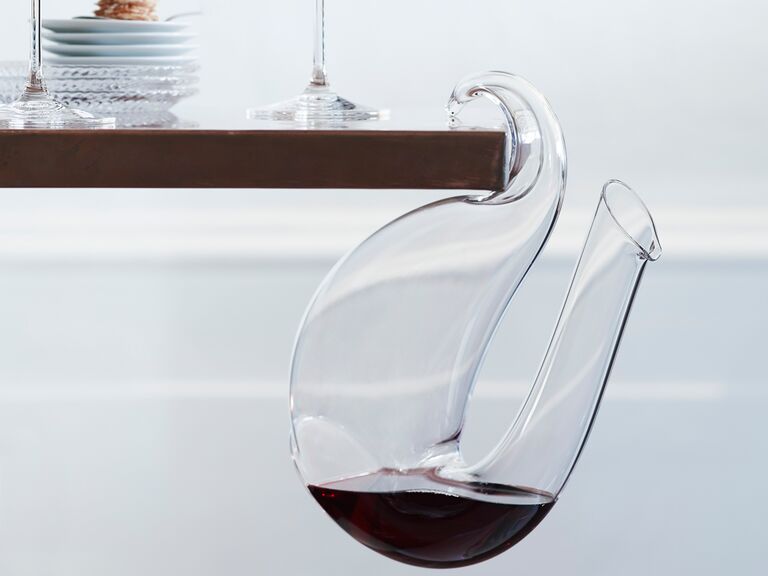 If there's such a thing as an edgy, trend-setting decanter, this would be it. It's quite literally living life on the edge.

Riedel ayam decanter, $425, Riedel.com

Light-Up Phone Case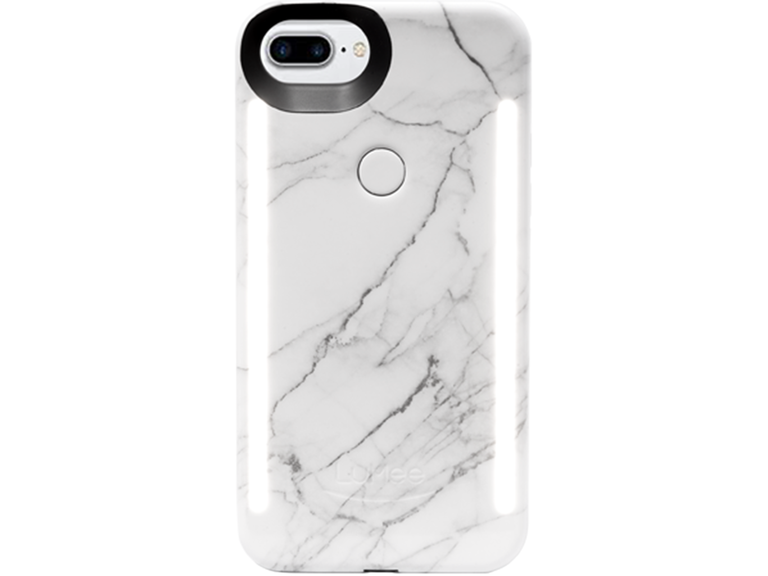 She's about to have more selfie moments in her life than ever before, and this phone case slash LED light ensures she'll always have the best lighting. It was even developed by a professional photographer, so you know it's the real deal.

LuMee duo marble iphone case, $70, LuMee.com

Beach Bag With Honeymoon Essentials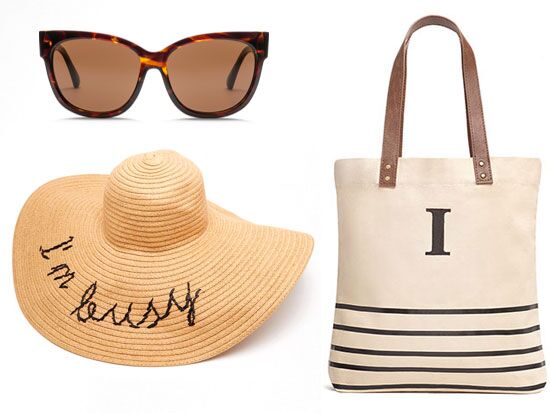 Is the bride-to-be about to jet-set on a tropical honeymoon? A tote bag filled with a few essentials would be perfect for her. Go in with a few friends for a well-rounded group gift.

Electric danger cat sunglasses, $100, ElectricCalifornia.com; ASOS floppy hat, $20, ASOS.com; The Knot Shop Annie stripe tote, $30, TheKnotShop.com

Ring Box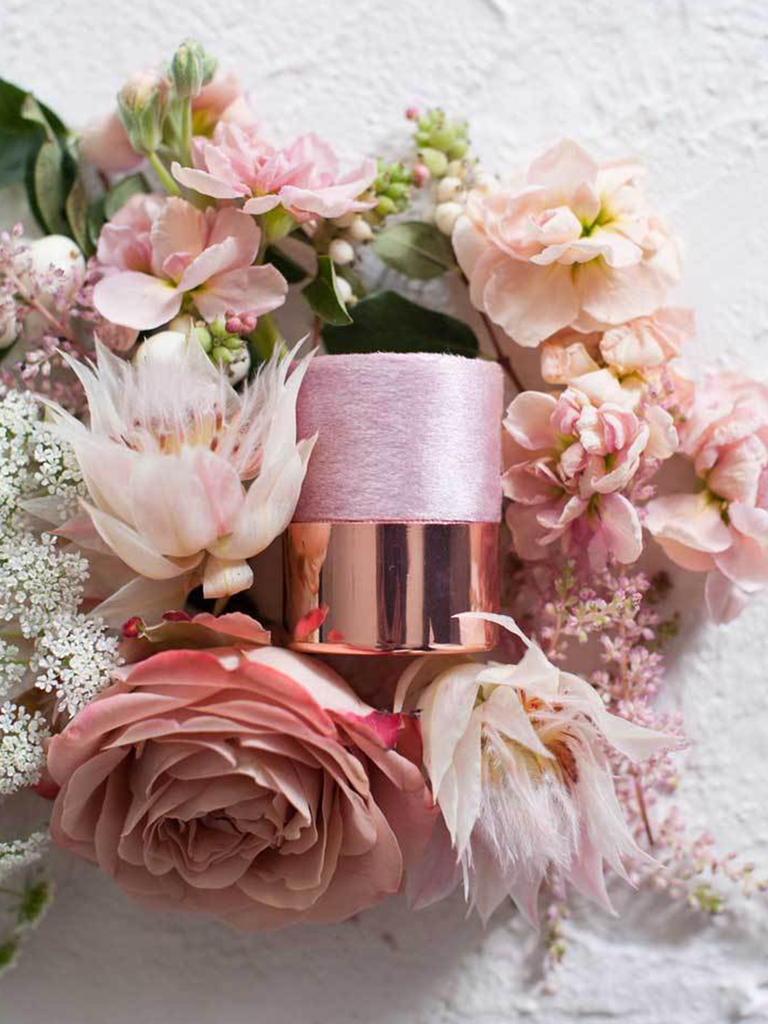 If she's not a jewelry kind of girl, then maybe a full-on jewelry box wouldn't be worth the space it would take up. Instead, gift her a smaller (read: more counter space for cosmetics) ring box to keep her most special piece of jewelry safe and sound.
Esselle the alaia ring box, $65, EsselleSF.com
Wall Clock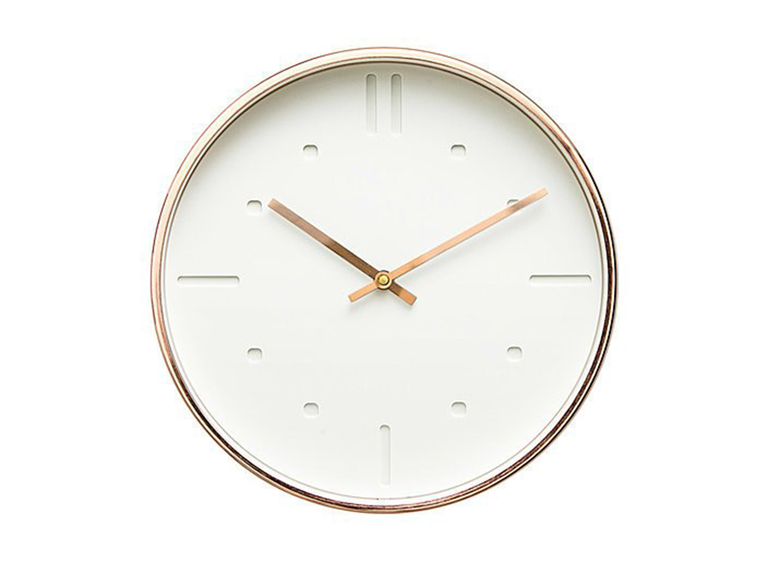 Gallery walls are all the rage—contribute something to their newlywed nest that's totally trendy. This clock lends clean lines and a subtle metallic pop from a rose gold frame to your friend's work-in-progress gallery wall. 

Dot & Bo modern scandinavian design silent sweep 12-inch wall clock, $42, DotandBo.com
Travel Jewelry Kit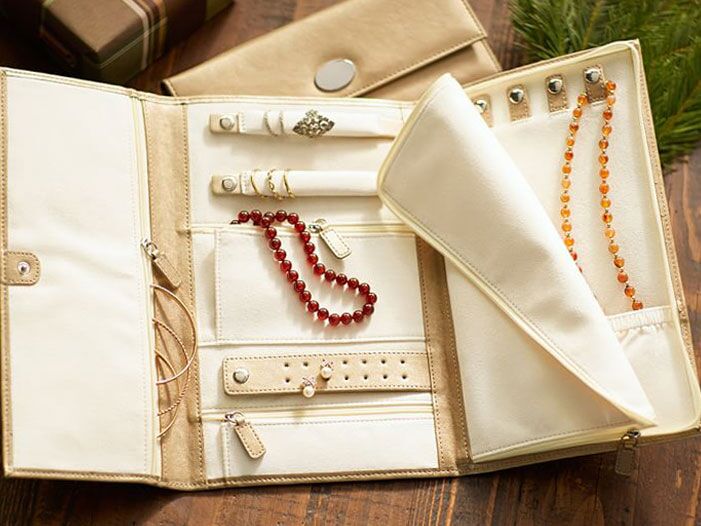 Is the bride-to-be as much of a jet-setter as she is a bauble enthusiast? Make sure all her accessories get safely from point A to point B with an easy-to-pack travel case with little pockets perfect for all her necklaces, bracelets, earrings or rings.

Pottery Barn McKenna leather travel jewelry portfolio, $79, PotteryBarn.com
Sexy Sleepwear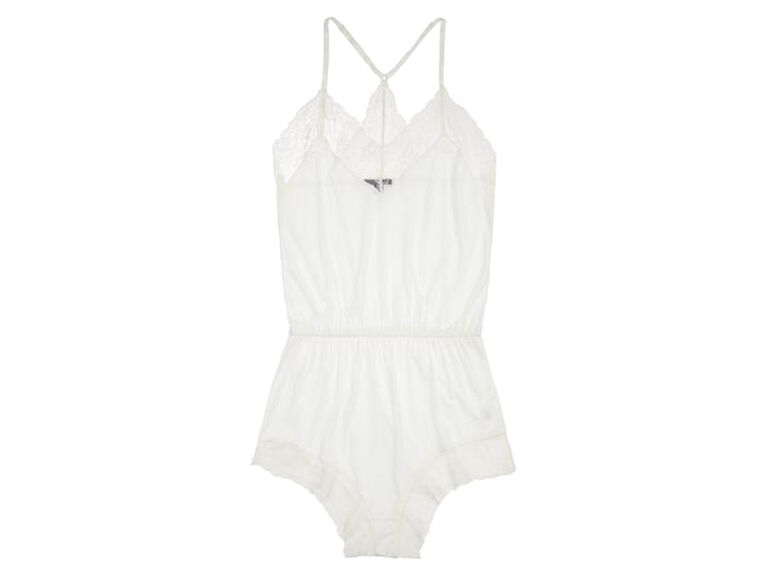 No one wants to pull out a sexy piece of lingerie in front of their soon-to-be mother-in-law, but that doesn't mean the bride isn't hoping for some new pieces of fun sleepwear. A chic romper like this is totally "open your gifts in front of everyone" appropriate, but still a bit sassy. 

Journelle Laure romper, $82, Journelle.com
Ice Cream Maker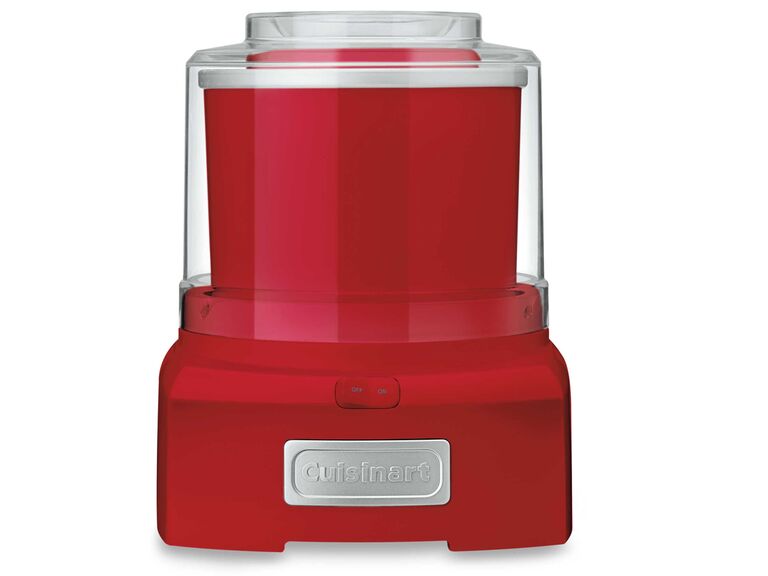 The idea of experimenting with ice cream flavors is always exciting, no matter how old you are. Even if your friend isn't a total sous-chef, she'll definitely be able to handle this.
Cuisinart ice cream and sorbet maker, $60, BedBathandBeyond.com
Copper Cookware
Yes, trendy cookware is a thing, and this copper set featuring a hammered exterior design is leading the pack when it comes to popular kitchen purchases. Not only does it look sleek, but the tri-ply construction makes for even cooking every time.

Lagostina copper martellata cookware, $500 for 10-piece set, Williams-Sonoma.com
Luggage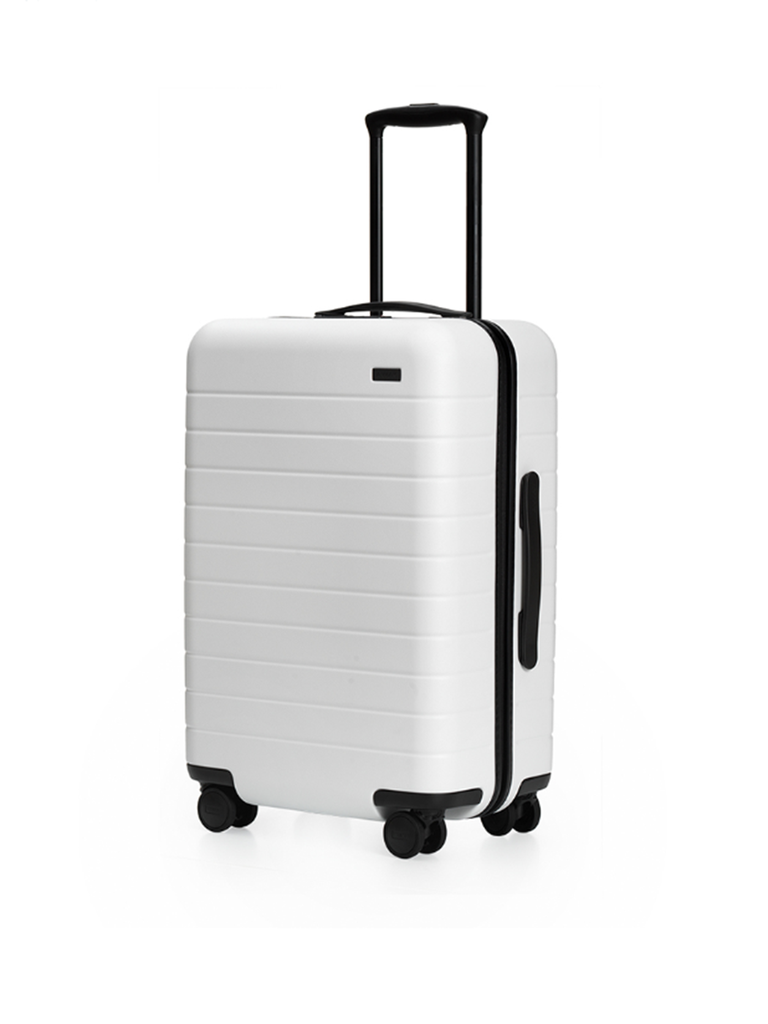 A luggage upgrade before the honeymoon? Yes please. Beside being easy on the eyes, this high-tech roller has major perks, including a TSA-approved lock, a smartphone charger and 360-degree rotating wheels (hello, smooth riding).

Away the bigger carry-on in white, $245, AwayTravel.com
Garden in a Can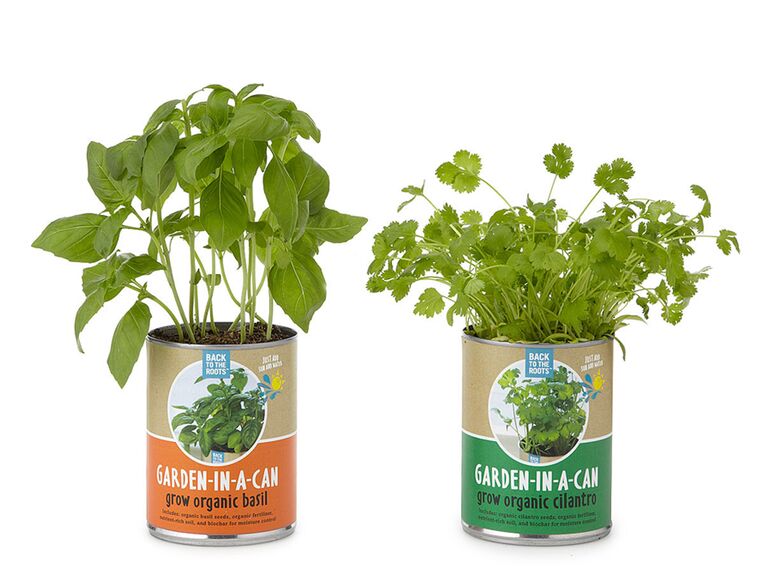 Who wouldn't want some fresh basil or cilantro growing in their kitchen window? A pair of these impossible-to-kill starter plants for the newlywed nest will definitely be put to good use.

UncommonGoods garden-in-a-can, $24 for a set of 4, UncommonGoods.com
Coffee Pod Carousel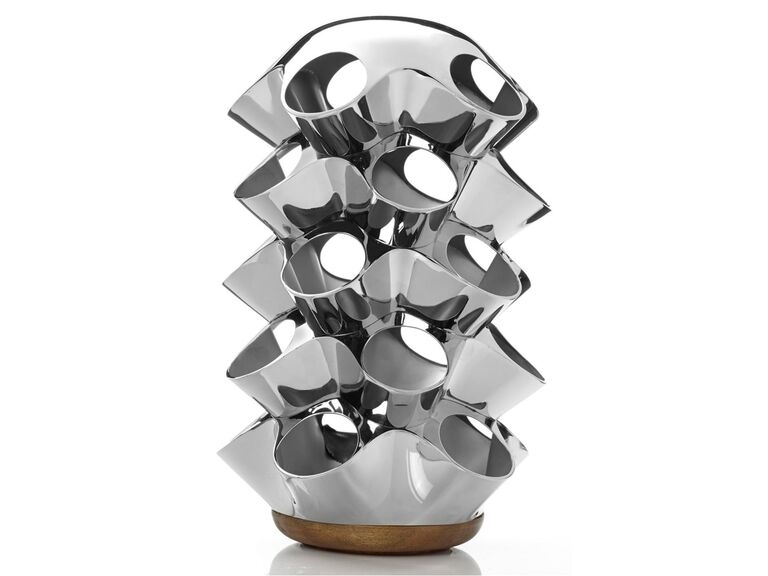 This cool carousel not only keeps single-serving coffee pods from taking over the cabinet, but it's also—dare we say it?—chic.
Nambé ridge coffee pod carousel, $125, Shop.Nordstrom.com
Essential Oil Diffuser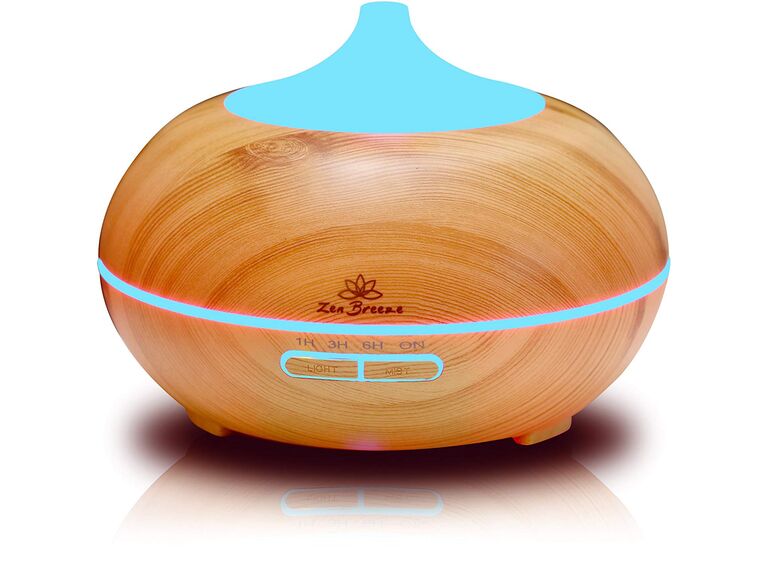 Oil diffusers are all the rage for those who are into aromatherapy or just like being surrounded with subtle, pleasant scents. You can also get her a sample kit of essential oils to go with it.
Zen Breeze essential oil diffuser, $30, Amazon.com
Can Coolers
For the couple that loves a good tailgate or pool party, hers and his can coozies are the perfect fit. 
Kate Spade New York silicone two of a kind cozy set, $28, LordandTaylor.com
Personalized Art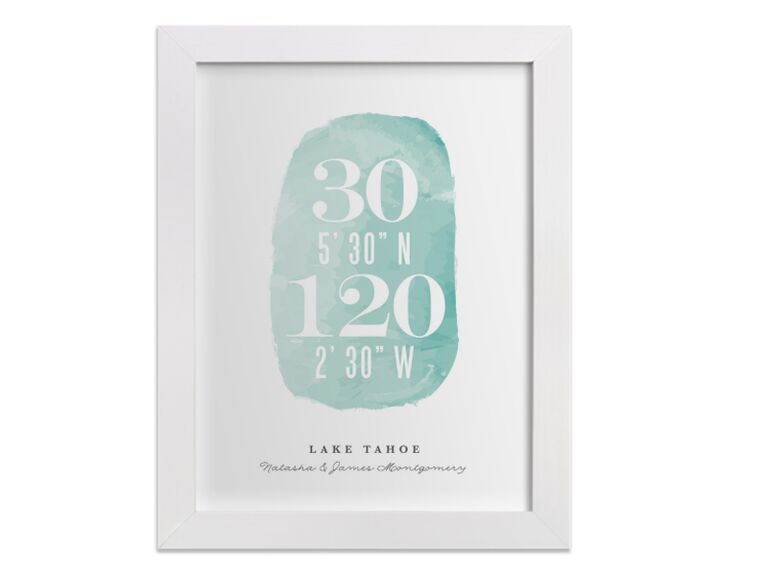 This gorgeous watercolor-style print can be personalized with the couple's names and their wedding location's geographical coordinates. Expect everyone to ask, "How did you do that?!"
Karidy Walker watercolor coordinates art print, $89 for framed 11x14, Minted.com
Instant Pot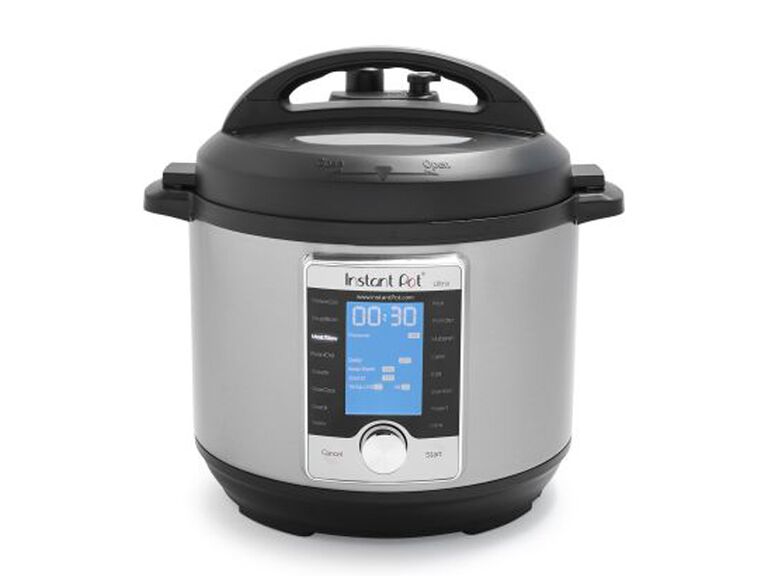 The trendier cousin to the Crock-Pot, the Instant Pot can slow-cook but its main claim to fame is its ability to cook complex meals in minutes à la its pressure cooker setting. The couple can also use it as a rice cooker, steamer, yogurt maker and more.
Instant Pot ultra multi cooker, from $120, SurLaTable.com
Bridal Emergency Kit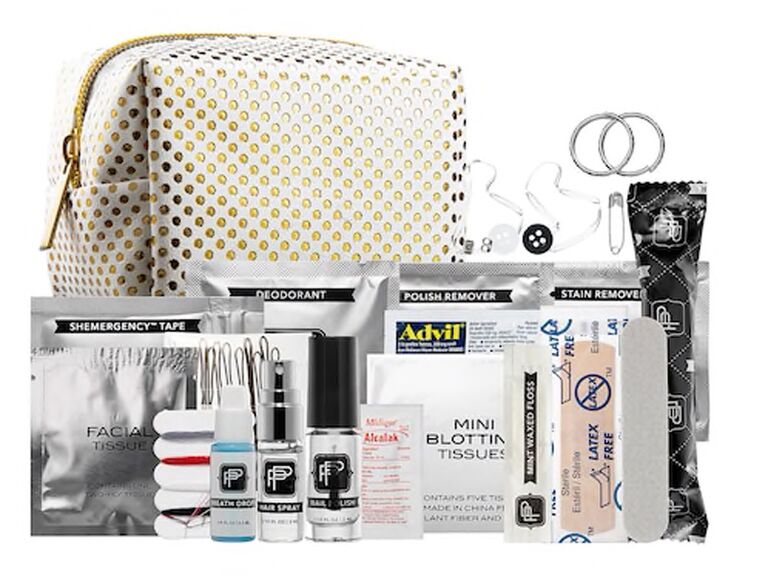 Make sure she's prepared for anything that comes her way. This cute cosmetics case is stocked with a safety pin, hair spray, stain remover, antacid, a mending kit, tissues and so much more.
Pinch Provisions minimergency kit for brides, $18, Sephora.com
Picnic Set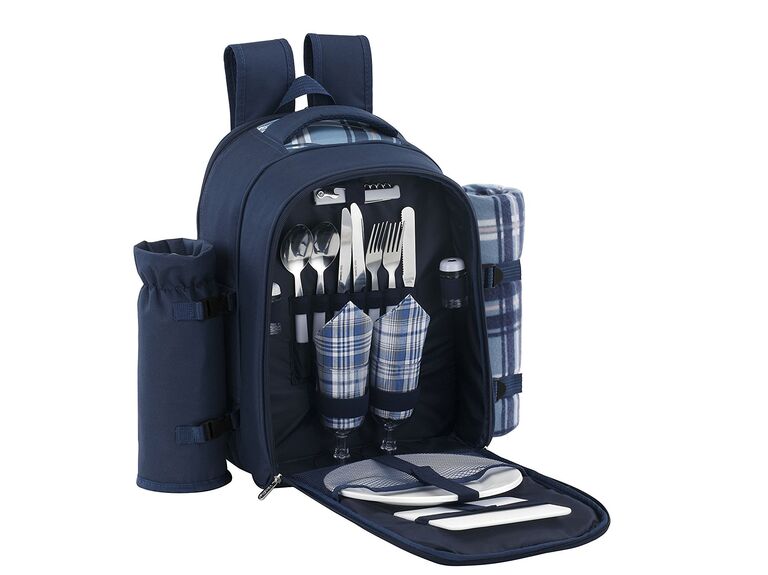 The to-be-weds will love a good excuse to do some alfresco dining with this cute picnic backpack.
Von Shef picnic backpack, $49, Amazon.com
Scrapbook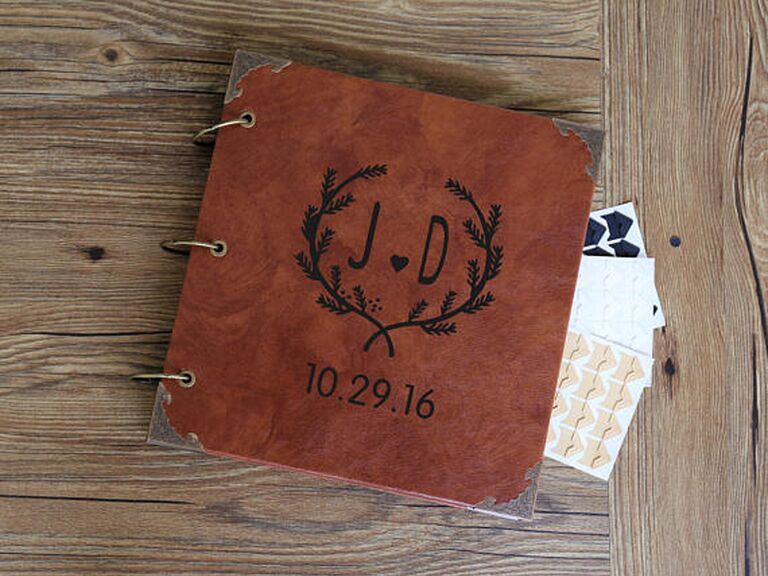 The crafty couple will surely treasure a wedding album where they can preserve their favorite photos and mementos.
AmyWoodenDecor personalized leather photo album, from $37, Etsy.com
Personalized Necklace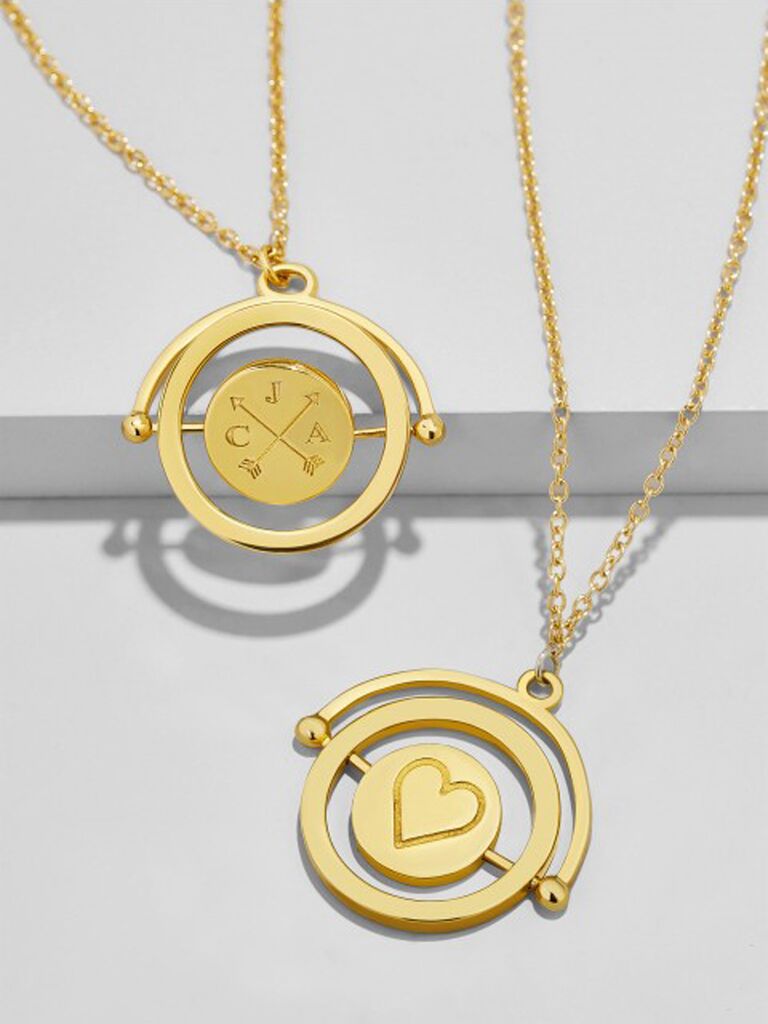 A shiny piece of jewelry can become a treasured keepsake. For a personalized touch, have it engraved with her initials, or hers and her future spouse's.
Baublebar pendulum pendant, $72, Baublebar.com

Spa Treatment

Wedding planning is definitely fun, but it can be stressful at times. The best gift for the bride might be a gift card for a relaxing massage or facial. Or she can use it to get a mani-pedi or salon service for her wedding day.
Spa Week gift card, amount of your choice from $10 to $500, SpaWeek.com
Pillow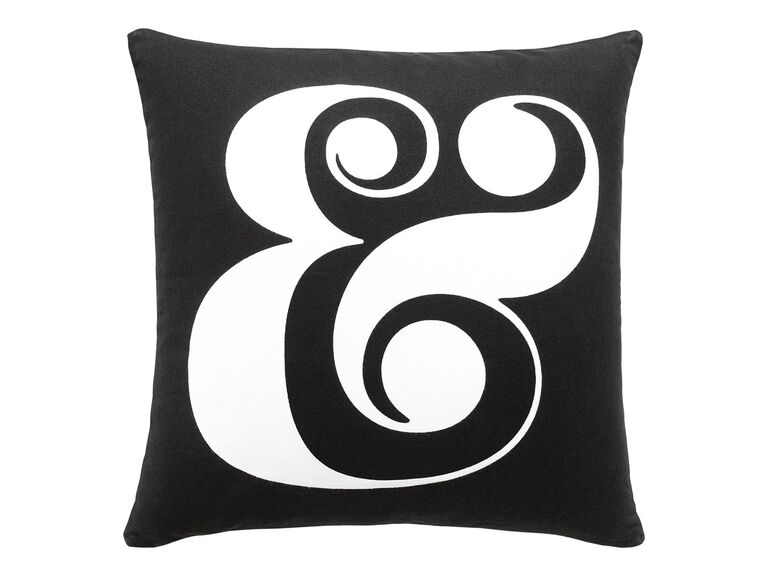 Choose a throw pillow representative of their union, like one with an ampersand on it, and you've got a fun bridal shower gift idea.
Kate Spade New York ampersand pillow, $50, Shop.Nordstrom.com
Date Night on You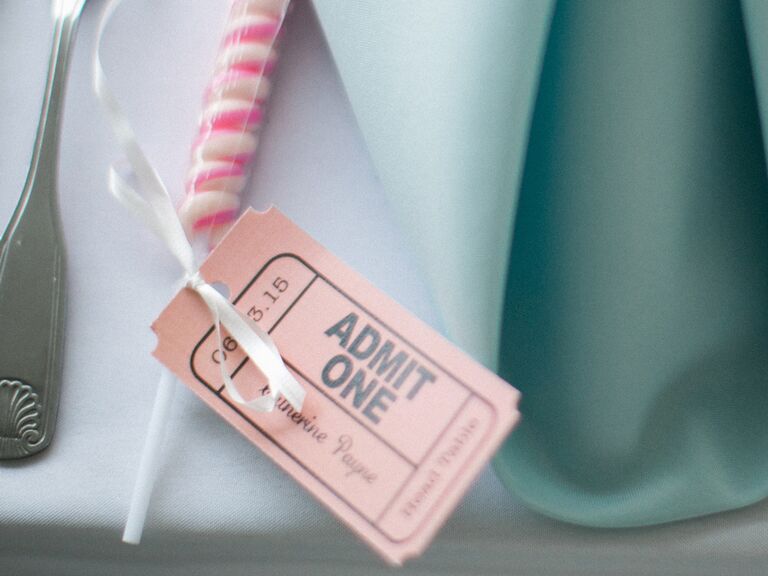 Clarence Chan Photography
The ultimate gift off the registry? The gift of date night (cue the awws). Look into upcoming theater or musical performances, or check into gift cards for the local movie theater or their favorite spot to eat.

Not sure where to begin with your wedding planning? Take our Style Quiz and we'll pull together a custom wedding vision and vendors to match, just for you.
Disclosure: This post contains affiliate links, some of which may be sponsored by paying vendors.