53 Fail-Safe Bridal and Wedding Shower Gift Ideas
We've found really good options for every budget.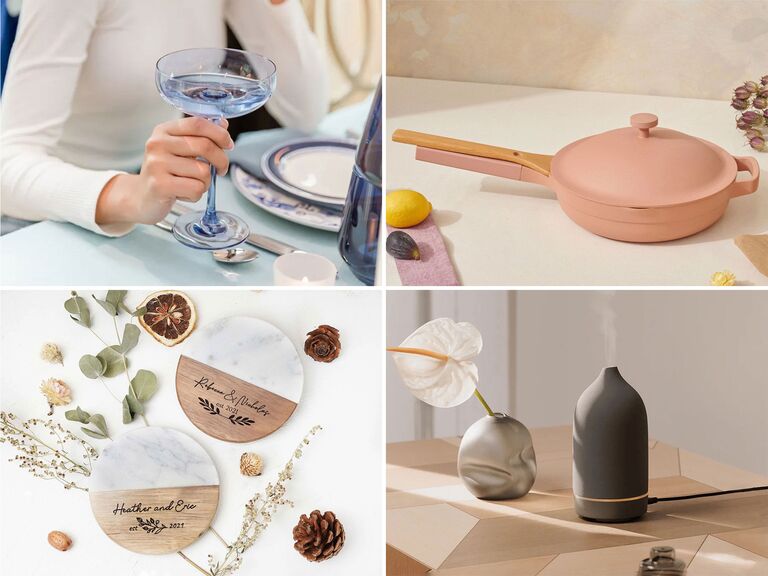 We have included third party products to help you navigate and enjoy life's biggest moments. Purchases made through links on this page may earn us a commission.
If there's a wedding shower in your future, you may be wondering if you need to buy a gift. Traditionally, showers are gift-giving events meant to help the lovebirds stock their newlywed nest, so it's courteous to bring something for the bride or couple. Sometimes, a host will request no gifts, but unless that's written on the invitation, it's safe to assume you should pick out a present.
Now begs the question: What's a good wedding shower gift? To make things easier, we've rounded up the most classic and creative ideas alongside shopping tips. Keep reading for a comprehensive list of the best bridal and couple shower gifts.
In this article:
What to Get for a Bridal Shower
Home essentials and wedding-related items are go-to gift ideas for bridal and wedding showers. But how do you pick the perfect present? We always recommend starting with the couple's wedding registry, which is often created before the shower. Couples spend a lot of time curating their wedding gift wish list, making it the ultimate resource for choosing a great present. (Use our guide to find a couple's wedding website and registry on The Knot.)
If the couple doesn't have a registry—or their list doesn't have any choices left for what you want to spend—it's acceptable to shop off-registry. To help you find something special that'll wow the to-be-weds, we've rounded up the best wedding shower gift ideas for all budgets. Here, you'll find the top bridal shower gifts that never go out of style, along with modern and unique ideas for those who already have the basics covered. When it comes to what to bring to a shower, this list is it.
Classic Bridal Shower Gift Ideas
Not sure what to get for a wedding shower? Check out these tried-and-true presents. These traditional bridal shower gifts please soonlyweds year after year, so they're a great place to start if you're really feeling stumped.
Silver Picture Frame
This timeless silver picture frame is the perfect piece of home decor for an engaged couple. It guarantees they'll have a place to display their favorite wedding photo immediately after the special day. The elegant lines ensure the memory inside is the center of attention.
Tinted Champagne Flutes
With so much to celebrate, the couple needs some champagne glasses. We're obsessed with these gorgeous coupes from Estelle Colored Glass. Pick up a set of two in one of 10 timeless colorways, including Cobalt Blue, Amber Smoke and Emerald Green.
Luxury Throw Blanket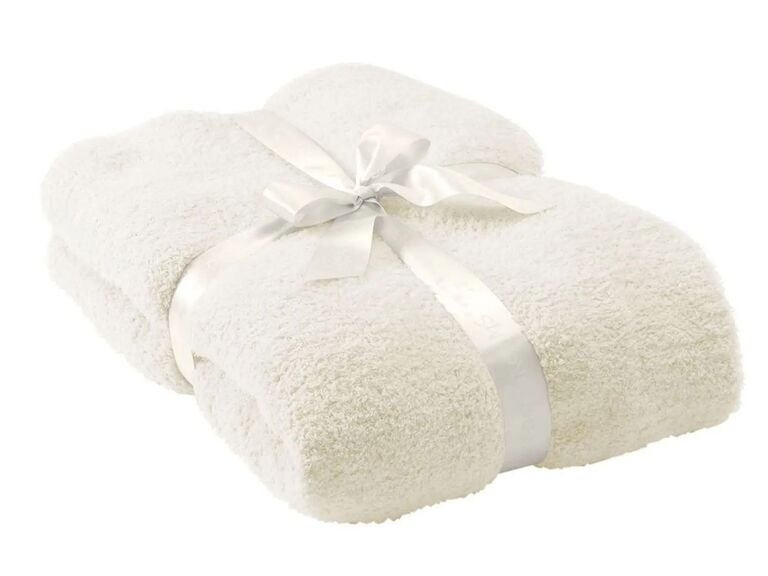 A cozy blanket never goes unappreciated. This throw from Barefoot Dreams has received a lot of buzz—and for good reason. The plush microfiber blanket will be a soft and stylish addition to the couple's couch or bedroom. Best of all, it won't shrink, pill or wrinkle.
Silky Sheet Set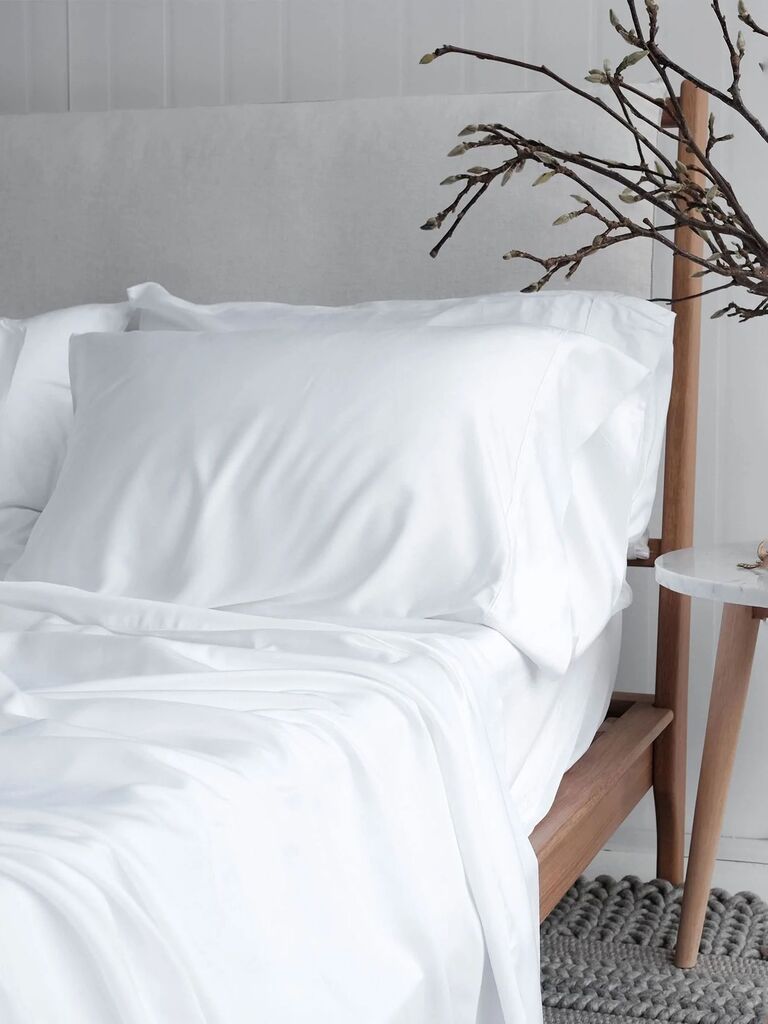 A newlywed nest can't have enough high-quality sheets, and that's just a fact. This crisp white sheet set is made from eucalyptus fibers for a soft and silky feel that's gentle on skin. Plus, the luxurious fabric helps regulate body temperature for a cooler night's sleep. It may just become their favorite bridal shower gift.
Versatile Dessert Stand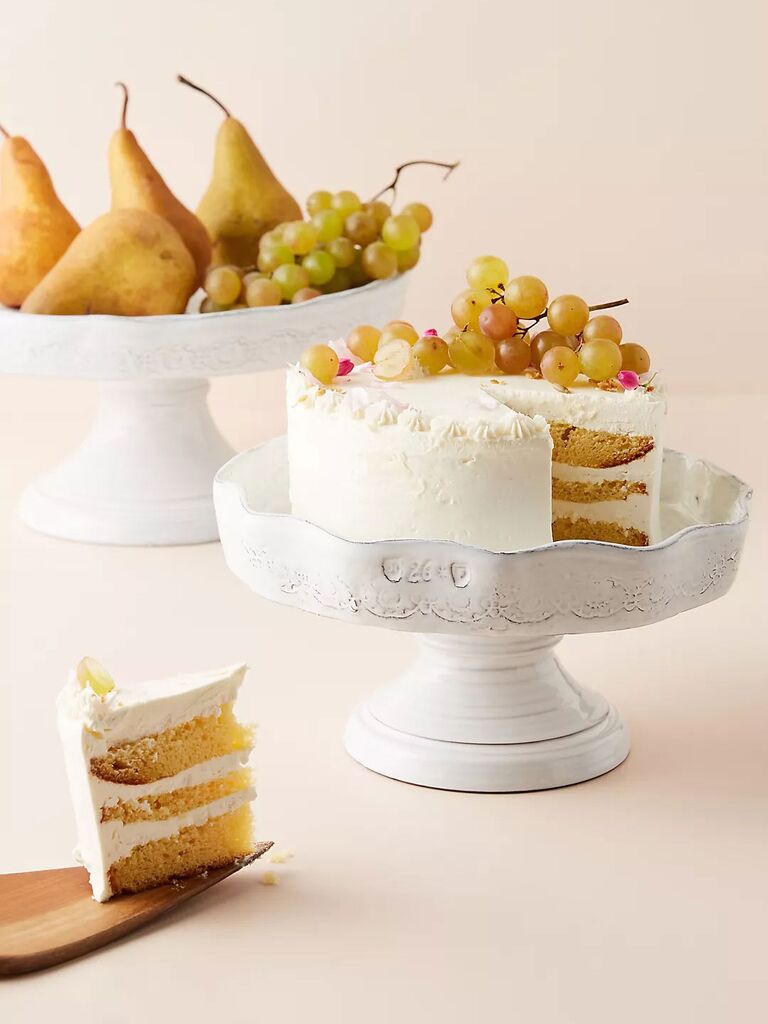 Every host needs a few dessert stands in their repertoire. Our pick? A pedestaled display that works for sweets and appetizers. This particular cake stand is handcrafted in Italy and boasts a rustic, weathered white finish. It comes in two sizes and it's dishwasher and microwave safe.
Appetizer Plate Set
Tableware is a classic bridal shower gift, and if the couple plans a lot of parties, they can never have too many appetizer plates. This blue patterned set will be a fun addition to their collection. Plus, the dishes aren't too expensive, so you can get them in multiple sets of four without breaking the bank.
Cake Serving Set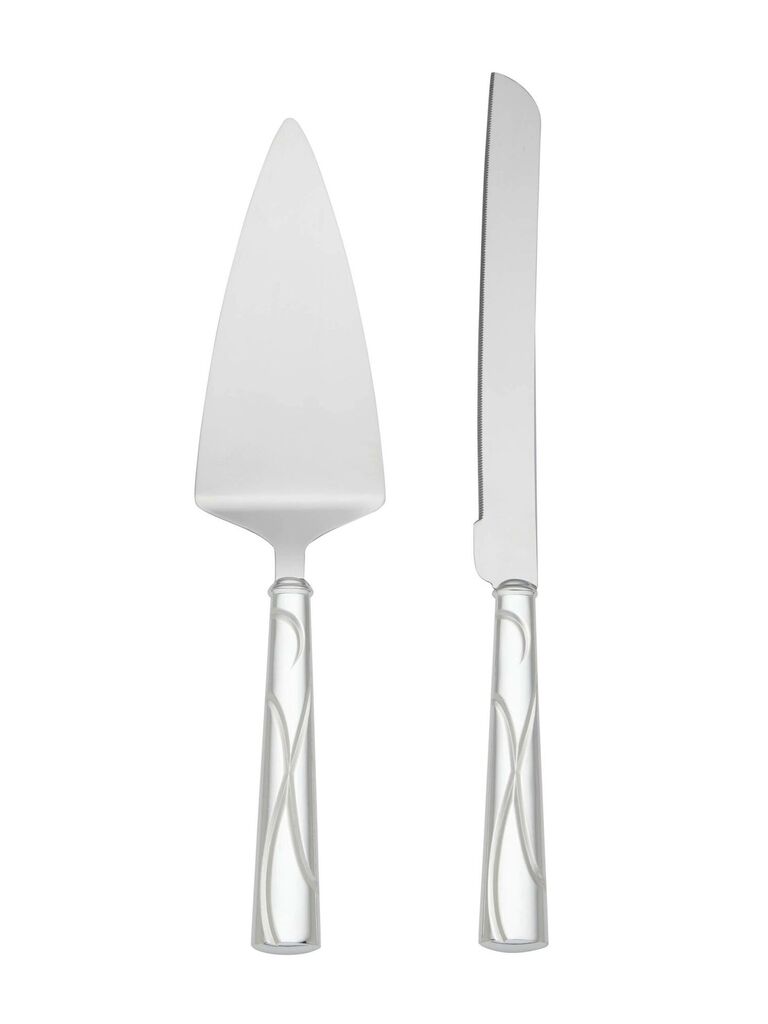 Help them check off one of their prewedding to-dos and gift them a wedding cake cutting set. This beautiful silver-plated serving set has ornately carved handles for an elegant finish. It comes with one server and one serrated knife.
Decorative Serving Platter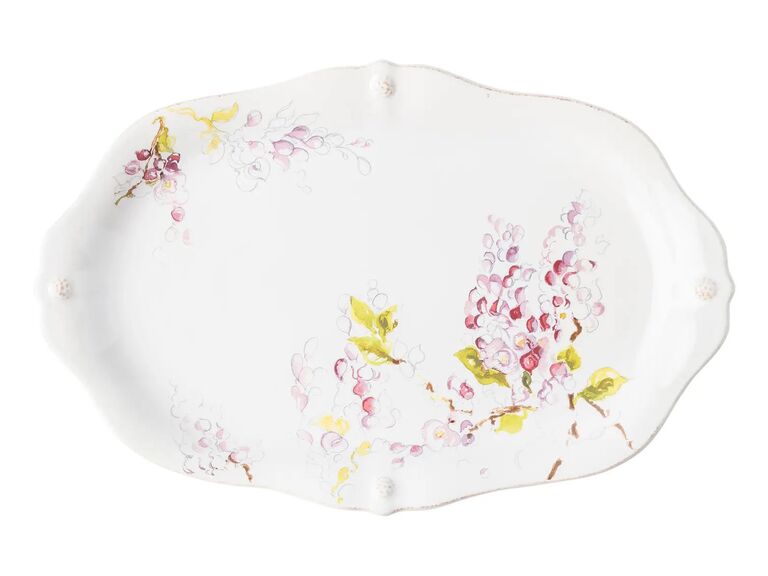 We have a feeling this whimsical serving platter will earn you a seat at their next dinner party. Decorated with watercolor wisteria blooms, this white ceramic serving dish with scalloped edges is a tasteful piece of tableware the couple will always want on display.
Lovebirds Serving Bowl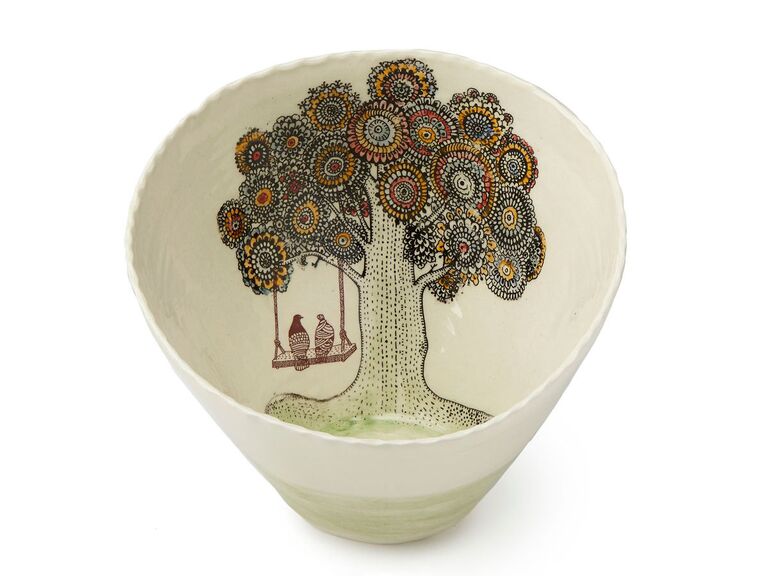 Serving bowls are home staples; add a little twist with this artsy keepsake. This handmade ceramic bowl is painted with a pair of doves (aka lovebirds) who share a swing under a tree with eye-catching flowers as the leaves. The bottom of the dish reads "some hearts understand each other, even in silence" and is customized with the couple's names. Despite its intricacy, it's dishwasher and microwave safe.
Plush Bath Robes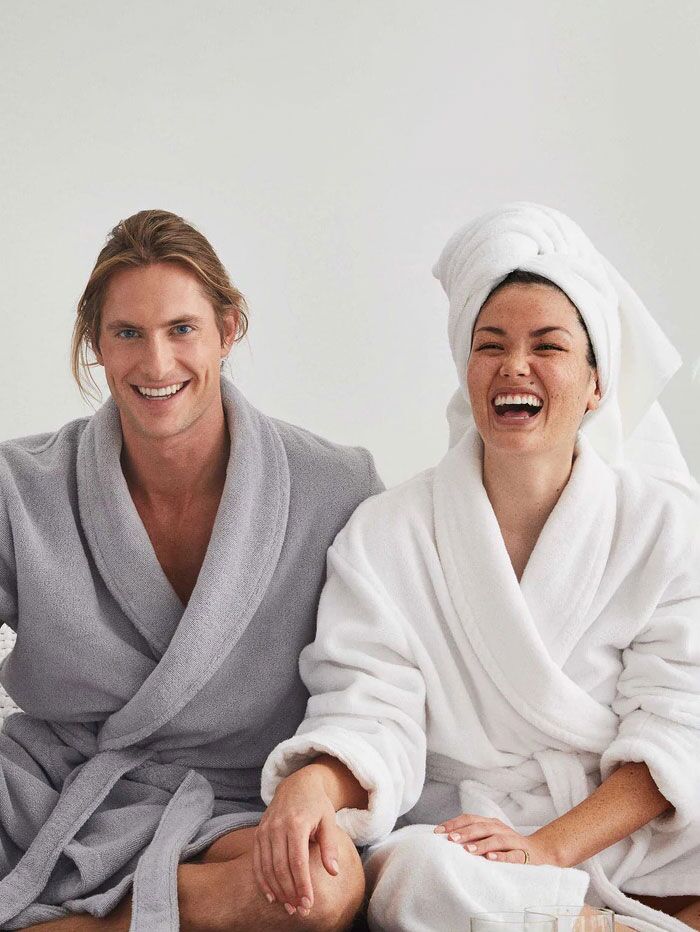 If you're looking for a good bridal shower gift that'll get plenty of use, consider a set of super-plush bath robes for the bride and her future spouse. Made from Turkish cotton and available in five classic colors, these robes are oh-so-cozy. On the days the to-be-weds need a little break from wedding planning, they'll love slipping into these comfy presents.
Monogrammed Bath Towels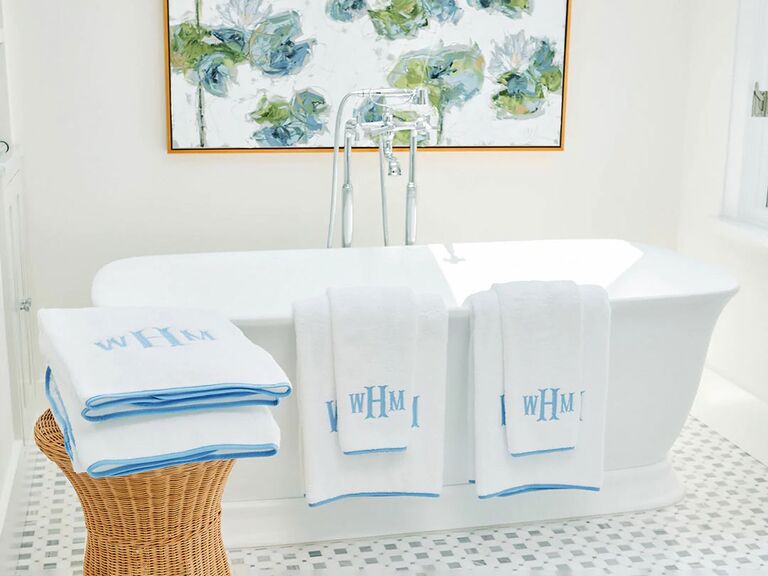 Monogrammed bath towels are foolproof bridal shower gifts. They're just the thing to make the future newlyweds feel super posh right in their own home. This set of cotton towels with piped edges is perfect for a pair. It includes four bath towels and two hand towels.
Hard-Shell Carry-On Luggage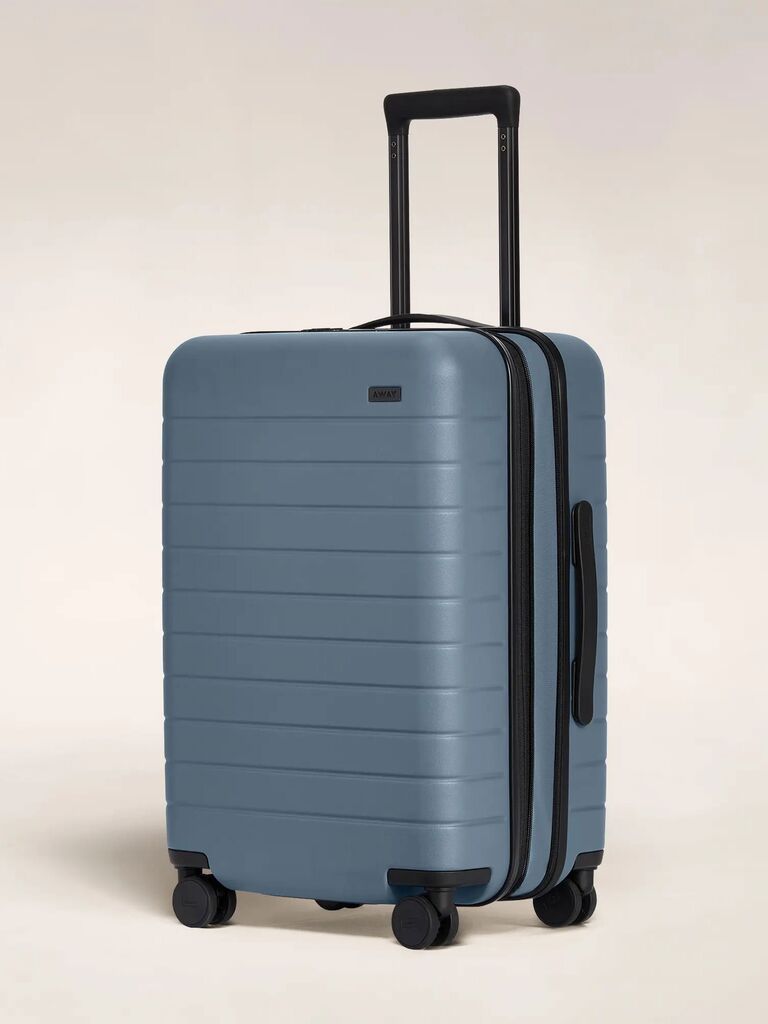 A luggage upgrade before the honeymoon? Yes, please. This hard-shell carry-on suitcase isn't just easy on the eyes. It can expand to make an extra 2.25 inches of space—perfect for the overpacker or souvenir shopper. On top of that, it offers interior organization and compression, as well as a TSA-friendly combination lock for travel security.
Matching Luggage Tags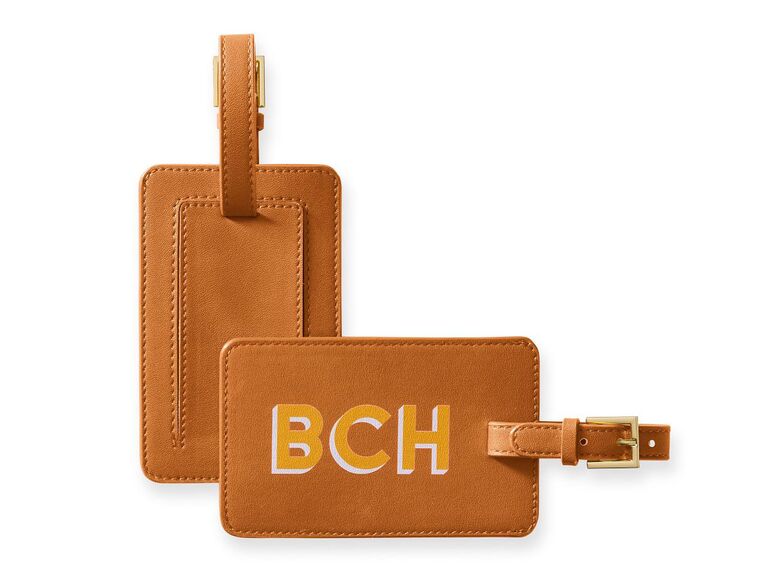 If you need a wedding shower gift for avid travelers, matching luggage tags are a fail-safe idea. This vegan leather luggage tag has a secure buckle and privacy flap. Plus, you can have it monogrammed with a colorful shadow print or elegant foil. It's a chic gift that'll help them keep track of their belongings.
Electronic Blender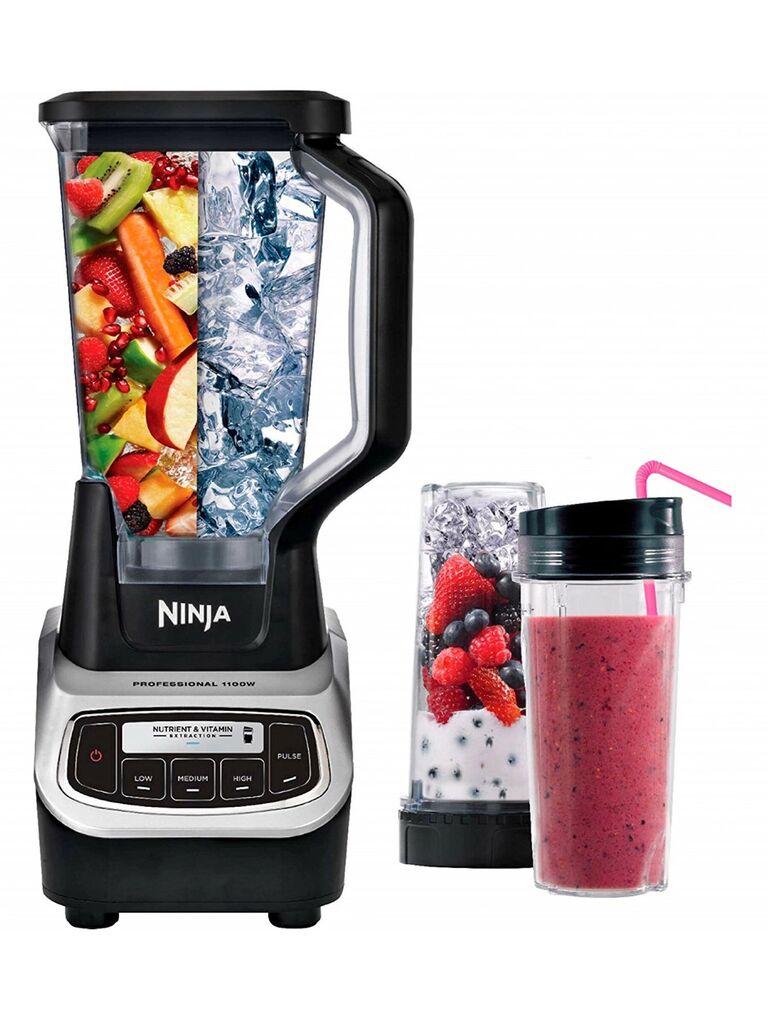 Appliances are classic bridal shower gift ideas, and the couple's kitchen won't feel complete without a good blender. This Ninja blender comes with a 72-inch pitcher and a travel cup with a lid, so they can blend drinks for a crowd or make a personal to-go smoothie. Better yet, it's dishwasher safe.
Food Storage Set
Who says food storage has to be boring? This affordable bridal shower gift is not only practical, but also super cute. The Kate Spade set comes with two round glass containers with latch-on lids for an airtight seal. They're decorated with black polka dots so the couple's leftovers get put away in style.
Picnic Basket for Two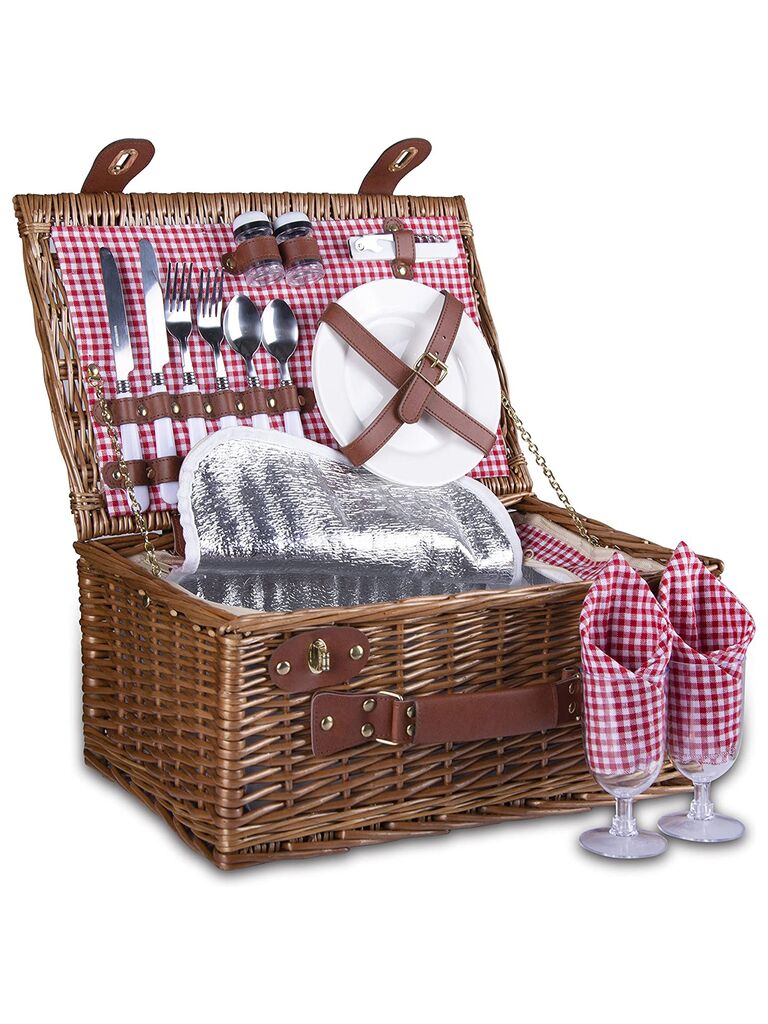 When you need a last-minute shower gift, let Amazon Prime come to the rescue. Give the couple the gift of a classic date with this cute gift set for two. This insulated wicker picnic basket includes plates, napkins, silverware, wine glasses and even salt and pepper shakers—aka all the supplies needed for a romantic meal at a nearby park (or even in their backyard).
Stainless Steel Kitchen Knives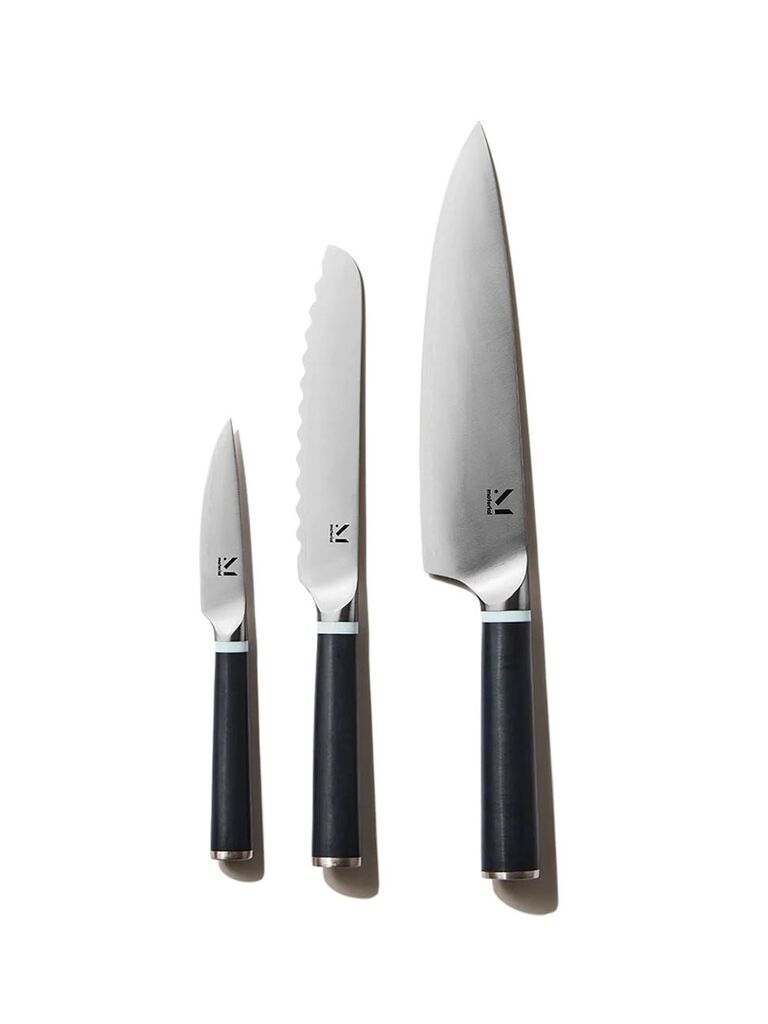 Sharp cooking knives are critical kitchen accessories. Make sure the couple is well stocked with this high-performance cutlery set. It includes three stainless steel and high carbon knives (psst, that means they're extra sharp) with chic matte, stain-resistant handles. For an additional cost, you can add a magnetic wooden stand for easy storage and display. If the couple loves to make food together, this classic bridal shower gift will get used almost every day.
Colorful Kettle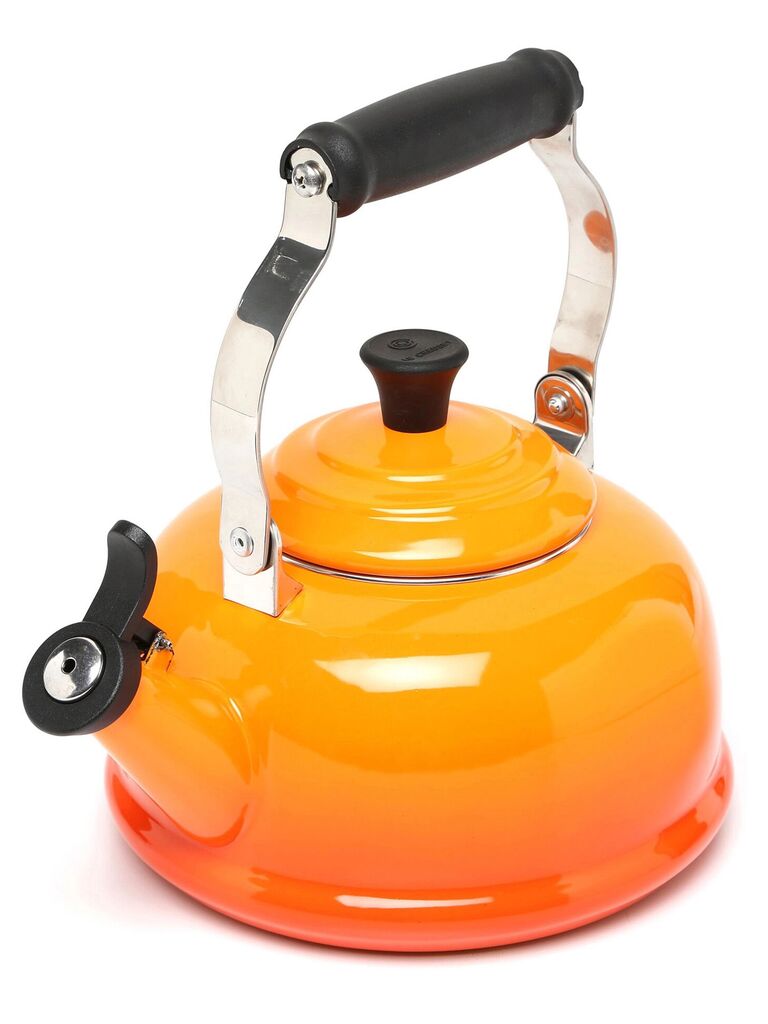 Nothing turns a house into a home quite like a stovetop kettle. This stylish option has a locking, heat-resistant handle and whistle to let them safely pour the water once it's hot. Pick it up in firey orange or one of Le Creuset's other coveted colors.
Domed Serving Board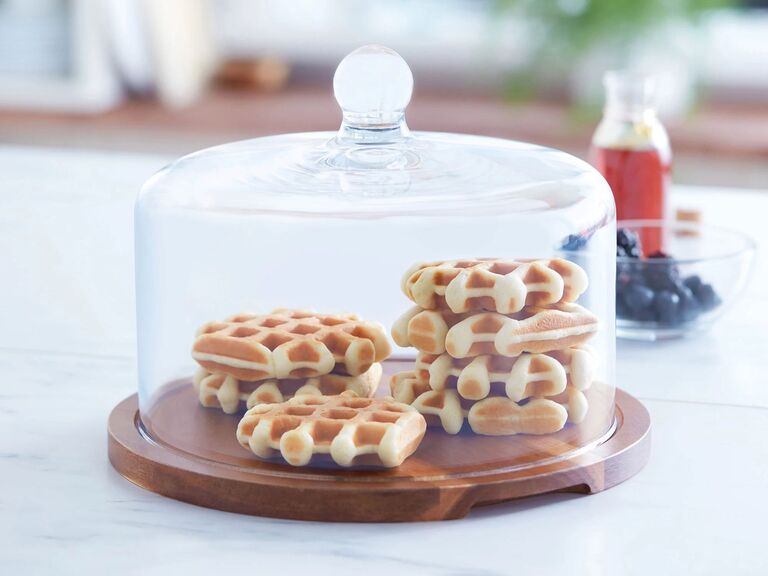 Glass domes don't just offer protection, they're also attractive serveware. The couple can keep cakes, pies, hors d'oeuvres and more on display (and within snacking reach) with this richly grained acacia wood board with a stunning glass dome. It's a cute take on classic serveware gifts for the wedding shower.
Countertop Bread Box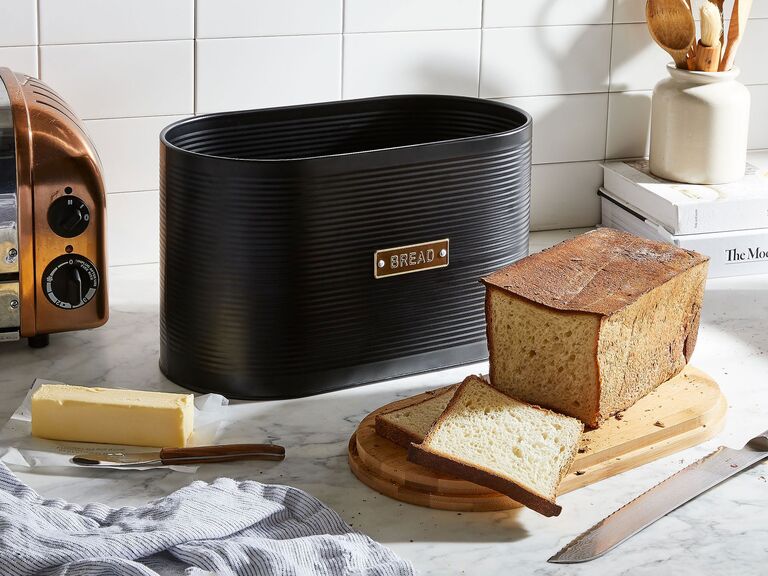 Speaking of stylish ways to keep food on the counter, how about this quaint and super-useful bread box? Everything old is new again, as evidenced by the popularity of farmhouse-style housewares. If the couple has a thing for shabby chic decor, they'll get good use out of this black steel bin. We have a feeling this bridal shower gift would be Joanna Gaines-approved.
Crystal Flower Vase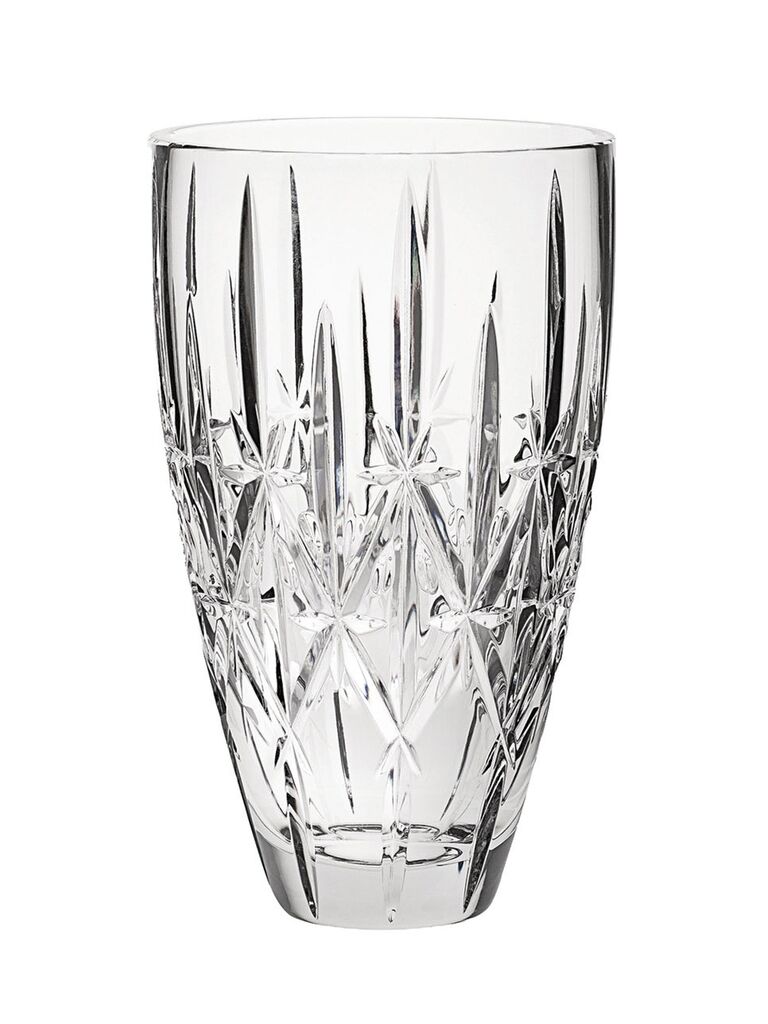 Crystal is yet another classic wedding shower gift. This crystal vase will add instant class to an entryway or dining table. The diamond cuts create a gorgeous sparkle that'll make the couple feel like they're living the high life whenever they walk past it.
Engagement Ring Dish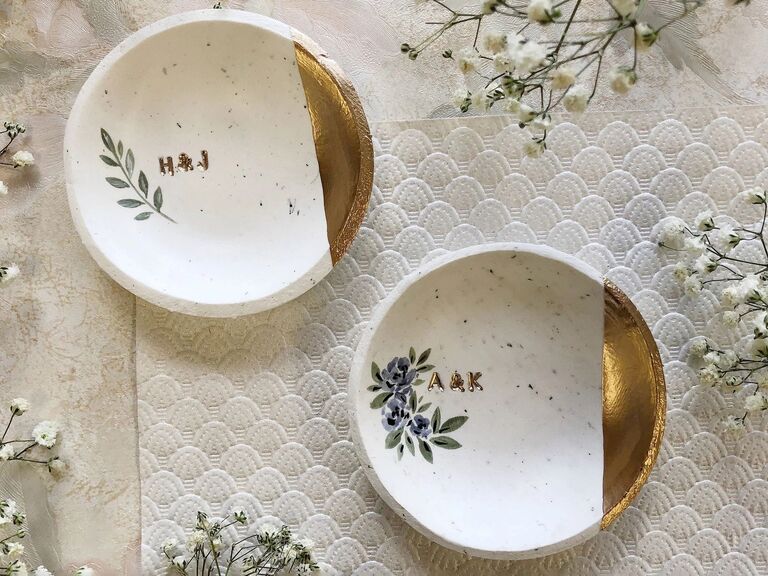 Wedding jewelry deserves special storage, which is why a custom ring dish is a cute and useful bridal shower gift. We're obsessed with this speckled clay keepsake, which features floral artwork and a pop of metallic gold paint. The best part is that it's stamped with the couple's initials, making it a thoughtful gift idea for the couple who already has everything.
Etched Crystal Decanter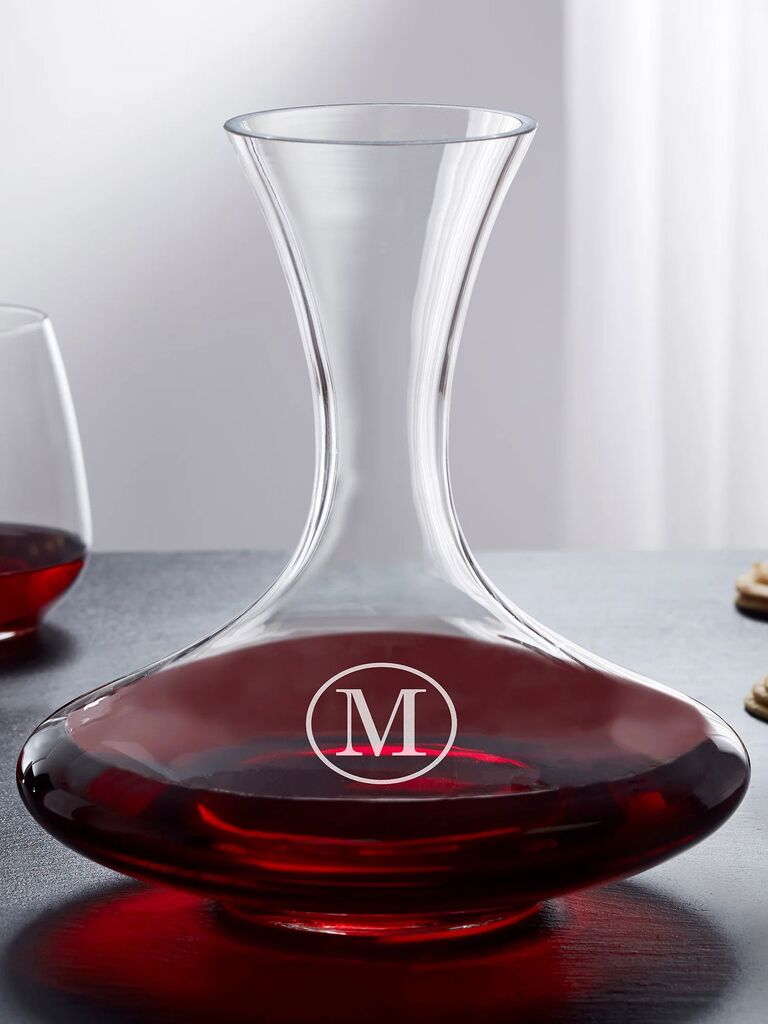 Upgrade their bar cart with a sleek crystal decanter. This wedding shower gift idea is great for oenophiles who take their wine tastings seriously. The wide rounded base and long narrow neck aerate wine to help reveal its fullest flavor. Don't worry, it was also elegantly designed so it won't tip over. Have it etched with the couple's first initials or soon-to-be-shared last name.
Popular Pressure Cooker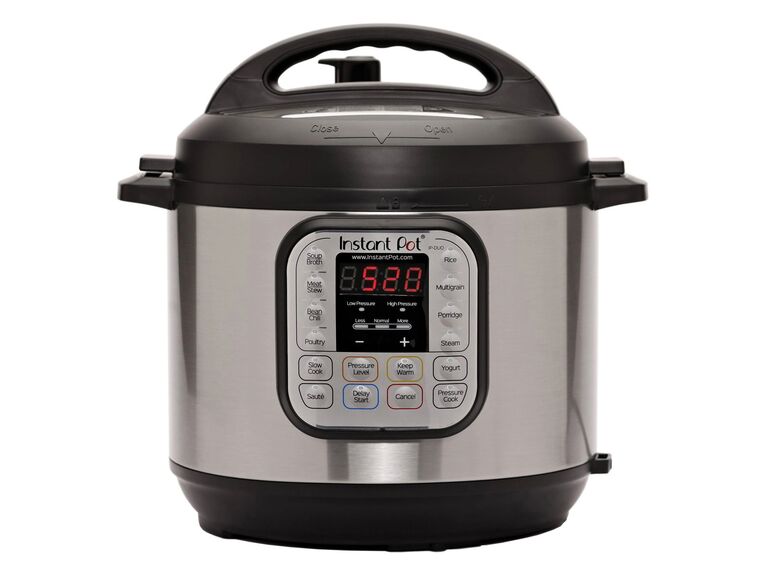 Save the couple tons of time in the kitchen by gifting them a bestselling Instant Pot. This large-capacity pressure cooker has a user-friendly panel, preset programs and advanced safety features, plus an easy-to-follow cookbook so they can begin cooking right away. It's one of the best wedding shower gifts for couples moving in together for the first time.
Retro Toaster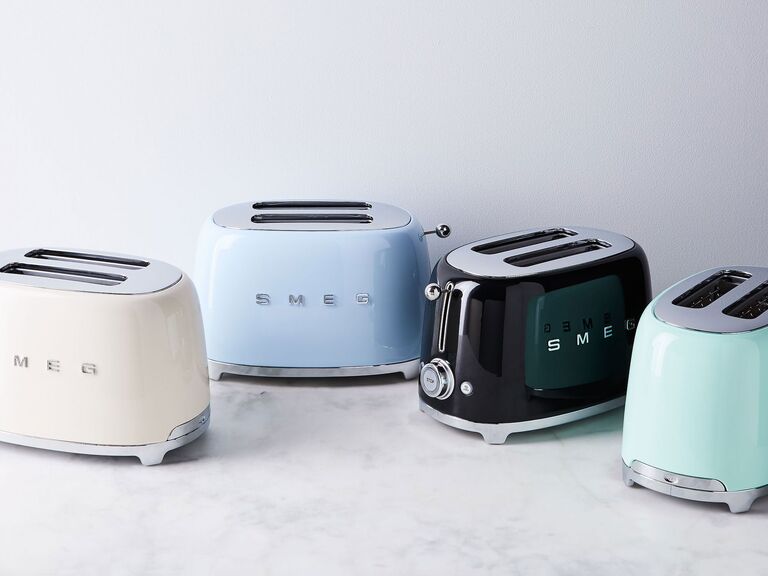 Looking for a practical and adorable bridal shower gift? How about SMEG's charming toaster with modern technology and mid-century style? It has six heat levels, reheating and defrosting settings, plus extra-wide slots to fit a range of breads. But our favorite part has to be the retro color options.
Compact Air Fryer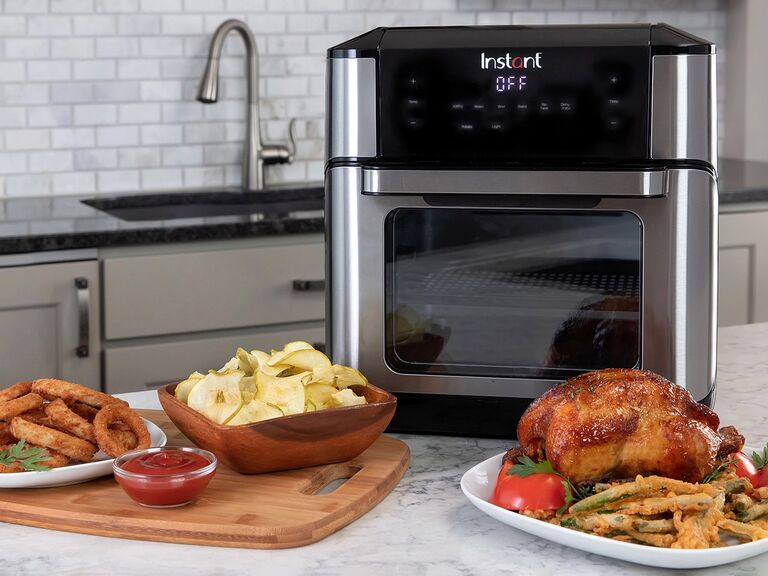 At one point, an air fryer was a unique kitchen appliance, but today it's a classic wedding registry pick. This handy tool uses hot air to cook food instead of oil, making it a healthier (but equally tasty) alternative to deep-frying. Whether they love cooking dinners from scratch or they find their favorite meals in the Trader Joe's frozen food section, an air fryer will definitely get plenty of use.
Unique Bridal Shower Gift Ideas
These trendy and all-around unique gifts for a bridal shower are ideal for the modern couple. Plus, if you don't have a lot of options left to pick from on their wish list, these creative wedding shower gifts are great supplements to what's already on their registry.
Washable Silk Sleepwear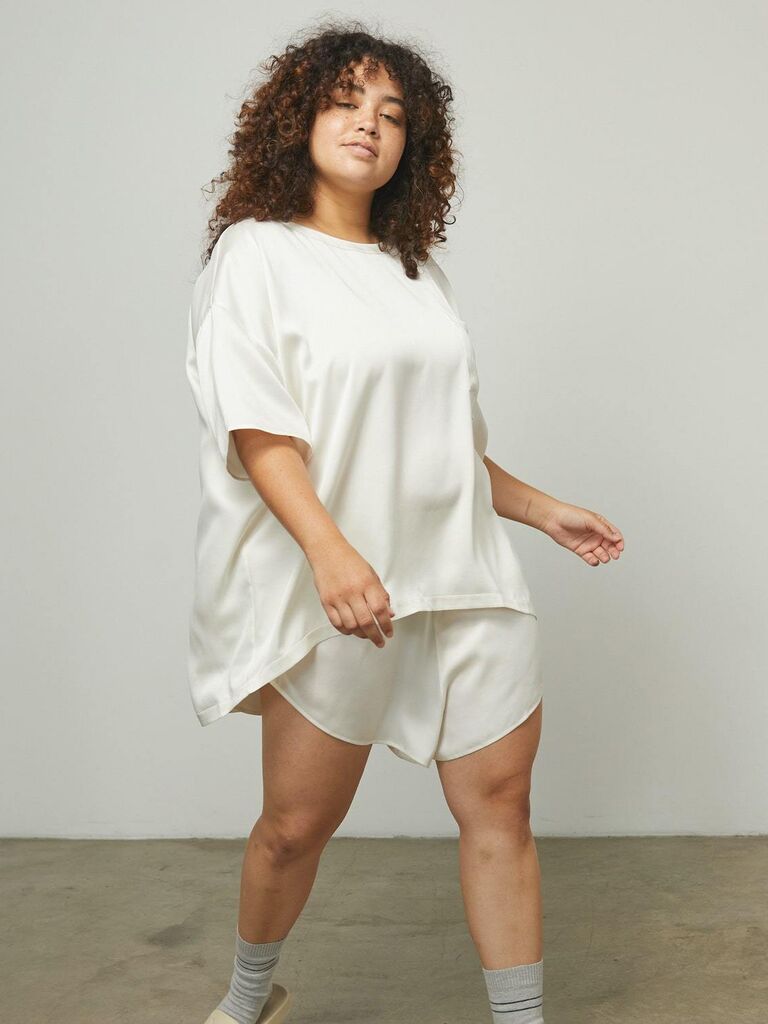 Looking for a unique shower gift for the bride? This white two-piece lounge set includes an oversized T-shirt with a matching pair of relaxed shorts, perfect for days spent wedding planning on the couch. It's made of washable silk so it's luxuriously soft but low-maintenance. Shopping for a groom instead? Check out Lunya's menswear collection. Either way, use the code FOR-TK20 for $20 off your first order of $100 or more.
Wedding Keepsake Library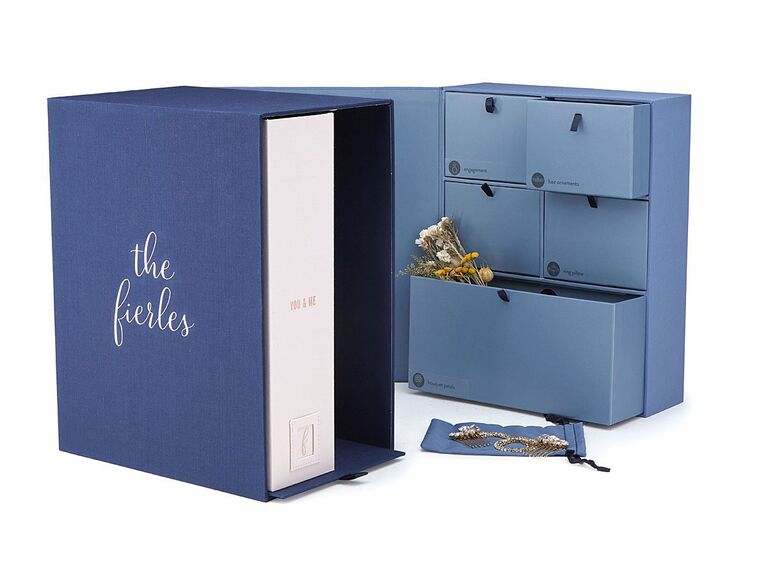 This creative wedding shower gift will preserve special mementos from their big day, like hand-written speeches, Polaroids and accessories. Small keepsakes can be safely stored in the acid-free drawers, vertical files, fabric bags and stitched envelopes. As an added bonus, you can customize the organizer with the couple's names.
Diamond Cleaning Kit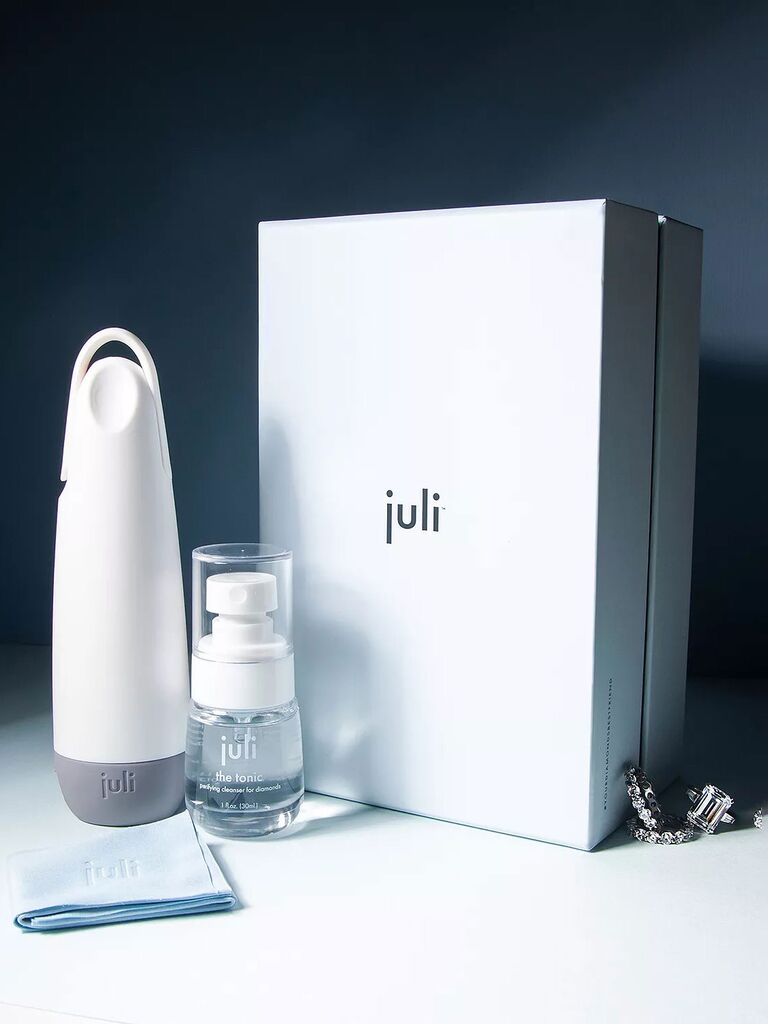 It's important that the bride's engagement ring is in its sparkliest form on the wedding day (and every day after that). So, how about a diamond ring cleaning kit? This gift set includes an advanced cleaning brush, purifying cleanser and a chamois cloth so she has everything she needs to clean her jewelry at home.
Smart Indoor Garden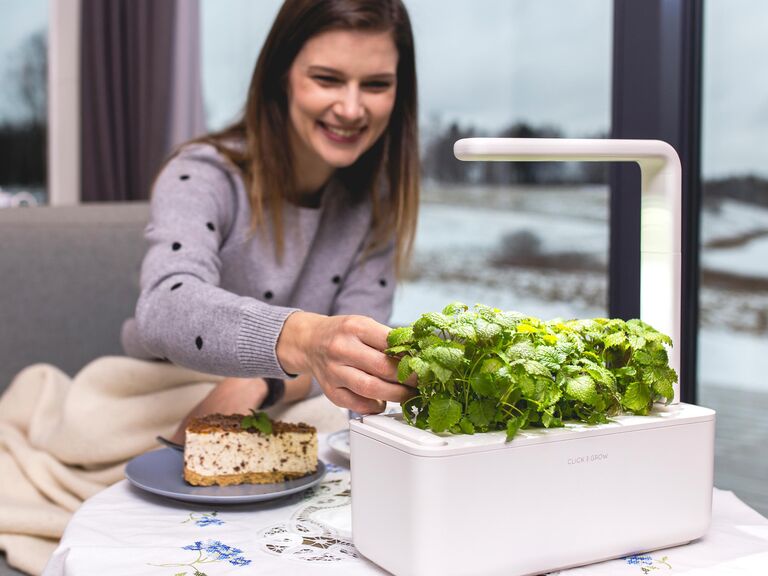 Here's one of the most unique bridal shower gifts we've seen lately: an indoor herb and vegetable garden. The smart technology automatically provides the right amount of light and water, so even those without a green thumb can get in on the fun. Who wouldn't want some fresh basil sprouting on their kitchen counter?
Fill-in-the-Blank Family Cookbook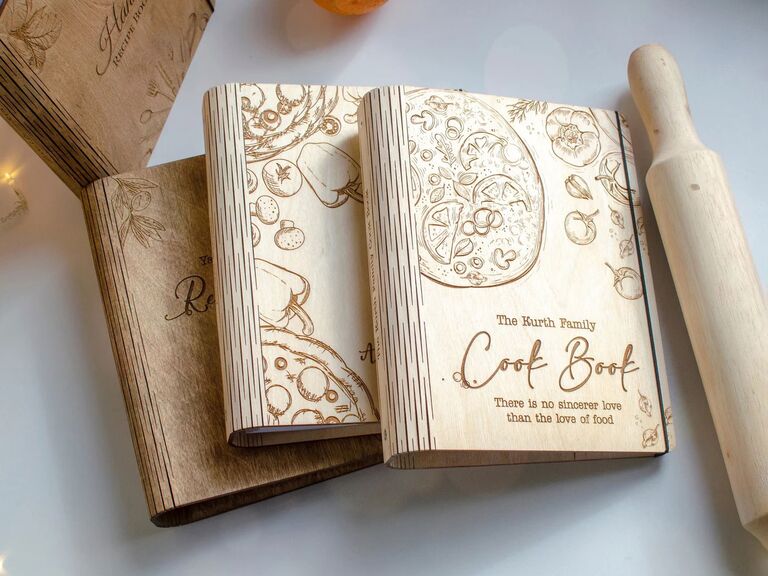 This custom recipe book is a really special wedding shower gift for a couple. If they love spending time experimenting in the kitchen together, they'll appreciate that this thoughtful gift can hold both of their most cherished family recipes. Plus, thanks to a rustic birch wood cover, it'll look beautiful on their shelf.
Custom Cutting Board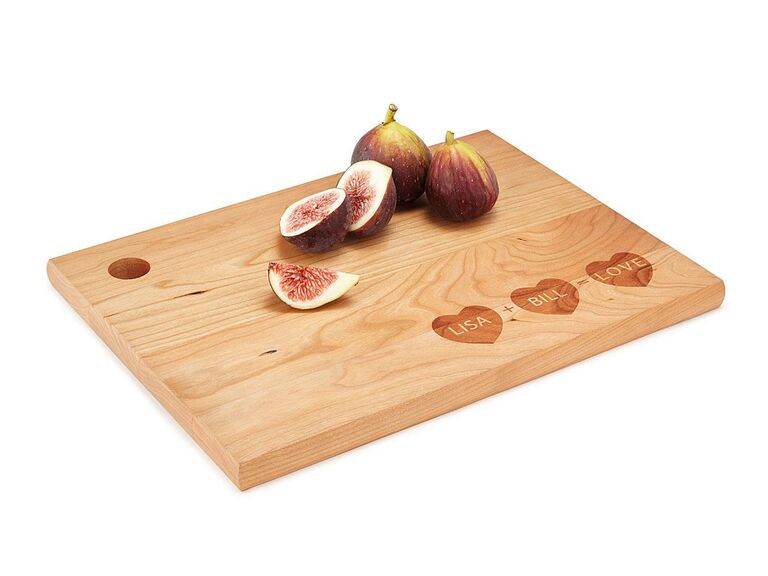 Who wouldn't love a sleek cutting board for chopping veggies or presenting cheese and charcuterie? Crafted from cherry wood and etched with the couple's names framed by hearts, this unique serveware is a thoughtful gift for the soonlywed couple.
Rosé Gift Box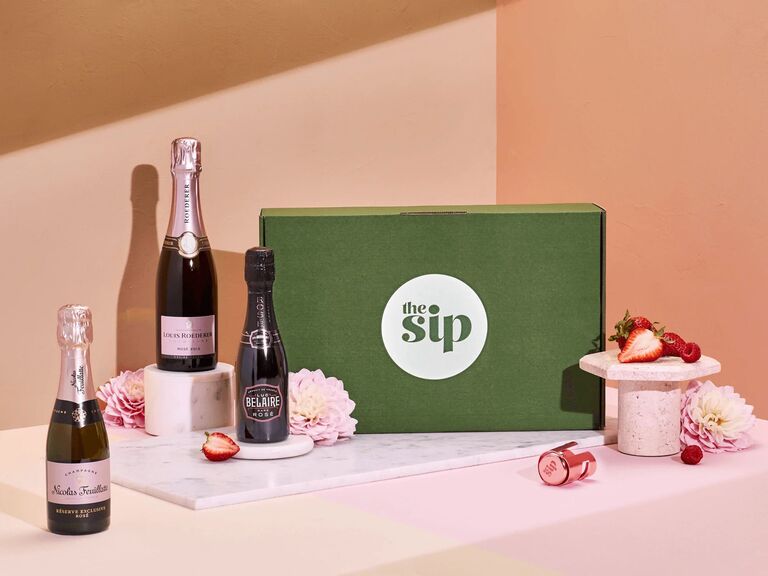 Bubbly and celebrations go hand in hand. For a modern take on a classic gift, treat the bride to a taster set of sparkling rosé. This curated gift box comes with a half bottle of Louis Roederer Rosé and two mini bottles of Luc Belaire Rosé and Nicolas Feuillatte Rosé. A cute rose gold champagne stopper completes the set.
Monogrammed Ice Bucket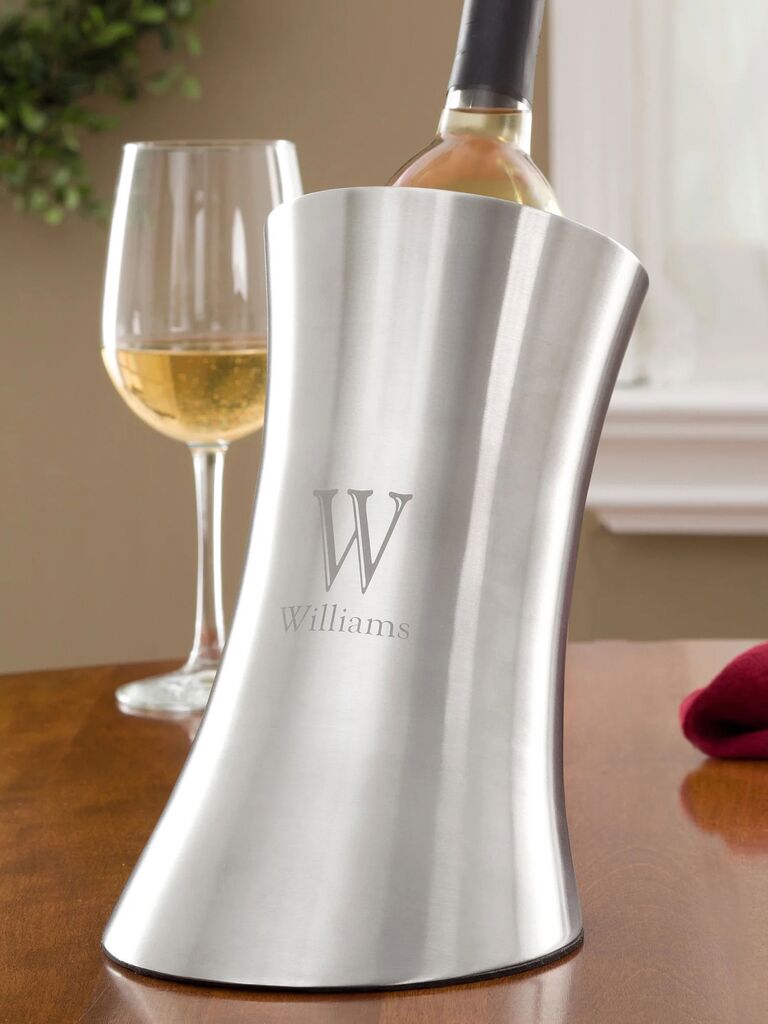 If wine glasses are already snagged from their registry, consider this unique and personalized wedding shower gift: a stainless steel wine chiller. This aesthetically pleasing ice bucket, which can be customized with the couple's monogram, will look exquisite on their bar cart. The insulated, double-walled cylinder is perfect for long nights spent chatting over a bottle (or two) of their favorite vino.
Craft Cocktail Kit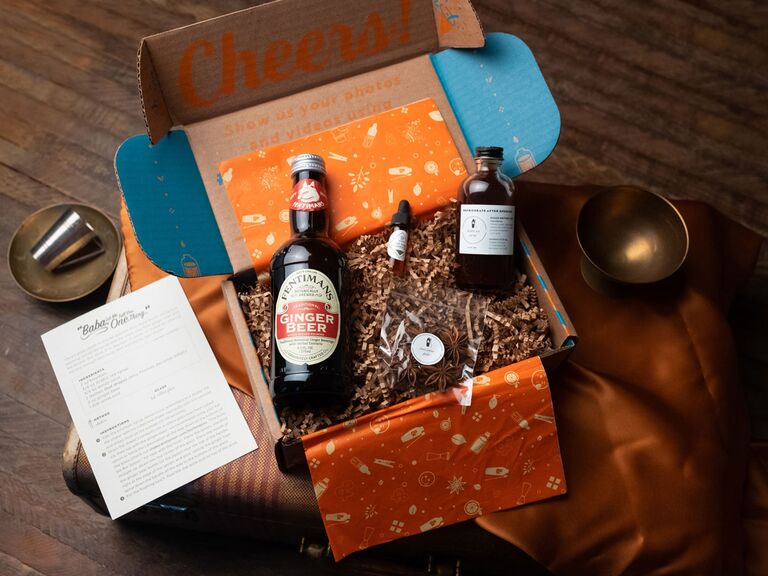 Consider giving the couple a fun experience to help them make the most of their engagement period. If they enjoy cocktails over wine or beer, they'll love this creative bridal shower gift box idea. Shaker & Spoon sells specialty craft cocktail kits that include everything but the liquor to make artisanal drinks right from the comfort of home. They might even discover their signature drink for the wedding.
Couple's Coaster Set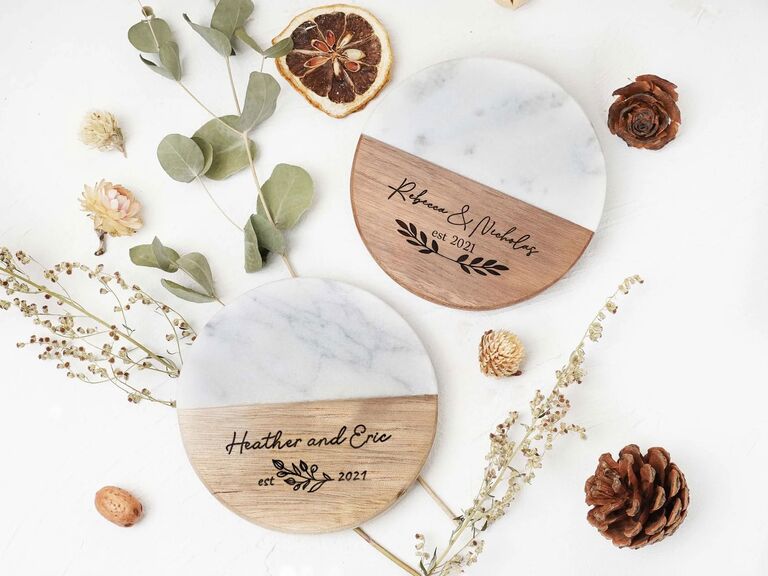 If you're looking for an inexpensive wedding shower gift that's still meaningful, look no further than custom coasters. These round coasters are crafted from marble and wood, then engraved with the couple's names and wedding year. They're a go-to bridal or couple shower gift that'll help the pair protect all their new furniture.
The Adventure Challenge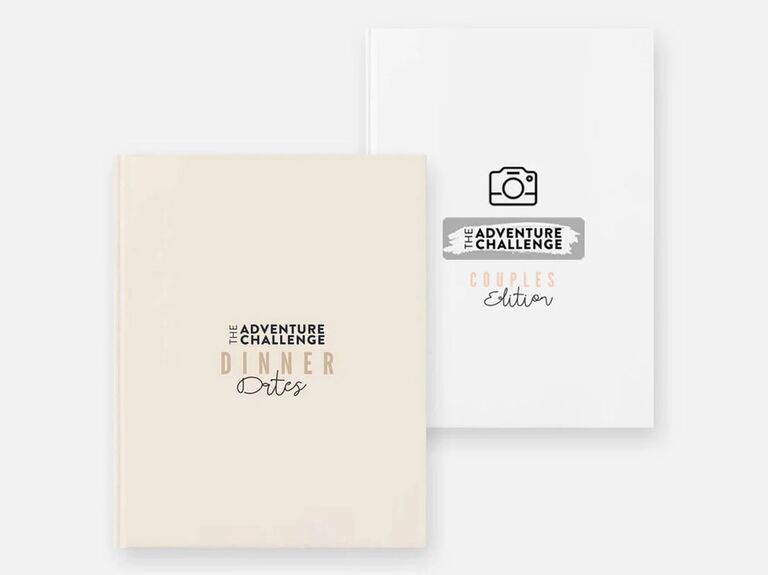 Life gets busy when you're planning your nuptials, and the couple might not have as many date night ideas lined up as they'd like to. That's where The Adventure Challenge comes in. This bundle set comes with the Couple's Edition and Dinner Date scratch-off books so the pair can choose between almost a hundred unique date ideas in or out of the house. (Psst, use the code THEKNOT10 for 10% off sitewide.) Now that's a great shower gift for the couple who has everything.
Essential Oil Diffuser
Oil diffusers are all the rage right now and what's not to love? They fill a room with subtle, pleasant scents that are meant to soothe. If you're not sure what to get for the bridal shower, this deluxe diffuser will instantly boost the couple's mood. It comes in a range of trendy colors and boasts a really sleek design. Pair it with a set of popular essential oil fragrances—like calming lavender and energizing grapefruit—to alleviate any wedding-induced stress.
Wedding Countdown Plaque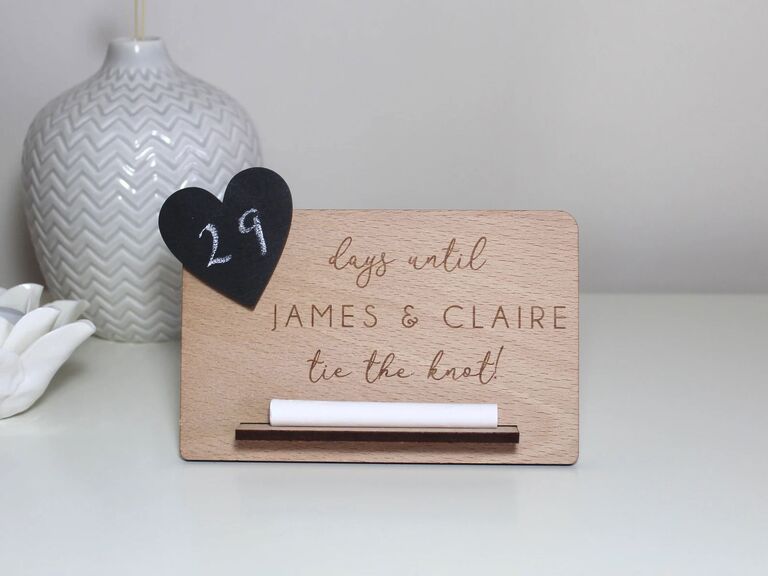 This is probably one of the cutest (and most affordable!) bridal shower presents on the market. Help the lovebirds indulge in wedding anticipation with this countdown gift. The number of days gets displayed inside a chalkboard heart; plus, the gift is personalized with the couple's names. It'll become a front-and-center keepsake in their home leading up to the big day.
Wedding Day Emergency Kit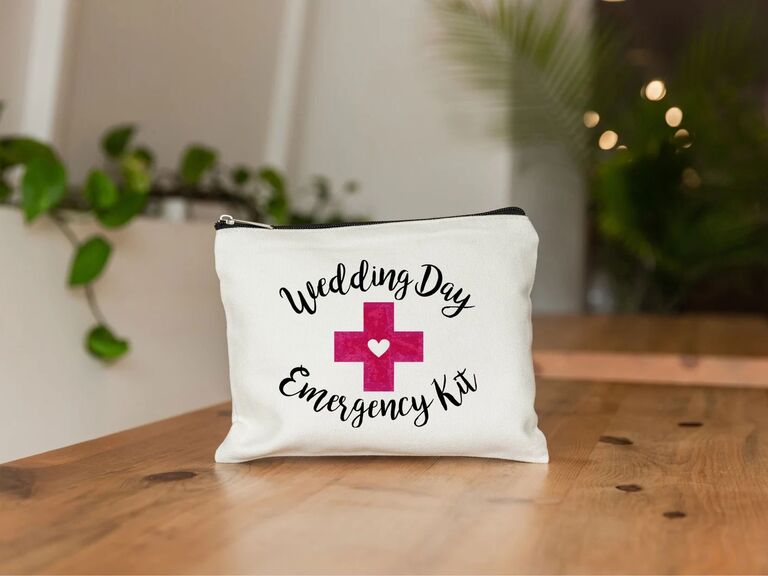 Make sure the to-be-weds are prepared for anything that comes their way on the big day. Fill this "wedding day emergency kit" with essential goodies you know the couple will appreciate. Think: a pack of tissues, a quick-fix sewing kit and their favorite candy. Even though it's an inexpensive bridal shower gift idea, being prepared in an emergency is priceless.
Wedding Getting-Ready Robe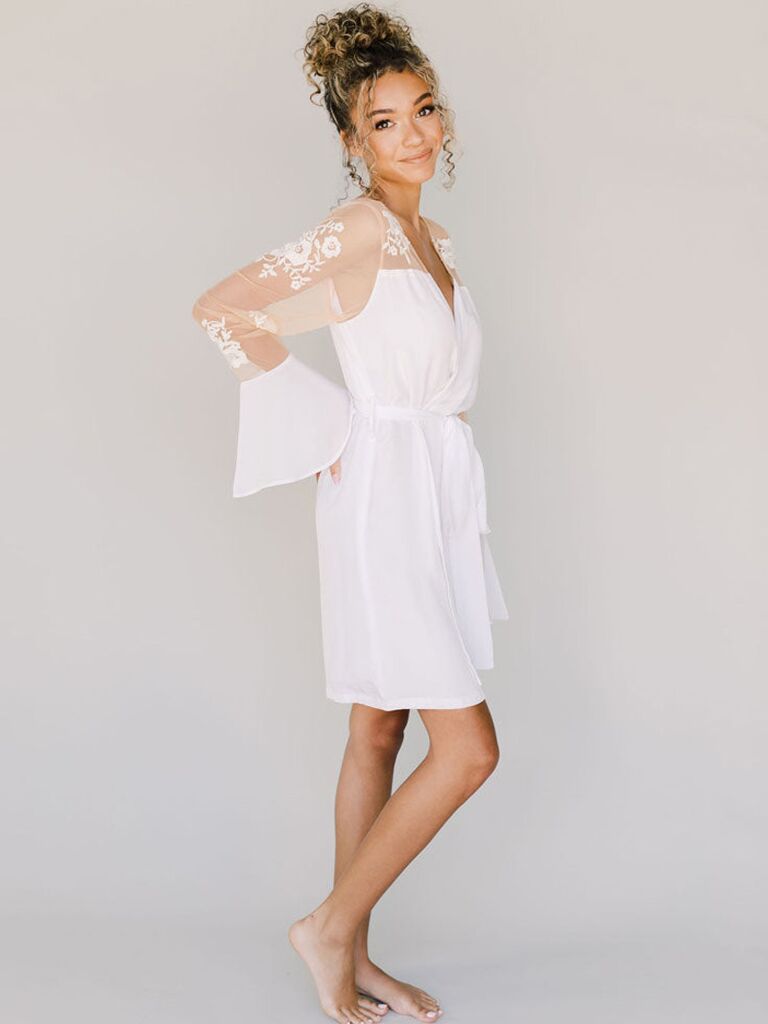 ICYMI, what the bride wears before the wedding is almost as important as what she wears at the wedding. Stylish getting-ready robes are worth every penny and we especially love this elegant option from Robed With Love, which features lace illusion sleeves with romantic bell cuffs. The best part is that this bridal shower gift comes with multiple goodies in one purchase. In addition to the robe itself, you'll also get an embroidered mesh bag for storage, a greeting card, and a donation to a US-based non-profit that benefits women.
Multipurpose Pan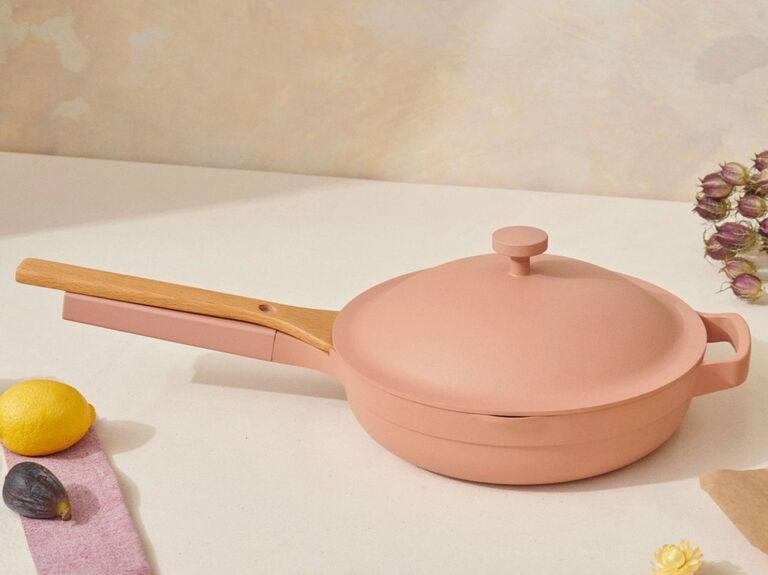 The ever-trendy Always Pan isn't your average pan; it serves as a non-stick sauté pan, fry pan, skillet, saucier, saucepan and more. On top of all that, it comes with a beechwood spatula (with an integrated spoon rest) and a stainless steel steamer basket for maximum multitasking. The icing on the cake? The four modern colorway options.
Polaroid Camera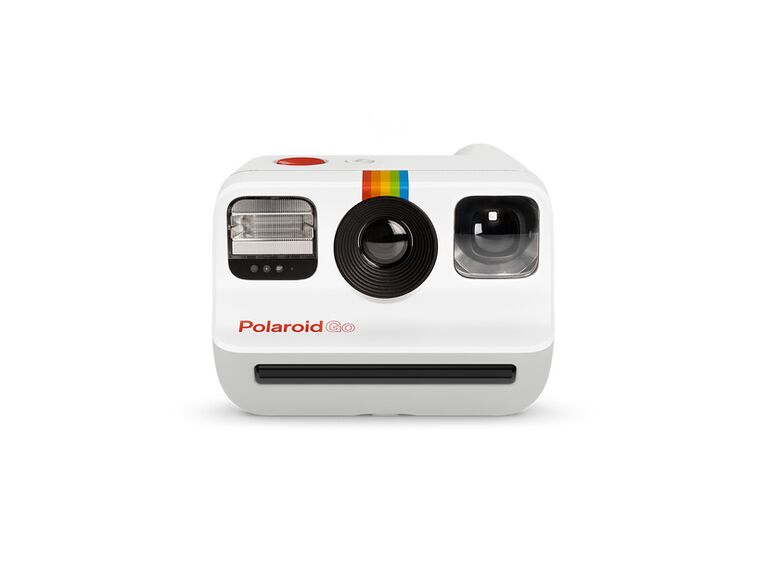 Film photos are back in style! A polaroid camera is a unique bridal shower gift that lets couples capture their favorite moments from their wedding journey, honeymoon and beyond. And since this retro camera prints photos on the spot, they'll have instant, frame-worthy keepsakes of their happiest moments together.
Airbnb Gift Card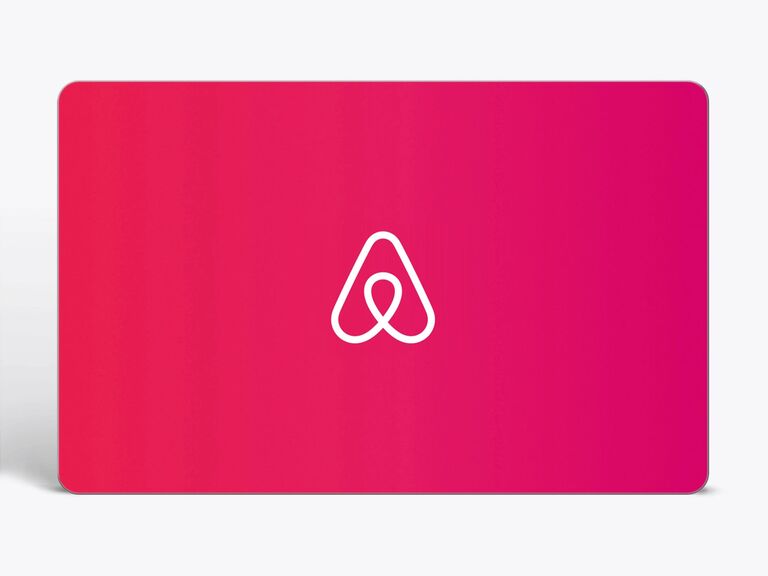 If you know the to-be-weds are always in search of an adventure, they might appreciate an Airbnb gift card to use on their next vacation. After all, the best bridal and wedding shower gifts don't have to be physical. Bonus: You can choose from a few different amounts based on your shower gift budget.
Champagne-Scented Candle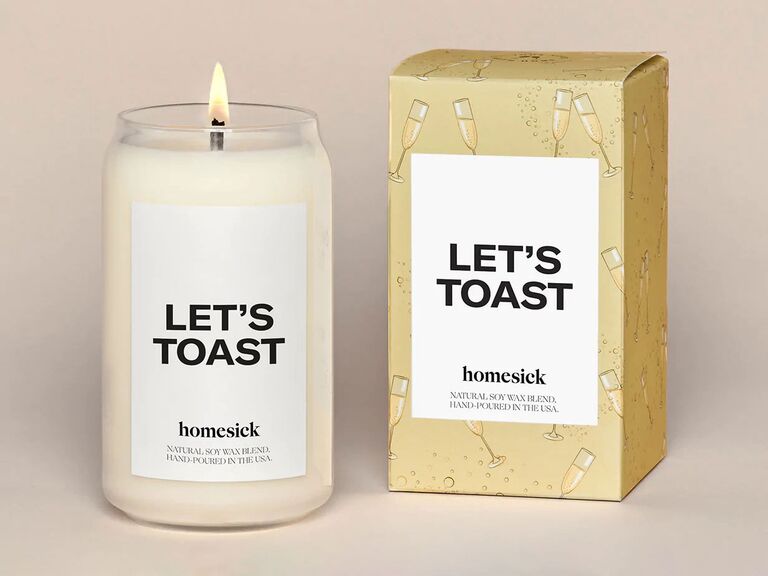 If you're worried that everyone's going to bring champagne, take a different—but equally celebratory—route! Keep the party going with a candle that smells like a crisp glass of bubbly. Trust us: This surprisingly cheap bridal shower gift will be a big hit.
Meaningful Wall Art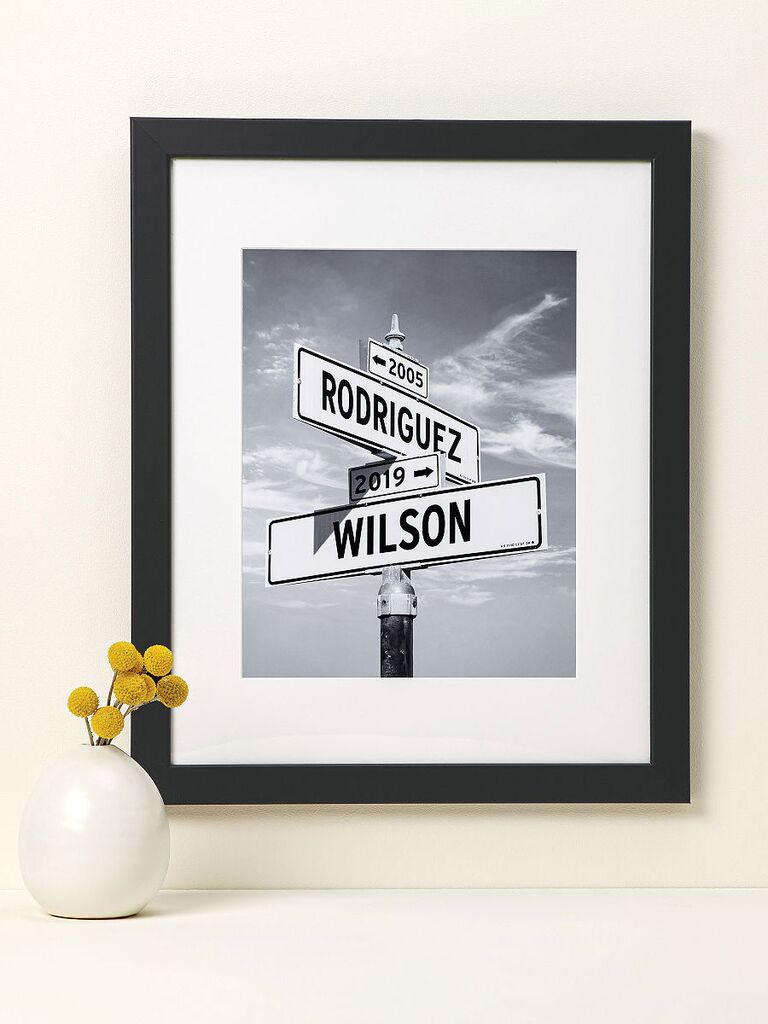 Home decor may be a traditional bridal shower gift idea, but this particular piece is truly unique. The stylish photo art uses custom street signs to honor the year the couple's lives first intersected and their upcoming nuptials. It even comes framed, making it one of our all-time favorite wedding shower gifts.
Tea Subscription Box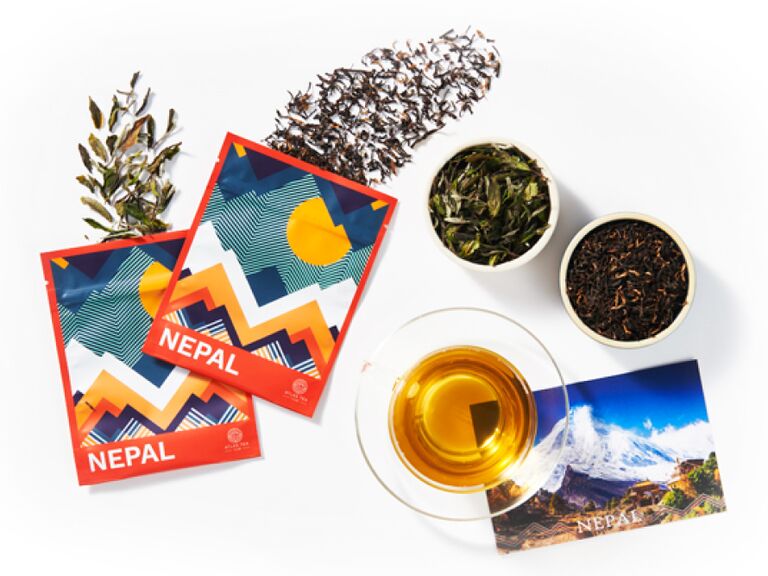 Looking for a unique bridal shower gift for a tea-drinking duo? Thanks to this subscription service, they'll have new bags of loose-leaf tea delivered to their doorstep each month for three months. They'll have so much fun testing blends from around the world while they wrap up wedding planning.
Cold Brew Maker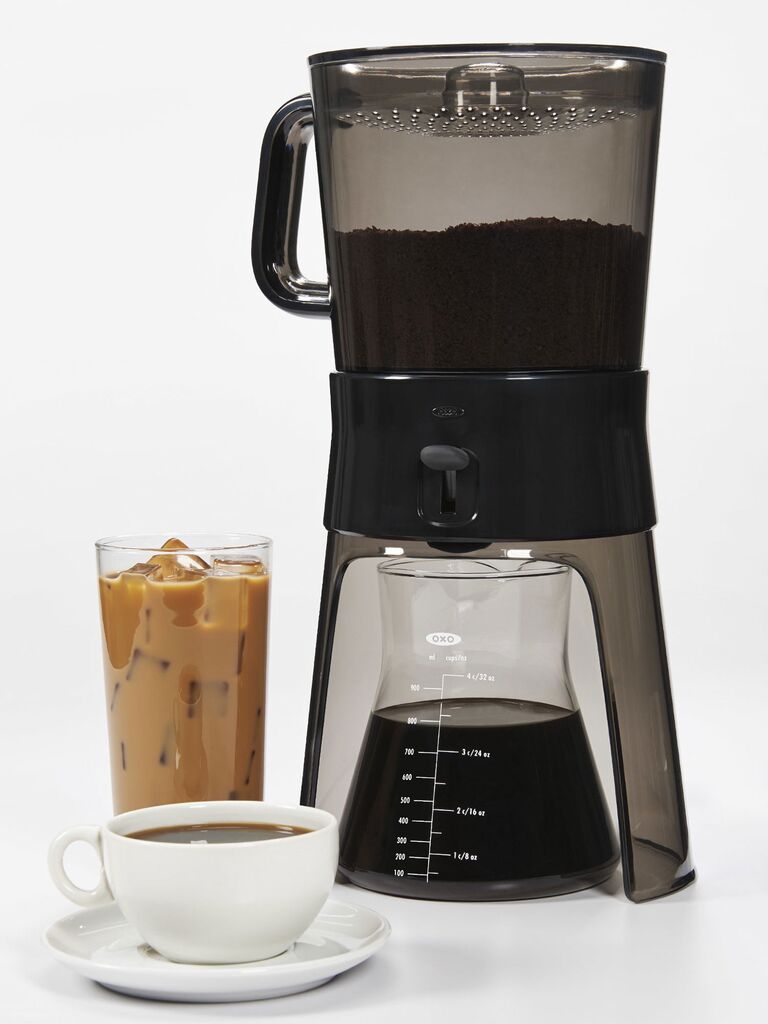 For the couple obsessed with java, you can't go wrong with a cold brew coffee maker. This fancy device will let them enjoy smooth, low-acid coffee concentrate without any of the mess. Pair it with their favorite coffee grounds so they can start steeping delicious brew right away.
Spice Set With Storage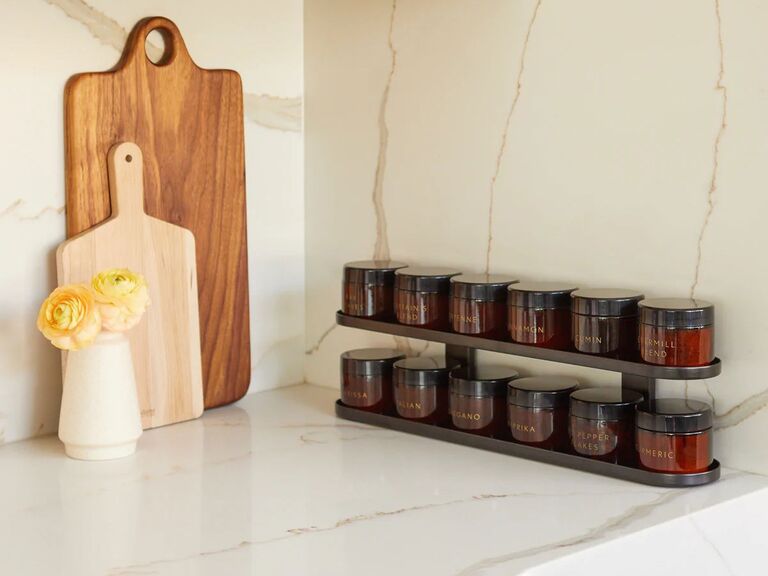 This bridal shower gift crosses off two home essentials in one: a spice rack and spices. The modern organizer can sit on a countertop or be mounted to a wall and comes in gunmetal, silver, white or black. The cherry on top is that it comes with 12 or 18 organic spices in ultra-chic, minimalist containers.
Infused Olive Oils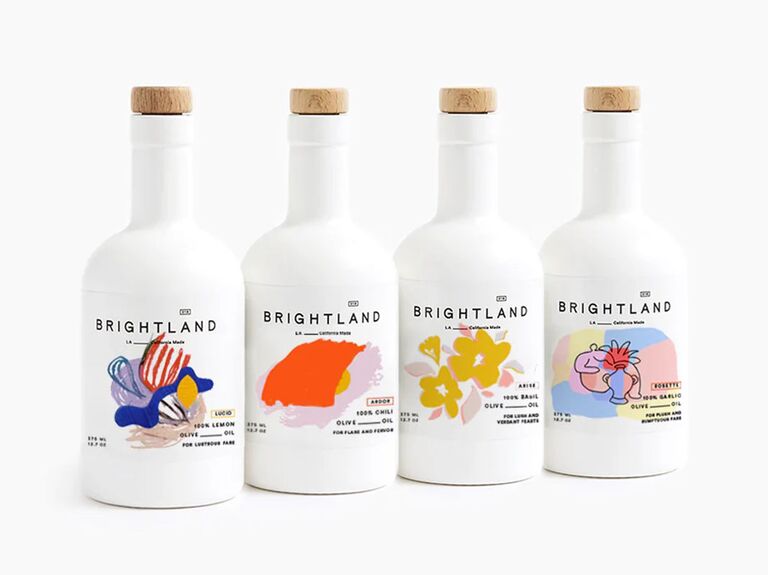 While we're on the topic of food, how about a set of infused olive oils? This pack of four comes with pepper-, garlic-, lemon- and basil-infused olive oil to instantly upgrade the couple's cooking. Each bottle label is uniquely designed by category-changing artists for a beautiful addition to their pantry.
Ice Cream Maker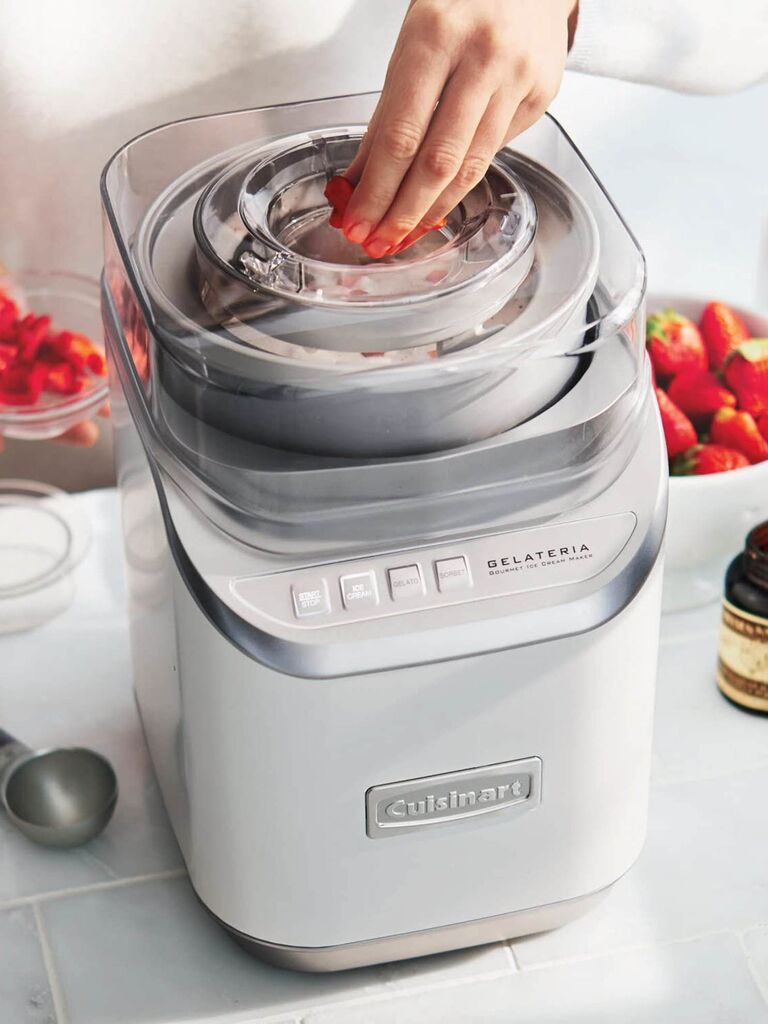 Here's a kitchen appliance they probably didn't ask for, but definitely want. The idea of experimenting with ice cream flavors is always exciting, no matter how old you are. This ice cream maker produces delicious frozen desserts in a few easy steps. Hello, date night at home! It's a unique bridal shower gift for the couple with a sweet tooth.
Heavy-Duty Cooler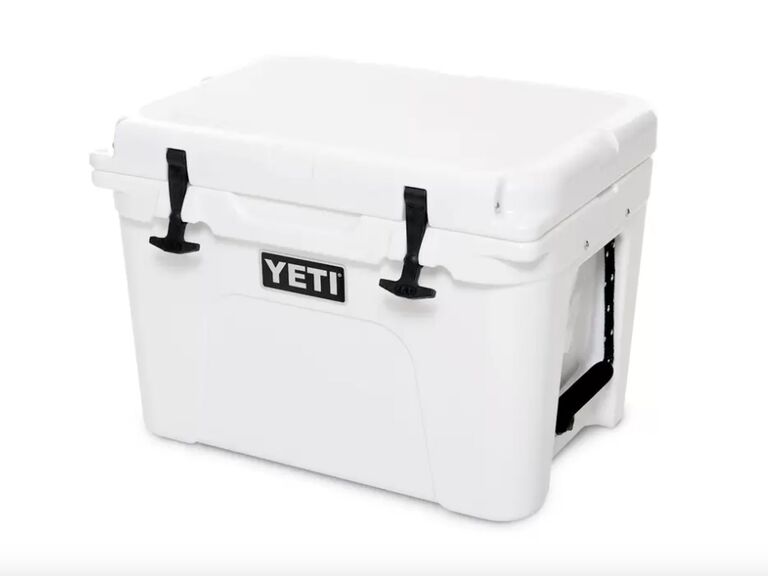 A heavy-duty cooler is a great present idea for those who love hosting backyard barbecues and tailgates, boating or going camping. This hard cooler's large size, thick insulation and form-fitting lid will keep drinks and food cold all day. You're about to see this useful gift at all the couple's outdoor gatherings.
Wedding Countdown Kit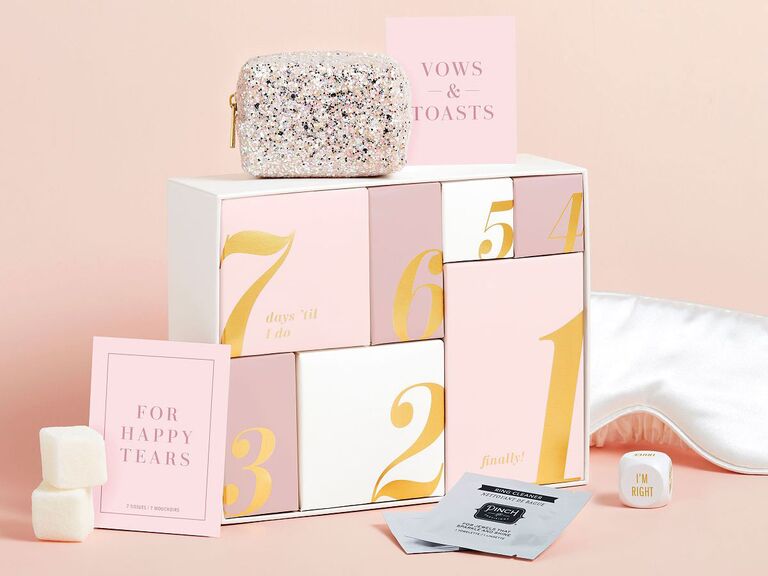 Here's another cute bridal shower gift idea just for the bride. This week-long countdown kit gives her a small pampering gift every day leading up to the wedding. There's a silk sleep mask, creative tiebreaker dice, facial tissues for happy tears and so many more fun bridal knickknacks.
Sarah Hanlon contributed to this article.