Who Hosts and Pays for the Wedding Shower?
The modern etiquette for hosting this popular prewedding event.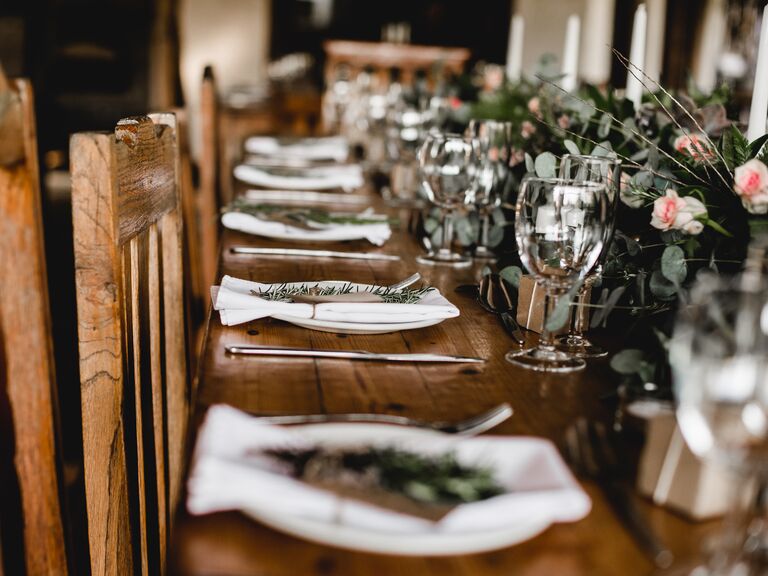 Conway Photography/Shutterstock.com
The beloved bridal shower is a time-honored tradition intended to gift the couple with goods for their newlywed home and lifestyle. So nowadays, who pays for a bridal shower or wedding shower, and who is responsible for hosting it?
The tradition of showering the bride with gifts before the wedding day has certainly evolved over the years and so has the etiquette for throwing a bridal shower. We're here to break it all down for you with advice from etiquette expert Elaine Swann and New York-based wedding planner Jason Mitchell Kahn, so you know what it will cost you to participate in this popular prewedding event and how to navigate tricky situations that may arise.
In this article:
Who Hosts a Bridal Shower or Wedding Shower?
Bridal Shower Tradition
The origin of the bridal shower dates back to 1860 when it was held by neighbors and friends to help a bride's family assemble a sufficient dowry—the practice of the bride bringing money and household goods to the marriage. In return, the groom was to provide financial support to his wife and children. Historically, the terms hope chest and bridal trousseau were used to describe this collection of wedding gifts that included linens, lingerie and china.
Traditionally, it was customary for close friends and relatives to host and pay for a bridal shower—it would have been considered improper etiquette for the bride's parents to host it.
Modern Bridal Shower Etiquette
Obviously, a lot has changed since then, and so has the etiquette. In modern times, hosting a bridal shower is a collaborative effort among the wedding party, family members and close friends. The mother-of-the-bride (and groom) are often very much involved in this prewedding event because they usually do not attend the bachelorette party, so it can be a pretty big highlight for them, especially if there wasn't an engagement party.
There are no strict rules when it comes to planning this party and its name has even evolved from "bridal shower" to the more gender-neutral and inclusive term "wedding shower". Furthermore, a shower can be hosted for the bride or for the couple and no longer has to be only women that attend. Anyone can host the shower and help cover the cost, although the shower is rarely planned by the couple.
"Typically, the bridal shower is hosted by the mother of the bride, the maid of honor, or the matron of honor," Swann says. "Alternatively, the bridal party may come together to host the bridal shower for their friend. There's also the possibility of another close family member or friend hosting the shower (think: a stepmom, an aunt or a mentor). One more practical consideration for the shower hosting duty is location—especially with loved ones in multiple regions."
Bridal Shower Host(s)
The planning needs to start with a conversation among the various parties to ensure everyone's on the same page. The maid of honor should initiate the process by first checking with the bride or couple to see what their preferences are. Next, they should reach out to the bride's mother to understand her expectations, followed by the wedding party members.
If you are the bride and you have strong feelings about this event, then voice your ideas to the maid of honor very early on so your wishes can be taken into account. Prewedding events like a bridal shower can quickly take on a life of their own and even be planned as a surprise event for you, the guest of honor, so don't wait.
If multiple people want to be involved in hosting, the maid of honor, matron of honor or man of honor should help coordinate so nobody feels left out. For example, they can co-host and take care of different aspects of the celebration: one person in charge of food; one person handling bridal shower games; and, one person managing the wedding shower decorations. Just be sure to mention everyone who's hosting on the shower invitations! Psst: you can purchase bridal shower invitations right here on The Knot.
Couple's Wedding Shower Host(s)
For same-sex couples and some to-be-weds, throwing a couple's shower makes the most sense. In this situation, there are no traditional rules that apply.
According to Kahn, "I find the rules grow less relevant every year. In fact, couples may even pay for the shower if they are in a position to do so and their families/wedding party are not. More commonly, it is covered by the family—the wedding party might pitch in with odds or ends. In terms of the family, it's not necessarily the parents of the couple getting married. Showers are often thrown by aunts and uncles, godparents, or close friends or neighbors that feel like family," he explains.
Other Shower Hosts
You might be wondering how many bridal showers take place. Most couples only have one shower associated with family and friends, however, for some couples, their co-workers or another specific friend group want to get in on the action, even if they're not invited to the wedding. A co-worker shower can be more casual—giving a group gift and planning an office lunch or after-work drinks are good options for keeping it simple and affordable.
Who Pays for the Bridal Shower or Wedding Shower?
Once you've selected the host(s) of the party, you have to decide who will pay for the bridal shower early in the planning process. After all, the budget, event space, and shower theme all go hand-in-hand.
Standard etiquette dictates the person hosting the shower would be the one who pays for it. However, if multiple people are hosting the shower (or if multiple people want to contribute to the event), that's absolutely fine too.
"In that situation, my recommendation for cutting back on conflict is to put one person in charge of collecting the money and then designating that person or another person to make the purchases," Swann says. "That way, there's a very clear line of communication in terms of who is contributing what. Just be sure to clearly outline how much you're expecting from everyone involved so there's no confusion or hurt feelings down the line." Also make sure your budget includes tips and taxes so you're not left short of cash.
Swann notes, "There are plenty of other non-financial ways to contribute, including sending out invitations, setting up the food, decorating the space, and cleaning up."
Now let's get down to the nitty-gritty with some tips on how to figure out how to divvy up the bridal shower costs.
Maid of Honor
While the maid of honor usually initiates the efforts, they are not expected to pay for the entire bridal shower. To get the ball rolling, they should approach the mother(s) and wedding party members and clearly state what they are willing to pay or contribute (over and above buying a bridal shower gift). By doing so, they will establish a good starting point for determining whether this will be a simple tea party on a budget at home or a more elaborate event at a venue.
Family and Close Friends
Similar to planning the wedding budget, if the bride and groom's parents want a say on the guest list and venue, they should expect to contribute financially. As mentioned earlier, it could be other close relatives that pay for the shower, instead.
Their contribution could be a lump sum to help cover the cost of the food and drink. This doesn't mean the event has to be expensive. It's important that everyone feels comfortable with their contribution, too.
Wedding Party
Each bridesmaid should chip in (if they are able) in addition to buying a shower gift. If you've offered to contribute (or you're expected to as a member of the wedding party) and you're unable to swing the cost because of unexpected circumstances, Swann says it's best to be forthright and to communicate. "Be honest, and be honest early," she says. "Tell the host that circumstances have changed for you and you're no longer able to participate in that way."
Bridal Shower Guests
Guests do not pay to attend a shower but they are expected to bring a wedding shower gift. The one exception to this could be a co-worker shower, where each participant pays for their own food and drink and collectively cover the cost of the to-be-wed's tab.
The Couple
The couple is not obligated to pay anything for a bridal shower, but they can help contribute to the success of the event by creating a wedding gift registry with a wide variety of shower gift ideas and price points listed. They also must send out thank-you cards for the shower gifts in a timely manner.
What is the Average Cost of the Bridal Shower?
Very much like the wedding itself, the budget for a bridal shower varies widely depending on the venue, guest count, and food and drinks being served.
On the upper end of the scale, we recommend budgeting $125 per person for an event at a venue. This would cover invitations, a brunch or luncheon, one or two drinks, cake, some centerpieces, games and prizes.
"The cost range varies greatly based on the cost of living where you are throwing the shower," says Kahn. "A good rule of thumb is to think about how much it costs in your area for a nice brunch plus some extras. You'll need to factor in food, drink, service and tax per person. In New York, I would approximate $75 to $100 per head for this. Shower invitations can be as little as $1 per invite for something really basic and can go upwards of $30 per unit for something really custom. I would then estimate another $20 to $50 per person for what you'll spend to enhance the experience with decor and added activities."
If you have the means for it, hiring a planner brings several advantages. "They typically know the good spots in town that are well suited for an event like this and can streamline the planning process. Showers can grow in scale—to the size of a small wedding—and if knowing that overwhelms you, a professional might save you a lot of stress," says Kahn.
Kahn suggests, "If learning what this could cost intimidates you, try to find a venue that's relatively turn-key and won't require much additional decor. You can save money with invitations by doing them online. Showers are meant to be a time for fun and celebration, so focus on how to make that happen rather than having the best of everything."
At the lower end of the scale, we recommend budgeting $40 per person for an at-home event with a caterer making light refreshments. This would also cover invitations, wine or bubbly, simple decorations, games and prizes. This cost could be reduced further if the hosts can all pitch in and contribute their time to DIY most of it. Homemade nibbles and a glass or two of wine are perfectly acceptable.
Remember, the purpose of the event is to shower the couple with gifts before the big day, so don't get carried away with too many bells and whistles.