Should You Propose Before or After Dinner? Experts Weigh In
Learn exactly when to pop the question.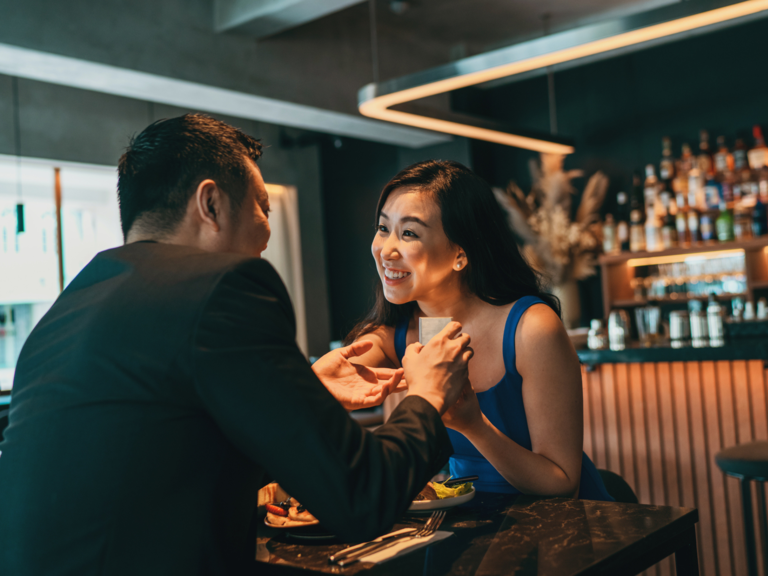 Photo: Koh Sze Kiat / Getty Images
A restaurant proposal is one the most romantic and meaningful ways to pop the question. Getting engaged at a restaurant is a great choice, and for good reason. From the many memories you share there to the delicious food, drink and dessert, it's got all the makings of a successful proposal. And while a restaurant is a public space, it can have a more intimate feel. If you've got a place in mind, the next thing to think about is: should you propose before or after dinner? We tapped experts to weigh in.
In this article:
Pros and Cons of Proposing Before Dinner
So, you've decided you're going to propose at a restaurant. Whether you've selected somewhere meaningful (like where you had your first date or your favorite neighborhood spot) or at a five-star spot, there are quite a few logistics to figure out. One of the questions you need the answer to? Will you propose before or after dinner?
The Pros of Proposing Before Dinner
It's a romantic setting.
"The evening setting of a dinner proposal often provides a naturally romantic atmosphere for the dinner to follow," explains Lila Dougly, private events director at Ark Restaurants. Proposing prior to eating also allows you to relax during the meal now that the nerve-wracking part is over.
It's less crowded.
"From a logistical standpoint, before dinner could mean an earlier reservation time and hence a potentially less crowded restaurant," says Brian Crawford, director of sales at Boka Restaurant Group. "That more relaxed restaurant environment may result in greater flexibility from the service team that you are planning with."
You can celebrate after.
"[It] allows you the possibility of setting up dinner after the proposal to celebrate with friends and family," adds Dougly. If you eat on the earlier side, there's still time once you wrap up dinner to have family and friends join. Consider renting out a private room in the restaurant for drinks and dessert following the big proposal.
The Cons of Proposing Before Dinner
Timing constraints
"Proposing before dinner may put pressure on the timing of the whole evening, as you'll need to ensure that the proposal happens at the right moment, which could be stressful if there are unexpected delays or distractions," says Dougly. "It can lead to frustration or disappointment, which may not be the ideal emotional backdrop for a proposal."
There's a deadline.
"There is a timeline for your reservation," adds Crawford. "Little things like traffic or an ill-timed phone call can potentially throw that timeline off and add unneeded stress." The slightest inconvenience can snowball into affecting the entire flow of the evening, so if you don't want to ruin the vibe of the night, you might want to rethink the timing of the proposal.
Tips for Proposing Before Dinner
If you decide to propose before dinner, there are a few things that are important to consider.
Choose a meaningful location.
"Select a location with sentimental value or a romantic atmosphere," recommends Dougly. "This will add depth and emotional significance to the proposal, making it more memorable." Whether it's where you first said "I love you" or where you met each other's families, thinking of a sentimental place will make a special night even more special.
Plan ahead.
"When making a request of a restaurant or a service team, it is best to do this as far in advance as possible," says Crawford. Reaching out to the restaurant staff far in advance allows them to plan ahead as much as possible and ensure things run smoothly the night of the proposal. You'll also want to prepare what you're going to say so you're not tongue-tied when the big moment hits.
Give yourself plenty of time.
"Timing is key. Ensure that you time the proposal right. Allow yourself enough time before dinner reservation," advises Dougly. "This will build anticipation without making you or your partner feel rushed." Nothing ruins a special moment like feeling rushed or stressed. "Have a plan in place, including what you want to say, any special touches you want to add, and any items you need for the proposal (like the engagement ring)."
The Pros and Cons of Proposing After Dinner
If you're unsure about proposing after dinner, there are a few things you might want to think about to help you decide.
The Pros of Proposing After Dinner
It's a more relaxed atmosphere
"After a nice meal, you and your partner are likely to be in a more relaxed and content state of mind," says Dougly. "This can create a comfortable and intimate atmosphere for the proposal." Crawford agrees. "You can find the moment that feels right to YOU two for the proposal."
Less pressure on timing
"Proposing after dinner allows you to have more time for the proposal without the worry and constraints of making a dinner reservation time," explains Dougly. "You can enjoy a private and unhurried moment, making it more personal and meaningful." If you're running late or feeling rushed for any reason it won't matter as much if you're planning on proposing after the meal.
The Cons of Proposing After Dinner
Unexpected issues
"Nothing is perfect. Hiccups happen – this could be service related or even just where the couple is emotionally in the evening," says Crawford. If service is slower than normal, you didn't enjoy the food, or something else unexpected occurs, it could disrupt the vibe of the evening.
Fatigue
"After a hearty meal, both you and your partner might feel a bit sluggish or tired, which might affect the energy and enthusiasm of the moment," says Dougly. Aside from feeling tired, your significant other might want to go home for other reasons after the meal. Proposing beforehand eliminates any unknowns about how your S.O. will feel after dinner.
Tips for Proposing After Dinner
So you've decided to propose after dinner. Here are some expert tips to help you pull it off.
Communicate with the restaurant.
"If you plan on proposing after dinner at the restaurant, communicate with the staff in advance," recommends Dougly. "They can help with the timing, provide a special dessert, or accommodate any other requests you may have." The staff at the restaurant are the ones who are going to help you execute your dream proposal. Chances are, this isn't the first proposal they've coordinated so be sure to get in touch with them and ask them for any tips or advice they have to make it a special moment.
Choose the right moment.
"Pay attention to your partner's mood and body language throughout dinner. Wait for a moment when you both feel relaxed, happy and connected," advises Dougly. If your partner is feeling anxious about the check arriving or is eager to order dessert, you might want to wait until they're focused on you and not other things happening in the restaurant.
So, Should You Propose Before or After Dinner?
Bottom line: There's no right or wrong time to propose. No matter what you decide you'll want to pick somewhere that has a special meaning to you both. You'll also want to give plenty of notice to the restaurant so they can gather all the resources needed to pull off the most epic meal of your life.