32 Non-Diamond Engagement Rings That Make a Statement
From morganite to moonstone, alternative engagement rings are more popular than ever.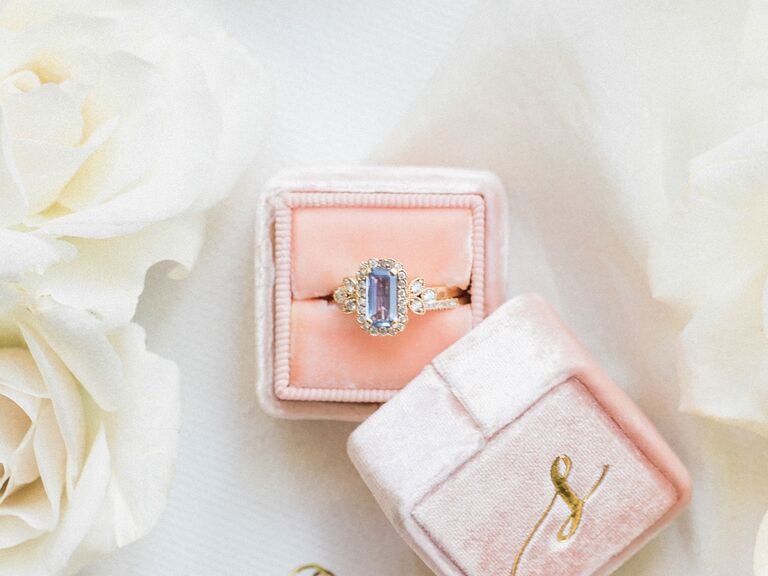 Samantha James Photography
We have included third party products to help you navigate and enjoy life's biggest moments. Purchases made through links on this page may earn us a commission.
Non-diamond engagement rings are having a major moment. More couples are looking to unique, nontraditional engagement ring options that fit their individual lifestyle and taste. So it's no surprise there's been a noticeable surge in non-diamond engagement rings featuring precious and semiprecious gemstones, either in lieu of or in addition to diamonds. This cool girl trend has even infiltrated the Hollywood set: Celebs like Emma Stone, Katy Perry and Gwyneth Paltrow all rock alternative engagement rings with non-diamond center stones.
There are so many beautiful, colorful and unique non-diamond engagement ring options, and choosing one definitely has its pros. One of the big ones? Gemstones are often less expensive than diamonds of comparable size (translation: you can probably get a precious or semi-precious stone of larger carat weight for a lower price point). And if you love the idea of wearing an heirloom ring, there's a treasure trove of vintage non-diamond engagement ring options to choose from (alternative engagement rings aren't just a trend—brides of all eras coveted non-diamond center stones too). As long as you do your research to find a reputable source, you can look for non-diamond engagement rings on Etsy or at a local vintage jewelry store.
What Are Non-Diamond Engagement Rings?
There's no shortage of non-diamond engagement ring options. Choosing the right one for you is simply a question of personal taste—after all, your engagement ring should be a reflection of your style. When it comes to non-diamond center stones, precious colored gemstones like sapphires, rubies and emeralds come to mind. (More on the benefits of sapphires and rubies in particular, below.) Otherwise, semi-precious stones like morganite, tourmaline, quartz, moonstone, topaz, garnet and opal—just to name a few—are right on trend. Another thought where diamond alternatives are concerned: synthetic options like lab-created moissanite or other diamond simulants mimic the look and sparkle of a diamond, and are extremely budget-friendly.
What Is the Best Alternative to a Diamond?
Diamonds have long been a symbol of commitment and eternal love, making them an obvious and coveted engagement ring stone (and don't worry, they're not going anywhere anytime soon). Beyond their radiance and romantic symbolism, they remain a popular engagement ring stone for more practical reasons: Diamond is the hardest material on Earth, ranking a 10 on the Mohs hardness scale.
Considering most people wear their engagement ring every day (often ignoring the advice to remove it when working out, gardening, cleaning and so on) their ring's durability is super important. With that in mind, if you're considering a non-diamond engagement ring, you'll want to know which gemstones look stunning and stand the test of time and everyday wear. You and your fiancé should study up on gemstone hardness and think about how you, personally, live your life and wear jewelry. For instance, do you hit the gym every day? Does your job require you to use your hands a lot? Are you constantly knocking your hands against things? If you answered yes to any of these questions, softer and more fragile stones like emeralds, pearls and opals may not be the best choice for you—but that doesn't mean there aren't equally fabulous options out there.
Bottom line: If you're in the market for an alternative engagement ring but your lifestyle requires a sturdier center stone, consider a sapphire or ruby engagement ring. Ranking a 9 on the Mohs scale of mineral hardness, sapphire is one of the most scratch-resistant and durable materials after diamond. Kate Middleton's iconic sapphire engagement ring, made famous by Princess Diana before her, has definitely had a hand in sparking the blue sapphire engagement ring craze that just won't quit. Rubies also rank a 9 on the scale of hardness, because they're in the same gem family as sapphire, Corundum. This gorgeous crimson stone also has natural romantic associations, due to its rich, fiery hue.
The Best Non-Diamond Engagement Rings of 2020
Feeling a non-diamond engagement ring now? Shop some of our fave rings styles below.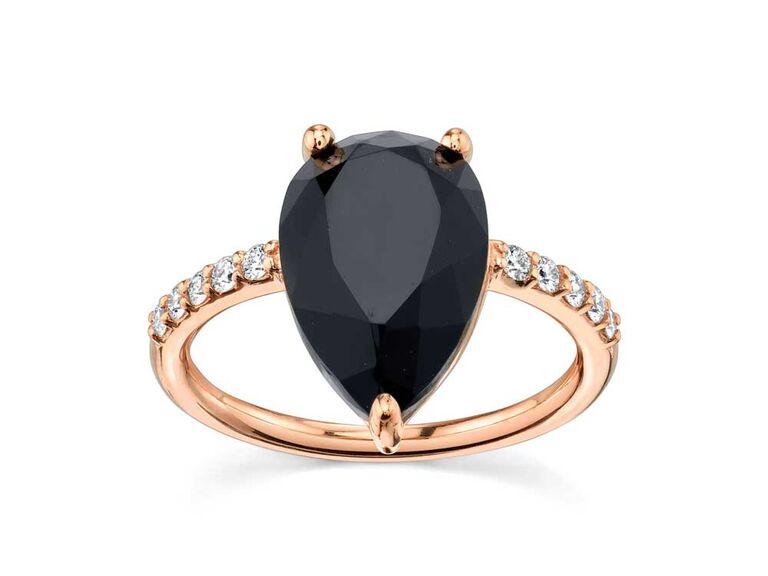 If you're in the market for the moody look of a black diamond center stone, consider a more cost-efficient black onyx engagement ring set in contrasting rose gold—it's just as edgy and chic as pricier versions.
Marrow Fine Sweet Melissa black onyx ring in 14K Rose Gold, $1,950, MarrowFine.com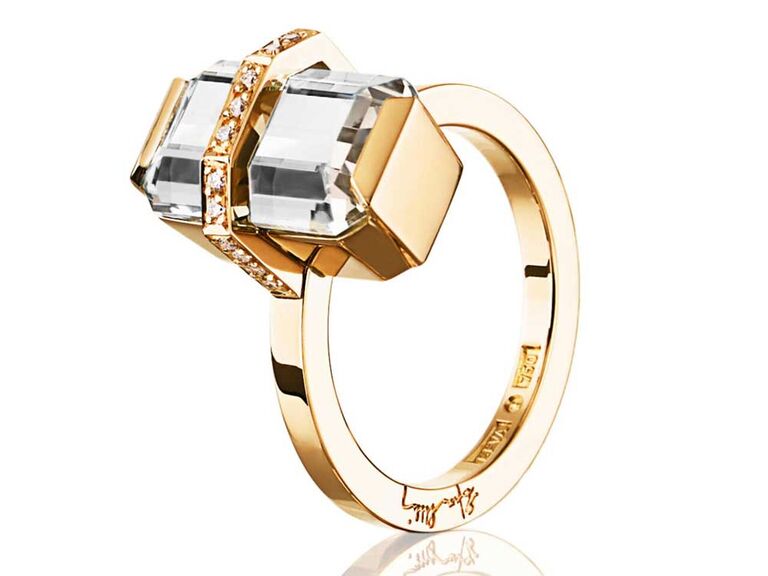 Given its saucy name of the "Bend Over" ring due to its unique setting where a row of diamonds bends over the quartz center stone, this fashion-forward ring is all about good taste plus lots of personality.
Efva Attling Stockholm Little Bend Over ring crystal quartz ring in Gold, $3,500, EfvaAttling.com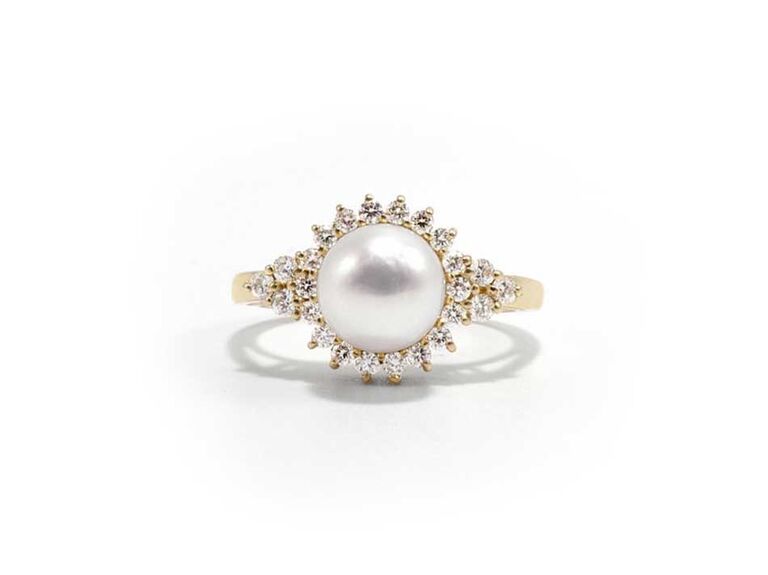 It doesn't get more classic than an Aokya pearl center stone in a diamond cluster setting.
Ashley Zhang Jewelry Giverny pearl ring 14K Yellow Gold, $1,800, AshleyZhangJewelry.com
Calling all boho brides. This Australian opal ring with an ornate setting is equal parts ethereal and glam.
Anna Sheffield Stardust Bea ring in Yellow Gold and Opal Cabochon, from $5,800, AnnaSheffield.com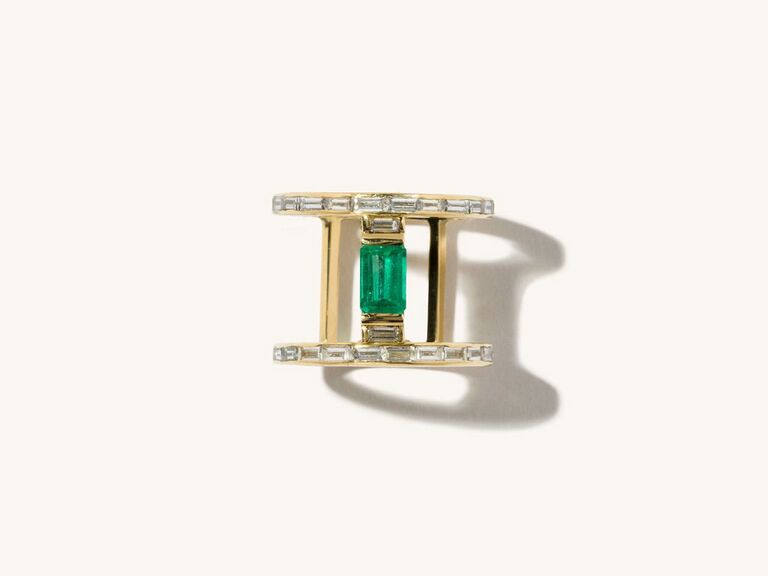 A whole stack in and of itself, this showstopping emerald sparkler is all about clean geometric details.
Milamore Fine Jewelry Signature ring, $12,800, MilamoreJewelry.com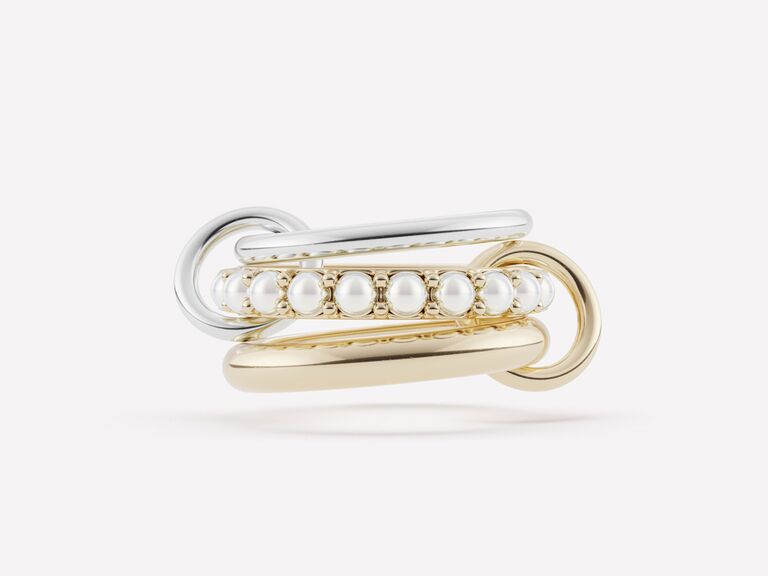 If a more traditional wedding rings aren't your thing, consider this interconnected stack of three mixed metal rings, adorned with delicate pearls.
Spinelli Kilcollin Akoya Gold ring in 18K Yellow Gold and Sterling silver, $3,300, SpinelliKilcollin.com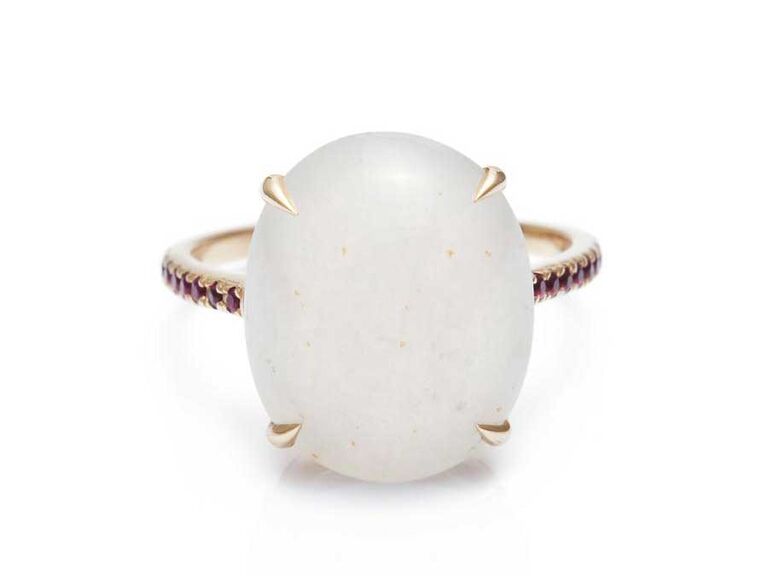 While jade is usually associated with vibrant green hues, it actually comes in a variety of colors. This stunning white jade ring with a ruby-encrusted band gives off wedding-worthy vibes.
Yi Collection Jade & Ruby globe ring in 9K Yellow Gold, $1,150, YiCollection.com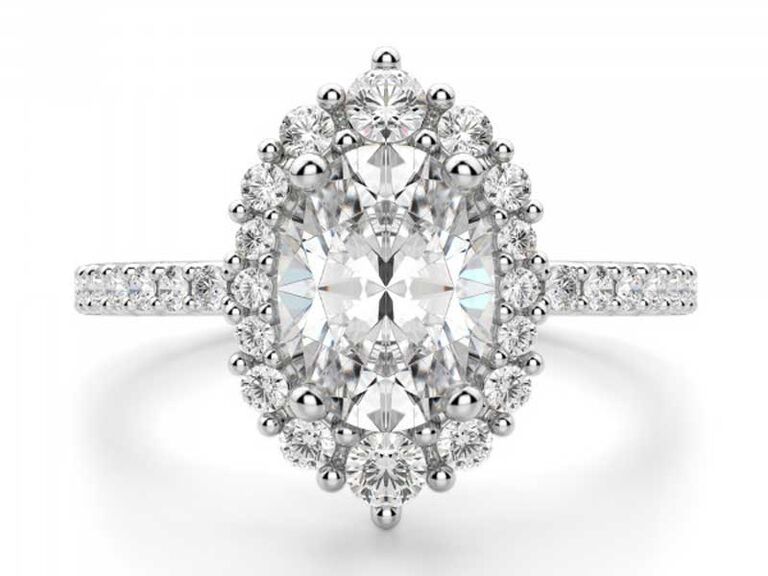 Made of a diamond simulant, this oval-cut sparkler in a vintage-inspired setting brings the glitz—but not hefty price tag of the real deal.
Diamond Nexus Barcelona oval cut engagement ring in 14K White Gold, $2,050, DiamondNexus.com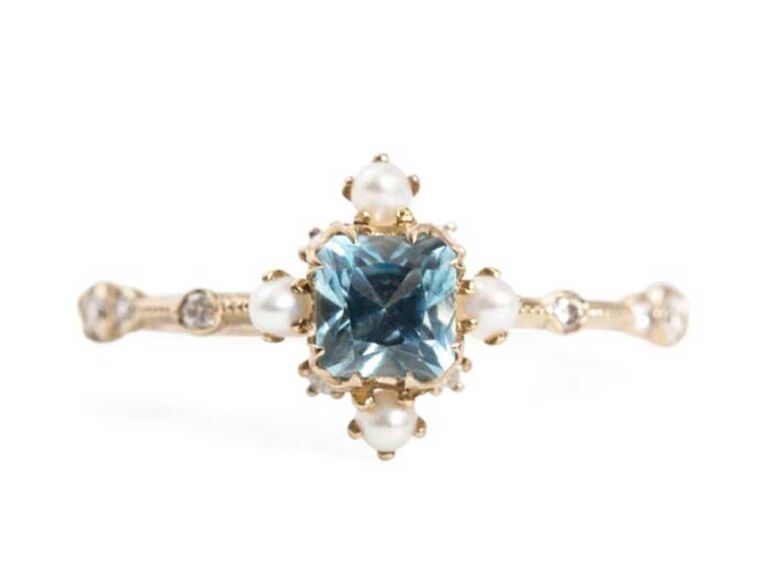 Inspired by the work of artist John Singer Sargent, this aquamarine and pearl ring mimics the subtle beauty of a watercolor painting.
Kataoka Water Lily ring in 18K Yellow Gold, $6,180, CatbirdNYC.com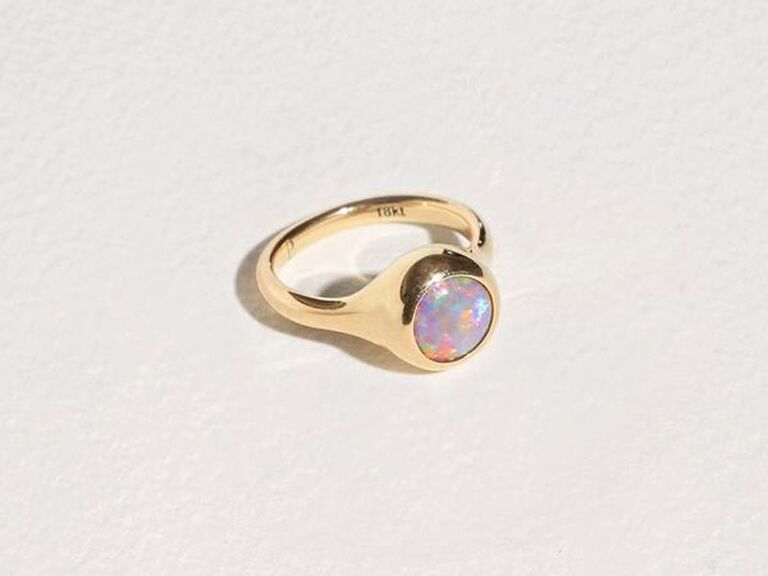 A velevety yellow gold bezel setting plays up the stunning irridescent colors of this opal center stone.
Pamela Love Opal ring, $3,500, PamelaLove.com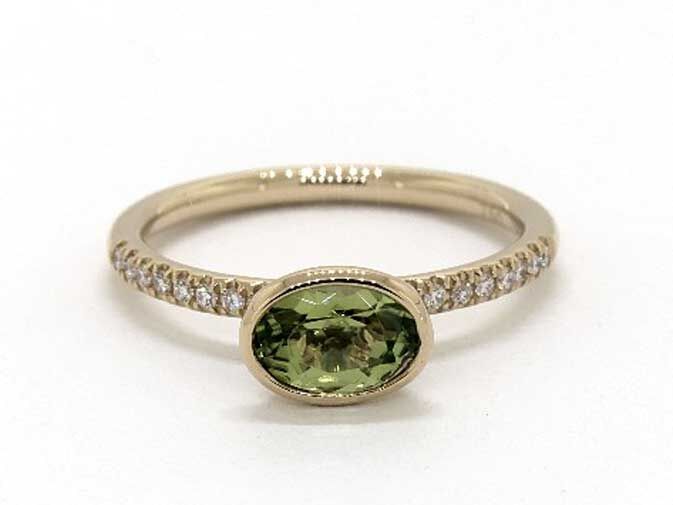 Set yourself apart from the crowd witha bright green peridot center stone in a modern, east-west setting.
James Allen east-west oval peridot and diamond ring in 18K Yellow Gold, $1,450, JamesAllen.com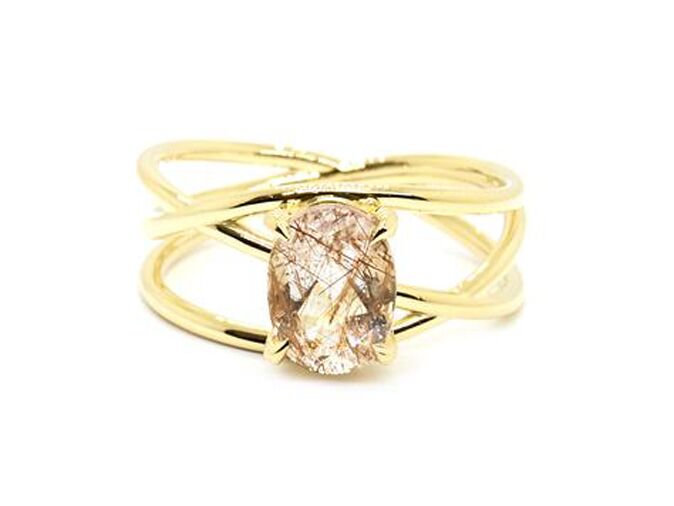 An oval rutilated quartz center stone plus an interwoven crossover band setting makes for one standout sparkler.
Natalie Marie Jewellery rutilated quartz petite crossover ring in 18K Yellow Gold, $1,989, NatalieMichelleJewellery.com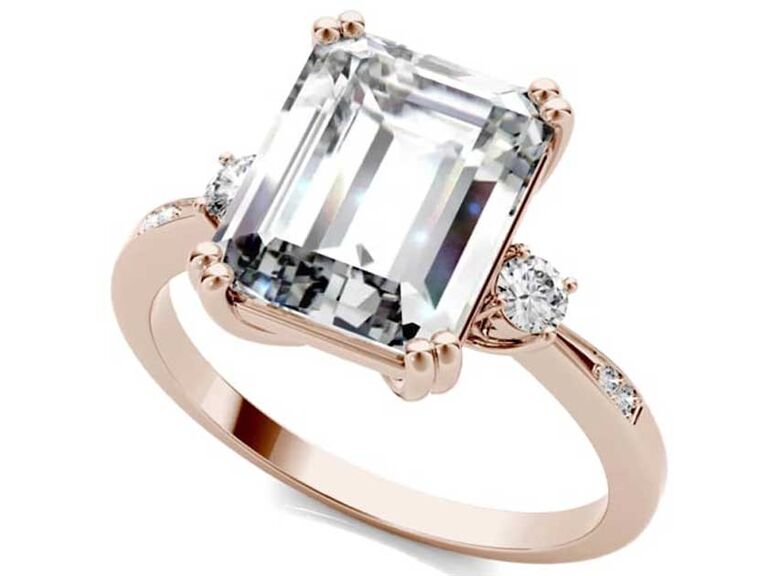 An emerald cut center stone in a simple setting is always timeless.
Charles & Colvard Forever One emerald moissanite solitaire with side accents engagement ring in 14K Rose Gold, $2,769, CharlesandColvard.com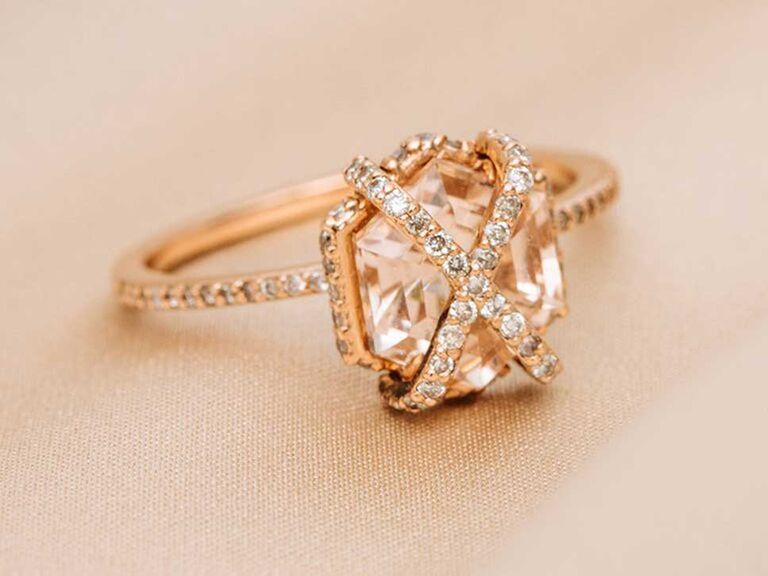 Fashionistas, this one's for you. This morganite ring with an X-shaped halo is fashion jewelry-inspired.
Après Jewelry The Nova hexagon cut ring, $2,260 for setting, ApresJewelry.com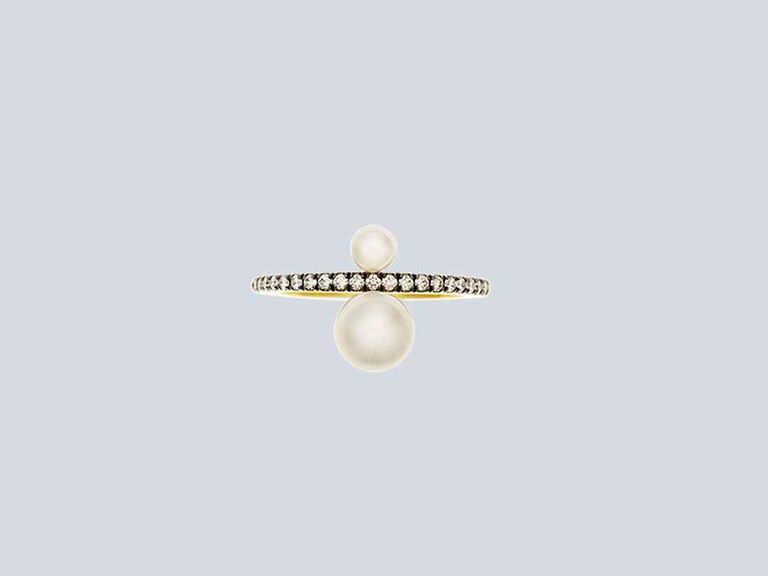 Get in on the toi et moi setting trend (that's French for you and me) with this elegant pearl version.
Jemma Wynne Prive white pearl and pave diamond ring in 18K Yellow Gold and Black Rhodium, $2,835, JemmaWynne.com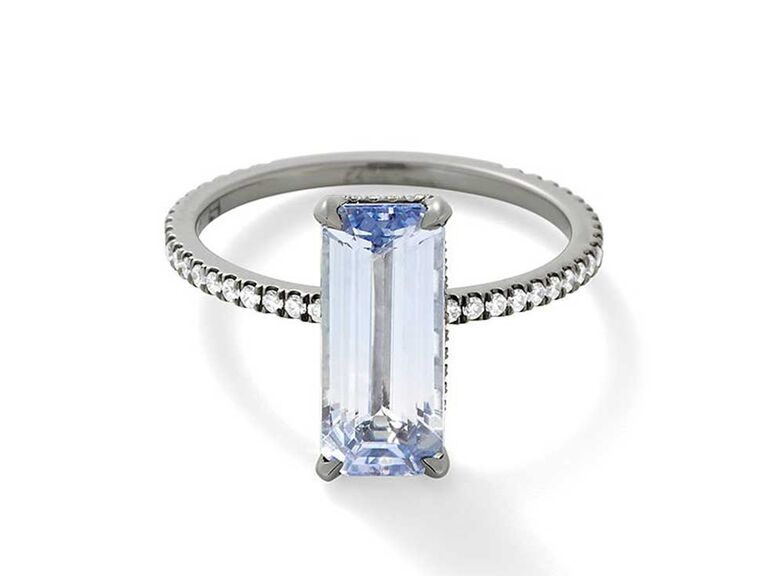 This elongated emerald cut light violet sapphire in a blackened gold setting is the perfect combination of sweet and edgy.
Eva Fehren The Matrix ring in 18K Blackened White Gold, Inquire for Details, EvaFehren.com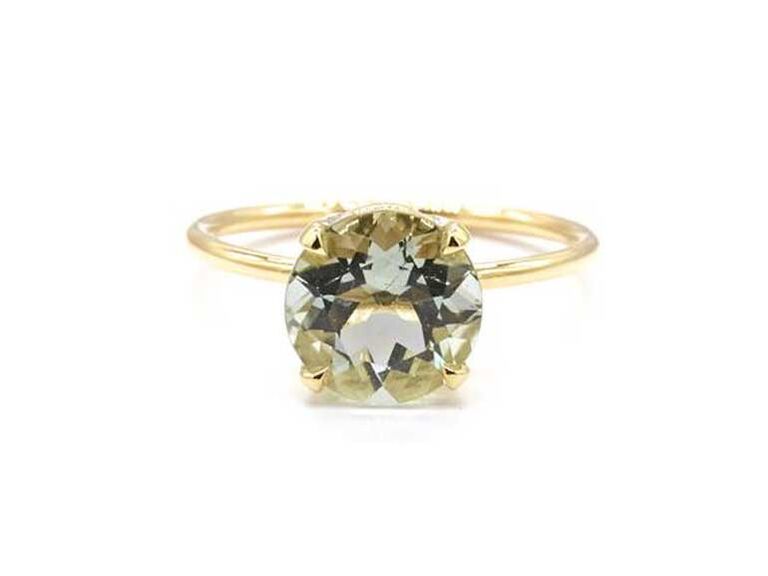 A streamlined yellow gold setting puts the focus on a striking round cut green amethyst center stone.
Natalie Marie Jewellery The Everyday green amethyst precious ring in 18K Yellow Gold, $1,012, NatalieMarieJewellery.com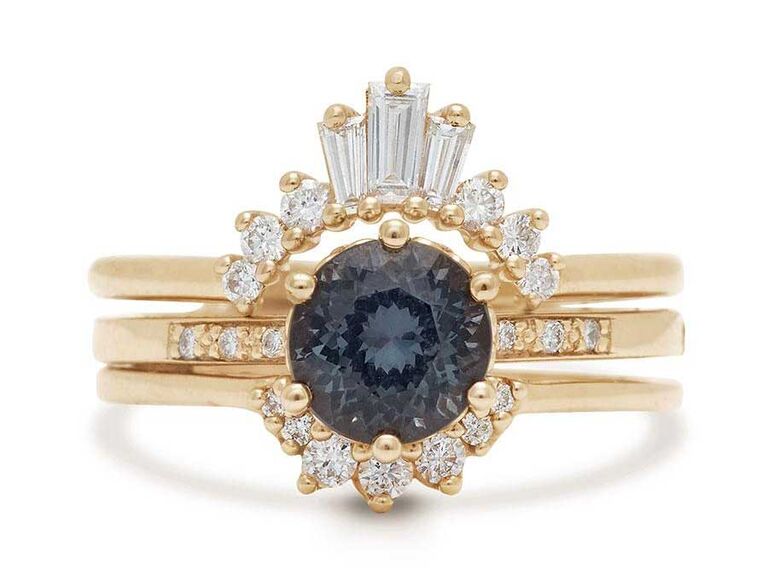 Yaaas, queen. A gray spinel center stone with tiara-inspired halo of diamonds brings the regal vibes.
Anna Sheffield Hazeline Suite No.15 in 14K Yellow Gold, $6,773, AnnaSheffield.com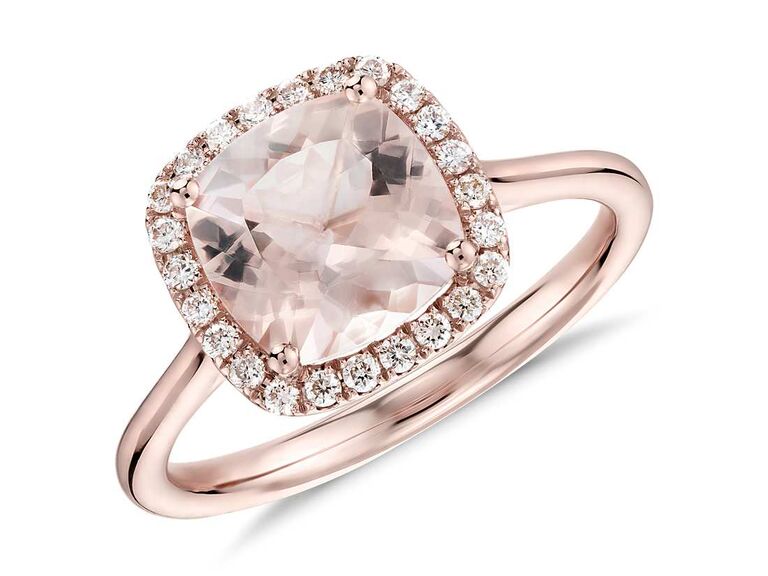 If there's ever a time to indulge your inner romantic, choosing an engagement ring is it. This rosy morganite center stone in rose gold setting gives us heart eyes.
Blue Nile morganite and diamond halo cushion ring in 14k Rose Gold, $1,300, BlueNile.com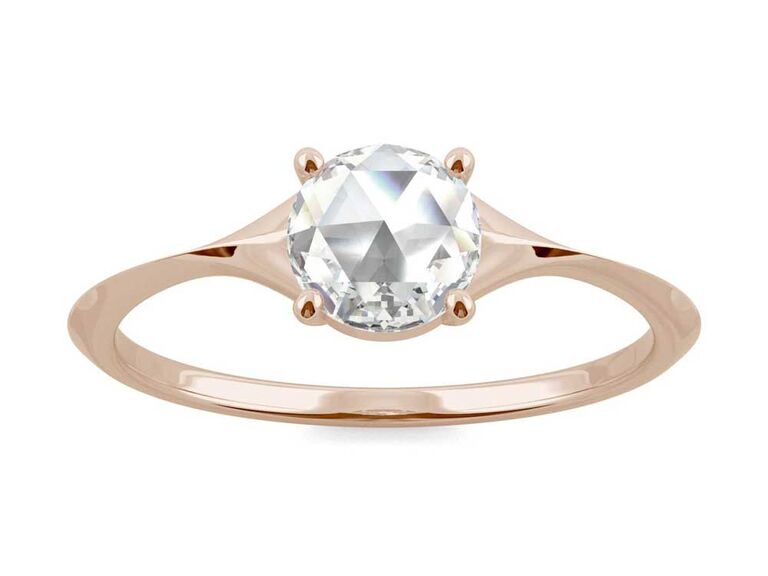 A rose-cut moissanite center stone plus a knife edge setting equals instant heirloom quality.
Charles & Colvard rose cut solitaire colorless moissanite knife edge engagement ring in 14K Rose Gold, $679, CharlesandColvard.com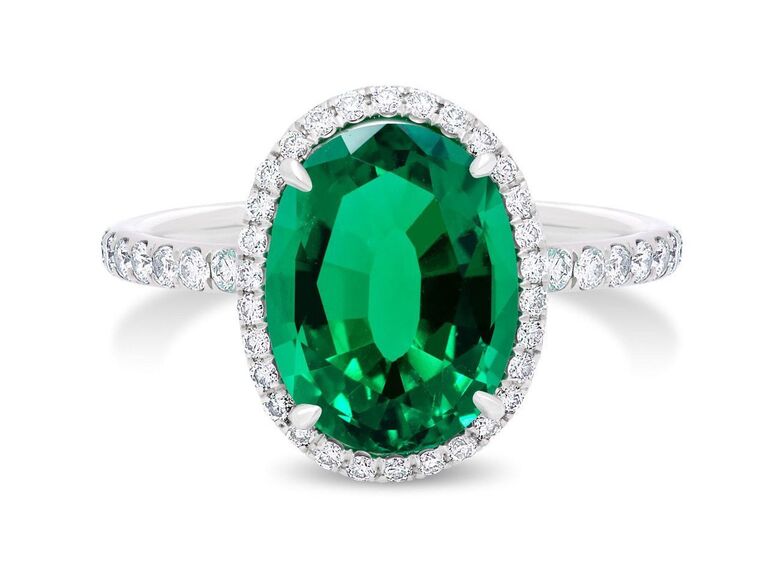 A lucsious oval-shaped emerald in a diamond-encrusted setting gives off red carpet vibes.
Nicole Rose Emerald and Diamond Halo ring in platinum, $10,950, NicoleRoseJewelry.com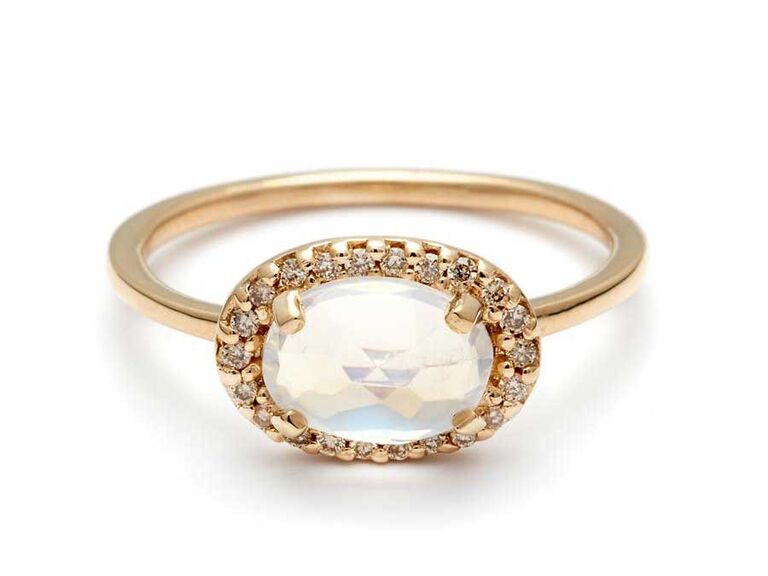 Moonstones are a unique choice for two reasons: They have a rich history (the Romans thought their power came from the moon) and they gives off a gorgeous rainbow luster.
Anna Sheffield pavé amulet ring in 14K Yellow Gold, Rainbow Moonstone and Champagne Diamond, $1,200, AnnaSheffield.com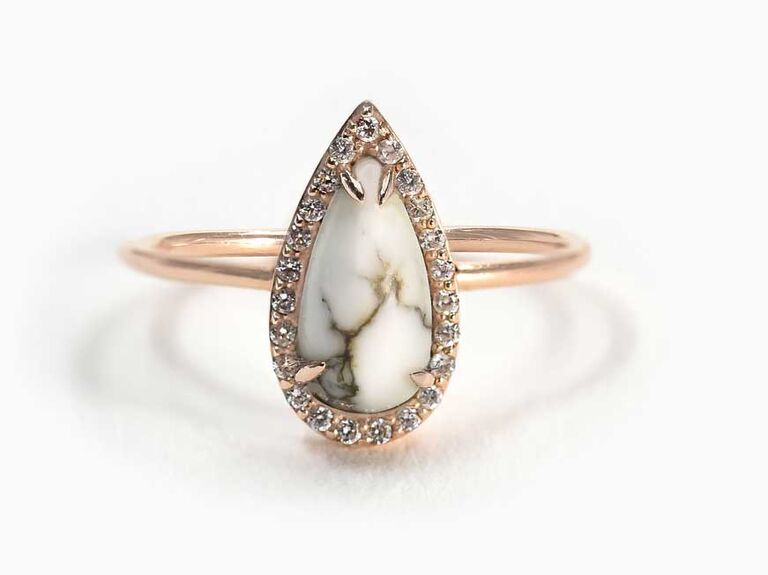 If you're in the market for something super unexpected, a pear-shaped Howlite center stone with a diamond halo creates a cool contrast.
Bondeye Jewelry Tear ring in 14K White Gold, $795, BondeyeJewelry.com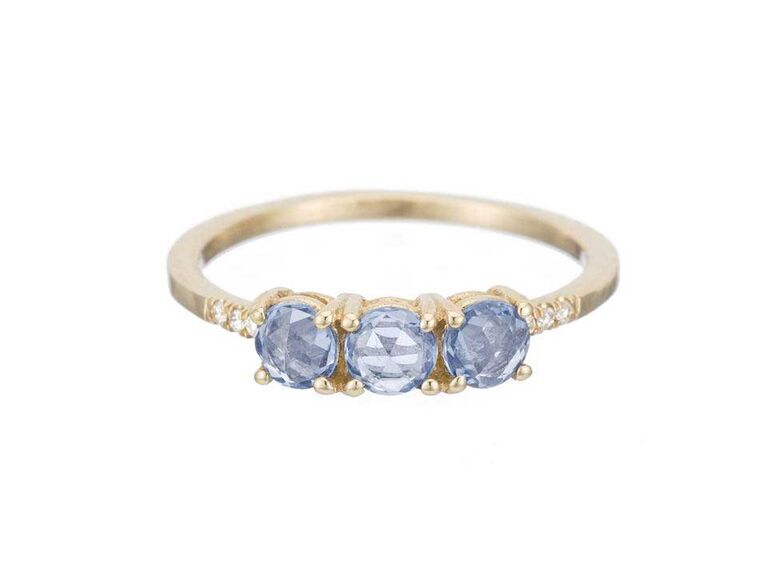 What's better than one center stone? Three. A mystical twist on the classic three stone setting, this blue sapphire ring brings the subtle shimmer.
Jennie Kwon Designs rose cut sapphire equilibrium ring in 14K Yellow Gold, $675, JennieKwonDesigns.com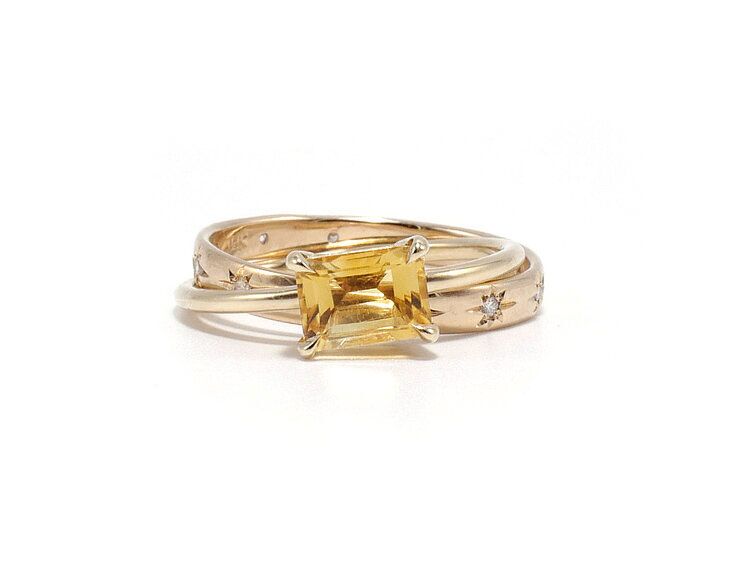 Harness the shine of the sun and the stars with a yellow citrine ring with gold celestial accent bands.
Ashley Zhang Jewelry Sunshine citrine rolling ring, $1,750, AshleyZhangJewelry.com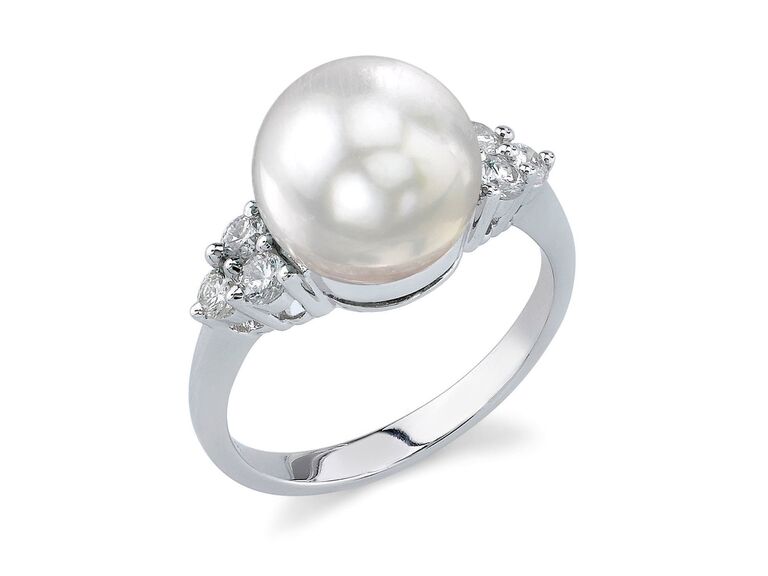 Delicate diamond side stones set off a stunning South Sea pearl center stone.
The Pearl Source South Sea Pearl & Diamond Sea Breeze ring, $999, ThePearlSource.com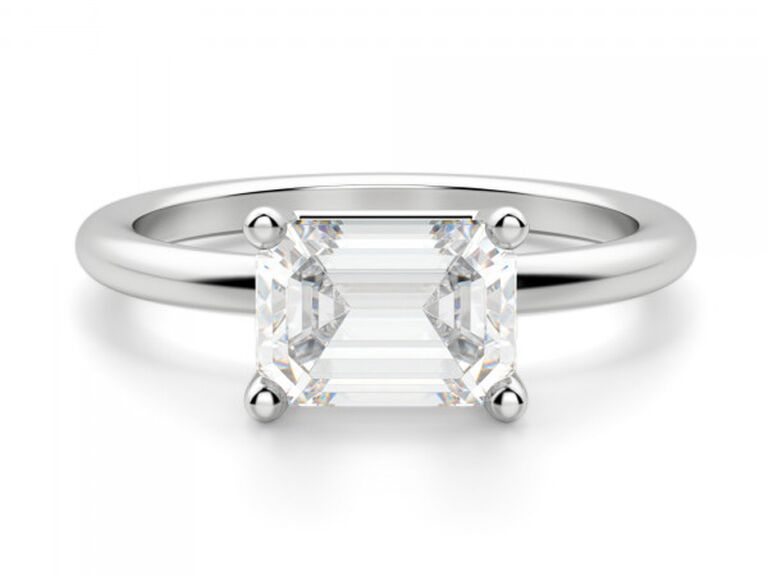 Minimalistic and chic AF, this emerald cut diamond simulant in an east-west setting is a gorgeous dupe for a traditional diamond.
Diamond Nexus East-West Classic Basket Emerald Cut engagement ring, $1,460, DiamondNexus.com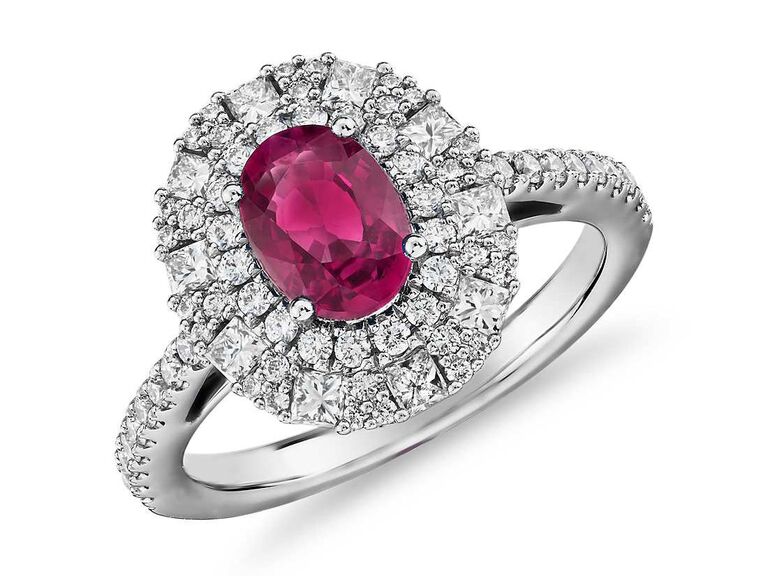 We've got one word for this ring: showstopper. A oval ruby surrounded by a diamond halo is pure, vintage-inspired glamour.
Blue Nile Oval Ruby ring with double diamond halo in 14k White Gold, $3,900, BlueNile.com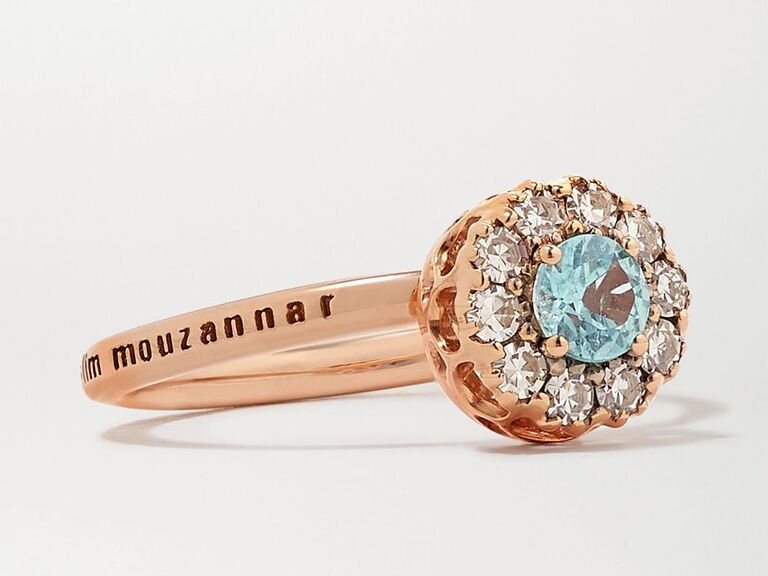 If color is really your thing, consider an engagement ring with a paraiba sapphire center stone—it's neon bluish-green tones are bold and beautiful.
Selim Mouzannar Beirut Basic 18-karat rose gold paraiba and diamond ring, $2,770, Net-A-Porter.com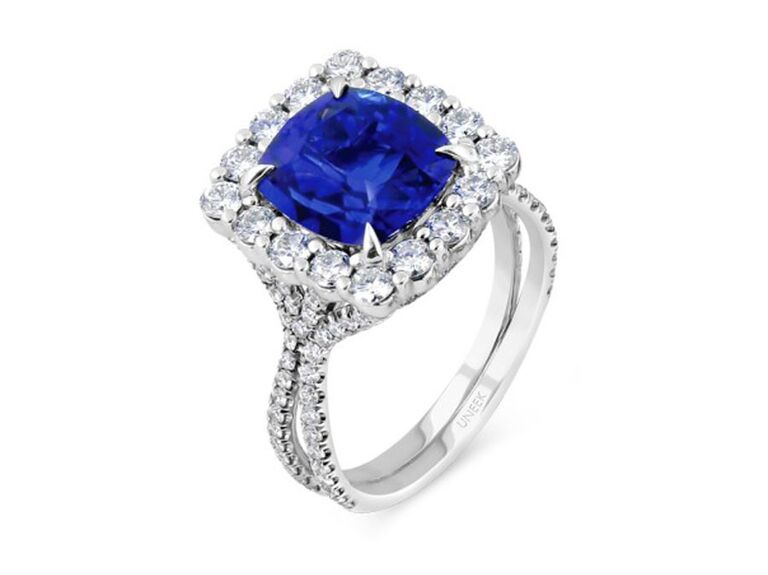 Channel your inner Kate Middelton with a cushion-cut sapphire sparkler with a decadent diamond halo and pavé band.
Uneek Jewelry cushion-cut sapphire engagement ring in Platinum, price upon request, UneekJewelry.com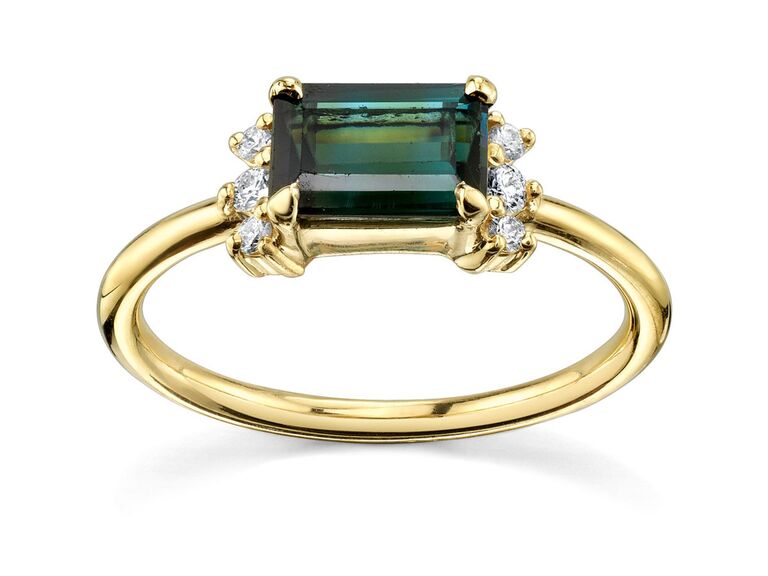 Looking to mix it up? An emerald cut tourmaline running east/west as opposed to the traditional north/south setting just feels fresh.
Marrow Fine Looking West tourmaline ring in 14K Yellow Gold, $1,850, MarrowFine.com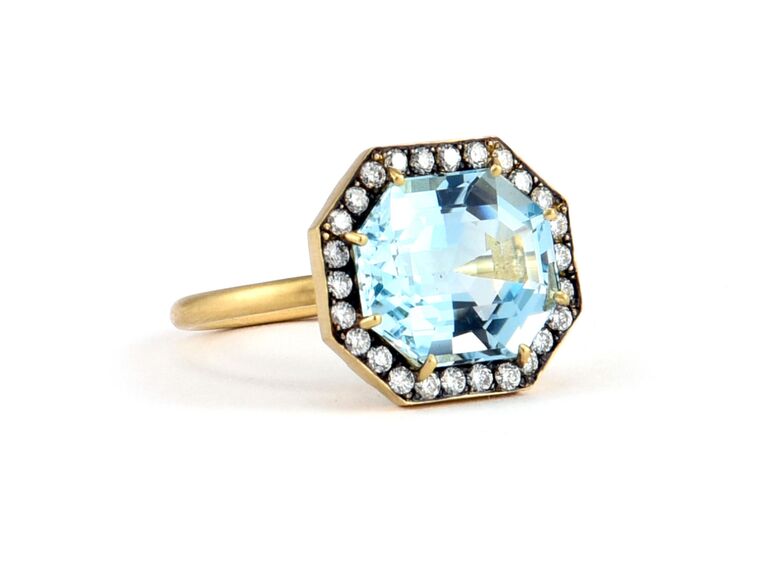 An elaborate yellow gold setting plays up the vivid light blue hue of this aquamarine center stone.
Sylva & Cie Gold Aquamarine cocktail ring in 18K yellow gold, $11,750, MitchellStores.com