Non-Diamond Engagement Rings Are the Hottest Trend on the Rise
From morganite to sapphire, brides-to-be are obsessing over rings that don't feature the typical diamond center stone. Find out which are good choices and why.
by Danielle Miele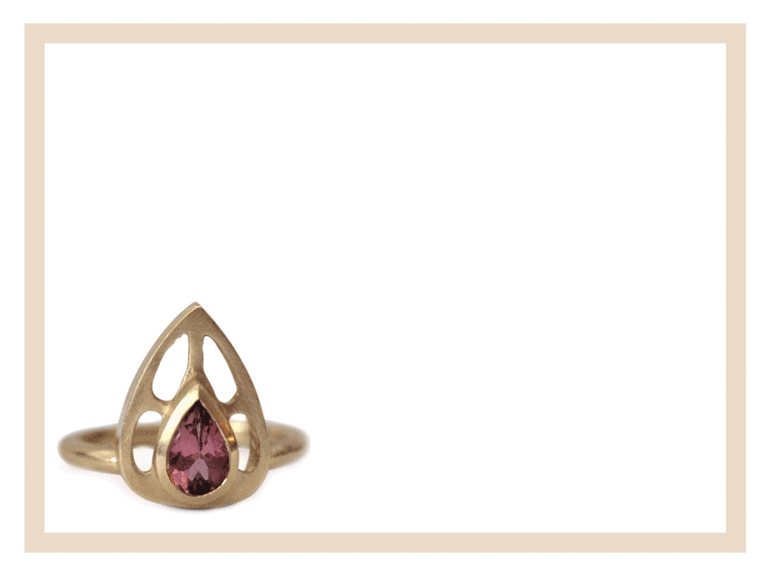 Without a doubt, the biggest engagement ring trend happening now is non-diamond engagement rings. Diamonds have been forever associated with the idea of commitment and eternal love represented with marriage, but with today's brides continually wanting to be unique, we've seen an upsurge in semiprecious gemstones in engagement rings. April's birthstone has been the number one choice for many reasons, but mostly because it remains Earth's hardest material, ranking a 10 on the Mohs hardness scale. When considering the fact that most women wear their engagement ring every day, often ignoring the advice of removing rings when working out, gardening, moving furniture and so on, a diamond's hardness and strength is vital. So if a bride wants a gemstone other than a diamond, what are the best choices? What gemstones can offer somewhat similar strengths and also be good everyday rings?
The answers can be found in learning about gemstone hardness and knowing how you wear jewelry personally—are you often hitting your hands on things? Does your job require you to use your hands a lot? There are many alternatives to having a diamond as an engagement ring and there are also many benefits of choosing a semiprecious stone. One huge positive is the price, as most gemstones are often less expensive than diamonds of comparable size. Let's start with some examples:
Sapphire
This gorgeous gemstone is September's birthstone and most known for its blue hue, but comes in a variety of colors. Pink and yellow sapphires are great alternative choices for an engagement ring, and ranking at 9 on the hardness scale, sapphire is one of the most durable stones aside from diamond. Princess Diana's infamous sapphire engagement ring has caused many to covet a blue sapphire as their ring choice and we couldn't agree more (I personally wear a sapphire and diamond cluster as an alternative engagement ring for everyday wear).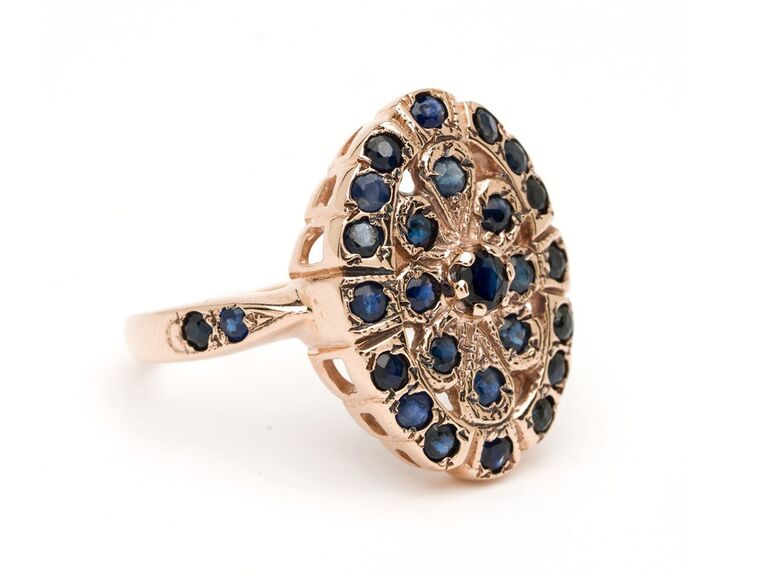 Arik Kastan sapphire Starling ring, $1,410, Shop.ArikKastan.com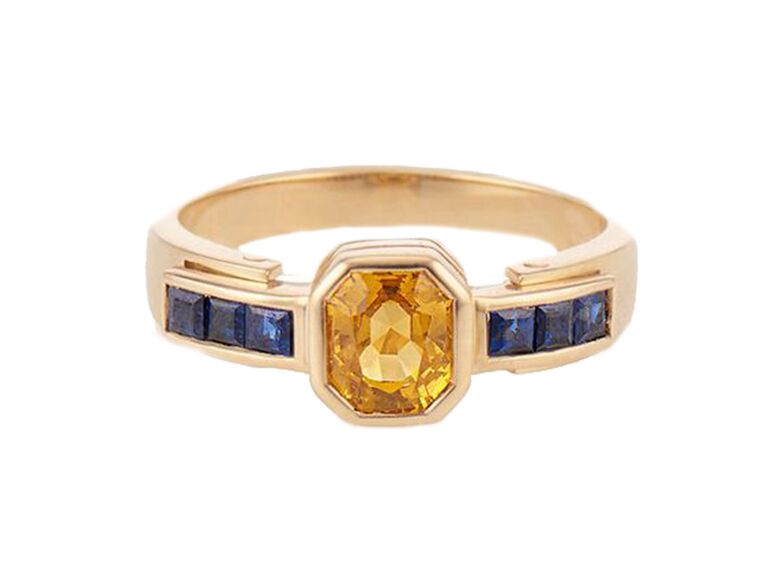 Jewels by Grace vintage yellow and blue sapphire ring, $1,150, JewelsbyGrace.com

Morganite

Probably the most talked about gemstone and most popular diamond alternative right now, morganite is on everyone's wish list. Rightfully so, the gemstone ranks a 7.5–8 on the hardness scale, so it's okay to wear every day, with caution and care. The blush-pink color has fashion-forward brides swooning, with its Instagram aesthetic on point. You'll want to get a photo of your morganite ring toasting with a glass of rosé, because #goals.
Bario Neal Aira Oko morganite ring, from $560, Bario-Neal.com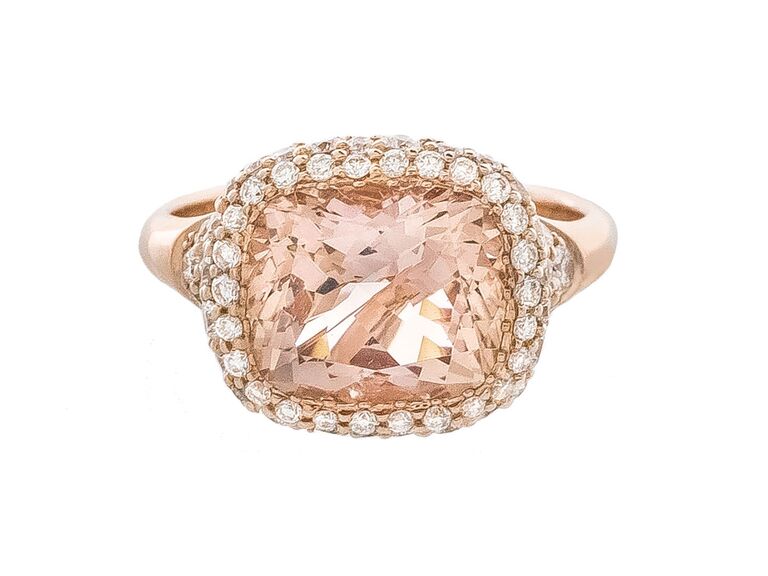 Irina Ferry morganite cushion ring in rose gold with pave diamonds, $5,490, SohoGem.com
Ruby

Red is the color of passion, so what better way to represent your love than with a ruby engagement ring? Rubies rank a 9 on the scale of hardness—same as sapphire because they're in the same gem family of Corundum. Several celebrities have a ruby engagement ring, including Jessica Simpson and Eva Longoria.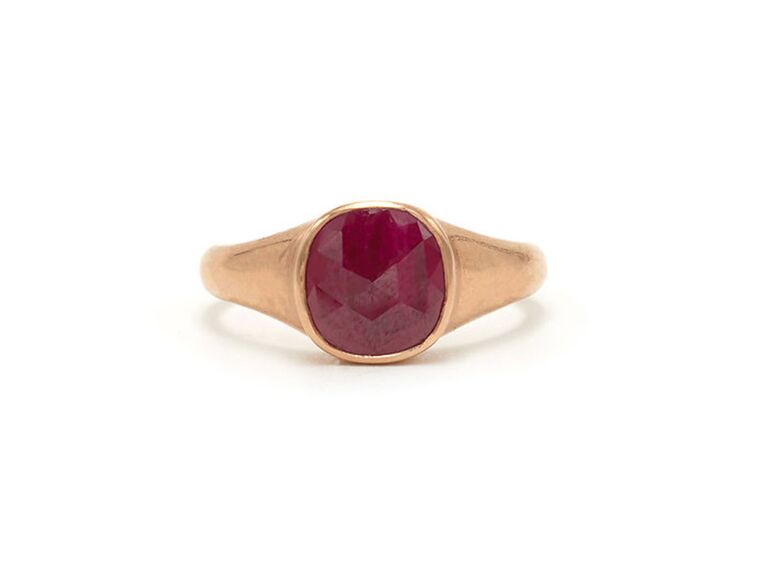 The Moonstoned Checkmate ring, $550, TheMoonstoned.com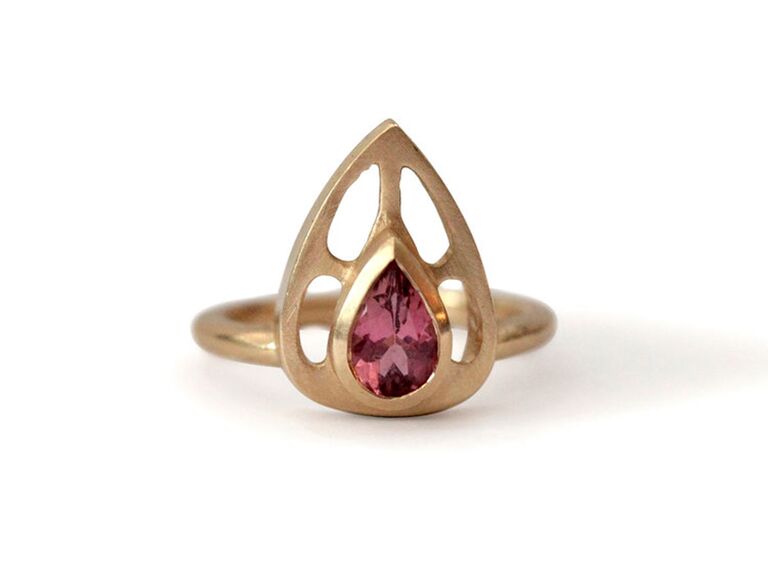 Lulu & Shay Maria ring, $1,425, LuluandShay.com
Quartz With Inclusions

We've all heard of quartz—one of Earth's most abundant minerals. The purple version is amethyst, the yellow version is citrine, the brown version is smokey quartz, and so on. A more "fun" variety of this common gemstone is rutilated or tourmalinated quartz, which is clear quartz with rutile or tourmaline inclusions. These inclusions are picked up when growing deep underground and can be in all sorts of patterns, making it truly one-of-a-kind. Quartz ranks at a 7 on the Mohs hardness scale, which makes it ideal to be worn in a ring.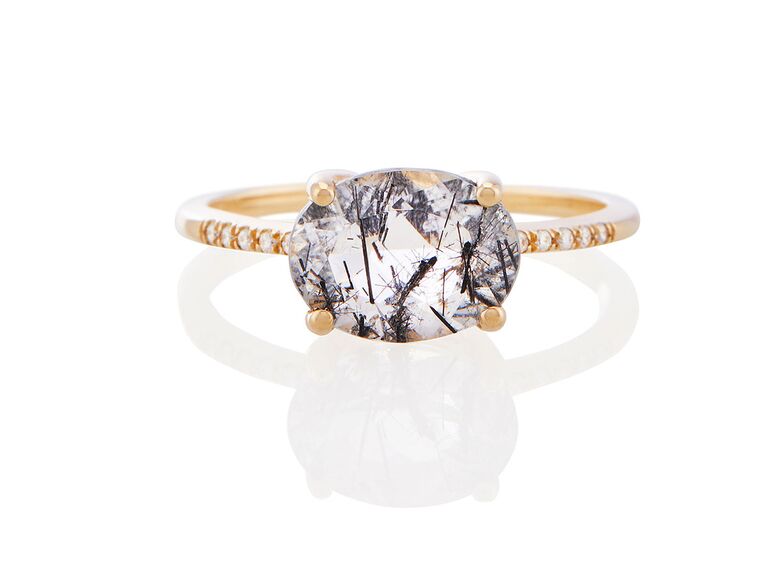 Vale Jewelry Lumen ring with tourmalinated quartz, $975, ShopVale.com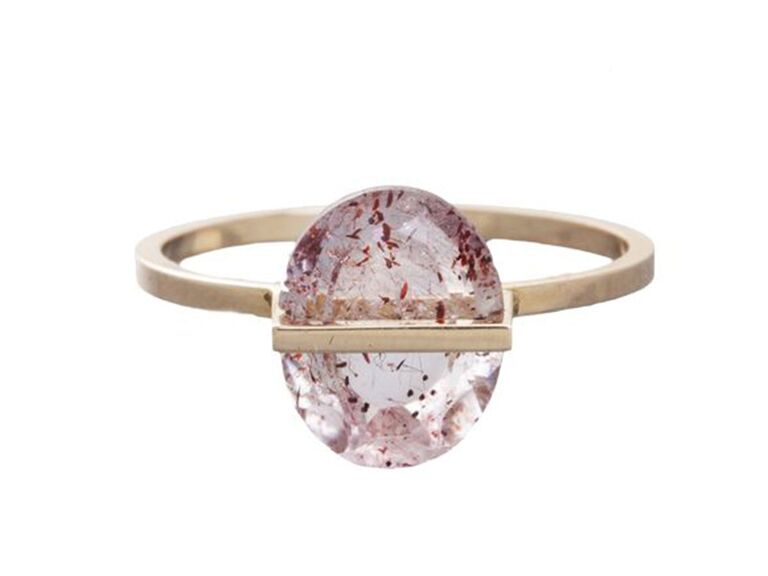 Januka yellow gold and quartz ring, $650, LoveAdorned.om
Green Tourmaline

Tourmaline comes in a majestic rainbow of hues, including the summer favorite watermelon tourmaline—pink in the middle with green on the outer portion. Tourmaline is a 7–7.5 on the hardness scale, so some care should be taken when wearing, however it does make an acceptable alternative engagement ring. We've picked two of our favorite green tourmaline choices, although there are so many other colors tourmaline comes in.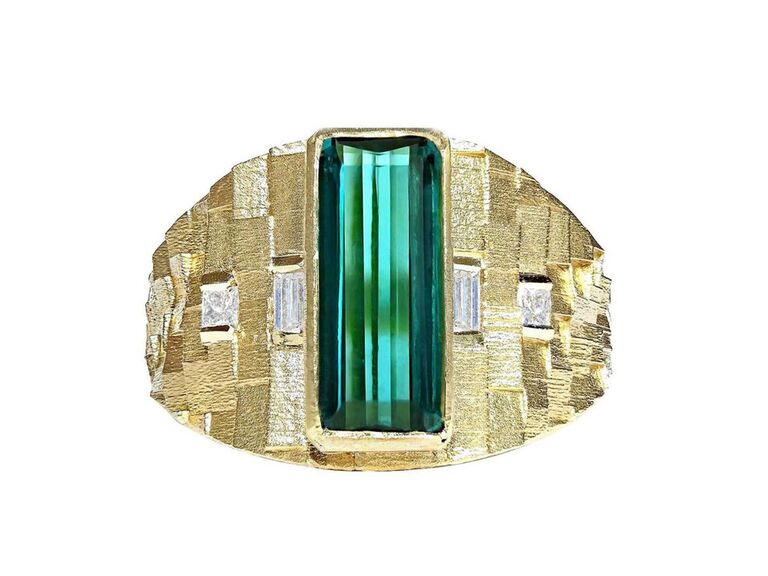 Jo Hayes Ward one-of-a-kind tapered deco ring, $5,750, SzorCollections.com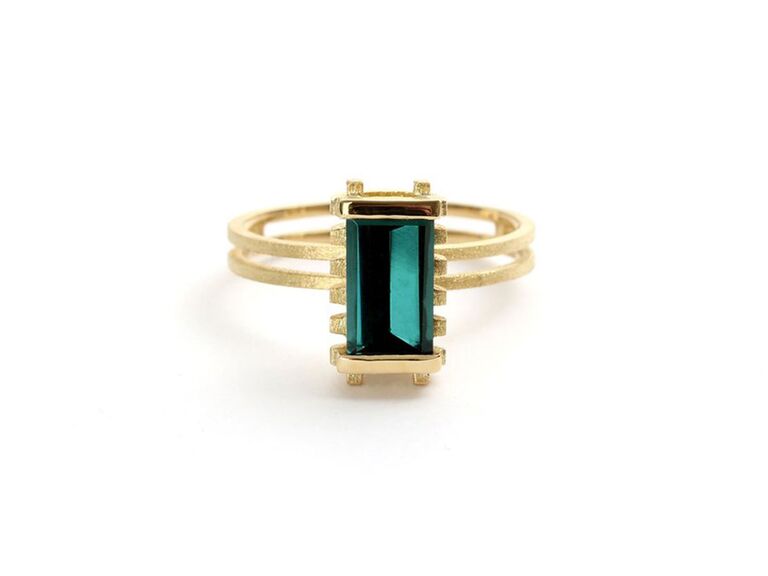 Shimell & Madden Six Strut ring, $2,169, Shop.ShemellandMadden.com


Danielle Miele is the founder of the longest-running, US-based fine jewelry blog called Gem Gossip. She also is a graduate gemologist and has been appraising jewelry professionally for nearly eight years. You can currently find Danielle traveling the world covering jewelry stories, visiting stores and designers, and collecting antique jewelry (she has over 300 rings).