44 Wedding Ring Boxes, Dishes and Holders to Keep Your Rings Safe
Looking for the perfect wedding ring box to store your beloved bauble? Keep your ring (or rings) safe in one of these personal wedding ring holders.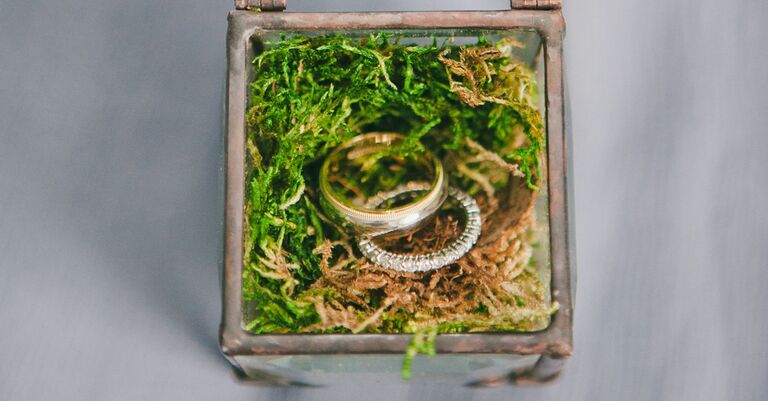 ONELOVE PHOTOGRAPHY
We have included third party products to help you navigate and enjoy life's biggest moments. Purchases made through links on this page may earn us a commission.
Trust us, a ring box is one wedding accessory you never knew you needed. Now that you're engaged and soon-to-be married (or already married), you have a few new pieces of jewelry to keep track of—making a ring box essential for safekeeping purposes.
With the many ring box options out there, narrow it down to something monogrammed for the home all the way to something luxe and fitting for your ceremony. From cool ring boxes the best man can carry down the aisle to pretty wedding ring holders you can keep on your dresser, check out the best ring box, pillow, dish, tray and holder ideas for your wedding jewelry.
Ring Boxes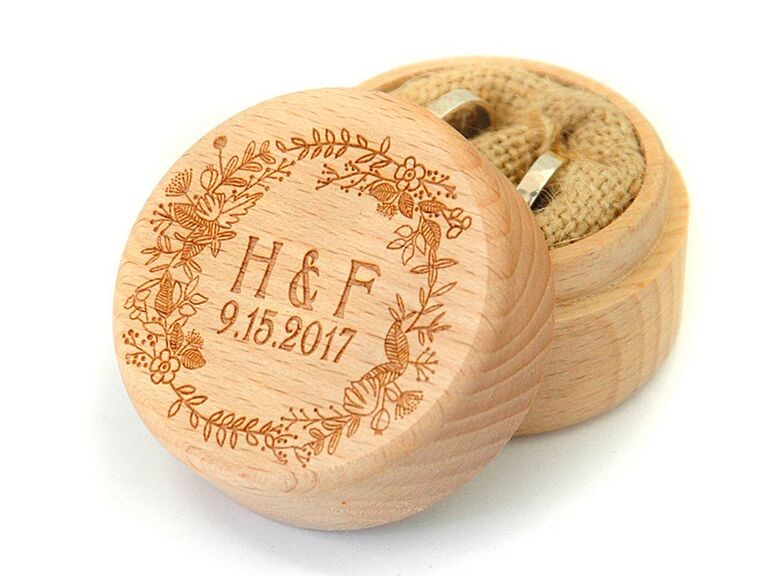 1. On your wedding day, tuck your rings inside this pretty wood ring box that's carved with your wedding date and the initials of you and your future spouse.
LOVEhandmade personalized ring box, $9, Amazon.com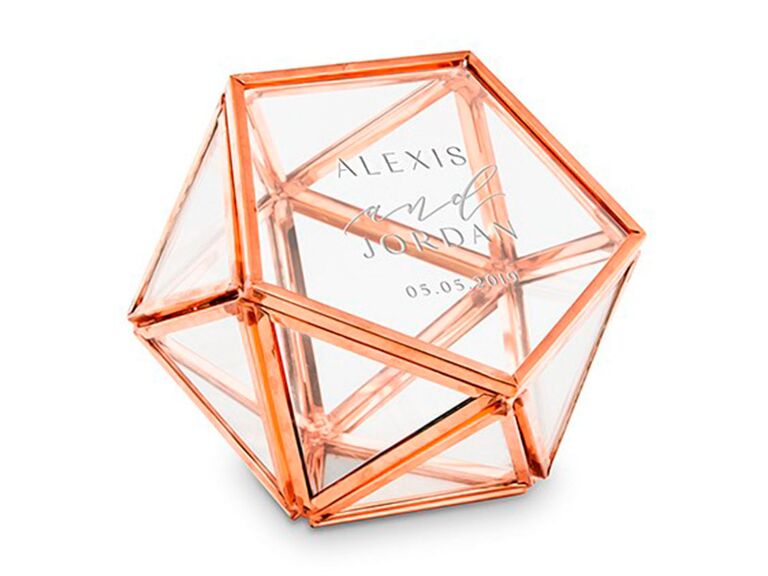 2. A glass ring box showcases the goods inside, and this piece's geometric shape and rose-gold finish makes it look ultra-modern.
The Knot Shop geometric glass wedding ring box, $30, WeddingShop.TheKnot.com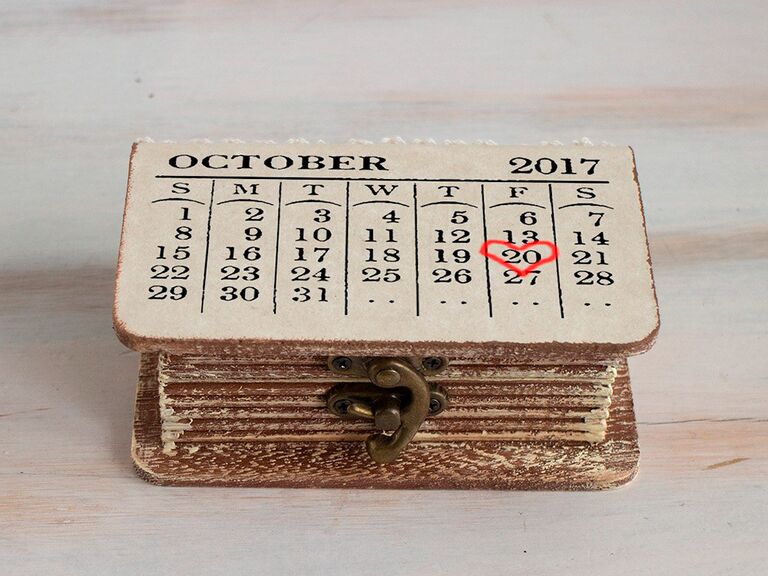 3. Your wedding day is going to be unforgettable, so commemorate this special date with a ring box that includes a charming calendar-motif.
My House of Dreams wedding ring box, $25, Etsy.com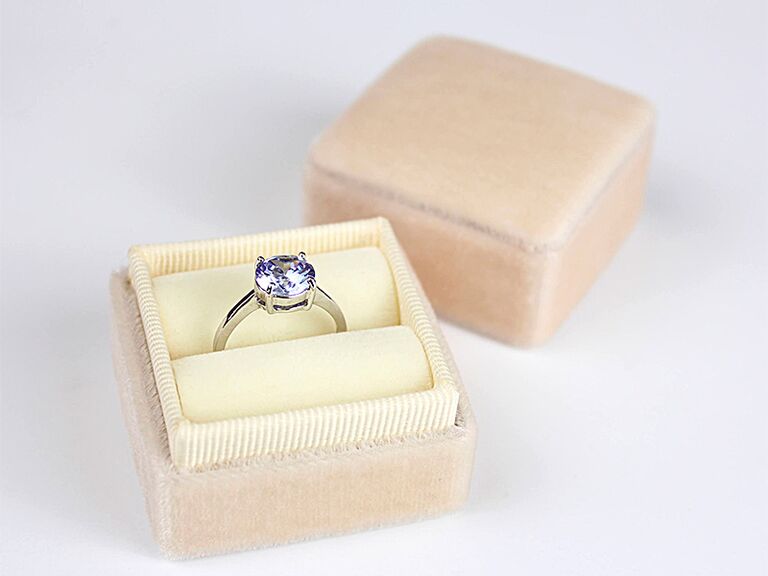 4. You can never go wrong with a classic ring box. This particular item, which comes in a romantic champagne velvet hue, is as chic as it is traditional.
The Family Joolz two-ring box, $40, Etsy.com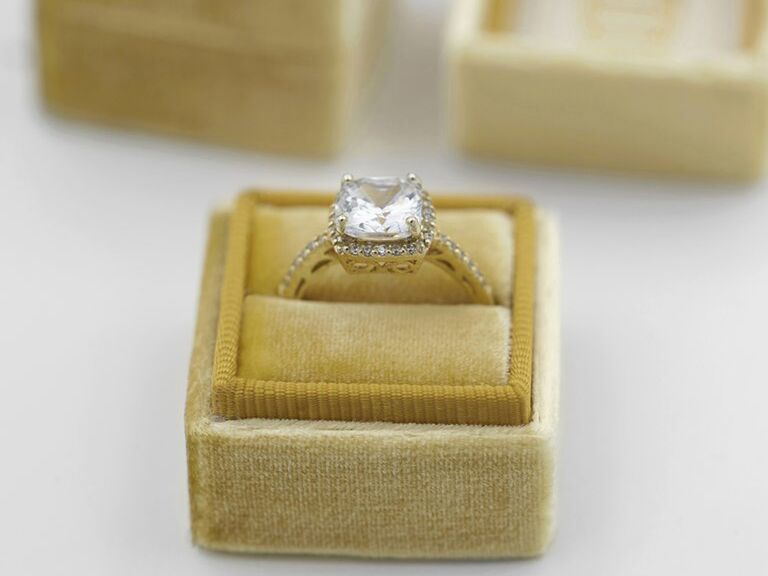 5. One of our favorite velvet ring boxes of all time is available from The Mrs. Box in a wide variety of stunning colors and sizes. Whether it's on your dresser or it's a styled shot of your invitation suite, this item is good addition to photograph.
The Mrs. Box Eastleigh ring box, $75, TheMrsBox.com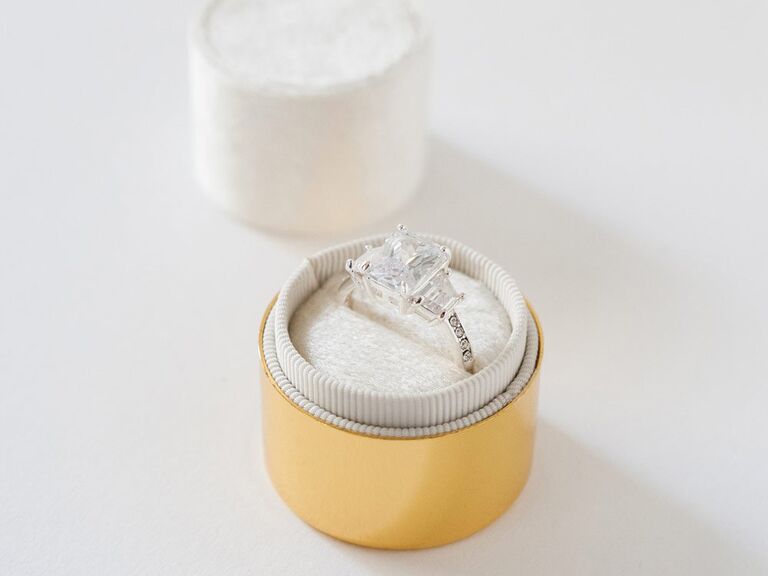 6. Not into the rectangular ring box? Try this gorgeous half-gold, half-velvet, cylindrical ring box. It's luxe and understated, and just a little bit different.
Esselle The Laurine ring box, $65, EsselleSF.com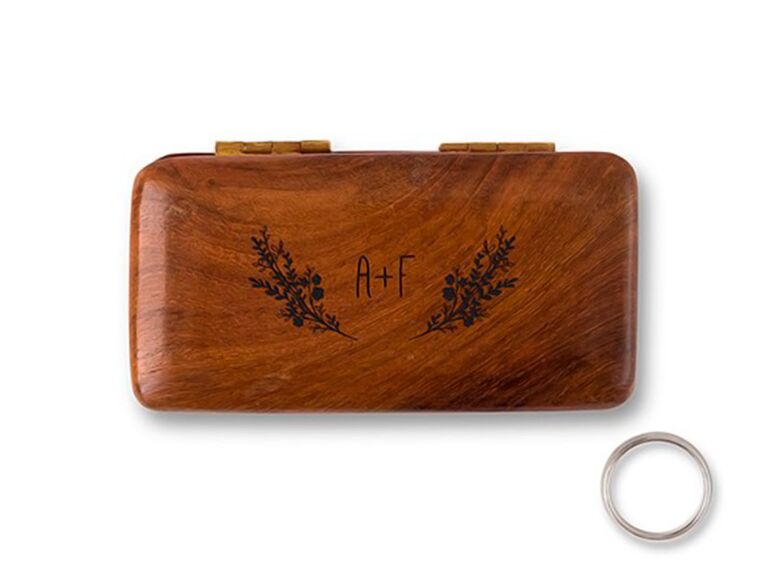 7. With its two carved nooks, this charming and unique ring box makes a great wedding ring case for the ring bearer or best man to carry. Because you can have it engraved with your initials, we think you'll keep it "forever and always."
The Knot Shop personalized pocket-size wood wedding ring box, $26, WeddingShop.TheKnot.com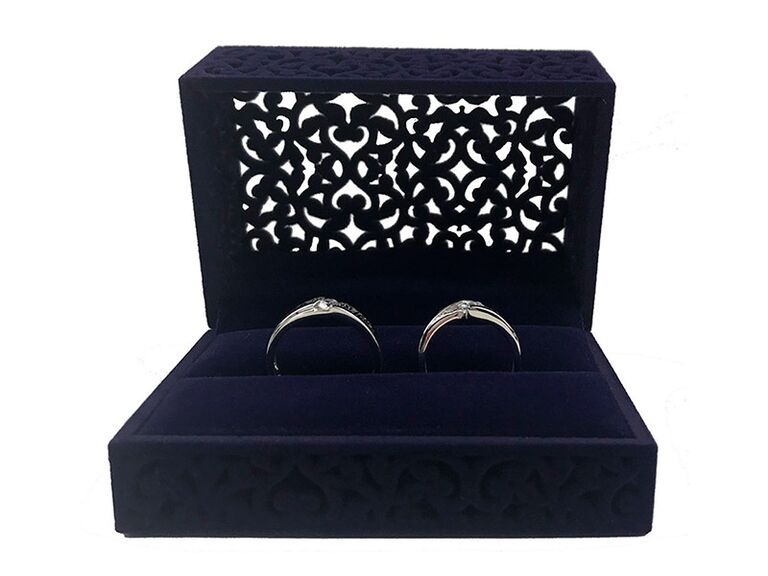 8. Apropos for an evening affair, this dark blue velvet ring box has a pretty filigree cut-out design.
DesignSter blue velvet ring box, $10, Amazon.com
9. It doesn't get much more rustic than this unique wedding ring box, made from a real cut of wood and engraved with your choice of four sweet sayings. Its natural beauty fits right in at a woodlands-inspired wedding.
Koyal Wholesale engraved wedding ring box, $10, Amazon.com
Ring Pillows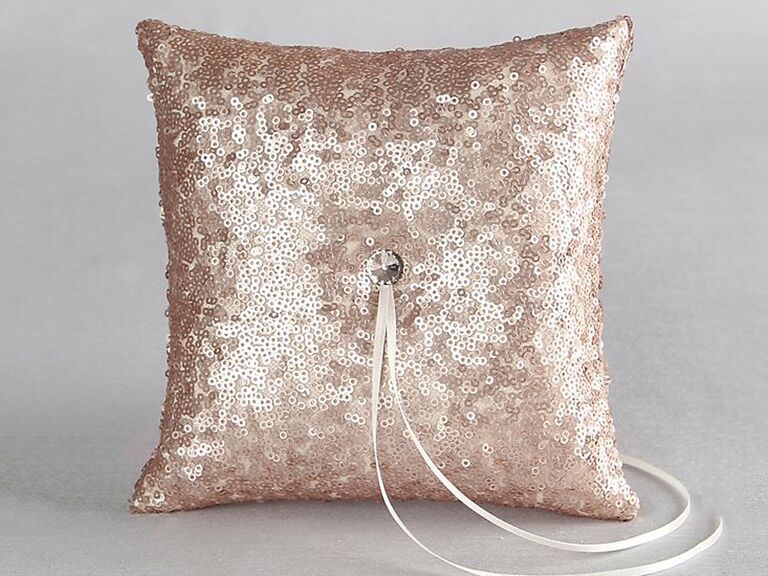 1. A classic wedding pillow gets a little upgrade from glam sequins—perfect for carrying your wedding rings down the aisle during a luxe wedding ceremony.
David's Bridal sequin ring bearer ring pillow, $35, DavidsBridal.com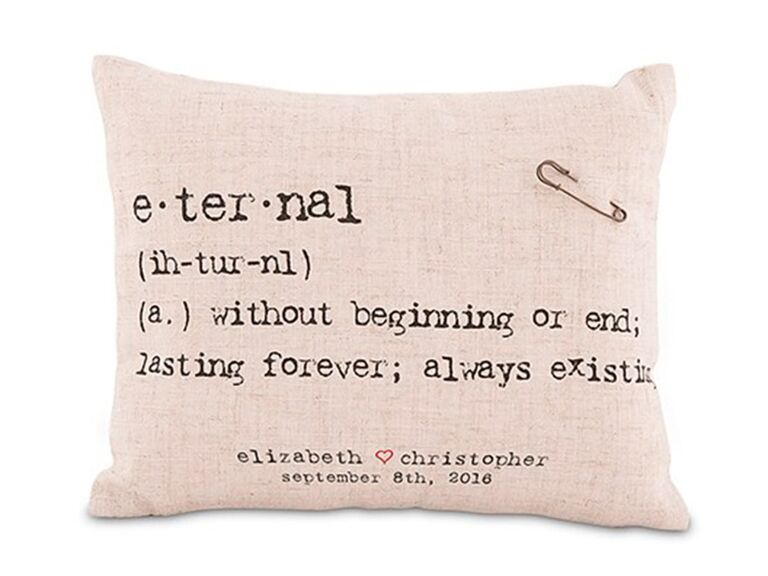 2. If you love the traditional idea of having a ring pillow for your ceremony, but want it to look a little different, consider this pretty linen pillow with the definition of "eternal" in vintage-style type.
The Knot Shop natural linen ring pillow with vintage type, $45, WeddingShop.TheKnot.com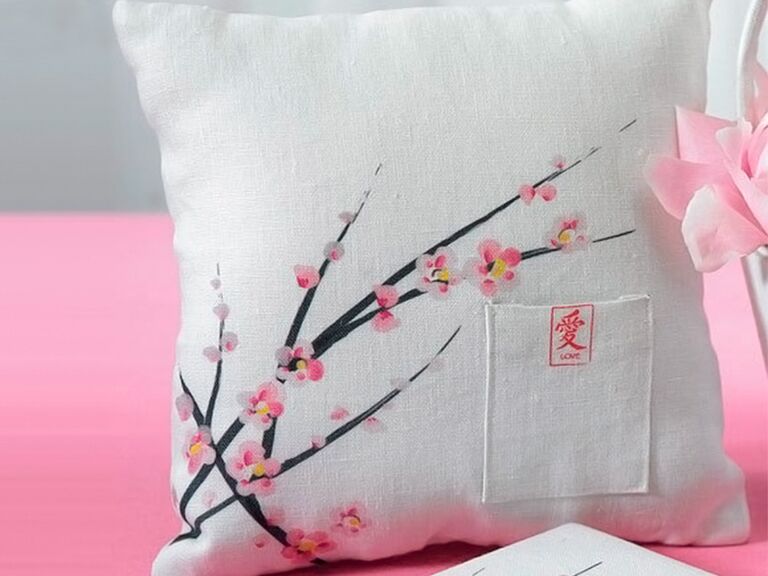 3. Whether it's a Japanese wedding or simply a spring wedding, this cherry blossom ring pillow is a gorgeous choice. Its tiny pocket says "love" in both English and Japanese.
Beau-coup cherry blossom ring pillow, $37, Beau-Coup.com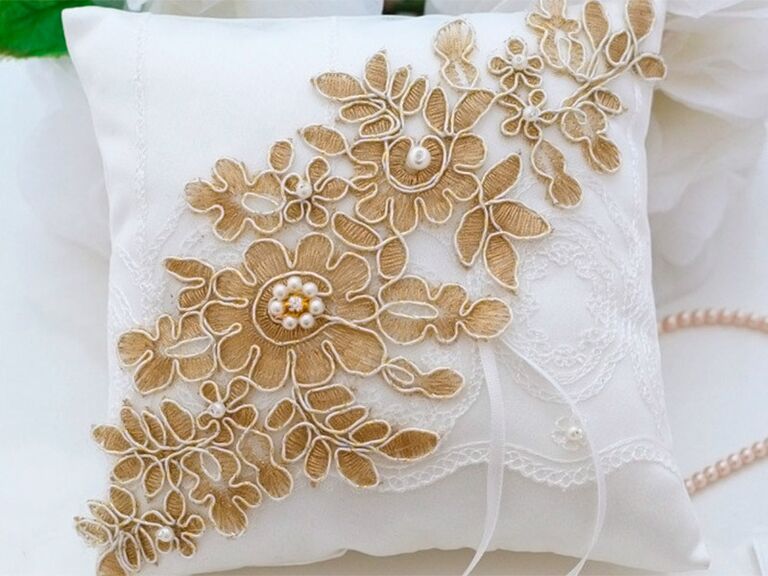 4. We can't take our eyes of the lovely champagne brocade on this white lace ring pillow.
MC Bridal Shop white wedding ring pillow, $20, Etsy.com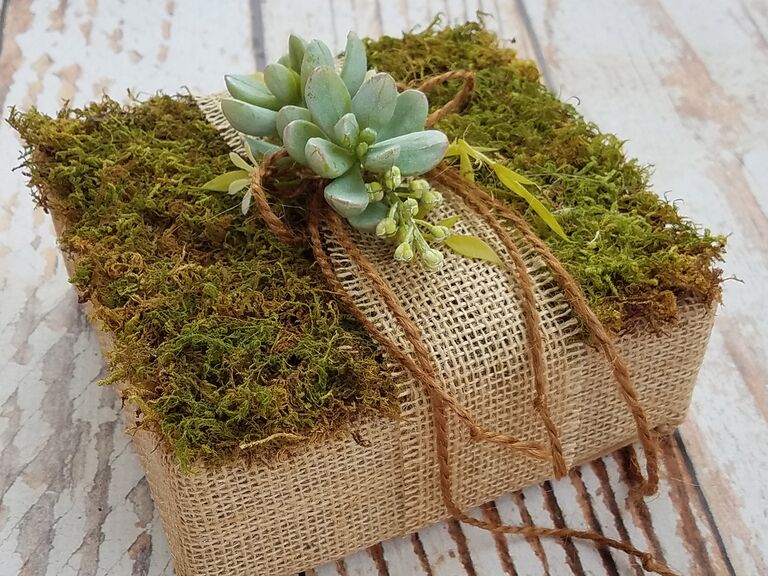 5. Love the great outdoors? The moss and succulents on this rustic ring pillow offer an original, natural touch.
Just Ann's rustic moss ring pillow, $14, Etsy.com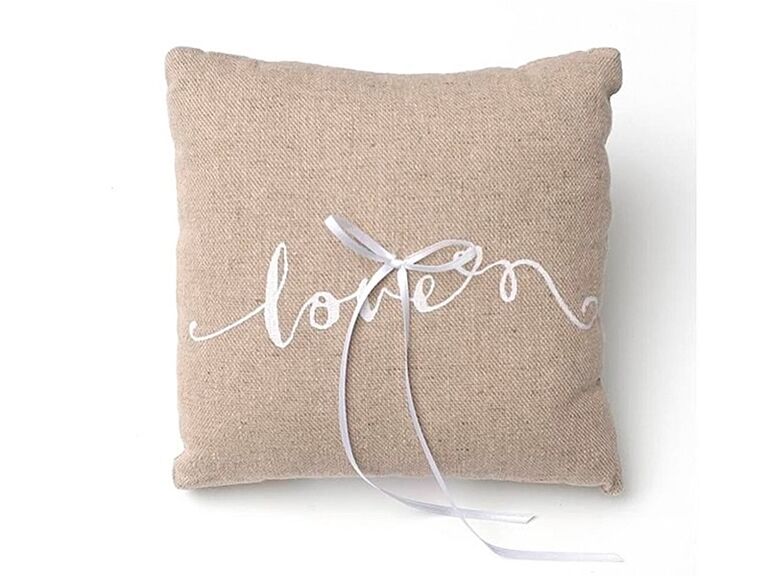 6. The wedding rings can be lovingly held with this ring pillow, which bears the only word you need: love.
Gartner Studios "love" linen ring pillow, $15, Michaels.com
7. The bride who loves colorful accessories will adore this petal pink ring pillow, which is adorned with an oversized chiffon flower.
Love + Peony pink ring pillow with chiffon flower, $36, LoveandPeony.com
Ring Dishes and Trays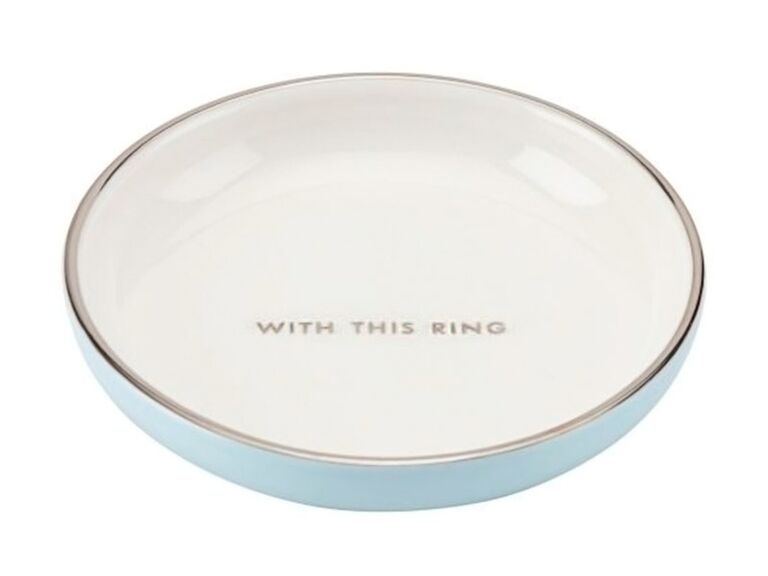 1. This ring dish, inscribed with a fitting message, is a classic must-have item to accessorize the bedside table or vanity.
Kate Spade New York "With This Ring" ring dish, $30, LordandTaylor.com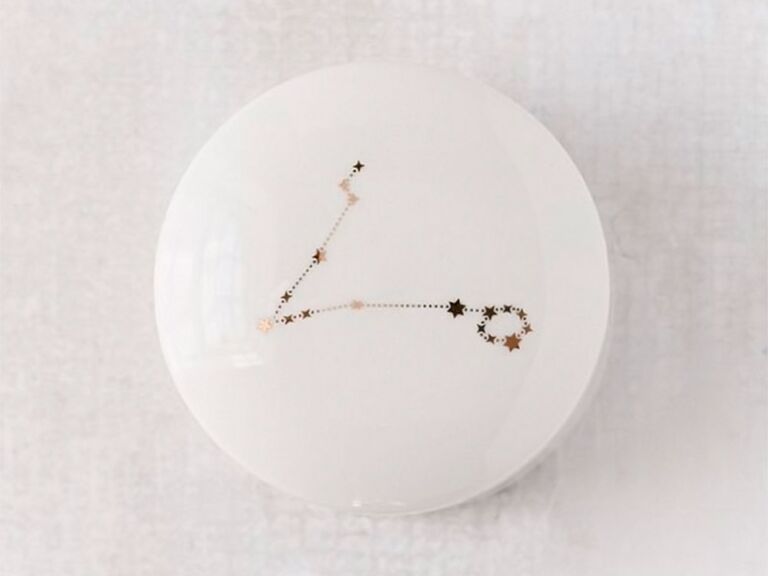 2. What astrology-adoring newlywed wouldn't want to store the rings in a dish that points to the signs? This piece from Urban Outfitters is a great option—even when Mercury is in retrograde.
Urban Outfitters zodiac trinket catch-all dish, $18, UrbanOutfitters.com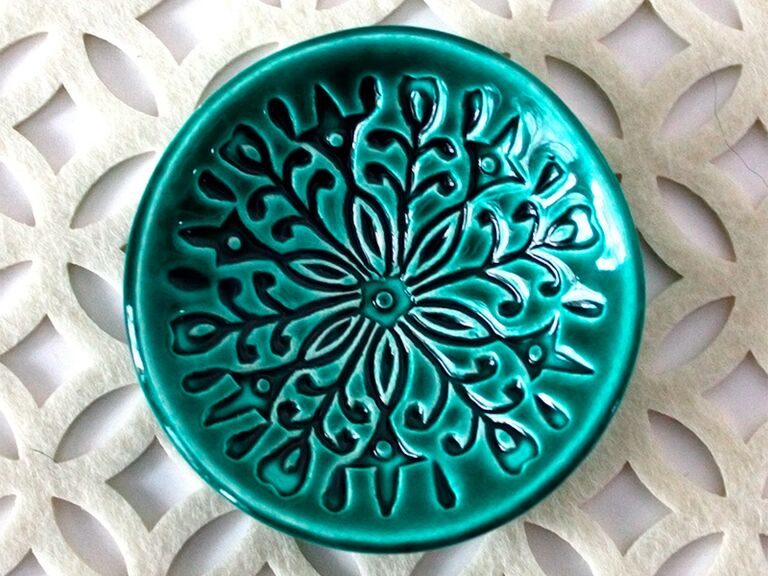 3. We're obsessed with the bohemian style and rich teal hue of this handmade bowl, perfect for holding wedding rings.
Fettle & Fire handmade green ring dish, $14, Amazon.com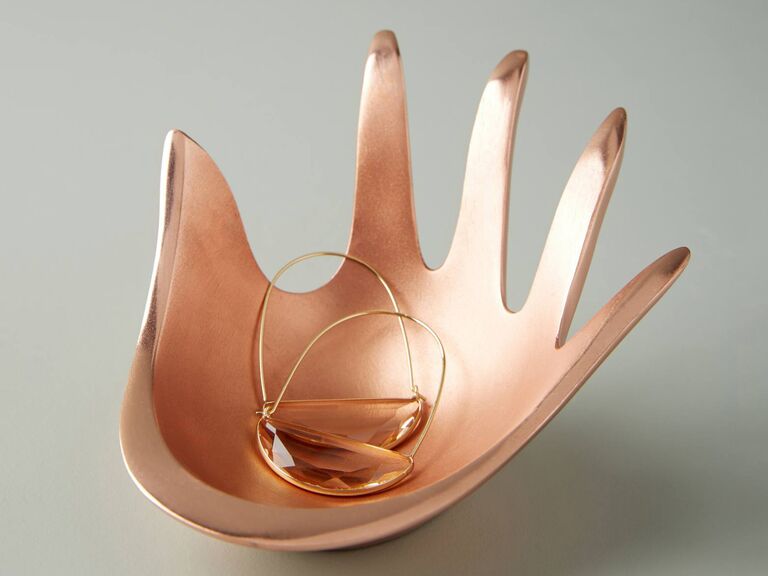 4. This palm-sized ring dish with a copper rim is perfect for the modern minimalist.
Anthropologie Palmistry trinket and ring dish, $16, Anthropologie.com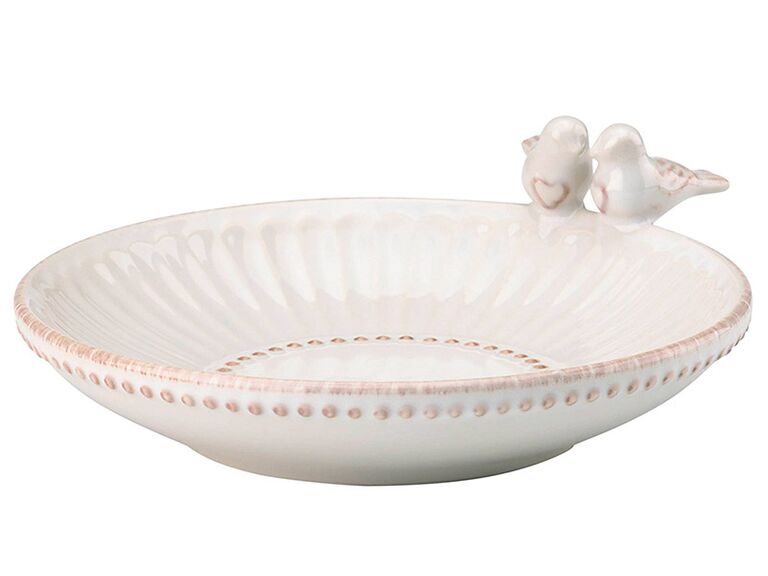 5. We can't resist the two lovebirds perched on the end of this delicate ring dish. This is definitely one piece you can pass down for generations.
Lenox "French Perle" white love birds ring dish, $23, Amazon.com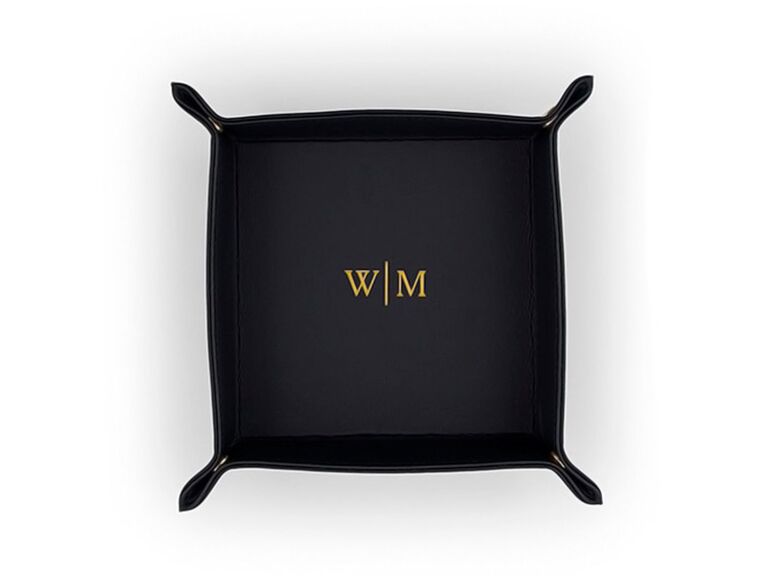 6. Have your newlywed initials or your wedding monogram embossed on this sleek jewelry tray.
The Knot Shop vegan leather jewelry tray with embossed monogram, from $12, WeddingShop.TheKnot.com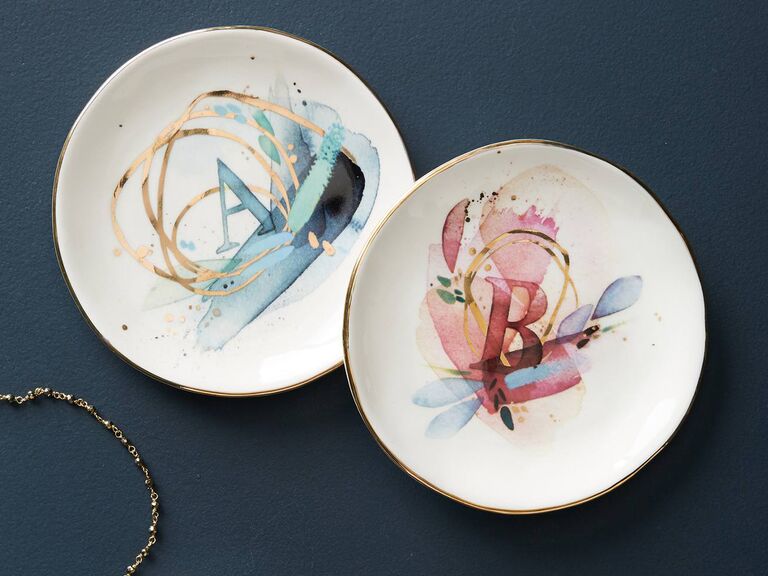 7. This ring dish is whimsical, colorful, romantic and modern all at the same time. Plus, we're totally down for any ring box or trinket dish you can personalize with your initial.
Emily Jeffords monogram trinket and ring dish, $14, Anthropologie.com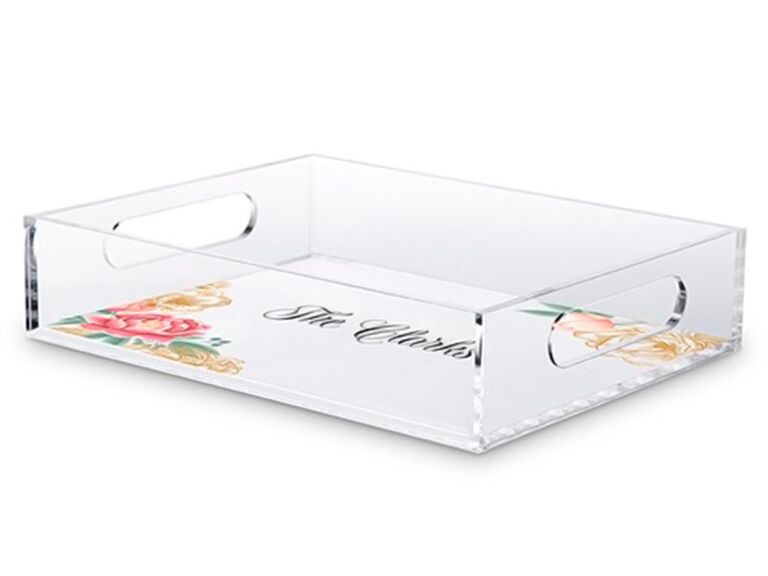 8. Personalize this classic rose-print acrylic tray with your name or a shared last name and use it as a ring holder wherever you choose to place it in the bedroom.
The Knot Shop floral print rectangular acrylic tray, $30, WeddingShop.TheKnot.com
Jewelry Boxes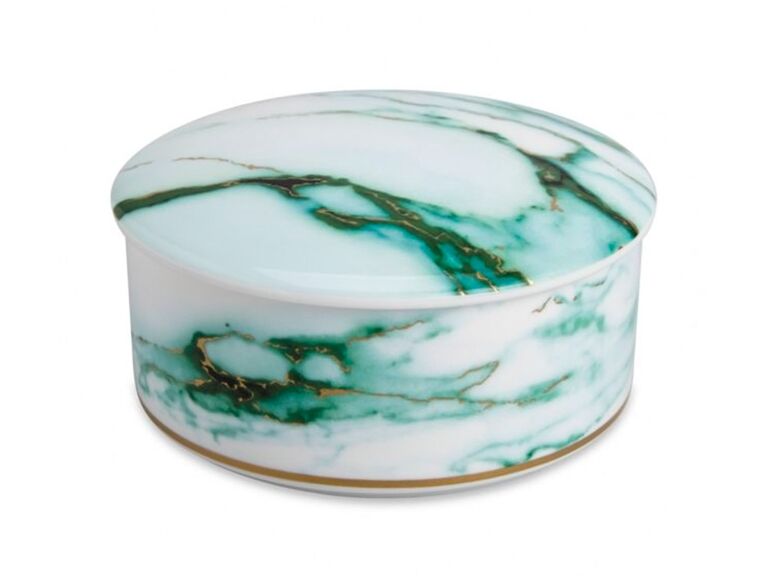 1. Made of bone china and 24-karat gold, this marble motif jewelry box feels like a family heirloom, making it a very special place to store wedding rings.
Prouna marble jewelry box, $65, SaksFifthAvenue.com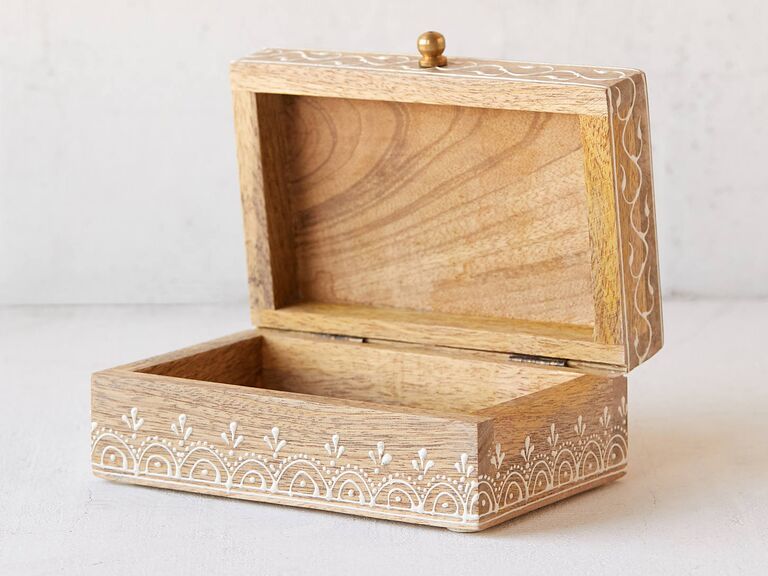 2. This painted, light-wash wood jewelry box is large enough to hold all of your most special pieces.
Urban Outfitters boho painted wood stash box, $88, UrbanOutfitters.com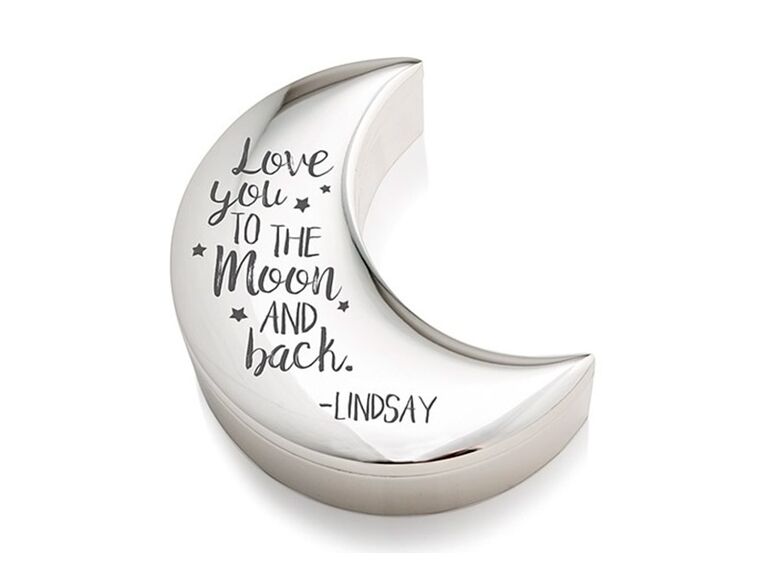 3. "Love you to the moon and back" is a saying popularized by the adorable children's book Guess How Much I Love You. And it's a wonderful expression of love you'll enjoy being reminded of every time you gaze at this wedding ring box.
The Knot Shop personalized silver half moon jewelry box, $26, WeddingShop.TheKnot.com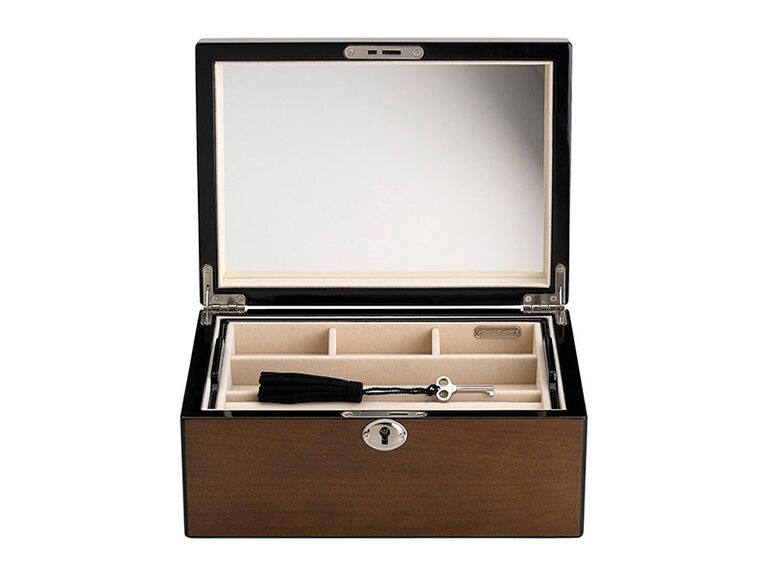 4. The grooms need somewhere to put their wedding ring, watch, cuff links and other accessories, right? While someone of any gender might want to use this locking jewelry box—it's just so universal— we think it will work amazingly well for new husbands who want a sleek, handsome piece for his new bling.
Reed & Barton modern lines latte jewelry box, $175, Cufflinks.com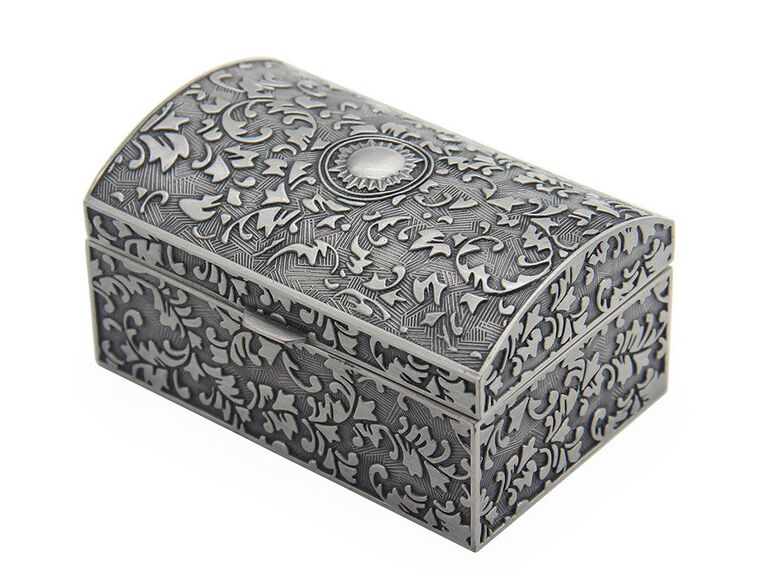 5. This vintage-style silver tone jewelry box looks like something your grandmother may have passed down, but really, it's a super-affordable newbie.
Aveson vintage metal jewelry box small trinket storage organizer box, $11, Amazon.com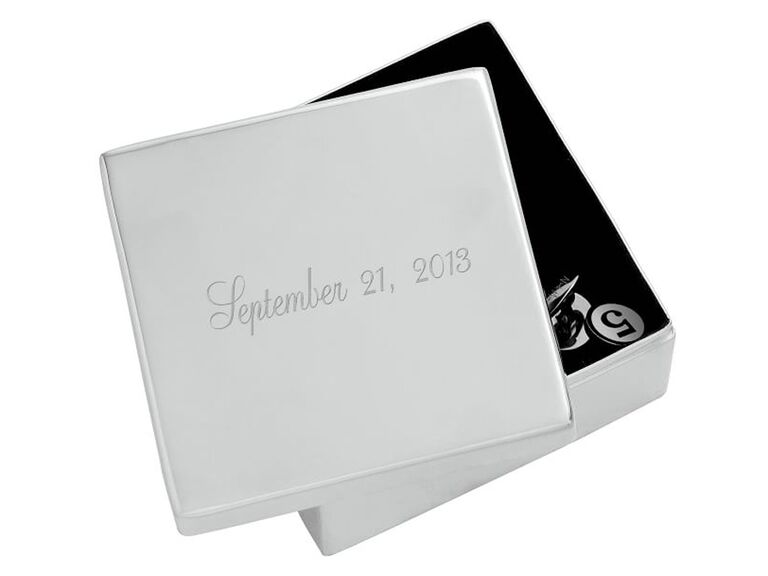 6. A silver jewelry box lined with velvet and bearing your name, initials or wedding date (or all three!) is as classic as you can get. And it's not just beautiful, but super practical too, perfect for storing all your fine jewelry.
Mark & Graham colorblocked accessory tray, $85, MarkandGraham.com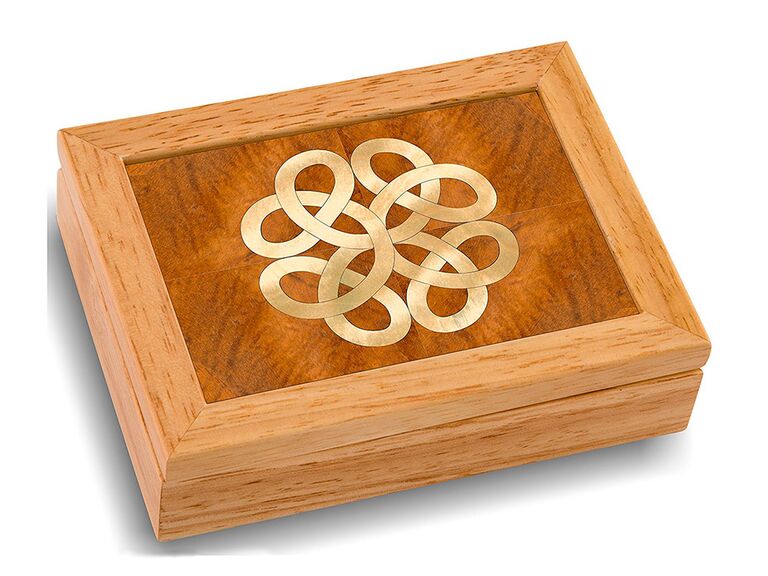 7. Whether you're Irish or not, you can still appreciate the beauty of this handcrafted wooden engagement ring box and jewelry case. The Celtic knot symbolizes interconnectedness, which is so apropos in and around a wedding.
MarqART wood art celtic box, $59, Amazon.com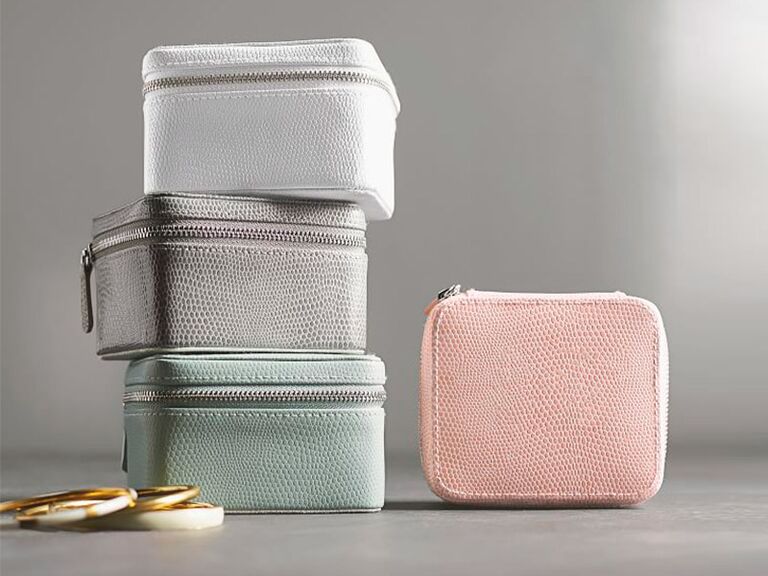 8. Off to the honeymoon? Before you pack your bags, consider adding this miniature jewelry box that you can toss into your suitcase. (You want to make sure your rings are safe and secure during travel, too!)
Pottery Barn McKenna leather small travel jewelry case, $40, PotteryBarn.com
Wedding Ring Holders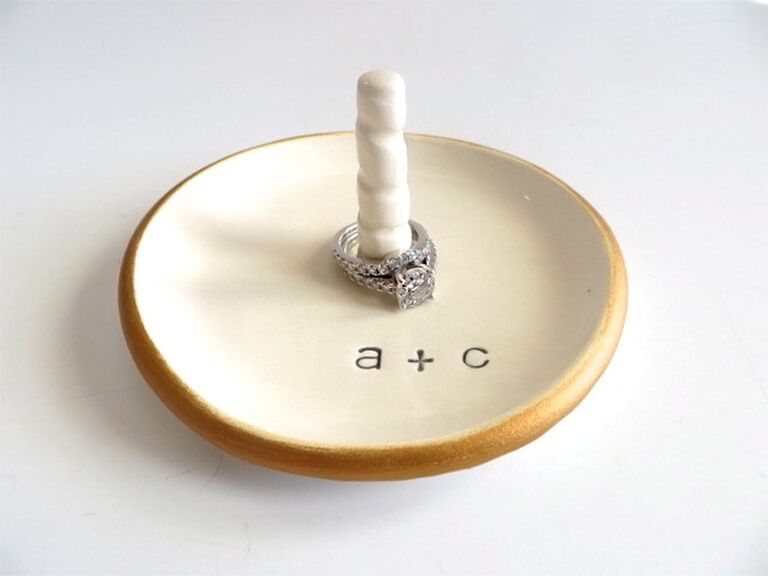 1. This simple wedding ring holder can be customized with delicate, typewriter font lettering.
Promise Pottery initial ring holder, $30, Etsy.com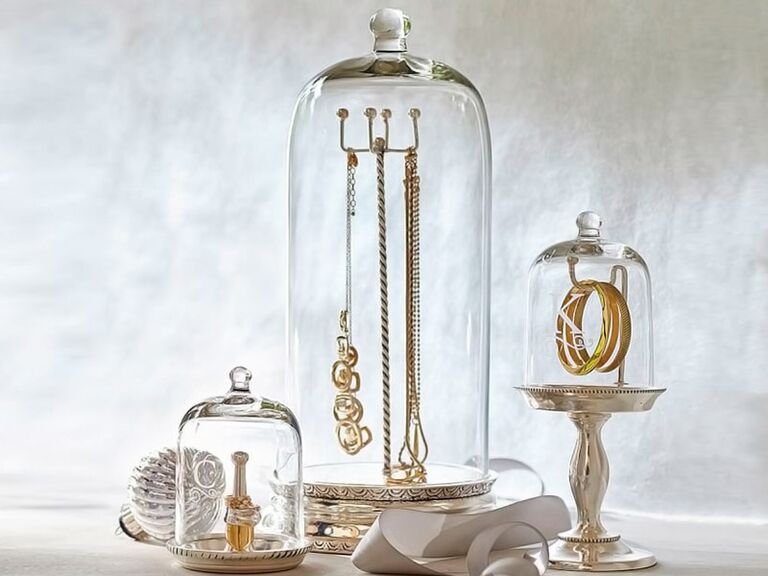 2. Turn your rings into a romantic décor piece by putting it under glass—when you close the lid of this wedding ring holder cloche, of course. Anyone else getting Beauty and the Beast vibes from this ring holder right now?
Pottery Barn wedding ring holder cloche, from $50, PotteryBarn.com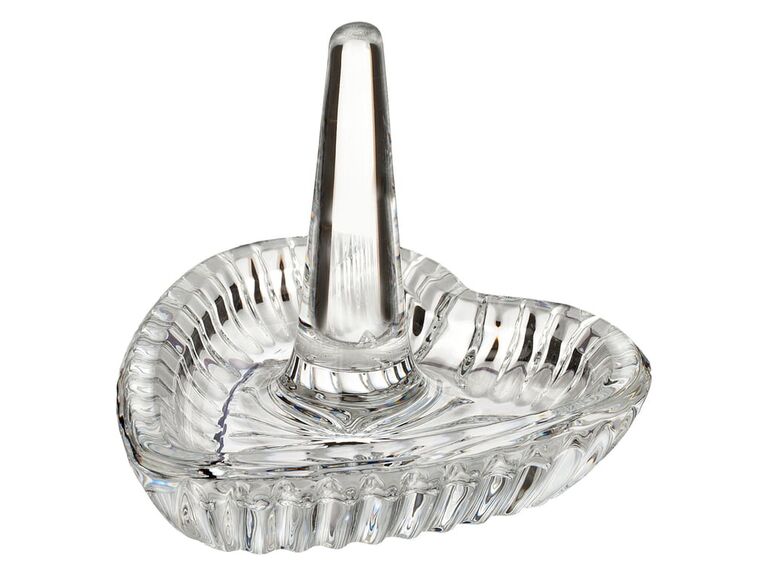 3. For an everyday reminder of your tropical destination wedding or honeymoon, this pineapple ring holder does the trick.
Waterford cut-crystal ring holder, $30, Nordstrom.com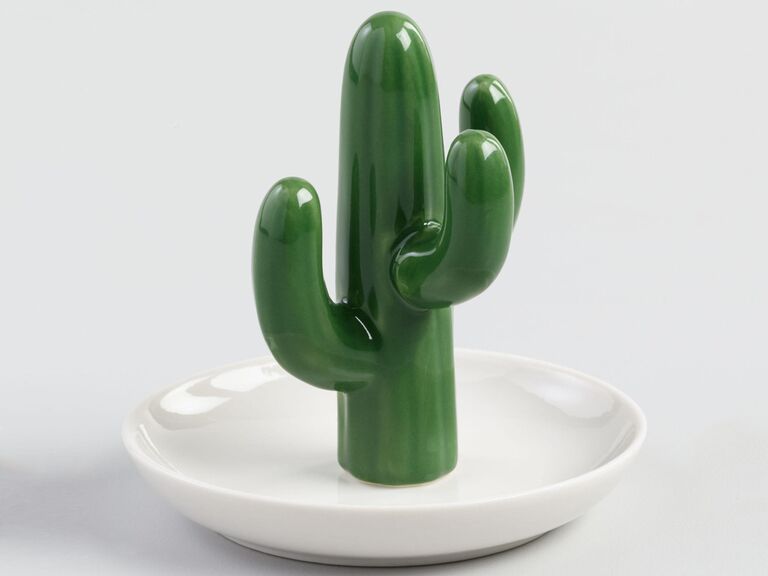 4. This silver-plated wedding ring holder is accented by the perfect "something blue"—an enamel ribbon.
World Market cactus ring holder, $13, WorldMarket.com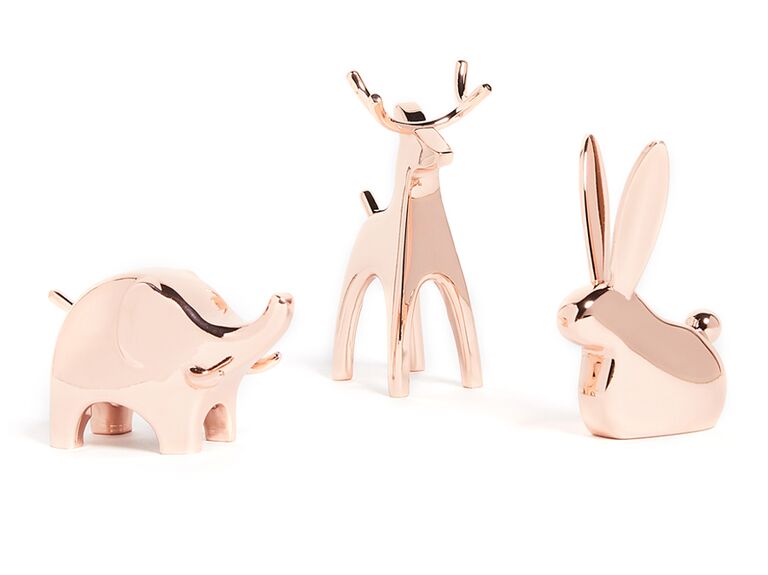 5. How adorable are these copper animal ring holders? There's enough room on these little guys for multiple baubles, every time you get a gorgeous new ring (hello, anniversary gifts!), just add it to the pack.
Umbra Anigram ring holder, $22 for set of 3, Shopbop.com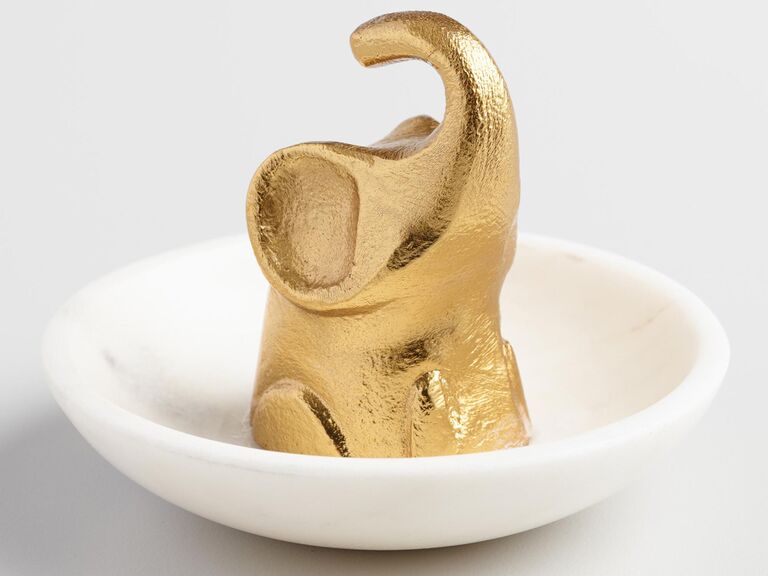 6. Elephant lovers, get yourself an adorable gold and white ring dish featuring the cutest elephant you'll ever see (and yes, you can stack your rings on its trunk).
World Market gold elephant marble ring holder, $20, WorldMarket.com
Unique Ring Boxes for Ceremony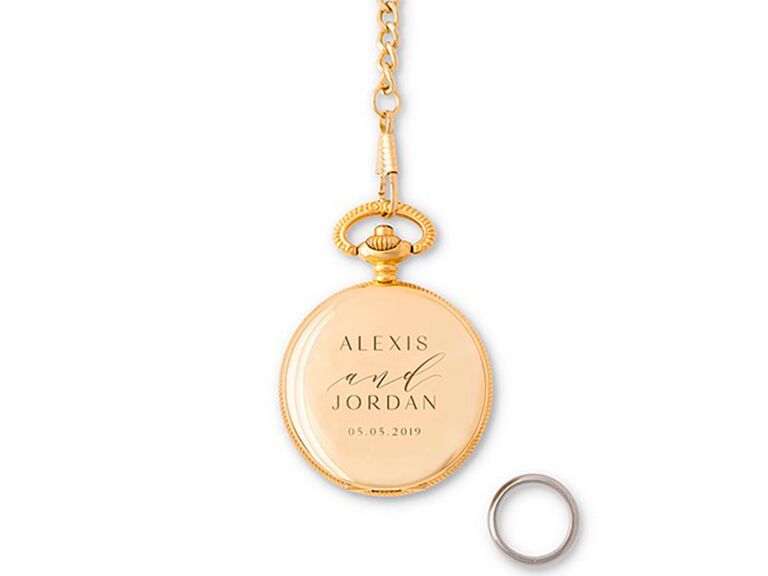 1. Who says the wedding ring holder for the ceremony has to be a ring box or a pillow? Whichever VIP is carrying the goods down the aisle can store them in a sneaky pocket watch.
The Knot Shop personalized pocket wedding ring holder, $36, WeddingShop.TheKnot.com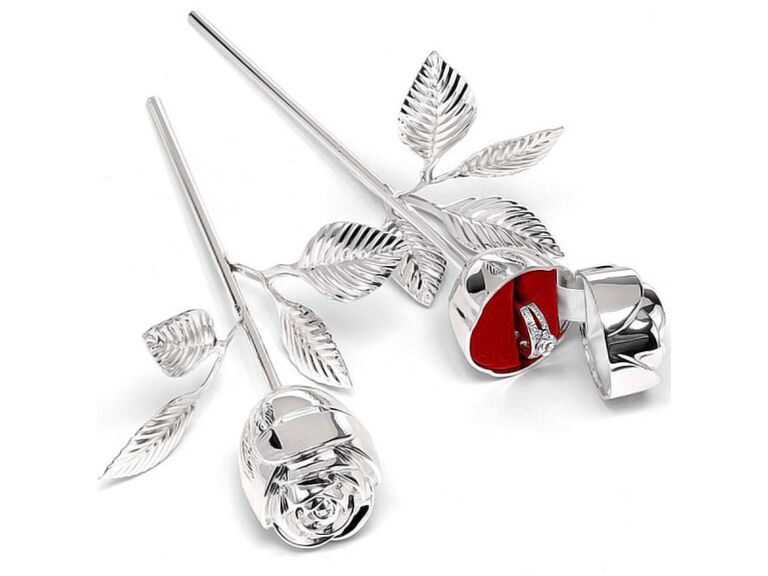 2. Will you accept this rose? The wedding ring is nestled right inside—how cool is that?
David's Bridal, rose ring box, $30, DavidsBridal.com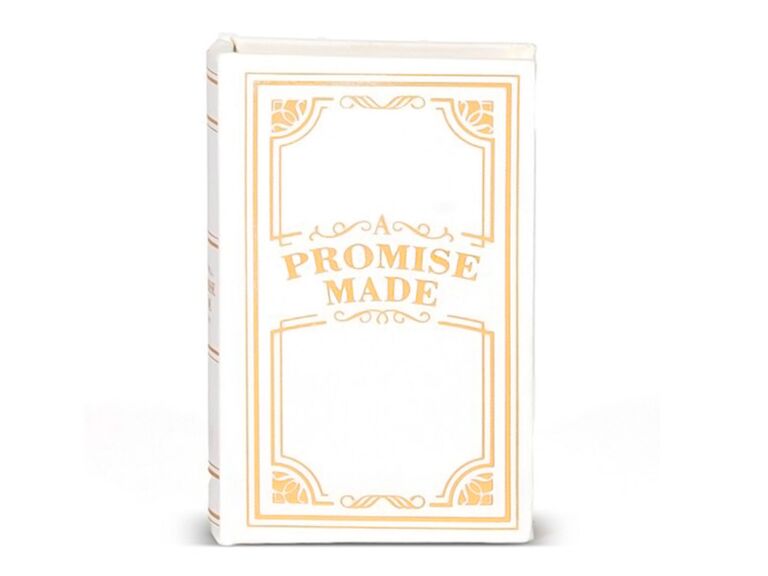 3. Bookworms will love this pretty and unique ring box—it's one of the most creative ring box alternatives we've seen. The jewelry book comes with slots for rings and other jewelry, as well as library-style cards on which to write vows.
The Knot Shop "A Promise Made" vintage-inspired jewelry book box, $37, WeddingShop.TheKnot.com
4. Send your ring bearer on a secret mission: to keep the wedding rings safe. How cute is this "ring security box" for your little secret agent to carry around? We can safely say he'll think this is the epitome of a cool ring box.
Castle Hall Creative white ring security box, $25, Etsy.com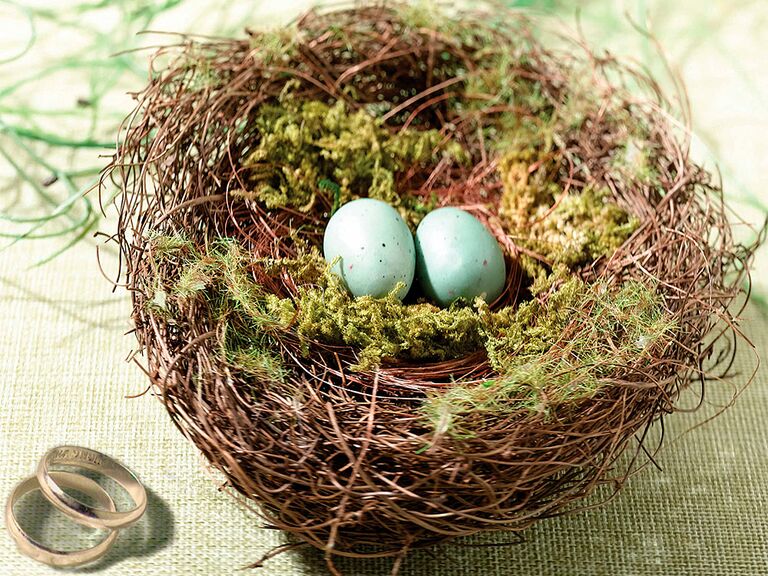 5. How adorable would this pretty little bird's nest look with two wedding rings nestled inside?
Lillian Rose moss bird nest ring holder, $9, Amazon.com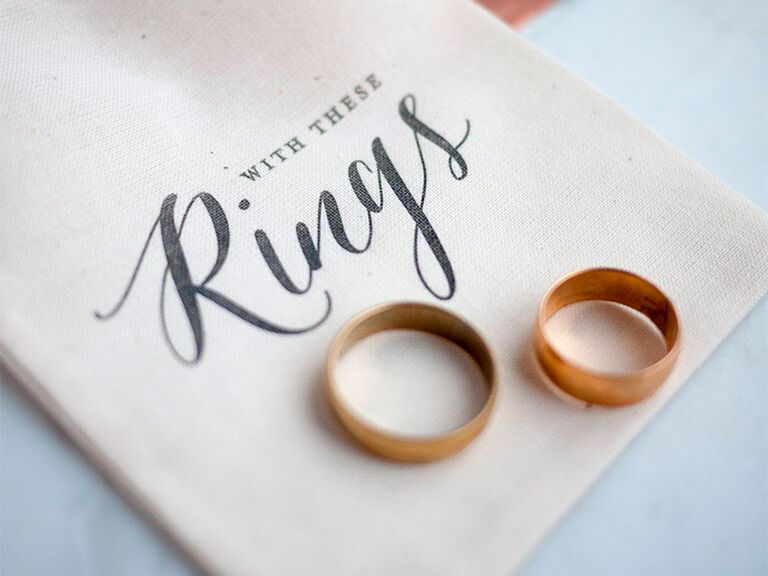 6. Rings can also be held in a chic, fuss-free canvas or cloth bag. Each piece can be customized with the phrase, "With these rings," in your choice of four different colors.
Print for Love of Wood boho wedding ring bearer bag, $7, Etsy.com