Yes, The Postwedding Blues Are a Real Thing—Here's How to Deal
It's normal to feel sad when your wedding is over. We've got your back.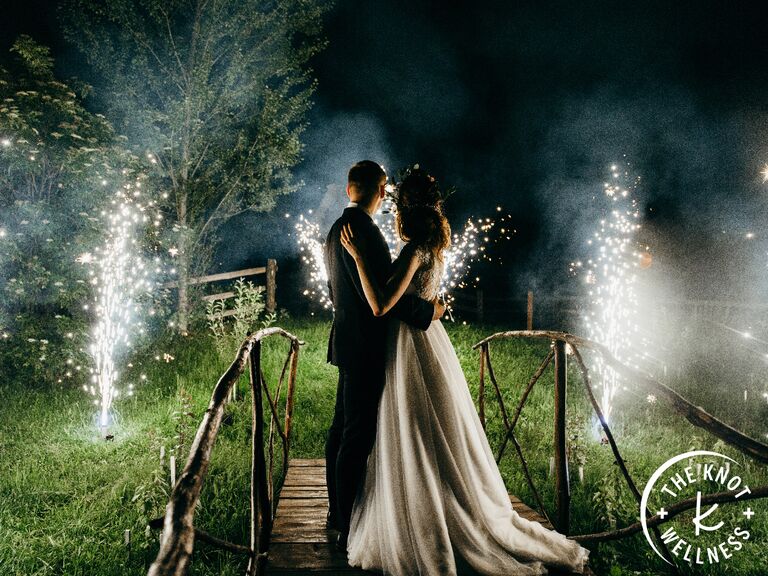 Shunevych Serhii/Shutterstock.com
For many couples, the experience of planning a wedding is accompanied by intense feelings of excitement, anticipation, and buildup—so much so that once the wedding day actually ends, the culmination of emotions can lead to grief and emptiness. If you're sad that your wedding day is over, you certainly aren't alone. In fact, there's even a phrase for it: the postwedding blues. It's quite normal—and even expected—to feel gloomy after your wedding day. The postwedding blues could stem from a number of things; relief that all the planning stress is through, missing having your closest friends and family around, feeling bummed that your honeymoon is over, or even just an abstract sense of "what now?" You've just undergone a major life milestone, so you're bound to feel a little anxious about all the change going on, whether it's a new last name, a new home (maybe far away from friends and family), new in-laws or a new relationship status.
When all the planning, attention and excitement fades away, it's common to feel a little deflated. Not to worry—the postwedding blues are a real thing, and you definitely aren't going crazy if you're feeling sad after you say "I do." That said, you shouldn't suffer through these feelings of sadness, especially in your season of newlywed bliss. If you're experiencing any form of postwedding depression, it's worth examining what the cause of it is. Before long, you'll be back on track and excited about what your wedding really represents: the start of your new life together.
What are the Postwedding Blues?
So, what exactly are the postwedding blues? "[It] happens when couples experience a period of letdown following the excitement of planning the wedding," says Jocelyn Charnas, a clinical psychologist and premarital counselor. It seems counterintuitive that you might feel down after living what should be one of the happiest days, but many people experience highs and lows in life, especially after big events.
"Feeling sad when a big or meaningful experience is over is very common," explains Maya Maria Brown, Relationship Expert for app Coupleness. "Some people spend months or years looking forward to their wedding, so it makes sense to feel down after it happens—even if it was amazing."
Why do couples (and even their parents) experience this?
There are so many different reasons people might experience a postwedding low, and your reason for feeling sad might be different from someone else's. But, when it comes down to it, science proves that feeling sad after a big event is often to be expected. "The time spent putting in the work leading up to the wedding day can feel anticlimactic after it's over," explains Hilary Weinstein, LCSW and founder of HLW Therapy. "The wedding was also a time where your family, friends, and loved ones were all under one roof to spend time with you and support you. That doesn't happen often, so the dopamine rush that happens as a result of that is naturally going to crash when you return to everyday life."
Plus, the end of your wedding day signals a new stage of your life. And if you're left thinking, "My wedding is over, now what?" know that you aren't alone. "The crash after the wedding can leave you feeling empty, like the best day ever is now behind you," Brown explains. "That emptiness can take you by surprise and leave you feeling like you don't have a purpose or something to work toward."
How can you tell if you've got the postwedding blues?
Not sure whether you're experiencing the wedding blues? Common feelings associated with postwedding sadness include boredom, lethargy, loneliness and isolation.
Find your kind of venue
From barns to ballrooms, discover reception venues that feel like you.
How to Manage the Postwedding Blues
Here at The Knot, we have resources to help you navigate wedding planning from the moment you get engaged until you walk down the aisle—but we're also here to help you after the wedding too. If you've got a case of the postwedding blues, here are some actionable ways to understand and cope with your feelings while enjoing the start of newlywed life.
Recognize that your wedding isn't the same as your marriage.
If you know yourself well enough to realize you were too focused on the wedding and not focused enough on your relationship and next steps as a duo, take a moment to shift your perspective. "Start talking about what's going to happen the next day [after the wedding]," Charnas says. "It's fabulous to celebrate a wedding, to make it wonderful. But think about what married life will mean, what your expectations are as a couple for your lifestyles, and focus on making that shift in perspective."
Make plans to look forward to.
You just spent a considerable amount of time focusing all of your energy on your wedding day. Now, you have the freedom to shift your attention to other plans and activities that'll spark joy. "Planning something fun for the weeks and months following your wedding is a great way to get through the postwedding sadness together," Brown suggests. "Whether it's something big, like your honeymoon or a move, or little things like fun dates or an art project, having something in the future to look forward to can make a big difference."
This is a great opportunity for you and your S.O. to begin creating healthy habits—such as having frequent date nights—to build a strong foundation for your marriage. "Research shows that the optimal frequency for a special date is once a month, so try taking turns planning one date a month that shakes up your routine and lets you explore something new together," she adds. (Need help getting started? Here are 105 date night ideas that'll spark romance.)
Lean on your spouse for support.
Experts and couples alike agree that healthy communication is one of the most important pillars of a long-lasting marriage. If the postwedding blues are really taking a toll, speak up and lean on your partner for support rather than internalizing your feelings. "Managing the postwedding blues may be one of the first hurdles to conquer as a married couple, and there are multiple ways newlyweds can use this as an experience to strengthen their marriage," Weinstein explains. "I view times when one or both partners need support as a way to grow stronger as a couple. It allows both people to further understand how to express their needs, while also understanding how to meet their partner's needs too."
Think about what you need from your partner. Do you just want a listening ear? Suggestions on what to do? Ideas for plans to get excited about? Once you know how you would feel most supported, have a conversation with your partner to explain how you're feeling, along with how you'd like to work together to combat those emotions.
Consider marital counseling.
Don't be put off by the idea of marital counseling, especially if your wedding blues are particularly challenging. Your emotions are complex and nuanced, and sometimes the best path forward is to seek out the help of a professional. Plus, the postwedding blues are just one thing you can talk about in sessions. In working with a marital counselor, you'll be taking a proactive step in insuring the future of your relationship. "Counseling equips the couple with the communication skills necessary to be able to problem-solve, arrive at compromises and know how to handle disappointments going forward," says Jane Greer, a marriage and sex therapist and author of What About Me? Stop Selfishness From Ruining Your Relationship.
Weinstein adds that this option may also help you learn how to communicate effectively, which can be particularly helpful for those who struggle with expression. "If a person doesn't know how to express their feelings, whether due to fear of upsetting their partner, starting an argument, or feeling unheard, it can be helpful to speak with a therapist to get tools to foster the healthiest communication."
Redefine your relationship with your family.
If your postwedding depression stems from mixed emotions about your new family dynamic, try not to focus on the fact that you're leaving your family and instead think about the one you're just beginning. Your family is still a part of your life, after all, and you just have to reinvent your relationship with them. "Getting engaged and getting married is a great opportunity to redefine relationships with your family of origin and reflect on your status as independent adults," Charnas says. "It's not about losing closeness or disconnecting. It's an important life step."
Settle into your newlywed nest.
One way to take your mind off the postwedding blues? Begin settling into your newlywed nest. You've likely received quite a few wedding gifts over the past few months, so start unboxing and curating your home. If you've registered for cash funds to upgrade your space, reach out to a contractor for that bathroom reno you've planning, or set up a consultation with an interior designer to redo your living room. (Psst: This is a great time to start cranking out those thank-you cards too.)
Even if you've been living together for quite some time, consider reorganizing or refreshing your setup to signify the start of a new life chapter together. Your home organization habits can impact your relationship, so be intentional about combining your everyday habits and lifestyles to make your home feel as cozy and welcoming as possible.
Reflect on your wedding day.
If you're really missing your big day, talk about your favorite moments to keep the memories alive. "It can help to reminisce about the wedding together," Brown says. "Look at pictures, tell stories of your favorite moments, or put together a keepsake or album. This can help you both bask in what was great about the day even after it has happened."
One caveat, though, is to ensure you don't miss out on joyful moments in the present while reflecting on the past. "Make sure you don't reminisce so much that you forget about what's going on today, or get lost in wishing you were still there," she adds.
Practice gratitude journaling.
We're huge proponents of having a prewedding wellness routine to prioritize your mental health leading up to the wedding day, but it's essential to continue that routine once it ends too. One easy way to maintain your wellness practice and simultaneously fight the postwedding blues is to carve out time for gratitude journaling. "Writing down a few things you're grateful for on a regular basis can help you feel more joy in life. Plus, it has health benefits as well," Brown says. "Gratitude journaling can help you feel grounded in your daily life after your wedding, providing a balance for the postwedding blues."
Make everyday events exciting and important.
Adding fun and joy into everyday life sets the scene for staying connected throughout your marriage. Make dinner at home more special with a few candles, or take a day trip somewhere close, but new. Even listening to a new playlist on your way to the grocery store together is a simple way to make small moments meaningful. "Focus on the small things that bring you security, comfort, warmth and make you feel loved on a daily basis—that's what marriage is all about," Greer says.