The Postwedding Blues Are Actually a Thing—Here's How to Deal
If you find yourself feeling down after the wedding is over, we've got your back.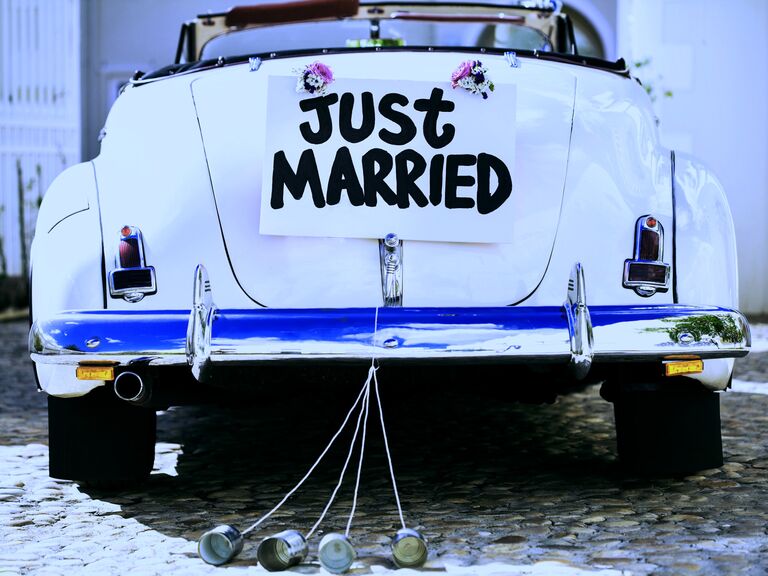 For some individuals, all the stress of planning and coordinating suddenly gets replaced with an unexpectedly sad feeling once the wedding is over. It could stem from any number of things—relief that all the planning and fitting-into-your-dress stress is through, missing having your closest friends and family around, bummed that your honeymoon is over or just a more abstract feeling of "what now?" Plus, you've just undergone a major life milestone—you're bound to feel a little anxious about all the change going on, whether it's a new last name, new home (maybe far away from friends and family), new in-laws or a new Facebook relationship status—or all four.
When all the planning, attention and excitement fade away, it's easy, and totally normal, to feel a little deflated. But don't worry—the postwedding blues are a real thing (so no, you're not going crazy) and it's worth examining what the cause of it is. Before long, you'll be back on track and excited about what your wedding really represents—the start of your new life together.
What exactly are the postwedding blues?
"[It] happens when couples experience a period of letdown following the excitement of planning the wedding," says Jocelyn Charnas, a clinical psychologist and premarital counselor. It seems counterintuitive that you might feel down after what's meant to be the best day ever, but so many people experience highs and lows in life, especially after big events.
Why do couples (and even their parents) experience it?
There are so many different reasons someone might go through a postwedding low. Maybe they loved the attention that being engaged and planning a wedding brings, or they'd been setting aside some important life decisions (like getting a new job or going back to school) until after the wedding. Once everything's all is over, they have to face these big, stressful things head-on.
How can you tell if you've got the blues?
Boredom, sadness, lethargy, loneliness and isolation are just a few of the complex reactions someone with the postwedding blues might have.
How can you deal with these feelings?
First, know this is a normal and understandable process many people go through. Then, as a preventative measure, learn to shift your focus from just the wedding to your marriage as a whole. "It's not necessarily about preventing these feelings so much as it is about mitigating their effects," Charnas says. Focusing on what happens after the wedding and getting excited about your next steps will help significantly diminish any depressive emotions.
5 Tips for Dealing With Postwedding Sadness:
1. Recognize that your wedding isn't the same as your marriage.
If you know yourself well enough to realize you're too focused on the wedding and not focused enough on your relationship and next steps as a duo, take a moment to shift your perspective. "Start talking about what's going to happen the next day [after the wedding]," Charnas says. It's fabulous to celebrate a wedding, to make it wonderful. But think about what married life will mean, what your expectations are as a couple for your lifestyles, and focus on making that shift in perspective."
Also, start looking to fun life transitions, like refreshing a room in your home together, or planning something fun, like a trip or a date. Remember though, there's a line between having a positive outlook and always looking for the next best thing due to dissatisfaction.
2. Be open to premarital counseling.
Don't be put off by the idea of premarital counseling—even before your "I dos." The postwedding blues are just some of the things you can talk about in sessions before your wedding. By talking to premarital counselors, you're taking a proactive step in insuring the future of your relationship. "It equips the couple with the communication skills necessary to be able to problem solve, arrive at compromises and know how to handle disappointments going forward," says Jane Greer, a marriage and sex therapist and author of What About Me? Stop Selfishness From Ruining Your Relationship.
3. Make everyday events exciting and important.
Adding fun and joy into everyday life sets the scene for staying connected throughout your marriage. Make dinner at home more special with a few candles, or take a day trip somewhere close, but new. "Focus on the small things that bring you security, comfort, warmth and make you feel loved on a daily basis—that's what marriage is all about," Greer says.
4. Redefine your relationship with your family.
Try not to focus on the fact that you're leaving your family and instead think about the one you're just beginning. Your family is still a part of your life, but you just have to reinvent your relationship with them. "Getting engaged and getting married is a great opportunity to redefine relationships with your family of origin and reflect on your status as independent adults," Charnas says. "It's not about losing closeness or disconnecting. It's an important life step."
5. Look to your new spouse.
You may feel embarrassed or uncomfortable sharing your sadness with your brand-new spouse—you may not want to worry them or offend them. But take comfort in your other half. If anyone understands these feelings (or your needs in general), it'll be them.
What to Look Forward to After the Wedding:
There are so many amazing things to enjoy once you're married, like sorting through all your wedding photos and creating your album, finding places for all of your new gifts, planning fun date nights, anniversaries, moving into a new place or buying your first home, decorating your digs, and traveling together.