Is a St. Lucia Honeymoon Right for You? Here's What to Expect
Secluded luxury awaits on the isle of St. Lucia.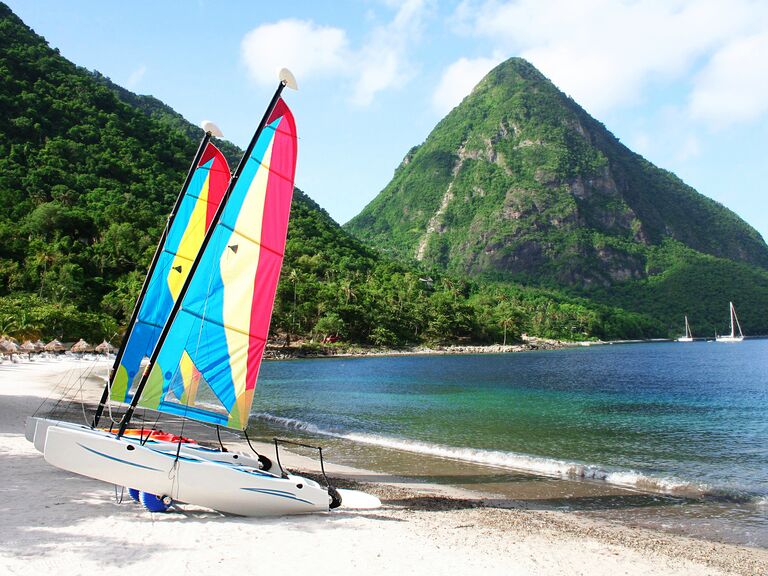 Ridgers/Getty Images Plus
We have included third party products to help you navigate and enjoy life's biggest moments. Purchases made through links on this page may earn us a commission.
St. Lucia is known as one of the sexiest islands in the world, repeatedly landing it on top lists for honeymoons. The diverse landscape features the island's iconic Piton Mountains (a UNESCO World Heritage Site) and lush, thick rainforests that contribute to the sultry atmosphere. Couples who simply want to unwind will find St. Lucia to be a dream honeymoon destination.
Beach resorts aren't the predominant players on Saint Lucia. Instead, the island offers luxurious boutique hotels and open-air resorts, most involving infinity pools, butler service and the natural beauty of the destination. The result is a calmer, more personalized and intimate experience. When you're ready to explore, St. Lucia also offers some of the best scuba diving in the Caribbean.
Getting to St. Lucia's Hewanorra International Airport isn't easily accessible for all honeymooners in the US. The airport is primarily serviced from major hubs, so you may find challenges with securing direct service. Upon arrival, though, couples find it's well worth the travel time.
Is St. Lucia Good for a Honeymoon?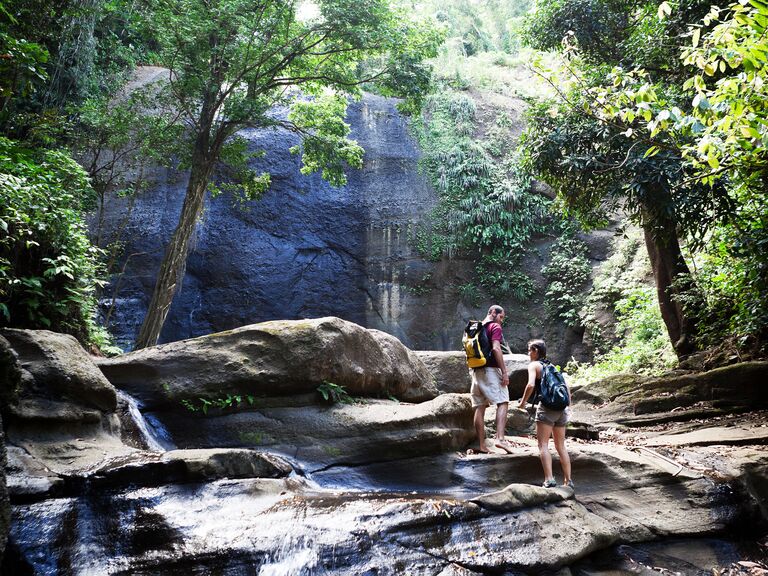 Pros of a St. Lucia Honeymoon
St. Lucia offers a romantic environment, stellar backdrop and range of outdoor activities, from snorkeling to scuba diving to hiking. There are plenty of luxury accommodations ready to welcome you, and the island is very safe.
Cons of a St. Lucia Honeymoon
Compared to other Caribbean destinations, there isn't an endless list of activities and entertainment; St. Lucia is about presence and a more laid-back honeymoon experience. Couples who want the jam-packed honeymoon experience may find themselves bored if they stay much longer than a week or so.
St. Lucia is also on the expensive side, both in terms of flights and accommodations, whether you book an all-inclusive honeymoon or opt for a luxury property.
The Best Times of Year to Go on a St. Lucia Honeymoon for Good Weather
St. Lucia's temperatures consistently stay around the upper 70s all year long, making for a mild climate. However, you may want to book your St. Lucia honeymoon for sometime between December and May if you want to avoid both the rainy season and hurricanes. Hurricane season runs from June to November, with September the likeliest month for inclement weather. Traveling during hurricane season does come with its benefits, though, such as more affordable travel prices.
Things to Do During a St. Lucia Honeymoon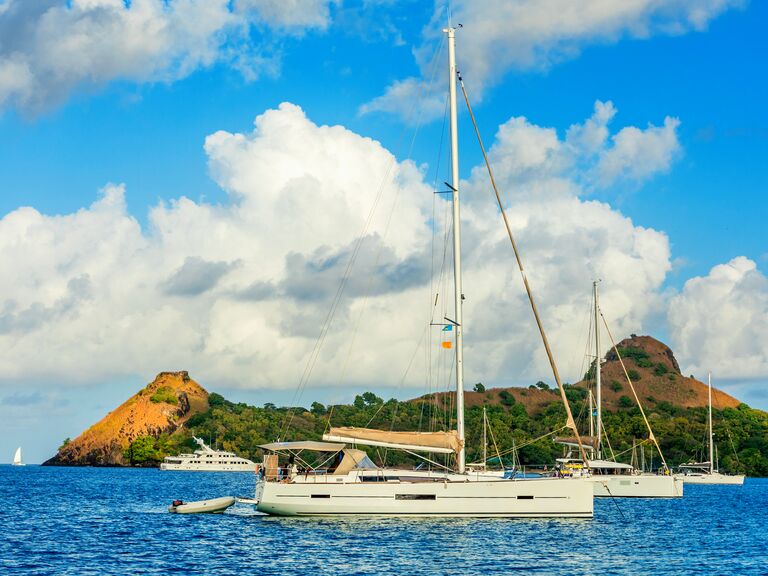 Hike the Tet Paul Nature Trail
For a bit of hiking and excellent views of the island, the Tet Paul Nature Trail and its guided tour await couples who want to stay active during the honeymoon. You'll make your way around the volcanic caldera to summits with fantastic lookouts. As you wind through groves of tropical flora, including apricot and cashew trees, keep your eyes peeled for parrots and other resident wildlife.
Visit Pigeon Island National Landmark
For more views and hiking, visit Pigeon Island National Landmark and explore its historic 44 acres, including Fort Rodney. If you make it to the peak, you'll be treated to excellent views of the island and Caribbean Sea to the northwest.
Explore Diamond Falls Botanical Gardens
If you're curious about local flora and fauna without breaking a sweat, stop by Diamond Falls Botanical Gardens. The gardens offer more than just waterfalls and flowers; you'll find mineral baths, a historic estate and restaurant.
See Castries and Rodney Bay
The St. Lucia capital of Castries is the place to go for a lively atmosphere and plenty of shopping, dining and entertainment. Local crafts and similar souvenirs are easy to find, as are restaurants serving Creole dishes. You can also visit nearby Rodney Bay in the Gros Islet quarter.
Go Scuba Diving
St. Lucia offers excellent diving sites, many of which are adjacent to the black-sand beaches of the island's premier hotels. You'll find many guided scuba lessons available, including experiences suitable for every level.
Dip in The Soufrier Volcano Sulphur Springs
Along with water sports, you might find a dip in a volcanic sulfur spring to your liking. An active volcano on the island emits smoke while visitors relax in sulfuric pools that rejuvenate the skin and double as spa treatments. Bring a bathing suit for this excursion. If you'd like to learn more about the volcano while you're there, book a tour.
Best Hotels and Resorts in St. Lucia for a Honeymoon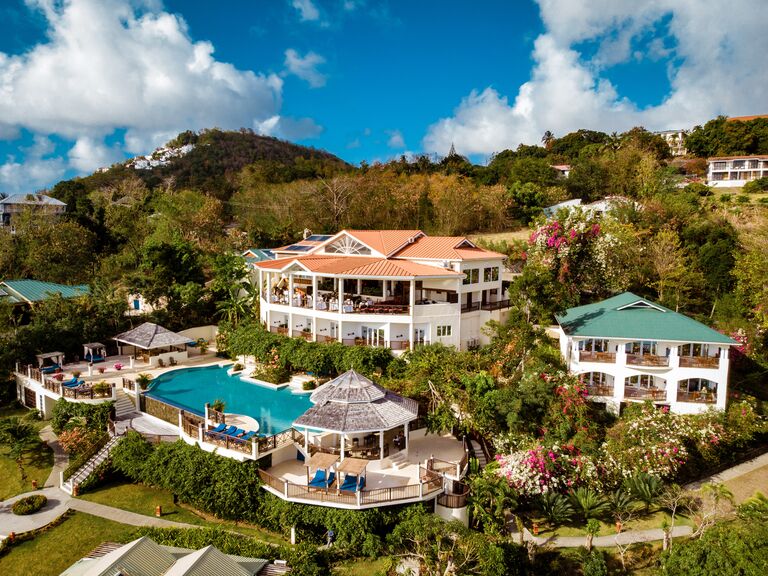 The sexiest, luxury honeymoon resort in St. Lucia is Jade Mountain Resort, renowned for its location on the side of a mountain, open-air layout and unprecedented views of the Piton Mountains. The suites are truly luxurious, each featuring those to-die-for views and outfitted with those private plunge pools. The coolest part? Each room is its own hideaway, designed so that no other room or guest can spot you, resulting in ultimate privacy.
Anse Chastanet offers a similar open-air suite concept as Jade Mountain. For couples seeking spectacular views without ever leaving the room, the luxury resort is also ideal for snorkeling or scuba diving. The beachfront property is located right on a marine reserve.
The luxury continues at Sugar Beach, where each guest is treated to their own plunge pool, private garden and butler service. Since Sugar Beach isn't a family-centric resort, honeymooners can expect plenty of peace and quiet among fellow couples. On-site amenities include a rainforest spa and three restaurants.
A bit smaller than some of the other resorts on St. Lucia, Cap Maison provides fewer than 50 guestrooms and villas that feature rooftop pools and full kitchens. Even if you book a "smaller" room, you'll still enjoy access to the property's many amenities, such as a wine cellar and spa.
What to Pack for a St. Lucia Honeymoon
In addition to your normal beach vacation wear (as well as everything on our master honeymoon packing checklist), we suggest packing formal clothing for dinners. If you plan to go hiking, bring boots and moisture-wicking clothing. Additionally, if you want to visit the sulphuric springs, pack a separate bathing suit you won't mind covering in mud. Sunscreen and other sun protection (hat, sunglasses and backup aloe) are also a must.