More Couples Are Getting Engaged With Temporary Rings in 2022—Here's Why
Meet the brand that's revamping how people pop the question.
We have included third party products to help you navigate and enjoy life's biggest moments. Purchases made through links on this page may earn us a commission.
Once you've decided you're ready to propose, there are quite a few tasks to complete before the actual moment arrives. Not only will you need to pick a date to pop the question, you'll have to decide how you want to do it and what you're going to say—and perhaps most importantly, you'll need to find a ring to present during that bended-knee moment. But who's to say the proposal ring needs to be the final engagement ring?
It's no secret that more couples are now completely revamping age-old wedding traditions, but they're doing the same for engagement traditions as well. And, believe it or not, the concept of proposing with a temporary engagement ring is quickly on the rise. In fact, it's one proposal trend that has inspired jewelry brand Gemist to launch a first-of-its-kind proposal experience box packaged with three stand-in rings just for a proposal, created specifically for couples who want to design the actual ring after the engagement.
For Gemist's founder Madeline Fraser, the idea of proposing with a stand-in ring isn't necessarily new. After seeing her clients use the brand's existing engagement ring home-try on kits to propose before making the real ring together, she found there was a hole in the market for young couples who want to go through the engagement process in a fresh, innovative way that puts the focus on partnership, rather than outdated tradition. "Millennial and Gen-Z couples don't follow the normal, traditional rules that have been in place for a long time, so they're changing consumer behavior," she tells us. "Choosing to design the engagement ring together is essentially saying, 'I want to make sure you love this ring just as much as I do, so let's work together to make it perfect.'"
Jay Shah, a Gemist client who used the brand's try-on kit to propose, echoes this sentiment. "I was confused about what kind of ring my girlfriend wanted, but I knew I wanted the proposal to be a surprise," he says. "Using the kit was the best of both worlds because I was able to keep the element of surprise without all the stress, and then give my fiancée the ability to create her actual dream ring."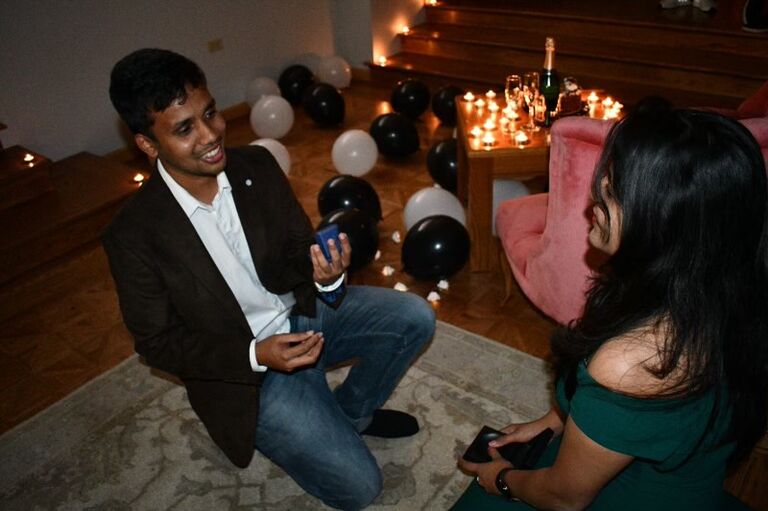 Not only is proposing with a stand-in ring a beautiful way to rewrite the rules of popping the question, it can actually save you money in the long run—plus, it's a clever way to prevent shopping anxiety or, worse, the dreaded feeling of "ring regret." Read on to learn more about proposing with a temporary engagement ring, and why Fraser's venture may soon become the norm.
In this article:
What is a Temporary Engagement Ring?
First things first—what is a temporary engagement ring? It's exactly what it sounds like: a stand-in ring used only for the proposal, which is meant to be replaced by an authentic engagement ring later. Temporary engagement rings are typically lesser in value than traditional engagement rings, as they're often made of diamond alternatives (such as cubic zirconia or gemstone minerals).
Thanks to modern design capabilities, some temporary engagement rings—like those included in Gemist's proposal experience kit—look like authentic diamonds or gemstones to the naked eye. "We've created replicas of all of our fine jewelry products that look identical to the real deal," Fraser explains. "They're made out of more affordable materials, like sterling silver, gold rhodium plating, and Swarovski crystals, which match our diamond and gemstone colors."
Depending on where you get your temporary engagement ring, you may be able to keep it and repurpose it, perhaps as a travel ring for safety purposes. Or, with Gemist's proposal experience kit, for example, you get to keep the kit (which requires a $45 refundable deposit) for two weeks to test out all three ring styles before returning them and designing the final piece together. Regardless of which option you choose, the temporary engagement ring is simply to be used as a stand-in until the real bauble is ready to make its debut.
Why You Should Consider Proposing With a Stand-In Ring
So, why should you consider using a temporary engagement ring, especially when buying the real ring first has been the standard for years? Here's our take: Some wedding rules are meant to be broken. Just because something is considered "normal" or "traditional" doesn't mean you need to follow suit, especially when it comes to something as high-value as an engagement ring. While you may assume that buying the ring first is the only way to get engaged, there are plenty more benefits that come with presenting a temporary engagement ring, which Fraser reveals below.
It Lets You Design the Final Piece Together
After proposing with a temporary engagement ring, you'll have the unique opportunity to talk about prices, center stone shapes, settings, and other aesthetic choices you may not have already discussed. This is, of course, an ideal situation for couples who may not want to hash out those details beforehand. (Read: If dropping hints isn't for you, getting engaged with a temporary ring will help you get the exact sparkler you want.)
In addition to your wedding band, your engagement ring is one of the most important pieces of jewelry you'll own—perhaps in your entire life. This shows the importance of nailing the design from the start. "You're going to wear your engagement ring for a long time, so you want to make sure that it feels good to you," Fraser says, noting that creating the ring as a team allows couples to be honest about their preferences, thus eliminating awkward or difficult conversations that may arise if your partner were to select a style you don't particularly love. "Designing the ring together essentially de-risks the entire situation, because you're only left with a good outcome."
This certainly was the case for Shah, who relied on Gemist's experience to perfect the ring design without taking away the surprise factor of the moment itself. "My fiancée and I had a really fun time with the design process," he says. "I was able to put my stamp on it with the try-on ring I designed and then she got to add what she wanted."
It May Save Money in the Long-Run
There's no denying that an engagement ring is a valuable purchase. According to The Knot 2021 Jewelry and Engagement study, the average cost of an engagement ring in the US is $6,000. Of course, that number may fluctuate depending on specific aesthetic details or customizations made during the design process. Any purchase of that size may cause feelings of stress or anxiety, particularly because it's a decision you want to get right the first time. "To propose with a ring you're not really sure about is overwhelming and scary, and definitely can become a financial burden especially if your partner doesn't love it," Fraser explains.
You may have heard horror stories of proposees having to tell their S.O. they don't like the ring, or worse—staying silent and wearing a ring they don't like. Getting engaged is supposed to be one of the happiest moments of your life, and the last thing you want is for feelings of uncertainty or financial stress to overshadow the experience. One way to completely avoid this (or having to repurchase another engagement ring in the future) is to eliminate all questions by designing the final ring together. "Using a temporary ring can save you money, but beyond that, it can also save you from emotional turmoil," Fraser suggests.
It Preserves the Element of Surprise—and the Photo Opp
If you (or your S.O.) are preparing to propose, you've likely already talked about marriage and the future of your relationship. That means the proposal itself probably won't be a complete surprise when it happens. But for some, the thought of talking about engagement ring preferences may be seen as ruining any element of suspense of the moment. If this sounds familiar, Fraser argues that's exactly why you should consider a temporary engagement ring. "Although we've noticed that a lot of our consumers are morphing into not fitting into the box standards of what engagement looks like, there are still a lot of them who want to make sure it's a surprise," she says. "Using a stand-in ring really allows you to have a surprise without the stress."
Plus, we can't not mention a stand-in ring still provides a great photo opp. While we're all about living in the moment while your partner pops the question, we know how important that *just said yes* ring selfie is, especially when you want to share the memories with your friends and family (and your Instagram feed). "The great thing about proposing with a temporary engagement ring is that you get this amazing Instagram moment," Fraser adds. "Our temporary rings look identical to a fine jewelry piece—it's sparkly, gorgeous, and fantastic, meaning you'll still get a placeholder for the time being."
It Can Alleviate Ring Shopping Stress
When you begin the process of buying an engagement ring, you'll be launched into an entirely new world of gemstone jargon—and that alone can be challenging. From learning about the 4C's to differentiating various settings and metal types, trying to navigate the world of fine jewelry may feel downright stressful, especially if you aren't 100% certain what your partner wants. "This is an industry that is pretty confusing," Fraser says. "There's a lot of information out there and in general, most consumers are overwhelmed about that." An easy workaround, of course, is navigating the shopping process alongside your partner, allowing you both to talk about preferences and get help from diamond experts along the way.
Shah, for his part, tells us that using a flexible design program made the entire engagement process much less stressful. "Proposing is already overwhelming, so having an option like this with Gemist just made the whole experience easier," he says, noting that the assistance he received throughout the design process simplified navigating the jewelry industry. "I felt like I was getting a really beautiful ring that was also the right value."
It's an Empowering Way to Revamp Tradition
If you've ever felt like wedding traditions are somewhat outdated, proposing with a temporary ring is a special (and practical) way to make the experience feel more representative of you and your love story. "Couples can have a lot of fun designing the ring and taking part in the experience because any risk is gone," Fraser says. "We're putting meaning, storytelling and purpose back into jewelry through a modern experience. It just becomes about you and your partner, and this beautiful step you're going to take together. That's what it should be about."
As if that's not enough reason to hop on the temporary engagement ring trend, Shah's proposal is proof that choosing to design the ring together may be something to consider for your own engagement. "I'm really happy that I proposed this way," he reflects. "It was a great way for us both to be part of the ring design without spoiling the surprise of the proposal, which was really important to me."