Why You Should Try on Engagement Rings Before You Buy, According to Experts
Plus, our favorite at-home try-on boxes to shop now.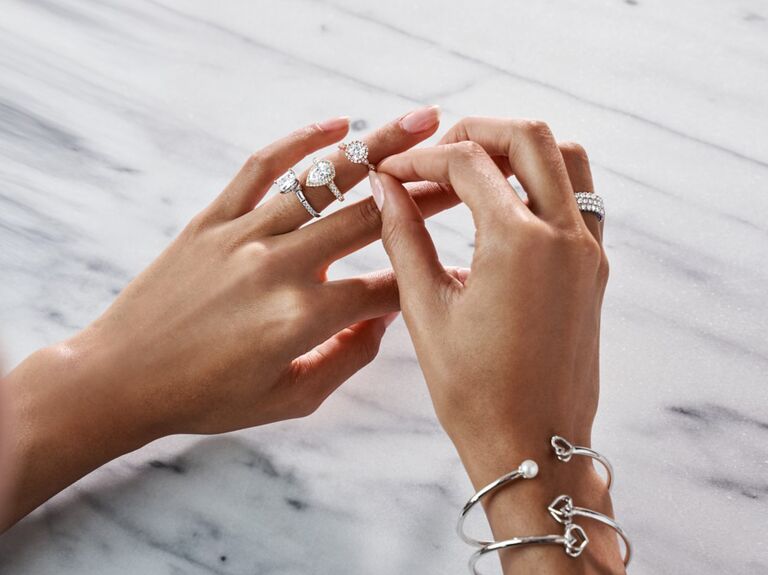 Courtesy of Zales
We have included third party products to help you navigate and enjoy life's biggest moments. Purchases made through links on this page may earn us a commission.
If you've ever fantasized about getting engaged, you've probably envisioned that moment when your partner opens a ring box to reveal the gemstone of your dreams. (Trust us, we've been there.) But what if the ring isn't exactly what you wanted? It's a valid thought to have. After all, an engagement ring is a lifetime investment—and as a piece of jewelry you'll wear every day, it should be exactly what you want. That's why experts recommend couples try on engagement rings before committing to the purchase.
While the mere thought of engagement ring shopping together may sound like an etiquette no-no, it's completely acceptable. Today, couples are tossing "traditional" wedding rules in favor of practices that realistically make the most sense. And if you're not sure exactly what kind of sparker you want, why not try on engagement rings to find the perfect one?
To break down everything you need to know, we tapped three industry experts to share the biggest perks of trying on engagement rings with your partner. (Psst: If you're worried that shopping together will ruin the surprise of that bended knee moment, they share why it won't.) And for even more help, we've rounded up the best at-home engagement ring try-on programs to help you pick the perfect ring style from the comfort of your couch.
In this article:
Why Should You Try On Engagement Rings?
Fact: You're allowed to try on engagement rings before you get engaged—and experts recommend it. Here's why opting to try on engagement rings is a smart move before you decide on a purchase.
An Engagement Ring is a Lifetime Investment
It's no secret that an engagement ring comes with a high price tag. According to The Knot Jewelry and Engagement Study, the average cost of an engagement ring is $5,500. In other words, you'll want to make sure the ring is perfect before you buy it. The best way to do this, of course, is by trying on a variety of different styles to learn what you like. Doing so will help you decide on important details that have a direct impact on the cost, like the center stone shape, carat weight, metal color, and ring setting. "An engagement ring is a long-term investment, you want to make sure you absolutely love it," says Nicole Wegman, founder of Ring Concierge. "Now more than ever, couples are opting to go through the ring buying process together. While there are plenty of questions that arise when choosing the perfect engagement ring, determining a budget is one of the trickiest."
Once you've determined a budget and tried on styles that fit your price range, you can be confident in your final decision. After all, knowing that your partner loves the ring you purchased—and will look forward to wearing it every day—is priceless.
It'll Help You Learn What You Like
When it comes to choosing an engagement ring design, your options are quite literally endless. If you're not the person who's had their favorite ring style bookmarked on Pinterest for years, it'll be beneficial to try on a variety of styles in person. Even if you have a general idea of what you think you want, trying on styles is the best way to be absolutely certain. "Oftentimes, shoppers have one image in mind of their dream engagement ring," says Jamie Singleton, President of Signet Jewelers (which houses brands like Zales and Kay). "However, once they see the rings in person and are able to mix and match styles, it really changes their perspective. Some come away with a forever ring that's completely different than the original style they had envisioned. Because of that, we always recommend to our customers to keep an open mind because you never know what you'll fall in love with."
With this in mind, it's recommended to try on a variety of different styles to get an understanding of what you love. Do you prefer a yellow gold or rose gold band against your skin? Would you rather wear a solitaire engagement ring, or a design with multiple side stones, like a three-stone ring à la Meghan Markle? Are you into trending diamond engagement ring shapes, like ovals and pears, or do you want to keep it classic with a brilliant round-cut or emerald-cut stone? With so many styles on the market, testing them out in person is the best way to pick your favorite.
Rings Can Look Different In-Person vs. Online
Now, it's more common than ever to shop for an engagement ring online. Not only is this a convenient option, it can also be budget-friendly too. Some online-only brands are direct-to-consumer, which eliminates extra fees you might encounter in stores. But while there are plenty of perks that come with shopping online, rings can look different on product pages than they do on a real hand. If you do opt to buy your bauble virtually, we recommend testing out a few styles beforehand to ensure there won't be any surprises when you open up the ring box.
Where to Try on Engagement Rings
By now, you should be convinced that trying on engagement rings before you buy is the right move. But when you're reading to window shop, where do you go? The first, and arguably most obvious answer, is in a store. Many fine jewelry retailers will allow you to browse styles in a showroom, which can serve as a fun date activity for you and your S.O. Call local stores to see if you need an appointment for browsing or if they welcome walk-ins. By choosing to try on engagement rings in a store, you'll get personalized attention and guidance from an experienced jeweler, which can be helpful if you don't know what you want or how to find a style in your budget.
Shopping in-store isn't your only option, though, because virtual engagement ring try-ons are a thing too. Today, jewelry brands have developed virtual try-on technology that allows you to see what rings look like without even leaving your house. Brilliant Earth, for example, has a virtual engagement ring try-on program that prompts you to upload a photo of your hand—then, you can toggle different engagement ring and wedding band designs to see what they'd look like on your finger. As an added bonus, you can save your designs for future reference or send them to a friend. (Read: This is a great way to politely show your partner exactly what you want. Or, share it with your best friend, who can conveniently pass along the details to your S.O.)
But perhaps the most revolutionary way to try on engagement rings is through an at-home try-on box. Popularized by the coronavirus pandemic, which limited many shoppers from trying on engagement rings in person, at-home try-on boxes allow you to play with engagement ring replicas for an extended amount of time (think: one to two weeks), offering a fully immersive experience. "Trying on rings at home builds confidence in your decisions about style, comfort, and overall suitability of your ring with your lifestyle," says Madeline Fraser, founder of Gemist. "We want every customer to enjoy the process and feel great about what they choose for their special ring, and our Try-On Box is perfect for anyone who prefers to shop online, but wants the tangible experience of trying something on from the comfort of home."
If you're planning on proposing and want to use an at-home try-on box with your S.O., experts suggest getting the box a few months before your preferred proposal date. "Once your diamond is selected it takes two to three weeks to create your ring," advises Wegman. "If you have a proposal date in mind, I would recommend ordering our Home Try-On Box about two months before so you don't feel rushed to make a decision." And, if you're opting for a custom ring design, it won't hurt to give yourself even more time to prepare. "The try-on process should begin as early as possible since it can take time to settle on the perfect style for your budget and lifestyle," Fraser says of those looking for bespoke pieces. "Excellent quality and craftsmanship take a little more time than something off-the-shelf, but it's worth planning in advance to get the best possible ring in the end."
The Best At-Home Engagement Ring Try-On Programs
If you'd like to try on engagement rings at home, you're in luck. Below, we highlight four brands that have exceptional at-home try-on programs. Read on to learn more about how each process works, along with special offers you won't want to miss.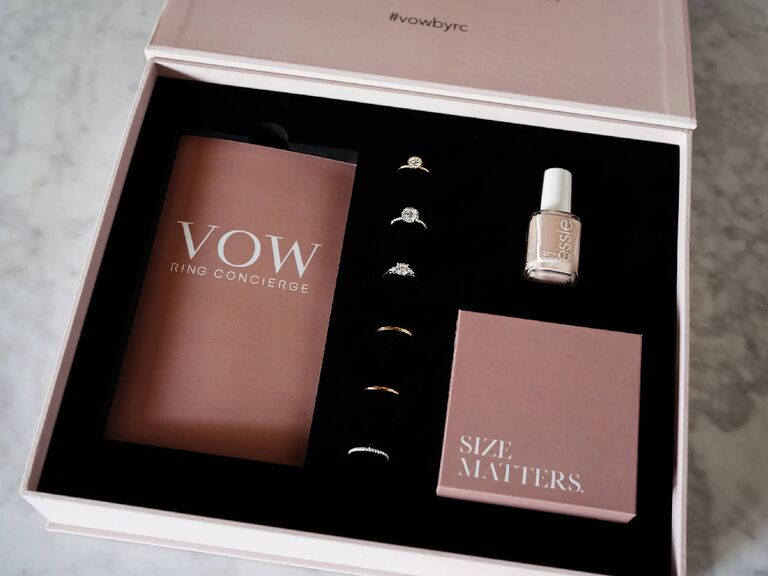 If you're looking for an at-home try-on box with plenty of perks, you'll love Ring Concierge's VOW program. "With VOW by RC's Home Try-On Program, you can select three cubic zirconia replicas of your favorite VOW engagement ring styles," Wegman explains. "They're shipped to your home along with three bands to get the full experience when selecting your favorite engagement ring."
The box costs $100, which is credited to your account after the box is returned to be used for future purchases. Perhaps the best part, though, is that you'll get plenty of fun goodies in addition to your engagement ring replicas. "Our Home Try-On Box includes an Essie nail polish, which is the client's gift to keep, along with a ring sizer, three Sample VOW engagement rings of your choosing, and three replica wedding bands in yellow gold, rose gold and micro-pavé white gold." You'll have a week to play with the different ring combos (and snap plenty of manicured ring selfies) before sending the box back.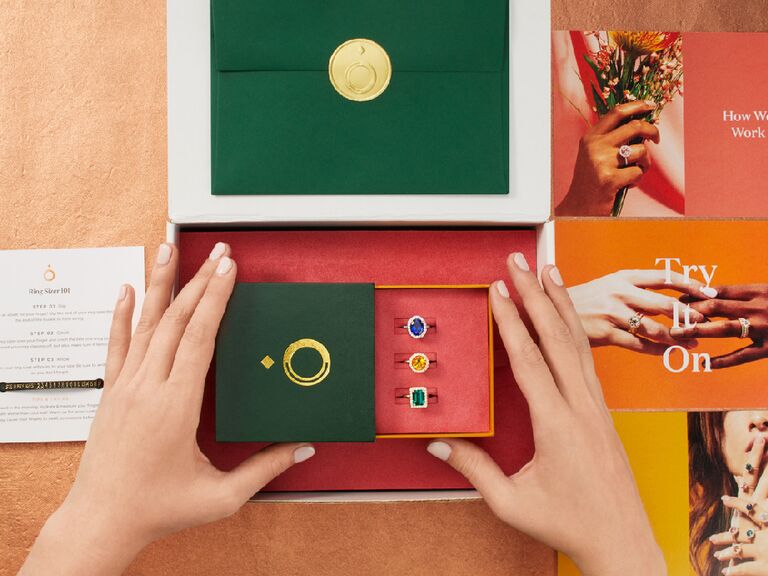 Whether you're looking for engagement ring or wedding band inspo, you can play with a variety of styles and stacks through Gemist's engagement ring try-on program. "Our customers can select three different engagement ring and band styles to add to their box," says Fraser. "We take a $45 refundable deposit to ensure that the rings are returned after two weeks, but until then the rings are theirs to wear and enjoy."
As with most try-on boxes, you'll receive a sizing tool to determine your ring size. "Once you've decided on your metal, stone type and shape, accent stones, and size, you'll be ready to return your box and order the real thing with absolute confidence," she adds. And, if you're worried that trying on rings together will ruin the surprise, Fraser finds that's rarely the case. "We often work with couples on the initial ring decisions like style, metal, and stones," she says. "But after that, one partner no longer receives information and the other partner makes the remaining decisions. We've helped pull off huge proposal surprises, sometimes with the proposing partner waiting months to pop the question! Ultimately, both people end up thrilled with the ring and the event itself."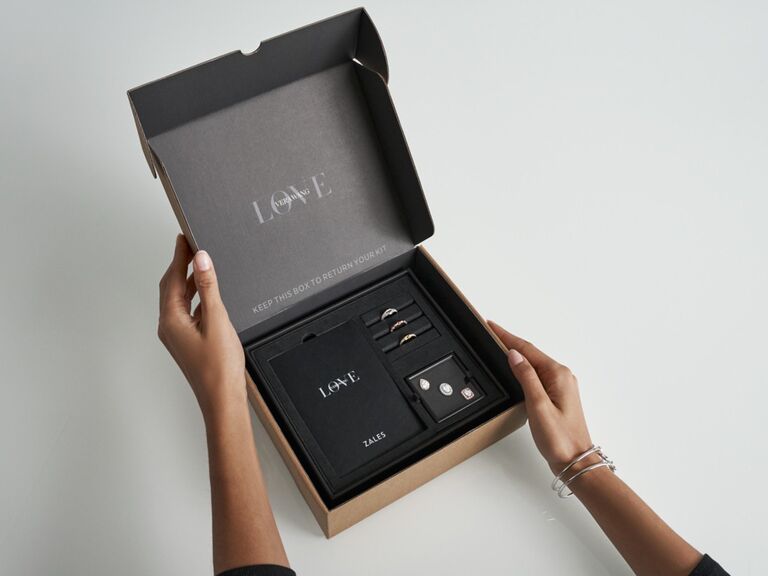 If you tend to be indecisive, you'll love the try-on options offered through Zales. In a newly- launched partnership with wedding industry maven Vera Wang, the designer's line of engagement rings are eligible for the brand's at-home engagement ring try-on box. "The Vera Wang LOVE Home Try-On Program at Zales enables customers to find their forever engagement ring by mixing and matching center settings and mountings for up to nine ring combinations of their choice through Zales' Online Design Tool," Singleton says. (You read that right: The unique option to swap different stones and bands gives you plenty of creative freedom when curating your ideal look.) "For a refundable $99 deposit, the customer will receive a kit that includes three center stone settings and three ring mountings. Customers can try on the rings for seven days before returning the kit."
With the ability to create so many different looks, you'll be able to accurately understand what your engagement ring will look like once the real thing is purchased. "Nothing can replace the tangible experience of trying a ring on and seeing the sparkle in person," Singleton adds. "It also helps visualize the right cut, carat and design for the proposee. With the Vera Wang LOVE Home Try-On program, we are evolving the engagement buying experience and allowing customers to shop from anywhere on any mobile device and still receive that irreplaceable experience of seeing your dream ring on your finger in person before you purchase it."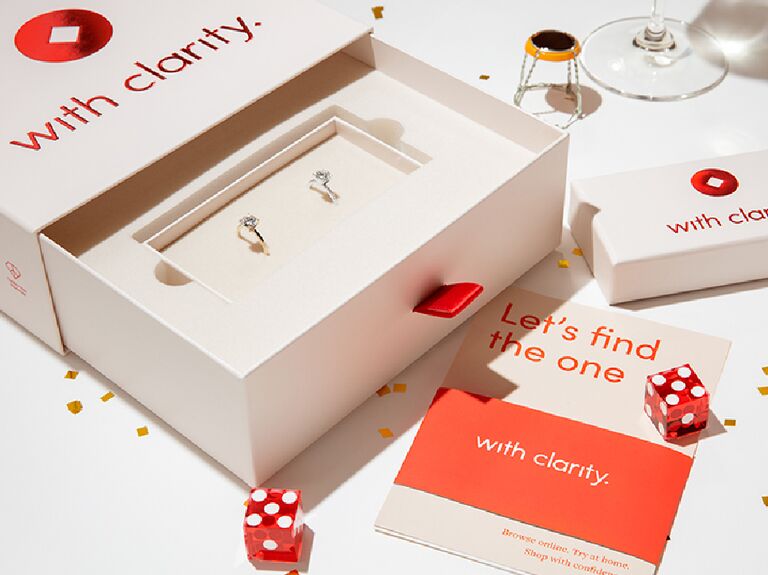 From engagement rings to stackables and even men's wedding bands, you can build a Home Preview box from With Clarity with two rings of your preferred metal color, diamond shape and carat weight. Once received, you'll have the box for three days to test out the styles before returning it. The best part? With Clarity allows you to try on engagement rings at home at no cost. The brand's $50 pre-authorization hold will be refunded after your box is returned. Plus, thanks to their diamond simulants and metal alloys, your ring replicas will look just like the real deal.