Unique and Memorable Thanksgiving Proposal Ideas for a Festive Engagement
Show your partner how grateful you are for them this holiday season.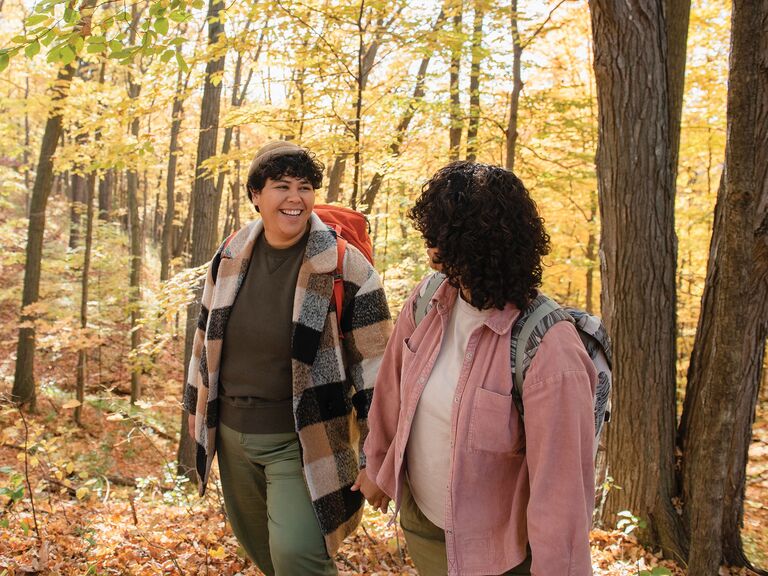 Photo: lucyluphoto / Shutterstock
With Thanksgiving less than a week away, we've created a list of Thanksgiving proposal ideas that you can consider when planning your dream holiday proposal. Whether you and your partner like Thanksgiving because of the delicious food or enjoy watching festive parades together, we've listed Thanksgiving engagement ideas to suit a variety of couples.
Along with our list of the best Thanksgiving marriage proposal ideas, we've included factors to take into account during the planning process so you can execute your proposal without a hitch. Regardless of how you choose to propose to your partner, The Knot Vendor Marketplace can help you find the perfect photographer and venue along with any other vendors you may find yourself needing to help you pull off your special moment.
In this story:
10 Thanksgiving Proposal Ideas
Regardless of what kind of Thanksgiving proposal you envision for you and your partner, there's an idea out there for every couple. From proposals that take place inside a home to those that require traveling, we've listed several Thanksgiving proposal ideas you can adopt as is or use as a framework to create a more personalized engagement.
1. While Watching Macy's Thanksgiving Day Parade
If your partner loves watching the Macy's Thanksgiving Day Parade, surprise them with a proposal while it's taking place. Although popping the question while watching the parade on television would be memorable, planning a trip to New York to see the parade in person (and pop the question in front of their favorite balloon), would be an extra memorable experience.
2. At Hotel del Coronado in Coronado, California
Treat your partner to a Thanksgiving proposal at Hotel del Coronado in Coronado, California. You can book a two to four-night stay as part of the hotel's "Fire & Ice Holiday Package." In addition to a hotel room, this package consists of passes to the hotel's beachfront ice skating rink, a private beach bonfire with smores, valet parking and a holiday concierge. If you plan your visit to fall on Thanksgiving day, you join fellow guests inside the hotel's Southpointe Ballroom for a buffet filled with Thanksgiving favorites and live music. There's no shortage of options when it comes to planning a romantic proposal at this iconic hotel.
3. At a Turkey Trot
If you and your partner have participated in your neighborhood's local turkey trot every year since you've been together, pop the question at the finish line. If you want to make your moment even more special, we suggest running the YMCA Turkey Trot race in Buffalo, New York, since it is the oldest one of these races to date–just make sure there aren't any oncoming runners before you get down on one knee.
4. During Thanksgiving Dinner
It's hard to go wrong asking them to be your forever partner during Thanksgiving dinner. Whether you decide to keep your meal to just the two of you or invite all of your family and friends over for a larger gathering, we'd recommend asking for their hand before you start eating so you (and your guests) can be fully present. And, you'll have a delicious meal ready to dig into immediately after the "yes."
5. While Visiting Plymouth, Massachusetts
For a truly authentic Thanksgiving proposal, head to Plymouth Massachusetts. In addition to enjoying the views of the area's vast greenery, you can head into the heart of town for "America's Hometown Thanksgiving Celebration" which is a three-day celebration featuring a parade on November 18th. In addition to the parade, you and your partner can enjoy live music, an array of alcoholic beverages, a waterfront festival and more. If you plan on taking the trip to Plymouth, make sure to book a hotel room in advance. Although this festival takes place a couple of days before Thanksgiving, this celebration draws in thousands of tourists from across the nation each year and you don't want to miss out on the opportunity to secure a place to stay.
6. At a Thanksgiving Day Football Game
You'll likely score a touchdown when you propose during a Thanksgiving day football game. If you're able to plan a trip to one of the games taking place this year, we'd advise buying two seats by the goalpost of your favorite team–that way, you'll be able to get down on one knee when you both stand up to celebrate one of the touchdowns. If you're unable to make it to one of the games, you can plan a watch party with your friends and family and hide the ring for your partner to find near their favorite chip dip or football-watching snack.
7. At Walt Disney World's Liberty Tree Tavern in Orlando, Florida
If you and your partner are celebrating Thanksgiving with a visit to Walt Disney World, reserve a table for a proposal dinner at Magic Kingdom's Liberty Tree Tavern restaurant. In addition to offering a home-like feel as it is inspired by a colonial inn, this restaurant serves traditional Thanksgiving-style all-you-can-eat fare consisting of turkey, stuffing, macaroni and cheese mashed potatoes and vegetables. Make sure to inform a cast member of your plans when you arrive at the restaurant so they can do their best to make your moment as magical as possible. And, maybe even give you some extra Ooey Gooey Toffee Cake–trust us, it's delicious.
8. At a Christmas Tree Farm
Take your holiday proposal to a Christmas Tree Farm. After you and your partner find the perfect tree, you can pull out the ring. Although you can visit a farm at night, we'd recommend you do so during the day so you can hire a photographer to meet you at the farm and capture some well-lit photos of the start of your next chapter together as a couple.
9. At a Farmer's Market
Confirm that you only have pies for your partner when you ask them to be yours forever at a farmer's market. If you're familiar with the farmer's market where you plan on popping the question, ask one of the vendors if they'd be kind enough to help you pull off your moment by hiding the ring and then offering you both a sample of their "daily special" also known as the engagement ring. Not only will your partner receive a delicious treat, but a beautiful ring, too–we can't think of much else sweeter than that.
10. While Experiencing ICE! Featuring A Charlie Brown Christmas at Gaylord Palms in Orlando, Florida
If your partner has fond memories of watching A Charlie Brown Thanksgiving each year on this special day, you can surprise them with a visit to Gaylord Palms for ICE! Featuring A Charlie Brown Christmas. This walk-through exhibit consists of 10 hand-crafted scenes made out of ice. It's important to note that since it is only nine degrees Fahrenheit in the exhibit (parkas are provided), you should bring some extra hats and scarves to keep you and your partner warm and comfortable when you say what you want to say to them and slide the ring on their finger.
Three Things To Consider When Planning a Thanksgiving Proposal
There are many things to know and factors to consider when planning a Thanksgiving proposal. Although it's nearly impossible to remember everything, read on for some essential wedding proposal checklist items.
Who Should Be There
Thanksgiving can be a tricky holiday when it comes to planning a proposal as many people opt to spend this holiday with their friends and family. However, that doesn't have to be the case and shouldn't be unless that is what both you and your partner want. Your feelings decided upon as a couple about who should be there should come first. With that said, it doesn't always have to be one or the other. If you'd like your friends and family to be present to celebrate with you both after you've popped the question, you can express that want to them ahead of time. On the other hand, if you'd want them to be there during your special moment and then have time for you and your partner to enjoy each other's company alone in a more private setting, you can plan something with your friends and family to make that happen, too. After all, you and your partner's closest friends and family want you both to be happy and would likely be willing to do what's necessary to make your proposal dreams a reality.
Whether or Not You Have to Hire a Proposal Photographer
Although we'd recommend hiring a proposal photographer to capture your moment, it's not always a necessity. If you opt to have friends and family present when popping the question, you can ask one of them to take some photos and videos for you. However, if you decide to keep your proposal more private, you can hire a proposal photographer to take photos from afar or up close. If you don't hire a photographer, you may look back on your day wishing you had one as your proposal only happens once and is a special relationship milestone.
Whether Your Partner Would Prefer a Public or Private Proposal
If you opt to propose at a football game, Turkey Trot, or Thanksgiving Day parade, you should know that there are going to be many people (most of whom are strangers) surrounding you while you ask for your partner's hand. As a result, it is also likely to be very noisy and may make it difficult for you both to hear one another. However, if your partner expressed interest in having a spectacle of a Thanksgiving proposal, they likely won't mind. However, if you've discussed that something more private is what best suits you two as a couple, we'd advise steering clear of those larger public events and opting for a more private or less crowded venue like a hotel room or quieter Christmas tree farm.