'The Bachelorette' Emily Maynard's Wedding: See a Pretty New Photo and Find Out Her First Dance Song!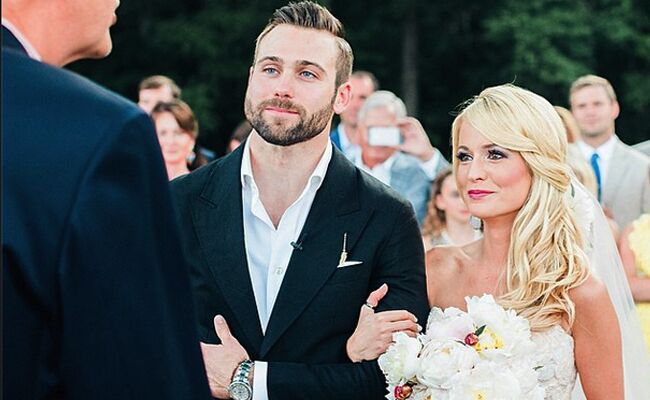 Emily Maynard via Instagram
Still obsessed with former The Bachelorette alum Emily Maynard's gorgeous surprise wedding in South Carolina? So are we, which is why we're so happy that she posted a pretty new Instagram photo three months after her rustic June nuptials!
In the sweet photo (taken by Corbin Gurkin, who also shot the cover of The Knot magazine's Fall 2014 issue!), Emily and her husband Tyler Johnson are saying their vows — and giving their guests quite a surprise! If you need a refresher on their wedding, 200 guests thought they were attending an engagement party at Tyler's parents' farm on June 7, so they were shocked (in the best way possible) to see Emily walk down the aisle instead.
She wore a beautiful strapless pink tulle Modern Trousseau ball gown with a dark pink sash — paired with cowboy boots! — and carried a bouquet of white peonies.
Her eight-year-old daughter Ricki served as her maid of honor, and guests enjoyed a live country band and lots of tasty Southern fare, including fried chicken and pulled pork.
Emily captioned the photo, "My blog is back! Check out all the details of my wedding at EmilyMaynard.com today! I've missed you guys!"
So if you click over to her blog, you can see lots of other official wedding photos, in addition to the fun Instagram pics from their wedding we found! Emily also recently posted a #TBT of her first dance song: "Marry Me," by Zachary Kale.
See her newest Instagram photo and her first dance song below:
Want more? Right here!
> The Bachelorette Emily Maynard is engaged! See her engagement rings (Yes, there's more than one!)