Signs Your Friend Is Jealous of Your Engagement & What to Do About It
These red flags may mean your pal is green with envy.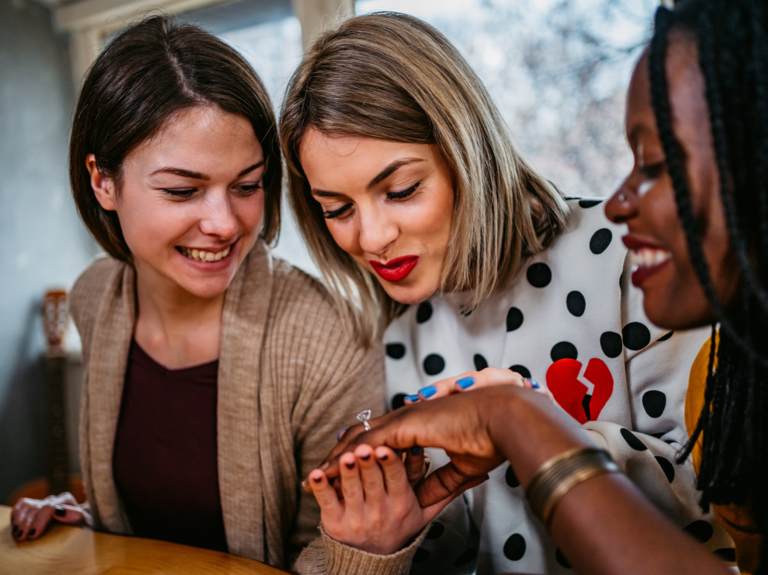 Photo: Urbazon | Getty Images
After privately celebrating with your soon-to-be-spouse, you're absurdly excited to share the happy news with those you love the very most. From your siblings and extended family to your best friends from all stages of life, this is your cheering squad and, likely, your wedding party. Most of your loved ones are likely over-the-moon for your happy news, which is why it's so jarring (and upsetting) when you're seeing signs that your friend is jealous of your engagement.
First: take a big breath and try not to take it personally. And then, follow our guide from wedding experts on how to navigate this tricky, uncomfortable situation.
4 Signs Your Friend Is Jealous of Your Engagement
You may instantly have an intuition your friend isn't exactly overjoyed for your engagement news from the very first moment you show off your ring. Or, you may feel discouraged or disappointed as you begin to navigate wedding planning. Here are some key red flags to look out for.
1. They don't congratulate you.
Right from the get-go, a big sign that your friend may be jealous of your engagement is if you share the news and they don't congratulate you—or if their response is underwhelming, according to Kevin Dennis, a wedding expert and the owner of Fantasy Sound Event Services.
"Everyone is entitled to be busy and focused on other moving parts in their lives, but if they more or less blow you off, it could be a sign that they're secretly envious," he says.
If you're worried about being overly sensitive or standing too long in the spotlight, Dennis recommends what you would do in their shoes. How would you respond if a close friend shared big news with you—from an engagement to getting a big promotion at work? You'd likely immediately want to know the details and be there to cheer for them. "If your friend doesn't share much excitement with you, it can be a major letdown," he adds
2. They are overly negative.
Though every couple's journey to the altar is different, deciding to join lives together is a positive decision for most. And wedding planning may be stressful, but it's worth celebrating. Your closest friends want to be there through all the ups and downs and toast to you throughout the experience. That's why Dennis says negativity can be a big red flag.
"If your friend has anything negative to say about the actual proposal, that isn't a good sign," he explains. "Not only is it hurtful that they're bringing anything other than positivity to the table, but it can also make you question what was otherwise an exhilarating moment for you. While saying something accidentally negative could definitely be the case, most jealous friends will want to rain on your parade to make themselves feel better intentionally."
3. They don't ask questions.
When someone you care deeply about is embarking on a brand new journey, part of supporting them is asking them questions. Where did their partner pop the question? Was it a big surprise, or did they see it coming? If rings were involved, what do they think of the setting? How do they feel about getting married? Your closest friends want to be involved—so if your friend is disconnected, avoidant or otherwise seemingly uninterested in all-things wedding, Dennis says it could be a cue they're feeling jealous.
"We sometimes see this when those friends want a proposal themselves. They might be envious, especially if they thought the next wedding in the friend group would be theirs," he says. "If you want to include them and they're holding back or seem less than enthusiastic, it likely speaks to a deeper jealousy."
4. They can't find time for you or your wedding.
There's no way around it—weddings are time-consuming, not just for the happy couple but for the wedding party. Agreeing to be part of a big day is usually an investment in time and resources, from the engagement shower and bachelorette party to potential traveling for the wedding itself. So, if you have a friend you want to be part of your once-in-a-lifetime event, and they can't seem to find time for you or your wedding, it's a red flag, according to wedding planner Jacqueline Vizcaino, the owner of Tinted Events Design & Planning.
While, sure people are busy, and couples should respect this fact, but constant scheduling conflicts could indicate that they need to be more into supporting you. "Let's say you had planned for all the attendants to meet at the salon for fittings, and you get that random last-minute text telling you they just so happen to forget that they have a 'long weekend getaway' planned," she explains. "But you have the receipts that they were part of all the conversations that have been going on about the fitting, which was re-confirmed last week. If there is a constant worry if and when a friend will show up for activities, they could be jealous."
How to Deal With a Jealous Friend When You're Engaged
You may feel like exploding on your friend via text, letting go of every last grievance you have—but if you can, take a pause. If you want to save your friendship and still have the wedding of your dreams with those you love by your side, it's better to approach the situation with open communication and kindness. (Yes, you might need to take the higher road.) Here's how.
Try to understand where they're coming from.
Before you approach a conversation that could become heated, try your best to put yourself in your friend's shoes so you can clearly see their perspective and empathize, suggests wedding planner Nora Sheils, the co-founder of Rock Paper Coin and founder of Bridal Bliss.
"Maybe your once-single friendship circle is feeling like a constant reminder that your friend is the only single one left," she says. "Feeling left out and left behind can be natural for most friends, but you can help by including them in group activities, making sure they don't feel excluded or worse, like the dreaded third wheel."
While it still isn't fair to discredit or be unsupportive toward your engagement, coming from a place of understanding will help you be kinder and more open-minded when you open up the conversation.
Check on your friend to help calm down the tension.
If you have a nagging feeling your friend is jealous, you probably both feel like you're biting your tongue and walking on eggshells. Check on your friend to help calm the tension, Shelis says. As she puts it, most of the time, friends want to be heard, seen and validated.
She recommends going to your favorite brunch spot for a date with your friends, focusing your energy and time on them, and asking why your engagement might upset them. During this brunch, give them the stage to talk, and as best as you can, be supportive and understanding.
Vizcaino says there is nothing wrong with broaching the discussion by asking—the question with facts to support it. "The approach is fifty percent of the battle," she says. "First, let them know that they are important to you, and because you value them, you need to ask if there is anything wrong and then give them a few concrete facts you have noticed. Allow them time to speak."
Do some soul searching.
This can be tricky, but Dennis says you may also want to sit down and determine whether or not this is a friend that you want by your side on your big day. For example, do they typically act this way when you share positive news with them? Are they the first to downplay your happiness to make themselves feel better? Or is this jealous behavior unlike them and could speak to a deeper issue? "If you think that this isn't something that can be resolved, it may be best to keep them away from your wedding festivities unless they bring good vibes," he says.
Take some space.
If you feel as if you've tried everything and nothing seems to help ease the obvious envy, Dennis says it is possible that you may need to create some distance between yourself and a friend. While it may be tough to imagine your wedding day without a close friend, it could be necessary for the sake of your friendship.
"Ultimately, you will feel better about any decision you might have to make if you have all the information and have attempted to resolve any issues head-on," he says. "At the end of the day, you have a wedding to plan for you and your partner, and it's important to prioritize your own mental health and emotions as best you can.
Offer a smaller role.
If you simply can't imagine getting married without this person—even with their jealous streak—consider giving your friend a smaller role in your wedding. If you want them in your wedding party or involved in any festivities, listen to their cues if they're acting out in jealousy. "Even if it's a best friend showing you their jealous side, maybe avoid making them your maid of honor or best man if you foresee their negativity continuing during the planning process," Dennis says. "This will avoid putting both of you in a bad position on your wedding day."
Alternatives include the person who encourages guests to monitor the guestbook or do a reading at the ceremony that you provide.