How to Plan a Wedding Without a Wedding Party
Planning a wedding without bridesmaids or groomsmen? Yes, it's totally possible. Read our guide on planning your big day without a wedding party.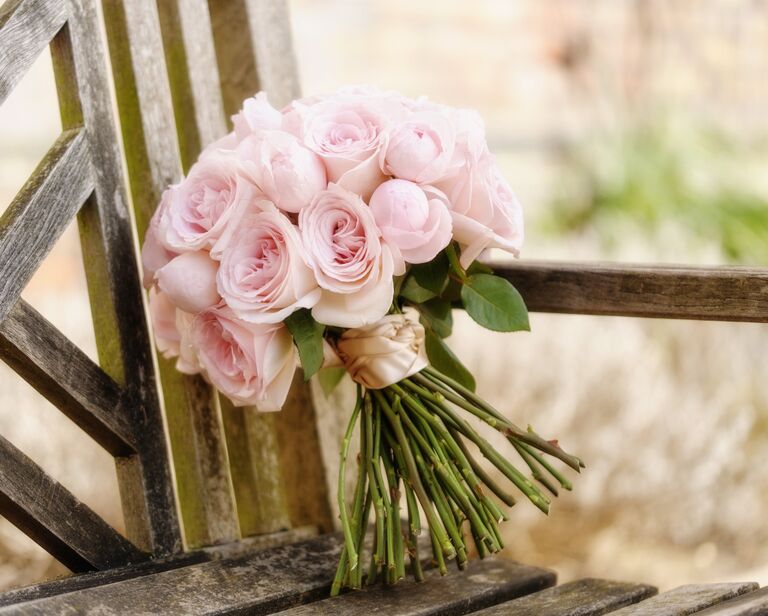 Jacobs Stock Photography Ltd / Getty Images
If you're in the throes of planning your wedding, you probably have a laundry list of to-dos on your plate and are being bombarded with plenty of advice (some unsolicited) from well-meaning friends, family, co-workers and even strangers. Of all the topics you've discussed with others about your intentions for your wedding, chances are that the subject of your wedding party has come up. And, if you've chosen not to have a wedding party, you might have gotten some surprised and confused reactions when you share the news of your plans.
As it turns out, it's become quite trendy to skip the wedding party ordeal altogether. In fact, in the last six months alone, wedding photographer Sarah Olson, of CityLux Studios in Boston, Massachusetts, has noticed more than half of her couples have opted out of having a traditional wedding party. "We have seen a massive increase in our brides and grooms embracing simplicity and opting for just a maid of honor and best man, or waiving the tradition entirely," she says. "I think couples are seeing that, while incorporating their close friends and family can provide a lot of help with wedding planning, it can also create a ton of extra work and stress."
Corina Beczner, owner and creative director at Vibrant Events in Sonoma and Napa Counties, has had a similar experience, noting that many of her San Francisco Bay area couples simply don't want the pressure of choosing one friend over another, or being forced to edit out family members to keep to a prescribed tradition. "Others have chosen to omit wedding parties for cost purposes, as paying for bridesmaids' bouquets and attire or accessories, as well as groomsmen's ties, can increase the budget by $2,000 to $4,000," she says.
Do You Have to Have a Wedding Party?
The simplest answer to this question is no. Especially in our modern day and age, it's become more accepted for couples to write their own script when it comes to their wedding—and most wedding professionals fully believe that this should be the case. "Your wedding day is about you, your spouse and the love between you; however, when planning the biggest, most important day of your life, the intimacy and significance become muted with the formalities of wedding planning," says Sarah Jobe of Twickenham House in Boone, North Carolina. "While choosing to omit a wedding party may be difficult, the choices throughout the wedding process ultimately become more manageable with fewer people involved."
How to Tell Your Friends You're Not Having Bridesmaids or Groomsmen
If you do decide to go without having a wedding party, you're probably wondering how best to break it to your friends and family who might be expecting to play this special role in your all-important day. As in most cases, Jamie Chang, destination wedding planner and owner of Mango Muse Events in Los Altos, California, points out that honesty is the best policy when explaining why you made the decision you did. "You can say that there were just too many people that you loved and you couldn't make a decision, so this way everyone gets to be a part of the wedding without a difference in status," she says. "Whether the friend or family member was expecting to be in your wedding party or not, it will make them feel loved."
When explaining this detail to your friends and family, don't let anyone make you feel bad about your decision. Michael Vernon, owner of Conch Concierge Weddings in Key West, Florida, recommends emphasizing the importance of their love and support and that you are still going to need help. "You'll be pleasantly surprised how many helping hands you'll have on deck," he says. "Work to find ways to involve friends and family in the planning and collaborate on how they can be involved on the big day."
How to Include Friends in Your Wedding Without a Wedding Party
Just because you don't have an official wedding party doesn't mean your friends and family can't help you before and on the big day. Here, wedding pros share their best tips for how to include friends in your wedding without an official wedding party.
Invite them to help you get ready.
Excluding a wedding party does not mean you have to get ready for the biggest and arguably most important day of your life by yourself! Even if you don't have bridesmaids or groomsmen, Jobe recommends inviting a close circle of friends and family to get ready with you the morning of your wedding. "Through this strategy, you get the illusion and fun of a bridal party without the headache of details and feelings getting involved," she says. "Your selected friends and family will feel honored to see you before the ceremony and feel included in this act."
Ask them to be your ushers.
"The actual ceremony is a great place to include those nearest and dearest to you, even though they aren't standing by your side," says Gretchen Culver, owner and creative director of Minne Weddings and Rocket Science Events in Minneapolis. She recommends asking the important people in your life to be escorted down the aisle by other important people—think ushers, but updated. "This seemingly small task of walking the aisle is very important," she says.
Give them readings during ceremony.
Chances are, there are opportunities to have special people in your life do some of the ceremony readings. Even if you have only two or three readings total, Culver suggests splitting up one reading among several people. "Some loved ones may even appreciate not having to do an entire reading solo," she says.
Invite them to take part in a photoshoot.
Even if you don't have an official wedding party, you can still invite your closest friends to come together for a few special pictures. "Many of our clients that skip bridal parties still have a scheduled time to take photos with their entourage," explains Tory Smith of Smith + James Events in Los Angeles. "Some will even share a mood board to better color-coordinate their ensembles!"
Give them a color to wear.
Job suggests inviting significant family members and honored friends to wear a specific color correlating to the wedding's palette. "By distinguishing these individuals through their attire, their significance is emphasized without them standing beside you during the ceremony," she says. Not feeling drawn to the color palette distinguisher? You could instead opt to honor these special guests with a boutonniere or corsage. "Like the color distinguisher, the flowers separate the significant people from other wedding guests while satisfying your desire to exclude a wedding party," she says. "For couples who want to avoid a wedding dress code, the boutonniere or corsage is a seamless strategy for honoring and including your loved ones on your big day."
How to Plan a Wedding Without Bridesmaids or Groomsmen
Here are some activities that are typically reserved for bridesmaids and groomsmen that you, as a couple, will need to handle the planning of if you choose to forgo having a wedding party.
Bachelor or Bachelorette Party
Perhaps the most notable responsibility of the wedding party is planning the bachelor or bachelorette party. But just because you don't have an official wedding party doesn't mean you can't have a little fun before the big event. Smith suggests still asking your crew to help you out here. "Choose your most party-planning-savvy friend and ask them to help you manage your party," she says. "It's a great way to help them feel special and to make your life less stressful with extra help."
Wedding Shower
Bridesmaids are usually the planners behind the bridal shower; however, even though a bride may not have a bridal party to do the legwork, that doesn't mean they should skip the bridal shower completely, notes Olson. "One alternative would be to just be real with your closest friends and family, letting them know you would still love to have one," she says. "More than likely they will be more than happy to put together a team and throw you a bridal shower." If you choose to forgo the wedding shower, you could make a traditional registry and share with whoever asks for it.
Wedding Dress Shopping
Most of the time, the bridal party goes wedding dress or attire shopping with the couple. Without a wedding party, you could simply invite a select number of people to shop with you, suggests Chang. "Invite someone to come with you who you trust and who would enjoy it makes it a fun excursion—and if shopping in person isn't possible, you can always utilize their opinion virtually as many stores are online-only anyway," she says.
Getting Ready Support
You'll still want emotional support as you get ready for such a big day in your life—and, chances are, your friends and family will want to be that for you even if they're not members of an official wedding party. "There should be folks there with you to ensure you are staying on time as you get ready, as well as making sure you eat food and stay hydrated," says Beczner. "Other support activities include runners for last minute missing items, someone to answer your phone when you can't (since you're in the make-up chair) and people to check on the setup of the ceremony and reception sites who can report back to you with any questions or needs."
Wedding Toasts
Wedding toasts are typically given by the maid of honor and best man, but you can still ask friends and family to fulfill these roles. "Use this opportunity to break tradition by asking a close family member or friend who is comfortable with speaking in front of others to raise a glass to your wedding day," says Vernon. "A couple can also choose to give a joint speech thanking their guests—or forego the speeches entirely and have everyone join in for a favorite song."