The 34 Best Gifts to Give Your Newly Engaged Best Friend
These presents are the perfect way to say congrats.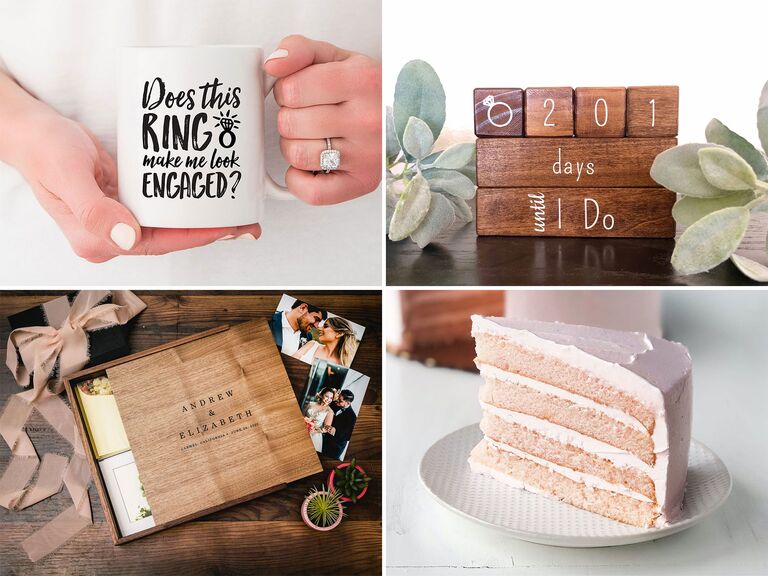 We have included third party products to help you navigate and enjoy life's biggest moments. Purchases made through links on this page may earn us a commission.
Your BFF is getting married, yay! An engagement gift for your friend is just the way to show them how excited you are. Of course, there's no need to splurge on something extravagant for the occasion—after all, there's still the shower and wedding gift to think about. So, feel free to opt for something small but thoughtful, like a handwritten card and a coffee shop gift card for a caffeine boost when they're deep into wedding planning. The budget and size of the gift is completely up to you—as long as it's from the heart, your bestie (and their fiancé) will love it. Need help sourcing ideas? We made the ultimate list of newly engaged gift ideas for your friend, from tongue-in-cheek presents to sentimental and sweet ones.
1. Funny Coffee Mug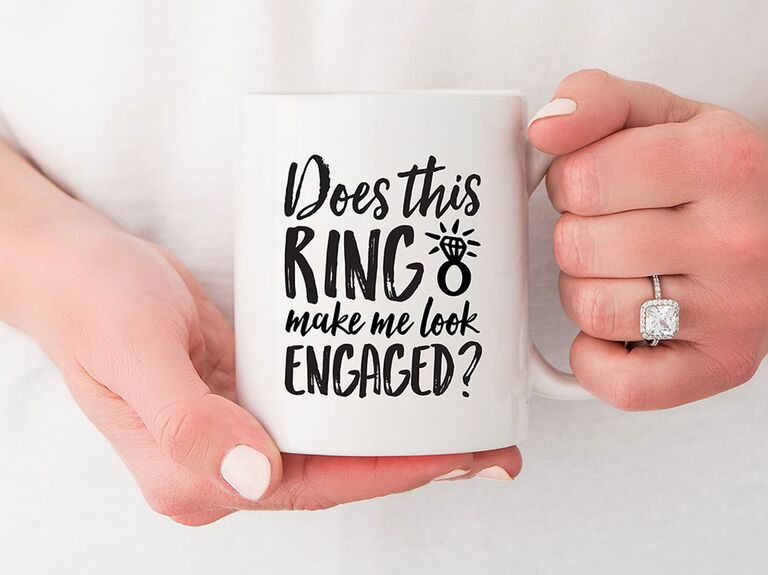 If you're looking for a small yet cute gift for your newly engaged friend, look no further than this cheeky coffee mug. It reads, "Does this ring make me look engaged?" and the back can be personalized with two additional lines of text. Think: their name and engagement date.
2. Personalized Bottle of Wine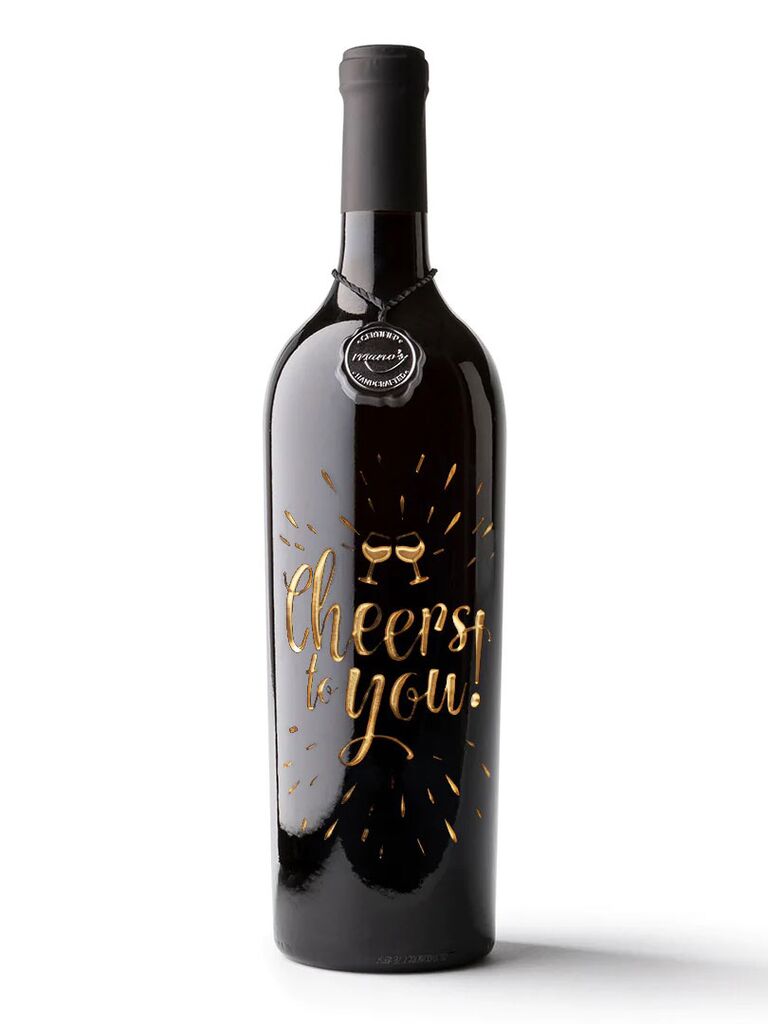 Wine or bubbly is a classic engagement gift idea for friends, but to make the idea even more special for your best friend, get something engraved. This full-bodied California cab comes in a bottle that's etched with two clinking glasses and a celebratory message: "Cheers to you!". Once they enjoy the booze, they'll have a festive keepsake to display.
3. Unique Barware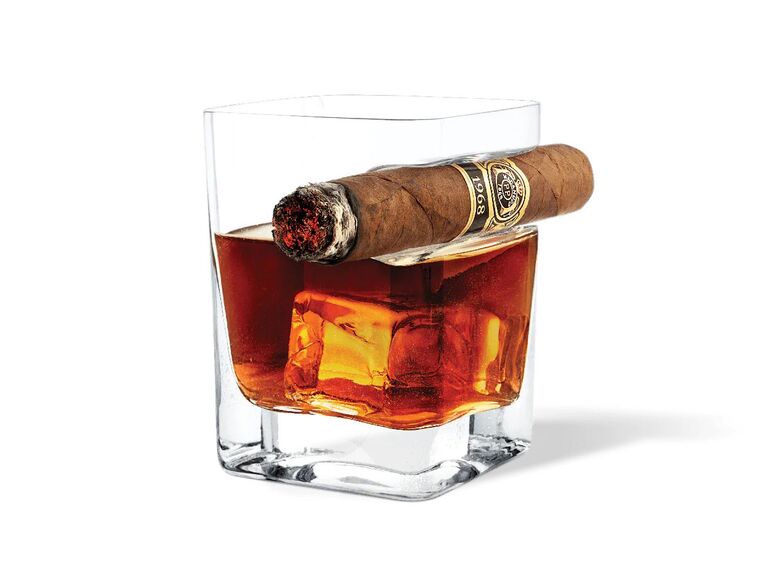 Are they more likely to toast with whiskey than champagne? This whiskey glass doubles as a cigar rest—the two perfect accompaniments to the good news. We suggest buying two so they can cheers with their fiancé.
4. Sentimental Wall Art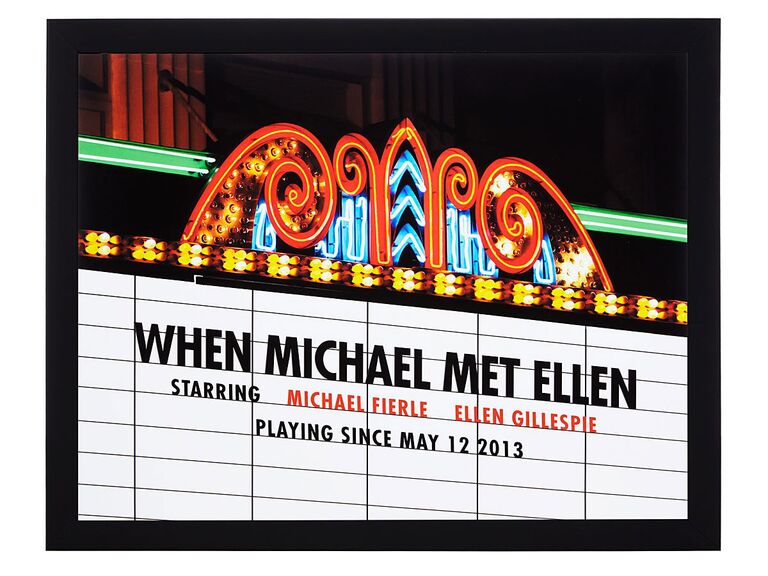 Does their love feel just like it's straight out of a '90s rom-com? Celebrate it with this creative wall art of a movie marquee. It features the couple's names as co-stars and a special date. You can come up with your own title or pick one of three inspired by popular films: When [Name] Met [Name], Sleepless in [City] or A Love Story. This engagement gift for your friend will be a cherished part of their home decor for years to come.
5. Champagne-Inspired Cake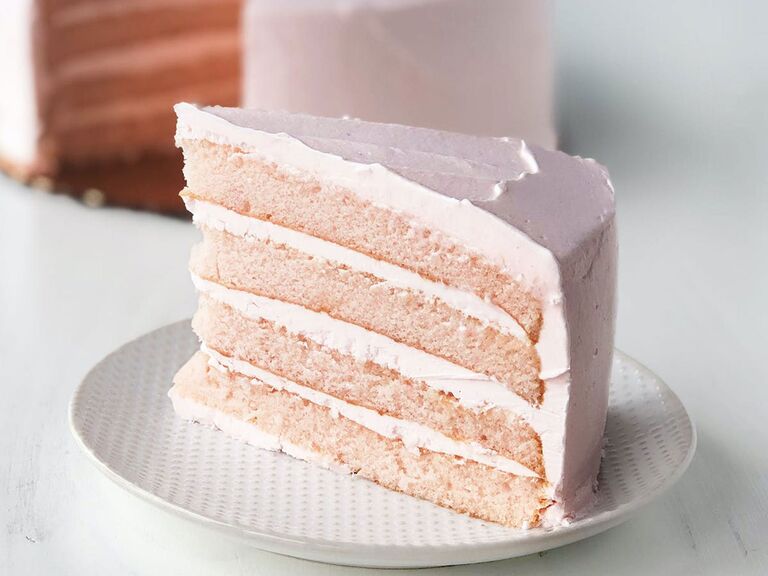 There's no sweeter way to celebrate a friend's newly engaged status than with a slice of this famous dessert. Caroline's Cakes' pink champagne cake is light and airy—just like a bottle of bubbly—and the delicious rosé-colored buttercream adds an aesthetic finishing touch. Best of all, the lovebirds don't have to live in SC to enjoy it. The shop ships nationwide!
6. Chic Trinket Dish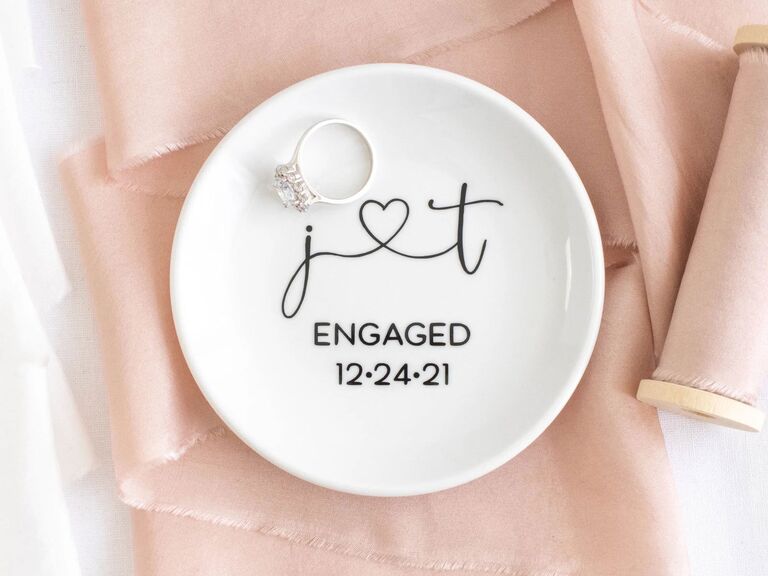 Your friend has some new and very important jewelry to take care of, so give them a chic way to keep it safe. This ceramic ring dish is adorned with the couple's initials joined by a heart and the date of their engagement. Choose between a black, silver, gold or rose gold font color to create a dreamy spot to store their wedding-related bling.
7. Gel Manicure Kit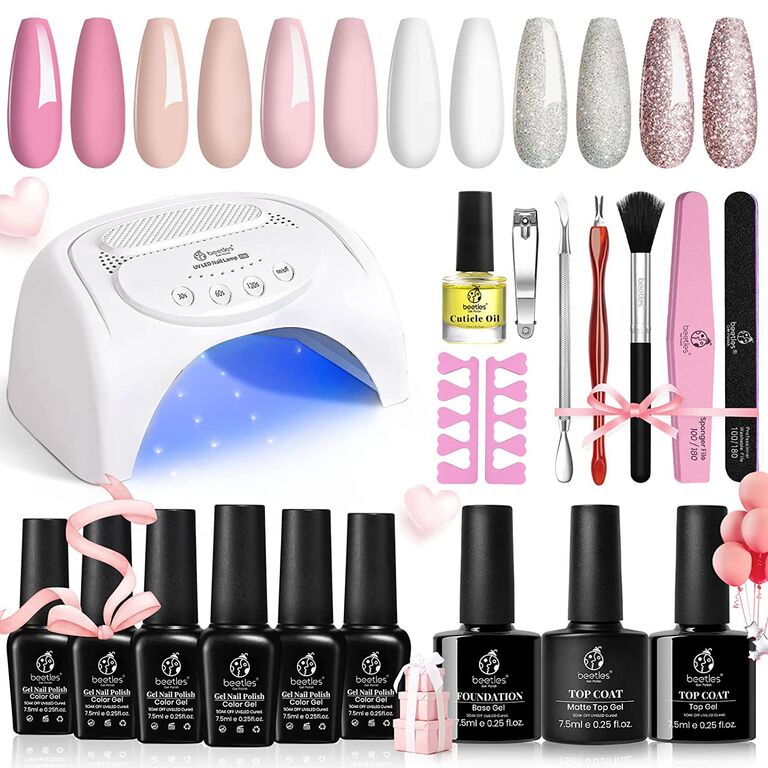 If your bestie just scored some shiny new bling, chances are their hands have never seen so much attention. This nail polish kit will help them keep their mani photo-ready without constant trips to the salon. From colors to cuticle care tools, this kit comes with all the essentials for a fancy gel manicure right at home. (And the pink, nude, white and sparkly polishes are perfect for any bride-to-be.) It's an extra-clever engagement gift for your best friend that they'll use all the time.
8. Meaningful Beaded Bracelet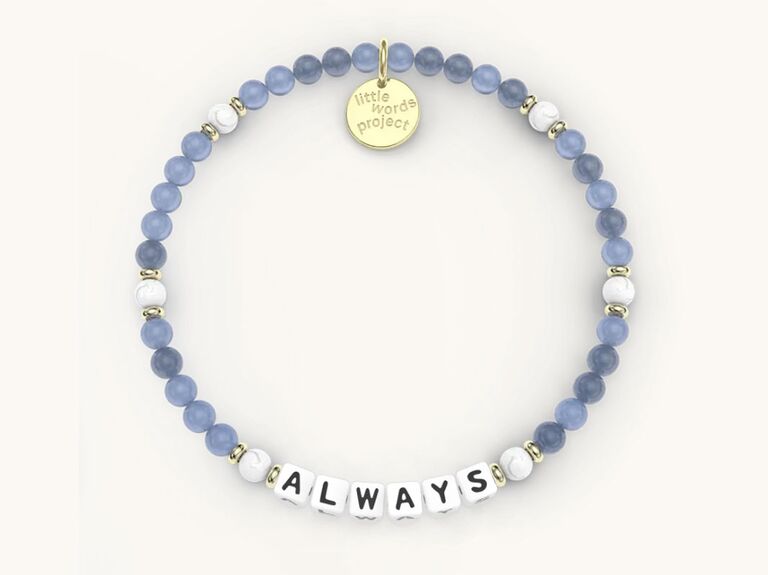 Shop Little Words Project's bridal collection to give your bestie the second most sentimental piece of jewelry they'll receive this year. Each beaded bracelet features on-theme phrases like "I do" and "forever." We love the thought of giving them an "always" bracelet because it doesn't just symbolize their new commitment to their partner, it also represents your bond as BFFs.
9. Wooden Memory Box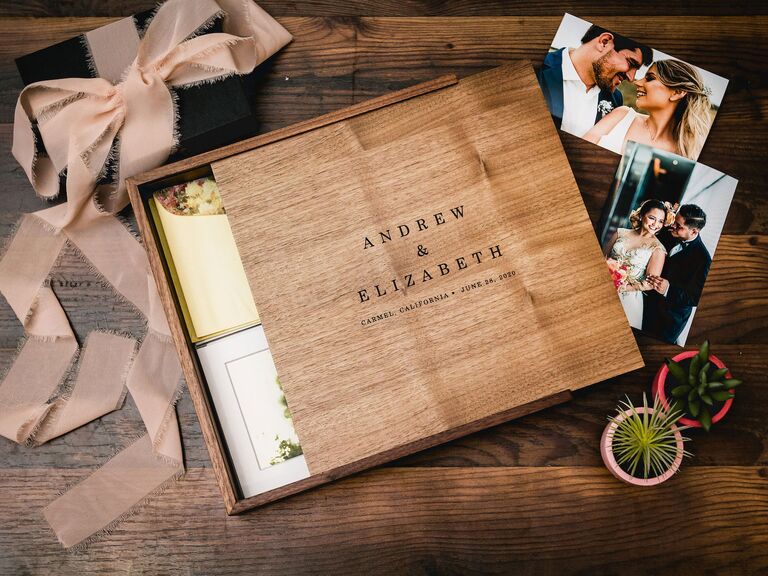 Help your friend and their fiancé keep their wedding mementos safe with an attractive memory box. From their engagement party and couple shower invitations to their eventual wedding photos, this wooden crate will safely store all their keepsakes to look back on for years to come. The lid is even engraved with the couple's names and any further details you want to include like a location and date.
10. Helpful Wedding Planner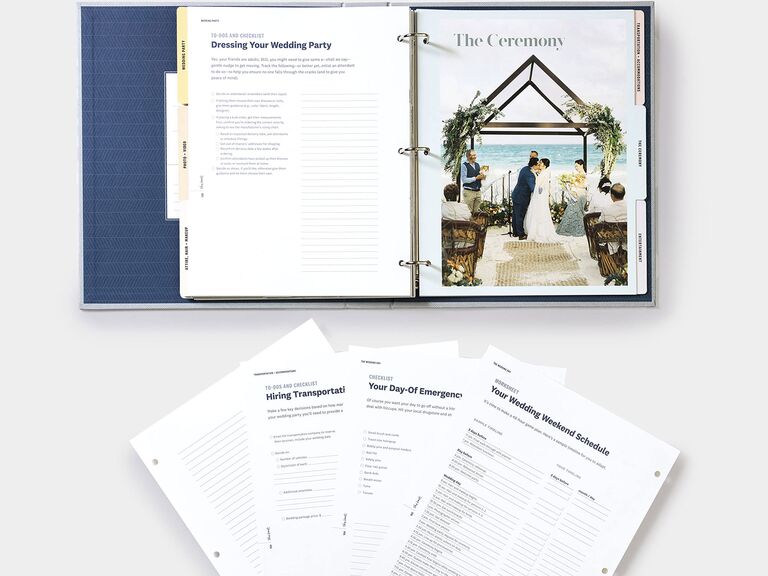 Are you their unofficial assistant? Make both your lives easier with The Knot Ultimate Wedding Planner and Organizer. Our new-and-improved guide is chock-full of advice and inspiration, scheduling and budgeting worksheets, vendor checklists with key questions to ask and so much more to help the couple go from "yes" to "I do." Don't underestimate wedding planning gifts; this will be your friend and their fiancé's most-used present.
11. Jewelry Cleaning Stick
On the theme of practical gifts, there's no doubt they're going to want to keep their new bling sparkling clean. This nifty jewelry cleaner makes it easy to polish platinum or gold jewelry settings, as well as diamonds and other precious stones. Bonus: The slim, mascara stick-style design is easy to slip into a "congratulations" gift bag.
12. Wedding Countdown Blocks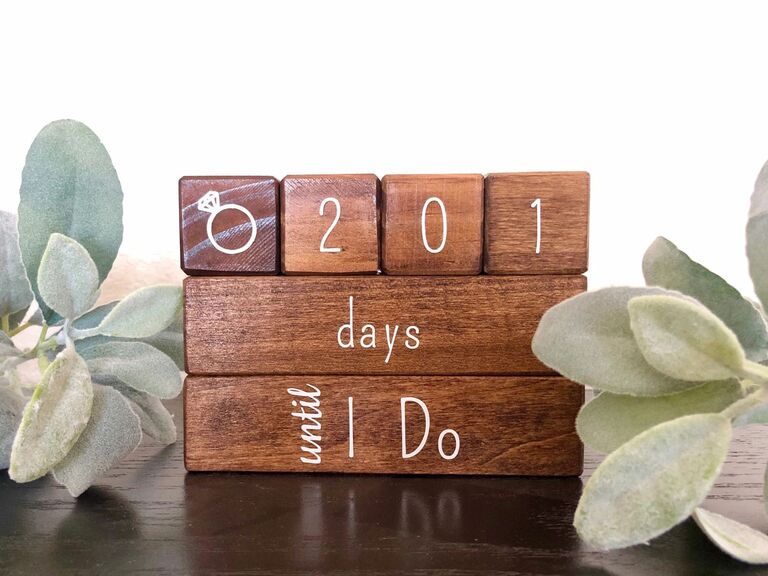 The perfect home decor for newly engaged couples: A wedding countdown calendar. This rustic wooden block set displays the days, weeks, months and even years until your friend and their S.O. say "I do." It's a fun gift that's sure to build anticipation for the big day. Plus, the bottom block can flip to "married" after their nuptials so they can use it to count up to their anniversaries too.
13. Wedding Sign for Pets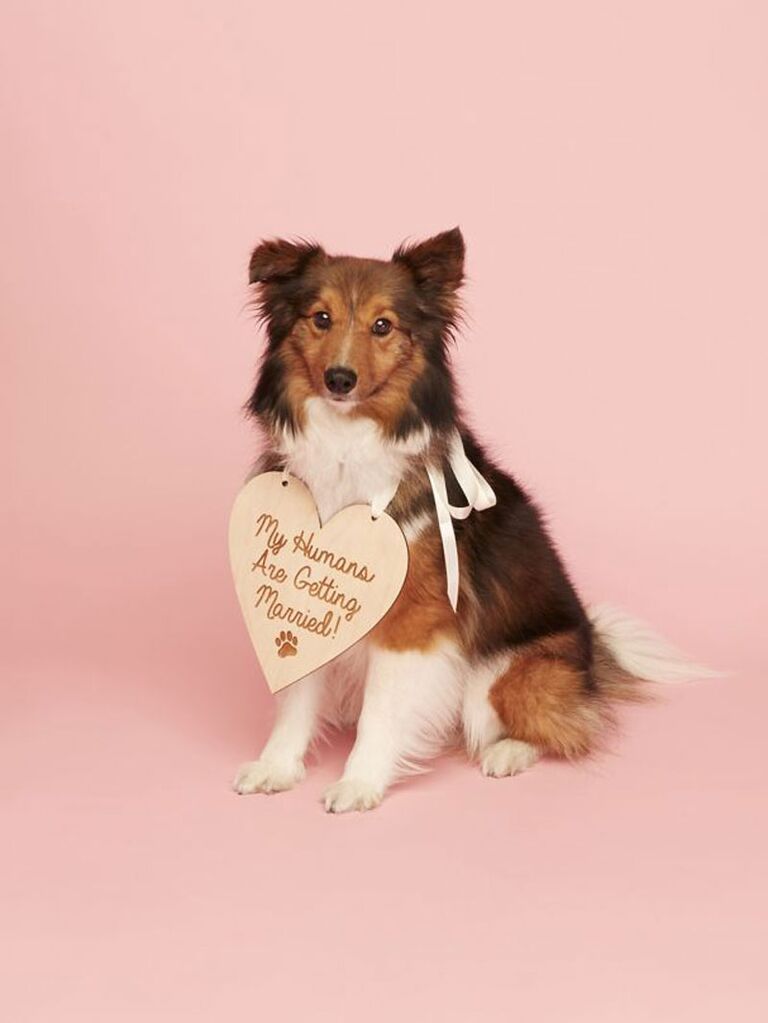 Does your bestie love their furry friend as much as their soon-to-be spouse? They'll be overjoyed to receive this cute sign for their pet to wear. It's shaped like a heart and reads "My humans are getting married!" We bet you'll see it in their engagement photos.
14. Monogrammed Toiletry Bag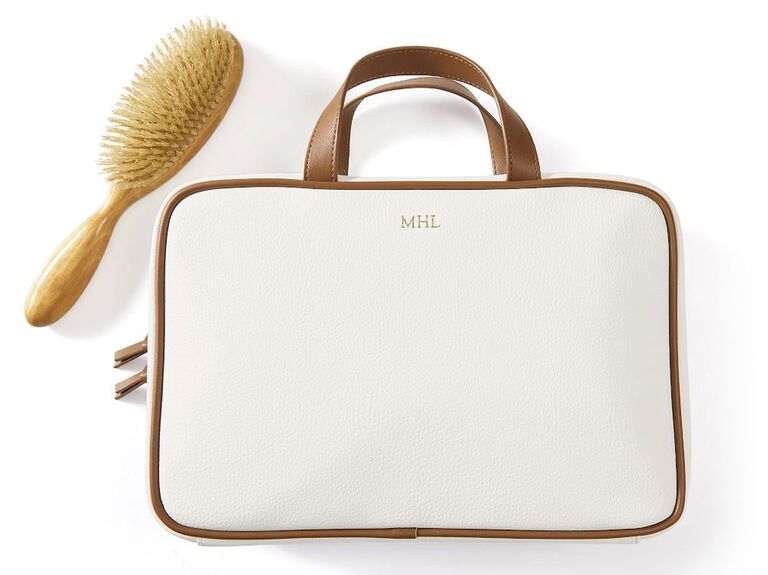 With all of those prewedding events on the horizon, your soonlywed friend will need somewhere special to store their grooming and beauty essentials. Enter: this chic vegan leather Dopp kit in stylish cream with brown piping. It can even be personalized with their initials in gold foil for an extra-luxe touch.
15. Delicious Cookie Delivery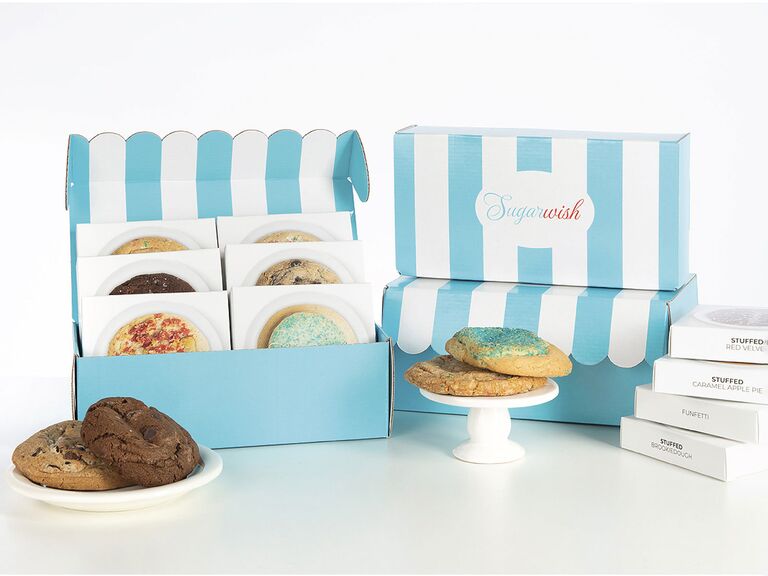 Shopping for your long-distance best friend? Ship them freshly baked engagement cookies to say "congrats." You'll simply select the box size, then email them a virtual card to alert them of their gift. From there, they can choose from over 30 delicious cookie flavors to be delivered right to their door. They even have gluten-free and vegan options to accommodate their (or their fiancé's) dietary restrictions.
16. Romantic Rose Delivery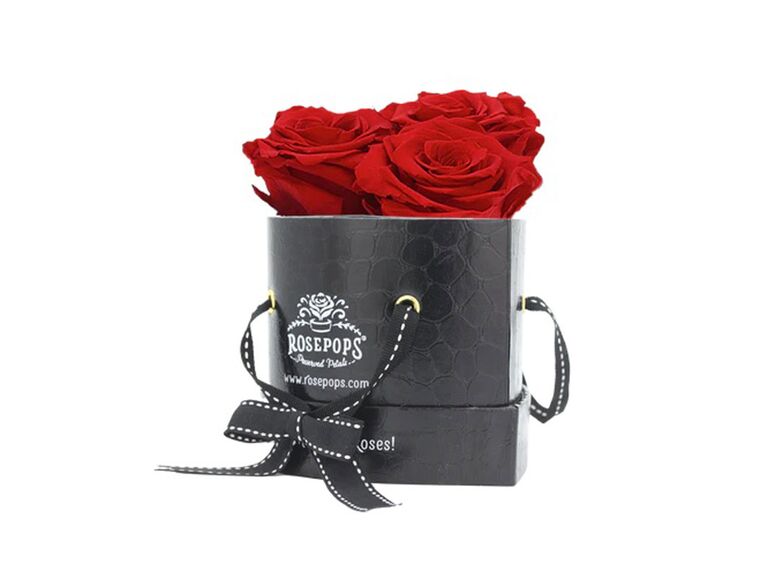 Looking for something that'll last longer than sweets? Flowers are a lovely gift to congratulate a friend on their engagement—especially when they're long-lasting blooms. Rosepops delivers pretty preserved roses in clever display boxes that allow the flowers to pop up once opened (hence the name). We love this option of three roses in your choice of color because they come in a heart-shaped box fitting for an engagement celebration.
17. Velvet Ring Box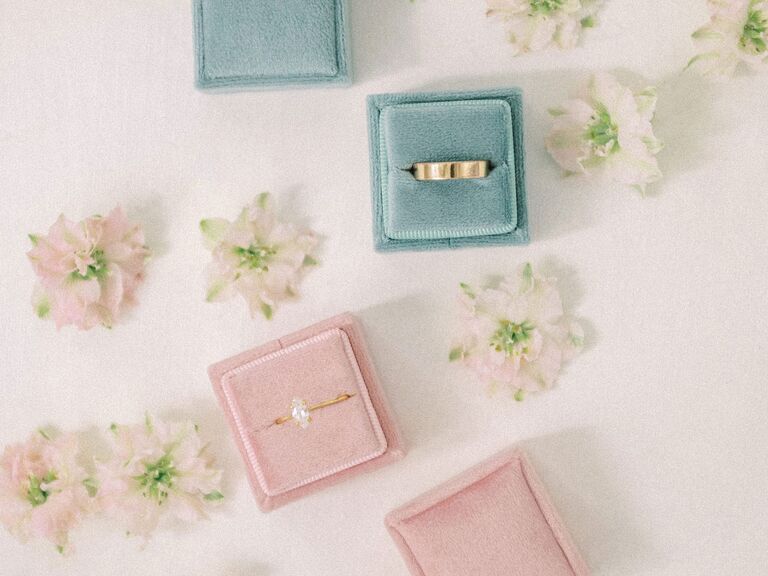 Like a ring dish, a pretty ring box is a great gift for a friend who just got engaged. While they might be tempted to keep their new sparkler on their finger at all times, there'll be instances where taking off their engagement ring is necessary. And in those moments, what better place to keep their precious jewelry safe than this gorgeous velvet box that comes in six luxe colorways? Personalize the lid with the couple's initials for even more pizazz.
18. Wedding Planning Survival Kit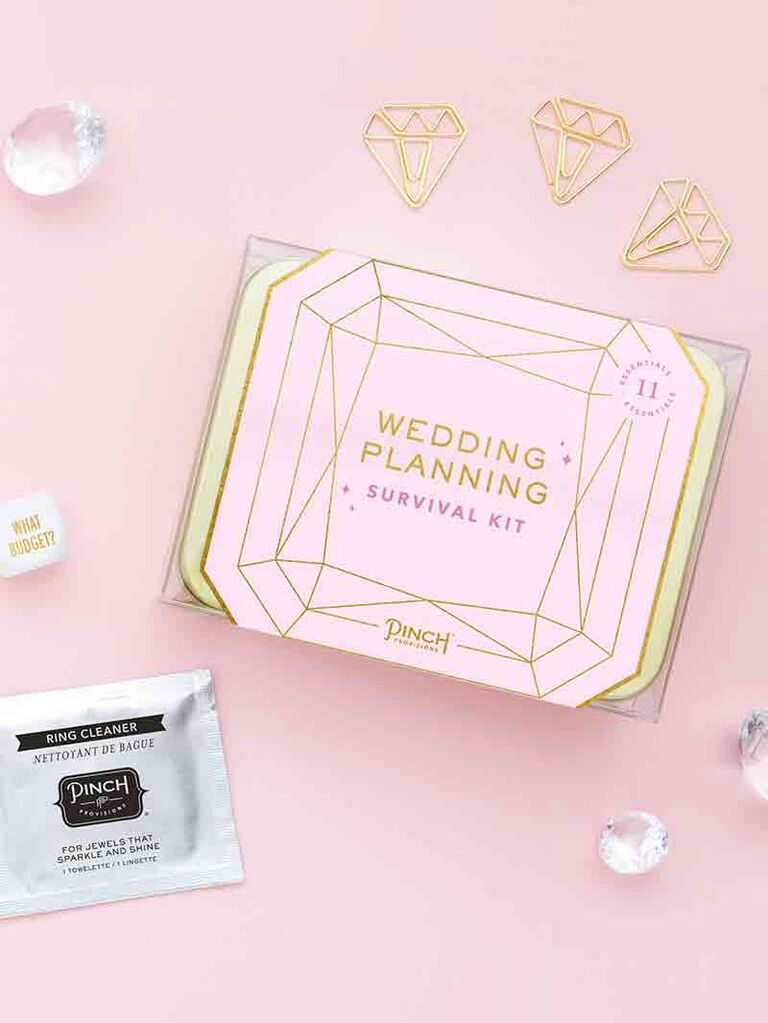 Sure, this kit is going to put a smile on your BFF's face thanks to its playful messaging, but it's actually a super-useful wedding planning gift too. Inside, they'll find 11 practical goodies, including diamond-shaped paper clips, a mini notebook and pen, an eye mask, facial tissues and, our favorite, decision dice.
19. Bridal Pajamas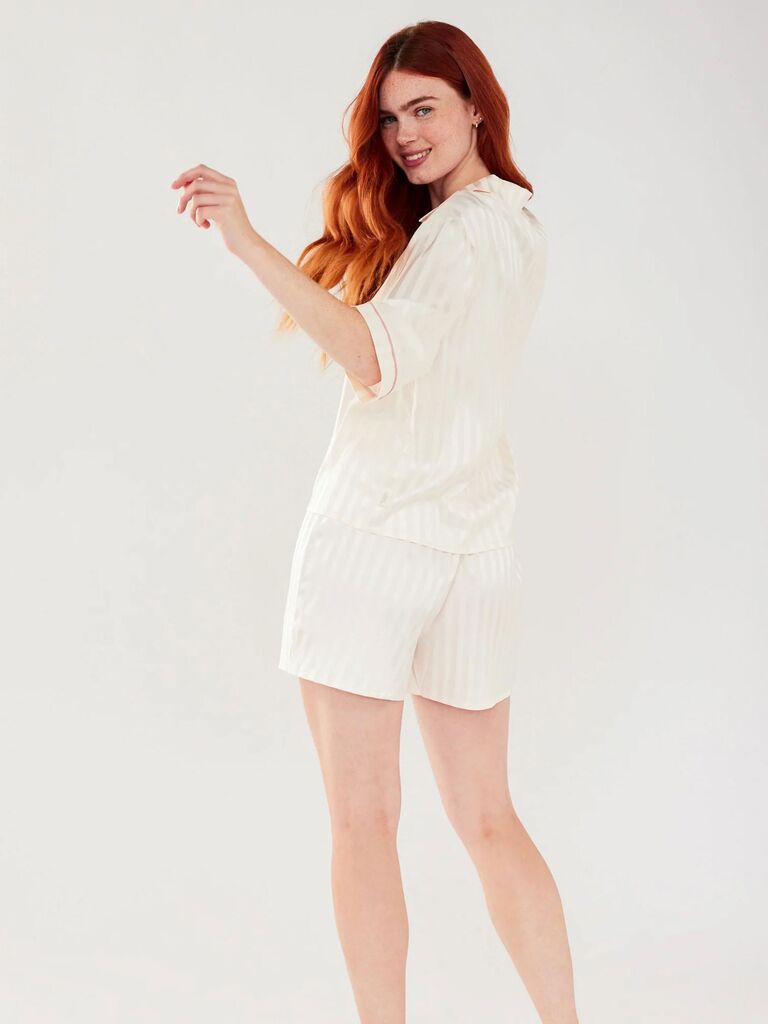 Give them the beauty rest they deserve with cozy pajamas in a wedding-worthy shade of white. This stylish satin loungewear set features a trendy striped button-down and matching relaxed shorts for optimum comfort and style. Best of all, Chelsea Peers NYC is dedicated to planting one tree for every order placed so it's a purchase you can feel extra good about. (Shopping for a future groom? They also have cozy men's loungewear.)
20. Calming Shower Steamers
Self-care is very important during the wedding planning process. Help your bestie fit in some R&R each week leading up to the big day with this shower steamer gift set. Choose between five or a dozen cubes that'll fill their shower with soothing essential oil scents like lemongrass and lavender. They can also be used as body scrubs to exfoliate and moisturize. Ahh! We feel calmer just thinking about it.
21. Wellness Journal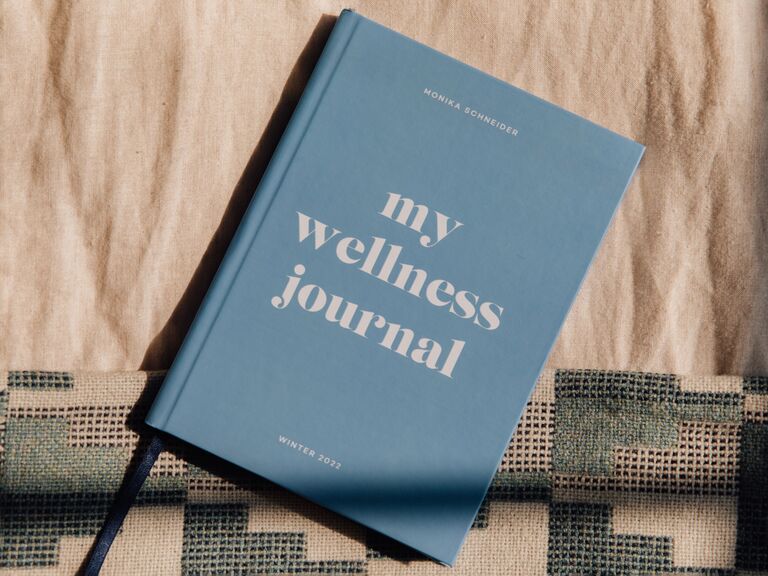 Let your bestie know that their wellbeing is top priority (yes, even if finalizing the guest list feels like the most important thing in the world right now.) A self-care journal like this one will encourage your friend to take time for themself, connect with their feelings and set the right priorities. You can even customize the cover with their name. Talk about a thoughtful engagement gift idea for your best friend.
22. Personalized Golf Balls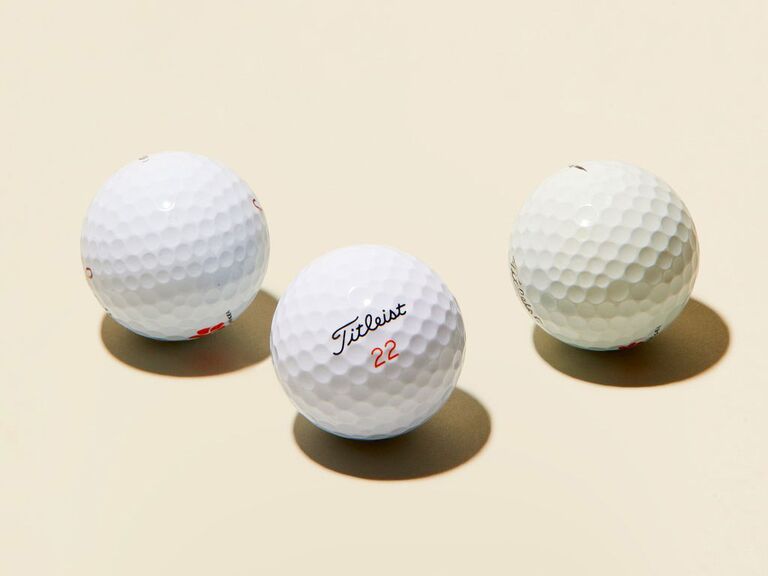 Looking for a just-engaged gift for a golfer? Surprise your friend with a dozen high-quality golf balls printed with their name. Pair it with a card that promises to take them out for a round of golf whenever they need a break from wedding planning.
23. Couple's Piggy Bank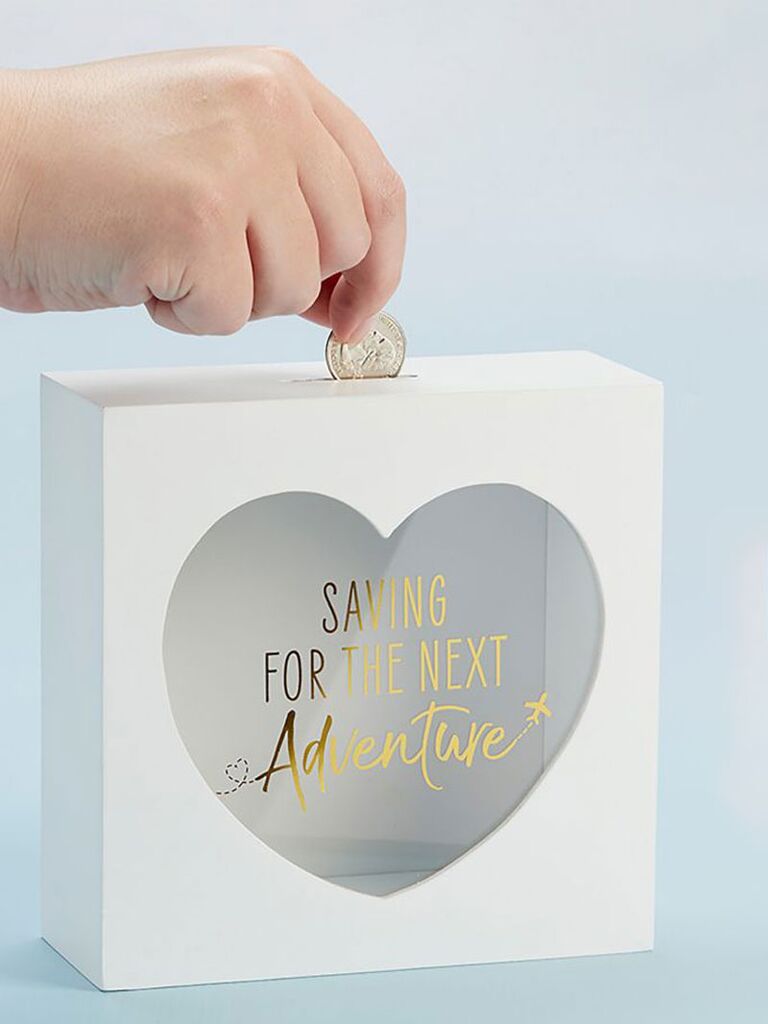 Weddings can be expensive. Help the couple save for the big day, their honeymoon or any experience they want to embark on once they're married with this cute piggy bank. The shadow box has a heart-shaped cutout that reads, "saving for the next adventure." This elevated money box is a fun yet practical engagement gift for anyone starting to budget their lives together.
24. Champagne-Scented Candle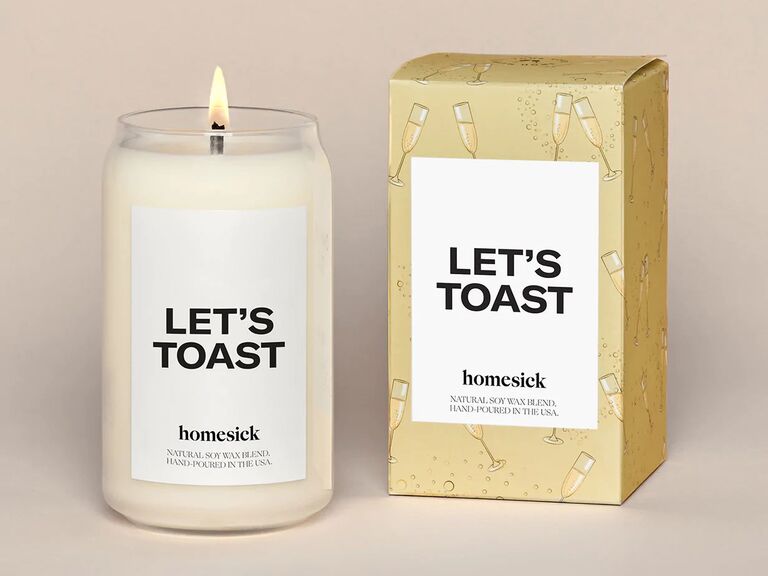 This will be the newly engaged couple's new favorite candle! Not only is it titled Let's Toast, it's also champagne-scented for a celebration-worthy flame. You can even personalize the packaging with a handwritten note for extra sentiment.
25. Night Sky Glasses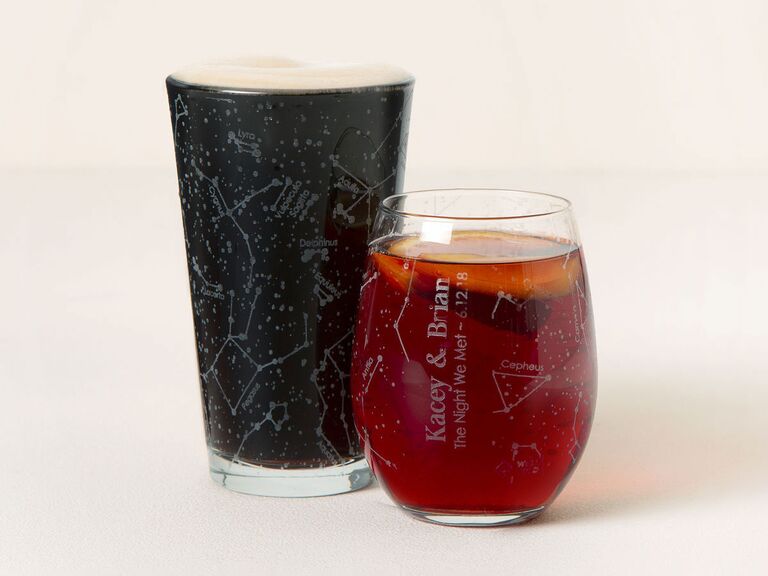 We're gushing over this engagement present for friends. Whether the pair are beer drinkers or wine sippers (or both) this custom drinkware will help them celebrate their relationship at every happy hour. Each glass is precision-engraved with the constellations visible in the sky at the exact location and time they got engaged. You can also add their names, the date illustrated and a short description, like "The night they said 'yes' to forever."
26. Cute Neon Sign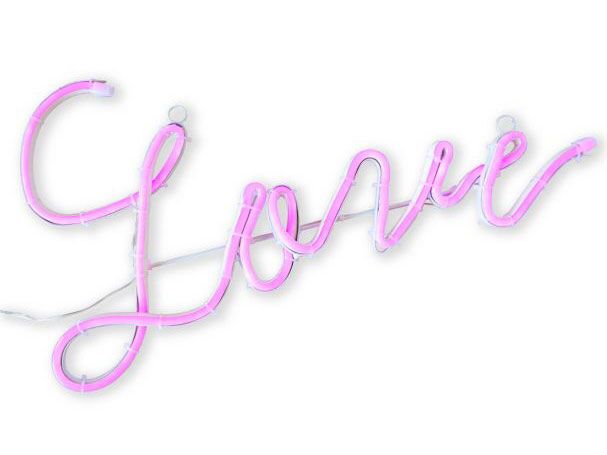 When it comes to good engagement gifts for friends, think of something they'll need (or want) before they ever register for wedding gifts. For instance, they'll love hanging up this trendy pink neon sign for a photo backdrop at their couple's shower, rehearsal dinner or even their engagement party if you have enough advanced notice.
27. Custom Letter Embosser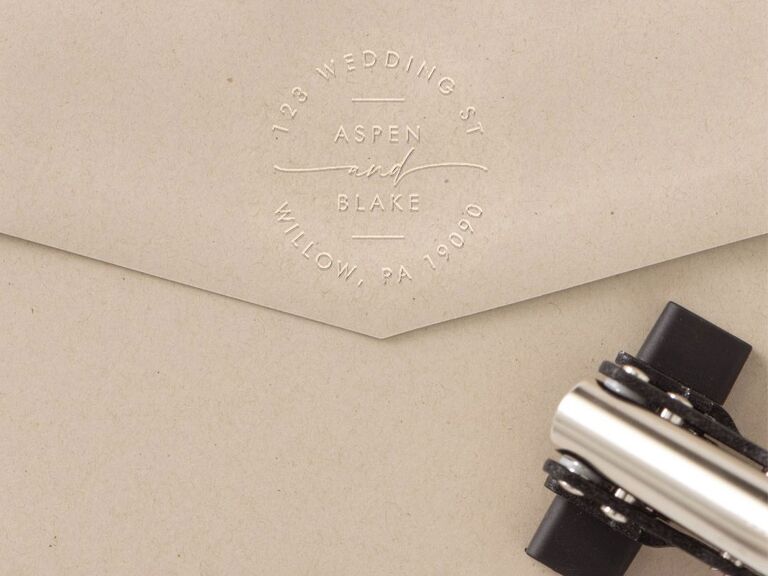 Another practical gift idea that'll come in handy throughout your friend's engagement: a return address stamp. Save your bestie and their fiancé hours of handwriting envelopes with a custom embosser that'll give their many coming thank-you notes a super-luxe touch. Zazzle has hundreds of designs to choose from—just make sure you get the name spelling and home address correct!
28. First Holiday Engaged Ornament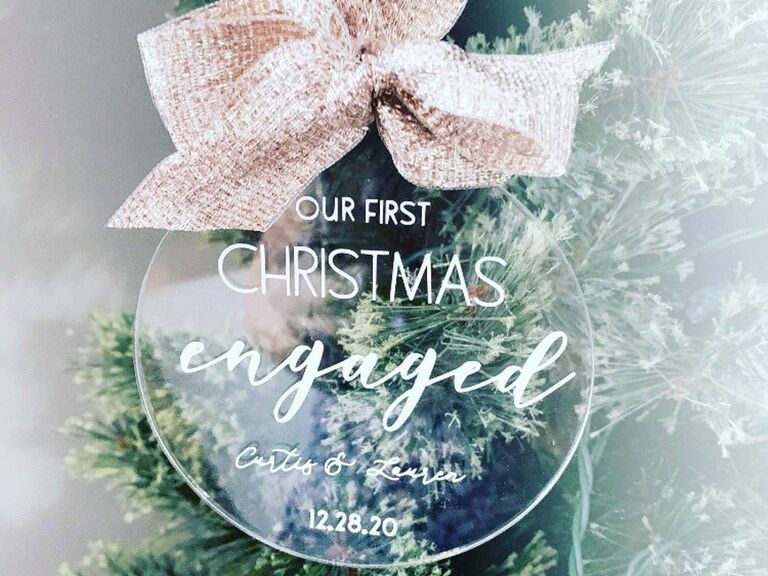 Ensure this holiday season is one they never forget with a charming Christmas gift specific for newly engaged couples, like this ornament. The acrylic face—which comes personalized with the couple's names and proposal date—says, "our first christmas engaged." Bonus points if you pick out a ribbon that matches their planned wedding colors.
29. Map of Their Love Story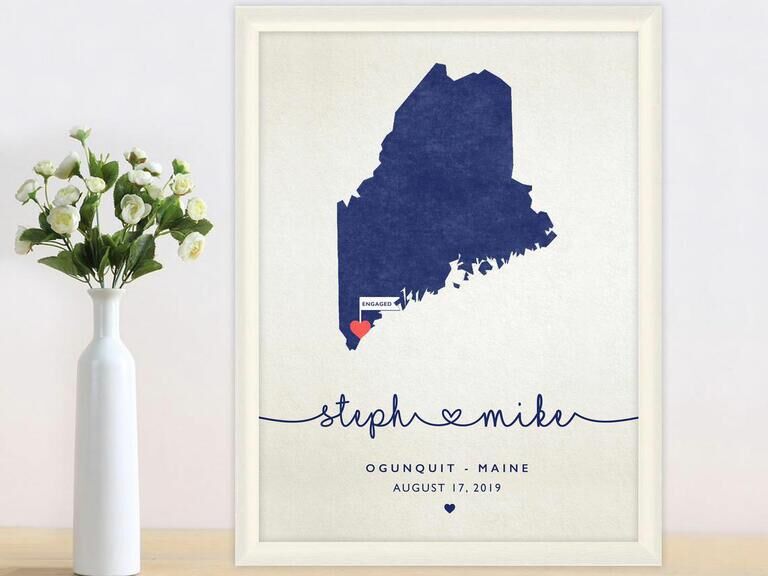 If they proposed (or said "yes!") on a romantic trip away, then this custom map art is a perfect gift for your engaged friend. The spot where the question was popped will be marked with a colorful heart and their names are added in cursive above the location and date of their engagement. You can pick the color of the print and choose to have it unframed or framed.
30. Elegant Picture Frame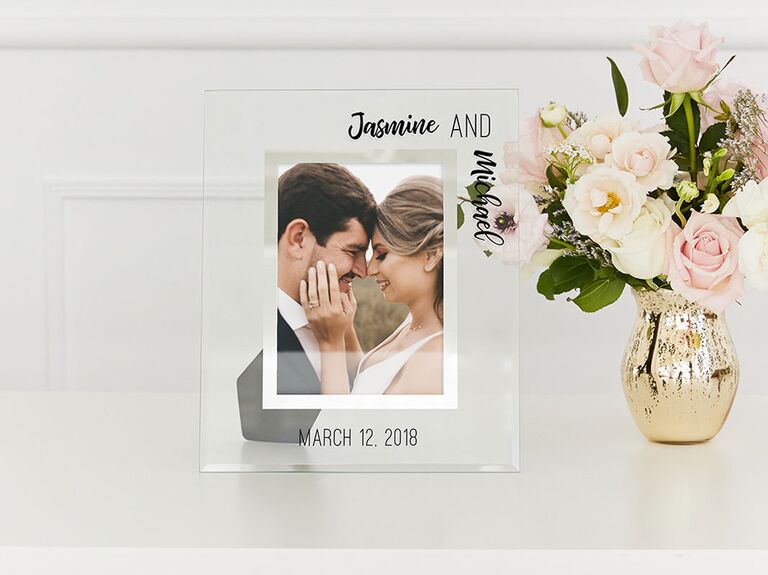 If you're still feeling stumped on what to get, a picture frame will always be one of the best engagement gifts for friends. This sleek glass frame is personalized with their names in one corner and a special date, like when they got engaged, at the bottom. They can fill it with a photo they have on hand or wait to get prints back from their engagement shoot. It'll instantly dress up a desk, nightstand or end table.
31. Bride-to-Be Subscription Box
If you want to go all out on a gift for your newly engaged friend, why not sign the bride-to-be up for a wedding subscription service? Maeven's monthly deliveries include fun and practical items such as bridal robes, nail polish, planners and more. If you'd rather make it a one-time thing, the site also offers a no-strings-attached engagement gift box that your best friend will love. Select whether you're shopping for a "Mr. and Mrs." or "Mrs. and Mrs." before you add it to your cart.
32. Marital Bliss Game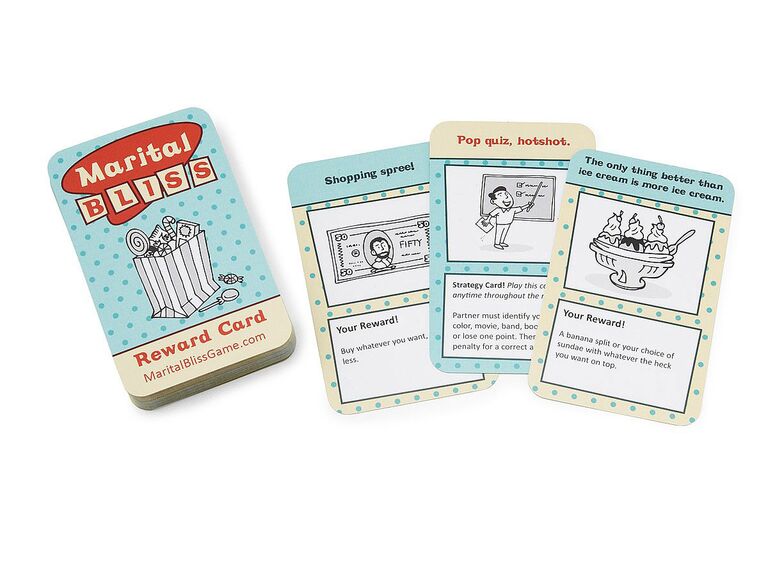 Does the dynamic duo enjoy a little friendly competition? This fun-loving card game for couples lasts a whole week and tasks the pair to complete secret missions (like carrying in the groceries without being asked and cooking dinner). Each challenge they complete earns them more points. The partner with the most points wins pampering prizes like breakfast in bed (nice!). It'll make them extra aware of the little things they can do to ensure a happy marriage.
33. Blue Agate Coasters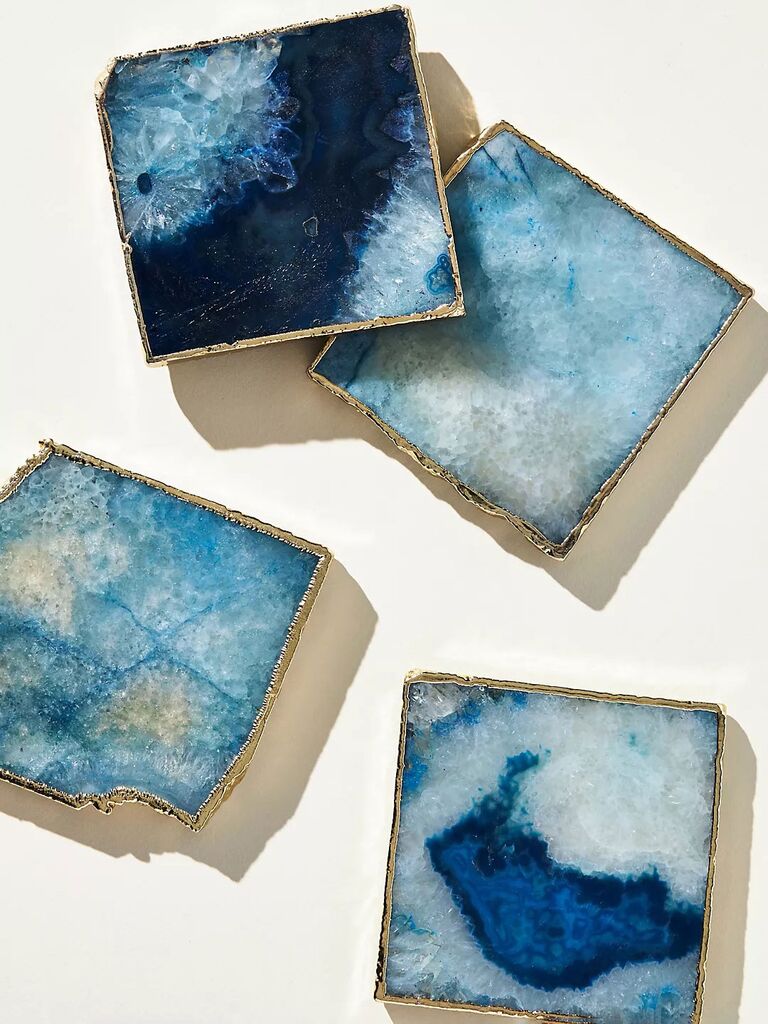 Wish your friend luck from the start of their wedding journey with something blue. These unique coasters are symbolic and practical. They're made from blue agate stone with brass-plated edges to add a pop of color to any table. They can rest their coffee or wine on them while wedding planning so they have your support even when you're not sitting next to them.
34. Sweet Throw Blanket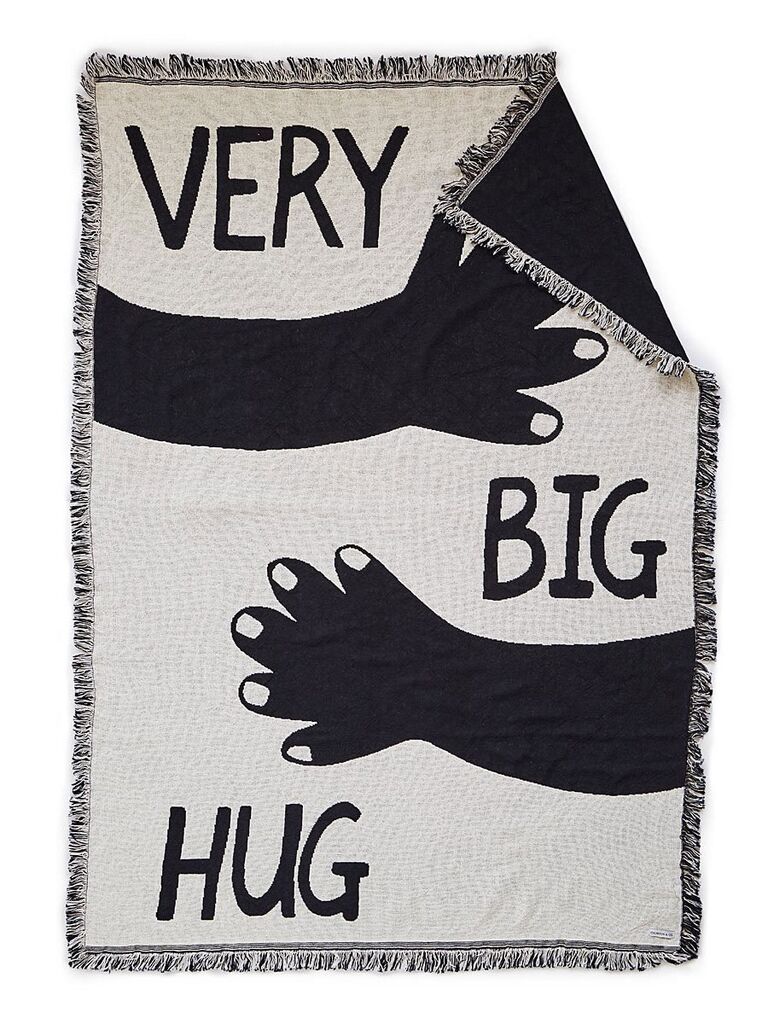 If you can't be with your friend in person to give them a big congratulatory squeeze, send them this soft cotton throw as an engagement present instead. The black and white weave depicts two hugging hands and reads, "very big hug." It'll keep your bestie wrapped up with love even when you (or their fiancé) are away.