The 33 Best Gifts to Give Your Newly Engaged Best Friend
These presents are the perfect way to say congrats.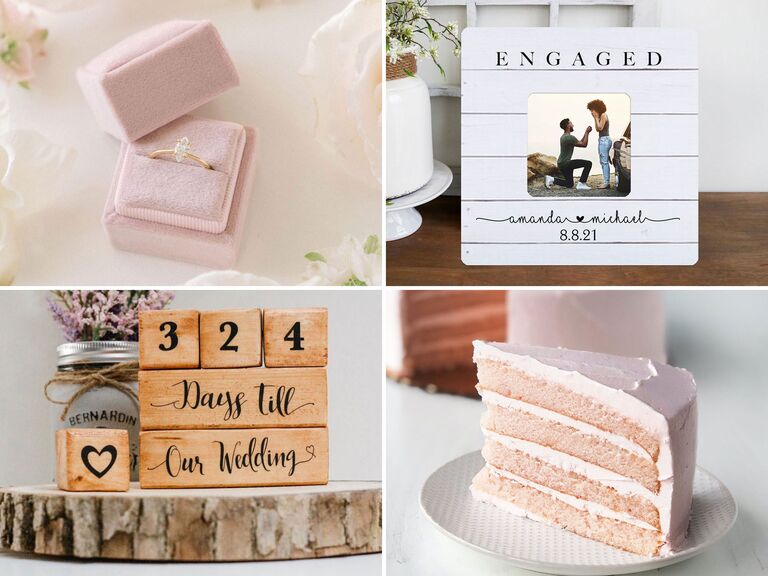 We have included third party products to help you navigate and enjoy life's biggest moments. Purchases made through links on this page may earn us a commission.
If you're trying to think of the perfect gift for your newly engaged friend, you might be in a rut—and we can guess why. You aren't ready to splurge on something extravagant (after all, you have to buy a wedding gift too), and you don't want to give anything that's too similar to a registry gift.
With all that in mind, we made the ultimate list of engagement gift ideas that your BFF will love, from tongue-in-cheek presents to sentimental and sweet ones. These picks work for a bunch of special occasions too, whether you're shopping for the holidays, their birthday or even the engagement party.
(On the flip side, if you're newly engaged and people keep asking you what you want for the holidays, just direct them here.)
1. Sentimental Wall Art
This engagement gift for your friend will be cherished by their spouse-to-be too. It's a meaningful piece of artwork personalized with their last names and two important years from their relationship (think: the year they started dating and the year they got engaged). The intersecting street signs are a sweet representation of when their paths first crossed.
2. Playful Coffee Mug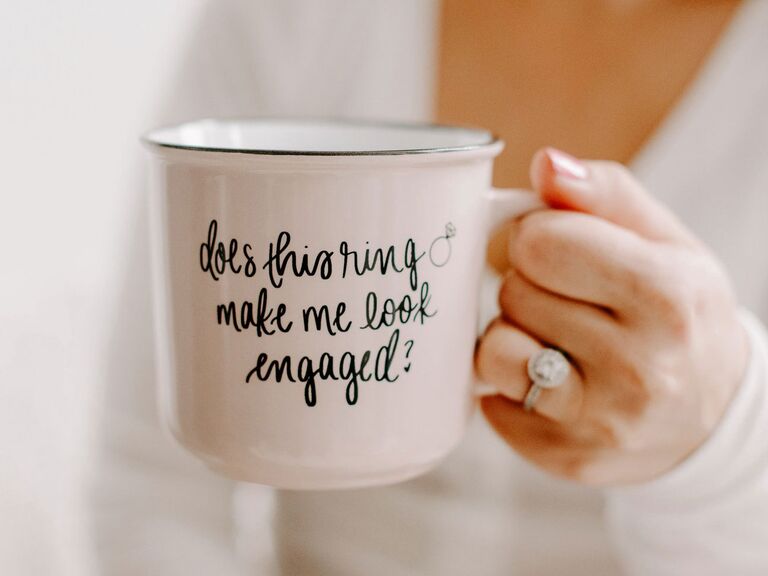 Check out this cute coffee mug printed with the playful question: "Does this ring make me look engaged?" It's a funny (and useful) engagement gift for a best friend that'll make them smile every time they see it. Your BFF can even use it to announce their engagement on the 'gram, if that's something they have yet to do.
3. Priceless Wedding Planner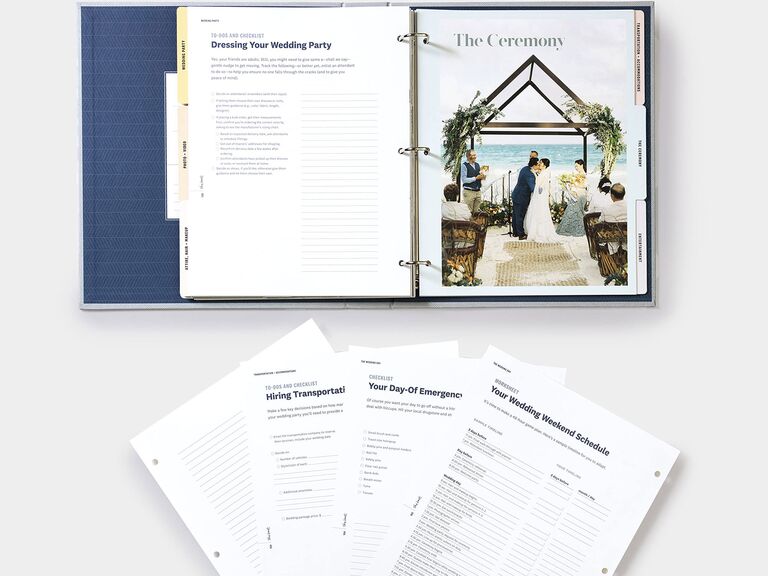 It's never too early to start wedding planning, and our new-and-improved guide is chock-full of advice, inspiration, checklists and more to help the just-engaged couple throughout the process. Wedding planning gifts shouldn't be underestimated, especially if your friends are confused about where to start.
4. Personalized Bottle of Wine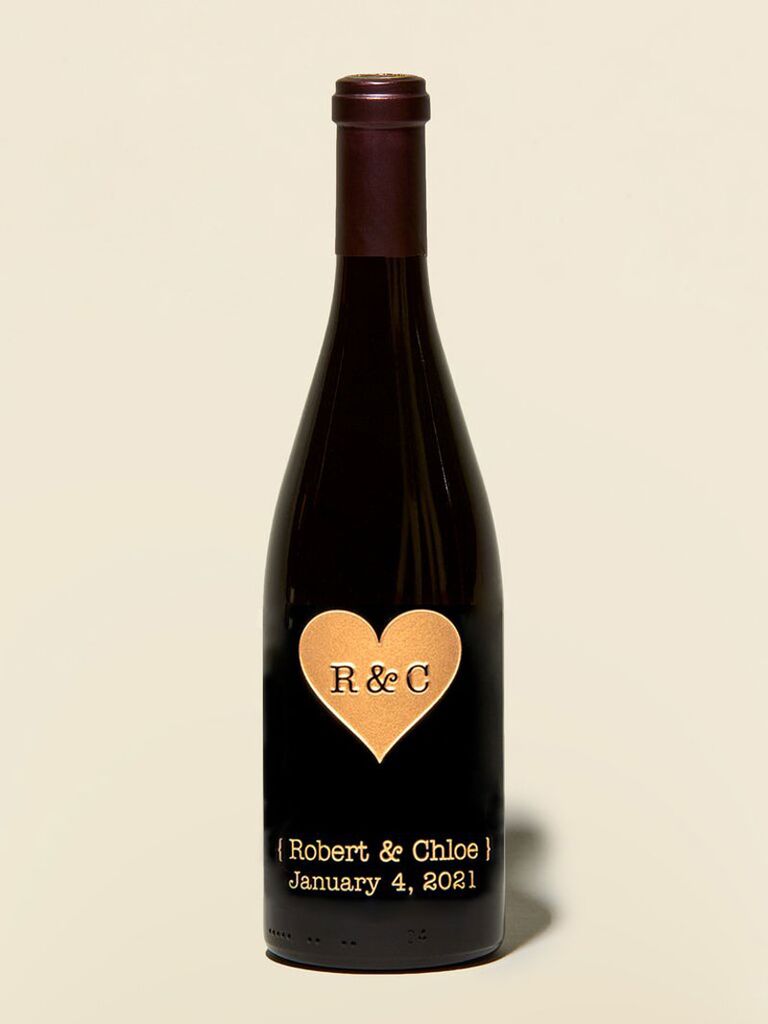 Do they love kicking back with a bottle of wine? Make your friend and their fiancé feel extra special with a bottle that's engraved with their names and the date they said yes to forever. Choose from champagne or cabernet sauvignon depending on their tastes, then tuck your gift into a cute wine tote for a little something extra.
5. Handy Jewelry Cleaner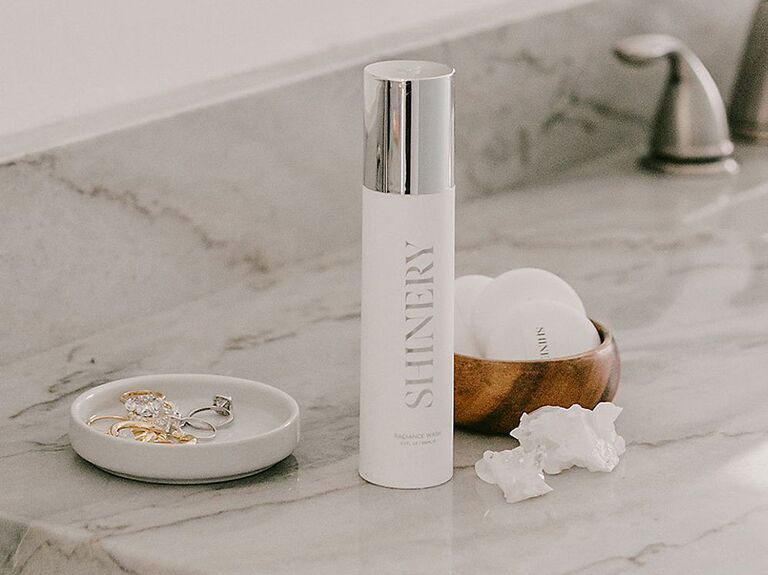 When deciding what to gift your best friend on their engagement, don't be afraid to think practical. This extra-useful ring cleaner also works on hands, meaning they can keep their digits as squeaky clean as their favorite jewels.

6. Engagement Photo Frame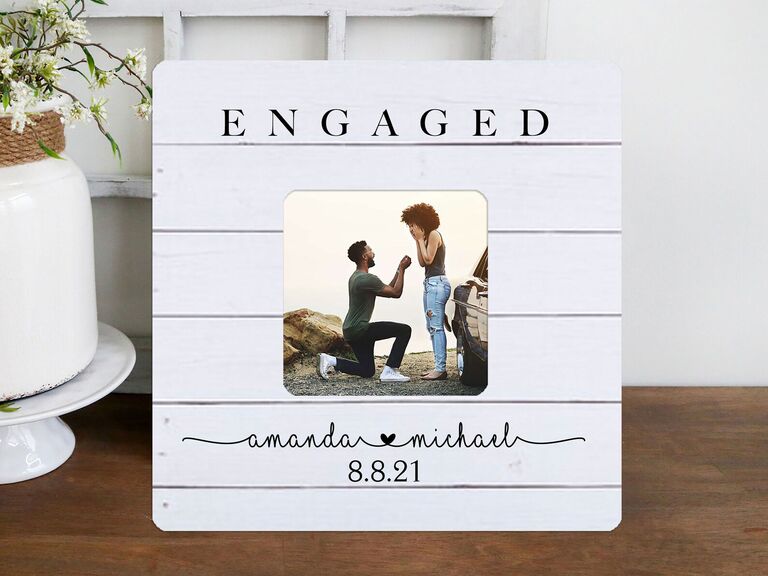 This present is perfect for the BFF who appreciates a little sentimentality. Choose a sweet photo of the couple, pop it in this customized frame and voilà, you've got a cute gift for your newly engaged friend. It'll instantly dress up a desk, nightstand or end table.
7. Something Blue Sweatshirt
How's this for a cute engagement gift to give your friend? This cozy Something Blue sweatshirt will be their new favorite loungewear for running wedding-related errands, lazy Sundays and post-bach-party hangovers.

8. Monogrammed Golf Balls
Looking for a gift to give a newly engaged golfer? Surprise your soonlywed friend with a dozen high-quality golf balls printed with their name. Bonus points if you organize a small toast to their new relationship status after your next day out on the fairways.

9. Wedding Planning Survival Kit
Sure, this kit is going to put a smile on your BFF's face, but it's also a super-useful wedding planning gift. Inside, they'll find diamond-shaped paper clips, an eye mask and other goodies to make wedding planning less stressful. It's an excellent gift for any just-engaged loved one in your life, siblings and friends included.

10. Wedding Countdown Blocks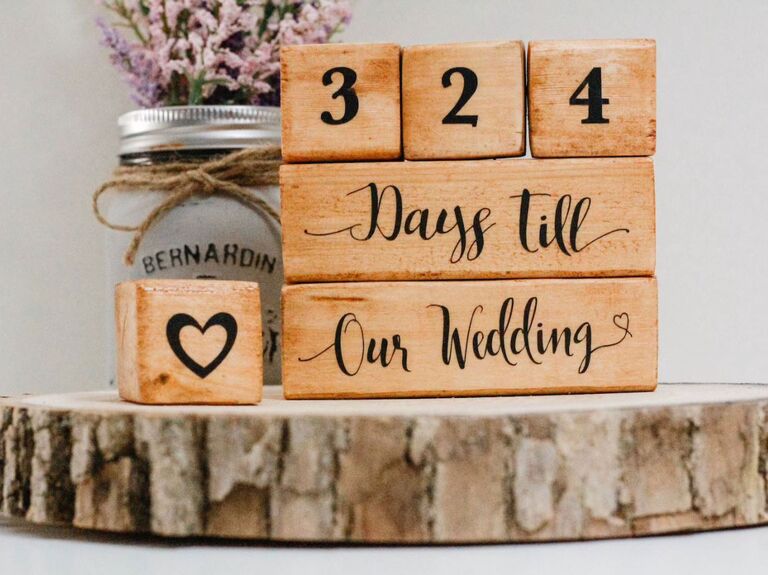 Perfect as a prop for engagement photos as well as home decor, these rustic wooden countdown blocks will be a cute reminder of the big day. It's a fun keepsake of this exciting time in their relationship too. Bonus: You can add text to all four sides of the base block, meaning they can reuse the countdown for anniversaries, their honeymoon, the holidays or other special events after the wedding.

11. Jewelry Cleaning Device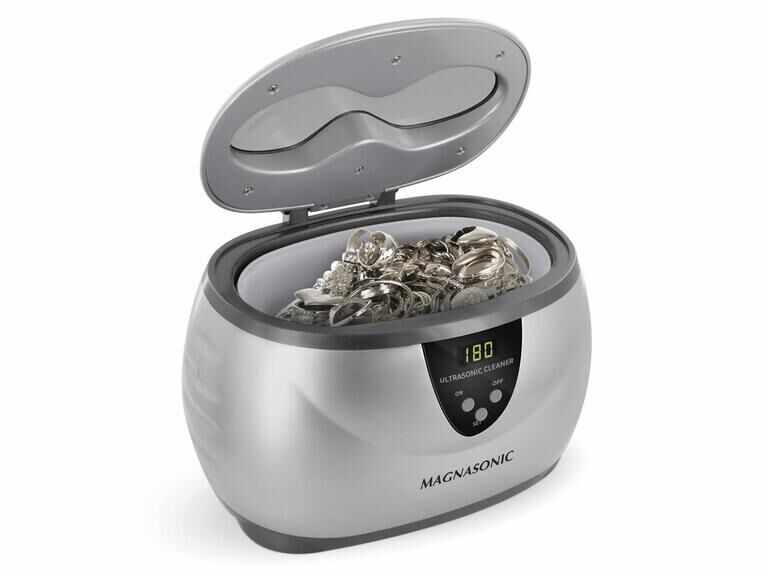 There's no doubt they're going to want to keep their new bling sparkling clean. This nifty jewelry cleaner is easy to use and can also polish up their other favorite pieces. What's not to love? It's hands down one of the best engagement gifts for any groom- or bride-to-be with a shiny new ring.

12. Bridal Pajamas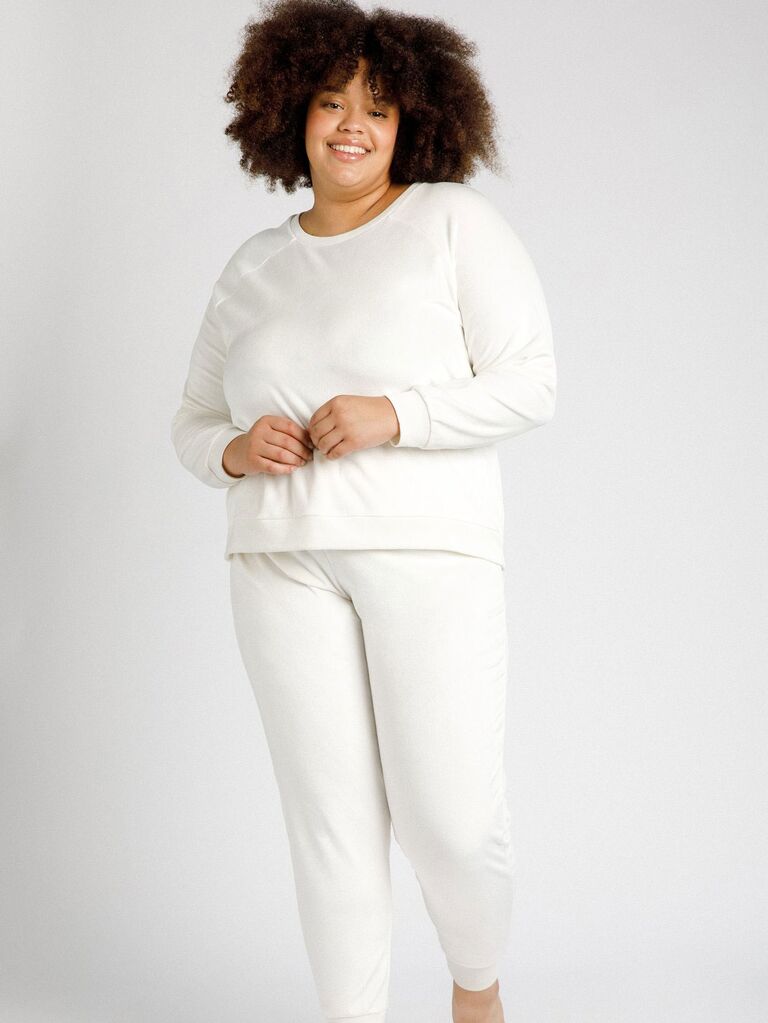 Give them the beauty rest they deserve with cozy pajamas in a wedding-worthy shade of white. These stylish PJs feature a relaxed fit for optimum comfort, while cuffed sleeves and bottoms help to keep them in place. This snug set is available in plus, standard and maternity sizes. Bonus: Chelsea Peers NYC is dedicated to planting one tree for every order placed.

13. Ready-to-Ship Gift Box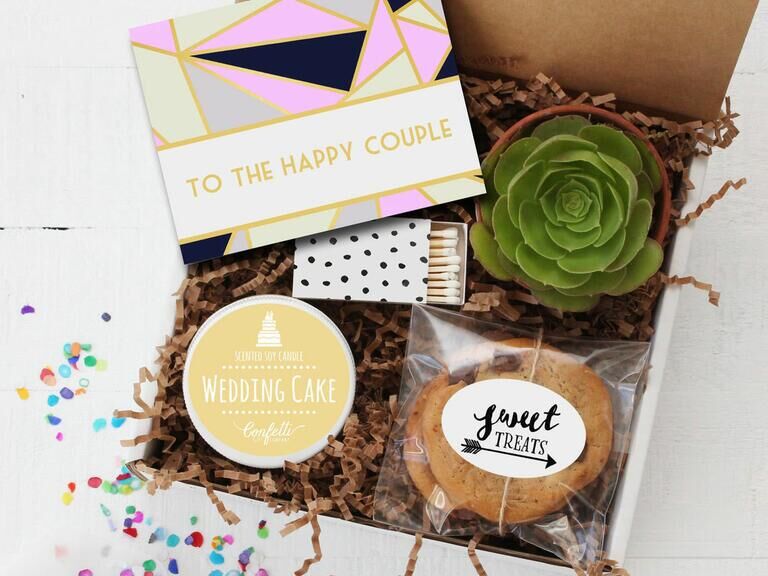 An already-prepared gift box makes things easier for you and equally wonderful for them. This one comes with a wedding cake-scented candle, a fresh succulent, two chocolate chip cookies and some colorful confetti. Add a personalized message to your BFF and have it shipped right to them!

14. Velvet Ring Box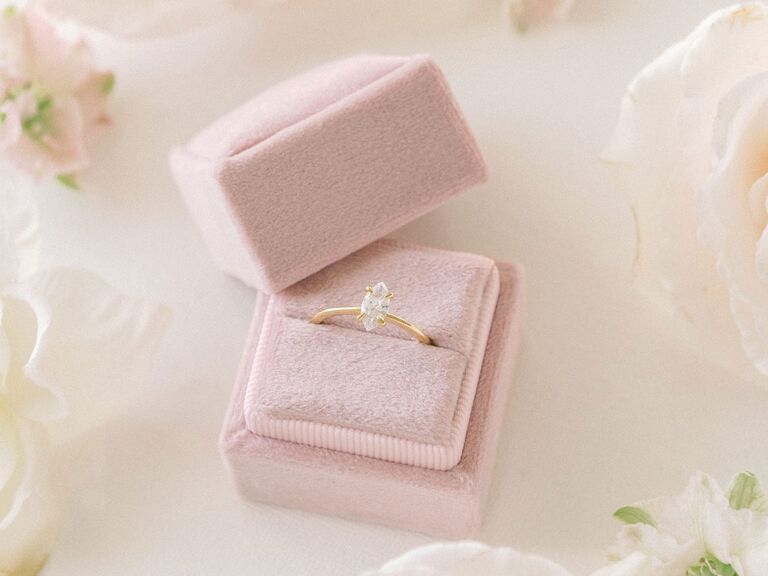 A pretty velvet ring box is a great gift for a friend who just got engaged. While they might be tempted to keep their new sparkler on their finger at all times, there will be instances where taking off their engagement ring is necessary. And in those moments, what better place to keep their precious jewelry safe than this gorgeous pink box? (Psst, it's also a beautiful way to showcase the ring in their engagement and wedding photos.)

15. Delicious Snack Selection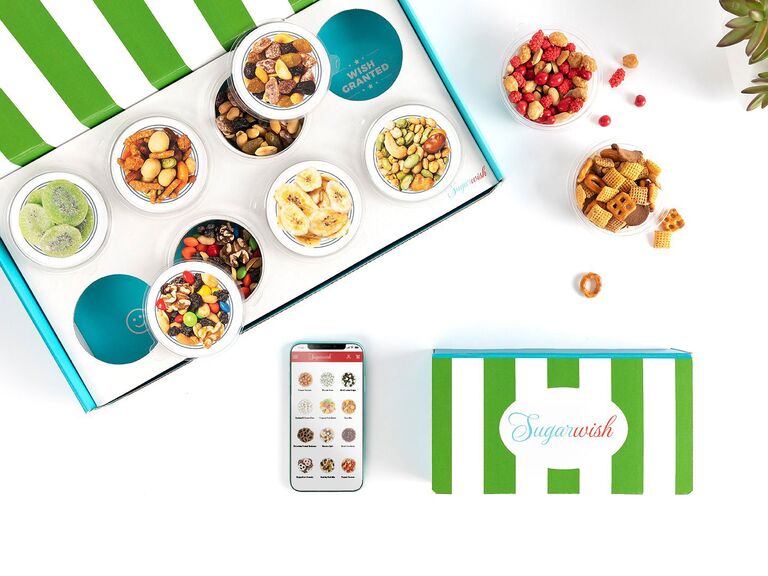 Send your recently engaged friend a Sugarwish as a small, congratulatory token. You decide on the size of the box, ecard design and how you'd like it to be delivered. (Spoiler: You can send it virtually or print it out at home). Once they've received their Sugarwish, they'll be able to choose which tasty treats they'd like to try. From nostalgic candies to gourmet cookies, there's something for everyone.

16. Meaningful Beaded Bracelet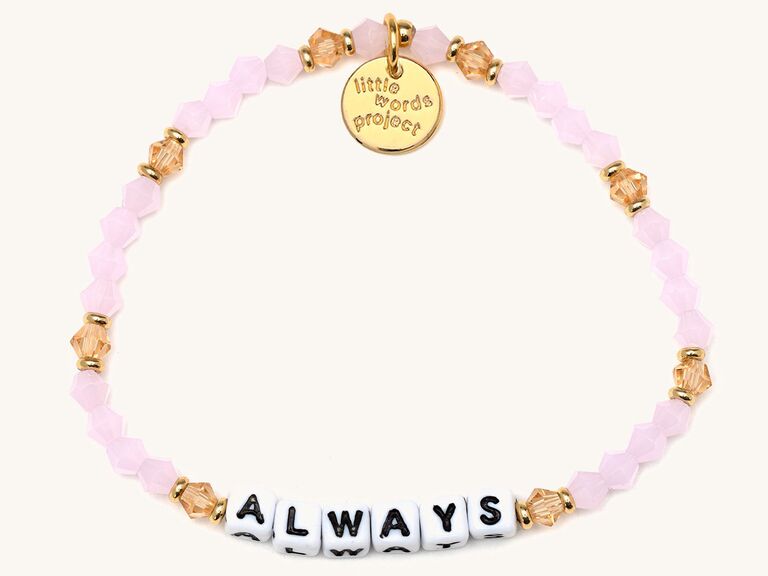 Little Words Project has lots of cute and affordable bracelets perfect for anyone tying the knot. The site's wedding collection features jewelry with on-theme phrases like "I do," "bride" and "forever." We especially love the thought of giving this "always" bracelet to a friend because it doesn't just symbolize their new commitment to their partner, it also represents your bond as BFFs.

17. Essential Wine Tumbler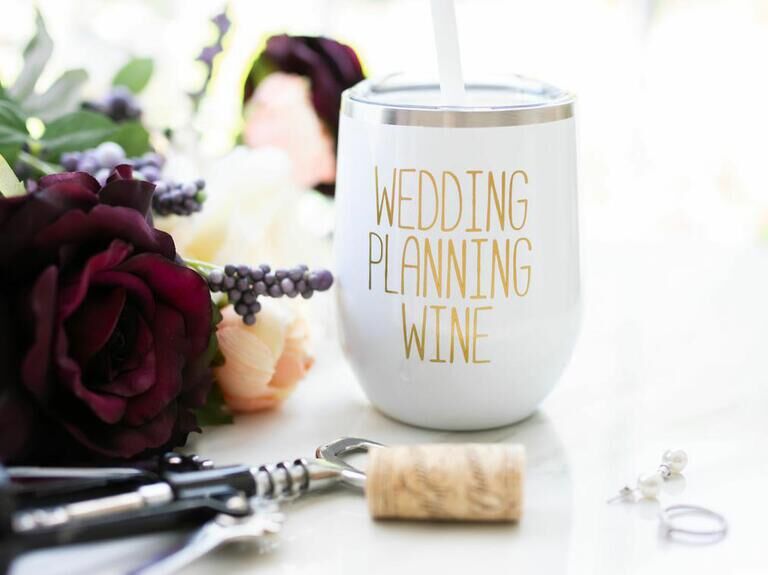 With so much on their plate, it's really important that your friend still takes time to relax. Luckily, that'll be easy thanks to this funny, wedding planning-inspired wine tumbler. It'll help your BFF get through everything from color swatches to seating charts—though your invaluable opinion may still be required from time to time.

18. New Nail Polish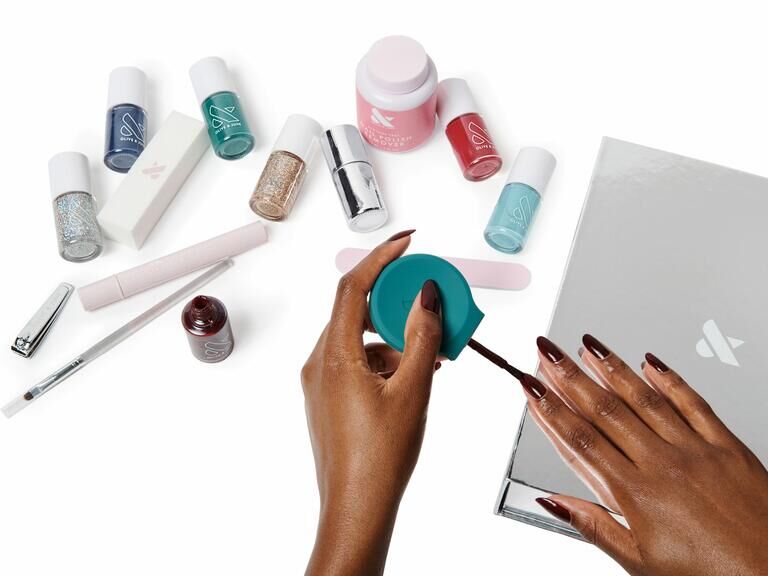 If your bestie just scored some shiny new bling, chances are their hands have never seen so much attention. This manicure system will help them keep their nails photo-ready in between salon visits. There are so many polish colors to choose from, but a classic nude is always a good move. It's a clever engagement gift idea for your friend that they'll use all the time.

19. Self-Care Journal

Let your bestie know that their well-being is top priority (yes, even if finalizing the guest list feels like the most important thing in the world right now.) A wellness journal like this one will encourage your friend to take time for themself, connect with their feelings and set the right priorities. As far as cute engagement gift ideas for your best friend go, this one takes the cake.

20. Champagne-Inspired Cake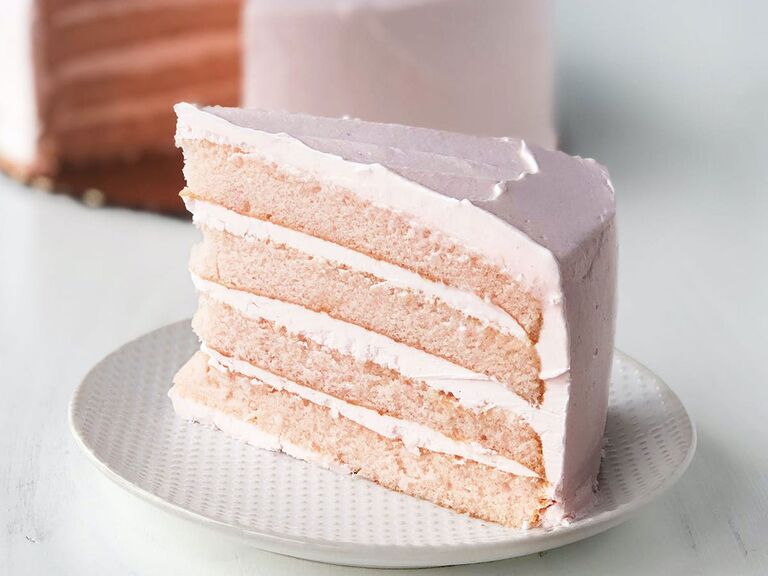 Speaking of cake, there's no sweeter way to celebrate a friend's new engaged status than with a slice of this famous dessert. Caroline's Cakes' pink champagne cake is light and airy—just like a bottle of bubbly. Delicious rosé-colored buttercream adds an aesthetic finishing touch. It's a gift any recently engaged couple would be happy to dig into.

21. Custom Photo Book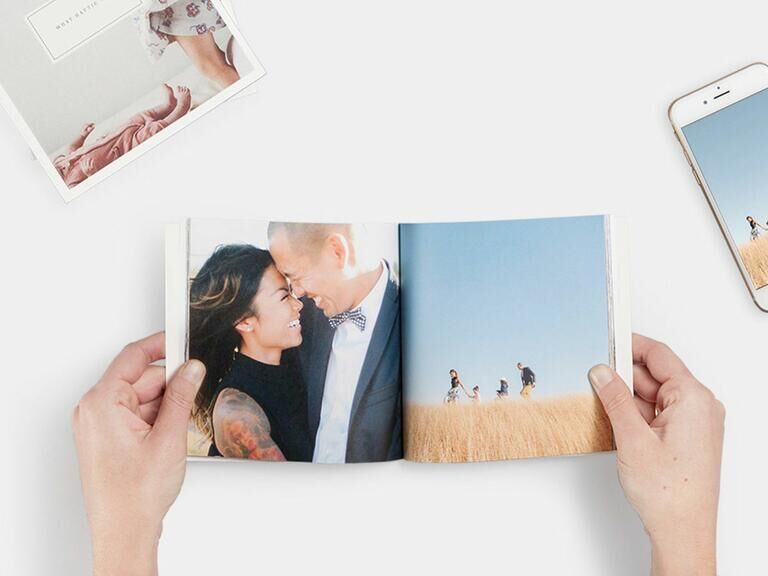 You can't go wrong with a custom photo book—it's sentimental and coffee table-worthy all at once. When it comes to photo presents, there are two different routes you can go down. Choose a cover they'll love and fill it with Instagram snapshots that celebrate your best friend's relationship. Or, go with photos of you and your best friend from over the years for a keepsake that celebrates your own relationship.

22. Romantic Rose Delivery
Flowers are a lovely gift to congratulate a friend on their engagement. Want to take it one step further than a typical bouquet delivery? Send them a pretty preserved rose in one of Rosepops' chic display boxes. The clever design allows the rose to pop up once opened (and stay in mint condition during transit). Choose a white box or a white rose as a nod to their upcoming nuptials.

23. Comfy Waffle Robe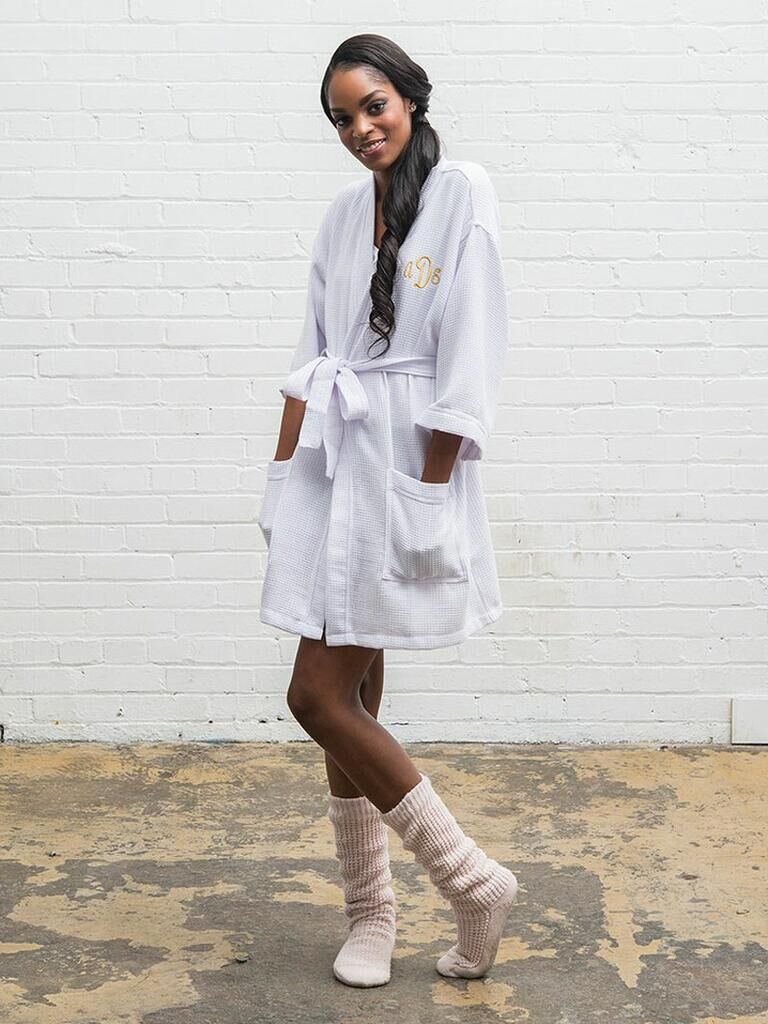 Still wondering what to get your newly engaged friend? The bride-to-be will appreciate this gift all the way up to the wedding day, when they can wear it while getting ready. Have it embroidered with their monogram for a chic finishing touch. (And if you're shopping for a groom-to-be, check out even more robes here.)

24. Unique Photo Display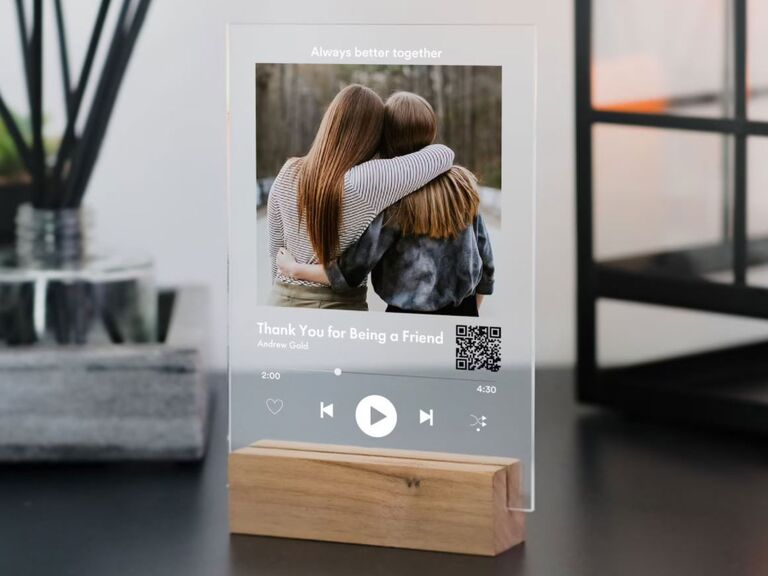 On the hunt for a thoughtful engagement gift for your sister, brother or best friend? Take your favorite childhood photo together and have it recreated on a custom plaque in the style of an album cover. The finishing touch is the title to a song that means something to you both and the name of the artist. You can even provide a link so the Etsy seller can add a QR code that'll take them right to that special track.

25. Fancy Toiletry Bag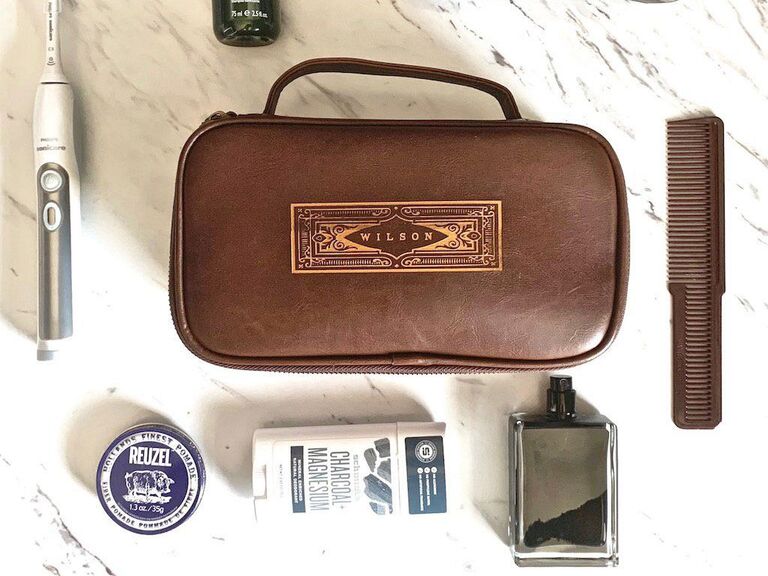 With all of those prewedding events on the horizon, your soonlywed friend will need somewhere special to store their grooming and beauty essentials. Enter: this vintage-style leather dopp kit personalized with their first or last name in metallic lettering.

26. A Message in a Box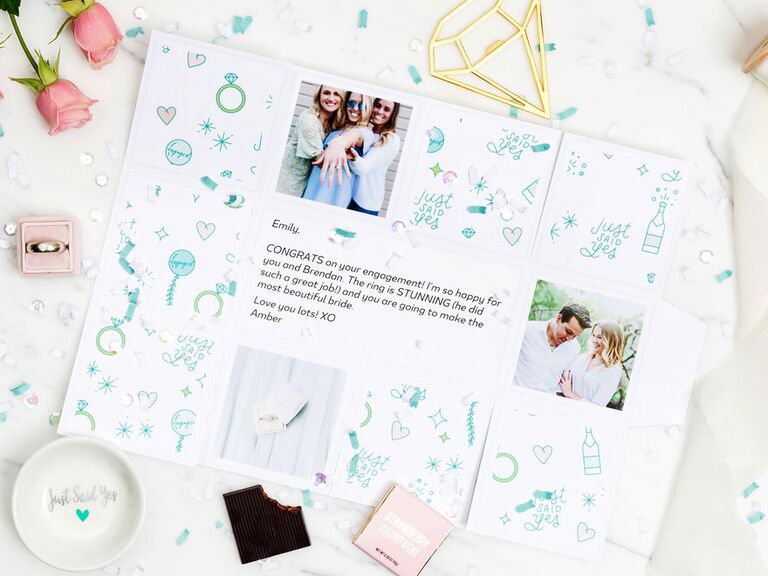 Greetabl has lots of pretty and on-theme gift box designs to choose from that'll instantly put a smile on your friend's face. Add photos and your very own heartfelt message to the inside of the box to be revealed when the recipient opens it up. You can also stock it with a cute pocket-size present, like rosé-flavored roses, a wedding minimergency kit or a handy pocket journal. It's one of our favorite engagement gifts to send in the mail if you can't celebrate with your BFF in person.

27. Custom Holiday Ornament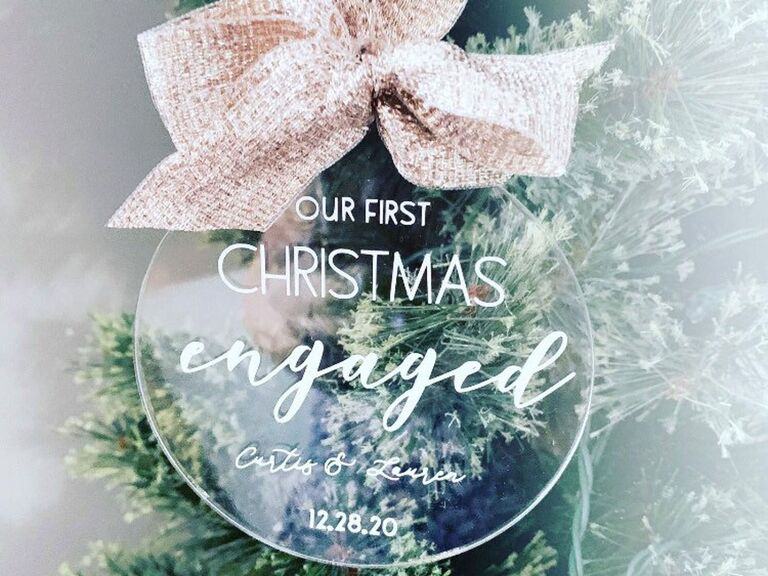 Ensure this holiday season is one they never forget by gifting an ornament that nods to the big milestone, like this option that's customized with the couple's names and the date. Trust us, your wedding planning friends will treasure this Christmas/engagement gift for years to come.

28. Wedding Fund Money Box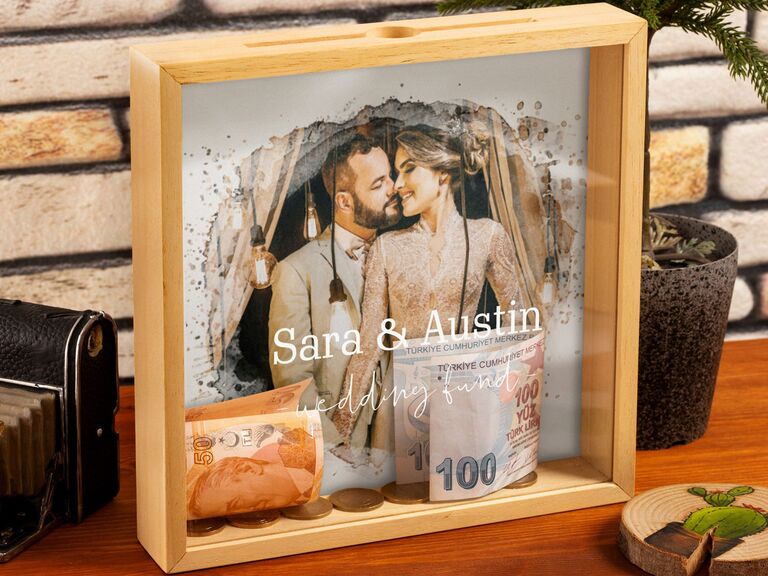 A cute money box will make saving for the big day way more fun, and personalizing it with a picture of your friend and their soon-to-be spouse makes it all the more special. You can also add their names above the words "wedding fund," which is printed in pretty calligraphy style. This elevated money box is a fun yet practical gift for anyone planning a wedding.

29. Bride-to-Be Subscription Box
If you want to go all out, why not sign the bride-to-be up for a wedding subscription service? Maeven's monthly deliveries include fun and practical items such as bridal robes, nail polish, planners and more. If you'd rather make it a one-time thing, the site also offers a no-strings-attached engagement gift box that your best friend will love. Select whether you're shopping for a "Mr. and Mrs." or "Mrs. and Mrs." before you add it to your cart.

30. On-Theme Candle
Whether they're huge Beyoncé fans or not, they're sure to understand the reference on this funny gift idea for just-engaged couples. Pick your favorite scent from a selection of nine, choose the correct phrasing (he, she or they) and you're ready to go.

31. Chic Trinket Dish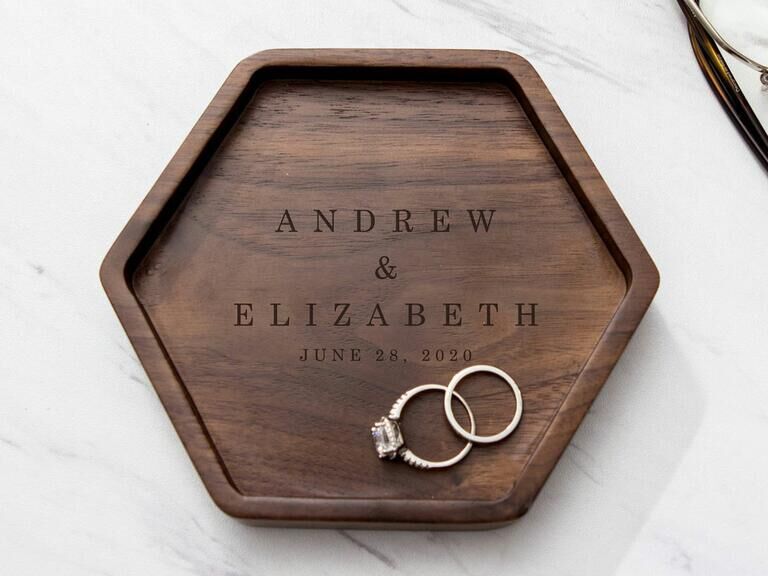 They have some new, very important jewelry to take care of now, so give your BFF a chic way to keep it safe. Add the couple's names and the date of their engagement for an extra sentimental touch.

32. Map of Their Love Story
If they got engaged on a romantic trip away, then this gift for newly engaged couples is the perfect idea. The spot where they popped the question (or said yes) will be marked with a colorful heart. Their names are added in cursive above the location and date of their engagement. It doesn't get much more personalized than that!

33. Unique Barware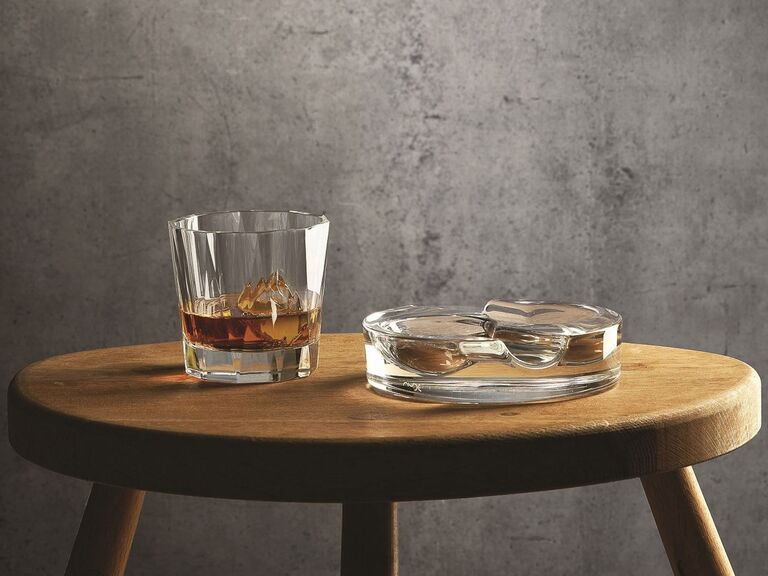 Last but not least, check out this cool engagement gift to give a friend after their proposal. This splurge-worthy barware set includes two sleek whiskey glasses and a handmade cigar ashtray—the perfect accompaniments to a lowkey celebration of the good news.