Postwedding Bach Parties Are The Latest Wedding Trend
Rally your crew after you say "I do."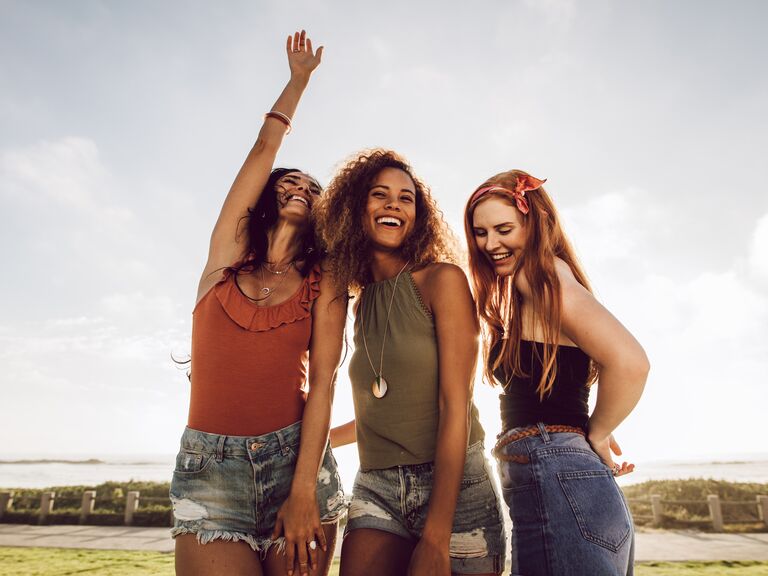 Jacob Lund/Shutterstock.com
We have included third party products to help you navigate and enjoy life's biggest moments. Purchases made through links on this page may earn us a commission.
The bach party is one of the most popular pre-wedding events, with 78% of couples currently enjoying the tradition. But in light of social distancing orders, many couples are eloping or planning minimonies and celebrating their bachelorette or bachelor party after the wedding. Life happens, which is why we're here to help. If you're wondering how a postwedding bach party works (or if it's OK to even have one), we have answers. With everything from planning advice to decoration suggestions and gift ideas, we're here to help you plan the perfect postwedding event. Read on to see everything you need to know about bachelorette or bachelor party after the wedding. 
Can You Have a Bachelorette or Bachelor Party After Your Wedding?
The short answer is yes, you can have a bachelorette or bachelor party after the wedding. While it's traditionally held before the nuptials, there's no concrete rule regarding the timing of this event. There are many reasons why couples would postpone their bach parties including work schedules, finances or weather. 
Another reason to consider this option is if you've had to postpone your wedding due to the coronavirus pandemic. While some to-be-weds are enjoying virtual bachelorette parties and bachelor parties, others are holding off on the gathering until it's safe to travel.
How to Plan a Postwedding Bach Party (Plus, Who Pays)
When it comes to a postwedding bachelorette party or bachelor party, communication is key. Since this setup is different from traditional bach parties, all rules are out the window. Refrain from making assumptions about when it's going to be, who will plan it, who will attend and who will pay. Be proactive with planning and set everyone's expectations accordingly. We suggest a virtual kickoff meeting to lay out all of the details.
Planning a Postwedding Bach Party
The wedding party traditionally plans the bach party, but this scenario is different. You can take control and plan your own event, or you can enlist their help—just be sure to communicate so that everybody is on the same page. If you'd like to handle some parts of the planning (like choosing the location or theme), perhaps your crew can cover other parts (like booking the housing, picking a restaurant or sending out invites).
Since this isn't a "traditional" bach party, you're free to invite whoever you'd like. You can keep it limited to your wedding party, or you can extend the invite to other friends and family members. Because the event is taking place after your wedding, keep in mind that not everyone will be able to attend. Considering the coronavirus pandemic, you'll need to understand that not everyone will feel comfortably flying or traveling either. It's best to send invites later rather than earlier so information around travel restrictions and social distancing are more clear.
Paying for a Postwedding Bach Party
Traditional etiquette suggests the wedding party pays for the bach party as a gift to the to-be-wed. But this situation is different, so adjust your expectations accordingly. Don't expect the wedding party to cover all of the expenses right off the bat. Instead, talk about what everyone feels comfortable with financially. It's best to get an idea of everyone's budget so you can plan accordingly. 
Postwedding Bachelorette Party & Bachelor Party Ideas
There are endless possibilities for your postwedding bach. It's your party, so plan something that makes you happy. There are so many fun cities to explore with your crew—plus we have city guides for all the popular hot spots like Nashville, Miami and Savannah (just ensure you're clear on their reopening plans and social distancing orders). However, having your bachelorette or bachelor party after the wedding opens up some different possibilities. Check out a few of our favorite party ideas below.
Organize a Joint Bach Party
Typically, bach parties are separate to celebrate one last outing before you exchange vows. Since you two are already married, consider celebrating together with a joint bach party. Rally your entire wedding party (both sides) and plan a fun night out or weekend-long poolside bash! It's a special way to commemorate your wedding and get extra bonding time with all of your close friends and family.
Plan a Full Trip
Now that the wedding (and all that wedding planning) is over with, you may have time for an actual getaway. Plan for somewhere far off, either a dreamy, domestic destination or international location, and invite your friends along for the journey. It's important to be extra-sensitive about people's finances and availability, so go into your kickoff meeting with an open mind.
Host a Simple Night In
Still feeling the effects of wedding planning burnout? Consider keeping this event sweet and simple. Clear out space at your place or rent out a place on Airbnb or Vrbo for a cozy night in. Host an old-school slumber party complete with snacks, movies and fun party games.
Give Back
If you're feeling tired of being in the spotlight, turn the focus to a great cause you care about. Volunteer at a senior living community, an animal rescue shelter or a local soup kitchen. Another idea is to spend the day cleaning up a nearby park or beach. You'll be able to enjoy each other's company and feel good about the work you're doing.