What Honeymoons Will Look Like After COVID-19, According to Hospitality Pros
Travel will commence again.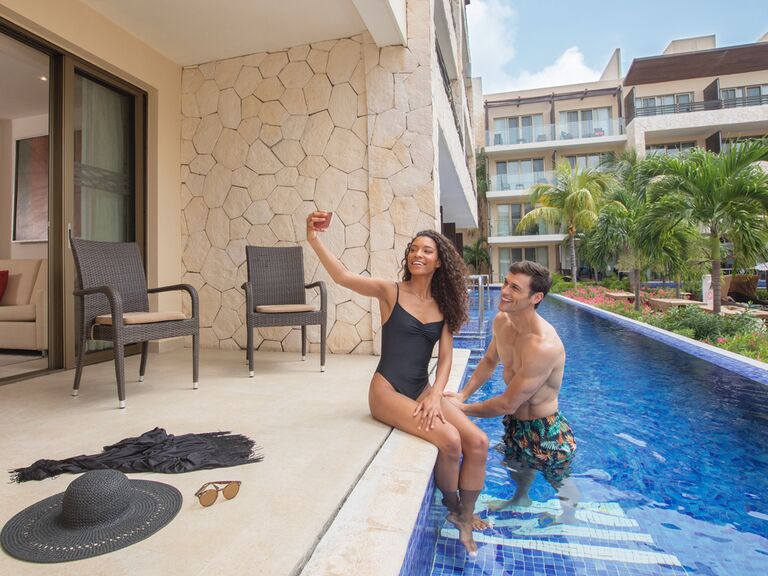 Courtesy of Blue Diamond Resorts
The coronavirus outbreak has impacted weddings around the world—and as couples determine next steps in the face of a pandemic, the future of honeymoons is another area that's widely up in the air. As the United States and international countries reopen at different rates, newlyweds are put in an unprecedented position, as the ability to travel relies on health and safety guidelines set by local government officials, the World Health Organization and the Centers for Disease Control and Prevention, airline companies and personal preference. As locations begin the process of reopening, it's up to couples to research gathering and travel rules for their potential destination, as well as risk factors associated with visiting certain areas.
Despite this, honeymoons will eventually happen again, and properties are focused on delivering getaways unlike those prior to the pandemic. Faced with new cleaning and sanitation requirements, as well as the need for distanced activities, resorts are creating inventive experiences that put the focus on guest safety, as well as personalized activities.
Just like weddings, honeymoons will change after coronavirus—but hospitality pros are working to make them as special as they were pre-COVID-19 while meeting (and exceeding) guidelines set in place by health organizations. Keep in mind, though, that the state of travel will continue to change by region. For couples looking to make honeymoon plans, consult the CDC and WHO for the latest COVID-19 updates, as well as local government guidelines for potential destinations, before solidifying a trip. But, if you're curious to know what honeymoons will look like once it's widely safe to travel again, you've come to the right place. Here, we've outlined what the future of honeymoons will look like after coronavirus. We tapped hospitality and airline pros to share how companies are adapting due to current health and safety requirements so you can best prepare for your honeymoon after COVID-19.
In this article:
What to Expect with Airline Travel
Airline companies have faced significant change since the COVID-19 outbreak. Here, we share how companies are altering their plans to ensure safe travel, as well as new procedures on and off the plane that prioritize the health safety of travelers and employees. Keep in mind that specific procedures will vary companies as the pandemic changes. Before traveling, it's best to research the policies for your airline and airport to ensure you are in compliance with all rules before boarding.
New Policies Prioritize Sanitation Onboard
While specific sanitation policies differ among airports, most airline companies are strictly enforcing cleaning procedures and safety precautions throughout the duration of flights. Southwest Airlines is making sanitizing wipes available on board, and flight attendants are utilizing an electrostatic disinfectant and anti-microbial spray to clean high-touch surfaces. Similarly, Delta will also use electrostatic disinfectant after each flight to clean the plane, while United Airlines is requiring passengers to complete a self-health assessment during the check-in process.
Those who are experiencing COVID-19 symptoms or may have come into contact with the virus within 14 days of their flight will not be allowed to fly. Additionally, nearly all airlines are requiring face masks be worn by passengers and staff members throughout the duration of a flight, unless a passenger is eating or drinking. Companies will provide masks for customers who don't have one.
Social Distancing Encouraged Within Rows
Most airlines continue to fill planes below capacity to ensure passengers can be socially distanced within the confinement of the aircraft. A rep for Delta says the airline will continue to block middle seats and cap passengers through September 30.
Some airlines have also created new boarding plans to allow smaller groups of guests to enter the plane. This will allow passengers to continue to distance from each other and staff as they board the flight.
Specific distancing guidelines will change based on the status of the pandemic. Before traveling, consult your airline to learn about their social distancing guidelines so you know what to expect before boarding.
New Food & Beverage Procedures
To decrease contact between passengers and staff, many airlines have created new food and beverage policies. Southwest has temporarily discontinued snack and beverage service, though passengers are permitted to bring their own on the plane. Delta, which previously paused meal and alcohol service, recently reinstated beverage service with single-serve cans and bottles distributed on trays to minimize touch points.
Airlines Have Flexible Cancellation Policies
Due to the unprecedented nature of the pandemic, many companies have created flexible cancellation or trip change procedures. For example, Delta Airlines eliminated change fees through Sept. 30, 2022 for customers who book flights through Sept. 30, 2020. Since specific details vary among airlines, it's best to check their direct website or contact a spokesperson.
What to Expect with Resort Sanitation
Sanitation is also a top priority for resorts and hotels, both in rooms and throughout properties. Here, hospitality pros explain exactly how they'll be cleaning their locations and implementing new procedures (like digital check-ins and modified room service) to keep guests and employees safe.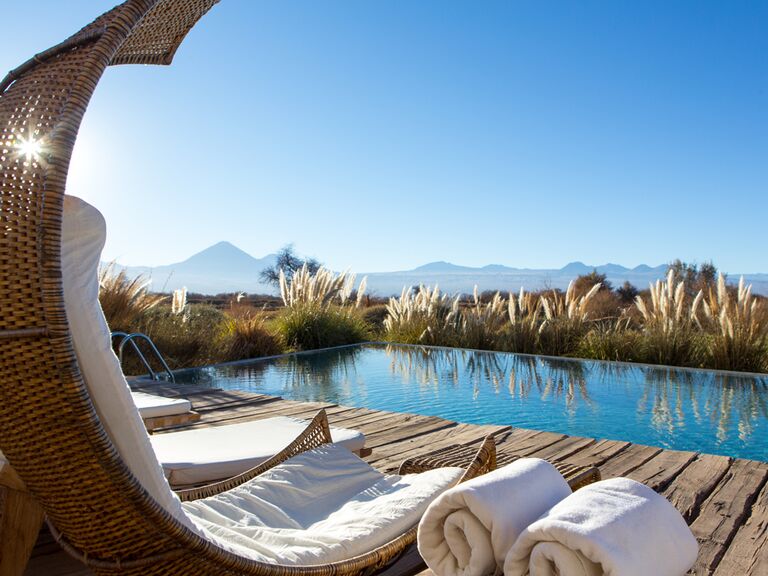 Guest Rooms and Public Spaces Have New Cleaning Procedures
As a result of the pandemic, companies are ramping up cleaning procedures in guest rooms and common areas even more than before. "We're using industry-leading sanitizing procedures throughout the entire property… with particular attention to high-touch items," says Simon Rodrigues, director of sales and marketing for Chatham Bars Inn in Chatham, Massachusetts. "The frequency of cleaning and sanitizing has been increased throughout all public spaces, with a concentration on frequent contact places. We've also increased the frequency with which we're replacing filters throughout our HVAC system."
Some resorts have also implemented strict schedules for cleaning services. "All resort common areas and shared spaces will be cleaned hourly," says Leonardo Cuevas, corporate director for front of house at Blue Diamond Resorts, located in the Caribbean. Resorts will also regularly sanitize high-touch items like luggage trolleys, transportation vehicles, elevators and more.
To allow more time for proper sanitation, some locations like The Resort at Paws Up in Montana are increasing vacancies in between guest stays to allow time for thorough cleaning. Others, like Ocean House in Watch Hill, Rhode Island, have partnered with local health experts to develop sanitation programs to guide cleaning protocols moving forward.
Staff Will Complete New Training Programs
To ensure staff members are properly educated in sanitation procedures and new safety policies, resorts are implementing mandatory COVID-19 training sessions.
"Before any of our team members return to the property, they have to complete a half-day of COVID-19 training," says Rodrigues. "This will be a run-through of everything from touchpoints with guests to what they need to do before getting on property. We have also moved all of our training to be virtual—even new employee orientation."
Properties Will Have Health Monitoring Onsite
In addition to continual cleaning and new training sessions, resorts are implementing procedures to monitor guest and staff health. Some of the most common policies now include temperature checks and mandated use of personal protective equipment (PPE) in high-traffic areas.
"Strict hygiene protocols for resort staff will continue to be enforced, including a thorough cleaning and sanitation process at all staff entrances, the use of PPE, rigorous and frequent hand cleaning with an alcohol-based hand sanitizer," says Cuevas. "Daily health and temperature checks will be administered at the beginning of every shift, and physical distancing rules will be enforced."
Employees may also be required to conduct a wellness check before working. "As an employee comes to check in for their shift, they must check in with their department head one-on-one," says Laura Crugnale, director of group sales at The Resort at Paws Up. "They'll ask a series of five to ten questions to make sure employees are healthy and able to be at work."
To promote guest safety, some locations will provide guests with personal PPE packages. Additionally, amenities in guest bathrooms may include masks and other sanitizing products. "All non-essential amenities will be removed and replaced with new in-room hygiene kits, including personal-size hand sanitizers, masks, gloves and other safety essentials," says Cuevas.
Minimal or Digital-First Staff Interactions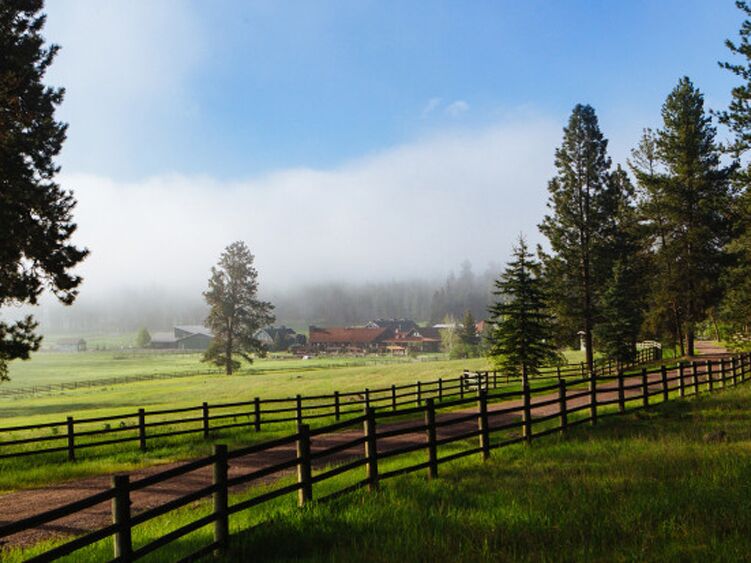 To limit unnecessary guest and staff contact, some will turn digital, like check-ins. "With our new virtual check-in, guests call us upon arrival," explains Rodrigues. "We'll take credit card information on this call, and we'll share your room information so guests can drive there on their own, where our staff will meet them with keys." Guests at Chatham Bars Inn can also use the resort's app to make dining reservations, contact the concierge or housekeeping staff, or even connect with local doctors for a telehealth appointment.
Nontraditional, nature-focused venues such as The Resort at Paws Up and Tierra Hotels in Chile are inherently distant, given the sheer size of the properties. Says Crugnale, "A lot of activities we offer are outdoors… Once guests make a reservation, their concierge contact then plans their entire itinerary [with on-site exploration activities]." This allows for more planning up front and more enjoying once guests have arrived.
Housekeeping will also evolve to be as interactive as guests would like. "We're offering three different levels of housekeeping services," explains Rodrigues. "We have a traditional housekeeping service, which is a daily turn-down service. The second offer is limited service, where our team will only access your room once daily to restock all of your linens and amenities. The third option is the housekeeping drop service outside the room, where we will drop off fresh linens, towels and any other amenities per request." Adds Cuevas: "Room service procedures have been updated to ensure safe and distant delivery, as well as the process to replenish mini-fridges and other guest room items to limit additional entry."
What to Expect with Onsite Experiences
In addition to cleaning measures, locations are also creating new onsite experiences that limit interaction and put the focus on personalized activities. Learn about new dining initiatives, layout plans and alternative amenities here.
Inventive New Dining Experiences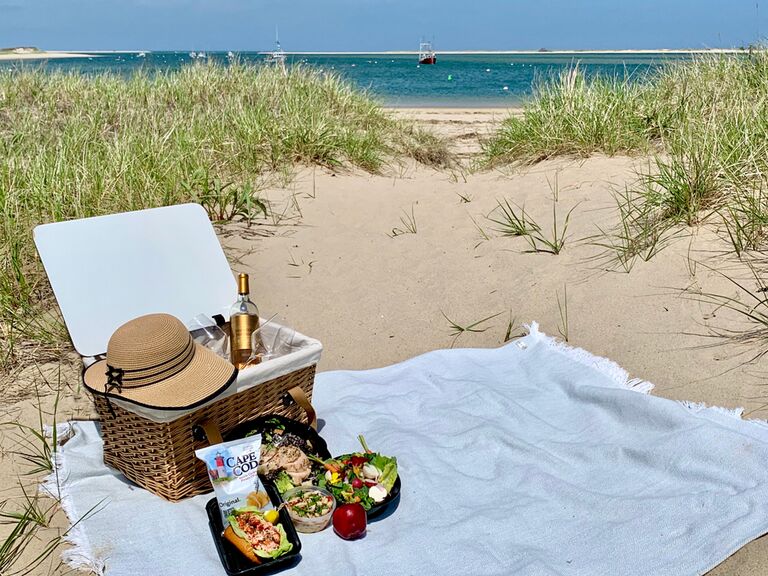 Onsite bars and restaurants are two experiences that are drastically changing due to COVID-19. In order to comply with indoor gathering rules and food preparation safety, many resorts are adapting dining experiences to be individual and personalized. In addition to offering take-out meals, resorts have created new options like pre-packaged picnics and al fresco dining at distanced tables. Ocean House, for example, implemented an indoor bar cart with a personal mixologist to create custom cocktails for guests in the privacy of their rooms.
Locations that offer traditional buffet-style meals have conceptualized new procedures to ensure guest distance and safety. "For guests that want to enjoy our buffet, we are taking measures to ensure their health and safety," says Cuevas. "We are implementing social distancing and capacity reduction in both the food and dining areas, and we're replacing self-serve options with enhanced show cooking and assisted service stations. Individual portions are also being offered and automatic handwashing stations and hand sanitizer dispensers are being set up around the food and dining areas."
Activity Capacity Will Be Smaller
In addition to limiting capacity numbers in restaurants, spas and pools, resorts will limit the amount of guests allowed on off-site excursions. "If we have activities that might take more than five or eight people in a group—which is already rare—then we would scale back," Crugnale explains. "Our plan is to take groups of twos, fours and sixes for activities." Or, for guests who want a private experience, some resorts may arrange private excursions to limit contact with other guests.
And, for activities that require shared equipment, staff will be required to disinfect each piece after use. "We offer non-motorized water sports such as kayaking, paddle boarding and snorkeling for our guests," Cuevas explains. "The equipment used for these activities will be sanitized after each use to protect the next guest who wishes to use the equipment. At this time, all activities that involve body contact, such as sand volleyball and soccer have been suspended and all other activities will require the use of face masks and social distancing measures."
How Honeymoons Will Continue to Evolve
As with weddings, the future of honeymoon travel will continue to change. Each scenario should be evaluated on a case by case basis—as different states and countries continue to weather the effects of COVID-19, the safety of travel will change accordingly. Here, industry pros weigh in on how honeymoons will continue to evolve over time.
Resorts Will Offer Flexible Cancellation Policies
Due to the uncertain nature of the pandemic, resorts are dedicated to offering flexible cancellation policies and trip changes to accommodate guests. Most resorts are providing flexible booking policies as long as reservations are done through its own system. Keep in mind, the research is up to the couple.
It's important to remember that any current policies are subject to change as a result of the pandemic. Couples looking to book a honeymoon are advised to ask about any existing cancellation policies, as well as how the resort can support guests should any factors pose new travel risks. It's also recommended to look into travel insurance offered directly through hotels, airlines or personal policies to protect trips that may be affected by the pandemic.
Nature-Driven Destinations Will Become More Popular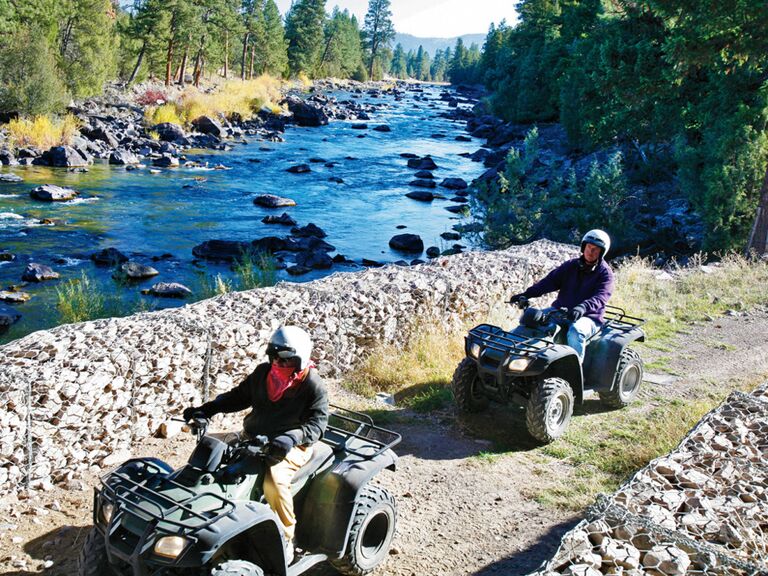 Coronavirus is requiring couples to dedicate more research for their honeymoon destination. In addition to common factors like location, price and inclusive amenities, additional elements like safety procedures, flexible cancellation policies and distanced activities will be top-of-mind for travelers. Many locations are adapting their facilities to promote social distancing on the property and those that are naturally distanced will garner more interest.
"Our boutique hotels are so small to start with," says Sarah Ranfone, marketing manager for Tierra Hotels. "And they're all in remote destinations. People come to us because they're looking to get away from other people and from their daily lives." Adds Crugnale: "You can be at our resort and not see anyone, which has been a significant advantage for getting prepared with cleaning procedures and policies. You can social distance as much as you want."
Couples May Opt for Minimoons and Latermoons
Coronavirus has changed the traditional schedule of wedding events. As couples find new ways to celebrate with loved ones, prewedding events may happen after the wedding day—like with a postwedding bachelor party. The same can be predicted for honeymoons too. Couples may opt to plan a minimoon to a local destination before their wedding day, or they may plan a latermoon months after their nuptials (for when it's safe to travel again).
What matters most isn't where or when you take your honeymoon. After all, it's a trip meant to embrace quality time with your S.O. Given the unpredictable nature of the pandemic, it's more important than ever to plan a safe and meaningful getaway. Honeymoons after COVID-19 will look different—perhaps for the better. With extra focus on personalized activities and quality one-on-one time (and personal safety), honeymoons after coronavirus will be an experience unlike anything before.
Updated July 2020