How To ______ Mad Libs At Your Wedding
From RSVP templates to Mad Libs games, here's all the ways to bring word play to your celebration.
We have included third party products to help you navigate and enjoy life's biggest moments. Purchases made through links on this page may earn us a commission.
Don't tell me you didn't love Mad Libs as a kid. Give your guests wedding Mad Libs and hilarity most definitely ensues. You've got choices when it comes to how to include Mad Libs in your wedding, such as presentation and timing. Before the big day, play bridal shower Mad Libs, feature them as a rehearsal dinner party game or send an interactive Mad Libs wedding invitation and RSVP card. On your wedding day, there are all kinds of fun ways to include wedding Mad Libs: give your guests a fun Mad Libs guest book to sign for an original keepsake or use them as a wedding reception game to get your guests mingling.
To help you make the most of wedding Mad Libs, we've put together this complete guide including creative wedding Mad Lib ideas, printable wedding Mad Lib templates and tips on how to play it as a party game.
In this article:
13 Ways to Include Wedding Mad Libs
More than a wedding table game, here are our favorite ways to include Mad Libs at pre-wedding events and on the big day.
1. Bridal Shower Mad Libs
Mad Libs make for a great wedding shower game. Having your nearest and dearest participate in writing your wedding vows, telling your love story or offering up marriage advice is sure to break the ice and give shower guests of all ages a good laugh.
2. Bachelorette Party Game
For a bachelorette party, you can stick with the wedding themes or spice things up a bit with adult Mad Libs at your bach bash or get silly and playful with kids Mad Libs at a slumber party. There are apps like Adult Mad Libs and Mad Libs by Penguin Group with lots of story themes to choose from (including a funny wedding planning tips story).
3. Rehearsal Dinner Activity
The beloved rehearsal dinner is a great event to play The Rehearsal Mad Libs or the wedding vows Mad Libs game (more details on how to play below). The latter will give you and your partner some practice with a hilarious reading of wedding vows crafted by your dinner guests before the big day.
4. The Wedding Invitation with Mad Lib RSVP Card
Want your guests to return their RSVP cards? Make it a game and you're guaranteed a higher return rate…right?! You can send out Mad Lib cards or make it an interactive online submission with an editable PDF if you're going paperless with your RSVPs.
5. The Painterly Postcard RSVP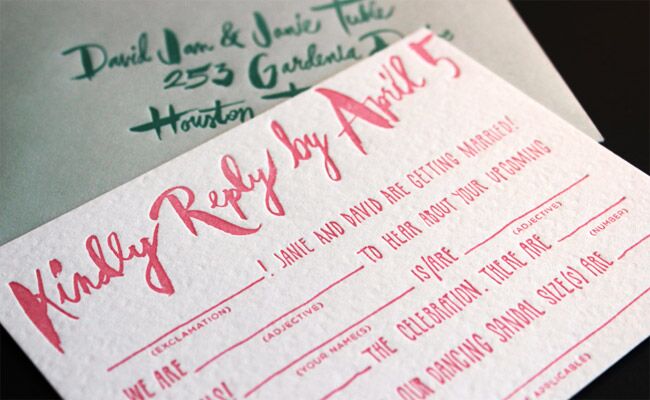 The Mad Libs RSVP card can match any style invitation suite. These letterpressed postcards are tres chic and will brighten your day as they arrive in the mailbox! Plus, these make a great keepsake.
6. The Mad Lib Response Card and Garland Treatment
Once your fill-in-the-blank RSVPs are returned, string responses as a garland near the guest book. Personalized and LOL-worthy responses from your wedding guests are meant to be shared!
7. Wedding Mad Libs Guest Book
On the subject of guest books, why not ask your wedding guests for some marriage tips with newlywed advice Mad Libs. Keep them in a decorative box or binder for an amazing keepsake.
8. The DIY Mad Libs Place Setting Time Killer Cards
Treat your guests to a wedding reception table game. You can order custom Mad Libs place cards from stationery sites and Etsy (or you can make your own with this tutorial on somethingturquoise.com).
9. The Mad Libs Story Game For Guests
Have your friends and family flush out your proposal story or offer some marriage advice while they're waiting for their meals, then collect their answers to read through with your new spouse after the festivities.
10. The Best-Of Mad Lib Response Sheet
If you sent out Mad Libs RSVP cards, highlight the best answers and condense them into a funny (and telling!) wedding program for the reception.
11. A Mad Libs Wedding Reception Game
Treat the reception Mad Libs as a venue for guests to get to know you as a couple even more. Add personal notes like a "Favorites" list where you can quiz everyone on fun facts about you and your fiancé.
12. Mad Libs Cards at the Exit
Pair the exit props with a Mad Libs card and a golf pencil so guests can jot down responses and drop them in a jar on their way out for your big send-off.
13. The Mad Lib Thank-You Card
Switch up the traditional task of writing thank you notes by creating a confetti-filled package for each guest. Include a Mad Libs thank you card and a photo strip from the reception. Who wouldn't want to open that note?
Printable Wedding Mad Libs Templates
When it comes to Mad Libs templates, there are two types. The version where one simply fills in the blanks of the story is ideal for an RSVP, guest book or exit card. The second version (printed on two sides) involves choosing words (nouns, verbs and adjectives) in a sequence on one side of the sheet to be inserted into the story without players seeing the story beforehand—this is the best format for a party game.
We've rounded up free printable wedding Mad Lib PDFs and editable templates and designs from Etsy that you can buy to customize for your wedding. Simply download and print them on card stock (or kraft paper for a rustic vibe!) and you're good to go.
Wedding Vows Mad Libs
Wedding vows Mad Libs is a fan favorite for a party game before the wedding day. Once the blanks are filled in, the to-be-weds will read out the vows to the amusement of the guests. Download this editable template by Pampadoo Designs on Etsy.
How They Met Mad Libs
Get your friends and family talking about how you met and have them craft a version of your love story with this fun and free template from somethingturquoise.com or this editable Love Story design by Hey Lovely Co. on Etsy.
The Proposal Story Mad Libs
Or, have them imagine how your engagement unfolded with this adorable Proposal Story Mad Libs by The Bliss Paper on Etsy.
Marriage Advice for the Newlyweds
One of the most popular Mad Libs for weddings is to garner marriage advice from your loved ones. Download a free template by Blueskypapers or this custom template by Bride and Bows on Etsy.
Create Your Own Wedding Mad Libs Story
While there are some great templates that make it easy to include Mad Libs at your wedding, for the wordsmiths out there, you may be wondering how you can create your own Mad Libs story. WordLibs is a website dedicated to helping you do just that. The free online tool allows you to write your own story and they provide these how-to tips to help you get started.
How to Play Wedding Vows Mad Libs Game
One of the more popular and funny bridal shower games (also great for a bachelorette party or rehearsal dinner) is playing wedding vow Mad Libs. You can go about playing this game in a few ways.
The Entire Group
Without revealing the story (or even the game for that matter), ask individual guests to give you a funny adjective, noun or verb as outlined in the wedding vows Mad Libs story. Once the blanks are filled in, have the to-be-wed(s) read the wedding vows to the crowd.
Divide into Teams
The second approach is to divide the guests into two teams and assign a leader. Have each group brainstorm adjectives, nouns or verbs to populate the story outline (without looking at it). Then have representatives from each team perform a mock ceremony to recite the wedding vows.
Play Individually
For a smaller group, each guest can participate by completing the wedding vows Mad Libs and presenting their result to the crowd.