How To ______ Mad Libs At Your Wedding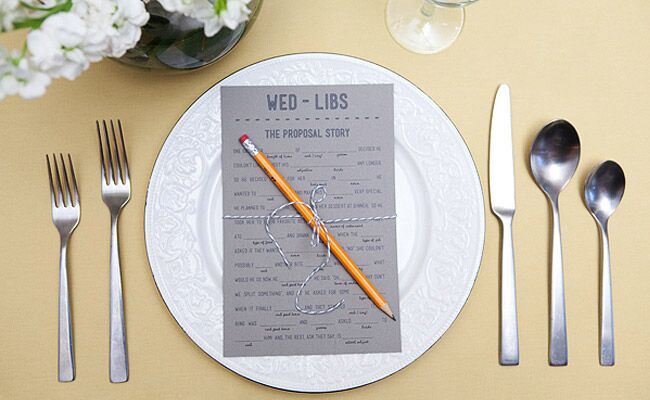 Don't tell me you didn't love these as a kid. Give your guests Mad Libs and hilarity most definitely ensues. You've got choices when it comes to the presentation — hit them before the wedding even starts with an interactive Mad Libs wedding invitation, or wait until the reception and give them a fun Mad Libs guest book to sign. Here, a few of our favorites!
The Graphic Mad Lib RSVP Card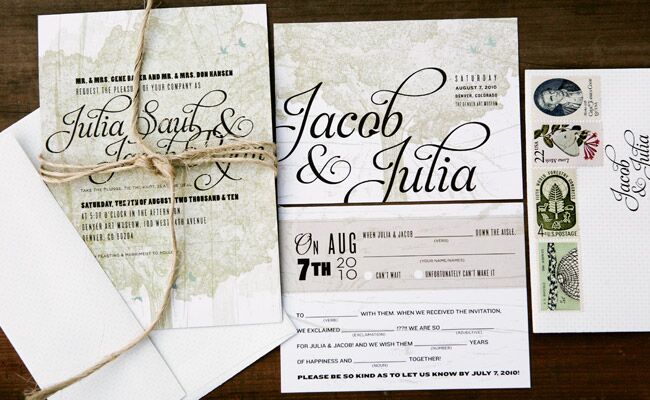 Photo by: Jenna Walker Photographers
Want your guests to return their RSVP cards? Make it a game and you're guaranteed a higher return rate…right?! (See all photos from this wedding!)

The Painterly Post Card RSVP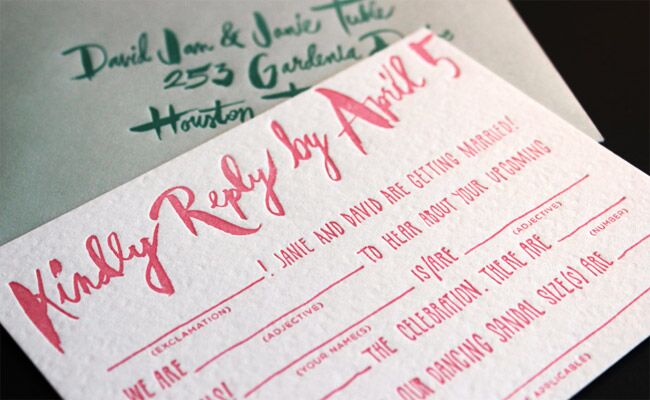 Photo via: The Bridal Detective
The Mad Libs RSVP card can match any style invitation suite. These letterpressed post cards are tres chic!
The Mad Lib Response Card + Garland Treatment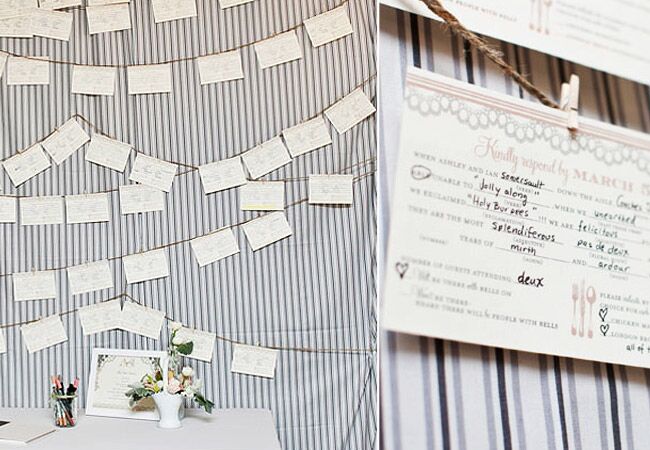 Photo via: Green Wedding Shoes
Once your fill-in-the-blank RSVPs are returned, string responses as a garland near the guest book. Personalized and LOL-worthy responses are meant to be shared!
The DIY Mad Libs Place Setting Time Killer Cards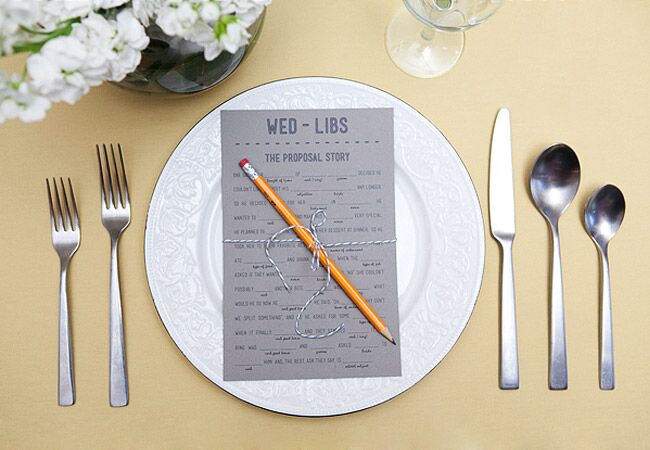 Photo via: Something Turquoise
Treat your reception guests to a table game. You can order custom Mad Libs place cards from stationery sites and Etsy (or you can make your own with this tutorial).
The Mad Libs Story Game For Guests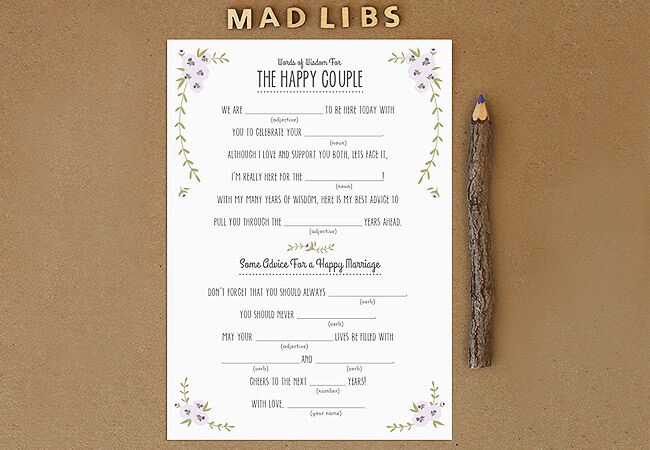 Photo via: Love vs Design
Have your friends and family flush out your proposal story or offer some marriage advice while they're waiting for their meals, then collect their answers to read through with your new spouse after the festivities.
The Best-Of Mad Lib Response Sheet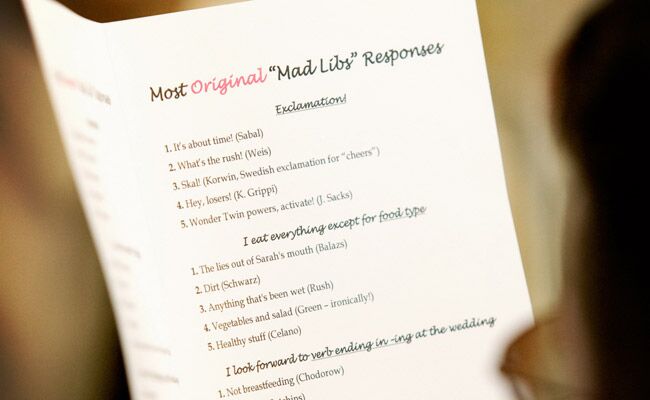 Photo by: Alternate Angles
If you sent out Mad Libs RSVP cards, highlight the best answers and condense into a funny (and telling!) program for the reception. (See all photos from the wedding!)
A Mad Libs Reception Game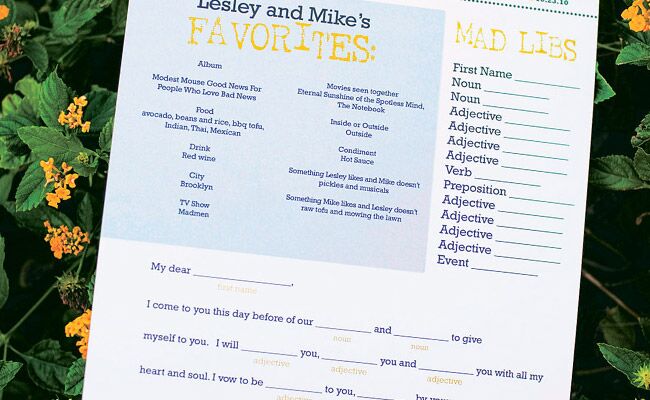 Photo by: Our Labor of Love
Treat the reception Mad Libs as a venue for guests to get to know you as a couple even more. Add personal notes like a "Favorites" list where you can quiz everyone on fun facts about you and your fiancé. (See all photos from the wedding!)
Mad Libs Exit Cards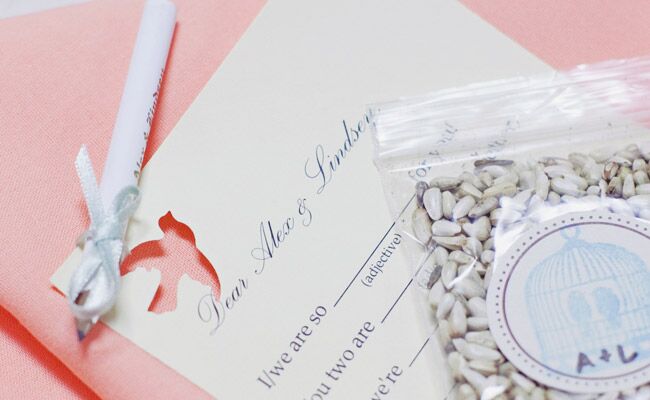 Photo by: Lark Photography
Pair the exit props with a Mad Libs and a golf pencil so guests can jot down responses and drop in a jar on their way out for your big send-off. (See all photos from the wedding!)
The Mad Lib Thank-You Card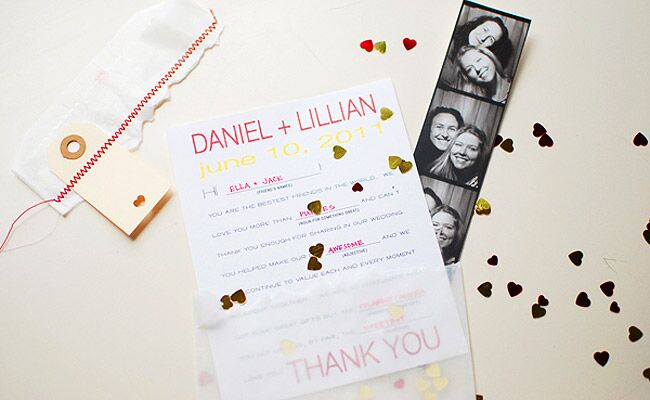 Photo via: All You Need Is Love Events
Disrupt the traditional –and dare we say dreaded– task of writing thank you notes by creating a confetti-filled package for each guest. Include a Mad Libs thank you card and a photo strip from the reception. Who wouldn't want to open that note?
More ways to make your wedding awesome…
> See 5 of the most creative guest book ideas out there
> Check out 25 unexpected invitation ideas
> Find out the 10 simplest ways to wow your guests