Do You Really Need a Wedding Planner?
Here's our opinion.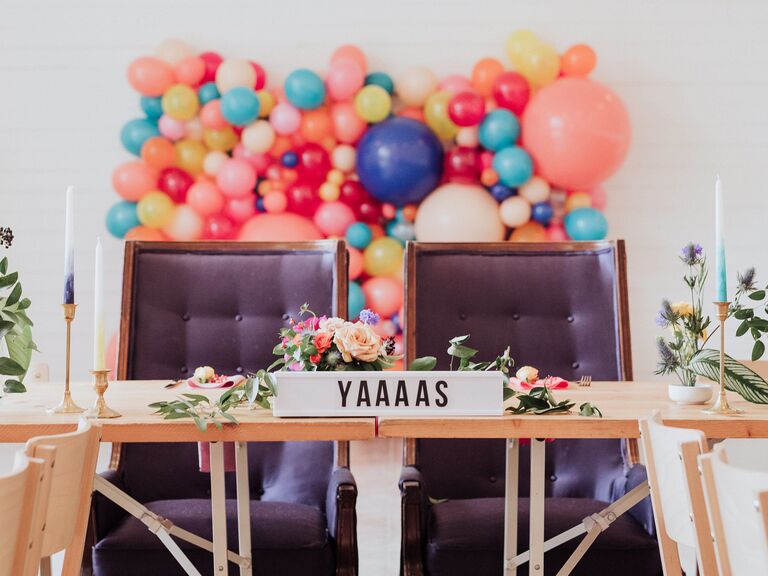 Photo By Rob August Photography; Planning By Celebrate Dallas
So you're getting married—congrats! Now comes the fun part: Planning the celebration. As you begin to budget for different vendors, you may be asking yourself, "Do I need a wedding planner?" The answer depends on several different factors. However, we'll always recommend working with a wedding planner for your big day, as they're experts in event production. Plus, weddings can be expensive, so it makes sense to invest in professional help to ensure your dream wedding becomes reality. "Weddings are our full time job, we can help guide the process and steer couples in the best direction for what they're looking for, and save them so much time on places and vendors that are not right for them," says Jove Meyer, owner and creative director at Jove Meyer Events. "Weddings are a large expense with many moving pieces, so there should be a professional wedding planner leading the process so you do not miss anything or book the wrong things or places."
What does a wedding planner do?
So, what exactly does a wedding planner do? "I think the better question is what doesn't a wedding planner do," Meyer says. "Wedding planners help couples take their wedding ideas to reality from start to finish with every detail managed and years of experience to make sure nothing is overlooked or forgotten: From helping them find a venue to sourcing and managing all vendors, wedding planners make the process smoother and allow for couples to focus on the fun, their family and loved ones."
Why You Might Want To Hire a Wedding Planner
Still on the fence about hiring a professional planner? Here are the reasons why you should hire a wedding planner instead of trying to DIY your own wedding.
If You and Your Partner Have Different Dreams For the Wedding
While you and your partner might agree on most things, your wedding visions might not perfectly align. Perhaps you've been dreaming of a casual pizza party while your partner is picturing something more formal. A wedding planner can help you both clearly define what you want and help find a compromise. "The wedding and events industry has its own language—there are terms that are unique to us and event planning and production, which couples likely do not know, and a planner helps translate it all," Meyer says. "A great planner will get to know both to-be-weds and understand their individual styles, goals and preferences so they can steer them in the best direction and will work to merge two styles into one event in the best and most organic way."
If You Don't Have the Time to Plan a Wedding
Here's the deal: Planning a wedding is a lot of work. Even if you're the planner in your friend group or have a Type A personality, wedding planning is a big undertaking—and one you might not actually have the time for. "Until someone plans a wedding, they do not have any idea how much work and time it takes," Meyer says. "It's easy to think, 'I can do this quickly and easily,' but the reality is nothing good is done quickly or without work." That's where a wedding planner can help. They do this for a living, which means they're going to devote all of their effort and energy to helping you, and they'll be able to bring their expertise to the table (read: getting more things done in a timely fashion).
Why is wedding planning so much work? "One wedding can have up to 20 vendors and take over a year to plan, which means thousands of emails, hundreds of phone calls, countless venue visits and meetings—it's a full time job to plan a wedding," Meyer says. "If couples have time, they can totally plan a wedding on their own, but if time is limited, hiring a planner would be the best way to go."
If You're Dealing With Outside Opinions
Another scenario where you might want the help of a planner? If you and your partner are dealing with outside opinions (think: family members, bridesmaids, groomsmen and other friends). "I always tell couples there are three things I cannot control: weather, traffic and other people's feelings and opinions," Meyer says. "Opinions come out of the wild when couples get engaged, friends, co-workers and family members think they're being helpful, so they share their feelings, ideas and opinions without being asked."
While this doesn't seem like a big deal, it can end up being very overwhelming. (It can also get awkward if outside opinions come with money attached.) A wedding planner is a great resource in this scenario, as they can help diffuse any tension. "Having a wedding planner can help couples navigate these opinions and also we sometimes serve as a scapegoat to swat these ideas away from the couple," Meyer says.
If You're Hosting a Destination Wedding
If you're planning a destination wedding, you'll definitely want to consider enlisting a professional for help. Not only is it more difficult to coordinate calls with your caterer, florist and more, different destinations have different marriage laws, sound ordinances and customs. A destination wedding planner is already up to date on all of this information and can help you navigate it easily (read: without any extra stress).
If You Want to Be Intentional About Who You Hire
At The Knot, we believe your wedding should be a reflection of who you are. There's no better way to live out your values than being intentional about who you give your business to. "Couples should align with planners who share the same values as them," Meyer says. "At Jove Meyer Events, we prioritize collaborating with fellow small businesses owned and operated primarily by women, people of color and queer people."
Who you spend your wedding budget on may seem like a small detail, but it can make a big difference. "By working with us and the vendors we partner with, you're putting your money towards uplifting others who have historically been ignored or mistreated," Meyer explains. "Hiring vendors with intention can make your wedding a more meaningful and powerful experience for those beyond your guests and yourself, you can change the life of others by hiring with purpose, not just those that are popular or cool!"
But finding those vendors can be challenging, which is why working with a wedding planner can help. They've put in the work to build a network of wedding industry pros who deserve recognition and support. When choosing your planner, make sure they're committed to diversity and inclusion. This will ensure they create a safe positive experience for you and your vendors. Meyer's tip? Look for a diversity statement or an ally pledge on their website and social platforms. "Planners who work to make the world a better place will share about it online, as it is meaningful to them," he says. "If you don't find anything about their work and or efforts towards equity and equality, it's safe to assume it's not a priority, but it's always best to ask and see if you align before moving forward."
If You Want to Simply Enjoy Your Wedding Day
Even if you truly believe you can handle the wedding planning process, hiring a wedding planner can give you peace of mind on the day of your wedding. Last-minute emergencies happen (think: centerpieces arrive late, rentals don't look like what you agreed upon or the guest list gets some unexpected additions). There's also extra work that needs to be done after the wedding ceremony, like setting up place cards at the reception. "A wedding planner will help ensure you do not work on your wedding day," Meyer says. "You can show up and enjoy every minute while a professional wedding planner produces it all behind the scenes."
Again, research is important here, as you'll be trusting your planner to take care of the entire wedding day. Scroll through their social platforms and websites, talk to them on the phone and ask a lot of questions. "Wedding planning is a lot of work and takes a lot of time, so be sure to hire the planner who matches your style, vibe and personality as you will be spending a lot of time with them," Meyer says.
Do you need to hire a wedding planner?
So, do you really need to hire a wedding planner. It truly depends on your situation. Take our quiz below to find out what type of wedding planner you might need (from a full-service pro to a day-of wedding coordinator) and then head over to The Knot to scroll through options in your area. Working with a pro will save you some serious time and stress (and possibly even money). Plus, they can help you plan a personalized wedding that feels authentic to who you are. "Your wedding can change the world: Who you hire matters and how you work with them matters," Meyer says. "Be thoughtful and do your best to make your wedding uniquely yours—not what you think it should be or what your friends or family think it should be—but what feels best for you and your partner."