Do I Need a Wedding Planner? Married & Engaged Editors at The Knot Weigh In
Get it straight from the source.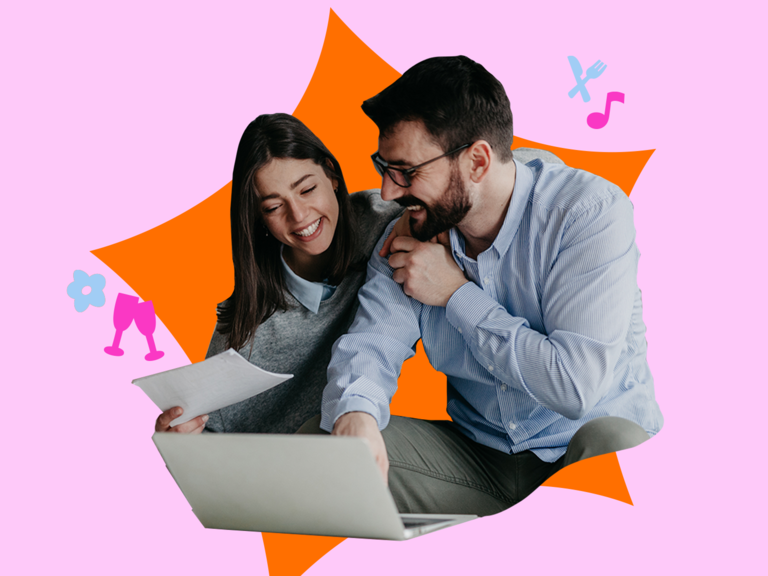 Getty | Design by Tiana Crispino
You're getting married—congrats! Now comes the fun part: Planning the wedding. As you start deciding what vendors you need, you may ask yourself, "Do I need a wedding planner?" The answer depends on several different factors. However, we'll always recommend working with a wedding planner for your big day, as they're experts in event production. So if "Should I hire a wedding planner?" is one of the first questions you ask your married friends, read below to find out what you might miss out on without one, according to a planning professional. Plus, get seven real testimonies from The Knot editors about why they hired a wedding planner for their celebration.
In this article:
Do You Really Need a Wedding Planner?
There are a lot of opinions out there, but you've come to us for a reason. The Knot thinks all couples should have some sort of wedding planner or coordinator for their special day if their wedding budget allows. By the way, the difference between a wedding coordinator and a planner is that a coordinator helps the to-be-weds two months or less before the wedding day, while a planner usually assists the couple throughout the entire planning process. If you want to know the many benefits, eight to be exact, there are to having a wedding planner, look here.
What You're Missing Without a Wedding Planner
If you're thinking, "Is a wedding planner worth it?" we have some news for you. Here are five crucial things you'll miss out on if you don't book one for your big day.
You won't have someone who devotes all their time to weddings.
Here's the deal: Planning a wedding is a lot of work. Even if you're the planner of your friend group or have a Type A personality, wedding planning is a big undertaking—and one you might not actually have the time for. "Until someone plans a wedding, they don't have any idea how much work and time it takes," Jove Meyer, expert event planner and New York-based owner and creative director of Jove Meyer Events, says. "It's easy to think, 'I can do this quickly and easily,' but the reality is nothing good is done quickly or without work." That's where a wedding planner can help. They do this for a living, which means they're going to devote all of their effort and energy to helping you, and they'll be able to bring their expertise to the table (read: getting more things done in a timely fashion).
Why is wedding planning so much work? "One wedding can have up to 20 vendors and take over a year to plan, which means thousands of emails, hundreds of phone calls, countless venue visits and meetings," Meyer explains. "If couples have time, they can totally plan a wedding on their own, but if time is limited, hiring a planner would be the best way to go."
You won't have someone to help with your wedding budget.
Who you spend your wedding budget on may seem like a small detail, but it can make a big difference. "By working with planners and the vendors we partner with, you're putting your money towards uplifting others who have historically been ignored or mistreated," Meyer explains. "Hiring vendors with intention can make your wedding a more meaningful and powerful experience for those beyond your guests and yourself; you can change the life of others by hiring with a purpose."
Curious about how much a wedding planner takes out of your wedding budget? According to The Knot 2022 Real Weddings Study, couples saved 6% of their budget to cover wedding planner costs.
You won't have a mediator.
Do you need a wedding planner? If you and your partner are dealing with outside opinions (think: family members, bridesmaids, groomsmen and other loved ones), the answer is yes. "I always tell couples there are three things I cannot control: weather, traffic and other people's feelings," Meyer says. "Opinions come out of the woodwork when couples get engaged––friends, co-workers and family members think they're being helpful, so they share their ideas without being asked."
While this doesn't seem like a big deal, it can end up being overwhelming. It can also get awkward if the person is contributing financially to the wedding. A wedding planner is the best resource in this scenario, as they can help diffuse any tension. "Having a wedding planner can help couples navigate these opinions and sometimes serve as a scapegoat to swat these ideas away from the couple," Meyer says.
You won't have someone to help with your destination wedding.
If you're hosting a destination wedding, you should definitely consider enlisting a planning professional for help. Not only is it difficult to coordinate calls with your caterer, florist and more, but different destinations also have varying marriage laws, sound ordinances and customs. A destination wedding planner is already up to date on all of this information and can help you navigate it easily.
You won't have someone to give you peace of mind on the big day.
Last-minute emergencies happen, like centerpieces arriving late, rentals not looking right or guests bringing unapproved plus ones. "A wedding planner will ensure you don't work on your wedding day," Meyer says. "You can show up and enjoy every minute while a professional wedding planner produces it all behind the scenes."
Finding the best wedding planner involves important research since you'll be trusting your planner to take care of the entire wedding day. Scroll through their social platforms and websites, talk to them on the phone and ask plenty of questions. "Wedding planning is a lot of work and takes a lot of time, so be sure to hire the planner who matches your style, vibe and personality, as you'll be spending a lot of time with them," Meyer advises.
How The Knot Editors Knew They Need a Wedding Planner
Still wondering, "Is a wedding planner necessary?" I've interviewed married and engaged The Knot editors that explain why they hired a wedding planner and when they knew they needed one. Who can you trust more than people who've been there and done that?
We wanted someone to help with our destination wedding.
Lauren Kay is the Executive Editor of The Knot. When she's not giving the best wedding advice to to-be-weds, she's writing beautiful pieces for The Knot Magazine. Kay married her husband Adam in 2013, but before the two said "I Do" at a breathtaking ceremony, they had to choose a wedding planner.
"We got engaged in November and relished in betrothed life—until March. When it came time to plan (so we could finally give people an answer to the question: when are you getting married), we were overwhelmed with choices. We couldn't find a venue in New York City that could take us, and we didn't want to wait another year, so we decided to get married in Florida, where we both grew up," Kay says.
"As soon as we knew we'd be planning a wedding in Florida while living in NYC, we knew we needed help. Hiring our wedding planner was the best decision we ever made, hands down. She knew stellar vendors in the area and maximized our time in town with back-to-back decisions. Lisa Lyons brought our wedding day to life in the most wonderful way," Kay raves.
We wanted a month-of wedding coordinator.
MaryKate Callahan is the Director of Content Strategy at The Knot, where she helps editors write the best wedding-related articles on the internet. When it came time to decide which vendors she and her fiancé needed to hire, her many years in the wedding industry put them on the right path.
"I'm keenly aware of how much goes into planning a wedding and how incredible it is to have a team of all-star pros on board to help you do it. I always knew that I would be hiring a wedding planning professional of some kind. Once we determined our wedding budget and overall perspective on what we needed help with, we decided to work with Shannon Wellington Weddings for month-of wedding coordination to help us finesse the final details," Callahan says.
"My [current] husband and I felt comfortable handling most of the early planning responsibilities (defining our budget, finding our vendors and securing my hotel room block). But I knew that as it got closer to game day, we would appreciate the structure and organization that comes along with having a month-of wedding coordinator on board. From developing our day-of timeline to ensuring our vendors were briefed on the latest info, Michelle (our lovely point person on Shannon's team) made sure everything was on track," Callahan adds.
We wanted someone to help get us organized.
Arielle Balot is the Senior Manager of the Affiliate and Revenue Operations at The Knot, which means she has her finger on the pulse of what readers want to buy for their prewedding events and special day. For her wedding, Balot and her partner wanted a planner that could keep them on track during the entire process.
"We decided we needed a full-time planner when we planned our wedding amid Covid. We kept pushing our date back, and we needed someone to help move all our vendors to our new date, making sure they were still available, coordinating with our venue and much more. We got lost with all the moving parts, and having someone keep us organized was extremely helpful," Balot explains.
"We hired our planner about halfway through our process, which looking back, we regret a little bit. We should have hired someone from the start because it would've been helpful to have someone come with us to all of our initial meetings so someone was there to ask the right questions. Sara Greenberg of Forever Young Parties helped us streamline the entire process, even though she wasn't there from the beginning," Balot says.
We wanted to leave everything to the professionals.
Nicole Taliaferro is the Fashion Content Strategist at The Knot, where they tell guests, wedding party members and soon-to-be-weds what they should and shouldn't wear before and during the big day––in a cool and non-judgmental way, of course. Taliaferro wanted a gorgeous elopement that didn't leave them stressed.
"Think elopements don't need a wedding planner? Think again! Having worked as a wedding editor for over five years when I was engaged, you might expect that I felt totally equipped to plan and design my elopement. However, it's because of my work in the industry I knew hiring a planner was the best decision. Not only did I not want to have to worry about a thing on my wedding day, but I wanted to put my ideas in the hands of a trusted and mega-talented professional," Taliaferro says. "Bud and I gave our planner a Pinterest board full of cozy midcentury-inspired interiors and colorful geometric artwork and let her transform the vibes into a vision for our day. What she brought to life was better than we could have imagined (or done on our own), and we got to enjoy it without worrying," Taliaferro continues.
"After getting engaged in April 2019, the first two vendors we hired were our wedding photographer and wedding planner. We eloped in December 2019 and enlisted the help of our planner, Emily Aitken Events, to secure a unique venue, a vacation rental in New Orleans, that allowed us to stay on-site and have our ceremony and dinner in the backyard of the property. Emily took care of hiring other vendors, looping us in as needed, and gave us plenty of space to enjoy our engagement without stressing about the elopement coming together," Taliaferro explains.
We wanted someone to help us find vendors.
Hannah Kimnach is an SEO Content Strategist for The Knot, which means she's the first person anyone should talk to about wedding trends. Kimnach's stunning domestic destination wedding had an abundance of top-notch vendors because of her planner's expertise.
"Planning a wedding out of state was a much more tedious task than I'd anticipated. Our venue was new to hosting weddings and didn't include any outside vendors (think: catering, DJ, photographer and bartender), so to say that trying to find the best (in budget) local vendors while living 1,500 miles away was overwhelming is an understatement. Finding a fabulous wedding planner was like having a secret wizard behind the scenes helping pull the strings to ensure everything went off as stress-free and seamless as possible," Kimnach says.
When asked what point she and her partner knew they needed a planner, she didn't hesitate. "As soon as the wedding venue staff told us it was brand new to hosting weddings, I knew we'd need an expert of some sort to help us out. And having Lindsey Last, a proficient wedding planning pro, help guide us through the whole wedding planning process truly helped the entire day go off without a hitch," Kimnach says.
We wanted help making our dream wedding a reality.
Emily Platt is the Senior Manager of Commerce Content Strategy at The Knot where she guides to-be-weds through the best products and services to invest in for their wedding. She also happens to be engaged (getting married in October 2024) and knows that a planner is going to be a top investment for her and her partner. Though she hasn't yet booked a pro, she's set on enlisting the help of one to make her dream wedding a reality.
"Having worked in the wedding editorial world since college, I learned the importance of wedding planners well before my wedding day," says Platt. "With so much exposure to all the incredible work planners do and knowing how impactful a smooth wedding experience is to couples and guests, I always imagined myself hiring a planner."
"I wondered, 'Do I need a wedding planner for a small wedding?' But my fiancé and I know we will need help brainstorming the details and pulling all the pieces together for our small and nontraditional celebration. Plus, our wedding is a destination wedding, so we really want the invaluable advice and insight of someone local. Now that we know where we want to get married and when finding that person is next on the list," Platt adds.
We wanted to enjoy ourselves on the big day.
Lauren Whalley is a Fashion Editor with a specialty in inclusivity and beauty at The Knot. From plus-size beach wedding dresses to lash extension care, Whalley covers it all. She plans to get married in March 2024 and already has her month-of coordinator booked (and soon to be busy).
"It was important to both my fiancé and me that our family and friends aren't doing any major heavy lifting on the big day. However, we both feel confident that we can manage the planning and design process on our own since I have previous wedding planning experience. So for us, the best solution was hiring a month-of coordinator who could come in two months before the wedding and take over everything from vendor communication to final meetings so that my fiancé and I could be present during that time together," Whalley says.
"I decided I needed a wedding coordinator before I even got engaged. Even though we won't 'need' Eucalyptus & Rose until two months out, they were one of the first vendors we booked. I know the best vendors book up fast, and it's a huge relief to have them secured early in the process," Whalley continues.
Take our "Do I Need a Wedding Planner?" quiz below to find out what type of wedding planner you might need (from a full-service pro to a day-of wedding coordinator). Working with a pro will save you serious time, stress and possibly coins.