How to Nail Your Bridesmaid or Maid of Honor Speech
Time to bring the house down (or at least avoid a toasting disaster!).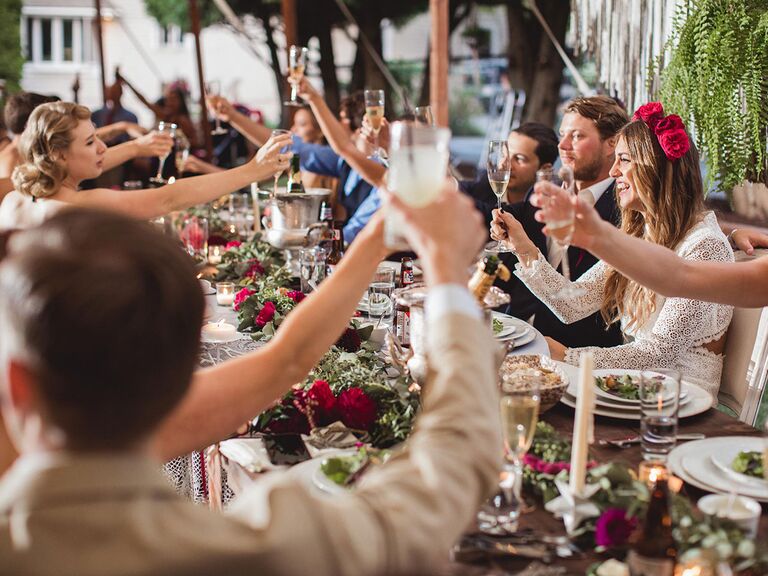 Clary Photo

As a member of the bridal party, you might be asked to give a toast in honor of the newlyweds. If you are the maid of honor, then you'll certainly be expected to give a rocking maid of honor speech. While serving as a maid of honor includes many privileges—the bachelorette party is going to be epic—it also means you'll need to spend time, effort and emotion to write a great speech.
You may be a gifted orator and spotlight lover, in which case, we tip our hats to you. But if the thought of speaking in front of a crowd makes you want to flee the country and change your name, don't panic. We have some foolproof advice that will teach you how to write a maid of honor speech and deliver it with confidence and poise. Here's a complete guide to giving an unforgettable bridesmaid speech or maid of honor speech—what to say, when to say it and how to get rid of those nervous butterflies.

Prepare Yourself
A witty and charming maid of honor speech or bridesmaid speech doesn't happen on its own. (Seriously, ad libbing is for your improv class, not your best friend's wedding.) Instead, writing a great speech requires thought, preparation, time and practice. Before you put pen to paper or fingers to keyboard, here's how to put yourself in the right headspace.
Take It Seriously
In agreeing to toast the couple at their wedding, you take on a big honor and a responsibility. Don't take the situation so seriously that you agonize over it, of course, but it's important to embrace the task with the grace and maturity it deserves. This doesn't mean your speech has to be sappy and serious—just don't be careless or inappropriate. You can be as funny and charming as you want, just make sure to put some honest thought into the process. 
Don't Procrastinate
We recommend writing your toast about three weeks before the day, and be thoughtful as you brainstorm and write. Go that extra mile and have someone you trust edit your work—even do a couple of drafts if it helps you. We know, it might sound like a school assignment, but all this advance prep work will help you get comfortable with your speech and prevent last-minute panic attacks. You'll thank us later
How to Write a Maid of Honor Speech (or a Bridesmaid Speech)
The creative juices are flowing. You've got a fresh notebook page open or at least the note taking app pulled up on your phone. It's time to write an amazing maid of honor speech. But what do you say?

Cover All Your Bases
While you should feel free to innovate and personalize the standard as much as you want, an expert bridesmaid or maid of honor toastmaster will usually:
Introduce herself and explain her connection to the happy couple
Express how thrilled she is to be at the wedding and thank the couple (and their parents, if appropriate) for inviting everyone to be a part of their special day.
Include a personal touch (a favorite memory, joke or sentiment) that will be emotionally significant to everyone.       
Offer encouraging (and often moving) words of advice for their future together. (A quote often works its way in here.)
Conclude with the standard raising of the glass, saying "To [the couple's names]!" (Don't forget to take a sip!)
Be Authentic
As you start writing your speech, think about your connection to your best friend. Some of the best maid of honor speeches include stories about how the maid of honor met the bride or fun (appropriate) stories of their friendship. If you've gotten to know your friend's new spouse, tell stories of them as a couple. If their love is truly inspiring, let them know it. This is the time to open your heart, share touching moments and maybe even a silly anecdote or two that captures your friendship.
Pick an Appropriate Quote
If you include a quotation, make sure you choose one that really resonates with you and that's relevant to your message. Settle on words of wisdom or poignant wit you can deliver with confidence, sincerity and understanding. And remember, quoting is not required. If it feels at all pretentious or disingenuous, skip it and substitute with something that feels more "you."
Find Your Style
The best man speech is often expected to be a wry retelling of zany shenanigans, funny commentary on the subject of marriage and self-deprecating remarks. But you don't need to make your maid of honor speech sentimental and poetic for the sake of contrast. If you're hilarious, work with it! Don't worry about stealing anyone's thunder or not filling the role of earnestness. On the other hand, if quipping isn't your thing, don't feel pressured to be a comedian—be yourself and speak from the heart.
Keep It Short and Sweet
As you prepare your toast, keep it simple. Don't use words you normally wouldn't use. Try not to ramble—toasts can be as short as two lines or as long as two minutes. Steer clear of X-rated anecdotes, goofy giggling and sing-songy, gimmicky group efforts if you really don't think you can nail it (although we've seen some seriously awesome maid of honor and bridesmaid performances before). Remember, this is your moment. You'll feel better if you make it a class act rather than force something over the top.
Know What to Keep Out
Your maid of honor speech or bridesmaid toast is not the time to bring up any exes, discuss family drama or mention some of the more inappropriate fun you had at the bachelorette party. Weddings are a time of joy. They're also family events. Remember, your friend's parents or grandparents may be in the audience.
Giving Your Maid of Honor Speech
Completing your maid of honor speech or bridesmaid speech is a big accomplishment. Phew. But when your friend's wedding arrives, you'll need to actually, gulp, give your speech in front of the couple's closest friends and family. While public speaking is a common fear, here's how you can stay calm and toast on.
Practice, Practice, Practice
Once you've written your toast, practice reading it out loud (a lot) to up your comfort level when the time comes. If you want to, grab another wedding party member on the day of the wedding to ask for final feedback on delivery, jokes and hand gestures. You'll be grateful for the pre-performance audience. Write out the complete speech or transfer it to note cards and bring the cheat sheet with you to the microphone (no, you don't have to memorize it). You'll be glad to have the backup in case your nerves get the better of you.
Set a Schedule
Toasting time usually happens once everyone has been seated and served champagne (or another toasting sip), but the couple may want speakers to do their thing between courses. Ask them what they'd prefer, and if they're indifferent the timing is up to you and the best man. When you're ready, simply approach the microphone stand as a toasting team, or one after the other—work that out among yourselves beforehand. The crowd will be called to attention the old-fashioned way (clinking a glass with a utensil) or the bandleader or DJ may announce to guests that toasting is about to begin.
Traditionally, the best man is considered the toastmaster. For this reason, he may toast first, warming up the crowd for your turn in the spotlight. Of course, wedding parties come in all different genders and sizes, so you can feel free to shake things up as it suits you, the couple and the crowd. The maid of honor can take over as toastmaster altogether, serve as comaster (a two-person show) or toast the couple right after the best man. You and the best man may want to determine who goes first and who follows based on the content and feel of your speeches.
Stay Calm, Cool and Collected
Or at least fake it as best you can. No matter what, if you're prone to nerves, you're going to be nervous (which isn't a bad thing—it's natural!). Take deep breaths. Think pleasant thoughts. Have a cocktail, but don't overdo it—you definitely want to avoid the drunken honor attendant cliché. Speak slowly, don't forget to breathe and try not to worry about your shaking hands—no one's going to notice. Remember, when it's all over, you get to party without a care in the world.
Get Creative
If saying a toast seems too been-there-done-that for your capacity for performative genius, knock their socks off with a choreographed dance, a song or a reading of an original poem. Salute them in whatever fashion feels most comfortable. That said, if you're planning something outlandish, check with the couple first.
Completing Your Speech
There. You've done it. As nerve-wracking as it might feel to give a big speech at your friend's wedding, their heartfelt reaction to your words will make all your efforts worth it. Also, as soon as your speech is over, you'll be free to party down with the happy couple. It's a wedding. Celebrate.
Need more guidance? Take a look at our helpful toasting guide for the bride and groom and our tips for the best man speech. We also offer tons of other advice for the maid of honor so she can rock all her other wedding duties.