A Tulum Bachelorette Party Guide to Plan Your Trip
Find fun in the sun—and plenty of R&R—on this Mexican getaway.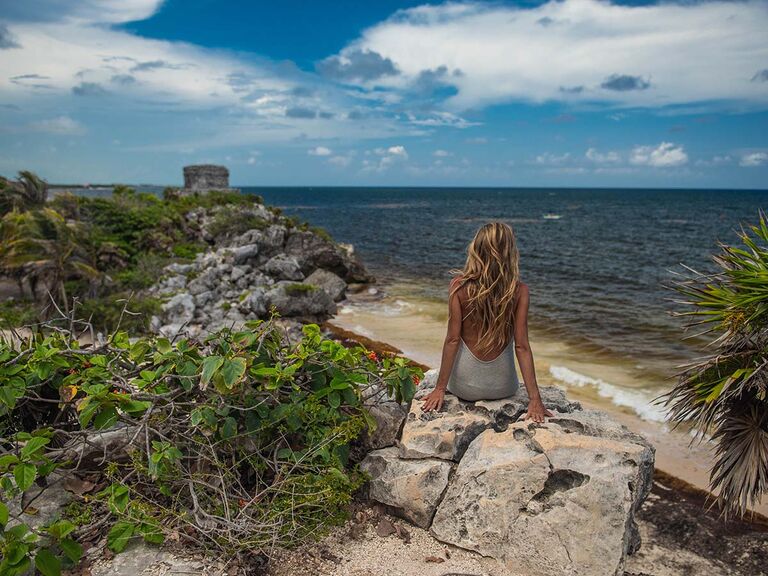 Olga Kozyr/Shutterstock
We have included third party products to help you navigate and enjoy life's biggest moments. Purchases made through links on this page may earn us a commission.
If you're looking for a weekend that has it all—surf, sand, good food, great drinks, and plenty of opportunities to unwind—consider a Tulum bachelorette party. This isn't your Cancun spring break destination: The hot spot on Mexico's Yucatan Peninsula is a great Caribbean-style bachelorette destination, without going island hopping. This is the perfect place for bridal parties looking for a warm-weather destination with fewer crowds and more upscale venues—and plenty of sightseeing to be had, too.
Tulum Bachelorette Party Planning in this Article:
Tulum Bachelorette Party Ideas and Themes
A Tulum, Mexico bachelorette party has a little bit of everything on offer. Looking to sunbathe and take a dip in the Caribbean Sea? Check. Want to take in famous sites? Check. Seeking good food and lively nightlife? Check. Craving a bit of pampering? Check. Whatever you do: Don't forget to outfit your crew in swag from The Knot Shop and book a photographer to take pics of the group on the beach.
For the History Buffs
One of the most incredible sites to see in Tulum is actually more than 1,000 years old. With a number of Mayan civilization ruins around Tulum—the largest and most popular being Chichen Itza—you'll be able to soak in history in a truly incredible way.
For the Water Lovers and Adventure-Seekers
Along with white sand beaches and warm waters, there are other ways to experience Tulum's water scene. For starters, visit the cenotes of Tulum, Mexico's famous sinkholes that you can swim, dive, or snorkel in (and sometimes see fossils and artifacts). There are also coastal diving opportunities and even the chance to swim with sea turtles.
For the Relaxers
Whether you're looking for a full-on wellness retreat, a day at the spa, or yoga on the beach, Tulum has many options to offer your group, you just have to choose with form of R&R is your style.
For the Foodies
Fresh fruit and a rich cultural history that seeps into the food, Tulum offers numerous chic restaurants to choose from (warning: prices can be high). You'll also find a nightlife scene that can go into the late (or early morning) hours, with as much fun and dancing as you'd find in spots like Cancun, but less commercial settings.
Tulum Bachelorette Party Itinerary and Activities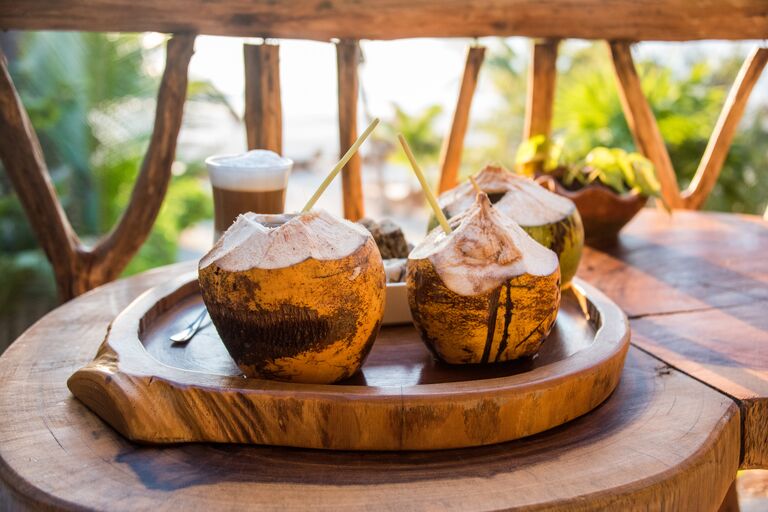 For the ultimate bachelorette weekend in Tulum, follow our three-day itinerary that gets you to the best of everything the Caribbean locale has to offer.
Day 1
Morning: If you arrive in Tulum early enough for a light brunch, head to Raw Love Tulum right on Tulum Beach. Not only will this give you the opportunity to check out the sandy shores, you'll also get a taste of some of Mexico's fresh fruits. The vegan spot offers delicious acai and smoothie bowls, along with coffee options and fresh juices.
Afternoon: Spend the rest of the day on the beach as your group makes its way to Tulum. One of the best spots to post up is the Ziggy's Beach Club. Here you'll find double-bed-sized lounges on the sandy shore for sunbathing, delicious cocktails, and access to the Caribbean waters. And if you get hungry, there's a full menu for snacks and lunch on the beach. (Note: You have to spend at least $50 in U.S. currency to use the beach club amenities).
Evening: Start the night with dinner and drinks at Hartwood. This is a one-of-a-kind dinner experience. All ingredients are sourced from local markets and farms, resulting in a menu that changes daily. On top of that, everything is cooked in the woodfire oven and grill. It's the ultimate farm-to-table, seasonal dinner. After dinner, make your way to Gitano's Beach Tulum—often called the Friday Night Jungle Party because the beach scene feels like a club in the middle of the jungle. Here you'll find delicious house-made cocktails, many made with mezcal like the "Stardust," a tasty blend of mezcal, dark rum, pineapple, papay, and coconut cream. The DJ starts at 10 p.m. and you'll be on your feet all night at this party scene.
Day 2
Morning/Afternoon: Today is the day for exploring: Book an adventure through Ocean Tours where you can see all of Tulum's best sites in one day. To see everything in one day, you are going to need to wake up early (the van will pick you up at 8:30 a.m.), so grab a quick breakfast and coffee for the drive at the hotel or pack a few granola bars for breakfast on the go.
The tour starts with a visit to Tulum's famous Chichen Itza, a 1,500-year-old archeology site that dates back to the Maya civilization. Then, don a snorkel and mask for a swim at one of Tulum's most beautiful coral reefs, where you'll see gorgeous underwater colors, fish, and the chance to spot sea turtles and spotted eagle rays. Keep your snorkel handy—the next activity is a guided tour and snorkel in one of Tulum's famous cenotes. Lunch is included along the excursion, as are water and soft drinks, transportation, snorkel gear, and your professional guide.
Evening: After cleaning up, make your way to dinner at Rosa Negra, a twist on the Latin American food experience that covers everything from apps like guacamole, skirt steak tacos, spicy octopus, and street corn on the cob to dinner entrees that include tuna sashimi, salmon coconut ceviche, risotto with beef filet, and giant tiger prawns. And that's not to mention its exhaustive drink menu with cocktails from margaritas to amaro sours.
After dinner, you're off to the Beach Club at the Papaya Playa Project. Right on the sand, find a lively scene with live music, the ultimate cocktail bar to help you cool down on a warm night, and a wine bar. Table reservations are recommended.
Day 3
Morning: Start your day with burritos at a Tulum favorite, Burrito Amor. Along with a variety of breakfast burritos, you'll also find the "cold bar" which offers everything from yogurt, fruit, and granola to a chia pudding with banana and coconut milk, as well as a variety of toasts, from banana to avocado, and some pastries.
Afternoon: Wind up the weekend with a wind down at Yaan Healing Sanctuary. You can book a one-day package at this wellness spa that includes yoga, a 90-minute massage, and cleansing treatments, or go a la carte to enjoy a variety of massages and traditional healing treatments, as well as access to the retreat's massage pools, sauna, steam room, rooftop garden, and temazcal (a sweat lodge).

Evening: Make your last night count with dinner in a Tulum jungle setting. At Kitchen Table, you'll dine on a seasonal, ever-changing menu based on old Tulum traditions in a gorgeous nature-forward space. After dinner, head to the appropriately named Beso Tulum (beso means kiss in Spanish). The beachfront spot offers cocktails and live music, and stays open until 2 a.m. to make it a last night to remember.
Places to Stay in Tulum for a Bachelorette Party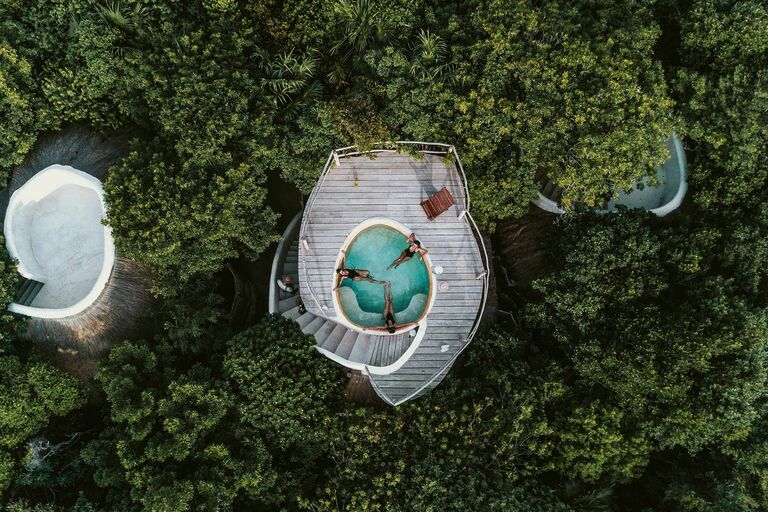 Tulum is a relatively small community, divided into three areas. You'll be able to get around to almost everything by bike or taxi. But if you stay in a spot centrally located to most of your plans, you'll save yourself what can be some more expensive taxi bills.
Best Tulum Bachelorette Hotels
Hotel at the Papaya Playa Project: Part of the Marriott's Design Hotels, this higher-end hotel is a great spot for those who want to be oceanfront with sustainability in mind. You'll also be steps away from its beach club.
Hotel Tiki Tiki: For a stay in town (and just a short drive or bike to the beach) consider the mid-range Hotel Tiki Tiki. The boutique hotel only has 15 rooms, each outfitted with a lounging hammock, a stunning pool scene, and boasts a Miami-style vibe.
Mi Amor: If you're looking for an affordable stay on the beach, try Mi Amor, which is right on the ocean, has a great pool and spa on-site, and minimalist but chic modern rooms.
Pro tip: The Knot has partnered with Hotel Planner to help you secure the best group hotel rate and get free hotel advice from an expert travel planner.
Best Tulum Bachelorette Home Rentals
There are plenty of housing options for a Tulum bachelorette party, so check out TripAdvisor, VRBO, Airbnb, Expedia, and Hopper Homes. If you're looking to supplement your vacation rental stay with some resort amenities such as a swimming pool or food and drinks, you can secure Tulum resort day passes on ResortPass.
A resort-style condo is a great option for small groups. The space offers three bedrooms that can sleep up to 7, a fantastic pool, and though more in town, is just a five-mile drive to Tulum Beach.
A short drive to the beach, a penthouse apartment is a great solution for large groups with a mid-range budget. In town, but a short distance from the beach, it offers a jacuzzi, pool, and room for 12 across 3,000+ square feet.
Large groups with a bit more to spend can also stay at a six-bedroom house that sleeps 12, is a 7-minute drive to the beach, and comes with a ton of amenities. We're talking multiple jacuzzis, two pools (one with a waterfall and one on the terrace), and a gorgeous outdoor kitchen and bar that offers panoramic views.
Tulum Bachelorette Party Nightlife
Tulum in the Caribbean along the Yucatán Peninsula is known for its bright blue waters and soft, white sand beaches. If you're planning a visit to Tulum, and looking to indulge in some authentic Mexican cuisine and plenty of margaritas, here are some of our favorite places to get you started.
Best Tulum Bachelorette Restaurants
Taqueria La Chiapaneca: For incredible tacos at a reasonable price, stop at the casual dining restaurant Taqueria La Chiapaneca. This modest location is a great spot to have some classics like tostadas, high-quality tacos, quesadillas, chips and guac, and more.
Encanto Cantina: Encanto Cantina is the ideal place for some quality Mexican dishes. Whether you're looking for some tacos and traditional guacamole, or maybe something a little more involved like fresh ceviche, Encanto Cantina has it.
El Asadero: El Asadero is the place to grab some delicious local Mexican food. They're known for their surf and turf, featuring fresh seafood like tender lobster and generous cuts of steak like ribeye or T-bone. This is a great location for a fancier evening out with your bachelorette group.
Best Tulum Bachelorette Party Bars
Papaya Playa Project: If you're looking for an exciting night out, Papaya Playa Project in Tulum has the party. Papaya Playa Project often has famous DJs in-house playing incredible music and huge dance crowds, especially for the Full Moon Parties they hold around the full moon (on the closest Saturday night).
Mistico Tulum: If you're looking for a low-key place to unwind and start the evening, Mistico Tulum is a local hookah bar that can do just that. Share some hookah with friends and a round of signature cocktails.
Casa Jaguar: Casa Jaguar in Tulum is famous for their wild Jungle Parties that they throw on Thursdays. The bar often has DJs playing a lively set to dance to all night as you sip on cocktails throughout the evening.
Expert Tulum Travel Tips
For nonstop 4-hour flights from NYC to Tulum, there are plenty of options with airlines like United, American, Delta, and JetBlue. For 4 ½-5 hour nonstop flights from LA to Tulum, there are options with airlines like United, Alaska, Delta, and JetBlue. For the best chance of good weather and fewer crowds, aim to visit Tulum in November or December. The season generally goes on from there through April, but expect higher costs and more tourists. Bike riding is a great way to get around Tulum, in addition to taxis, walking, and car rentals.