Wedding Tuxedo Rental Basics
Not sure you want to shell out the bucks for your very own tux? Read on for wedding tuxedo renting tips.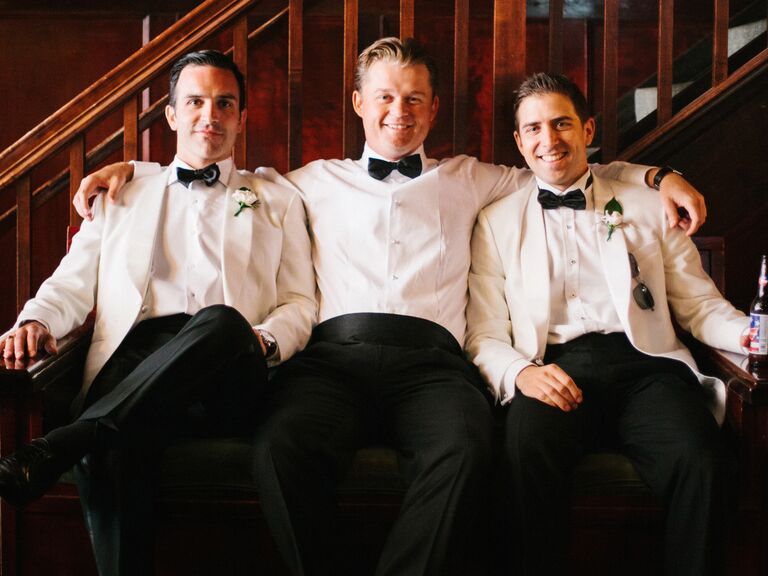 Photo by
James Christianson
Unless you're exchanging wedding vows on a beach in Kauai, your best Bermuda shorts won't work as wedding day attire. Most likely, you'll want to wear formal attire to greet your bride. If you're a regular on the black-tie benefit scene, you may already be a tuxedo owner. But otherwise, the question most groom's face is whether to rent or buy a tuxedo.
To Rent or to Buy?
Money is the main factor in your wedding formalwear decision. Renting will cost about 10% to 30% of the price of a new tuxedo, and tuxedo prices begin in the $300 to $500 range. If you attend three or four formal events per year, buying a tux may be worthwhile. Look at it as an investment -- you can wear it for years and it will never go out of style. But if you'd rather slather your body in hot tar than hit a black-tie benefit, go for the tux rental. It's definitely the easiest, cheapest option for you.
Rental Tips
Rental-minded types should keep the following tidbits in mind when choosing a groom's wedding ensemble:
Choose a formalwear store that updates its tuxedo inventory regularly. (If you see powder blue and ruffles, run.)
A good formalwear dealer will know how to measure you properly (inseam, waist, jacket size) and give you a tuxedo fitting in advance of the wedding.
The dealer should listen to you. If you're of the fashionable persuasion and want a dark blue, five-button mandarin collar tux, but the dealer's praising a silver tux with tails, you'll know you've come to the wrong shop. Politely say thanks but no thanks and look elsewhere.
The store should be able to supply you with all the tuxedo accessories you'll need: bow tie, cummerbund, cufflinks, suspenders, even shoes.
Finally, have all your groomsmen get their monkey suits at the same shop, so you'll match perfectly. (The store may even extend you a discount as a result). If they live in various parts of the country, ask them to get measured by a local tailor and send their measurements to your shop. Reserve their wedding tuxedos at least three months in advance.