An Expert Guide to Having an Uneven Wedding Party
Having an uneven wedding party is the furthest thing from odd.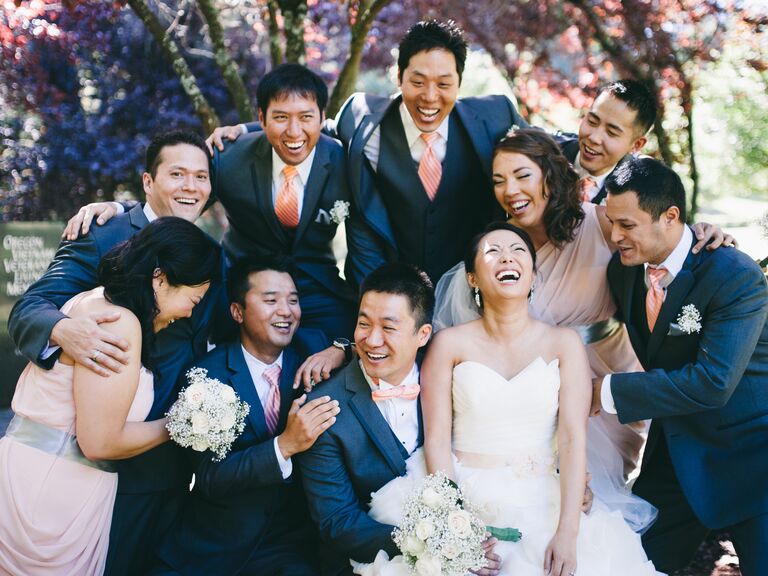 Amanda Marie Studio / Getty Images
When you're planning your wedding, some of the most important (and complicated) decisions you'll make will be who you include in your wedding party. Thankfully, we're no longer in the MySpace days, and you don't need to publicly rank a "top eight" if you don't want to.
"Ultimately, the people you choose to stand with you in your bridal party should reflect those you feel closest to as you're planning your wedding," says etiquette expert Lizzie Post, co-president of the Emily Post Institute and great-great-granddaughter of etiquette expert Emily Post.
Uneven wedding parties (meaning you don't have the same number of wedding party members on each side) have become commonplace to the point where they are widely accepted, so don't feel bad if your numbers are coming up uneven. Here we'll provide some tips and tricks for handling a mismatched number of bridesmaids and groomsmen with grace.
Can You Have an Uneven Wedding Party?
First things first: it is absolutely fine to have an uneven wedding party. Couples may have uneven wedding parties for a multitude of reasons: more siblings or relatives on one side, different expectations from friends and family or one side simply having a larger circle of friends.
Modern weddings are subverting traditional expectations, and with that comes a departure from rigid rules like choosing wedding party members just for symmetry's sake. Today's couples are also increasingly incorporating wedding party members of different genders, or choosing to forgo a wedding party altogether.
"The idea of having to ask people you wouldn't just for the sake of being even means you're putting numbers and symmetry above people," says Post. "That's not always the best course of action to take."
At the end of the (big) day, what's most important is having those who you feel closest to by your side on your big day. And if that's a different number than your spouse-to-be-has, then so be it.
Tips for Walking Down the Aisle With an Uneven Wedding Party
There are a few ways to handle the walk down the aisle with an uneven wedding party. According to Post, "These options aren't definite." The unpaired person can either walk down the aisle on their own, or there can be two bridesmaids paired with one groomsman, or vice versa. Another option is for the entire wedding party to walk in on their own without pairs, so the difference won't be apparent.
Tips for Standing With an Uneven Wedding Party at the Altar
Just like wedding parties with even numbers, the wedding party will stand on the side of the person they are closest to. Don't worry too much about how your uneven wedding party will look standing at the altar. After all, during the ceremony, all eyes will be on you. Just make sure there's enough room for everyone, and you'll be all set.
How to Take Uneven Wedding Party Photos
According to Post, "Your photographer's job is to pose you aesthetically, and they will help balance any uneven numbers in the party." As documentary-style photography becomes trendier and more widespread, the traditional wedding party photo with guys on one side and girls on the other is becoming less popular. Your photographer may instead choose to take photos while you're walking as a group, staggered on a staircase or in other non-linear formats, where the uneven number is barely noticeable.
Uneven Wedding Party Reception Entrance
Similar to the ceremony entrance, there are several options for announcing an uneven wedding party at the reception entrance. Each person can walk in on their own and be announced individually, or the unpaired person can walk in on their own or tag along as a third to another couple.
And, like the rest of these details, trends regarding entrances are changing. "Sometimes couples announce wedding party members with their spouse or date to the wedding, even if that person isn't in the wedding party," says Post. According to WeddingTok, bridal party entrances are evolving, with many couples choosing to include non-wedding party members in their entrance, only have themselves announced or (in cases when the wedding party attended cocktail hour) forgo the entrance altogether.
Head Table Ideas With an Uneven Wedding Party
Even without an uneven wedding party, it can be difficult to decide who sits at the head table. Some couples may opt for a sweetheart table with just them, while others may choose to include their wedding party and their plus-ones at the head table. The options are endless. General rules dictate that the couple sits next to each other, with their maid of honor and/or best man on each side, so as long as that's satisfied, you are free to place the rest of the wedding party around the table accordingly. Since head tables generally face out, it's okay if your wedding party is uneven since they won't need to be seated across from one another anyway.
If you have a larger wedding party, you may opt to seat your crew at multiple tables, rather than one large head table, or scatter wedding party members at different tables based on their relationships to the rest of the guests.