Use These Top-Notch Wedding Party Bio Examples for Your Wedding Website
Give your loved ones the intro they deserve.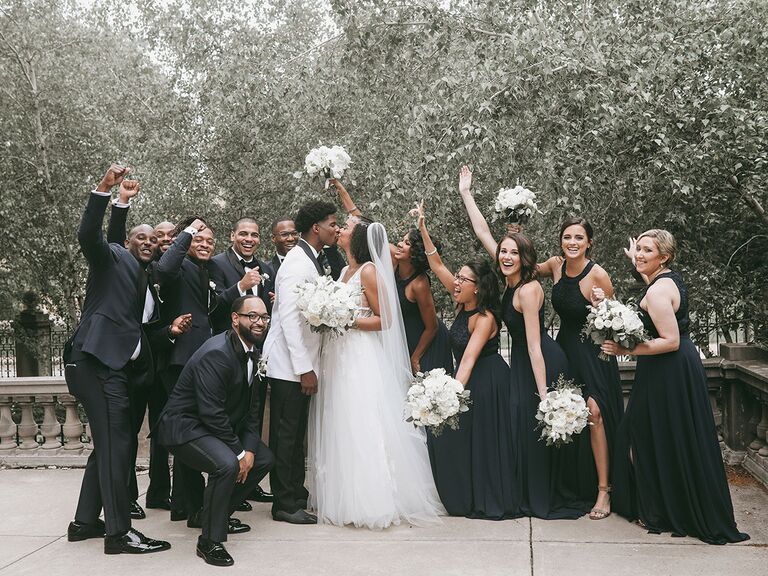 Photo: Natasha Furduy Photography
As you build your wedding website, don't overlook including biographies for your wedding party. Doing so is a great way to personalize your site while giving your guests a peek at what's to come on your wedding day. That's why we wrote 10 wedding party bio examples for you to use as inspiration. Because who won't love reading why your maid of honor was given the role or how your groomswoman introduced you and your fiancé(e)? While the wedding party introductions on your website don't have to be long, they should be informative.
Below, we break down how to write the best wedding party bios, what should be in them and the benefits of having bios on your site. Your wedding party members hold a meaningful place in your life, so why not honor your relationship where every guest can see it?
In this article:
Wedding Party Bio Examples
Not sure how to write wedding party bios? Let us take the guesswork out of it. Below, find five bio templates you can use as inspo on your wedding website. Simply add personal details and customize it to feel unique to your crew.
Funny Wedding Website Bio Examples
Who says wedding planning has to be serious all the time? If you and your S.O. are full of jokes, weave your humor into your wedding website to give guests a laugh as they read up on your wedding party members. These wedding party bio examples are funny and provide the perfect comic relief.
Groomsman: Adam
If you've ever seen John and [Groom's Name] together, you know their bromance runs deep. (So deep that [Spouse's Name] is jealous.) Who knew Little League rivals would turn into best friends years later? The wedding day wouldn't be complete without John's unforgettable presence.
Maid of Honor: Mia
Every day from elementary to high school, Mia and [Bride's Name] made sure to dress identically—just about everyone they met thought they were twins. When asked why they stopped matching, Mia said, "Because I was a Bieber stan and [Bride's Name] was a One Direction stan...we had different priorities."
Short Meet the Wedding Party Examples
Keep it short and sweet by listing quick facts about your wedding party members. At a glance, wedding guests will learn all they need to know about your friends.
Zack. The Best Man. Groom's older brother. Introduced the happy couple. Coffee connoisseur and unapologetic New Orleans Saints fan.
Taylor is the best bridesmaid any person could ask for. They've known the bride since 2012, which means they've seen the bride at her worst...in a striped peplum top wearing an owl necklace.
Throwback Wedding Party Bio Examples
Do you have a great story about how you met each wedding party member? Give a nod to your early beginnings in your groomsmen and bridesmaid bio examples.
Groomswoman: Janice
I met Janice on the first day of high school because our lockers were next to each other. We went from talking about biology homework to being best friends in virtually no time at all. Now, I can't imagine my special day without her standing by my side—just like she did on the first day of school all those years ago.
Bridesman: Jordan
Even though Jordan knows what buttons to press to make me mad (like the time he put gum in my hair on picture day), I wouldn't trade him for the world. He's my little brother, best friend and the most annoying person I've ever met rolled into one. Let's just hope there's no spearmint hidden in my hair on the wedding day.
Sweet Examples of Wedding Party Bios
Go ahead and get sappy on your wedding website. Your VIPs are incredibly special, so now's the time to share why they mean so much to you. Try to read the wedding party website examples below without shedding a tear.
Bridesmaid: Natassia
Growing up as cousins, Ashley and I were never not laughing or scheming against our siblings. Our parents called us long-lost sisters, and she's been part of so many of my best memories. It's only fitting that she'll join me as a bridesmaid on one of my greatest adventures.
Best Man: Greg
Not everyone knows this, but when I was in high school, I was the smallest kid in my grade, which made it hard to make friends (and get picked first for dodgeball). But Greg, the new (and tallest) kid at school, didn't care about that at all. He picked me first in gym, and we haven't stopped hanging out since.
Simple Wedding Party Description Examples
These wedding party bio examples cover the bases and share just enough information about your crew. Plus, it'll help guests feel comfortable striking up a conversation on the big day.
Groomswoman: Deja
After meeting in college, Deja and [Groom's Name] have been inseparable. At the wedding, you'll find Deja tearing up the dance floor or taking Instagram photos for anyone who asks. (You can trust she'll capture your best angles.)
Bridesman: Bill
There are three things you should know about Bill. He's known me the longest—since pre-K. You'll find him standing beside me during the ceremony wiping away my happy tears with his special embroidered handkerchief. And you'll see him shredding on guitar with his band during the reception. He doesn't usually take song requests, but if you ask him to play anything from Fleetwood Mac's Rumors album, you'll have his heart.
How to Write Wedding Party Introductions on Your Website
Looking for more meet our wedding party wording tips? Before you start writing, brush up on exactly how to write a wedding party introduction below. Writing wedding party introductions isn't like writing formal wedding invitations or wedding ceremony programs. Here, you're encouraged to flex your creative muscles and personalize your site as much as possible. Not only are wedding party bios a sweet way to give your crew the attention they deserve, but engaging introductions will keep wedding guests on your site for a long time.
Make it personalized.
First and foremost, your wedding party website descriptions should be unique to each person. Don't just write their names and their wedding party roles. Make the biography special by sharing funny stories or sweet memories. There's a reason why your VIPs are in your wedding party, so share it. Whether you've been besties since kindergarten or were roommates throughout college, write personal anecdotes about your relationship.
Include must-know fun facts.
Your wedding party will be chatting it up with loved ones at every wedding event, from the bridal shower to the reception after-party. Help inspire conversations by including a few fun facts about your crew so guests can chat comfortably with them. Whether they're die-hard football fans or self-proclaimed "Housewives" aficionados, include a few fun facts in the introductions on your website. Not only will your guests feel like they know your wedding party a little better, but it'll make their biographies fun to read.
Reminisce on your favorite memory together.
Take a walk down memory lane and add your favorite story involving each wedding party member. Getting creative is one of the best ways to personalize your wedding website, so reflect on heartwarming and funny moments together and add it in the intros.
Turn it into a Q&A.
Consider shaking up the style by giving it a Q&A format. This is significantly easier than writing a paragraph or two on your own. Take five minutes to sit down with everyone in your wedding party and ask them a few questions about their hobbies, favorite movie, go-to snack and their favorite memory with you. You'll get to spend quality time with your friends, and it'll be a fun addition to your wedding website.
Let the wedding party write it.
If you feel like you're hitting a creative wall, let your wedding party members write their biographies. You'll be allowing them to show off their flair, and it'll take one more thing off your wedding planning checklist. Set a few guidelines (like the desired length and what info to include) and give them the freedom to share why they're excited to help you celebrate this milestone in your life.
What to Include in Your Wedding Party Bios
Even if you're having a small, intimate affair, you should pretend no one at the wedding knows one another. Give as much info about each wedding party member and your relationship with them as possible in one paragraph (or whatever format you choose). Here's everything you need to add in the wedding party bios:
What wedding party role they're taking
How and when you met
Their hobbies and interests (or fun facts)
Favorite sweet and funny memories together
Why you picked them to be in your wedding party
Benefits of Including Wedding Party Bios on Your Website
Yes, technically, having wedding website bios for your crew isn't required, but we think it's a sentimental touch everyone will love. Here are two of the biggest benefits of having them on your wedding website.
Your guests get to know your VIPs better.
We can't stress it enough—having wedding party bios really helps your guests get to know the VIPs. Having a photo with a few fun facts about the person alongside it can act as an icebreaker. Your uncle Steve won't have to aimlessly walk around the rehearsal dinner, not knowing who to talk to about what. Instead, after reading your bridesmaid's bio, he can approach her and talk about their mutual love for the "Mandalorian" (and Baby Yoda).
You get to put your wedding party in the spotlight.
The wedding is your big day, but it doesn't hurt to put the people who've helped you during the journey on a pedestal. If you and your partner write each of your wedding party's bios, it would be a sweet surprise for them and show how much you love and care about them. If your wedding party doesn't mind taking on the task, you and your partner get an inside look into their favorite memories you share, why they wanted to take on the role and much more. It's a win-win either way.